For Immediate Release
Sarah Madden for TIEC
Mill Spring, NC – November 18, 2022 – The ninth annual Young Horse Show Finals presented by Spy Coast Farm took place at Tryon International Equestrian Center & Resort (TIEC) in the Indoor Complex November 9-12, showcasing young equine athletes and talented sport horse breeding programs throughout the nation. It was another record year for the show, with over 120 entries in total. From yearlings to five-year-olds, the qualifiers and finals provided a safe and educational opportunity for young horses to compete at liberty, through the jump chute, under saddle, and over fences as appropriate.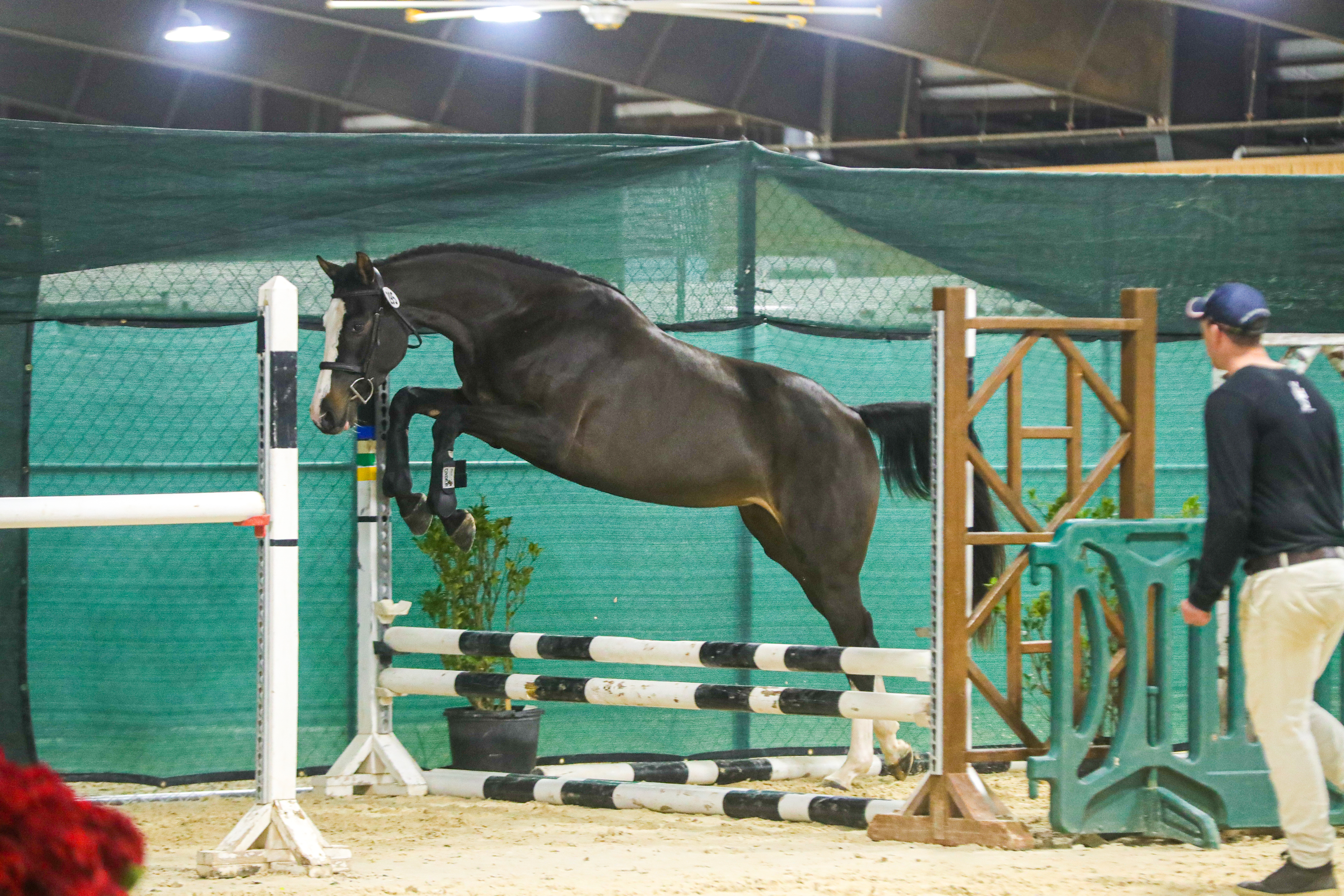 ©Madison Ibach for TIEC
The Young Horse Show (YHS) Finals competition was hosted simultaneously with Tryon Resort's Tryon Fall Finale 2 Hunter/Jumper competition as well as the Dutta Corp. Tryon International Three-Day Event, which allowed athletes from numerous sports to compete in multiple events. The Young Horse Show Finals presented by Spy Coast Farm competition and schooling sessions were hosted entirely in the Indoor Complex at TIEC, providing a safe and educational atmosphere for young horses with limited experience in new environments.
Jean Yves Tola, show organizer and manager, emphasized the importance of the Young Horse Show Finals for the breeding community across all equestrian disciplines. "The quality of horses presented at each year's finals just keeps getting better and better. It means a lot to the breeders to come and meet other professionals, to learn from each other and network," he detailed. "Many of the horses that come to the Young Horse Show Finals are for sale, and this event gives them great exposure."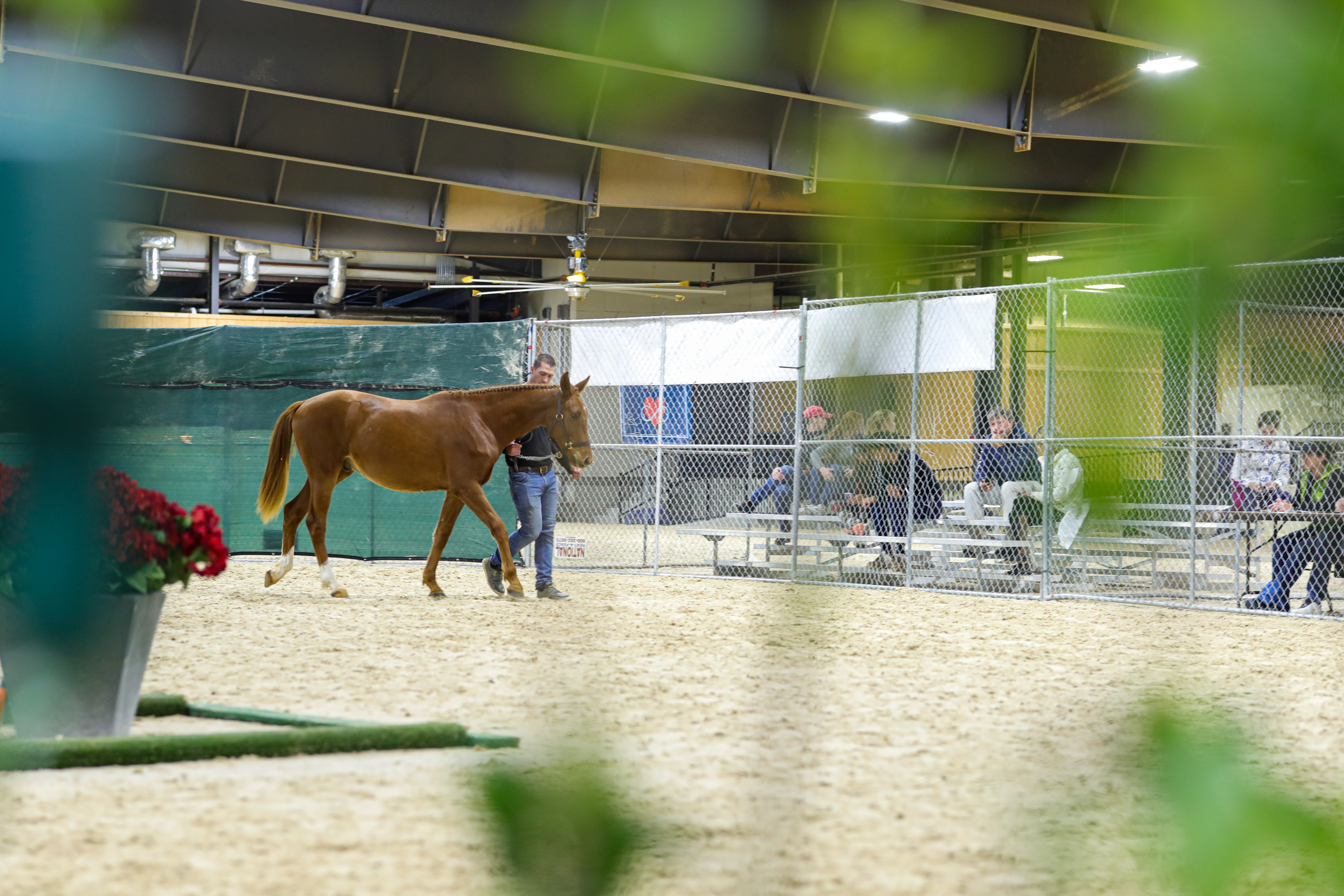 ©Madison Ibach for TIEC
Timeless Sport Horses owner and participating breeder Heather McInerney brings her young horses to the event each year because "it's such a great experience for young horses," she emphasized. "It's a relaxed environment for them to do what is being asked of them, and yet big enough that they get the whole experience of being 'off the farm.' It really makes the transition [to competition] later in life easier, for them and for us."
One of the highlights of the weekend was Friday evening's $3,000 Tequestrian Farms Jumping Derby, which included two separate divisions for horses four to five years in age and entries six years and older. Horses and riders navigated a course with Jumper, Hunter and Cross-Country jumps, receiving a score and time result. Results for the $3,000 Tequestrian Farms Jumping Derby are as follows: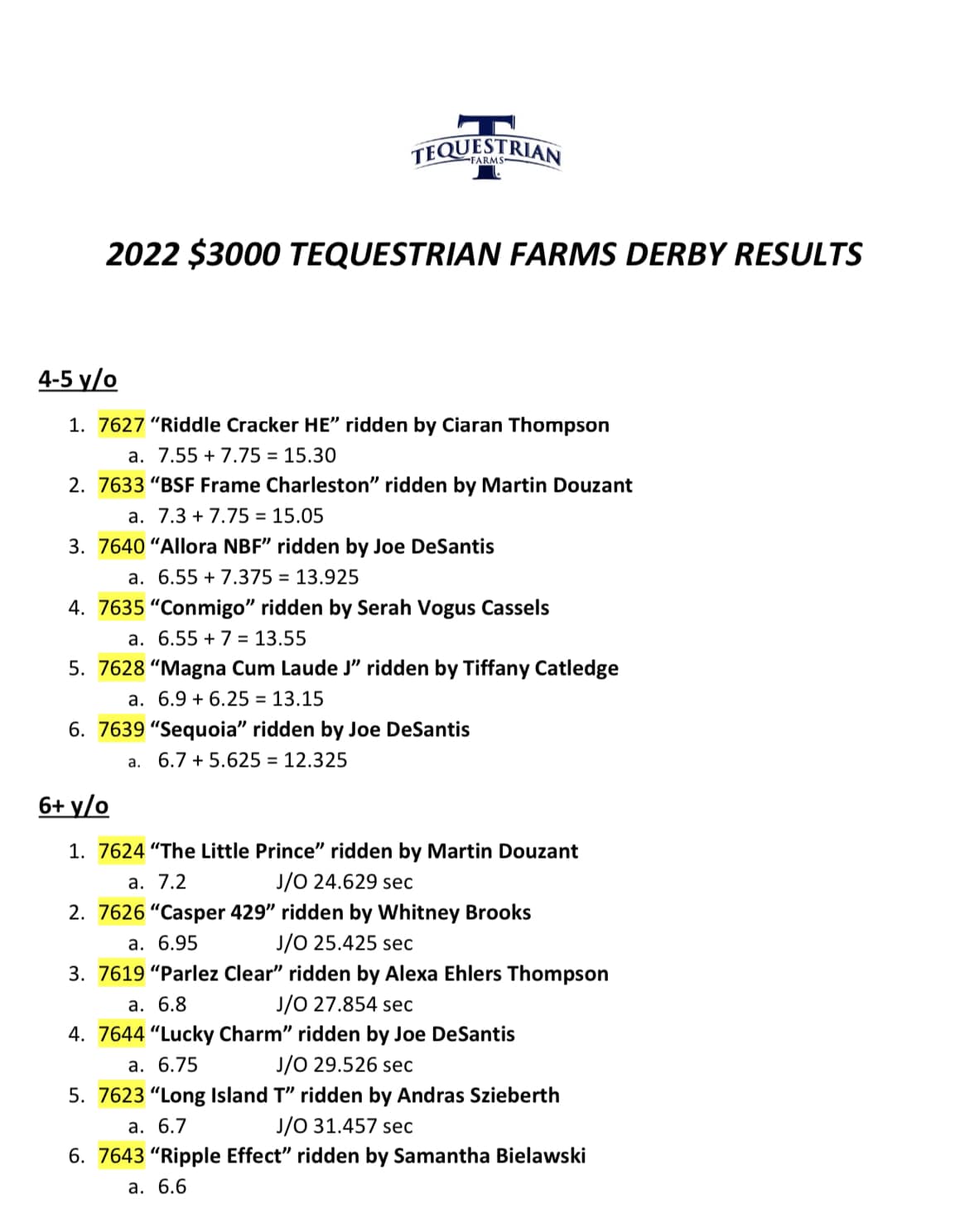 Ciaran Thompson, head trainer at Spy Coast Farm, piloted Riddle Cracker HE to a win in Friday night's feature class, but enjoyed stellar placings all week, he recapped. "It's been a fantastic week. We had a great showing with the four-year-olds: we had a winner and second place under saddle. One of my young riders that I have here, Reese [Madden], on her own four-year-old, actually ended up coming in third in the four-year-old jumping as well, so it was a fantastic show. I was delighted with Riddle Cracker HE, who also finished third in the five-year-old jumping. In the three year olds, we finished first and third in the jump chute finals as well."
Thompson was thrilled with the show's reformatting to spread qualifiers and finals throughout the week, which allowed him to bring a young horse to qualify at the venue and school others as needed without overexerting his young horses before the finals, he detailed. "It makes it a lot easier to bring a horse here, get it qualified for the finals, and still keep them fresh for the finals at the end of the week. I think this has been a fantastic rearrangement of the show schedule for the finals."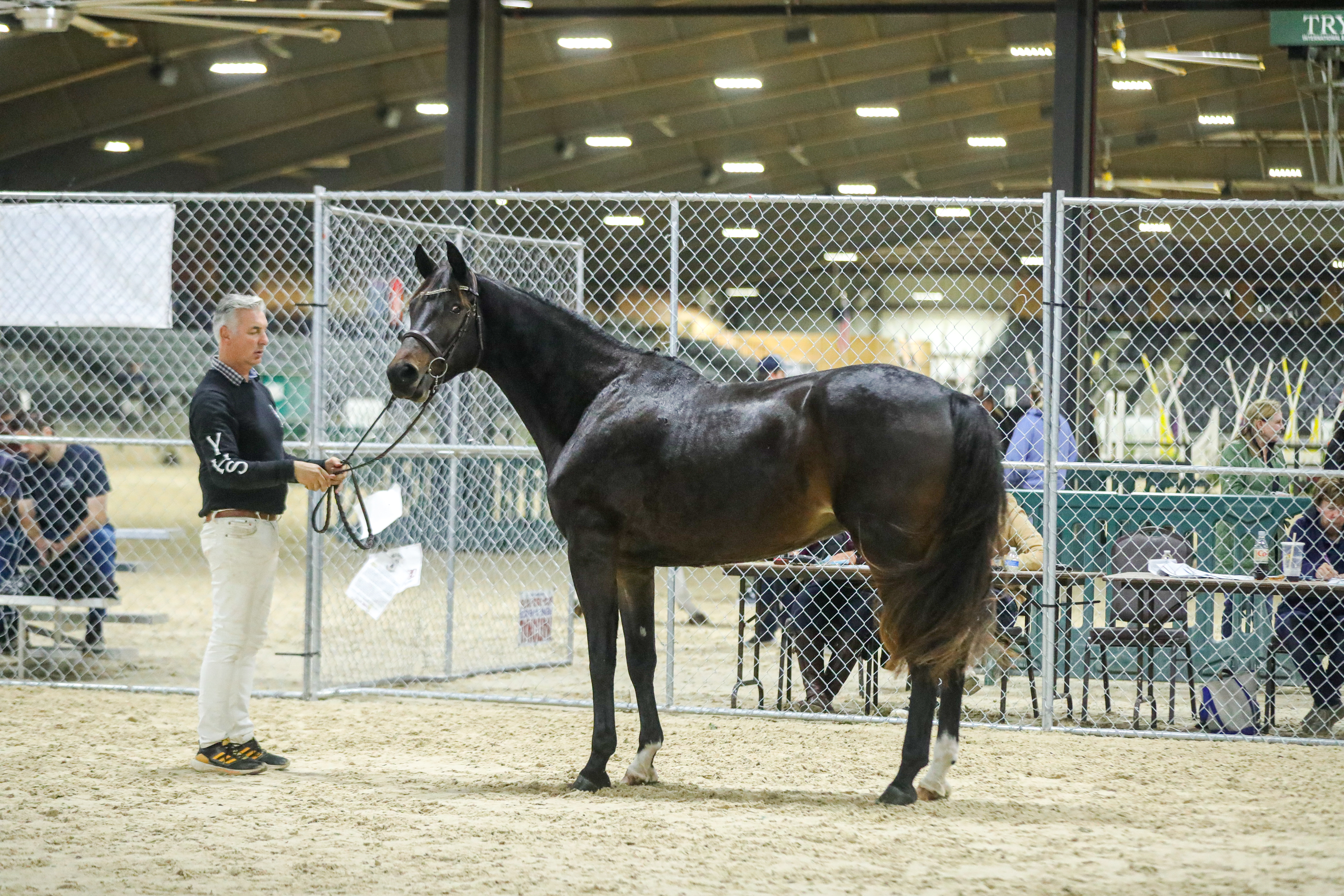 ©Madison Ibach for TIEC
Thompson has been participating in the Tequestrian Derby as a competitor for four years now, and appreciates the education it gives to young athletes in his training. "I love this class. I think it's great, as it gives the horses a bit of confidence. They get to see different things, and it really helps the horses in the long run."
As a veteran of the Young Horse Show Finals program who has seen the series evolve at TIEC over many years, Thompson emphasized that he is pleased with the Indoor Complex format for what it affords all participating young horses as well as their handlers:
"It's super, the way that this has been set up for the young horse. In the indoor, it's consistent lighting all week long, with no shadows at different times of day to navigate. They get to be in the main ring doing the warm-up for the flat classes and also get to school in here, so then the environment itself is very consistent. All that changes is maybe some jumps, or the dressage arena for different classes. By the end of the week," he concluded, "I feel like the horses are confident in themselves and grow immensely by the time you're done here."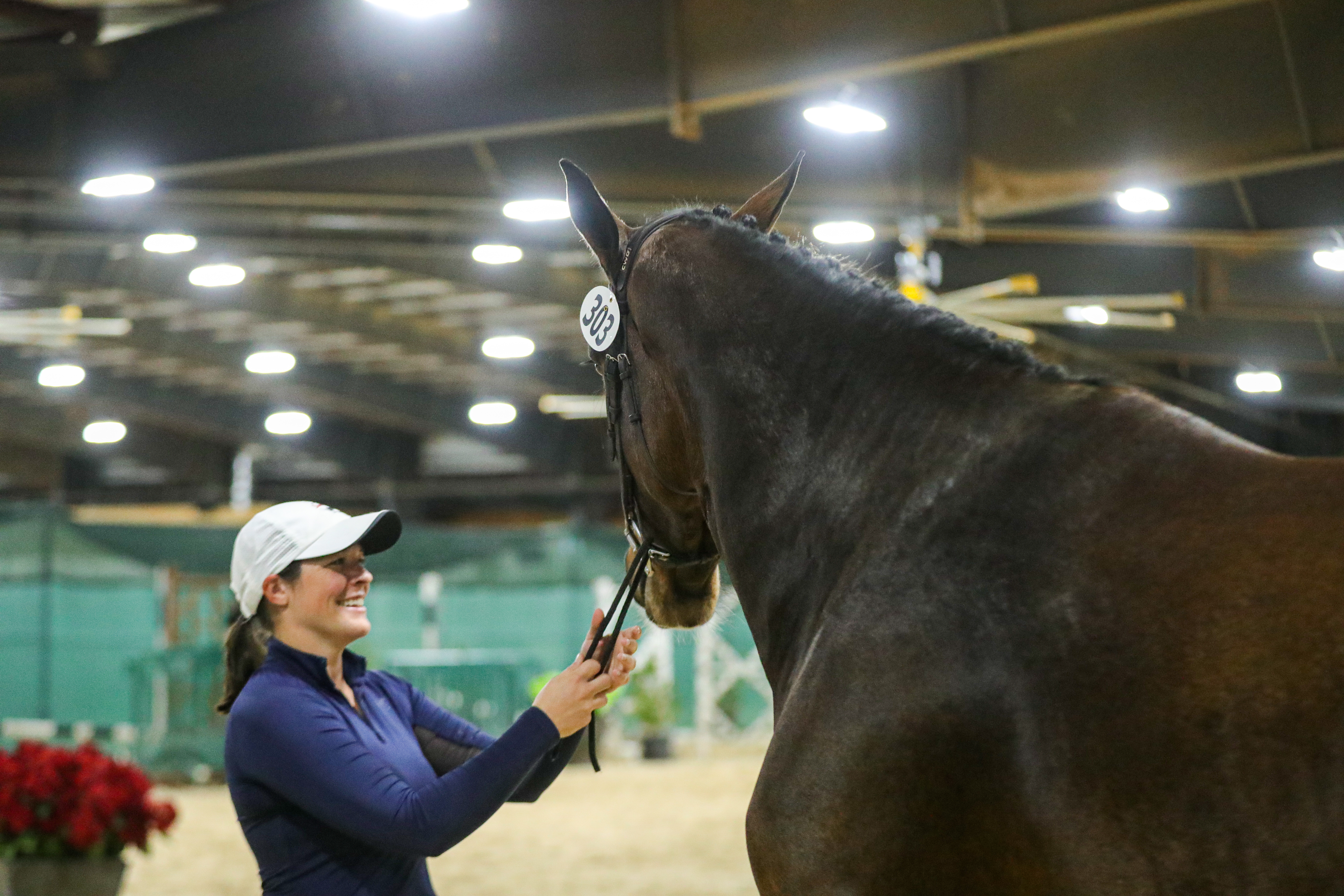 ©Madison Ibach for TIEC
Martin Douzant of The Frame Sport Horses has also been involved in the Young Horse Show Finals for many years, both as a competitor and staff member. Douzant manages the handling team for the jump chute schooling and competition phases of the event, making sure that all horses had a safe and educational experience on the flat or over fences.
"It's been a busy week. I believe we had over 50 horses per day to free jump," he recapped. "We also brought some young horses with us from The Frame Sporthorses. I only had one to ride, but Joe [DeSantis] had four to do in the riding classes!"
Like Thompson, Douzant has also seen the finals through its various stages of growth and numerous formats at TIEC, and also emphasized the suitability of the Indoor Complex for this event.
"TIEC is obviously a wonderful facility. I mean, there's everything here, so it's super fun. I've been involved with the Young Horse Show for a long time, so we are part of the program trying to grow this industry. I think the quality of the horses is getting better every year, and there are more and more horses," he assessed. "It's nice because by the end of the week, we've been here for about four days, so it's not new to them. After this week, they will have gotten a lot of exposure and experience. It's great for their futures. So, this is the perfect venue to hold this type of event. We love it. We come every year!"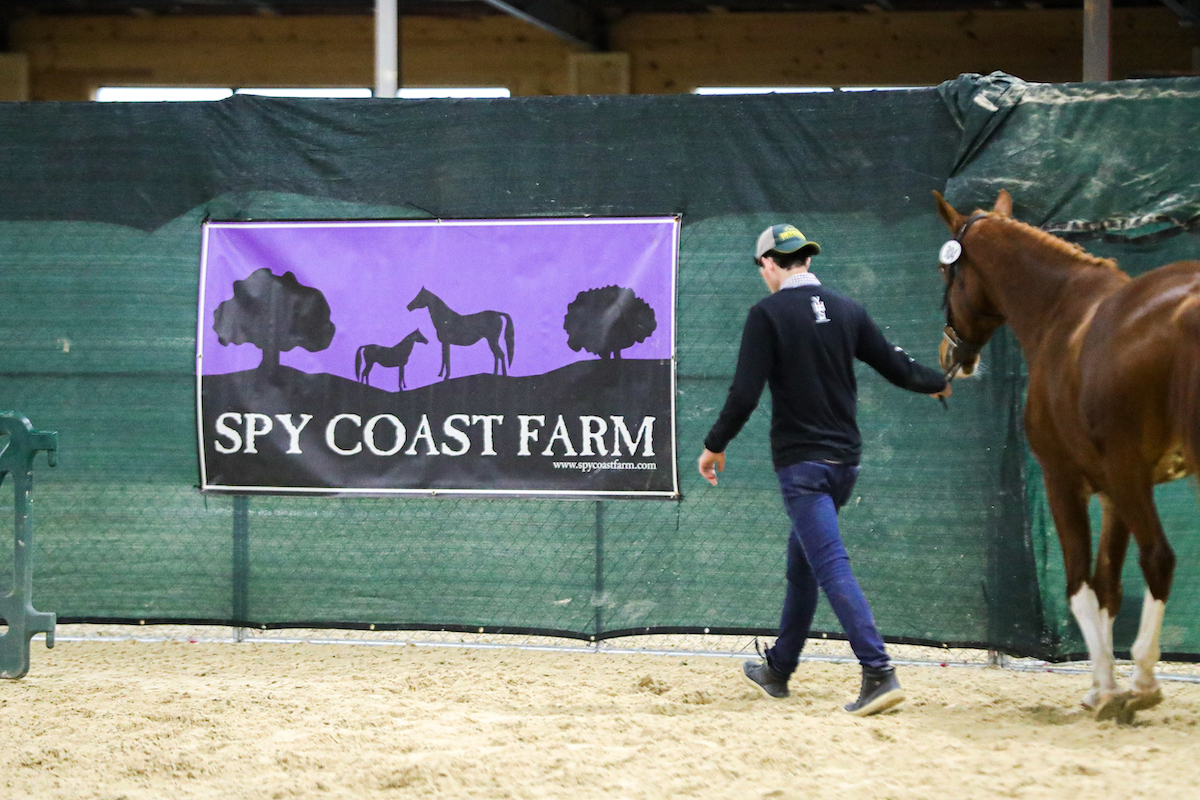 Joe DeSantis, Douzant's counterpart at The Frame Sport Horses and also a longtime handler-competitor at the Young Horse Show Finals, commented that he's optimistic about the future of the YHS program as well as the North American sport horse breeding industry after another successful Finals.
"It's a really good program, and it's very encouraging for me to see how invested people are into it. It gives North American breeders something to aim for. This is the only program that I see that even remotely connects the breeding world to the show world. There is nothing else like it, so I think it's incredibly important and I'm really happy with how the show has turned out this week," he said. "It's the perfect fit, having the finals at TIEC in the Indoor Complex. For the first away show for these horses, it's the perfect environment. Everything is enclosed, and they have their own safe little bubble. They get enough exposure to all the noise and stuff, but again, it's safe and it's contained. A normal A show, for instance, has a lot going on when I'm showing a four-year-old for the first time; it doesn't really work as a place to take your young horses to train them. This is the best program in North America, in my opinion."
DeSantis, balancing his roles as both handler and competitor, posited that the YHS program is growing in exciting ways beyond just entry numbers and the quality of horses presented each year. "The organizers at TIEC do a great job to help us with this event. We're really fortunate to have a good team and people that are committed to doing it. A lot of people like the idea of working a jump chute, and think it looks cool, but not that many people want to do it for a week, for hours at a time.
"We're very fortunate to have people like Klaus Schengber, Martin Douzant, myself, and especially Jean Yves Tola and all the work he puts into organizing the event and the sponsors. It's very exciting to me to have new people start to learn the process as well, such as Devlin Smith, Marian Michalson and Tom Shepley, as kind of the next generation. Our first priority as staff is always going to be the safety of the horses," he concluded. "It sounds cheesy, but when you're free jumping 100 horses that you've never met before, the priority has to be safety. The whole point is to teach and give each horse a good experience. I'm very grateful for the whole team here."
Full Results: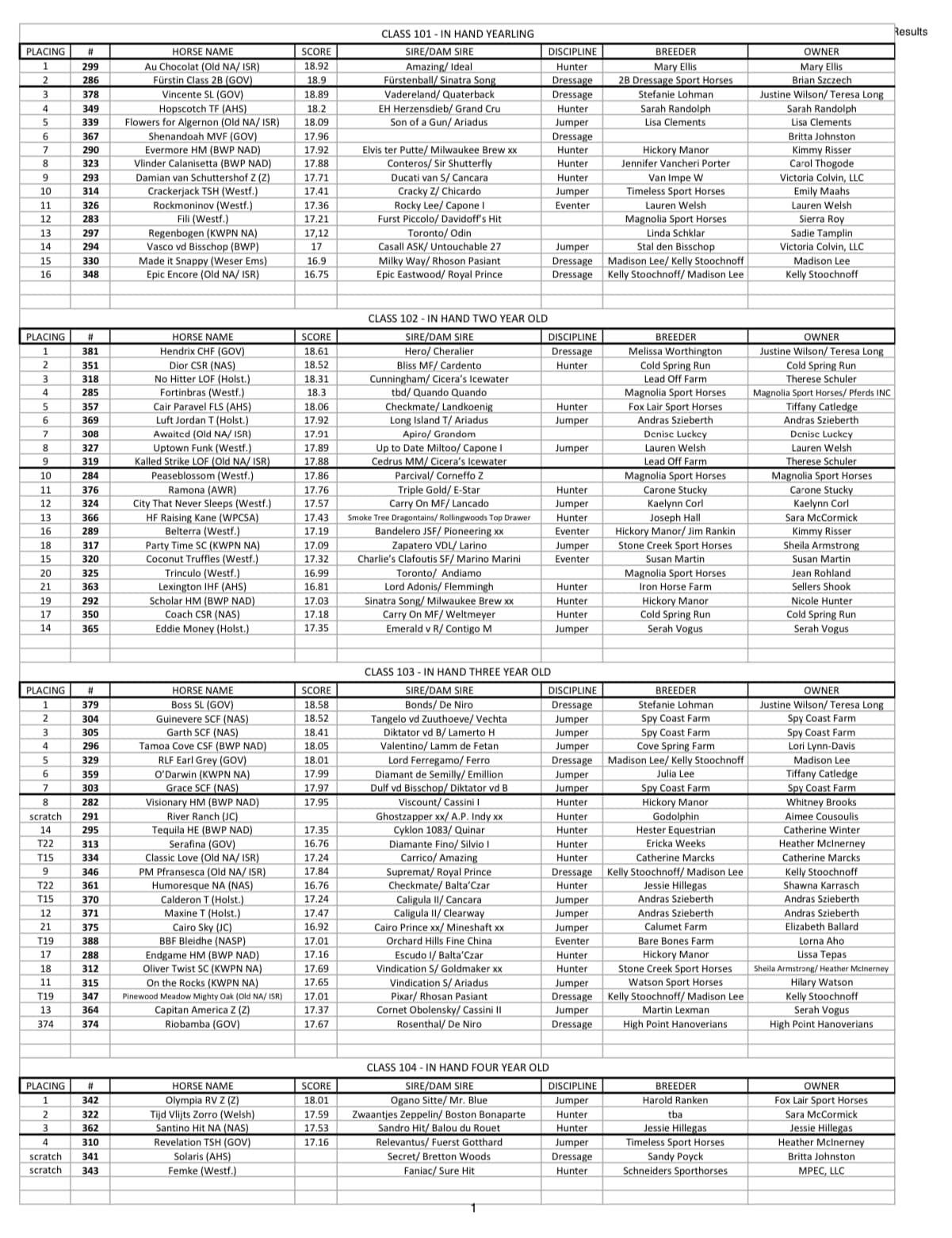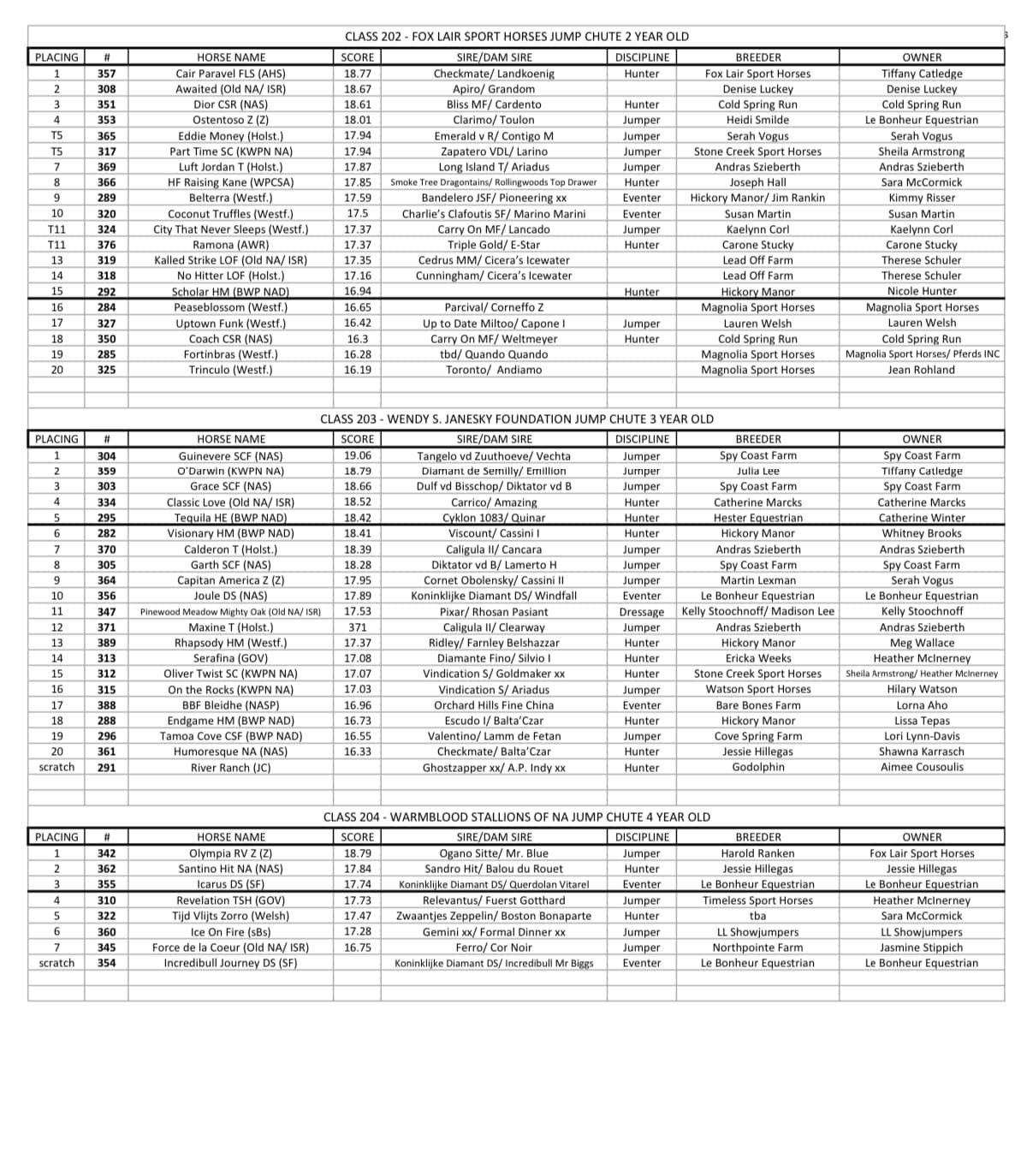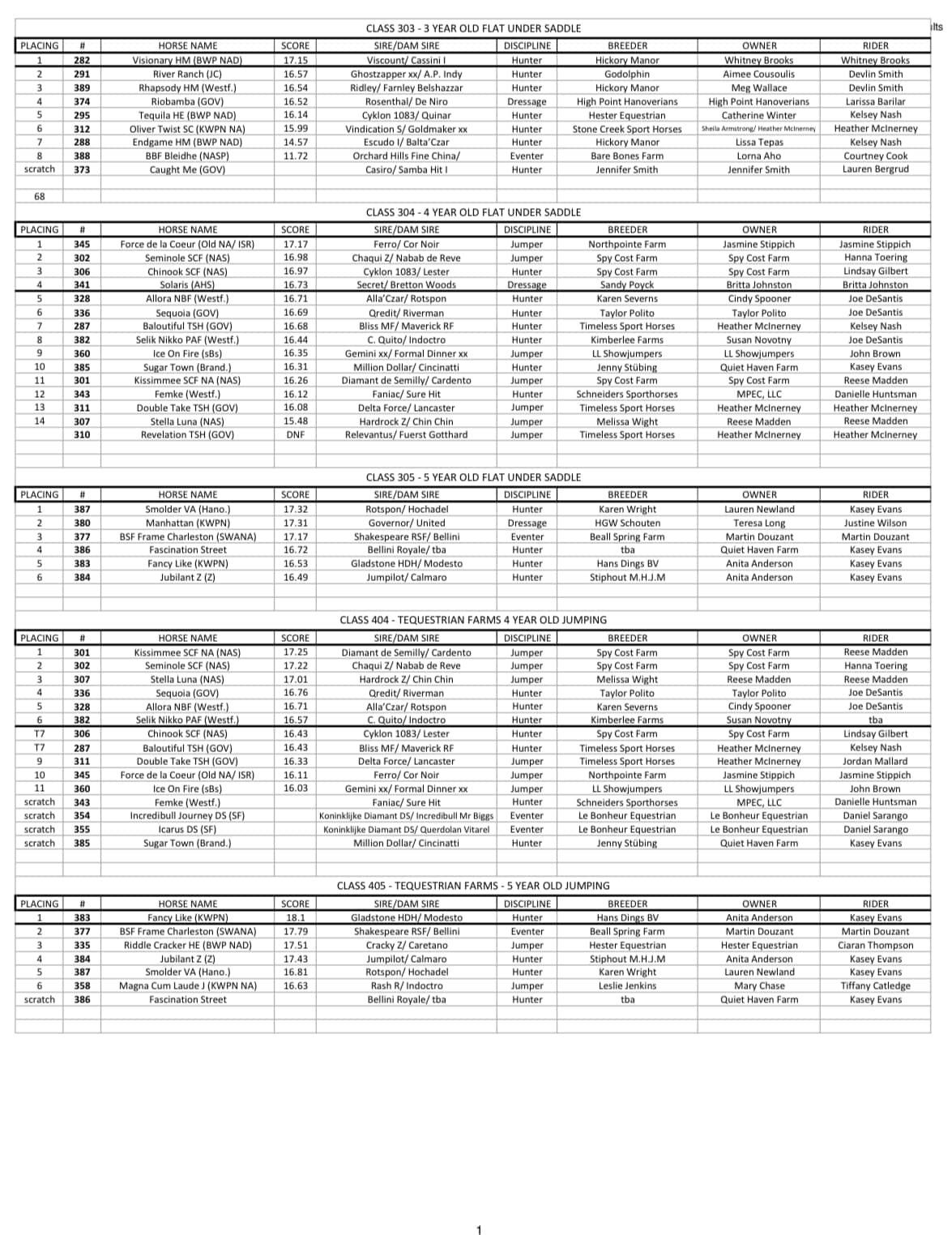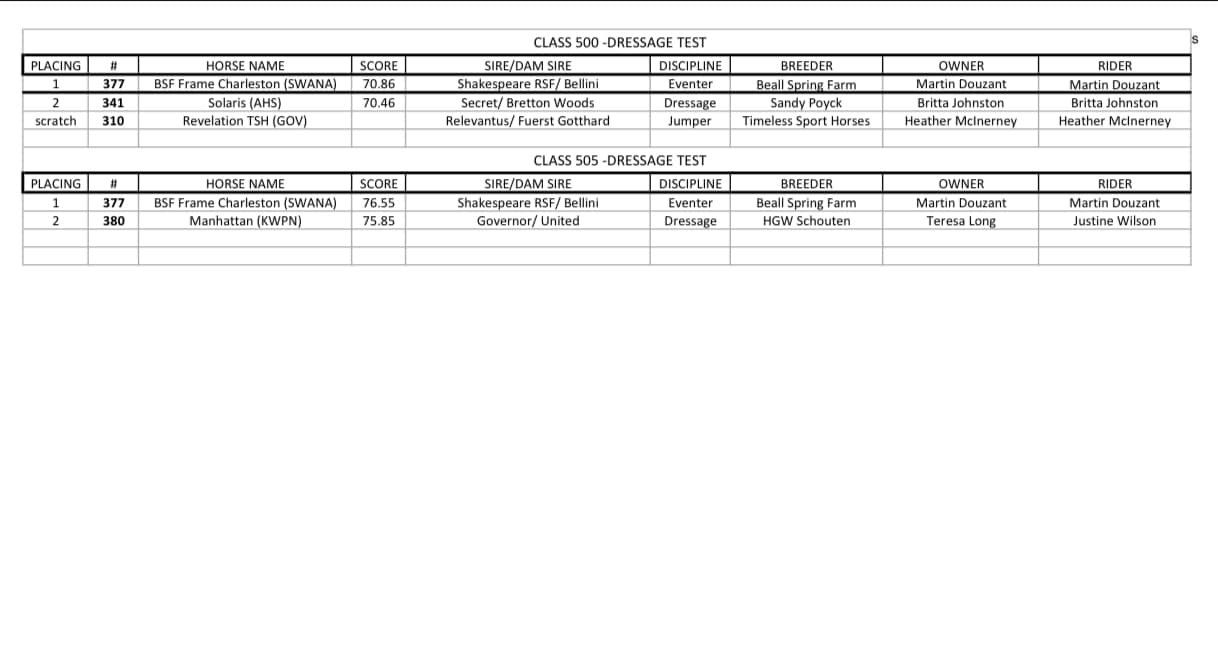 To learn more about the Young Horse Show series and Young Horse Show Finals presented by Spy Coast Farm, visit www.younghorseshow.com.