For Immediate Release
Sarah Madden for TIEC
Mill Spring, NC – April 3, 2022 – Tryon Welcome 2 concluded Sunday, more than doubling the previous week's entries across Hunter, Jumper and Equitation divisions at Tryon International Equestrian Center & Resort (TIEC). Topping Sunday's Regional Standard Jumper Classic was Christina Webb (Raleigh, NC) and FVF Sailor Man, besting 22 other entries over the Dean Rheinheimer (Sheridan, IN) course design. The penultimate duo to challenge the track in a 13 horse jump off, Webb and "Oliver" stopped the timers in 30.326 seconds for the win. Doug Payne (Rougemont, NC) and Quintessence, the 2011 Holsteiner gelding (Quinar x Victoria's Secret) owned by Jane Dudinsky, held the lead for the majority of the second round and finished in reserve on a time of 30.369 seconds. Heather Hooker Boggio (Wellington, FL) rounded out the podium with Charles 82, her own 2010 Holsteiner gelding (Cachas x V-Carica), clearing the short course in a time of 30.667 seconds.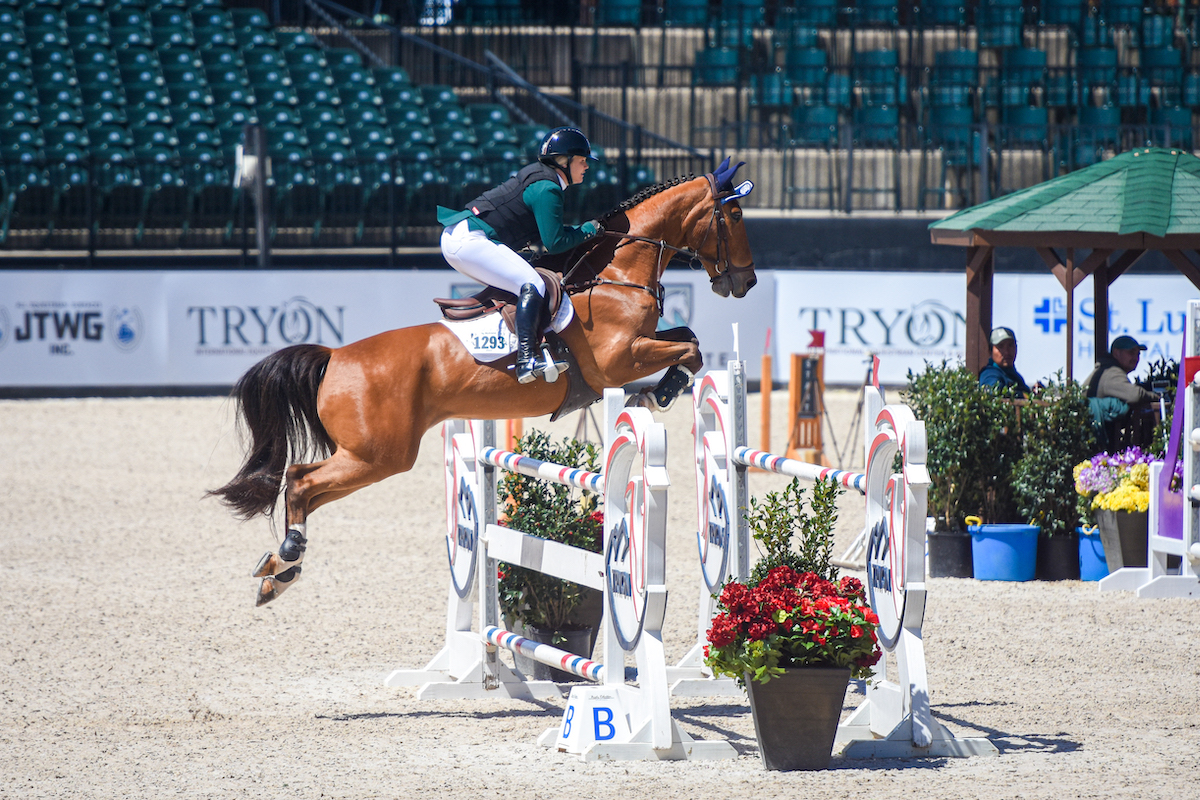 Christina Webb and FVF Sailor Man
©TIEC
Webb and the 2006 Dutch Warmblood gelding (Popeye K x Baby Grande) owned by Fox View Farm took advantage of a windy day, she relayed. "Oliver was very good, obviously and a little fresh, but I think that worked to our advantage. I always like it when he's a little frisky!"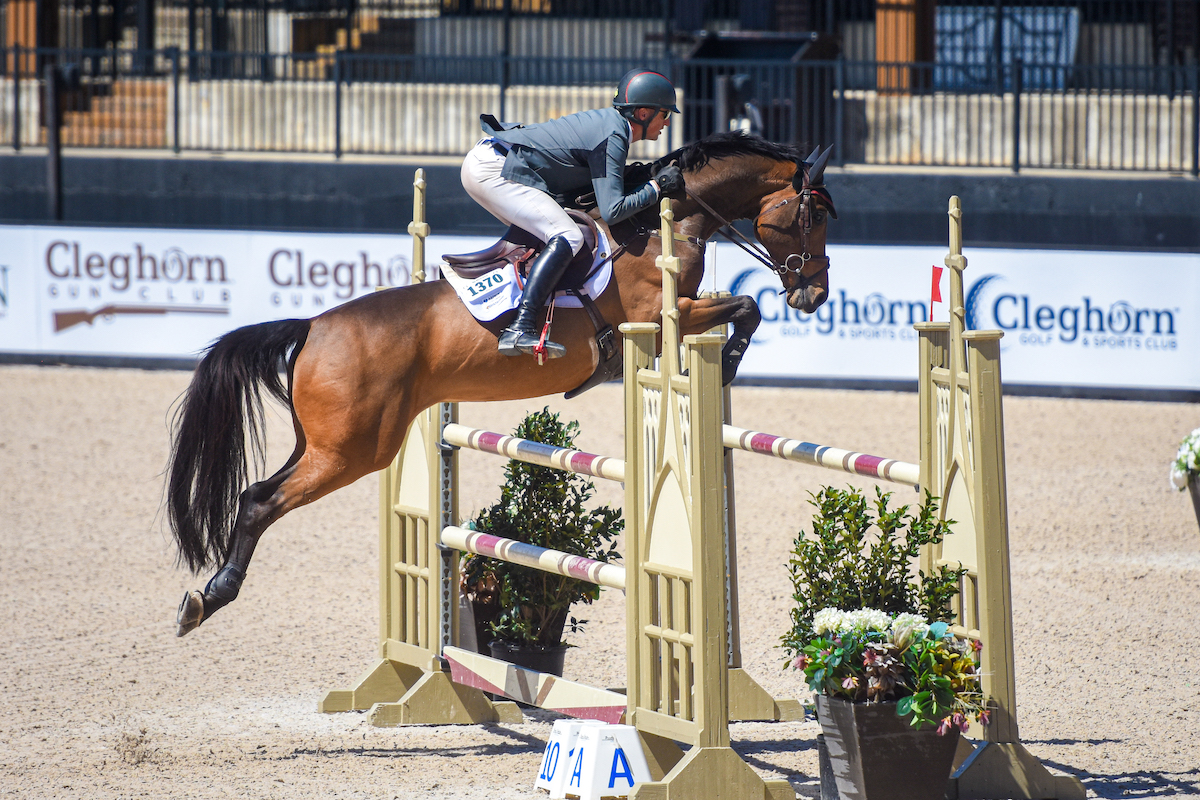 Doug Payne and Chaccolate
©TIEC
After 11 pairs had already challenged the jump off and chasing Payne's time of 30.369 seconds, Webb's strategy was to slice where she could and to keep her eyes on the next fence. "In the jump off, everything worked out, right out of stride. It's always nice when that happens! I knew I wanted to get a little wide angle to the first jump so I could have an easy time getting down the seven," she detailed.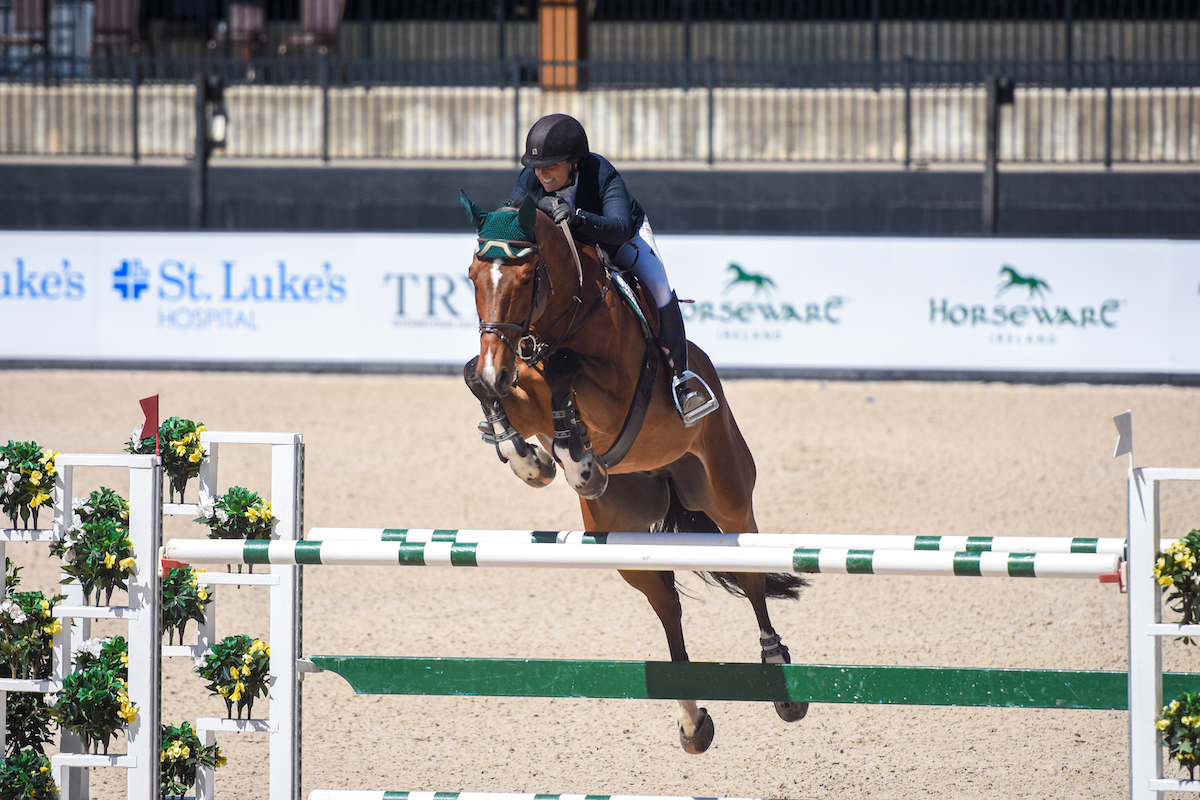 Heather Hooker Boggio and Charles 82
©TIEC
"My goal was to look early through all the turns and hope that I was able to find the distance right out of stride. And luckily, it was my day." Webb will compete in Tryon Welcome 3 at TIEC before heading home and returning to the venue again in the summer, hoping to continue her current success.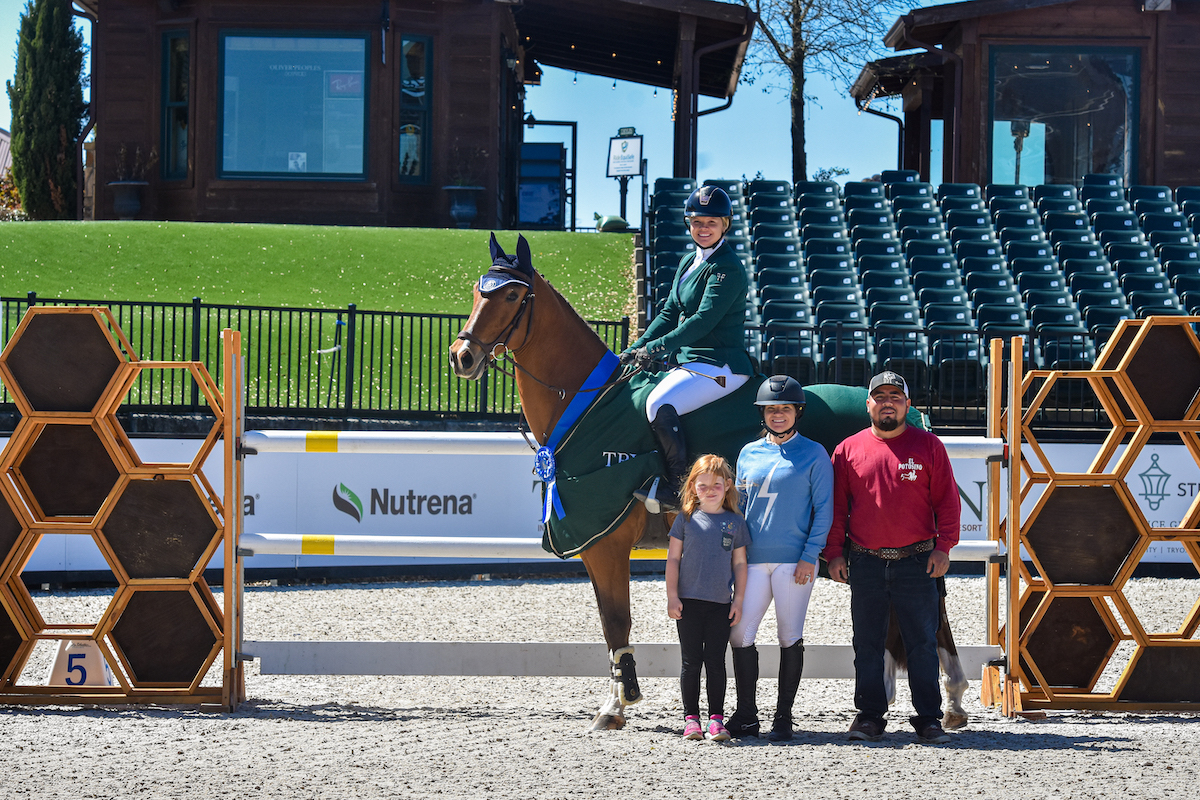 Christina Webb and FVF Sailor Man in their presentation ceremony.
©TIEC
Webb was thrilled with the day's result after a successful first week at the venue, emphasizing her relationship with her horse over the placing. "Oliver is 16 this year. We always joke that we don't talk about age or height around him, because he's a little old man, but he doesn't know it, thankfully," she said of the homebred. "Everyday I ride him I tell him how thankful I am. It's always nice to win, but my horse went really well, too."
For full results from the $25,000 Jumper Classic, click here.
Megan Rosenthal and Wailea Win First USHJA National Hunter Derby of the Season at TIEC
April 1, 2022 – Wailea, Jenn Meth's 2014 Dutch Warmblood mare (El Primero x Verlina), competed in just her second $2,500 USHJA National Hunter Derby on Friday, taking top honors to secure the first such title of the 2022 TIEC competition season. Piloted by Megan Rosenthal (Charlotte, NC), the duo scored a 90 in the handy round to add to their classic score of 86 in order to earn 176 points and the win from a field of 21 trips. Ashley Hurteau (Charlotte, NC) and her own mount So Be It, the 2012 Latvian Warmblood gelding (Wilsson x Santana), scored 173 over two rounds for reserve, while third place went to Gigi Phillips (Charlotte, NC) aboard Thunderbird, her own 2014 Westphalian gelding (Cornet Session x Thousend Dollar), after their 171-point performance.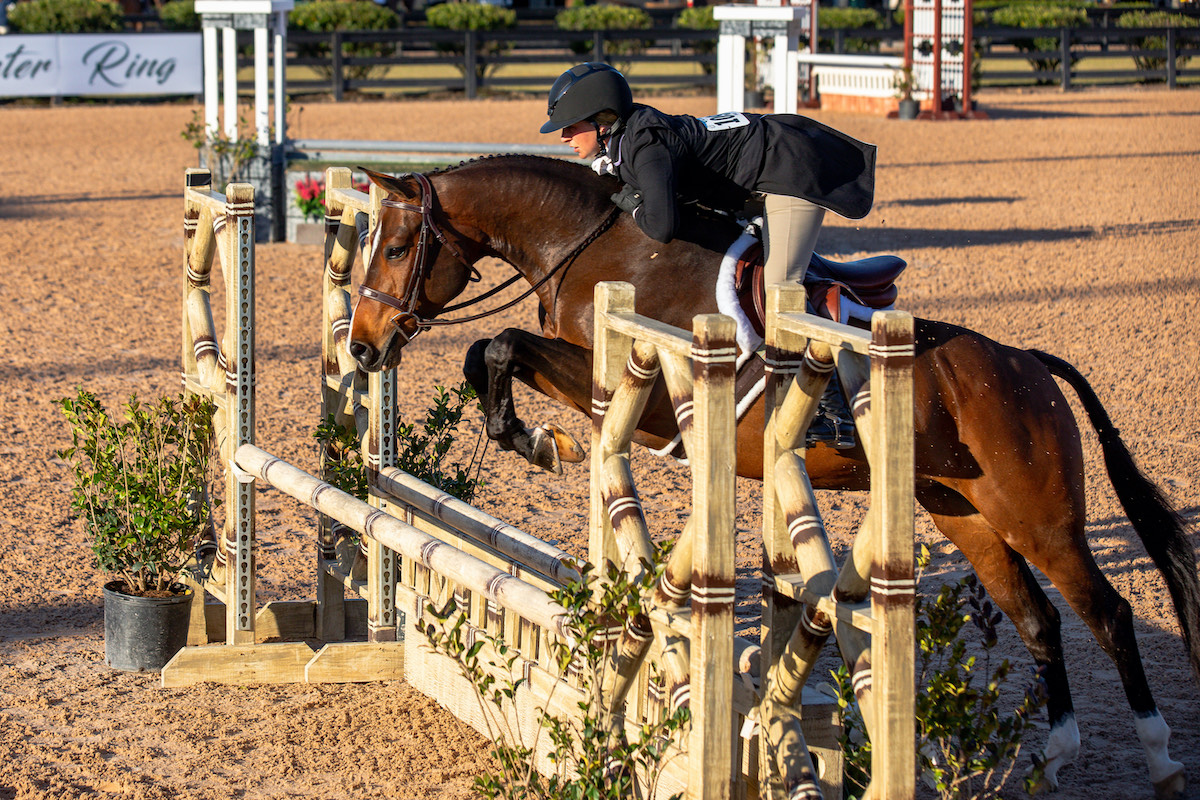 Megan Rosenthal and Wailea
©TIEC
"She was so good today!" Rosenthal gushed after the class. "She's a pretty new import for us and she just started in the 3' Greens this year. She also just started doing the National Derbies, this is actually her second one," Rosenthal revealed. "She did one in Raleigh where she placed second, and now she's come out on top! Her mom, an amateur who rides with us, is really happy with her."
Rosenthal took calculated risks with her mount, knowing that the shadows could play a role in how Wailea interpreted the course set by Skip Bailey (Wellington, FL). "The first round was fairly straightforward. I think the trickiest part, especially riding a young horse, was having the class go in the early morning and having that sun glare on the fences going back toward the gate, but this little mare didn't seem to mind too much."
She continued, "It was a lot of fun to have the ring dressed up, and with options in the Handy round. I think it really let the horses and riders play to their strengths, and gave an opportunity to show where you could be a little handier and tidier. I definitely tried to balance risk versus reward," Rosenthal emphasized. "You never want to show [a young horse] what they can't do, but at the same time, she's always so game and so brave. It was a lot of fun!"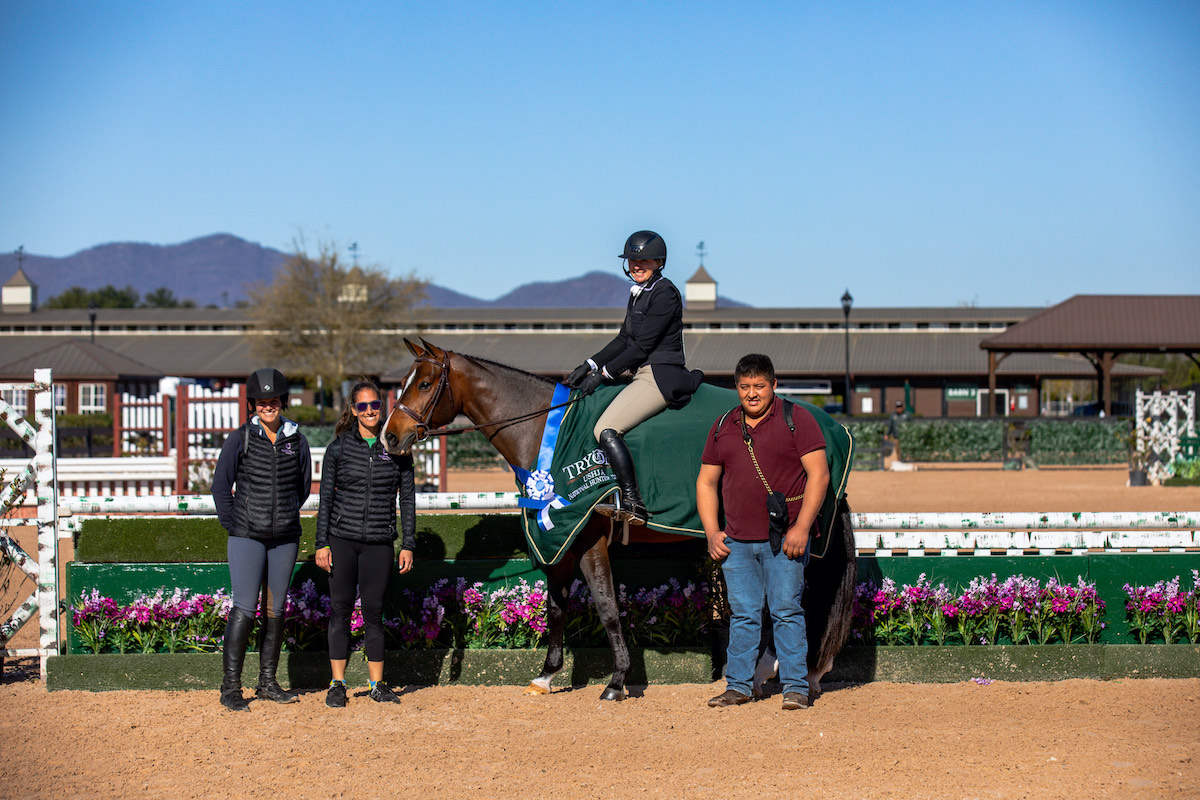 Megan Rosenthal, Wailea and team in their presentation ceremony.
©TIEC
Rosenthal and team enjoy the convenient commute to TIEC, she reported. "This week has been great! We've missed it here. We're only about an hour and a half drive from here so it's always nice. The people love it, and the horses go great. It's been a good week so far and we had so much fun this morning!" she concluded. "We had three horses from our barn compete in the derby, and all three made the handy round, so we all got to warm up and compete together. It was a really proud trainer moment. Everyone rode great, and it was a lot of fun!"
For full results from the $2,500 USHJA National Hunter Derby, click here.
Morgan Ashby and Dutchess Carola Continue their $5,000 Horseware Ireland Welcome Stake Streak
April 1, 2022 – Morgan Ashby (Denver, NC) and her own Dutchess Carola continued their triumphant return to competition by grabbing a second $5,000 Horseware Ireland Welcome Stake win in the past two weeks, stopping the jump-off timers in 39.796 seconds and dropping one rail. In reserve, Doug Payne (Rougemont, NC) and his own Chaccolate, a 2013 Warmblood gelding by Chacco Blue, navigated the jump-off track in 38.453 seconds with eight faults, while Peyton Preblick (Glen Allen, VA) rode Pennacle, the 2011 Hanoverian mare (Paparazzo x Verona) owned by Happy Valley Show Jumping LLC, to third on a score of 15 in 58.113 seconds. The top three were the only competitors of 20 entries to clear the first round of the Dean Rheinheimer (Sheridan, IN) course design.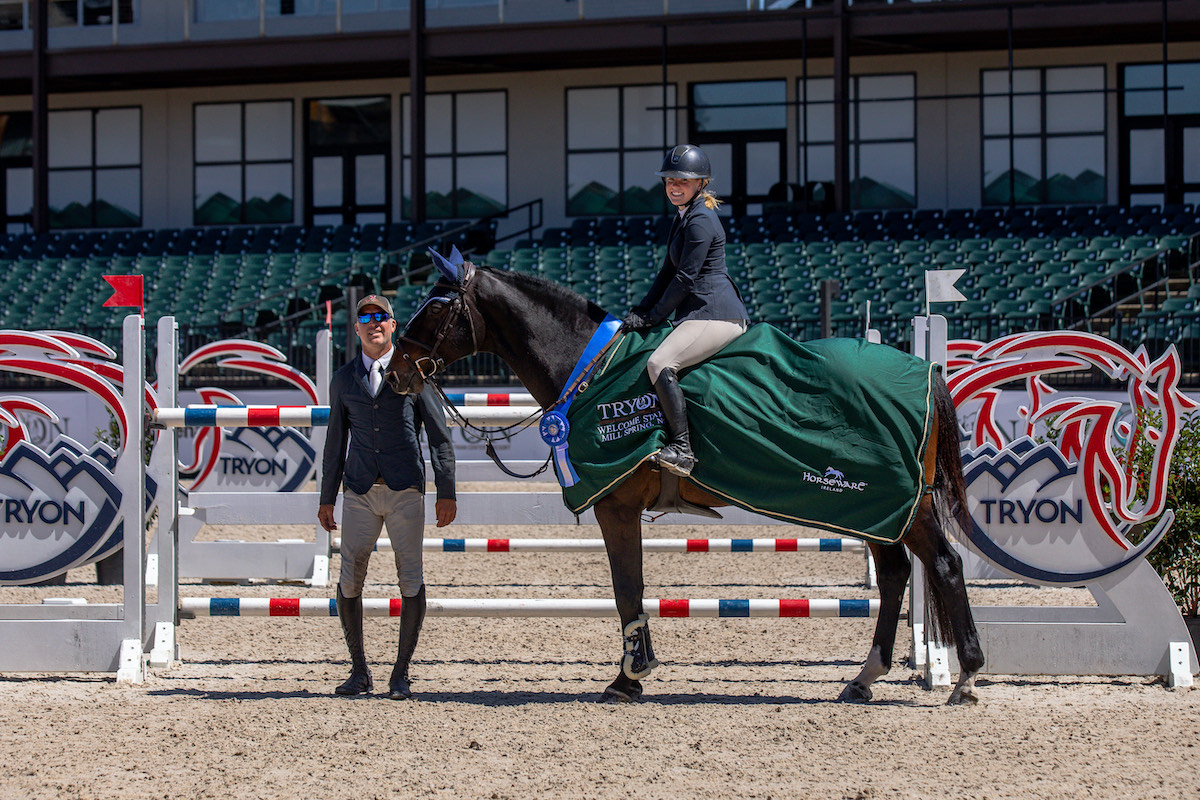 Morgan Ashby and Dutchess Carola in their presentation ceremony alongside Allen Nabors Jr. 
©TIEC
Ashby and the 2011 Holsteiner mare (Contados x Koriska II) walked into the jump off round knowing that Payne had not gone clean, "so I was going in there to win," she recapped. "It was a pretty difficult course, with nobody going double clear. There were combinations coming out of the corners, a wide oxer, and some long runs."
In light of her competition, Ashby chose to be "tidy while opening her up a little," she explained. "She was absolutely perfect and jumped amazing!"
Their recent successes have come from dedicated homework and the continued refining of their warm-up routine, Ashby noted. "We've changed a couple things in the schooling ring, kind of figuring out what to do to keep her round and stuff like that. This different way of riding her has worked out very well," she concluded.
"She's really stepped up to the plate and always wants to be clean. She loves me a lot, and I think that's the reason she does it; she's like my best friend, and tries really hard for me."
For full results from the $5,000 Horseware Ireland Welcome Stake, click here.
For all division results from Tryon Welcome 2, click here.
The Tryon Welcome Series continues with Tryon Welcome 3 hosted April 7-10, during which week TIEC also plays host to The Fork at TIEC, featuring CCI 4*-1*-S international Eventing competition alongside national divisions. All competitions are free and open to the public. For more information about each, visit www.Tryon.com/allevents.
Photos ©TIEC. These photos may only be used once, in relation to this press release. Official show photos and photo request forms can be found at www.Tryon.com/photos. All photographers distributing or selling photos must be credentialed. With questions, contact media@tryon.com.
Tags:
Ashley Hurteau
,
Chaccolate
,
Charles 82
,
Christina Webb
,
Doug Payne
,
Dutchess Carola
,
FVF Sailor Man
,
Gigi Phillips
,
Heather Hooker Boggio
,
Horseware Ireland
,
Horseware Ireland Welcome Stake
,
Megan Rosenthal
,
Morgan Ashby
,
Pennacle
,
Quintessence
,
So Be It
,
Thunderbird
,
Tryon Welcome 2
,
Tryon Welcome Series
,
USHJA National Hunter Derby
,
Wailea
,
Welcome Stake