For Immediate Release
Sarah Madden for TIEC
March 31, 2022 – Tryon Welcome 1 kicked off the 2022 USEF competition season at Tryon International Equestrian Center & Resort (TIEC) with more than two hundred horses in attendance, featuring Hunter, Jumper and Equitation competition. The $25,000 Jumper Classic hosted Sunday in Tryon Stadium served as the weekend's feature class. Heather Hooker (Wellington, FL) and Charles 82 cleared the jump-off track set by Skip Bailey (Wellington, FL) in 40.592 seconds for the win.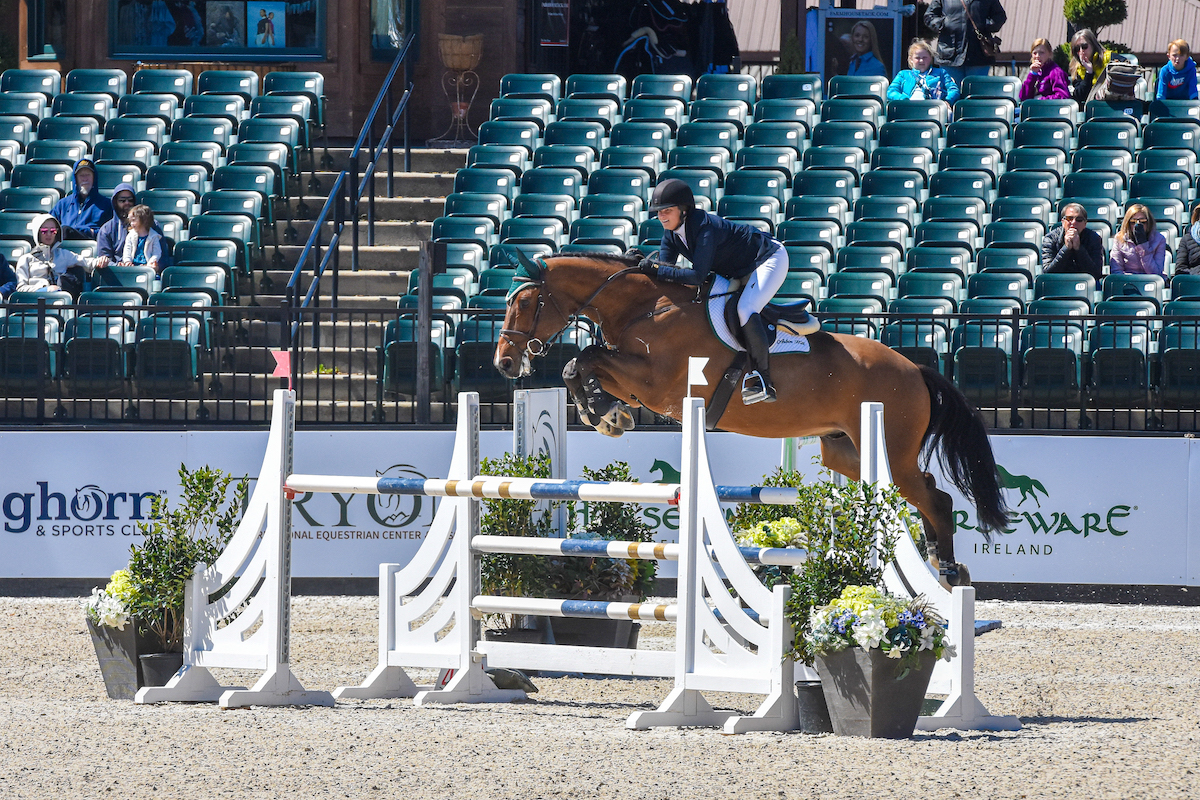 Heather Hooker Boggio and Charles 82
©TIEC
Just behind, her husband Chasen Boggio (Canton, GA) guided his own Co Pilot, the Westphalian gelding (Coney Obellnsty x Pauline), to reserve on a time of 42.661 seconds. Also going double-clear for a podium finish was Fernando Cardenas, Jr. (New Hill, NC) riding Dale Car, the 2013 Oldenburg mare (Quincy Car x Kaline De Moens) owned by Fernando Cardenas, to a time of 44.203 seconds for third place.
"We were pretty close on the time allowed [in the first round], so I'm glad we went clear," Hooker Boggio admitted. "On Friday, we had an okay day. We all had ribbons, but Chasen had a better day. Today, we were like, 'We want to jump clear so bad!'"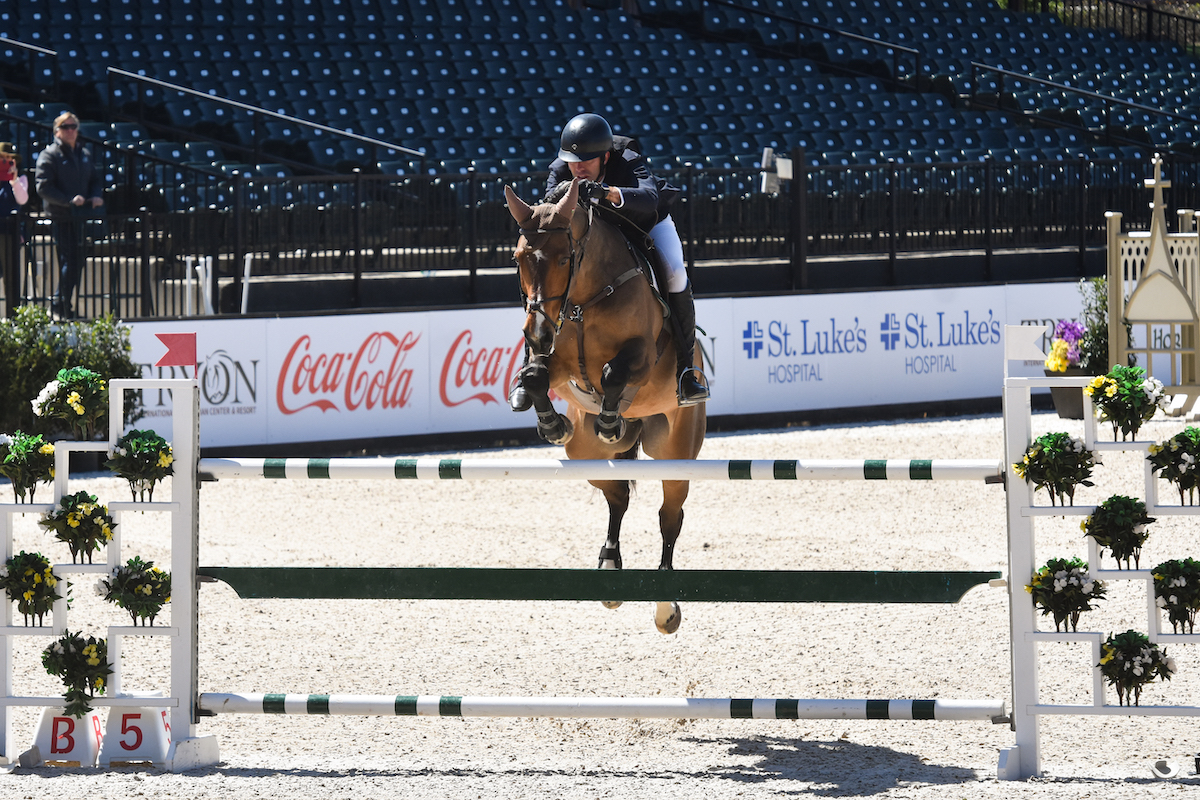 Chasen Boggio and Co Pilot
©TIEC
Hooker Boggio and her own 2010 Holsteiner gelding (Cachas x V-Carica) have been paired together for just more than a year, after they connected at a time when Hooker Boggio wasn't in the market for a new ride.
"I was down visiting my mom and rode one of her horses over to my trainers, Ken Burkley and Scott Stewart, and they said, 'I think we have the perfect horse for you.' I didn't think I was going to get a horse," Hooker Boggio explained, "but Ken told me to just sit on him and see if I liked him, knowing that we would love him. He's wonderful. He's really like a big puppy and a total sweetheart."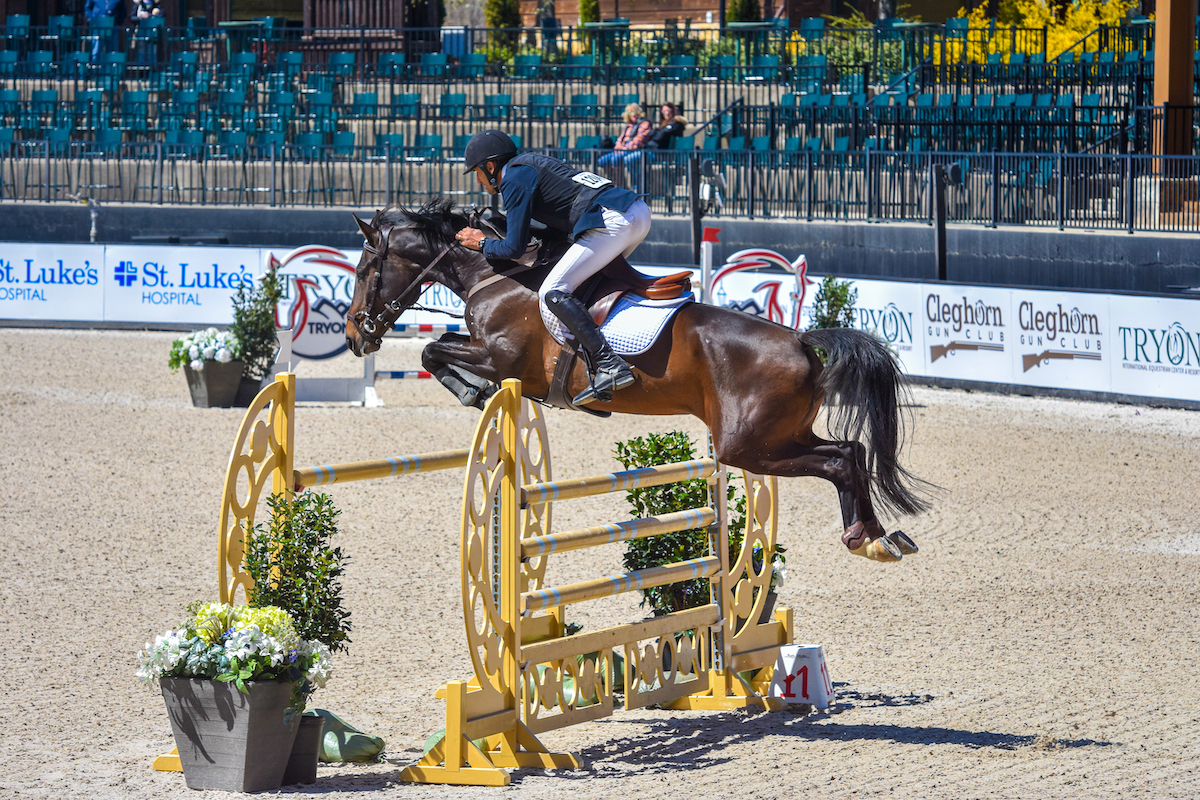 Fernando Cardenas Jr. and Dale Car
©TIEC
The Boggios are frequently found in the TIEC competition arenas, both juggling full-time jobs and academic pursuits. "I'm in business school and Chasen has a full-time job, so we just do this on the weekends when we can. I have to go back to school for class at 8:30am tomorrow morning [Monday], she reported after Sunday afternoon's win. Chasen will work and I'll go to school Monday through Thursday, then we'll drive back here Thursday night."
Such a good experience in the ring makes the long commute and many hours worth the effort, Hooker Boggio emphasized. "It makes the drive back to Atlanta a lot nicer after a successful weekend like this!"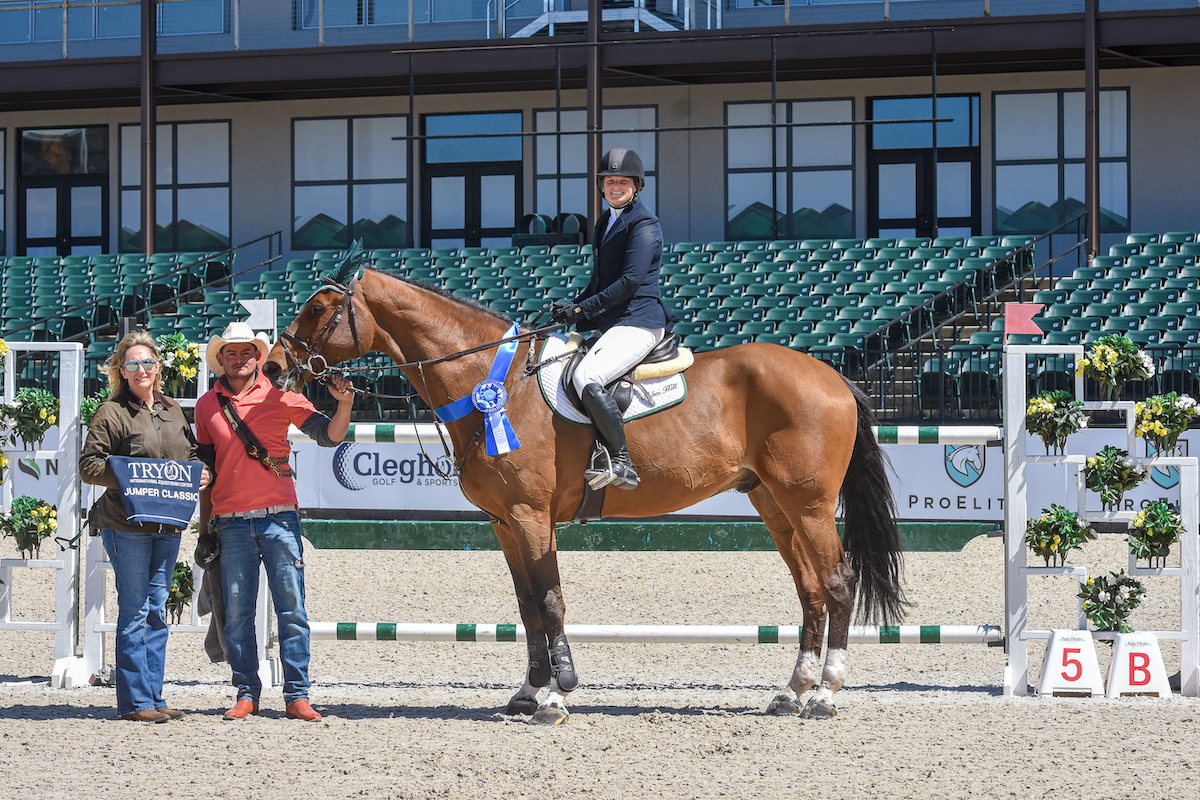 Heather Hooker Boggio and Charles 82 in their presentation ceremony alongside Molly Oakman, TIEC Director of Equestrian Operations.
©TIEC
"We show here a lot, and do a little bit of spring, summer and fall. TIEC is really convenient for us because it's only about two and a half hours from Atlanta," Hooker Boggio concluded. "The horses love the stalls, and it's really easy for us because we have the big aisle, the dog pen outside, and the barns are cooler when it's hot out and warmer when it's cold out."
For full results from the $20,000 Jumper Classic, click here.
Morgan Ashby and Dutchess Carola Crowned $5,000 Horseware Ireland Welcome Stake Winners
March 25, 2022 – Morgan Ashby (Denver, NC) and Dutchess Carola were the only duo double-clear in Friday's $5,000 Horseware Ireland Welcome Stake to kick off Tryon Welcome 1, stopping the jump-off timers in 40.682 seconds. Ashby bested her trainer, Allen Nabors, Jr. (Ocala, FL) who was aboard Casanova DVE, the 2012 Belgian Warmblood gelding (CLinton x Diona V/D Wezelse Heihoeve VM) owned by Dutch Valley Sporthorses, and scored four faults in a time of 70.436 in the first round to receive second place. Daniel Pizarro (Milton, GA) and his own Evita P completed the podium, also dropping a rail for four faults in a time of 73.488 seconds with the 2009 Dutch Warmblood mare (Toulon x Promis P).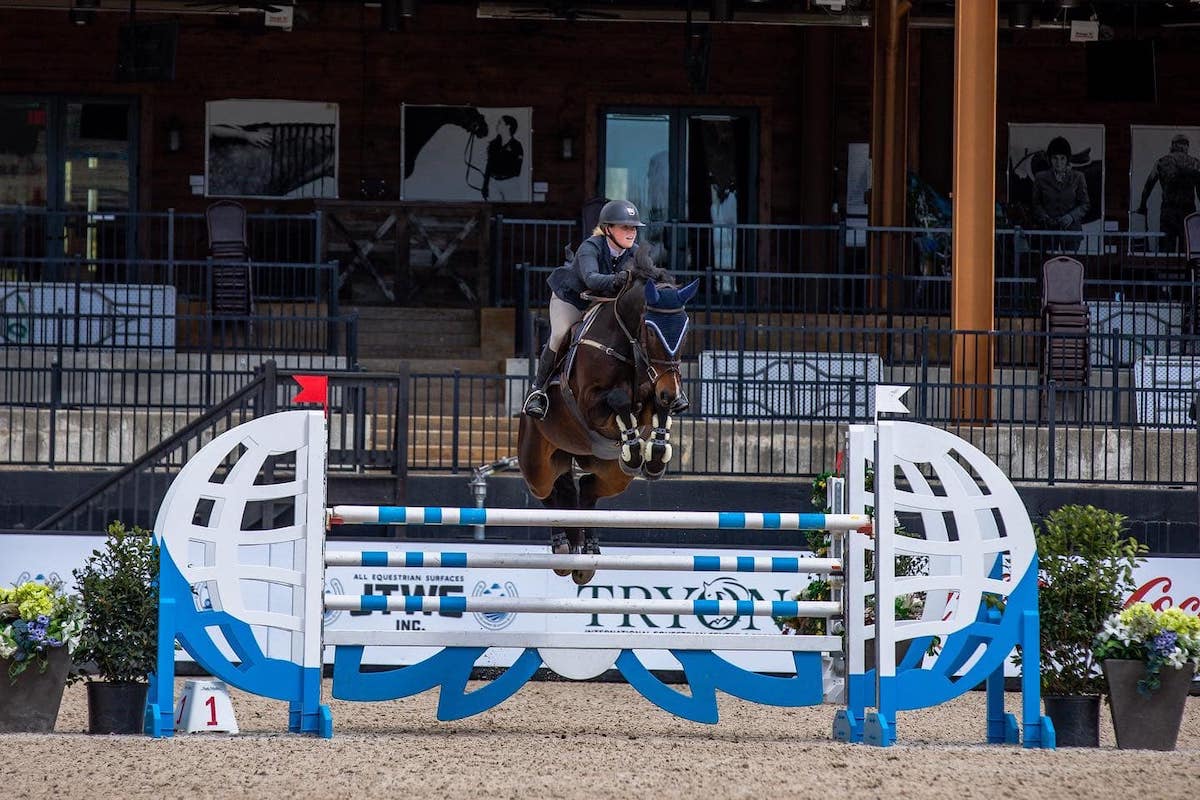 Morgan Ashby and Dutchess Carola
©TIEC
Ashby and her own 2011 Holsteiner mare (Contados x Koriska II) have been paired together for about three years, but are coming back from a bit of a vacation, she detailed. "I've competed with her a lot here, and did my first two-star with her here. She's had a little off time, so she's just coming back," Ashby relayed. "We've been putting a lot of time into her, and she's come up really well."
Dutchess Carola stepped up to the challenge in what Ashby called a tough inaugural Welcome Stake for the series, reflecting the caliber of competitors present. "There was a long five [strides] and an easy double vertical to a really tight five. Then, you had the skinny off of a corner and a long stretch to a wide oxer and vertical," Ashby detailed. "She really stepped up for me."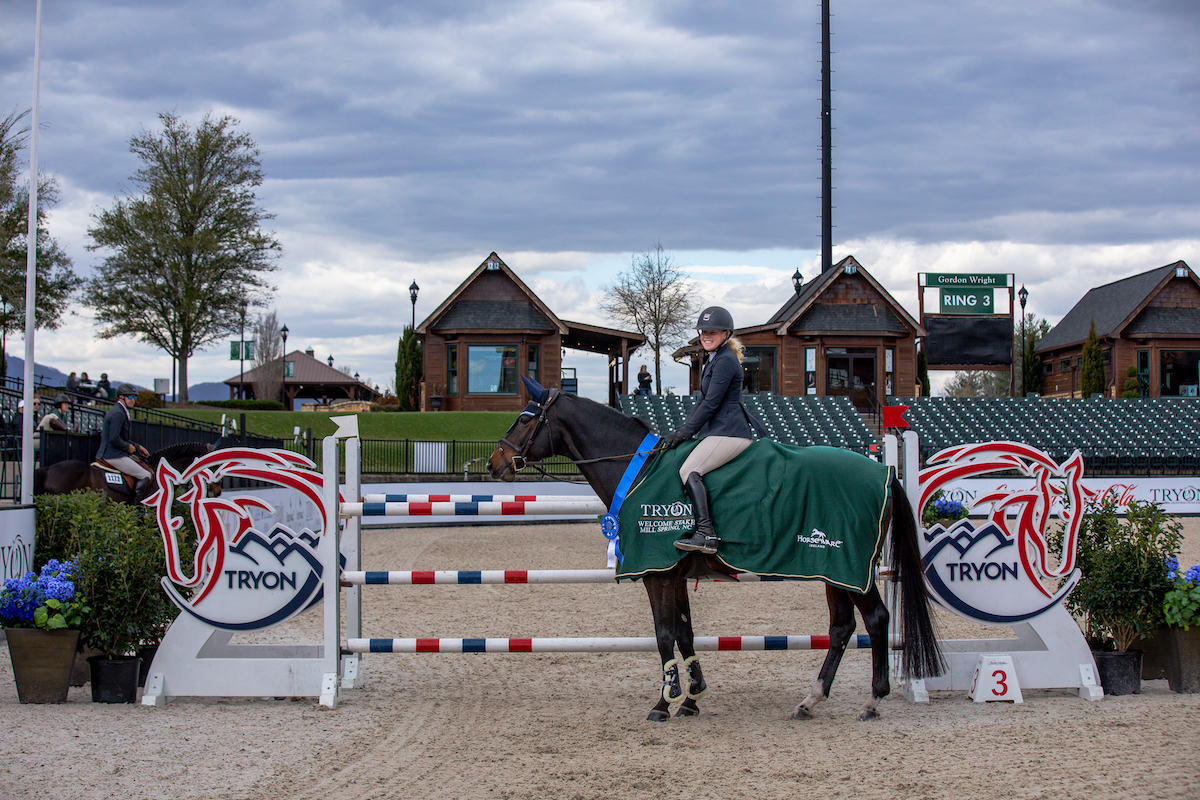 Morgan Ashby and Dutchess Carola in their presentation ceremony.
©TIEC
Though finding herself alone in the double-clear club, Ashby was primarily aiming for good rounds with her horse as she rejoins the competition circuit, and will be back in the rings every few weeks at TIEC as the season progresses, she concluded.
"I was just trying to go clean. I wanted to be tidy, but also protect her to the double verticals and slow down a little there. She felt like she was pretty quick, though, and I think she still would've been competitive if there were more to go clean."
For full results from the $5,000 Horseware Ireland Welcome Stake, click here. 
For full division results from Tryon Welcome 1, click here.
Tryon Welcome 2 is hosted March 31-April 3, with highlight classes including Friday's $2,500 USHJA National Hunter Derby at 8am, the $5,000 Horseware Ireland Welcome Stake at 1pm, and Sunday's $25,000 Tryon Resort Grand Prix at 1pm in Tryon Stadium. The weekend will also feature the Carolina Horsemans Connection Horse Auction in the Indoor Arena on Saturday from 12-5pm. For more info, visit www.Tryon.com/thisweek. 
Photos ©TIEC. These photos may only be used once, in relation to this press release. The in-house TIEC team serves as the official photographer for the Tryon Welcome Series, and competitors may view photos and request photographs for Tryon Welcome 2 at www.Tryon.com/photos.