For Immediate Release
Sarah Madden for TIEC 
Mill Spring, NC – June 21, 2022 – Tryon Summer Dressage 1&2 hosted both national USDF competition and CPEDI 3* and 2* competition at Tryon International Equestrian Center & Resort (TIEC), serving as the final observation event ahead of team selection for the 2022 FEI Para Dressage World Championship in Herning, Denmark. Team USA members will be selected in July to compete abroad in August. Personal bests and the solidification of new partnerships abounded in the sandbox throughout the weekend, which also had a somber feel as the Para Dressage community mourned the recent loss of Hope Hand. A special ceremony was hosted Sunday at the awards ceremony in memory of Hope's dedication to the sport and its athletes. Read below to hear from some of the Para Dressage athletes as well as for results from USDF competition.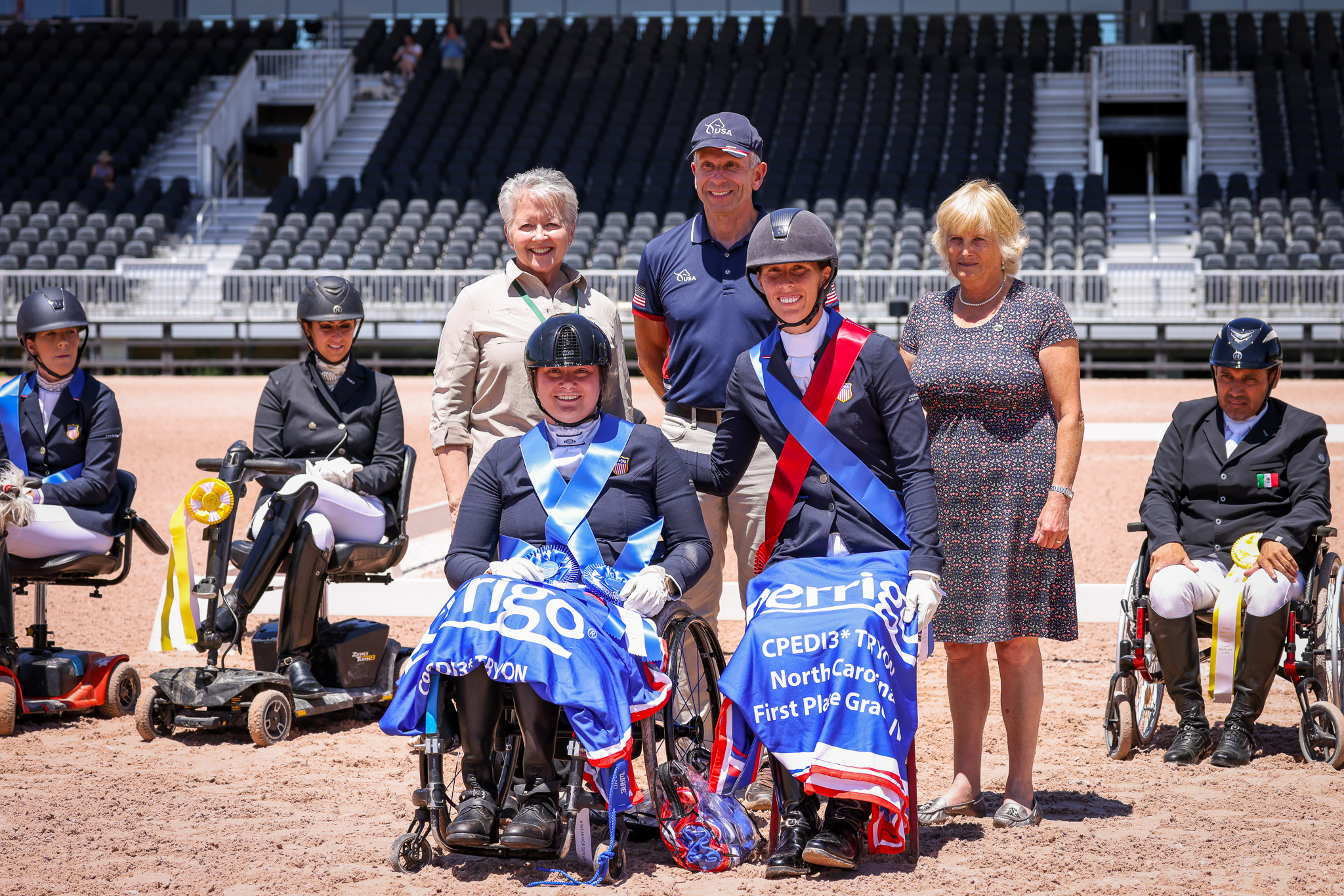 Beatrice de Lavalette and Kate Shoemaker in their presentation ceremony alongside TIEC President Sharon Decker, USEF Para Dressage Chef d'Equipe Michel Assouline, and Judge Sarah Leitch (GBR).
©Leslie Potter/US Equestrian
Roxanne Trunnell Rides Brand-New Mount Fortunato H2O to Top Honors in Grade I
Roxanne "Roxie" Trunnell (USA) brought a new horse, Fortunato H2O, Lehua Custer's 2016 Oldenburg stallion (Füchtels Floriscount OLD x Raleska WF x Rascalino) – who goes by "Tuna" or "Fish" in the barn – down centerline this weekend to great results, despite the fact that they've been together for just a month and a half. The "try-hard" young horse has impressed Trunnell with "how quickly he became a Para Dressage horse." The duo's highlight score was a 73.036% in Friday's Team Test.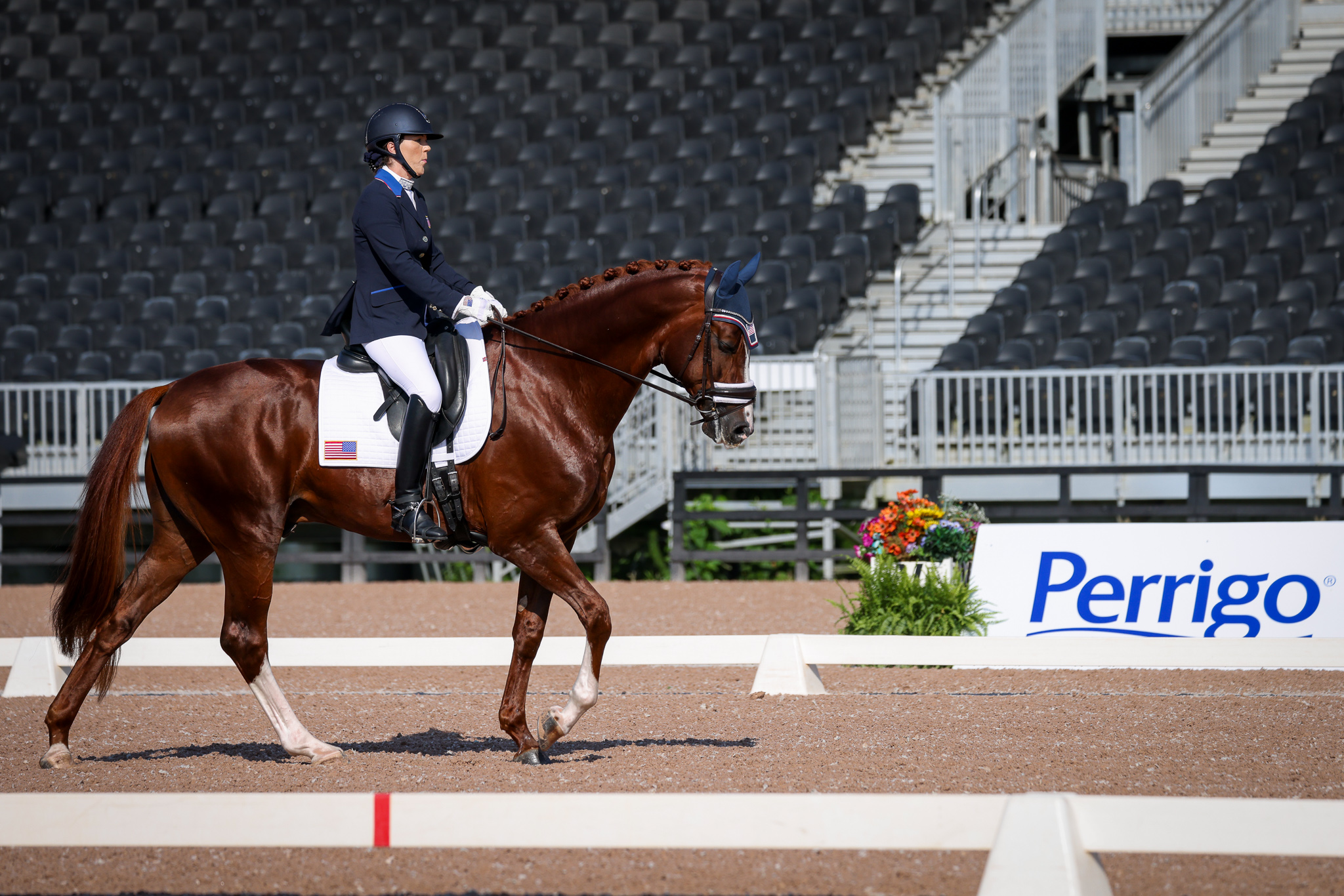 Roxie Trunnell and Fortunato H2O
©Leslie Potter/US Equestrian
Trunnell, who propelled Team USA to record highs at Tokyo 2020, now has two top talents in Dolton and Fortunato H2O, and is aiming for the World Championship team. "Dolton will come back and compete here in October," she said. 
For now, Trunnell is excited to participate in next week's invite-only Symposium hosted at the Indoor Complex at TIEC, where she will further solidify her relationship with Tuna. "His owner, Lehua Custer, is awesome for loaning me Tuna," Trunnell concluded.
Grade II and Overall Honors Belong to Beatrice de Lavalette; New Partnership with Sixth Sense
Beatrice "Bea" De Lavalette (USA) was named the weekend's Perrigo/USEF CPEDI 3* Champion aboard Sixth Sense, the 2010 Oldenburg gelding (Sir Donnerhall I x Edosta x Florencio) owned by Elizabeth and Nicolas de Lavalette. Friday's Individual Test scores and Saturday's Team Test scores were combined with Sunday's FEI Para Dressage Freestyle Test scores at a ratio of 40%, 40%, and 20%, respectively, to determine individual winners for the CPEDI3*.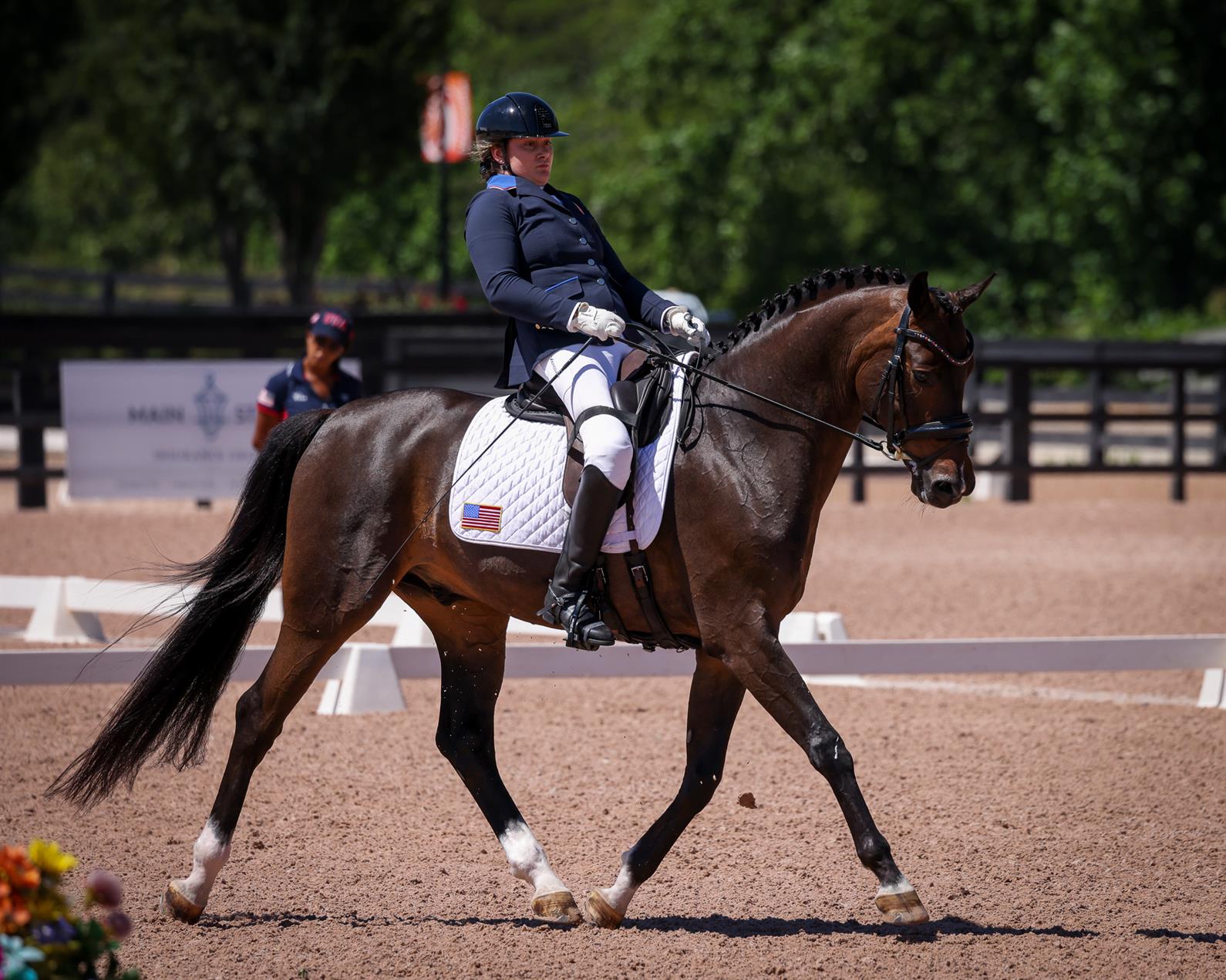 Beatrice de Lavalette and Sixth Sense
©Leslie Potter/US Equestrian
Riding a new horse and also piloting her Tokyo 2020 Paralympic mount, Clarc, de Lavalette walked out of the ring Sunday with a personal best in the Grade II Freestyle on her new ride, earning a 75.945%. It was only the second time she's ridden that Freestyle test in the seven months she's had "Sensei," she revealed.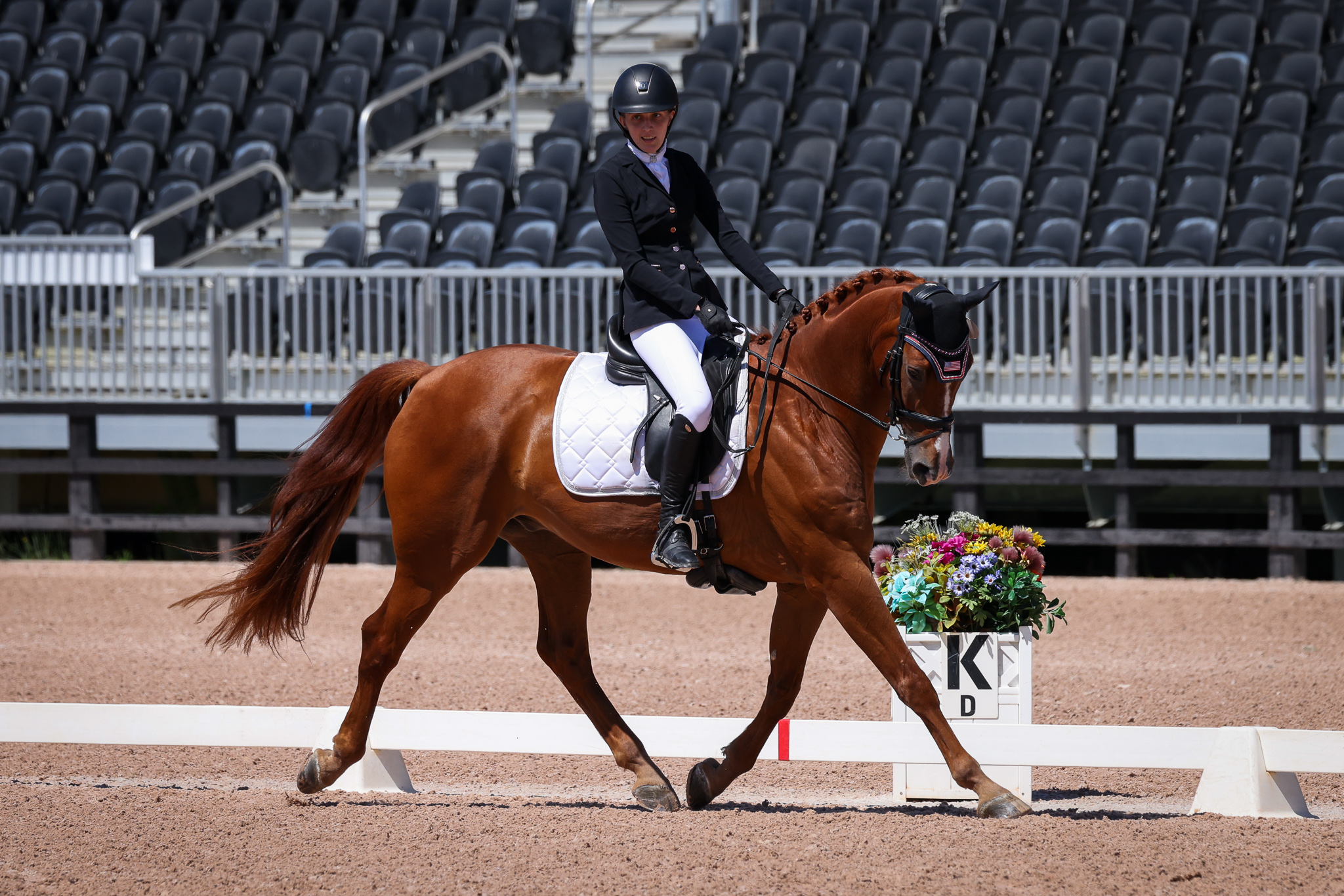 Sunday's Grade II Freestyle Test also resulted in a Personal Best for Fiona Howard and De Nouvelle Vie, who scored a 71.156%.
©Leslie Potter/US Equestrian
"It's a new partnership. Things started really well, and then kind of went down[hill]," she recapped. "He started to take advantage of some stuff that I couldn't do. We went to Europe in April, and we built back up our partnership after our experience there. It's been a really good month of training, and I couldn't be more proud of him."
From TIEC to Tokyo to Europe and back again, de Lavalette and Clarc have traveled the world together and she still finds competing at the venue to benefit her horses' minds and bodies, especially when preparing for a potential championship team selection, she concluded.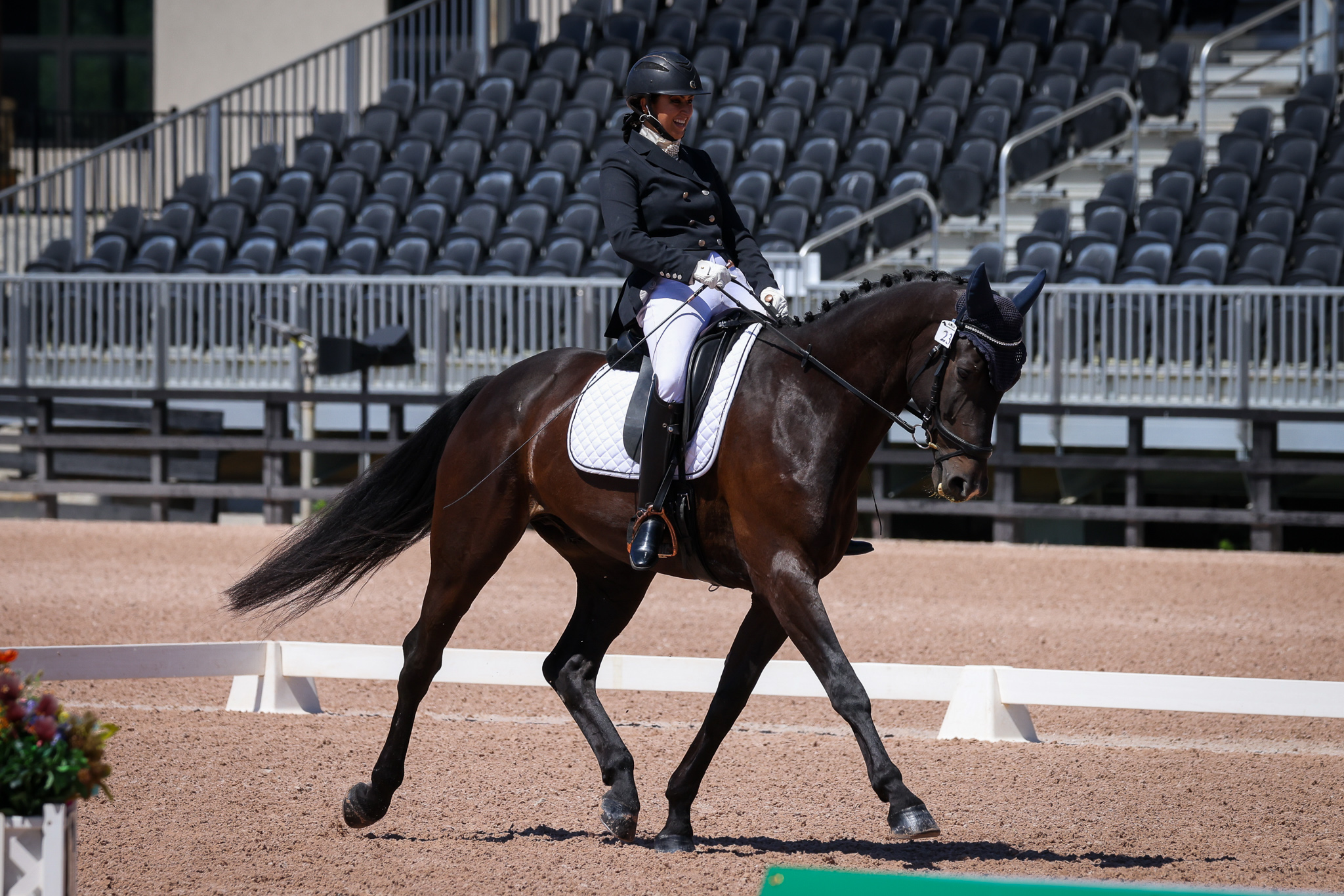 Scoring a 68.423% and a Personal Best with young mount Jayden, Mia Rodier-Dawallo was third in Sunday's Freestyle.
©Leslie Potter/US Equestrian
"Tryon is like the big place to be. It's where you get the chance to experience being in a big arena. It's good preparation for the Championships. In Tokyo, that arena was huge. It's good preparation for the horses, and for me, [to adapt] to the big scenery of this competition."
Rebecca Hart Pilots Two Mounts to Top in Grade III Competition
Rebecca Hart (USA) was first and second in the Grade III classes all weekend, until Sunday's Freestyle when she only competed one horse and claimed the win once again for an extremely successful outing that she said "could not really have been better." With El Corona Texel, Rowan O'Riley's 2009 Dutch Warmblood gelding (Wynton x Urieta Texel x Goodtimes 3) called "Tex," Hart scored a 74.989 % in Sunday's Freestyle Test, also taking Saturday's win in Individual competition on a score of 72.892%. "Moolah," O'Riley's 2010 Oldenburg gelding (Fidertanz x Weinrose x Blue Hors Don Romantic) known formally as Fortune 500, was runner-up Saturday and Sunday but grabbed a Friday win in Team Test competition on a score of 71.912%.  
Rebecca Hart and El Corona Texel
©Leslie Potter/US Equestrian
Though both mounts were posting winning scores all weekend, Hart revealed that her two rides could not be more different in the sandbox. "Fortune 500 and El Corona Texel are kind of polar opposites: Fortune 500 is the most laid-back, chill, and straightforward horse, so he just comes out, does his job, and he's very good at it. Tex," she contrasted, "is incredibly brilliant but can also be a little bit reactive."
Tex found his stride throughout the weekend after Hart took the time to adjust their warm-up and tour before trotting down centerline, she explained.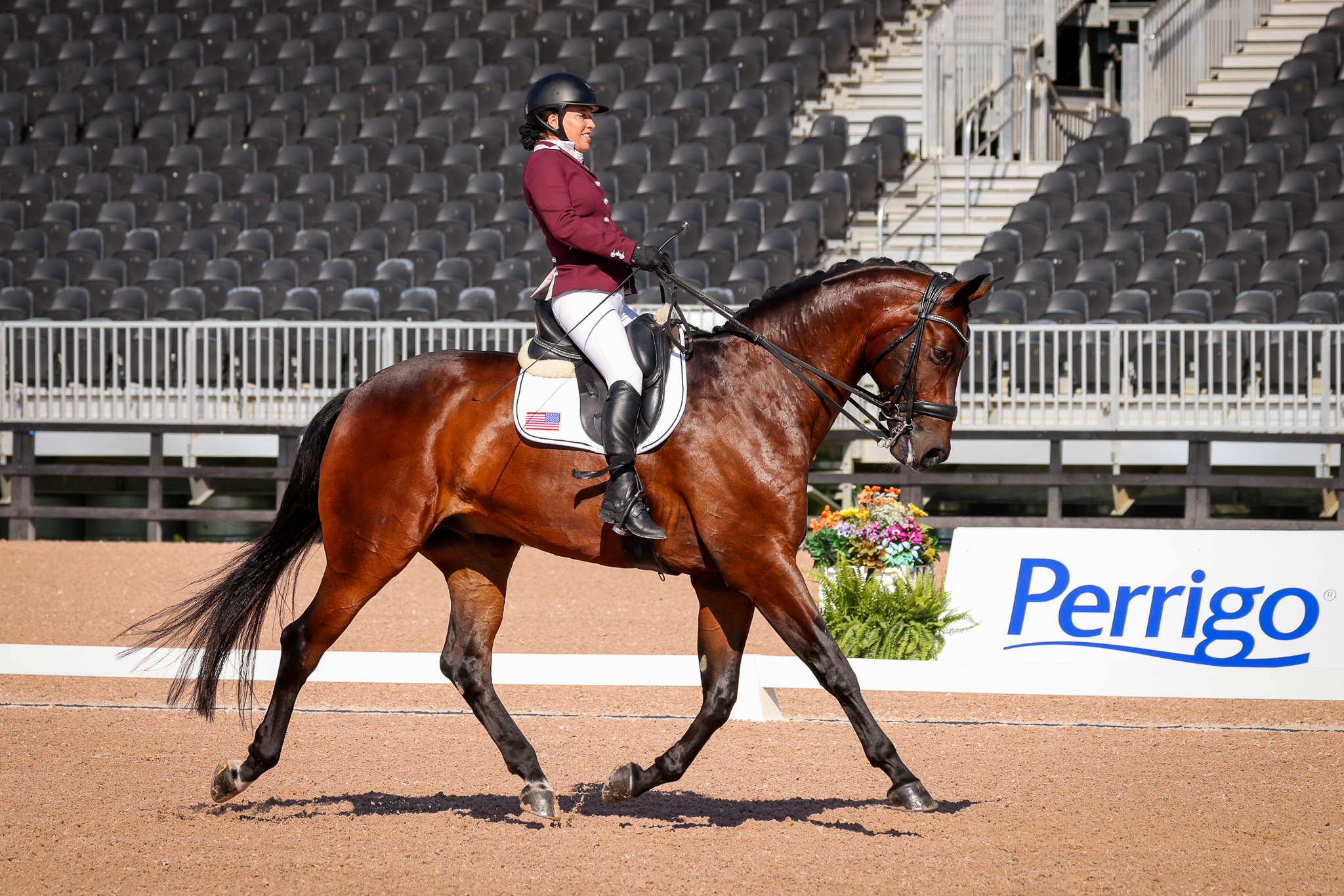 Rebecca Hart and Fortune 500
©Leslie Potter/US Equestrian
"We changed a few things in the warm-up and how we did the tour, and he came out and was about as chill, if not more chill, than his brother, so I was wildly excited that it worked. We've found that doing a longer warm-up with a lot of walking at home, and letting him come into his own and feel confident before I start asking for movements, [allows him] to take a breath."
Instead of the traditional trot tour of the arena prior to her tests, Hart decided to let her longtime mount take a relaxing walk instead. The result was that Tex took "a big exhale, and then when I asked him to trot it was this gorgeous, relaxed trot. I tried it again today in the Freestyle with the music, because it's more intense, and it worked again. New system!"
Charlotte Merle-Smith and Guata claimed third in Grade III Team and Individual competition before earning reserve in Freestyle on Sunday and scoring a 72.034%.
©Leslie Potter/US Equestrian
Among the competitors who will be waiting for a call on July 5th to learn their team status, Hart was excited to return to TIEC for the selection trials. "I've shown at Tryon a lot. Tryon is a special place for me because, with Tex, it's the first place where we did the WEG in 2018," she reflected. "I got the silver and bronze, which were my first medals ever in my career, so I have a very special spot in my heart for Tryon so I always like coming here." 
Hart emphasized the support of many people around her, in particular her owner, who makes her career and its success possible: "I want to add an amazingly huge thank-you to my wonderful horse owner, Rowan O'Riley, without [whose] amazing support and her horses I would not get to do any of this, or live any of my dreams. It's the people behind the scenes, not just us out there in the ring, that are so vitally important to this entire sport!"
Kate Shoemaker Named Reserve Champion with Solitaer 40
Competing in Grade IV, Kate Shoemaker (USA) and Solitaer 40, the 2007 Hanoverian gelding (Sandro Hit x Dynastie x De Niro) she owns in partnership with parents Craig and Deena Shoemaker, earned reserve champion honors in all CPEDI 3* competition, posting scores over 70% all weekend and earning a 75.683% in Sunday's Freestyle – the same routine they presented at the World Equestrian Games in 2018 at the same venue. It was a full-circle moment for Shoemaker, who hopes to receive a team spot in July from her training base in Germany.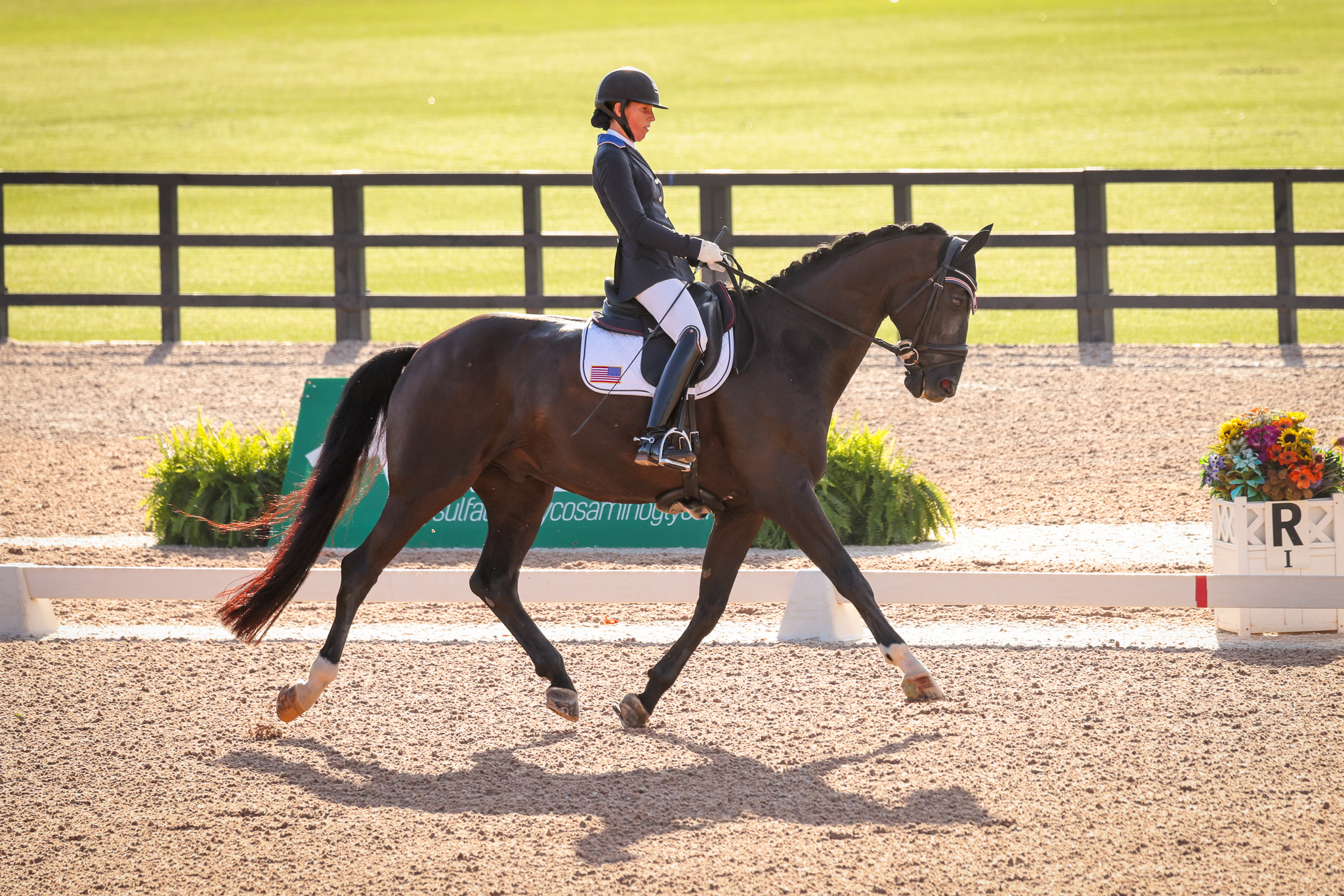 Kate Shoemaker and Solitaer 40
©Leslie Potter/US Equestrian
"He's my boy that I can trust," Shoemaker beamed. "Whatever the circumstances are, he'll go in there and get it done. What I liked about this weekend is that each day he was able to get a little bit better. Even at this point, to be able to be making that kind of improvement [is great]. He's a tryer."
Andie Sue Roth and Cynthia Screnci Shine in Grade V Competitions
The youngest competitor all weekend, Andie Sue Roth (USA) contested Grade V competition with Aniko, the 2006 Oldenburg gelding by RS-Endgame and owned by Lisa Hellmer, and came away with lots of positives and improvements on her "East Coast" horse. 
"I was really happy with my ride," she shared Friday, "We hit all the things we needed to hit and we improved on the things we were trying to work on, so I'm looking at the positives. There's always something you need to improve, but the things we have been working on we did quite well."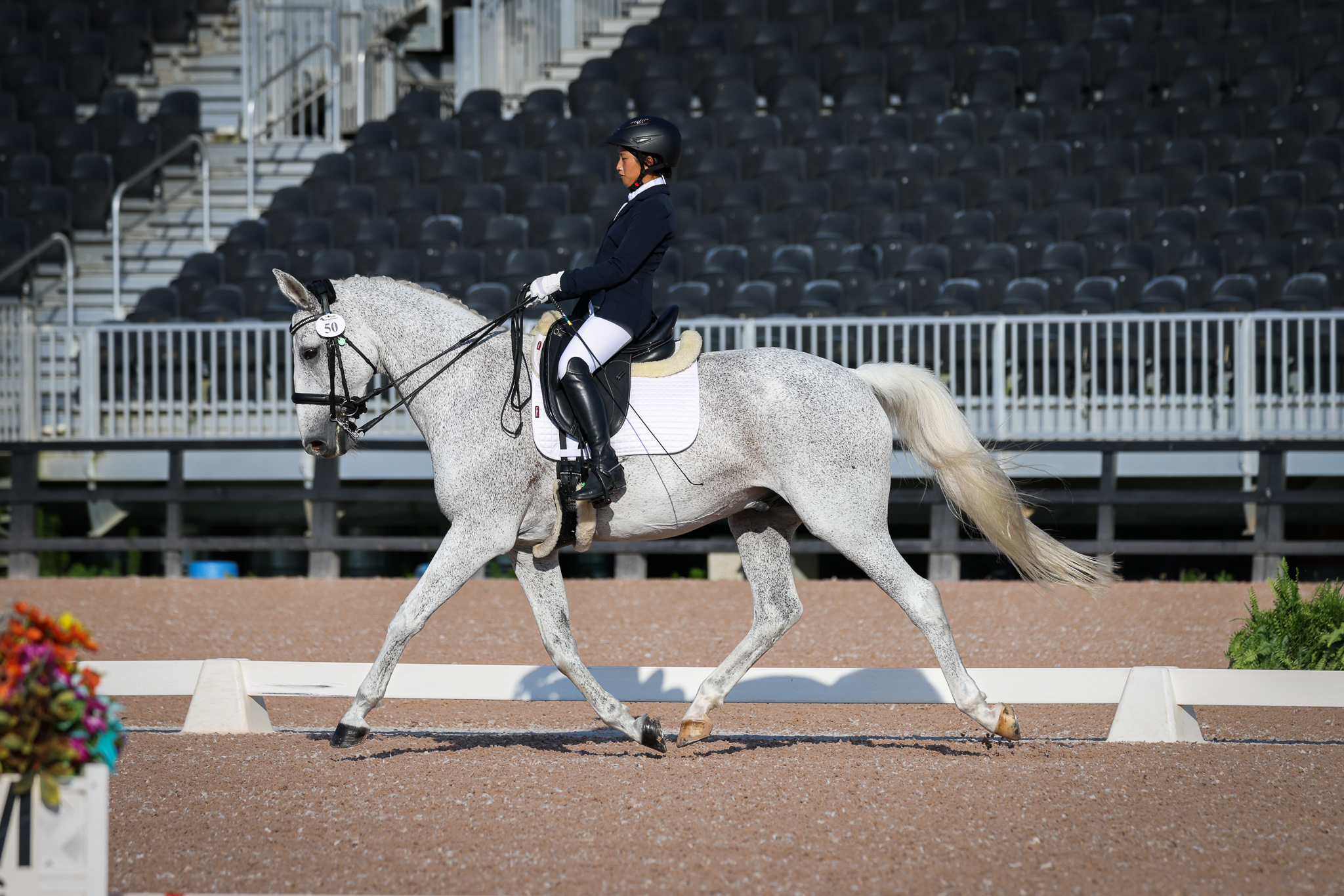 Andie Sue Roth and Aniko
©Leslie Potter/US Equestrian
Typically based in California, Roth has been in Florida for the past month reconnecting with Aniko and training with Lisa Hellmer. Back home, she's riding second-level with a project horse and "riding as much as she can" at the upper levels with Karen Erickson. She emphasized the importance of the borrowed horse programs as a way to make competitions accessible for athletes across the country. 
"It's so important. I haven't been doing this for a very long time, and I don't have enough money to go out and buy a horse from Europe or anything, and so it's been amazing to have Lisa Helmer let me borrow her horse." While borrowing a horse suitable for Grade V competition is a bit easier than filling some riders' needs, she acknowledged, the freedom to focus on improving her skills at competition has been incredibly impactful to her growth in the sport. 
"I've had a couple other horses I've been able to borrow in the past, and it's been very nice. I can figure out what I need to do at these shows, and not really worry about my horse and [focus on myself] and what I need to do." 
"This weekend has been great!" she concluded. "I love coming to Tryon and I hope I can keep coming here; I love it. I love seeing all my friends here, and how supportive everybody is."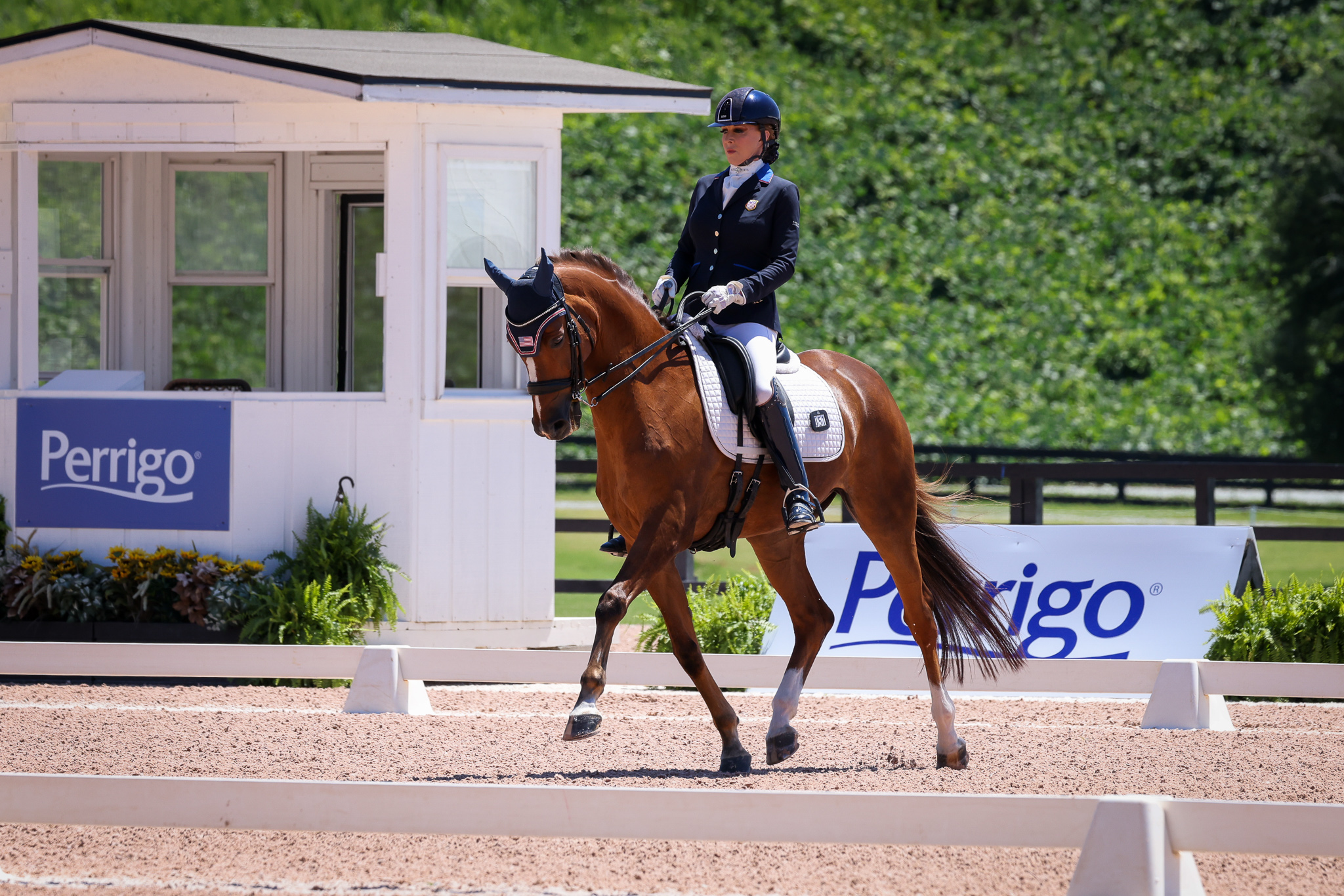 Cynthia Screnci and Sir Chipoli
©Leslie Potter/US Equestrian
Grade V CPEDI 3* competition, separate from CPEDI 2* competition but also featuring just one rider, included a personal best for Cynthia Screnci and Sir Chipoli. Screnci and the  2007 Dutch Warmblood gelding (Sir Donnerhall I x Vivalucienne TKS x Carabas) owned in partnership with Volado Farms, scored a 68.730% in the Individual Test on Saturday. 
Remembering Hope Hand: Courtesy of US Equestrian
Just days before the Tryon competition, the U.S. Para Dressage community lost one of its most dedicated and beloved members, Hope Hand. Hand was the founder and president of the U.S. Para Equestrian Association and was instrumental in elevating the sport in the U.S. She was a successful para dressage athlete in her own right, having been the alternate for the 1996 Paralympics in Atlanta and Team Captain for the 2000 Paralympics in Sydney.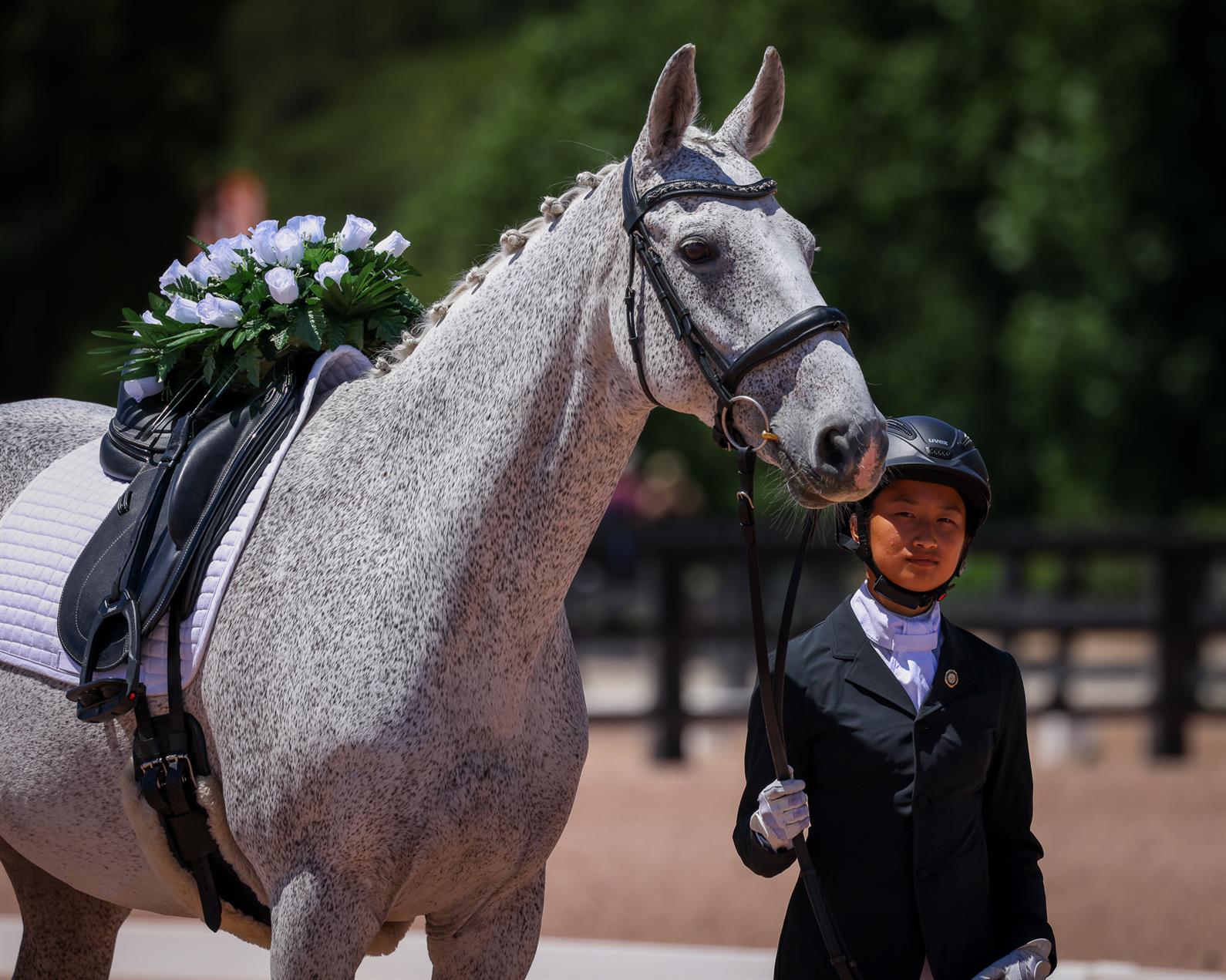 Andie Sue Roth and Aniko in the remembrance ceremony.
©Leslie Potter/US Equestrian
"The Para Dressage community world-wide has lost a legend and a true friend," said Laureen Johnson, US Equestrian Director of Para Dressage. "Hope Hand not only knew every U.S. para dressage athlete from emerging to elite but recruited many of them into the program. Hope was available 24/7 to everyone to advise, encourage and educate them on their journey to be the very best version of themselves professionally and personally. She is well known in the equestrian world for her tireless work in advancing para equestrian sport and has served on numerous boards and committees, all in the pursuit of bringing competition excellence to the U.S. in para dressage. Personally, I have lost a great mentor and friend.  She is truly irreplaceable with her extraordinary energy and warm, caring heart.  Her beautiful smile, witty personality and laugh will always remain in my heart and mind."
Athletes and friends paid tribute to Hope Hand with a remembrance after the freestyles on Sunday. Seventeen-year-old para dressage athlete Andie Sue Roth led her horse, Aniko, to center ring as a riderless horse as the assembled crowd observed a moment of silence.
Watch the remembrance for Hope Hand here.
CPEDI Results: Full results from all CPEDI 3* and CPEDI 2* competition can be found here. 
Tryon Summer Dressage 1&2 USDF Results: The weekend also hosted a full three days of USDF competition in Rings 6/7, with full results available here.
Dressage and Para Dressage will both return to TIEC throughout 2022, with more information available at www.Tryon.com/Dressage and Prize Lists posted as available. 
Photos ©Leslie Potter/US Equestrian. These photos may only be used once, in relation to this press release. With questions, contact media@tryon.com.
Tags:
Andie Sue Roth
,
Aniko
,
Beatrice De Lavalette
,
Becca Hart
,
Charlotte Merle-Smith
,
Clarc
,
CPEDI 3*
,
Cynthia Screnci
,
De Nouvelle Vie
,
El Corona Texel
,
Fiona Howard
,
Fortunato H2O
,
Fortune 500
,
Guata
,
Jayden
,
Kate Shoemaker
,
Mia Rodier-Dawallo
,
Para-Dressage
,
Rebecca Hart
,
Roxanne Trunnell
,
Sir Chipoli
,
Sixth Sense
,
Solitaer 40
,
Tryon Summer Dressage 1 & 2