Rowan Willis and Wellington Grandorie Whip Up $6,000 Speed Stake CSI 2* Win
Colin Syquia and Durant Dominate $10,000 USHJA National Hunter Derby
For Immediate Release
Mill Spring, NC – July 13, 2020 – Jack Hardin Towell (Camden, SC) and Billy Manjaro left out a few strides in the jump-off to take the $25,000 Sunday Jumper Classic win at Tryon International Equestrian Center (TIEC) to wrap up Tryon Summer 5 competition, stopping the clock at 27.795 seconds. Dena Sienne, the 2008 Dutch Warmblood mare (Van Gogh x Animo) owned by Waldman Horses BV and piloted by Roberto Teran Tafur (Wellington, FL), claimed second on a time of 28.393 seconds, while third went to Kristen VanderVeen (Wellington, FL) aboard Bull Run's Prince of Peace, the Bull Run Jumpers Six LLC owned 2009 Holsteiner gelding (Cardenio x Contender), clearing the short course in 29.001 seconds.
Towell and the 2010 British Warmblood stallion (Animo x Cevin Z) owned by Whiterock Farm LTD. left not one, but two strides out to fly into first place, Towell explained: "He has such a big stride. In the first round, there was an eight-stride line and I did six strides there in the jump-off. I think I was the only person to do it in six, which was a little bit crazy, but the horse has such a big stride."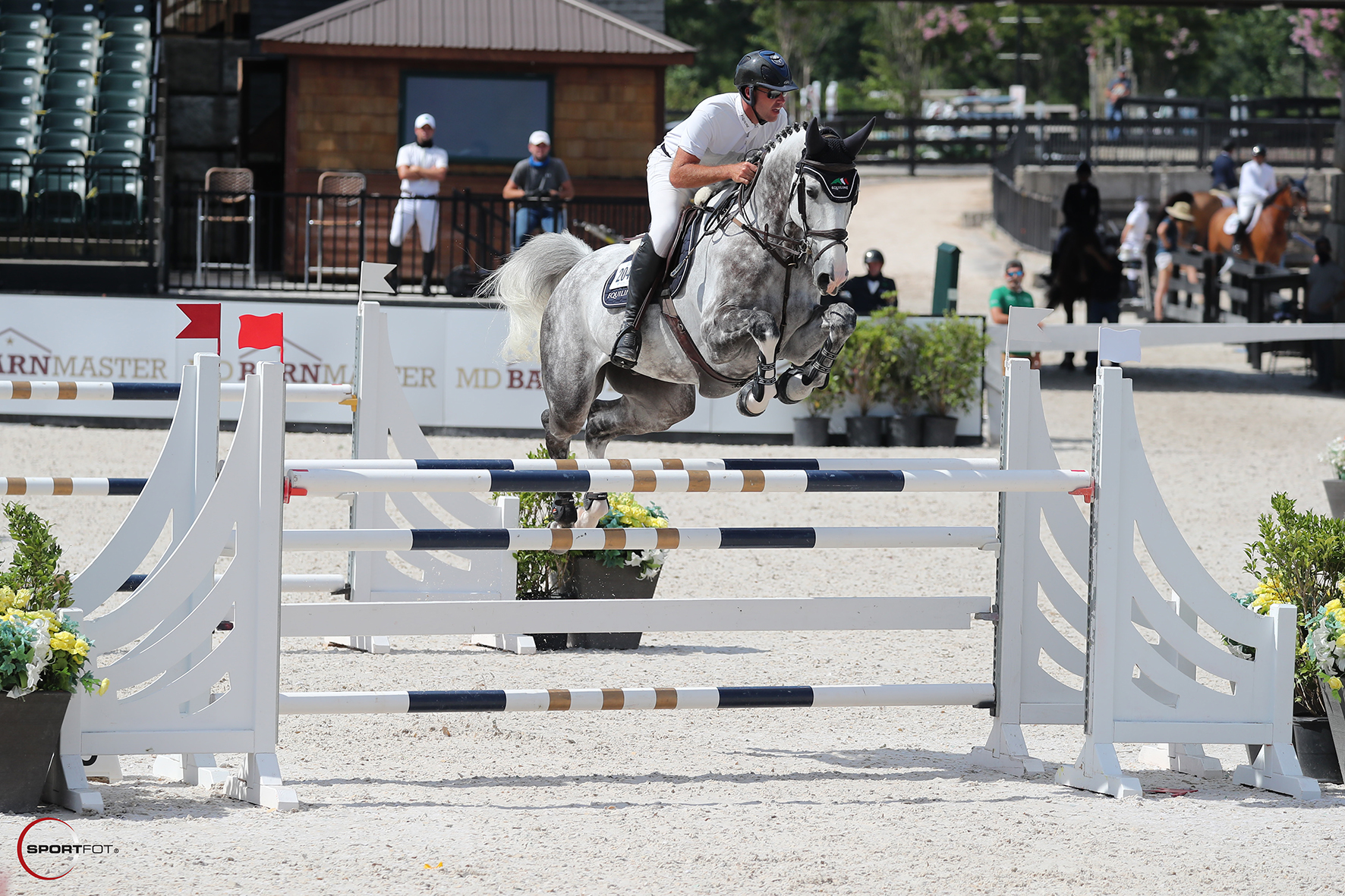 Jack Hardin Towell and Billy Manjaro
©Sportfot
Having inherited the ride on Billy Manjaro from business partner Darragh Kenny, Towell detailed that he's only a month back into showing following surgery for a broken foot. "I broke my foot and had surgery in December. So, then, it's been about a month that I've been back showing [after COVID-19 shutdowns] and I've been close, but I haven't really won anything." Towell admitted, "I am quite competitive and I have been a little bit upset. So today, I [know] I'm taking next week off, and decided to just go as fast as I can and maybe the luck will be on my side."
Though he chose not to compete under the lights with Billy Manjaro just yet, because they're still getting to know each other, "he has all the ability in the world," Towell said of his mount. "He's just a bit green. Hopefully by the end of this year [we'll compete at the Grand Prix level.] He has all the scope and jump and everything, so I'm going to keep going how I'm going and see where it ends up."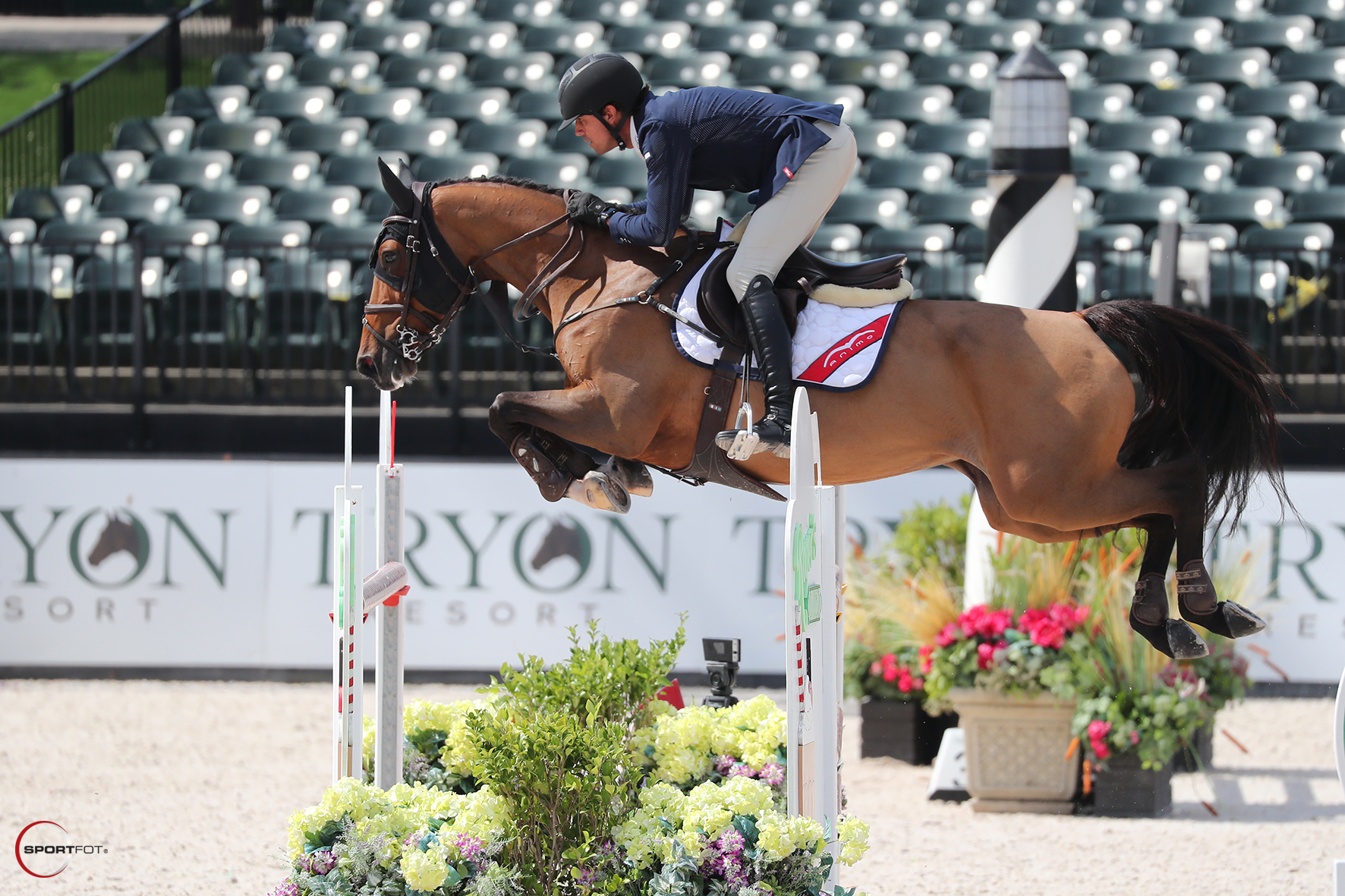 Roberto Teran Tafur and Dena Sienne
©Sportfot
Towell is a longtime competitor at the venue, and spent the last three weeks at TIEC. He noted that showing at TIEC "is like coming home" because he grew up in the Carolinas: "I love showing here. I grew up around this area, so it's like coming home. I grew up showing here 20 years ago, so it's always nice to come back. The footing is great.
Kristen VanderVeen and Bull Run's Prince of Peace
©Sportfot
"Like I said, I've been here three weeks and have been quite close to winning a couple big classes. Last night [in the $73,000 JTWG Inc. Grand Prix CSI 2*], I was clean in the first round and rode poorly in the jump-off, so it was nice to kind of finish my time here [with a win]," Towell concluded. "I look forward to coming back here in the fall!"
Rowan Willis and Wellington Grandorie Whip Up $6,000 Speed Stake CSI 2* Win
July 10, 2020 – Rowan Willis (AUS) and Wellington Grandorie handled the $6,000 Speed Stake CSI 2* by more than four seconds, stopping the clock in 61.75 seconds to take top honors aboard the 2011 British Warmblood mare (Balloon x Grandira) Willis co-owns with Lady Mornington. Grant Seger (USA) and Idalgo, the 2010 Westphalian stallion (Indoctro x Clinton) owned by Hillary Drummond Sport Horses, LLC, cleared the Guilherme Jorge (BRA) course design in 66.03 seconds to claim second. Lillie Keenan (USA) piloted El Balou Old, the 2012 Oldenburger stallion (Eldorado VD Zeshoek x Balou du Rouet) owned by Chansonette Farm LLC, to third on a time of 66.86 seconds to round out the podium in a field of 22 entries.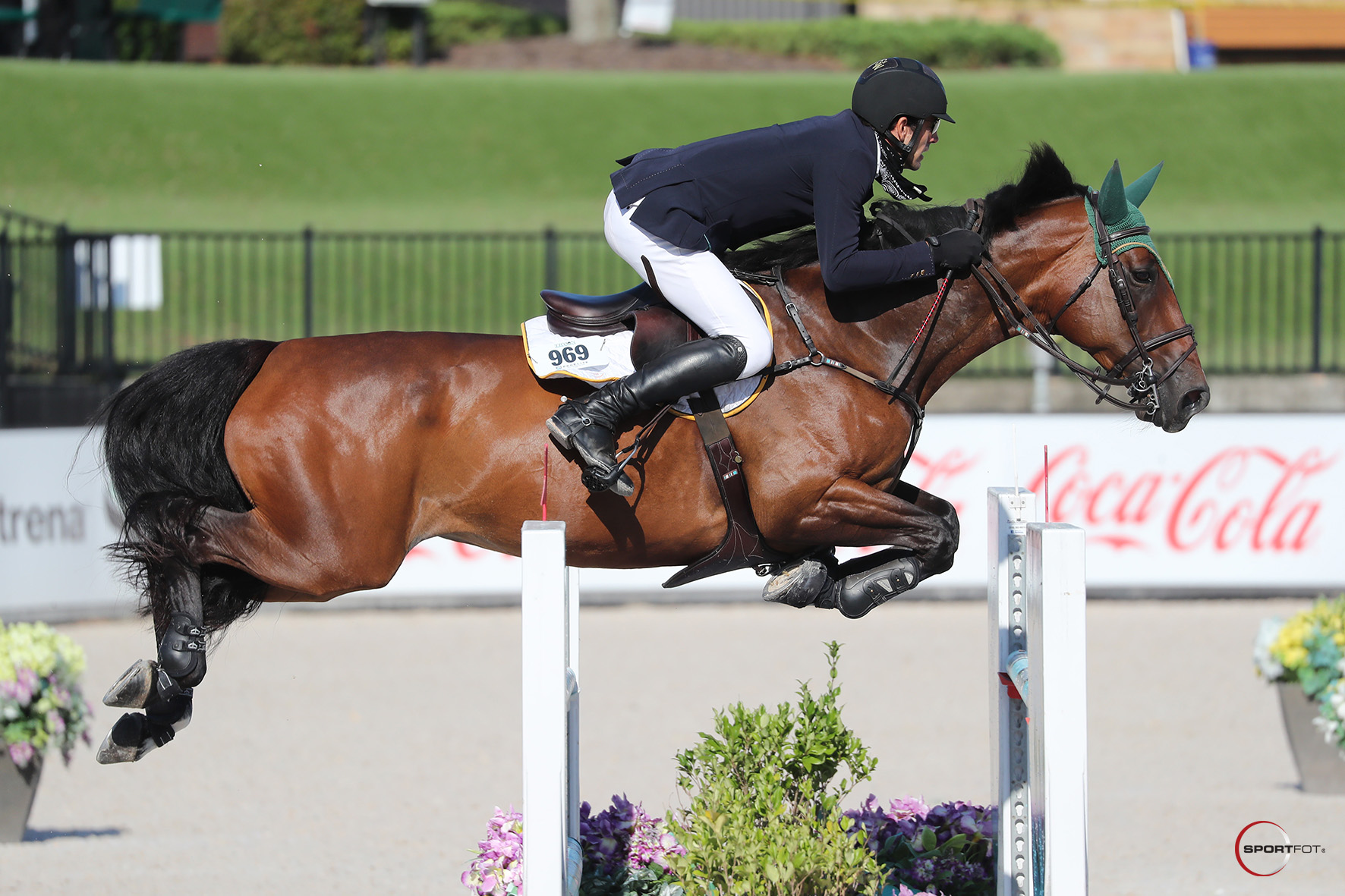 Rowan Willis and Wellington Grandorie
©Sportfot
Colin Syquia and Durant Dominate $10,000 USHJA National Hunter Derby
July 10, 2020 – Posting a two-round score of 173, Colin Syquia (Wellington, FL) and Durant, the 2011 Hanoverian gelding (Stakkato x Chamira) owned by Eurasia Inc., topped the $10,000 USHJA National Hunter Derby. A half-point behind, reserve went to Daniel Geitner (Aiken, SC) and Madison Pan-Kita's Grande Impression, the 2014 Holsteiner gelding (Nekton x Cassalina), scoring 172.5. In third, Ashley Conkle (Wellford, SC) and Tomcat earned 171.5 after two rounds over the Andy Christiansen course design, piloting the 2004 Warmblood gelding (Mezcalero x Kitten) for Agneta Currey.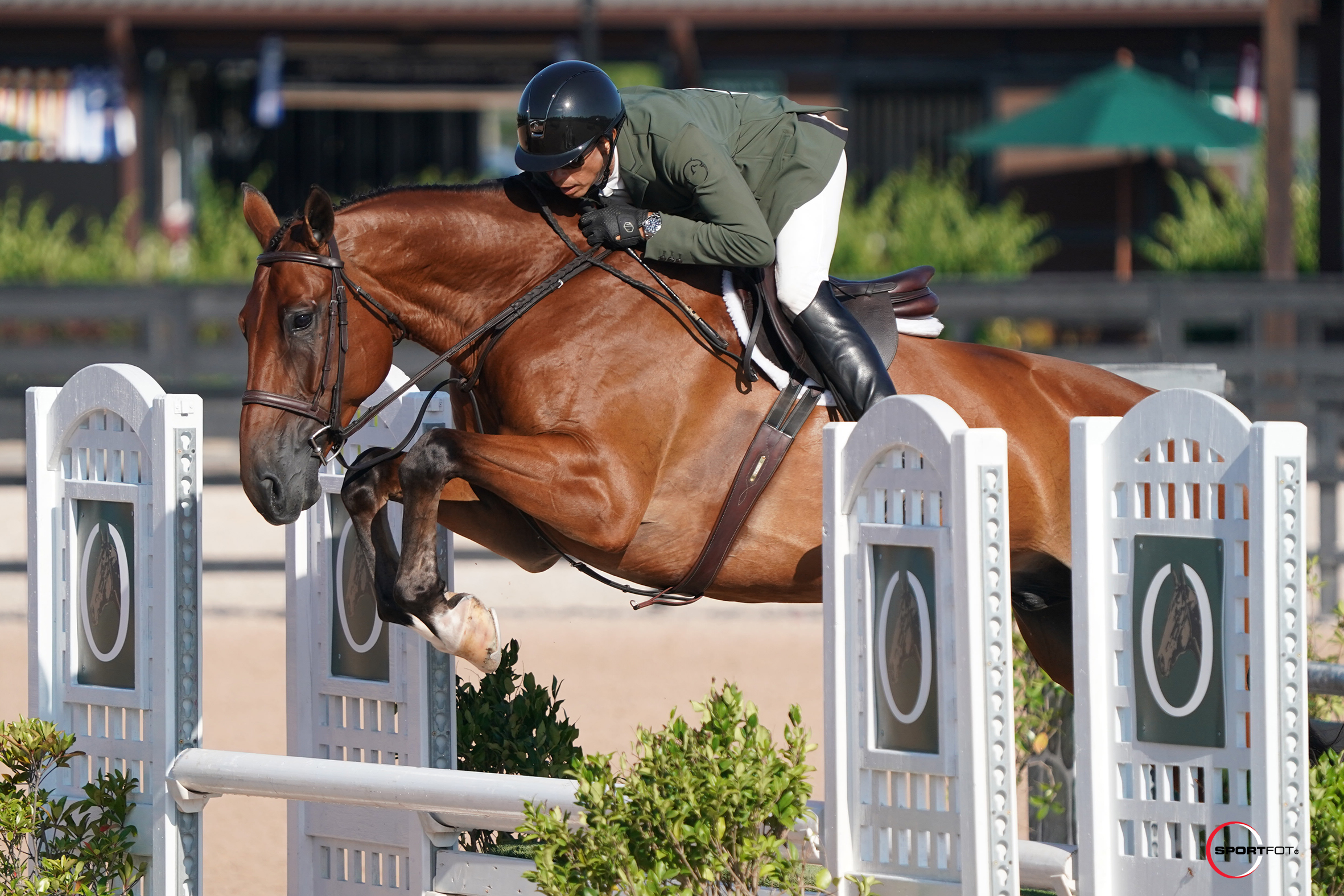 Colin Syquia and Durant
©Sportfot
Hunter Highlights:
Daniel Geitner (Aiken, SC) swept the Performance Hunter 3'6" Division, piloting Hudson to champion honors for Claire de Lune Farm and riding Gaminka to reserve for Rowan Oaks Farm.
Olivia Loheac (Columbus, NC) piloted Honor Roll for Rolling Hills Show Stables to champion in the Children's Pony Hunter Division, and McKenzie MIller (New Bern, NC) rode Hakuna Matata to reserve for Paige Parsons.
The Coca-Cola® Amateur-Owner Hunter 3'3" Division saw Carly Hoft (Raleigh, NC) rode Coretto to champion honors for Deveny Hoft. Kristen Hair (Charlotte, NC) claimed reserve with her own Sea Smoke.
Jumper Highlights:
Megan Wexler (Ocala, FL) and Deborah Ball's Veneto DH Z championed the 1.20m Open Jumper Division, with reserve named to Harold Chopping (Southern Pines, NC) aboard Firoza S for Rein Family LLC.
The FarmPaint 1.15m Jumper Division congratulated Southfields Farm's Condor and Margaret Oberkircher (Collegeville, PA) as champions on the week, with reserve honors resulting in a tie: Brooke Kemper (Reddick, FL) rode MHS Automatic for Cerulean Stables LLC, while Rebecca Conway (Wellington, FL) also grabbed reserve with Stairway to the Stars for owner Melissa Welker.
Todd Minikus (Lake Worth, FL) and Louisburg Farm's Napoleon of Picobello claimed champion honors in the Nutrena® 1.40m Open Jumper Division, while Jack Hardin Towell (Camden, SC) and Carollo, owned by Anton Marano, took reserve.
For all Division Results from Tryon Summer 5, click here. 
For full results from the $25,000 Sunday Jumper Classic, click here.
For full results from the $6,000 Speed Stake CSI 2*, click here. 
For full results from the $5,000 USHJA National Hunter Derby, click here.  
The Tryon Summer Series concludes July 19, 2020, with Tryon Summer 6 featuring CSI 3* competition. Competitions are currently closed to all spectators, but highlight classes are available to live stream for free at www.Tryon.com/streaming. For more information, contact media@tryon.com.
Photo credit ©Sportfot. Competitors can sign up for weekly packages at www.Sportfot.com. These photos may only be used once in relation to this press release with proper credit. Contact media@tryon.com with questions.
Tags:
Ashley Conkle
,
Billy Manjaro
,
Bull Run's Prince of Peace
,
Colin Syquia
,
Daniel Geitner
,
Dena Sienne
,
Durant
,
El Balou Old
,
Grande Impression
,
Grant Seger
,
Idalgo
,
Jack Hardin Towell
,
Kristen Vanderveen
,
Lillie Keenan
,
Roberto Teran Tafur
,
Rowan Willis
,
Tomcat
,
Tryon Summer 5
,
Tryon Summer Series
,
Wellington Grandorie