Fernando
Cardena
s
Jr. and Dale Car Claim $5,000
Horsew
are
Ir
eland
Welcome Stake
For Immediate Release
Sarah Madden and Connelly Grant for TIEC
Mill Spring, NC – June 19, 2022 – Samuel Parot (Wellington, FL) and Graf Compliment sped to the $25,000 Tryon Resort Grand Prix win in Tryon Stadium on Sunday, claiming a Father's Day win in a time of 38.099 seconds over the jump-off track. Daniel Bedoya (Magnolia, TX) and Quimi del Maset, the 2014 Spanish Sport Horse gelding (Quasimodo Z x Increta Del Maset) owned by Monica Hanks, scored reserve honors with a time of 38.139 seconds, while third place went to Marco Antonio Peixoto Ferreira Filho (Campobello, SC) riding his own Finola, the 2010 Dutch Warmblood mare (Cardento x Minola), after their 39.174 second performance.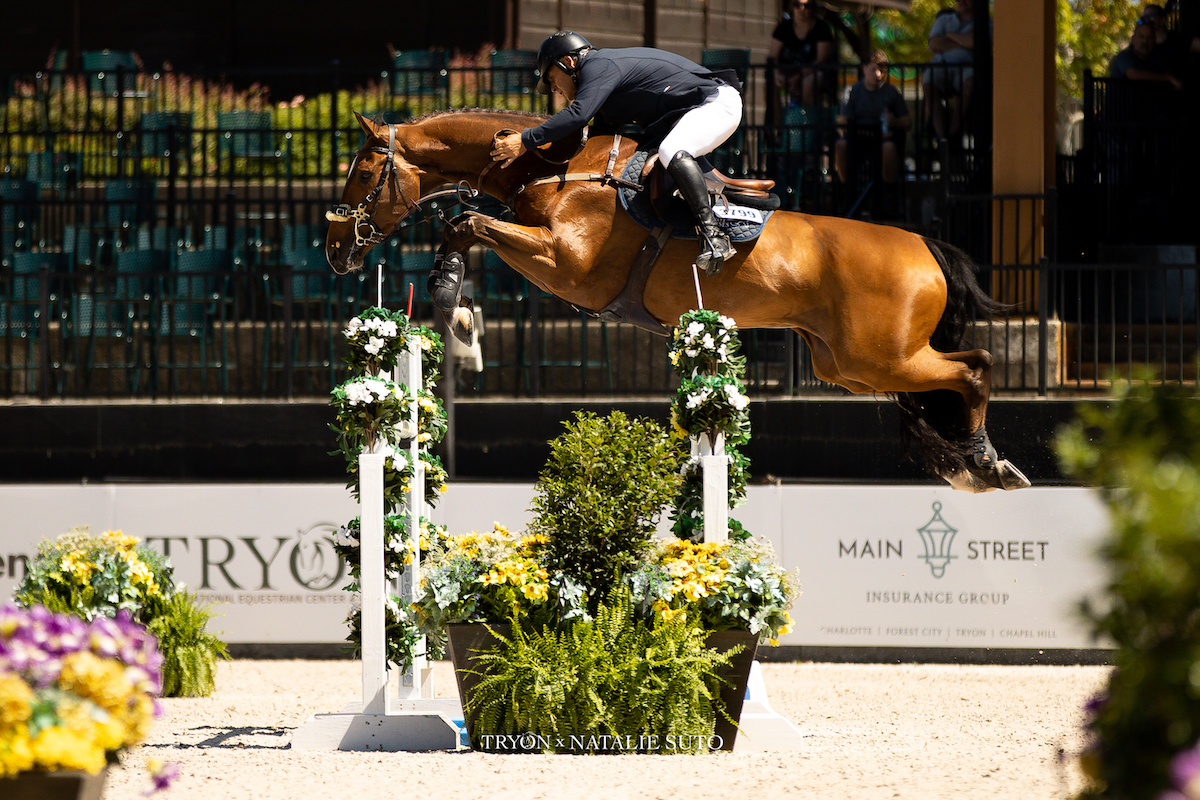 Samuel Parot and Graf Compliment
©Natalie Suto for TIEC
While 17 entries challenged the JP Godard (Aiken, SC) track, seven pairs qualified for the jump-off test. Parot and the 2010 Hanoverian gelding (Graf Top x Cronprincess) owned by Ashland Farms and QBS Equestrian LLC claimed victory by a narrow margin by turning tightly to the combination, he analyzed.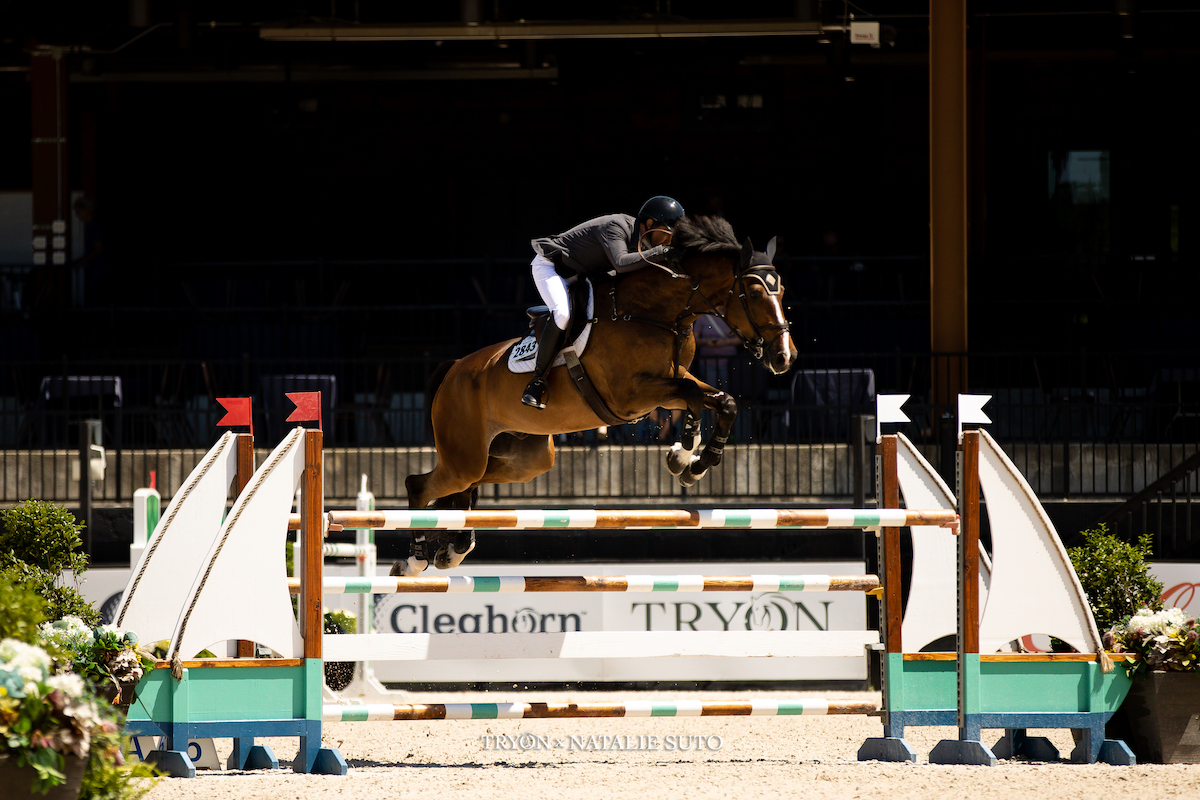 Daniel Bedoya and Quimi del Maset
©Natalie Suto for TIEC
"I think that he's very good with the combinations, and he jumped very well. He's careful and scopey," said Parot about Graf Compliment. "(I got this horse) last Sunday [from Todd Minikus]."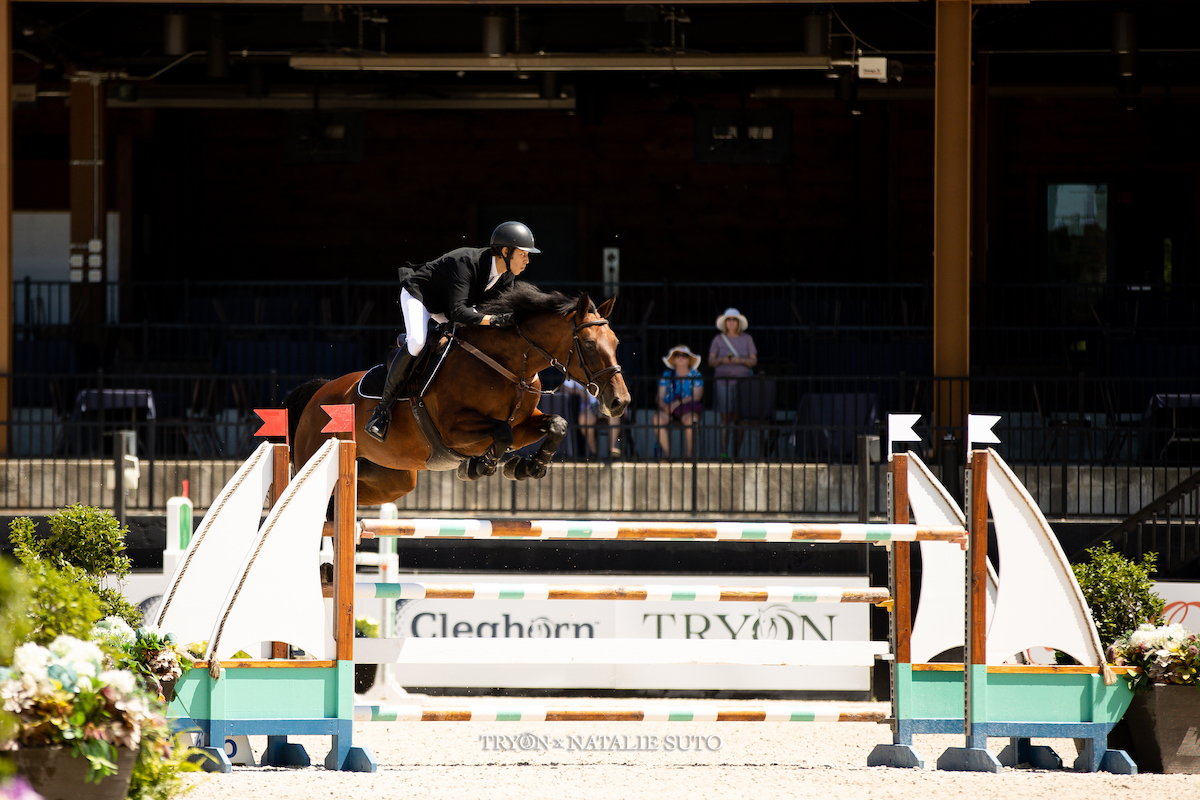 Marco Antonio Peixoto Ferreira Filho and Finola
©Natalie Suto for TIEC
The new partnership has already turned out to be a successful one after their first outing, he reported. "To win here is very difficult. You have a lot of horses that are fast, careful, and scopey."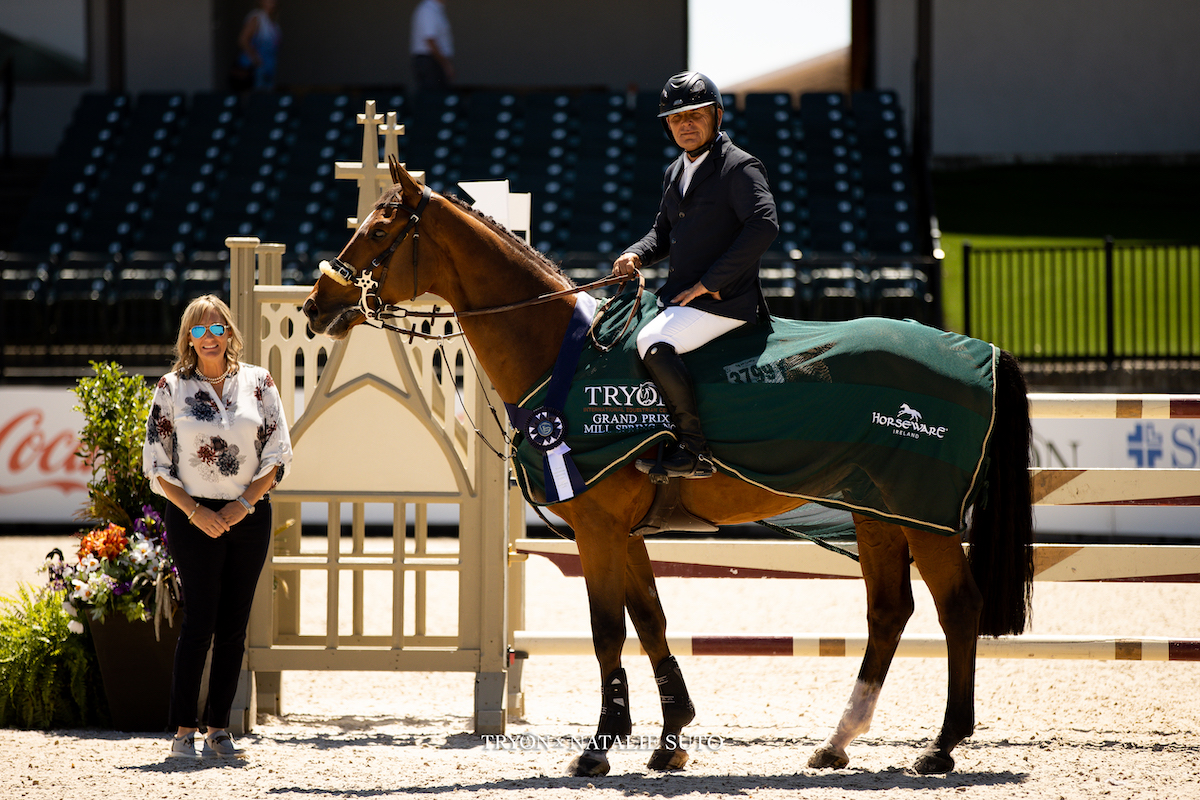 Samuel Parot and Graf Compliment in their presentation ceremony alongside Molly Oakman, TIEC Director of Equestrian Operations.
©Natalie Suto for TIEC
Now that this duo has a win under their belts, Parot will take his new partner to Michigan and contest CSI 3* tracks and further explore their abilities as teammates before returning to TIEC for a season of FEI Jumping competition. "I will come back for the 2* and will stay here all summer!"
For full results from the $25,000 Tryon Resort Grand Prix, click here. 
Fernando Cardenas Jr. and Dale Car Claim $5,000 Horseware Ireland Welcome Stake
Connelly Grant for TIEC
June 17, 2022 –  Fernando Cardenas Jr. (New Hill, NC) topped Friday's $5,000 Horseware Ireland Welcome Stake to kick off Tryon Summer 1. Cardenas rode Dale Car to the win in a time of 34.353 seconds. Bringing home the red ribbon was Stephanie Garrett (New York, NY) aboard Elertina, the 2009 Dutch Warmblood mare (Verdi x Wendy) owned by Postage Stamp Farm LLC, in a time of 35.385 seconds, closely followed by Juan Oritz (Loxahatchee, FL) in 35.79 seconds atop H&M Carat Desire, the 2008 Holsteiner gelding (Carinjo x Moderne II).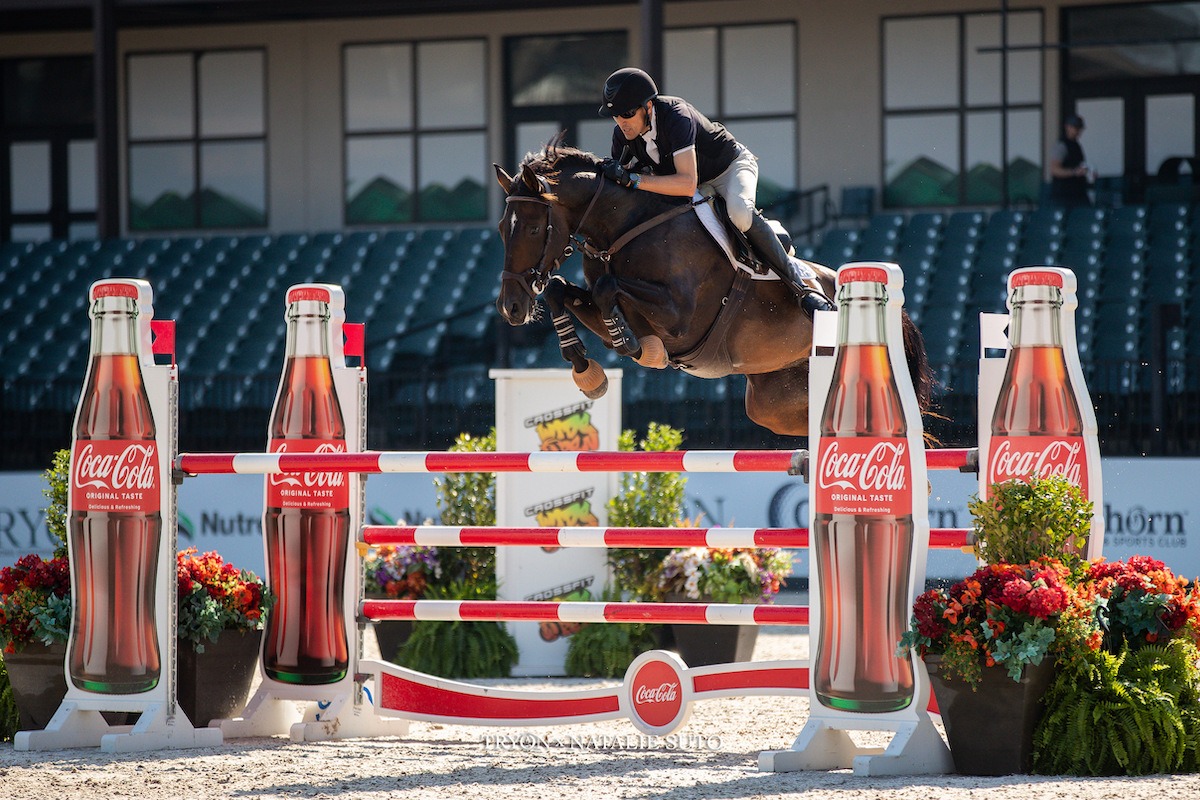 Fernando Cardenas Jr. and Dale Car
©Natalie Suto for TIEC
Cardenas and his 2013 Oldenburg mare (Quincy Car x Kaline de Moens) were one of 18 horse-and-rider combinations to test the course, with eight pairs progressing to the jump off round. "JP [Godard] is a wonderful course designer; I've always liked his courses and I wish he would design the courses more, because I really like his style. It rode well," Cardenas said.
Cardenas acknowledged that Dale Car doesn't have the largest stride, but with the right ride can still top a class full of larger-strided horses.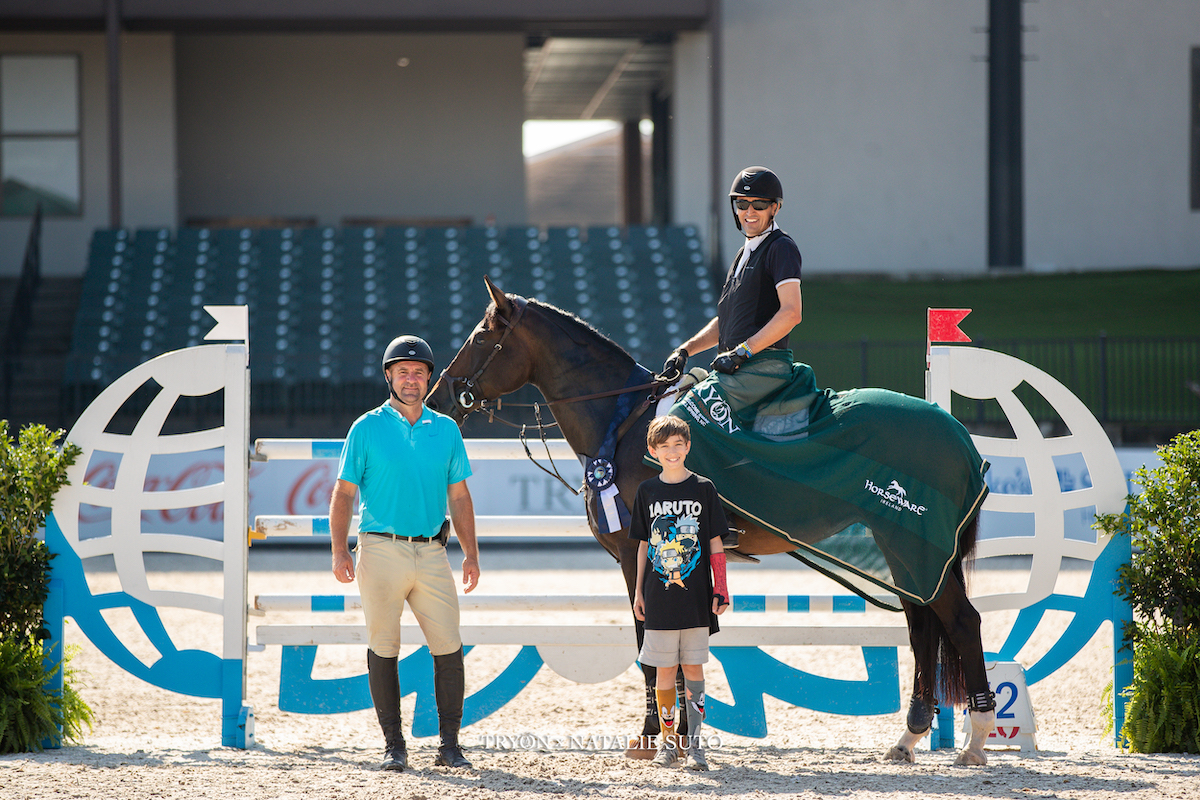 Fernando Cardenas Jr., Dale Car and team in their presentation ceremony.
©Natalie Suto for TIEC
"[Dale Car] is a fast horse, but doesn't have the biggest stride compared to other horses and I was aware that the time allowed was a little bit tight," he detailed. "But, I know that she jumps well if I don't let her get flat. There were two lines where I added an extra stride, but I jumped within the time allowed. It felt great [and was] a good start to the [Tryon] Summer Series."
"Tryon is my number one place to go," said Cardenas. "I'm a veterinarian in Raleigh, so I like Tryon because it's close. We've bought property in Tryon, we only go to Tryon and in the winter we go to Florida. We are very grateful to have such a world-class facility so close, or even in North Carolina, for us to show because without it, we'd have to do a lot more traveling. As a veterinarian, trying to work and then just come on the weekend to show is a little bit harder."
For full results from the $5,000 Horseware Ireland Welcome Stake, click here. 
Hunter Highlights:
Excalibur, owned by Stephen Borders and ridden by Tommi Clark (Tryon, NC), claimed champion in the Coca-Cola® Performance Hunter 3'3"/3'6" Division. Reserve went to Cecelia Molinari (Canton, GA) on Quaruzo, owned by Lucy Molinari. 
Keira Walsh (Charlotte, NC) piloted her own Tollymore Road to the champion ribbon in the Children's Hunter Horse 3' Division. Caesar, owned and ridden by Nola Gargus, claimed reserve. 
Jumper Highlights:
Carry's Caramia, owned by Malia Spencer, was ridden by Fabian Herrera (Charlotte, NC) to claim champion in the Big Ass Fans 1.20m Open Jumper Division. Samuel Parot (Wellington, FL) was reserve on his own Chavela.
Cinching the champion rosette in the St. Luke's Hospital 1.20m Junior/Amateur Jumper Division was Claire Tharp (Decatur, GA) atop Finley, owned by Allison Gresham. Reserve went to Kelly Bean (Woodbine, GA) on her own For Pete's Sake. 
For full division results from Tryon Summer 1, click here. 
Tryon Summer Series competition, which is free and open to the public, will continue with five more weeks of Hunter, Jumper and Equitation competition alongside numerous events and multi-discipline competitions. Visit www.Tryon.com/compete to view the 2022 competition schedule, including information about the Tryon August and Tryon Fall Series. Saturday Night Lights will return all Saturdays in July, with more information available at www.Tryon.com/SNL. 
Photos ©Natalie Suto for TIEC. These photos may only be used once, in relation to this press release. The TIEC In-House Photography team serves as the official photographer for all Hunter/Jumper competition at TIEC. Competitors may purchase official show photos and request photos of their rides for the Summer Series by visiting www.Tryon.com/photos. ALL photographers must be credentialed in order to distribute or sell photos taken at TIEC. With questions, contact media@tryon.com.
Tags:
Big Ass Fans
,
Coca-Cola
,
Dale Car
,
Daniel Bedoya
,
Elertina
,
Fernando Cardenas Jr.
,
Finola
,
Graf Compliment
,
H&M Carat Desire
,
Horseware Ireland Welcome Stake
,
Juan Ortiz
,
Marco Antonio Peixoto Ferreira Filho
,
Quimi del Maset
,
Samuel Parot
,
St. Luke's Hospital
,
Stephanie Garrett
,
Tryon Summer 1
,
Tryon Summer Series