Doug Payne and Starr Witness Dance to CCI 4*-L Lead After Dressage
CCI 4*-S Lead After Two Phases Belongs to Liz Halliday-Sharp and Cooley Moonshine
Lynn Symanksy and Global Cassero 3 Conquer CCI 3*-L Dressage
Liz Halliday-Sharp Leads CCI 3*-S with Shanroe Cooley Ahead of Final Test
Sinead Maynard and I-Quid J are Leaders After Two Phases of CCI 1*-S Competition
For Immediate Release
Sarah Madden for TIEC
Mill Spring, NC – May 13, 2022 – After two days of competition at the Tryon Spring International Three-Day Event, all short-format divisions (CCI 4*-S, CCI 3*-S, and CCI 1*-S) have concluded the Dressage and Show Jumping phases of competition at Tryon International Equestrian Center & Resort (TIEC). Long format divisions, including the CCI 3*-L and CCI 4*-L, the first of two CCI 4*-L dates hosted at TIEC this year, wrapped up the Dressage phase on Friday evening ahead of Cross-Country competition for all divisions on Saturday, May 14.
How to Watch:
This competition is free and open to the public. All Show Jumping is being live streamed at www.Tryon.com/streaming, but there is no stream available for the Cross-Country phase. Full competition details and results are available at www.Tryon.com/eventing, including the official program. Read below for updates from each division.
In the highlight division, with 30 entries dancing down centerline at the CCI 4*-L level, the lead remains firmly in the hands of Doug Payne (USA) and Starr Witness, the 2011 Dutch Warmblood mare (Chello III VDL x Veneur) owned in partnership with Laurie H. McRee and Catherine Winter, who produced a score of 24.9. Boyd Martin (USA) and Fedarman B, the 2010 Dutch Warmblood gelding (Eurocommerce Washington x Fedor) owned by the Annie Goodwin Syndicate, currently sit in reserve with a score of 29.0. Just behind in third, Colleen Loach (CAN) guided Vermont, the 2012 Hanoverian gelding (Van Helsing x Heraldik XX) owned by Peter Barry, to a score of 29.3.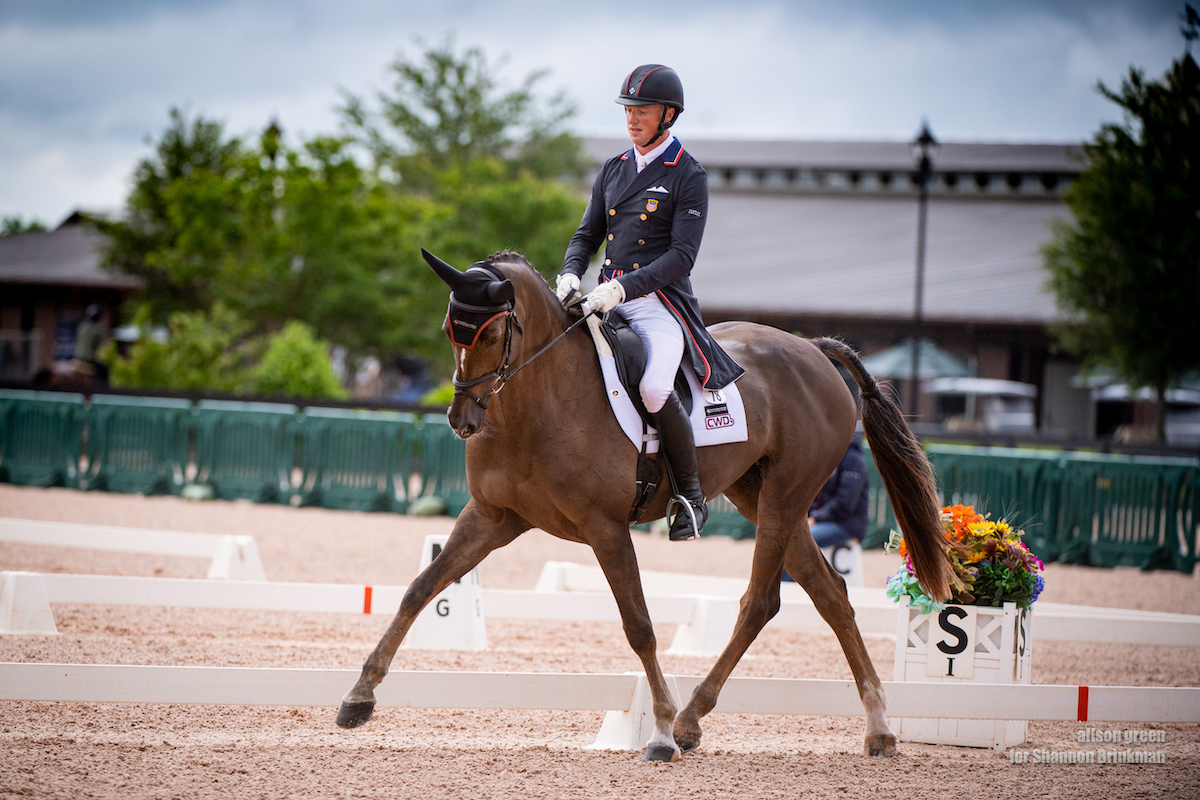 Doug Payne and Starr Witness
©Shannon Brinkman Photography
"It's super exciting," Payne said of his sandbox result. "I think this spring she's come out stronger and better, but in the last six weeks or so, she's starting to get more and more consistent and more and more reliable to put in a really good competitive test. She was able to do that again today, which was excellent. And clearly, I'm looking forward to the rest of it."
As the only CCI 4*-L venue in the country for 2022, Captain Mark Phillips (GBR) has built his Cross-Country courses with that in mind. Additionally, this event serves as a qualifier for the upcoming World Championships in Pratoni, Italy. For Payne, who is a frequent competitor at the venue and considers it home base, it's the strongest course he's ever tackled at TIEC, he revealed.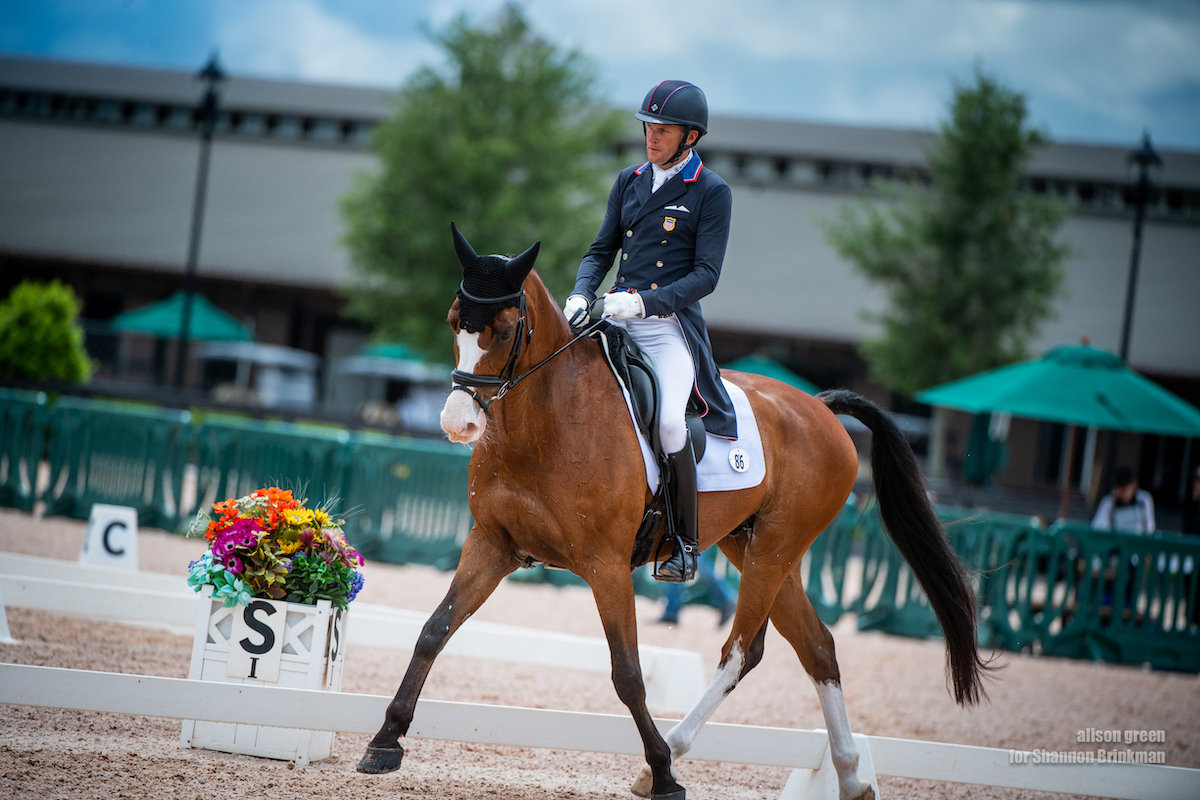 Boyd Martin and Fedarman B
©Shannon Brinkman Photography
"I think there's a lot to do. I think Cross-Country is the strongest course I've seen while competing here. I think it's pretty difficult, but she's [Starr Witness] certainly prepared and we're going to go ahead and attack it!"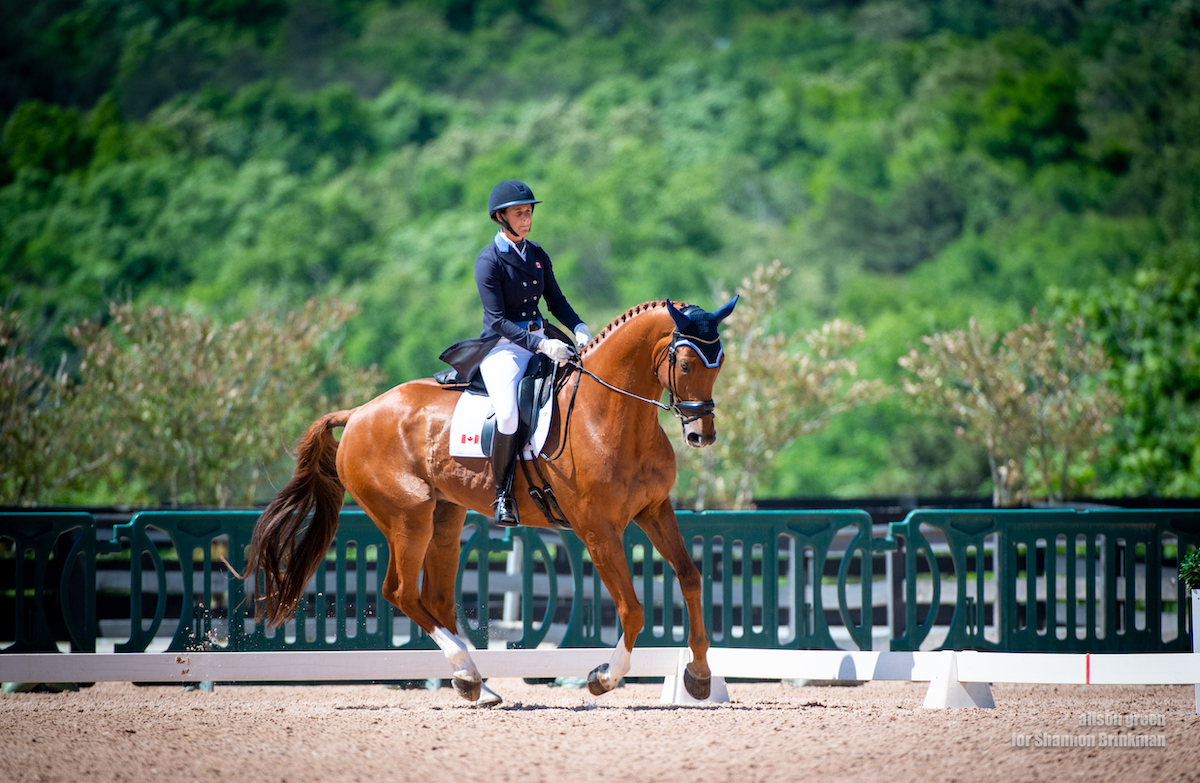 Colleen Loach and Vermont
©Shannon Brinkman Photography
For the reigning Land Rover/USEF CCI 5*-L Eventing National Champion, "there's no better venue in the country to prepare horses for international competition than here," Payne said of the opportunity to prepare for events like the Eventing World Championships. "It's essentially the biggest stage these guys are able to see in any sort of preparatory competition. And for that reason we actually had this whole group of horses here last week, jumping, just to get a leg up on it, and we're lucky to have it as a venue."
CCI 4*-S Lead After Two Phases Belongs to Liz Halliday-Sharp and Cooley Moonshine
Liz Halliday-Sharp (USA) and Cooley Moonshine have held their leading score of 27.2 through two phases of competition after Friday's Show Jumping test in the International Stadium. Jacob Fletcher (USA) flew to second aboard Fabian, the 2010 Dutch Warmblood gelding (Up to Date x Beaujolais) of Fletcher Farms, carrying forward a score of 32.1, while third place currently belongs to Boyd Martin (USA) and Contessa, the the 2009 Holsteiner mare (Contender x Esteban) owned by Club Contessa, with a score of 33.0. Cross-Country competition will conclude the division on Saturday, May 14 on the White Oak Cross-Country Course.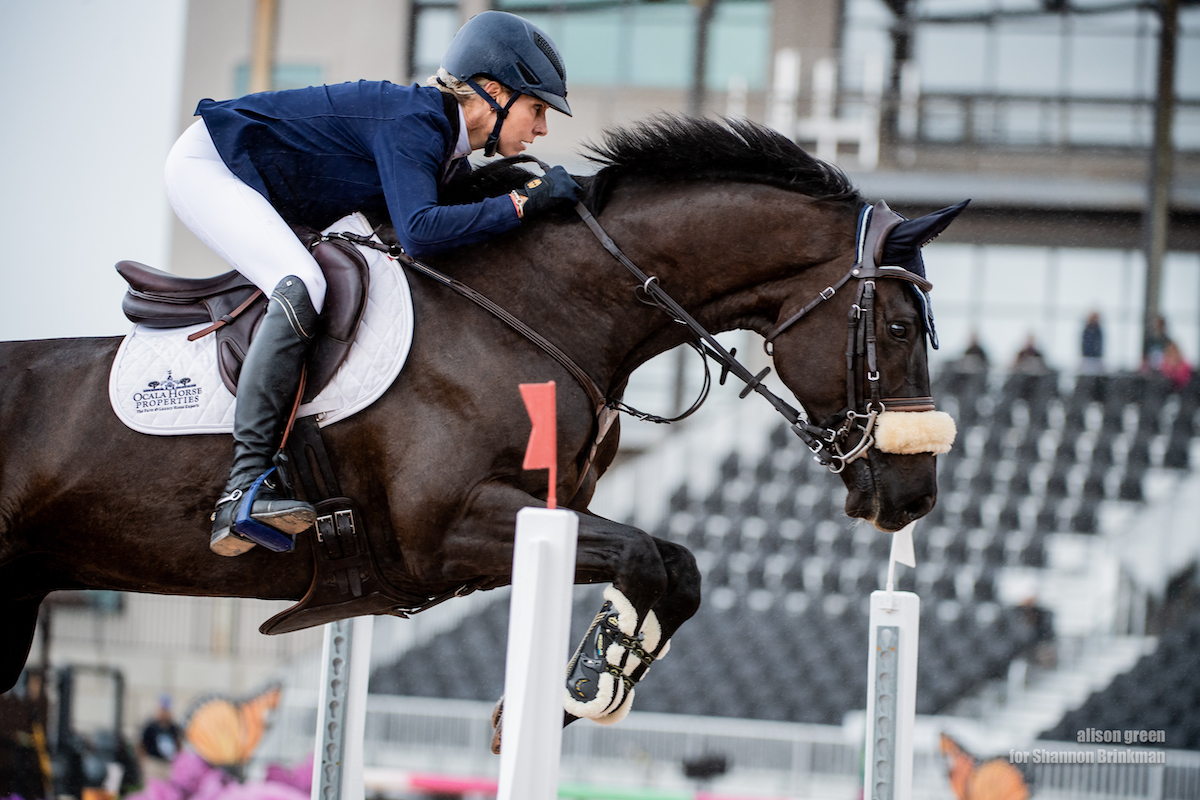 Liz Halliday-Sharp and Cooley Moonshine
©Shannon Brinkman Photography
Halliday-Sharp and the 2012 Irish Sport Horse gelding (Cobra x Kings Master) owned by The Monster Partnership put in a Dressage test that Halliday-Sharp felt was better than their recent outing at the Land Rover Kentucky Three-Day Event, she acknowledged. "I actually thought Cooley Moonshine did a much better test than he did in Kentucky. I sort of came away from Kentucky and worked on a few things, and I think those were actually a lot better today."
With Cross-Country competition taking place Saturday, Halliday-Sharp went on from the sandbox to the Show Jumping ring with several horses throughout the day, where Cooley Moonshine continued to shine. "And then, he jumped fantastically. I mean, he's a live wire and a little bit edgy to ride, but I know him very well, and I've had him since he was a five-year-old. He jumped his guts out in there, and he was fantastic.
"I'd like to say thank you to all my owners for being here," Halliday-Sharp concluded, "because I've got some of the Calmaria Partnership here as well. It's just been really fun to have a bunch of them here, enjoying it all!"
Lynn Symanksy and Global Cassero 3 Conquer CCI 3*-L Dressage
Lynn Symansky (USA) and Global Cassero 3 dazzled in the sandbox to produce a score of 27.2 for the lead in the CCI 3*-L Division, with Symansky piloting the 2011 Hanoverian gelding (Conteur x Windhauch) owned by The Jerry Syndicate. Lucienne Bellissimo (GBR) and Dyri, the 2012 Holsteiner gelding (Diarado x King Milford XX) owned by Horse Scout Eventing, sit in second at the moment on a Dressage score of 28.7, while Leslie Lamb (USA) rode her own 2012 Thoroughbred gelding (Bailero x Crafty Friend), Banjo, to a score of 28.8 for third place ahead of Cross-Country competition.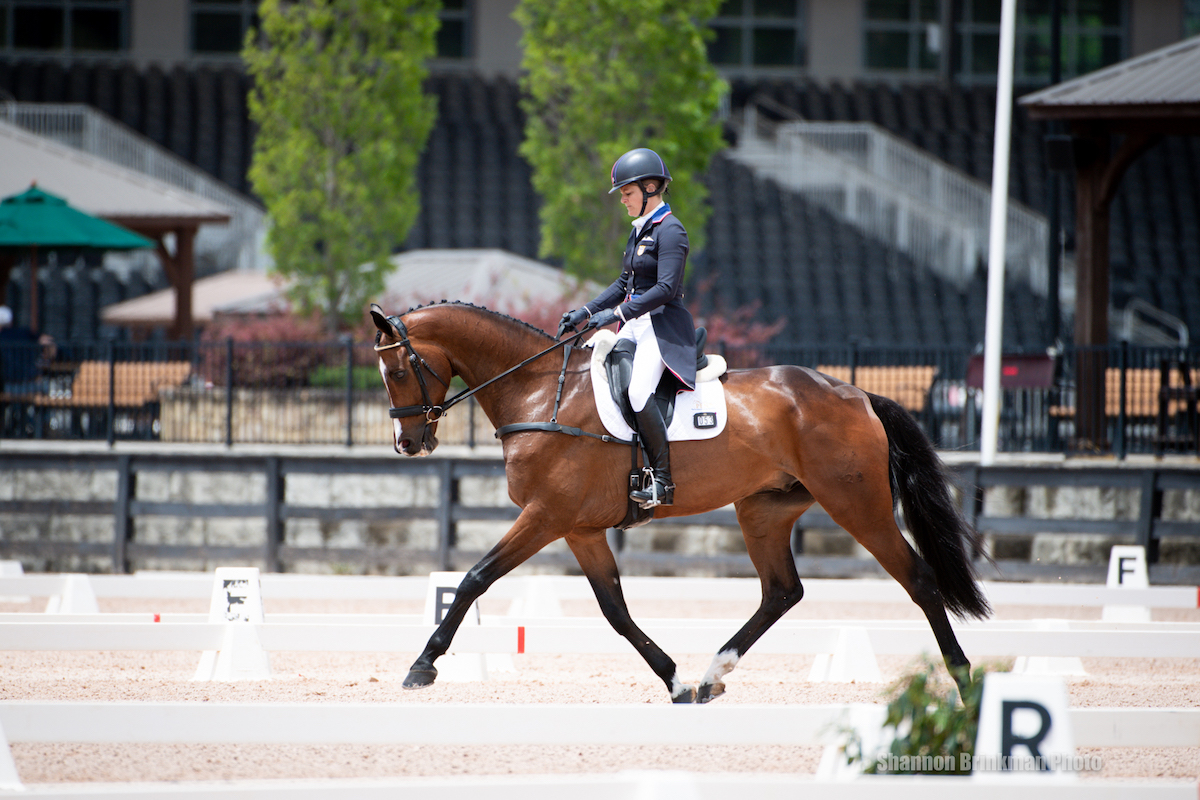 Lynn Symansky and Global Cassero 3
©Shannon Brinkman Photography
Liz Halliday-Sharp Leads CCI 3*-S with Shanroe Cooley Ahead of Final Test
Holding the top two spots in the CCI 3*-S Division with just one more test ahead of her, Liz Halliday-Sharp (USA) currently owns the top spot with Shanroe Cooley after maintaining their Dressage score of 25.3. Halliday-Sharp also produced a double-clear Show Jumping round with Cooley HHS Calmaria, the 2013 Irish Sport Horse mare (Cyrano 145 x unknown) owned by Elisabeth Halliday-Sharp, to sit in second with a two-round total of 27.6 points. In striking distance with a score of 29.1, Boyd Martin (USA) and Monbeg Medlar, the 2010 Irish Sport Horse gelding (Emperor Augustus x Star Robe) owned by Yankee Creek Ranch LLC, hold the third place position.
Halliday-Sharp and the 2015 Irish Sport Horse gelding (Dallas VDL x Unknown) owned by Ocala Horse Properties are dominating the largest division of the weekend after placing second in the same division just a few weeks ago, during The Fork at TIEC.
Liz Halliday-Sharp and Shanroe Cooley
©Shannon Brinkman Photography
"Shanroe Cooley jumped incredibly; I was totally thrilled with him because he is a green horse. He's only seven this year. And he was pretty green here when I came for The Fork, and today, he jumped a really professional round. I was thrilled with that. He's actually quite a tricky horse to ride because he's big, and he's green, and he's very, very scopey, and very careful, so that he can kind of run himself into trouble a little bit. He was very, very special today, and I'm totally thrilled."
Halliday-Sharp had Phillip Dutton take over the ride for her special and "spicy" mare, Cooley HHS Calmaria, at the Fork at TIEC, so this weekend is the first full run the duo will be tackling together on the season. "She hasn't jumped a course at a show since Phillip rode her last, and she's a very sensitive horse. I think she's been a bit [flustered] – not that he did anything wrong, and I was very grateful for the ride! – but she's just very quirky, and there has been a lot of change for her lately. Of course, she jumped great today, but she was just a bit wild and spooky."
With two phases of competition running on Friday for numerous divisions, Halliday-Sharp had yet to fully survey her Cross-Country courses after stepping off her last ride of the day.
"I've been so crazy busy with so many horses to ride. I was focusing on the four long course yesterday. I'm about to go to walk the three-star short course, but from what I've seen it looks quite tough," she noted. "I think the first question is a very real question. I think it's strong. I think the four star course, too, is very legitimate at the level. They are tough, challenging, well designed tracks, and I think Mark's done a really great job. Everything looks fair, but challenging, which is good."
Sinead Maynard and I-Quid J are Leaders After Two Phases of CCI 1*-S Competition
After the Dressage and Show Jumping tests, Sinead Maynard (USA) controls the CCI 1*-S division with I-Quid J, the 2013 Dutch Warmblood gelding (Quidaro x Come On) owned in partnership with Alyssa Cairo, carrying forward an unblemished Dressage score of 27.3. Boyd Martin (USA) and Barney Rubble, the 2014 Hanoverian gelding (Cador x Glockenklang) owned by Barney Rubble Syndicate LLC, produced a double-clear stadium round to maintain reserve on a score of 27.8, while third place went to Ashton Benefiel (USA) aboard Kingston Van Meerzicht, her own 2015 Dutch Warmblood gelding (Harley VDL x Indoctro), after their clear round and 0.4 time penalties resulted in a total score of 31.7.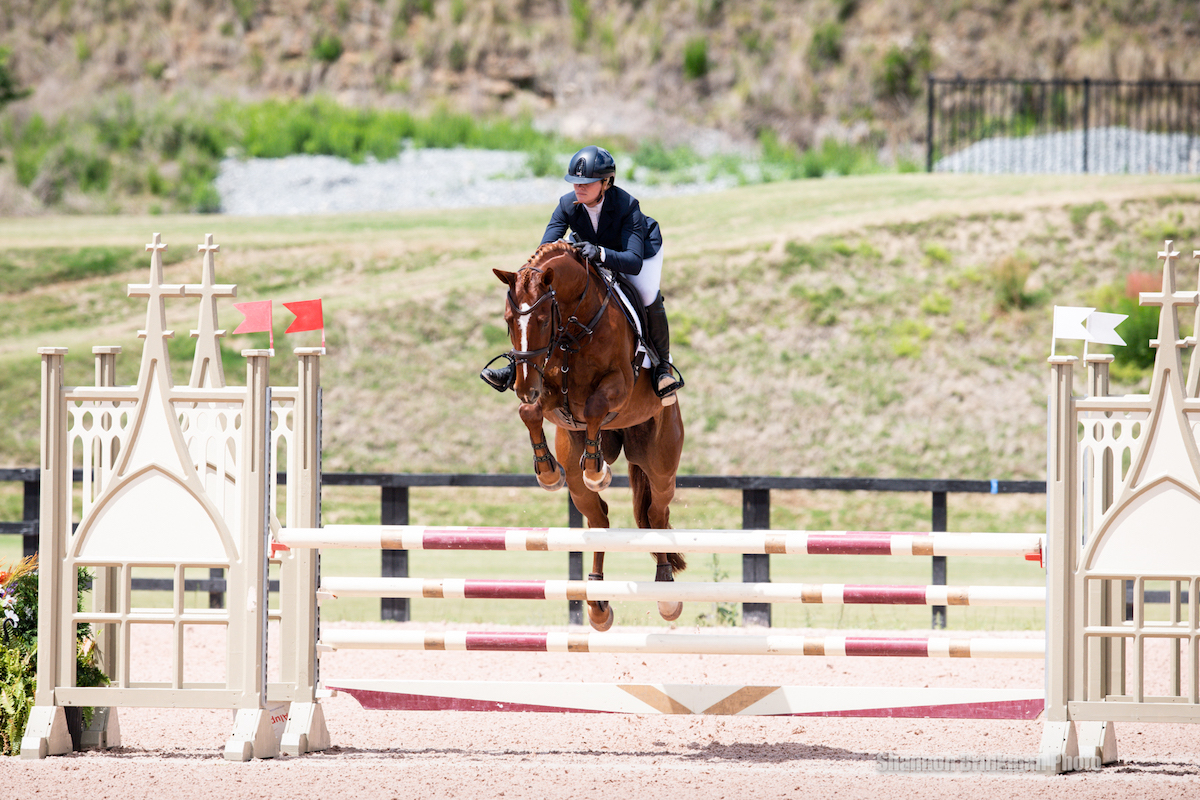 Sinead Maynard and I-Quid J
©Shannon Brinkman Photography
For full results from the Tryon Spring International Three-Day Event, click here.
Competition continues through Sunday, May 15, and full schedules can be found at www.Tryon.com/eventing. To replay Friday's Show Jumping competition or watch Sunday's long-format divisions in the International Stadium, visit www.Tryon.com/streaming.
Photos ©Shannon Brinkman Photography. These photos may only be used once, in relation to this press release. With questions, contact media@tryon.com.
Tags:
Ashton Benefiel
,
Banjo
,
Barney Rubble
,
Boyd Martin
,
Colleen Loach
,
Contessa
,
Cooley HHS Calmaria
,
Cooley Moonshine
,
Doug Payne
,
Dyri
,
Eventing
,
Fedarman B
,
Global Cassero 3
,
I-Quid J
,
Kingston Van Meerzicht
,
Leslie Lamb
,
Liz Halliday-Sharp
,
Lucienne Bellissimo
,
Lynn Symansky
,
Shanroe Cooley
,
Sinead Maynard
,
Starr Witness
,
Tryon Spring International Three-Day Event
,
Vermont