For Immediate Release
NOTICE: This release has been edited from its original format. Last edit: 5.16.22, USET Foundation Open Challenge Trophy
Sarah Madden for TIEC
Mill Spring, NC – May 15, 2022 – The first of two CCI 4*-L Eventing competitions hosted at Tryon International Equestrian Center & Resort (TIEC) in 2022, the Tryon Spring International Three-Day Event, concluded on Sunday with the long-format divisions determining their winners in the International Stadium. The CCI 3*-L and CCI 4*-L divisions competed in Show Jumping, while all short format divisions concluded their competitions Saturday after Cross-Country at the White Oak Course.
Eventing Manager Shelley Page emphasized the quality of the TIEC staff across all departments working together to produce fantastic equestrian sport, particularly at such a high level.
"I've been doing the events here for years now. Having been with this group for so long, I've worked with everyone from food and beverage to the crew guys and the water, drag crew and turf team. Every time, it just gets better and better, and everybody's just so great to work with. I just hope they all know how much I appreciate all that they do.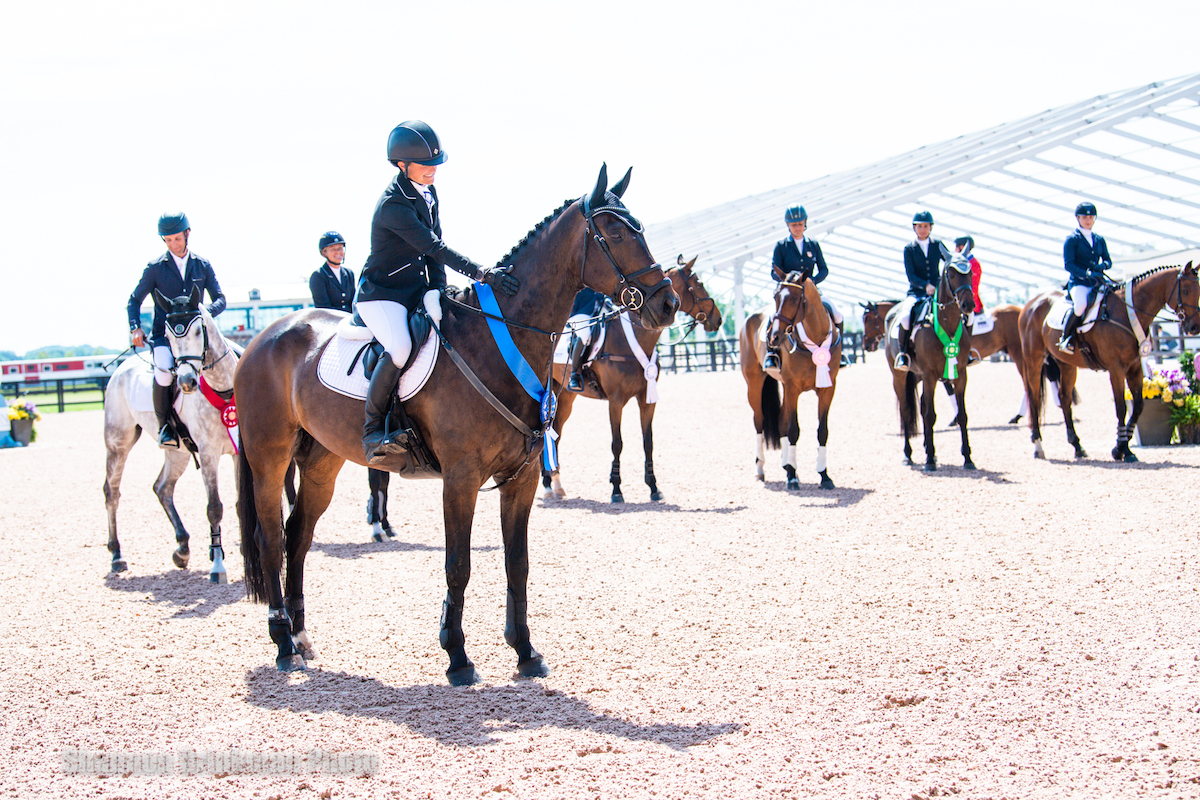 Julie Wolfert and CCI 3*-L competitors in their presentation ceremony.
©Shannon Brinkman Photography
"The four-star long entails so much more of everything: more volunteers, more thought process… from the logistics of moving people around to taking care of the horses with water and ice. For example, this event requires 12 vets instead of the four it takes to put on horse trials. I just don't know if people really know how much more work it is to do the four-star long!" Page continued.
"When working with everybody here, I feel like I have a safety net because we all have each other's backs. And a lot of times you feel like you're the outsider coming in when you only come to a place a few times a year, but here, I feel like it's coming home," Page concluded. "What an exciting thing for TIEC to get to host two four-star longs this year."
TIEC Director of Equestrian Operations Molly Oakman echoed Page's sentiment, detailing that the equestrian support staff, including the Polk Equine Emergency Rescue (PEER) and Tryon Equine Hospital teams, play an integral role in keeping horses and riders safe.
"I want to give a special thank you to our equine support teams, Tryon Equine and PEER," Oakman said. "We had a busy and safe spring competition season across numerous divisions, including the Fork CCI 4*-S, Katydid Combined Driving CAI 3*, the Tryon Block House Races steeplechase, and this weekend's Tryon Spring International Three-Day Event. This caliber of competition and safety would not be possible without their preparation and support!"
A total of 67 volunteers made the weekend possible, from jump judges to score runners and beyond, led by Amy Troppmann. As a token of the organizers' appreciation to the dedicated group of volunteers, each was presented with a quarter zip shirt commemorating the event. Volunteer opportunities abound at TIEC across all disciplines of competition, and more information is available at www.Tryon.com/volunteer.
Boyd Martin and Fedarman B Master the CCI 4*-L Division
Boyd Martin (USA) claimed the win aboard Fedarman B on a final score of 29.0 in the CCI 4*-L division to claim the CCI 4*-L USET Foundation Open Challenge Trophy, adding nothing to their Dressage score after two double-clear jumping rounds. In reserve, and the highest-ranked international rider, Colleen Loach (CAN) and Vermont, the 2012 Hanoverian gelding (Van Helsing x Heraldik XX) owned by Peter Barry, also completed their weekend without adding any points, ending on a score of 29.3. Clinching third place honors via double-clear stadium round for a total of 31.0 points was Leslie Law (GBR) and Lady Chatterley, the 2011 Holsteiner mare (Connor 48 x Mytens XX) owned by Lesley Grant-Law, Jackie Brown and Steve Brown.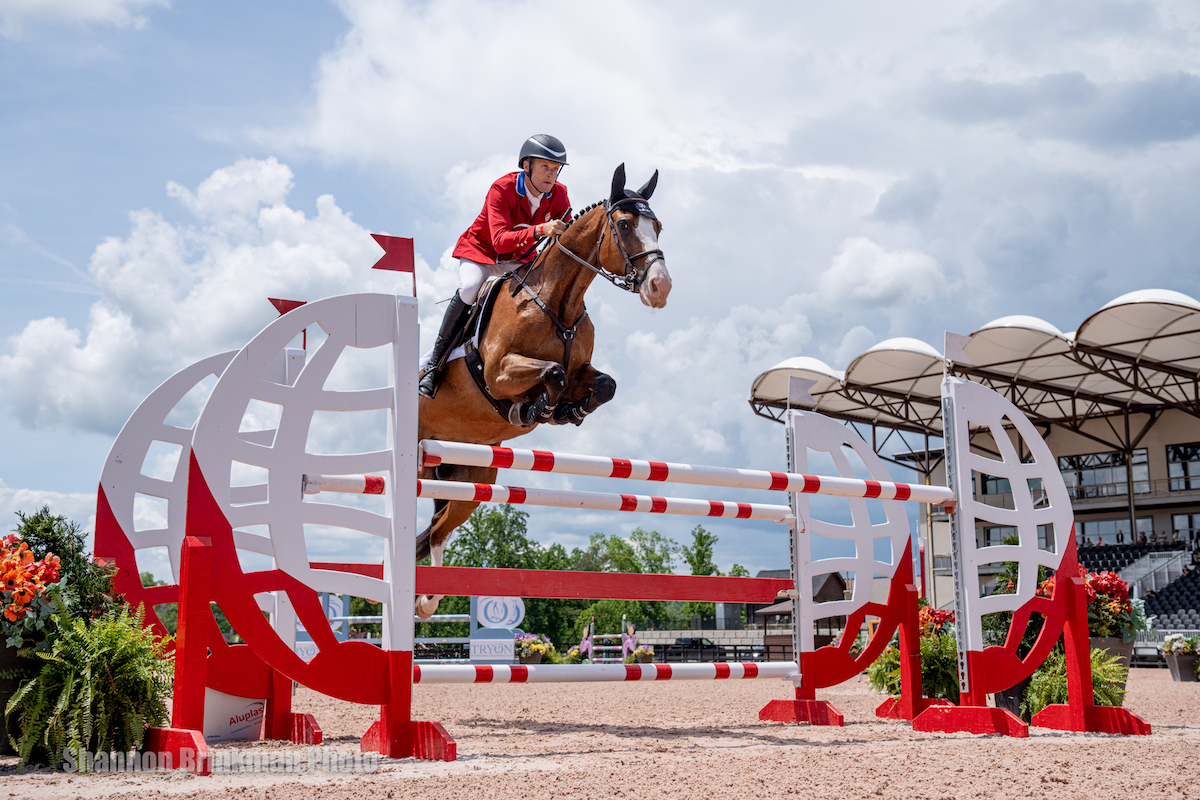 Boyd Martin and Fedarman B
©Shannon Brinkman Photography
Martin and the 2010 Dutch Warmblood gelding (Eurocommerce Washington x Fedor) owned by the Annie Goodwin Syndicate had a good Dressage outing by Martin's standards, but he was blown away by the class performance "Bruno" gave on Cross-Country day, he shared.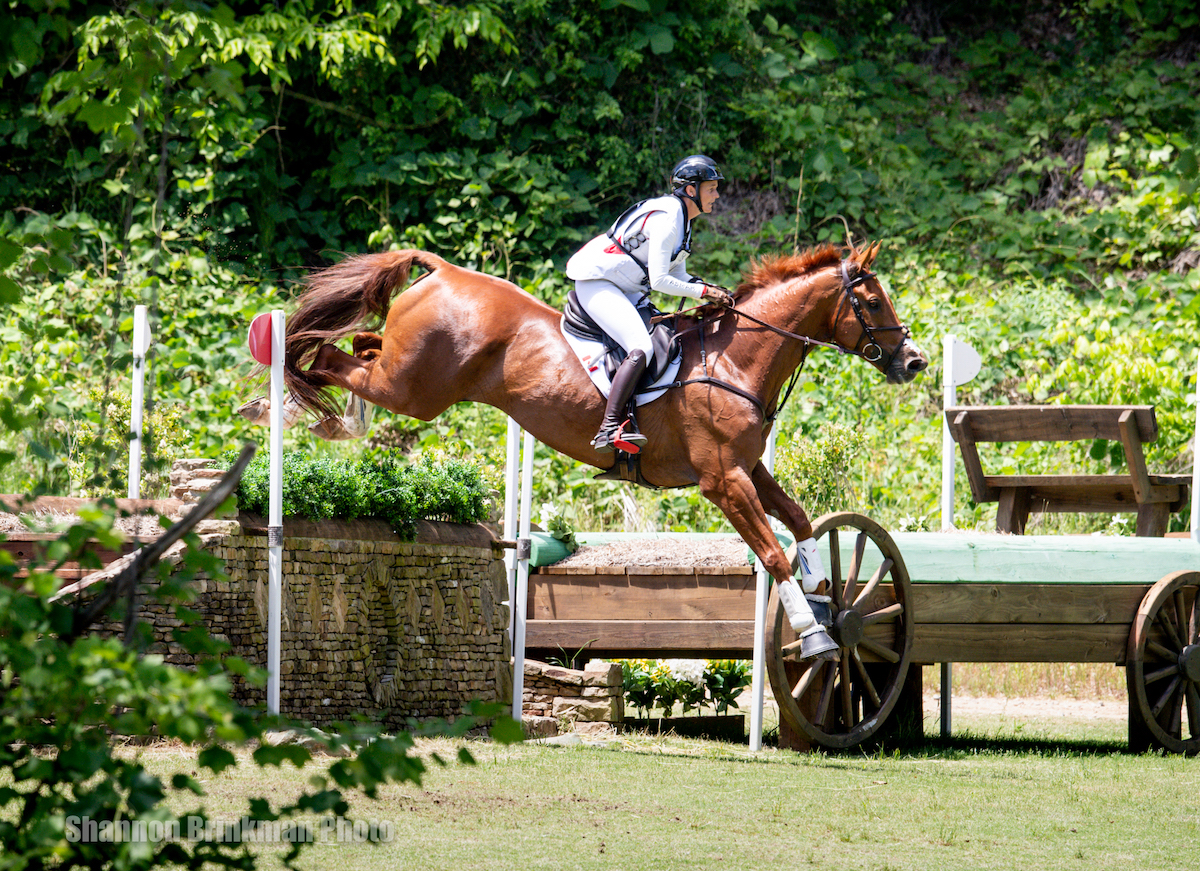 Colleen Loach and Vermont
©Shannon Brinkman Photography
"He was absolutely brilliant in all three phases of the contest. He put in a solid Dressage test, and impressed the heck out of me on Cross-Country with his speed, endurance and bravery. To come out today in Show Jumping like he did – I'm just blown away by the quality of him," he raved.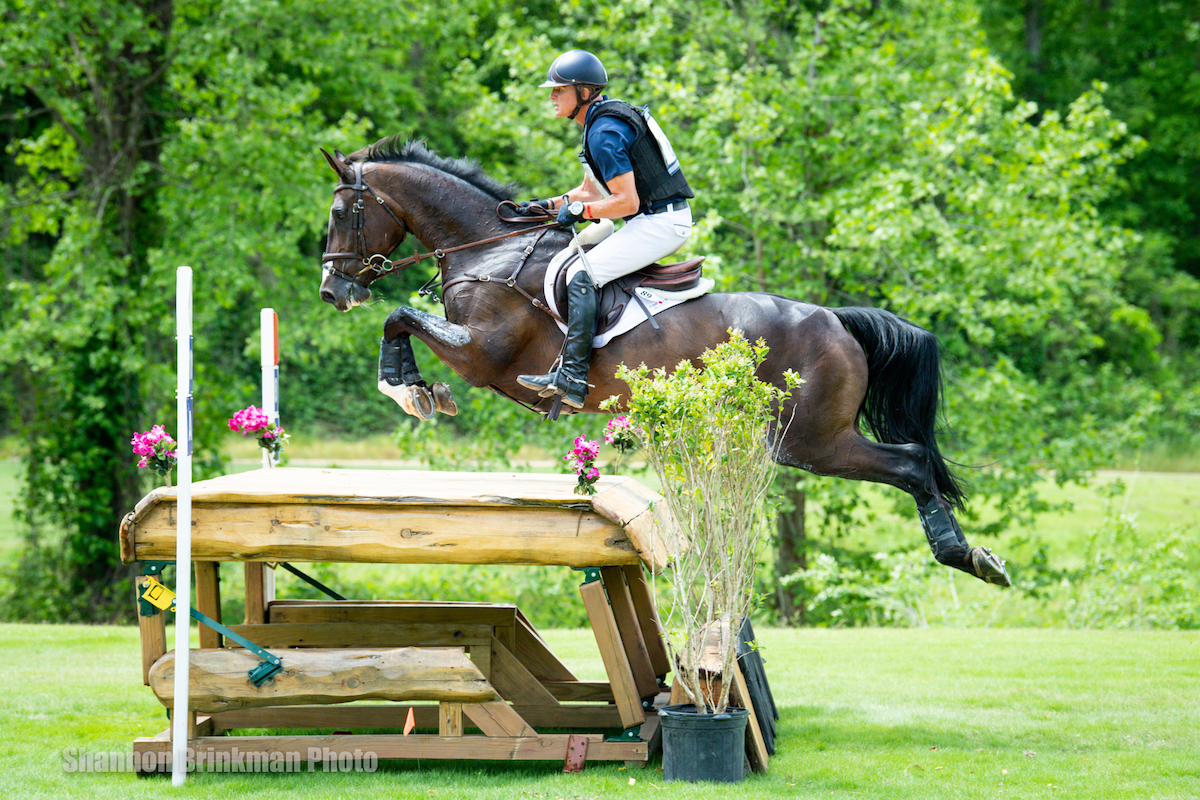 Leslie Law and Lady Chatterley
©Shannon Brinkman Photography
Though the event clinched a CCI 4*-L National Championship for the duo and was an objectively successful outing at the World Championship qualifier, Martin primarily utilized the week to continue learning more about the mount he now rides in memory of Annie Goodwin. A special horse to the entire Eventing community, Bruno is under the watchful eye of many who have high hopes for his career, and Martin relayed that the future looks brighter than ever after such a win.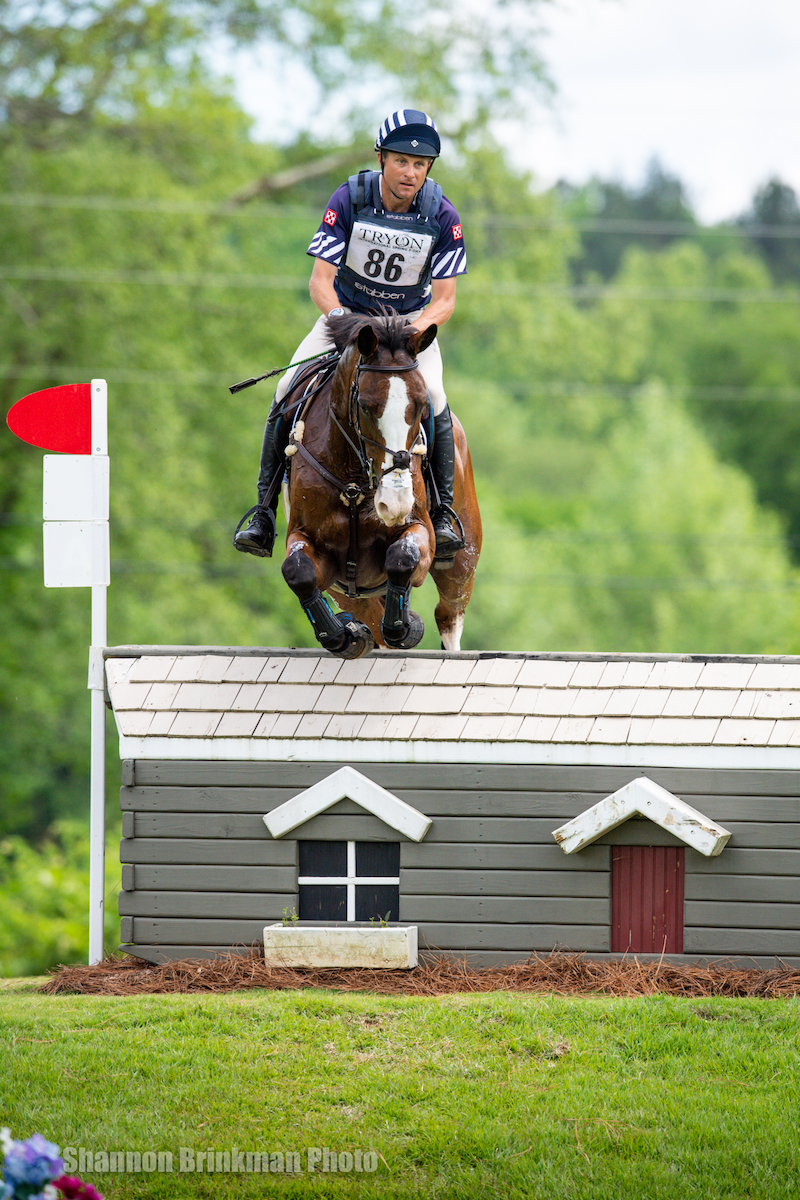 Boyd Martin and Fedarman B
©Shannon Brinkman Photography
"It's sort of a long-term plan. He's a newer horse for me, so to be honest, this is a stepping stone event. I feel like he's proven himself to be a high caliber event horse, now. We've still got a little bit of building and improvement to do, but I'm very excited. I think he's going to be a superstar in the future."
Jacob Fletcher and Fabian Fly to CCI 4*-S Win
May 14, 2022 – Jacob Fletcher (USA) and Fabian galloped clear and only 7.6 seconds over the time through the White Oak Cross-Country Course, navigating the Captain Mark Phillips (GBR) course design for the win on a total score of 39.7. Jamie Kellock (CAN) rode Summer Bay, her own 2009 Irish Sport Horse gelding (Unknown x Unknown), to a three-round score of 45.2 after posting the fastest Cross-Country round of the day. Liz Halliday-Sharp (USA) rode Cooley Moonshine, the 2012 Irish Sport Horse gelding (Cobra x Kings Master) owned by The Monster Partnership, to a podium spot after holding the lead the previous two phases, ending her weekend on a score of 46.0 for third.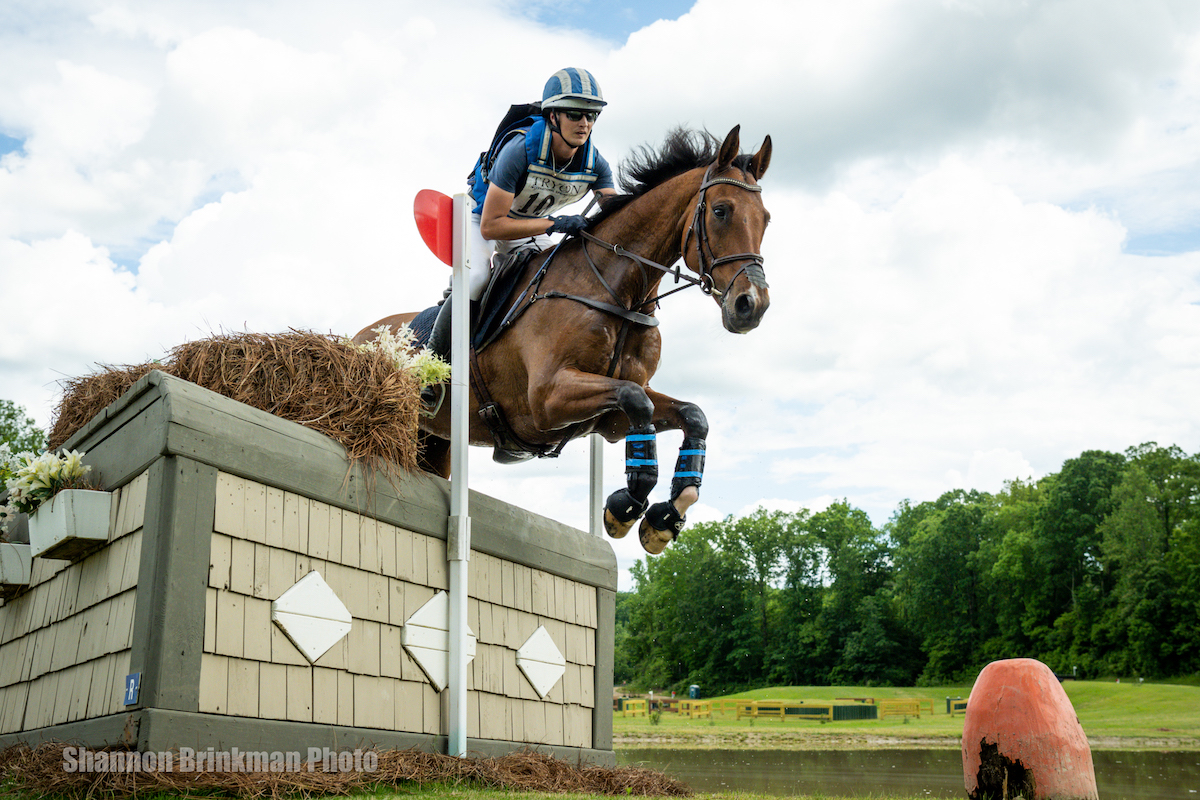 Jacob Fletcher and Fabian
©Shannon Brinkman Photography
Fletcher and the 2010 Dutch Warmblood gelding (Up to Date x Beaujolais) of Fletcher Farms are just getting back to high-level competitions together after Fabian sustained an injury in 2020, he detailed. "I bought him in the winter of 2019, then did like two competitions on him in 2020. Then COVID struck, and so we just turned all of our horses out. We had no idea when we were going to be competing again, and he ended up with an injury in the field in Arkansas during the summer of 2020. So, this is our first 'real' season together and our first time at Advanced after doing several Intermediates."
For their first Advanced outing together, Fletcher was thrilled with his mount's "super" performance.
Jamie Kellock and Summer Bay
©Shannon Brinkman Photography
"He was amazing in the dressage warm up, but he got a little spooky in the ring. So, it was exciting to see there was a lot of improvement left for that [phase]. His show jumping has been his slightly weaker phase, so we've been working really hard on that, and he jumped really well," Fletcher recapped. "It's been a while since I've competed at a four star. I don't think I've done it in over a year! So, I was very nervous. But he was super."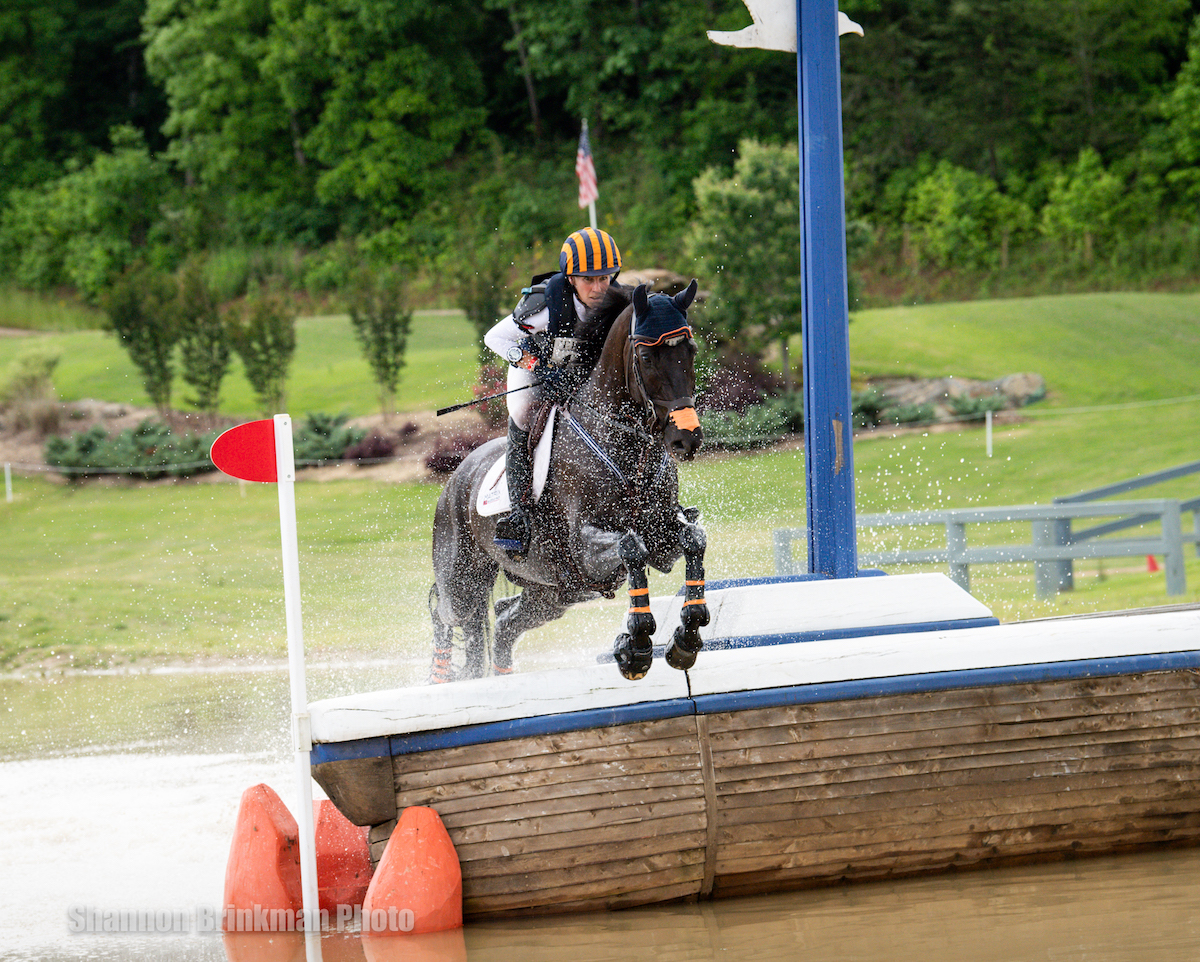 Liz Halliday-Sharp and Cooley Moonshine
©Shannon Brinkman Photography
Continuing his conservative effort, Fletcher was thrilled to see how fast his horse will be for the future as a Cross-Country mount. "I was pretty cautious in a few places [on Cross-Country]," he admitted. "I think he's actually going to be a really fast horse. I think if I knew him well, he would have easily made time today. So, that's very exciting."
Fletcher will ease up on Fabian's schedule for the remainder of the calendar year, aiming to return to Tryon for the CCI 4*-L at TIEC in November, and emphasized that his experience was positive in and out of the rings. "We rented a cabin on-site, and it's a really, really enjoyable experience. Having restaurants on-site is really good. I thought the footing was super, including the amount of work they can do with the footing. It looks like they top dress it with sand frequently, you know, it's really good grass. And obviously, they have sprinklers everywhere. I think the footing is top-class and the courses were good, including the show jump courses. I loved it. It's been really good."
Tryon First-Timer Julie Wolfert Wins Her First CCI 3*-L Event
May 15, 2022 – Julie Wolfert (USA) and SSH Playboy were foot-perfect around the Chris Barnard (USA) Show Jumping Course on Sunday to clinch the win in the CCI 3*-L Division on a score of 33.5 – Wolfert's first win at the level. In reserve, Andrew McConnon (USA) piloted D'Luxe Steel, the 2014 Dutch Warmblood gelding (Up to Date x Iroko) owned by Jeanne Shigo, to a score of 34.5 after dropping one rail in the International Stadium. Mary Bess Davis (USA) and Imperio Magic, her own 2014 Anglo-European Warmblood gelding (Cassander C x Banboula Du Thot), completing their weekend on a score of 35.1.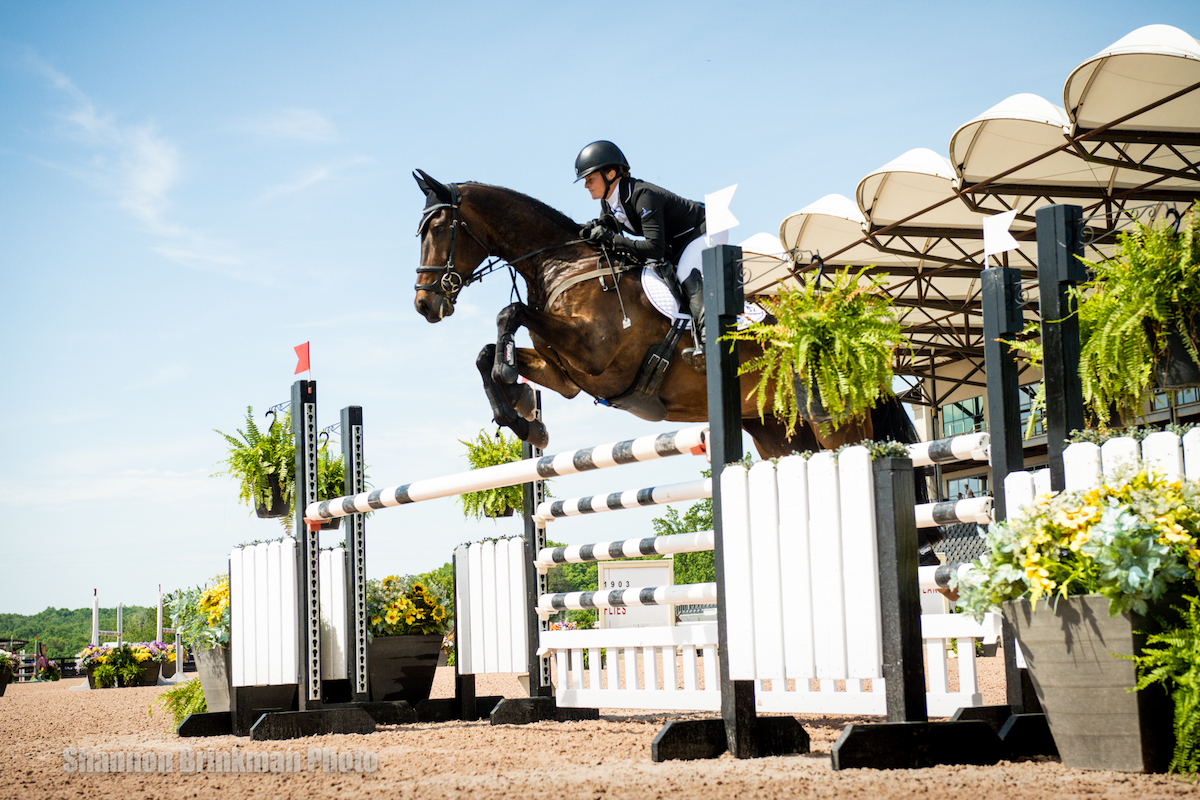 Julie Wolfert and SSH Playboy
©Shannon Brinkman Photography
Wolfert and the 2012 Irish Sport Horse gelding (Cit Cat x Unknown) owned in partnership with Sheri Gurske and Renee Senter were first-timers at the venue and are fairly unfamiliar with each other as well, but found their inaugural run on the iconic Cross-Country track to be "probably the best run we've had," she revealed.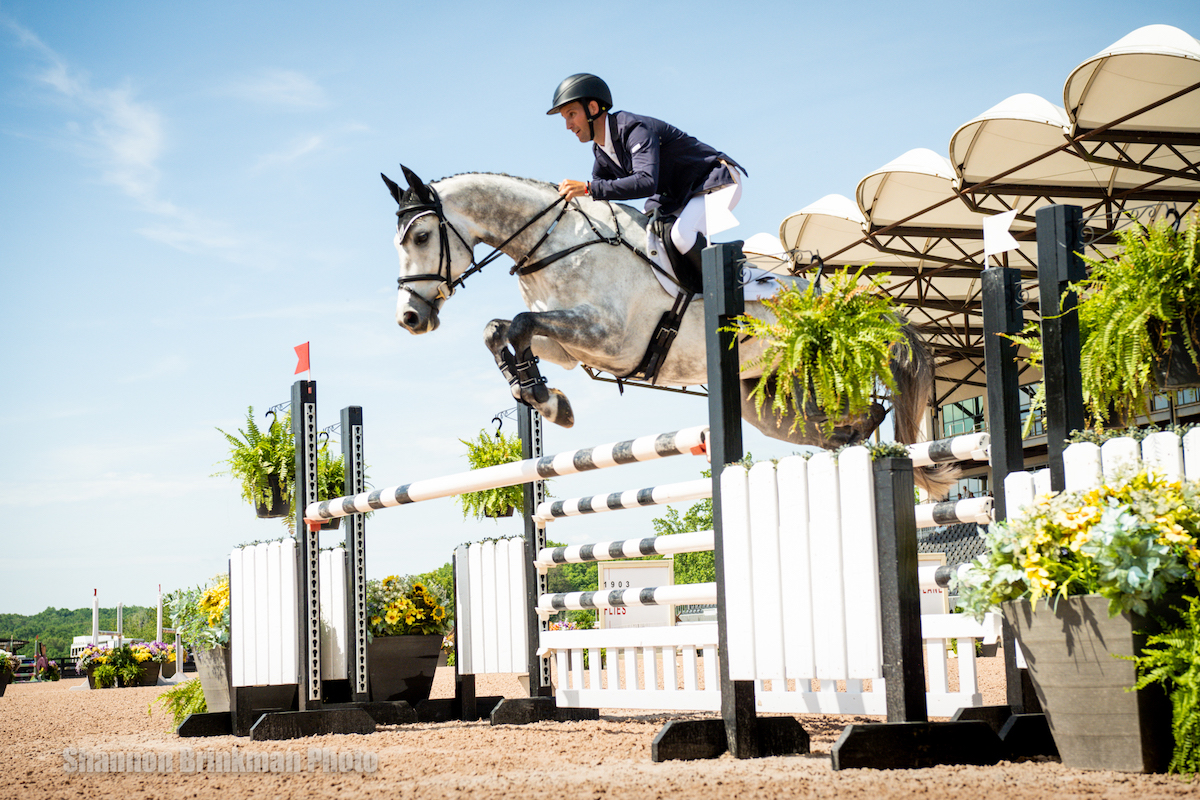 Andrew McConnon and D'Luxe Steel
©Shannon Brinkman Photography
"Dressage is definitely our weakest phase, but I was actually still very happy with it. There were some parts where I wish I could've had a little more impulsion, but we got through it. I didn't really know what to expect on Cross-Country. It's gorgeous out there! He's a fairly new mount for me – I got him six months ago – so there's a lot of questions that I don't think he's ever seen and I also haven't seen. But he was perfect! It was so much fun."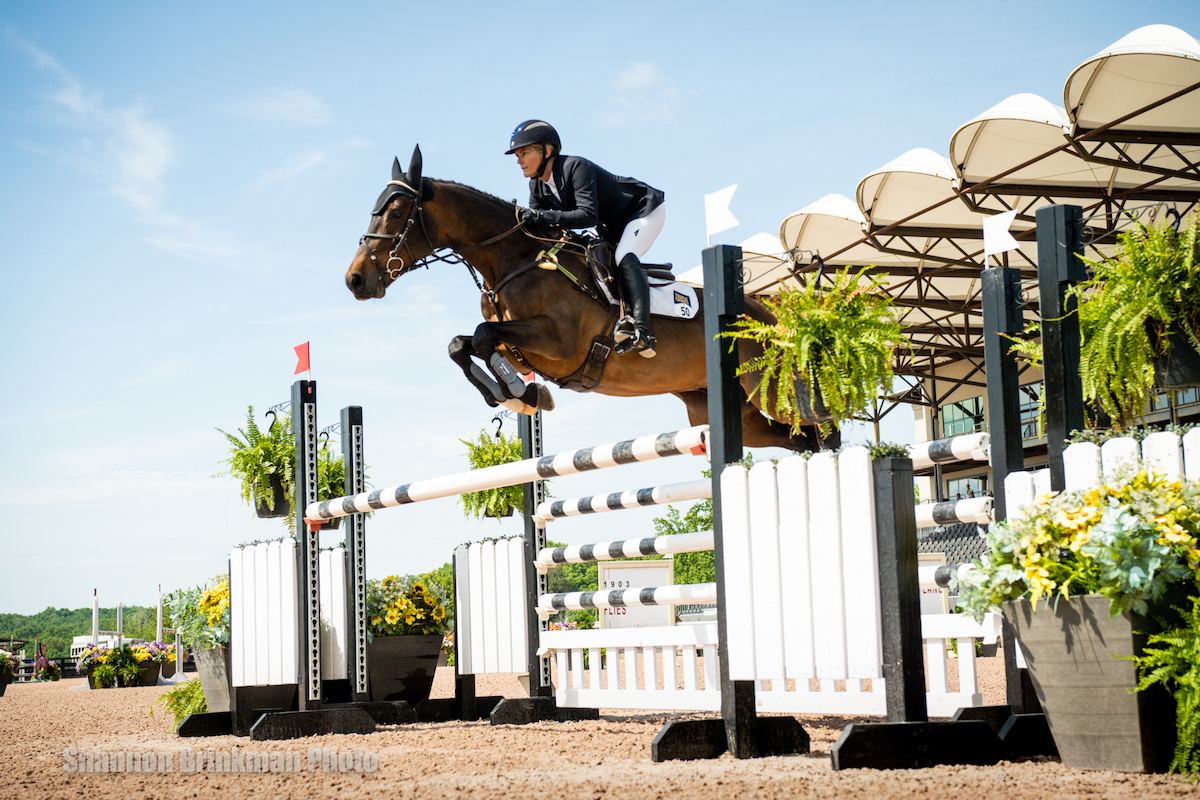 Mary Bess Davis and Imperio Magic
©Shannon Brinkman Photography
Wolfert admitted that her previous crack at show jumping resulted in an elimination for adding some jumps to the track, so she found her nerves to be an issue and "kind of made some interesting decisions out there! But again, he took care of me and jumped out of his skin. I'm so thrilled with him! He's perfect. Thank you to my owners for believing in me and giving me this opportunity!"
Visiting TIEC has been on her bucket list since the World Equestrian Games, Wolfert concluded, finally able to make the trip from Kansas. "It's actually one of the closest events to me. It's beautiful! I love the arenas and the cross-country course is gorgeous. I'll definitely come back, and hopefully maybe in the four-star next year!"
Liz Halliday-Sharp and Shanroe Cooley Collect Wire-to-Wire Win in CCI 3*-S Division
May 14, 2022 – Liz Halliday-Sharp (USA) and Shanroe Cooley dominated the largest division of the weekend, leading from the Dressage phase and only adding 3.2 time penalties to their score for a total of 28.5. Reserve went to Elisa Wallace (USA) and Let it Be Lee, 2008 Thoroughbred gelding (Bernstein x Broad Brush) owned by Donna Biggs and Rosemarie Spillane, who combined for a total score of 30.1 after a double-clear Cross-Country performance. Boyd Martin (USA) and Monbeg Medlar, the 2010 Irish Sport Horse gelding (Emperor Augustus x Star Robe) owned by Yankee Creek Ranch LLC, added just 1.2 time penalties Saturday to finish in third on a score of 30.3.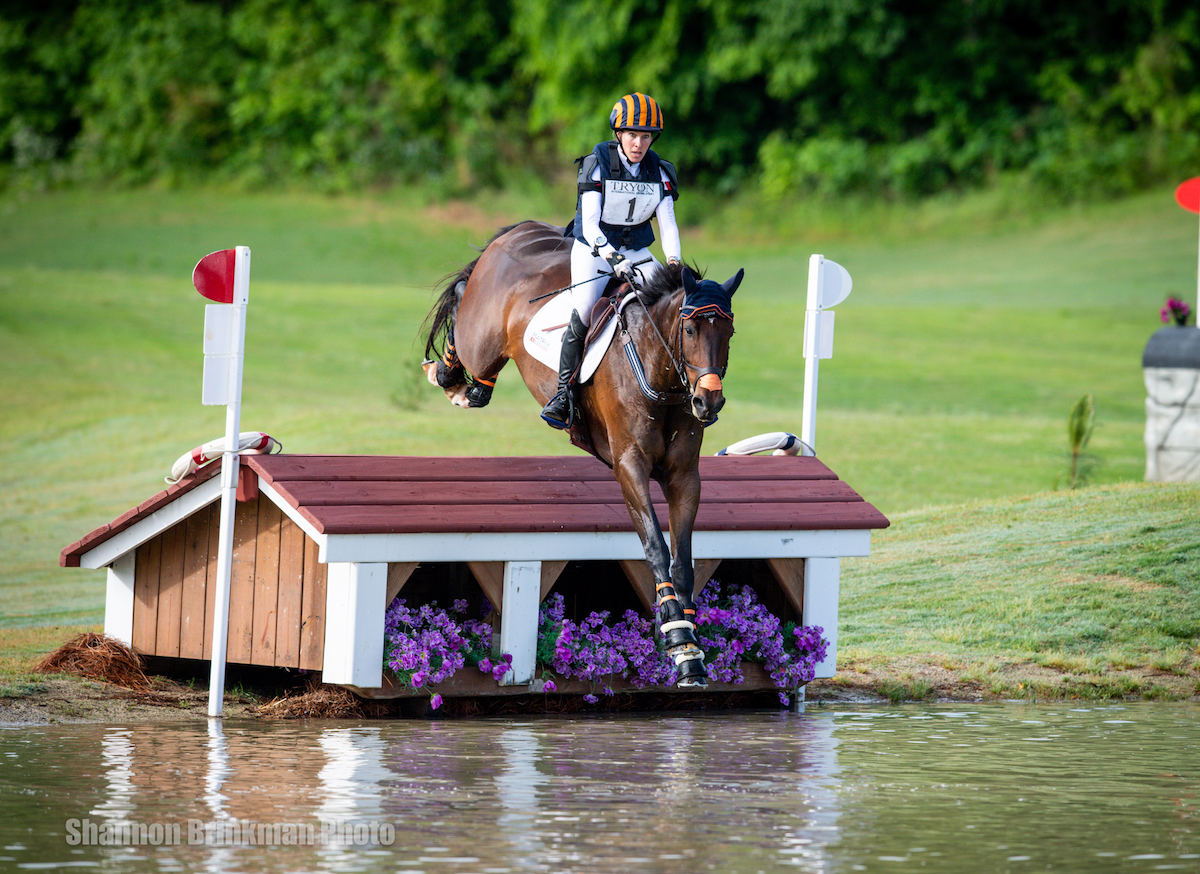 Liz Halliday-Sharp and Shanroe Cooley
©Shannon Brinkman Photography
Halliday-Sharp and the 2015 Irish Sport Horse gelding (Dallas VDL x Unknown) owned by Ocala Horse Properties made the Cross-Country track look effortless, leaving Halliday-Sharp amazed at her young horse's talent.
"He is just an incredible horse. That's all I can say; he's only seven, and he made it feel so easy. I don't know what else – I mean, it was just easy for him! It didn't feel like he overstretched himself: I opened him up on the hill at the end and he just said, 'how fast would you like me to go?'"
Halliday-Sharp and her string of horses were aiming for different kinds of rides, preparing some for later competitions, and was thrilled with her overall results. "He's just finished so well and inside himself, and he's just amazing. There's not many young horses that are like that – he's just kind of a freak! It's exciting," she concluded. "Obviously, it's nice to win everything, but I came here with a plan and I think I sort of did the plan. I think that's what a lot of this weekend is about, is preparation for the future and I feel good about that."
Sinead Maynard Rides New Mount I-Quid J to CCI 1*-S Win
May 14, 2022 – Sinead Maynard (USA) and I-Quid J concluded their weekend on a 28.1, just five weeks after the birth of Sinead's daughter Violet and working with a new equine partner to win the CCI 1*-S division. Ashton Benefiel (USA) and Kingston Van Meerzicht, his own 2015 Dutch Warmblood gelding (Harley VDL x Indoctro), scored 34.9 on the weekend for reserve, while third place went to Boyd Martin (USA) and Barney Rubble, scoring 35.8 with the 2014 Hanoverian gelding (Cador x Glockenklang) owned by Barney Rubble Syndicate LLC.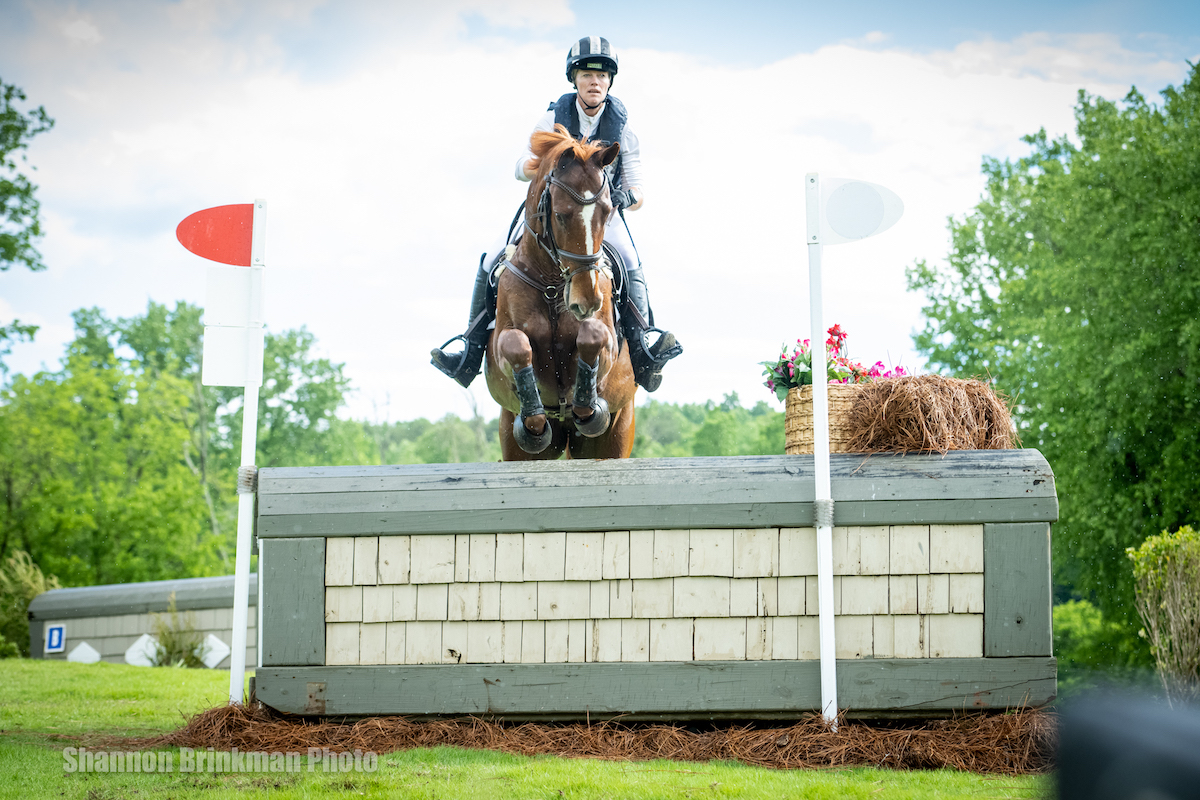 Sinead Maynard and I-Quid J
©Shannon Brinkman Photography
Maynard and the 2013 Dutch Warmblood gelding (Quidaro x Come On) owned in partnership with Alyssa Cairo are a brand-new partnership, and having just climbed back into the saddle weeks after giving birth makes a victorious weekend even more significant and encouraging, she detailed.
"He's just a lovely, lovely horse and I really feel very fortunate I was able to get him. He was great in the Dressage, and he's really a fancy little guy. He's got tons of presence, and he just seems like he likes to compete."
Any competition cobwebs Maynard might have felt stepping down centerline for the first time in a while didn't faze "Squid," though their jumping rounds were as educational for the relationship as they were positive, she explained. "Dressage was actually really fun, because he didn't get nervous. He feels like he actually just lights up, which is kind of fun to ride. I was very rusty in the Show Jumping, and he was wonderful again. I haven't really even jumped Squid around a true show jumping course in the last five weeks, honestly. He's a bit spooky, and he's pretty careful. He's a bit of a player on the landing after the jump sometimes, so that caught me off guard a bit. But he just jumped great.
"And then," Maynard continued, "he was really good on Cross-Country, too. I just felt like I was getting to know him and felt a little rusty all weekend, but he was a champion. Definitely both horses [I rode this weekend] were a lot more backed off by the atmosphere than I thought they were going to be. And especially because I don't know the horses that well, I just felt a little bit gritty, but you know, nothing like getting back to it. So, I felt like it was a great weekend! I feel pretty optimistic about both of them moving forward."
In addition to the village that allowed her to compete this weekend with family in tow, with husband Tik also competing, Maynard emphasized her gratitude to owner Alyssa Cairo as well as the Copperline Elite Syndicate for supporting their family's endeavors. "We just can't do it without the owners and without that type of support. I just am so thankful," she concluded.
Full results from the Tryon Spring International Three-Day Event can be found here.
Show Jumping competition can be replayed on-demand at www.Tryon.com/streaming. 
Eventing will return to TIEC again in the fall with the annual Tryon Fall Horse Trials September 17-18, as well as the Tryon International Three-Day Event hosting CCI 4*-L – 1*-L and CCI 4*-S competition November 9-13 at the venue. More information will be available at www.Tryon.com/eventing, and lodging is available for booking now at www.Tryon.com/lodging. 
Photos ©Shannon Brinkman Photography. These photos may only be used once, in relation to this press release. Competitors may find links to official photos at www.Tryon.com/photos. With questions, contact media@tryon.com. 
Tags:
Andrew McConnon
,
Ashton Benefiel
,
Barney Rubble
,
Boyd Martin
,
Colleen Loach
,
Cooley Moonshine
,
D'Luxe Steel
,
Elisa Wallace
,
Eventing
,
Fabian
,
Fedarman B
,
I-Quid J
,
Imperio Magic
,
Jacob Fletcher
,
Jamie Kellock
,
Julie Wolfert
,
Kingston Van Meerzicht
,
Lady Chatterley
,
Leslie Law
,
Let It Be Lee
,
Liz Halliday-Sharp
,
Mary Bess Davis
,
Monbeg Medlar
,
Shanroe Cooley
,
Sinead Maynard
,
SSH Playboy
,
Summer Bay
,
Vermont