Team Mendoza Starts Strong with FEI Grand Prix Win
FEI Prix St. Georges is Full of Firsts
For Immediate Release
Sarah Madden for TIEC
Mill Spring, NC – April 27, 2022 – The first Dressage competition of the season kicked off at Tryon International Equestrian Center & Resort (TIEC) with national competition hosted April 22-24. FEI Grand Prix competition saw a victory for local professional Julio Mendoza Loor, albeit aboard a different mount than usual. Riding down centerline Saturday with Jewel's Goldstrike, the 2011 Dutch Warmblood gelding (Bretton Woods x Zilia x Watermill Scandic) owned in partnership with wife Jessica, Mendoza Loor scored a 70.869% to place first in the Open division. In reserve, Kerstin Moltmann-Wilder and her own Zephyr, the 2004 Dutch Warmblood gelding (Harmony's Rousseau x Mneme x Zeoliet), rode to a 61.521%.
"Goldie," as Mendoza Loor calls him, "is a horse to go far… so far. I did not think he was going to be on this level and be amazing," he acknowledged. "The highlight [of the win] is that he is still learning and he is only 10 years old. For me, he's a baby; at least he needs two more years to learn what a Grand Prix is."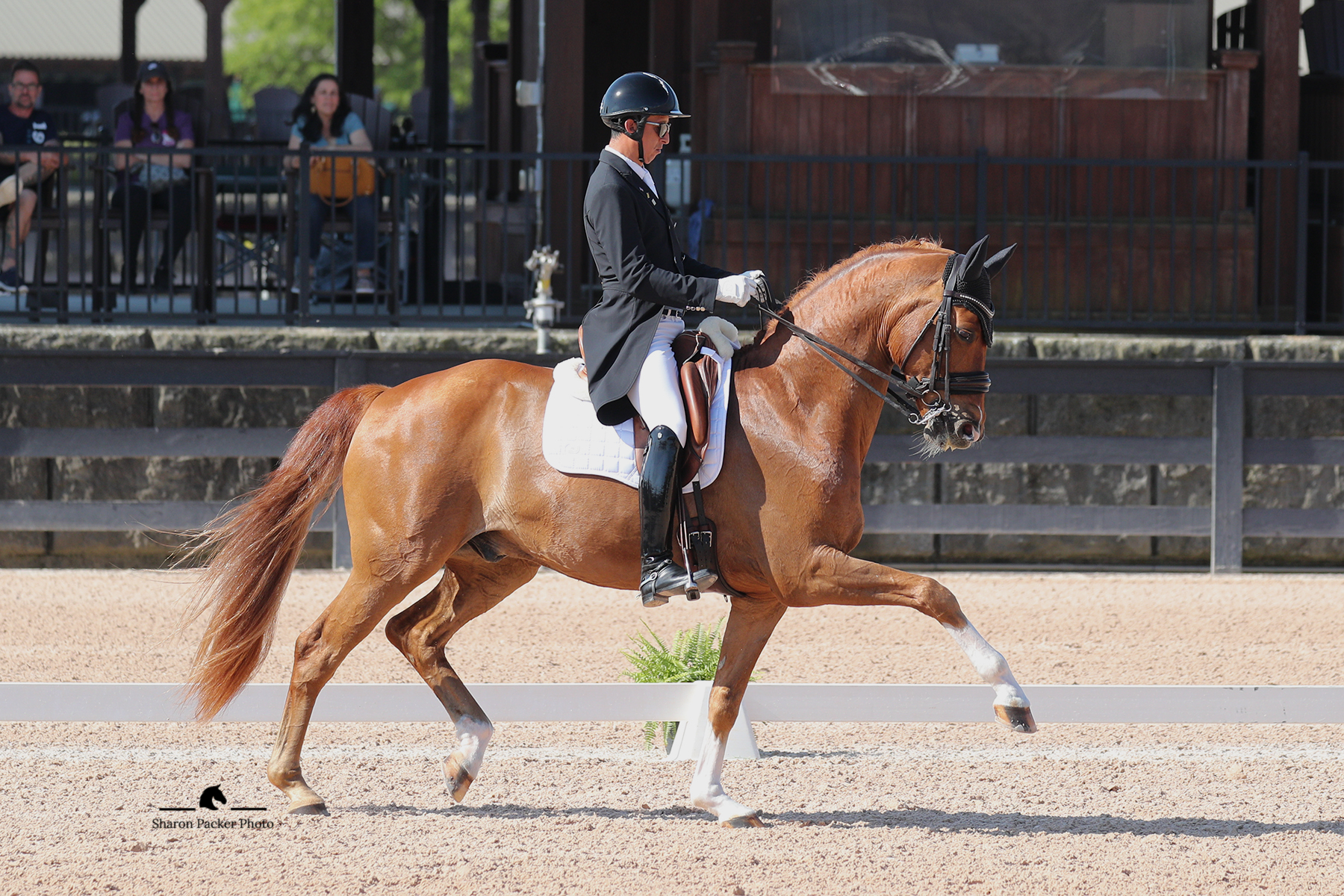 Julio Mendoza Loor and Jewel's Goldstrike
©Sharon Packer Photography
Particularly at the first show of the season, Mendoza Loor detailed, green mistakes don't make or break the test. "He's going to make a little bit of green mistakes; I allow him to make a little. But, I'm very proud of him, and I'm very proud of all the horses [bringing me down] the centerline."
Mendoza Loor concluded, "My weekend went amazing! It's amazing to see your clients doing well, too. My son was [for] the first time competing in the Prix St. Georges and I was very emotional," Mendoza admitted. "I love to see him go centerline, and we've been dreaming for that moment and he was very, very good. Seeing him get a score in the seventies in the Prix St. Georges, for the first time, we were a proud papa and proud mama!"
FEI Prix St. Georges is Full of Firsts
April 27, 2022 – Friday's FEI Prix St. Georges competition resulted in a win for Cecelia Stewart in the Adult Amateur Division and Cody Armstrong Pierce in the Open Division. Armstrong Pierce rode Duvaldez, the 2008 Dutch Warmblood gelding (Valdez x Venga x Negro) owned by Kimberly Clark, to a score of 69.852% for the win. Tami Crawford rode Quentin, the 2013 Hanoverian gelding (Quotenkönig 2 x Kastanie x Akinos) owned by Janine Shoffner, to a score of 66.764% for reserve honors, while third place in the Open card went to Susan Shelton riding Senegal Arb, the 2012 PRE stallion (Mosquetero VII x Barcarola II x Aranjuez III) owned by Helen Frederick, after scoring 63.088%.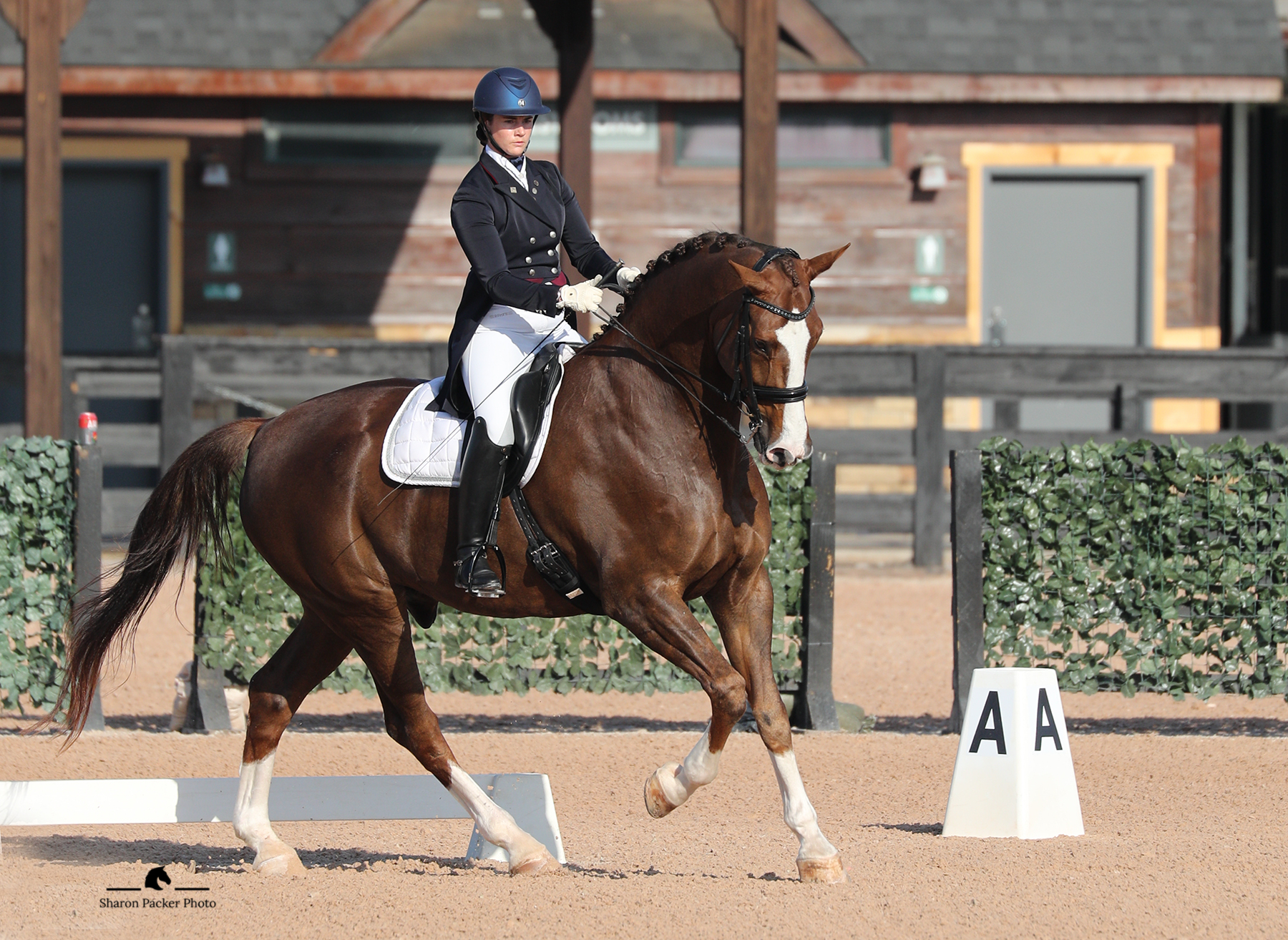 Cody Armstrong Pierce
©Sharon Packer Photography
"I've actually only had him with me in training for about two and a half weeks," Armstrong Pierce revealed. "He was really, really good. Everything came together. It was his first Prix St. Georges, and it was actually my first time back in the FEI ring after having a child. This is only my second horse show back!"
Armstrong Pierce continued, "we were just trying to get that horse a little bit more experience, and he kind of went down and laid down a pretty flawless test. I'm really excited about the flying changes. Those have been a little bit hard for him," she explained. "He didn't really do a lot of changes two and a half weeks ago. We've been working on him carrying himself and the changes in a nice straight line."
The weekend held yet another first for Armstrong Pierce, she disclosed. "I've never ridden him at a horse show before. I've taught Kim a little bit on him, and I've seen him shown a little bit, but I've never ridden him at a horse show. And I again, haven't ridden him really, since before I was pregnant, so over a year ago."
With so much newness in the equation, her goal was to ride a bit conservatively for a positive experience, and her strategy paid off. "I wanted a nice, quiet, and flowy test. That was my goal, and it turned out that the judge really liked it! I really couldn't have been happier with him. He's such a good boy. He's big; I went down centerline and was like, 'Oh, it's a little bit of a tight turn here!' But everything ended up flowing well."
Bringing several horses and students with her, Armstrong Pierce had a winning start to her show season, she detailed. "For my other two clients, it was their first horse show for the year, and they had both really great rides, and their horses moved up. It was a great outing for our whole group, and the weather was phenomenal. I rode a couple other horses, and they all won all of their classes. So we finished up the whole day with a bunch of blues. We had four horses there, and everyone finished first for the whole day. So, that was a great start to the year!"
Based in the Waxhaw, North Carolina area, Armstrong Pierce considers TIEC her family's base, particularly in the summer. As a new mom, she's enjoying the venue's amenities in a new light, she concluded.
"This is our second show for this year, and we'll be back to Tryon in June. It was a great weekend. I really like that side [of property] where it's really kid friendly, especially since now I have a six-month-old,my first kid, and my mom came to help me. I couldn't do it without her! She held him all day and he was my little cheering squad, so that was nice. I look forward to showing there again in June."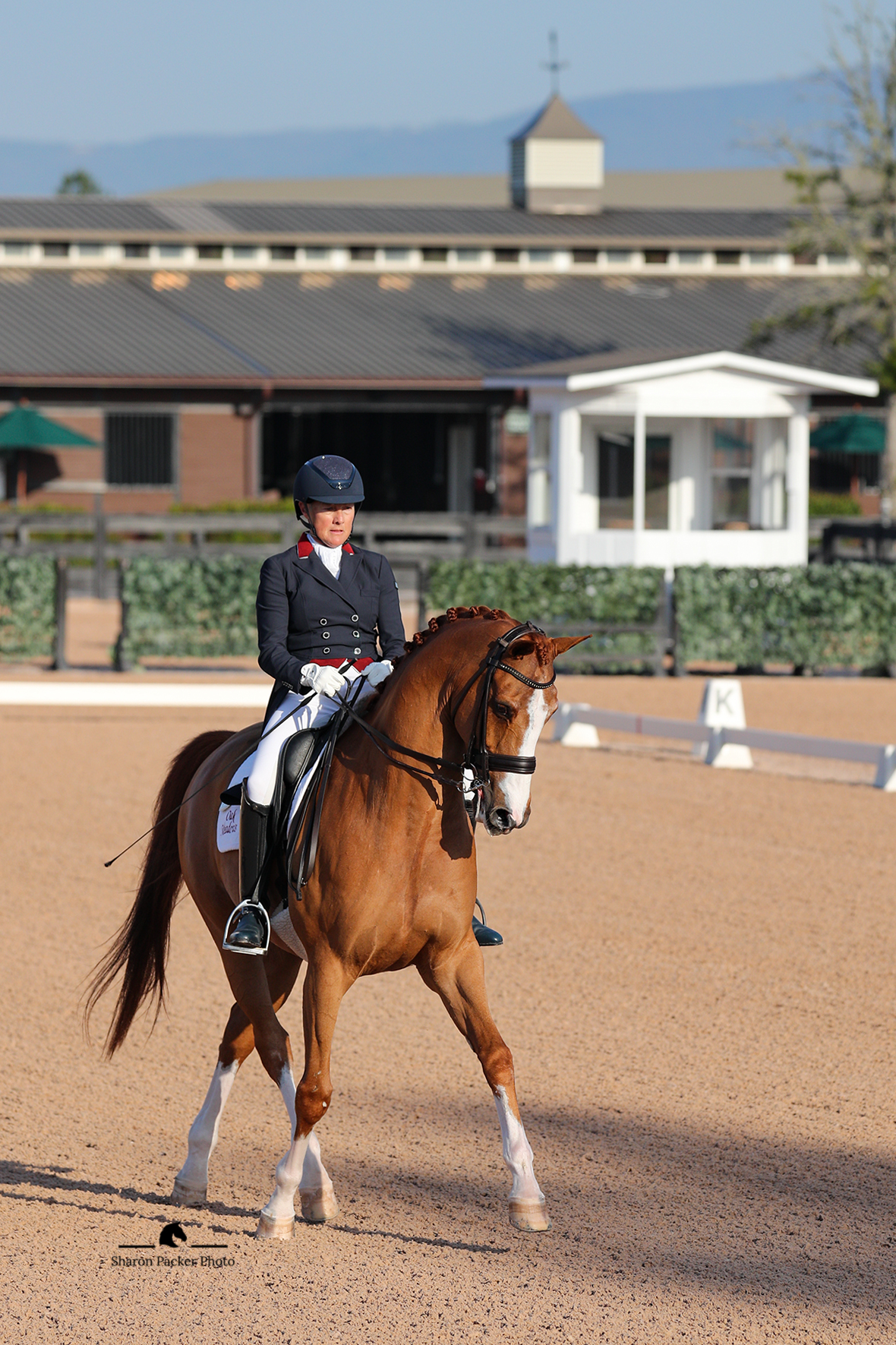 Cecelia Stewart and Friend
©Sharon Packer Photography
Cecelia Stewart and her own mount Friend, the gelding (Harmony's Rousseau x Zinith), also scored a 69.852% for the win in the Adult Amateur Division. Laura Eyre and her own Sharpshooter, the 2009 Oldenburg gelding (Shakespeare RSF x EM Chee Chee x Contucci CWS), rode to a 60.294% for reserve, while third place honors were awarded to Nelson Long, riding Dream Chaser, his own 2011 Dutch Warmblood gelding (Breezer 5 PF x Diary x Dayano), to a score of 54.852%. The only Junior Rider in the class, Mateo Mendoza, rode Friedemeyer to a score of 66.764% aboard Aileen Daly's 2007 Westphalian gelding (Friedensritter x Welina x Weltmeyer).
"I'm just super proud of him," Stewart emphasized. "He's such a great boy. And he was just on; he can be a little hot and spicy. Sometimes that works really well for you, and other times, it doesn't work quite as well as you would like! But this weekend, he was good all three days, and the mistakes were all mine. and today's (Sunday's Intermediare 1) was a much cleaner test, but he did his job. So any faults for that other ride would be on me, not him, because he just was super awesome."
Stewart is eager to move up to the I 2, she shared, and has been working on passage and half steps in particular. In the meantime, her winning weekend has been a great step in the direction of progress.
"We love Tryon, she concluded. "It's just a great venue. We live an hour and 45 minutes away, which makes it just really super. The facilities are great, and we just always enjoy coming here. When we're not in Florida, this is our show of choice. So, you know, we'll be back in May and you know, possibly June. It's just convenient and it's just a great facility."
For full results from Tryon Spring Dressage 1, click here.
Tryon Spring Dressage 2 competition will host national classes May 7-8, which also plays host to Tryon Spring 1 Hunter/Jumper competition and a Mother's Day brunch at Legends Club. For more information, visit www.Tryon.com/allevents. 
Photos ©Sharon Packer Photography. These photos may only be used once, in relation to this press release. Competitors may view and request photos at www.Tryon.com/photos. With questions, contact media@tryon.com.