For Immediate Release
Sarah Madden for TIEC
Mill Spring, NC – April 25, 2022 – For the third consecutive year, Taylor Bradish (Windsor, SC) and Katydid Duchess emerged victorious in the USEF Combined Driving National Championship for Single Horses at the Katydid CDE hosted at Tryon International Equestrian Center & Resort (TIEC) April 22-25. The competitor turnout was record-breaking for the venue, with many of the competitors visiting TIEC for the first time. With the Tyon Fall CDE still to come this calendar year, the sport of Combined Driving is thriving at TIEC.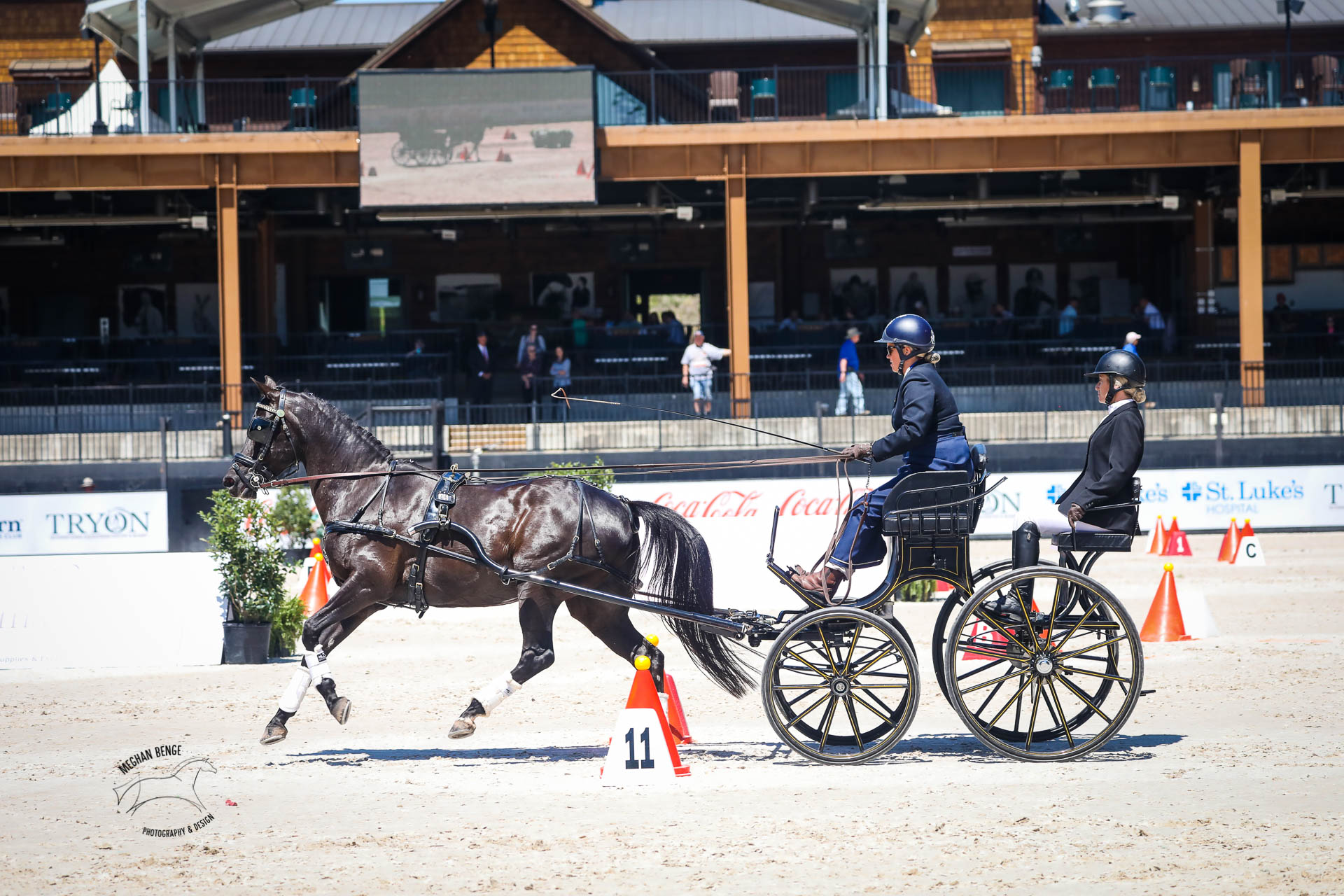 Taylor Bradish and Katydid Duchess in the Cones Phase.
©Meghan Benge Photography
Bradish and Jennifer Matheson's 2009 Welsh Pony cross mare, named for the same venue where she was bred and the original competition hosted until moving to TIEC, finished their weekend on a final score of 138.85. After stiff competition in a large division, Reserve National Champion honors belonged to Raymond Helmuth (Cambridge, IA) with Kendro, a 2015 Dutch Warmblood stallion owned by Helmuth Equine, after their Cones performance clinched a score of 143.18. Defending reserve champion, Carrie Ostrowski (Lexington, KY), drove Gellerduht, her own 2011 Dutch Warmblood gelding, to third place on a score of 148.88.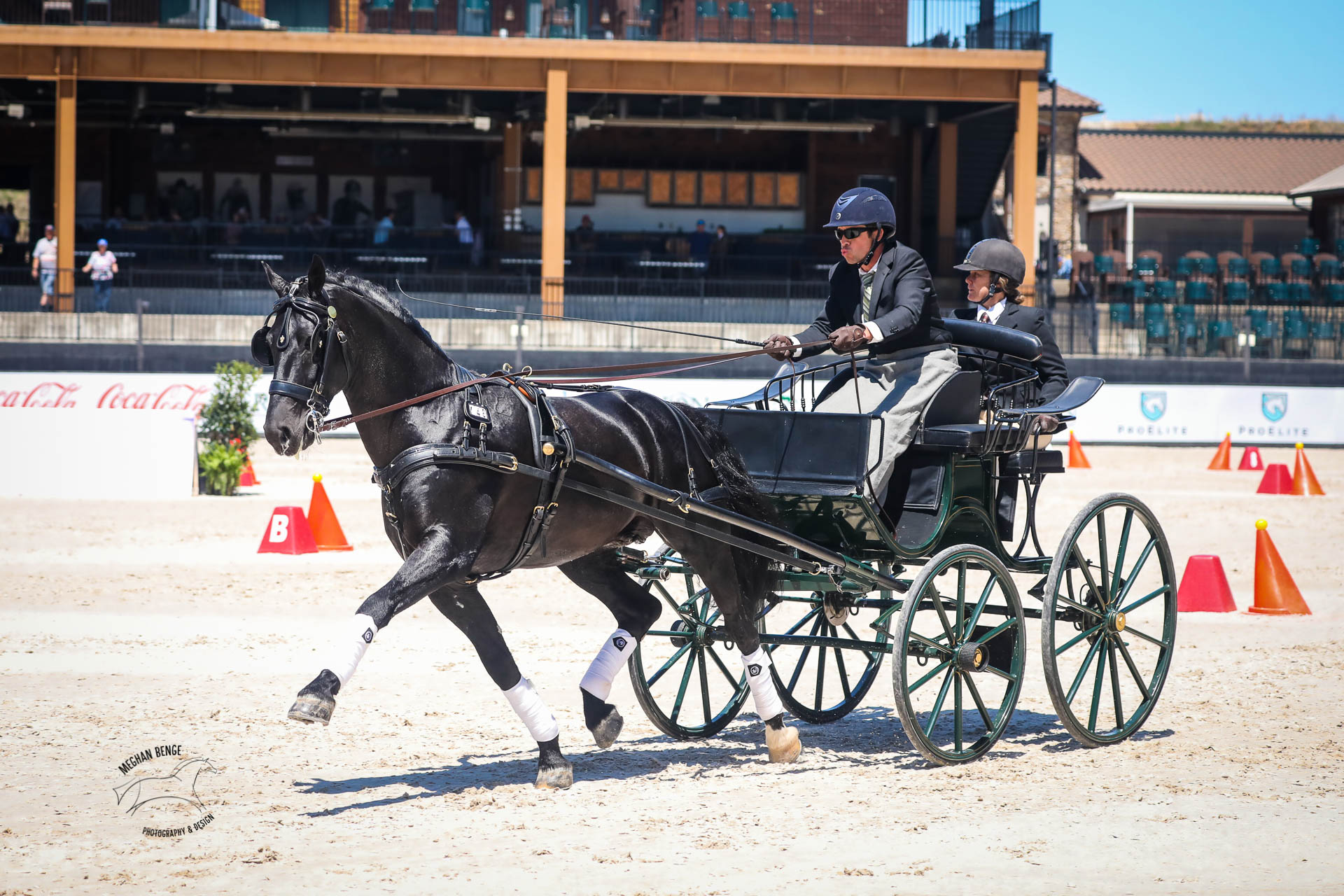 Raymon Helmuth and Kendro in the Cones Phase.
©Meghan Benge Photography
"It was a very, very good weekend," Bradish recapped after a phenomenal Marathon performance catapulted her to the top of the leaderboard and a double-clear Cones round kept her there. "Dressage wasn't my best [performance], but I was in a good enough position that I thought I might be able to make it up. I didn't think I would make it up that much!"
Duchess, as she's called, had an easy time out on the Marathon course, Bradish detailed.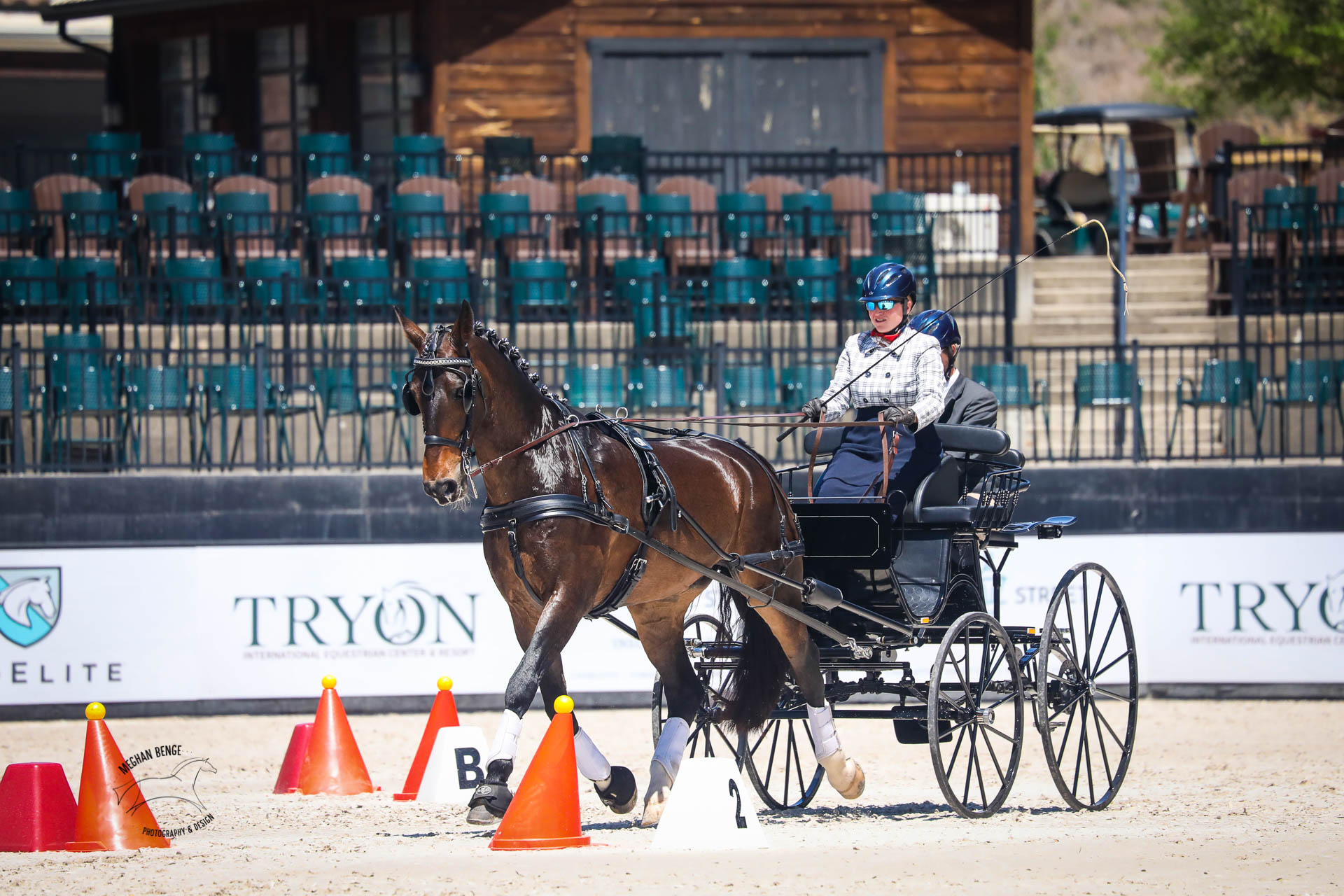 Carrie Ostrowski and Gellerduht in the Cones Phase.
©Meghan Benge Photography
"Her Marathon phase was just amazing. She was so good, and so fast. She's extremely fit; she was pulling me up that hill at the end! She's so awesome, and she was just supple and perfect. Everything was on." She continued, "Being in first added pressure going into Cones. I handled it well, I think. She was perfect and game, and proud of herself! I really wanted to win here, since she is a Katydid horse."
Though a national title is great to have, Bradish and Duchess are aiming at a World Championship next. "At Live Oak, I won, and it was a good show. This one was even better. She just keeps improving, and I think it puts me in a good position [to be selected]."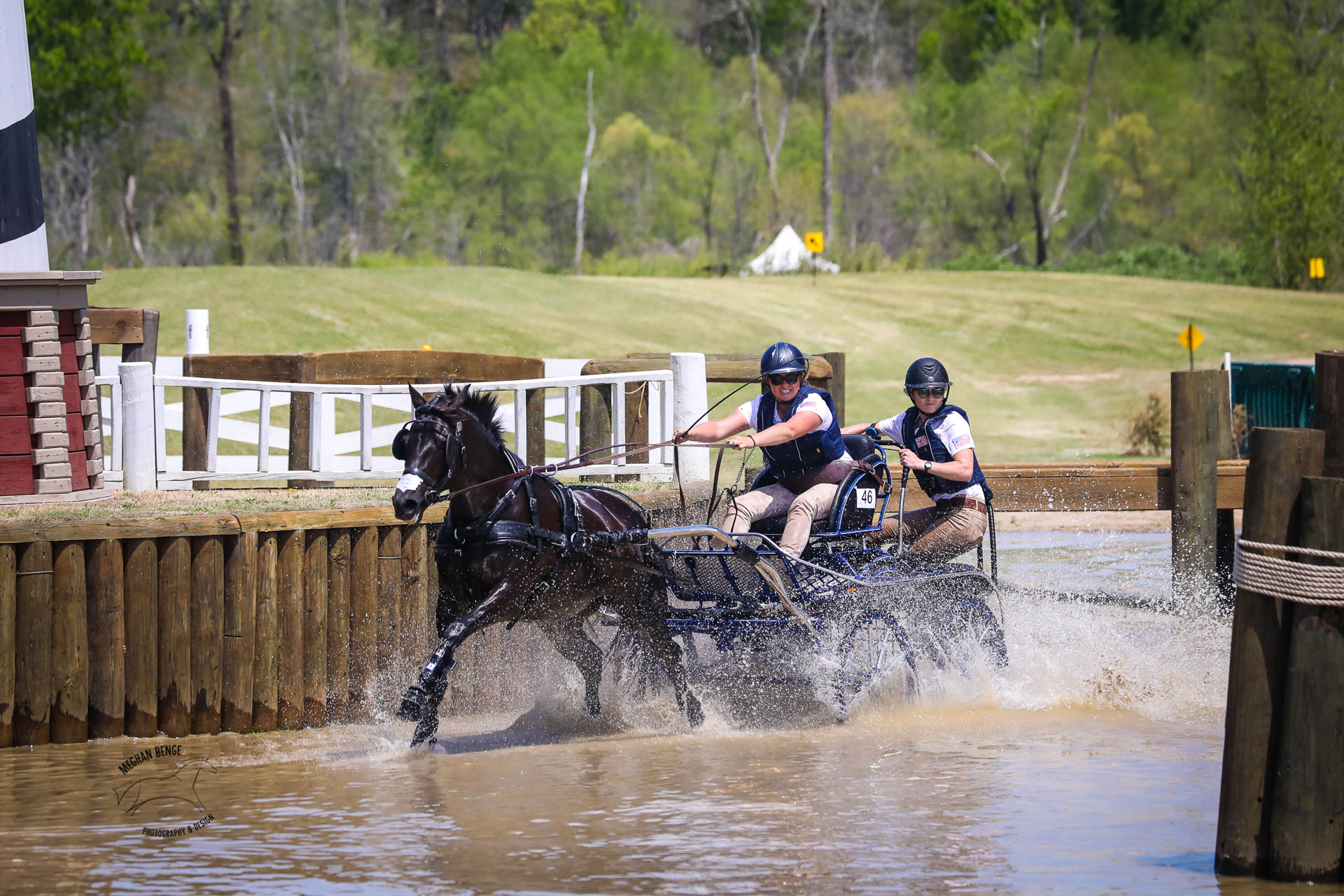 Taylor Bradish and Katydid Duchess in the Marathon Phase.
©Meghan Benge Photography
Though the sport of Combined Driving is featured at TIEC only a few times annually, Bradish reiterated how "wonderful" the facility is for competitors and horses alike. "The footing is amazing…Absolutely perfect," she raved. "The marathon course is just – that grass – it just drives so well. You don't have to worry about footing in any way or getting deep. It's absolutely amazing. And the stalls are nice and big. We're used to tiny portable stalls! It's super nice here."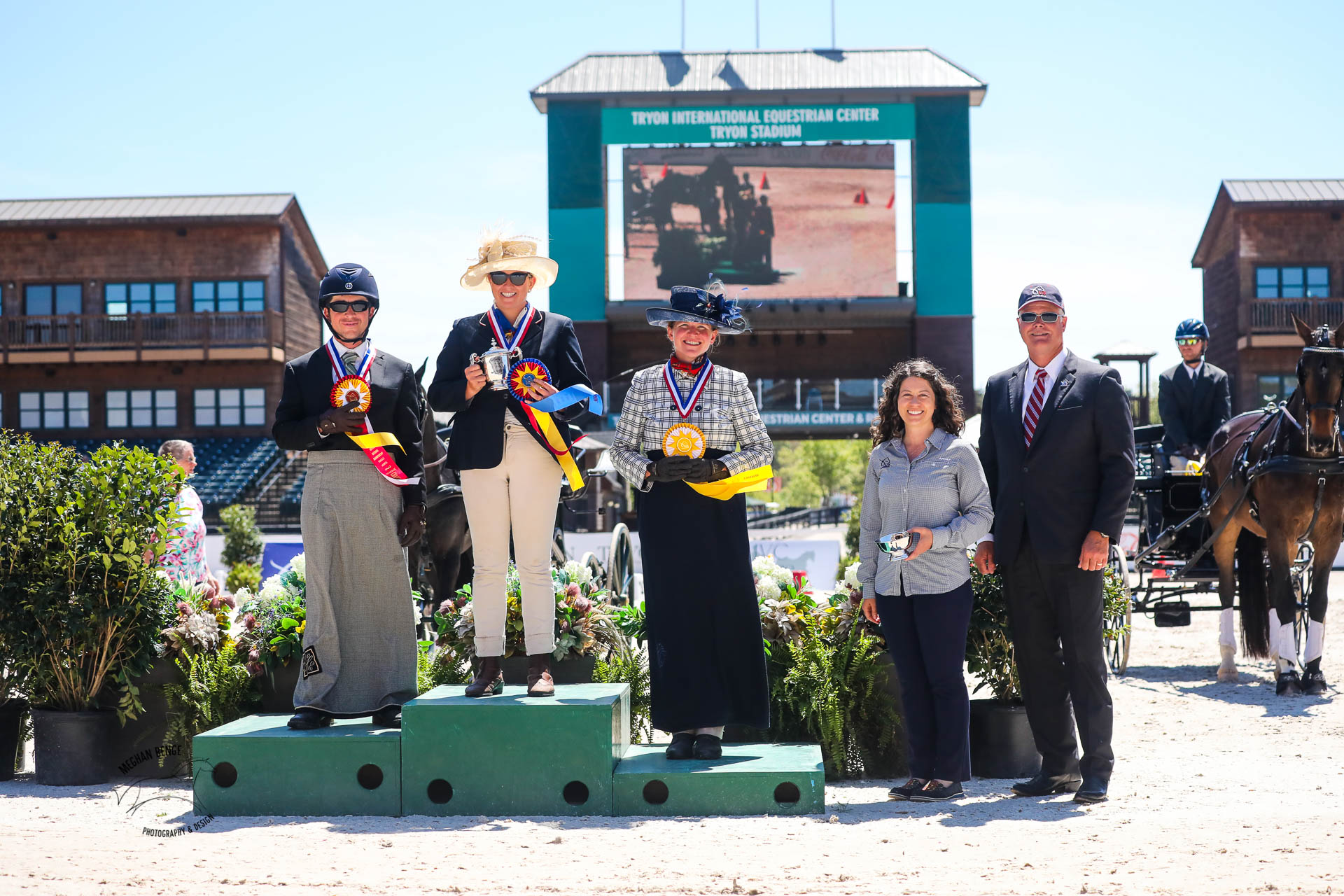 Helmuth, Bradish, and Ostrowski in their presentation ceremony alongside Danielle Aamodt, USEF Director of Driving, and Rear Admiral Jon C. Kreitz, USN, Ret., USEF Board of Directors Independent Director.
©Meghan Benge Photography
Jean Thornton Completes Her First Advanced Team Horse Competition
Hard to miss all weekend while driving four deep golden palominos, Jean Thornton drove her team through the finish line of the Cones phase and celebrated her first completion at the Advanced level with a homebred team – something she's been working towards for just shy of 20 years.
"It was a huge challenge! Dressage has always been a challenge for me the last few years because I have new members constantly coming in on my team, because my older horses are smaller, and the younger horses are larger, and I've sold some. I haven't been able to compete with the same team for many years in a row to kind of really advance and gel them together," she revealed. "My team is actually pretty young, and even the ones that are older, I actually had sold them as babies for various reasons, and then bought them back. So, they're kind of going through the motions at the Advanced level, but not really proficient at the test yet."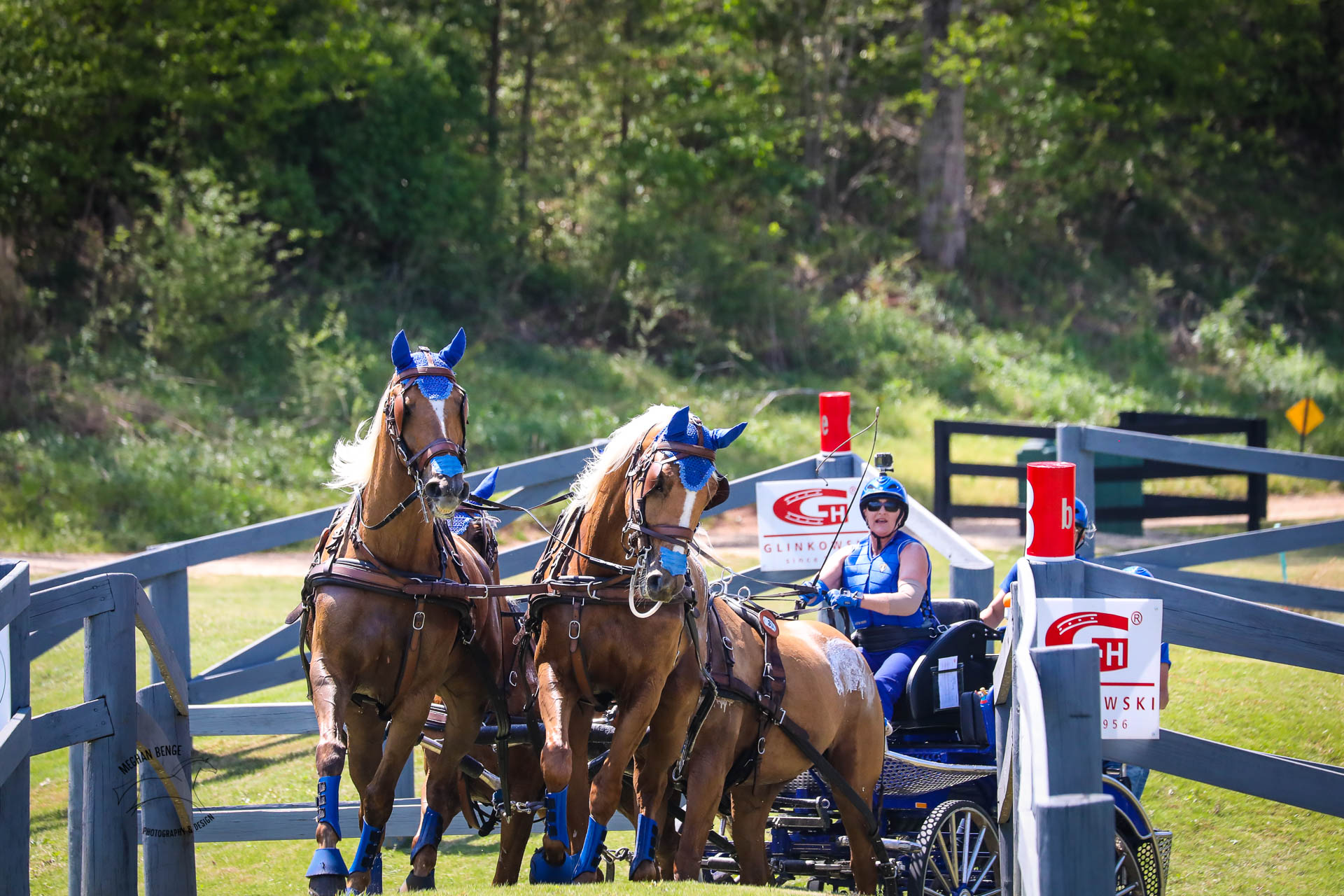 Jean Thornton and team
©Meghan Benge
While the Marathon phase went "almost perfectly," she shared, Thornton was most impressed by a decent performance in the Cones phase after struggling with faults in the past. But the real highlight is a completion score after nearly two decades of breeding, riding, driving and training horses herself.
"It's a huge challenge to drive a four-in-hand. A pair is twice as hard as driving a single horse, but a team is like 16 times harder than driving a pair! Every time you change one thing, everything else changes," Thornton explained. "I had this dream of driving a palomino team with no white socks. It's been 19 years since. I've bred them all myself.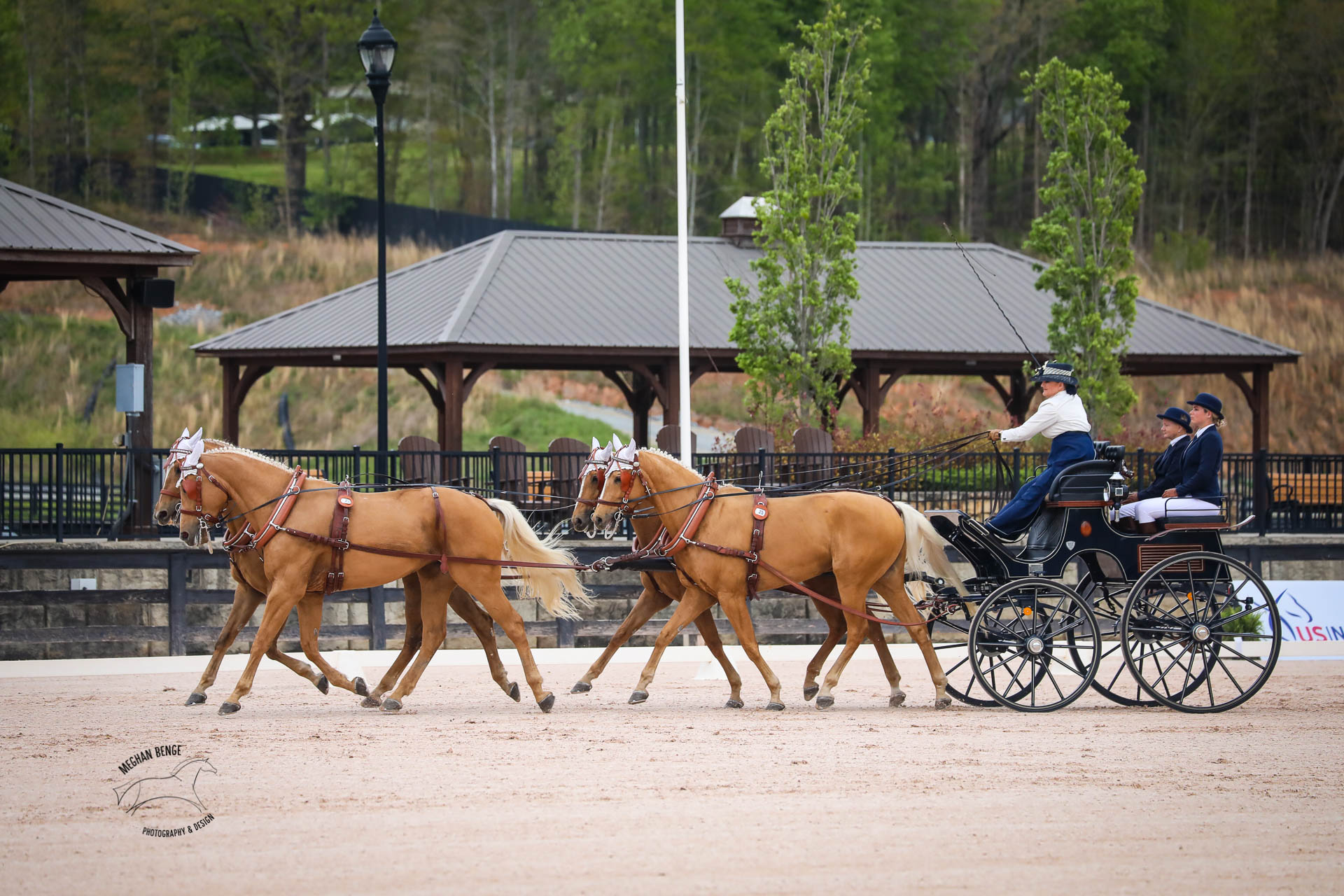 Jean Thornton and team
©Meghan Benge
"I'm finally at the highest level, but I'm still not really proficient at it. It's going to take a number of more years just to just to refine everything. But, you know, I'm, I'm lucky that I get to do it," Thornton emphasized. "It takes a big crew to be able to do this. We drove up two rigs. You know, I've got 140 foot trailer and 135 foot trailer and two trucks, and we bring 15 bales of hay and 50 bags of shavings, 10 harnesses and three carriages and a Kawasaki mule and a Kawasaki ATV, about 400 pounds of grain, and 30 buckets."
Jean Thornton and team
©Meghan Benge
With such complicated logistics at play, Thornton concluded that the showgrounds made the competition an ideal destination for Combined Driving. "It's a beautiful facility, and it's perfect for the horses. I mean, I just cannot think of anything that would be better for the horses."
For more information about Combined Driving at TIEC, visit www.Tryon.com/Driving. 
View full results from the Katydid CDE here. 
Photos ©Meghan Benge Photography. Photos may only be used once, in relation to this press release. With questions, contact media@tryon.com.