Lexi Scovil and Chico's Man VDF Z Grab First Advanced Win
For Immediate Release
Sarah Madden and Lily Yampolsky for TIEC
Mill Spring, NC – September 18, 2022 – Lexi Scovil (Reddick, FL) and Chico's Man VDF Z cruised around the White Oak Cross-Country Course at Tryon International Equestrian Center & Resort (TIEC) to win the Advanced Division of the Tryon Fall Horse Trials, finishing on a score of 41.1. Joe Meyer (Ocala, FL) and his own Harbin, the 2010 Irish Thoroughbred gelding (Verglas x Rainbow City), scored 59.0 over the weekend to finish in reserve. Andrew McConnon (Southern Pines, NC) aboard Caroline Martin and Jeanne Shigo's mount Ferrie's Cello, the 2012 Warmblood gelding (Chello III VDL x Karelza), collected a total score of 60.7 to earn third place.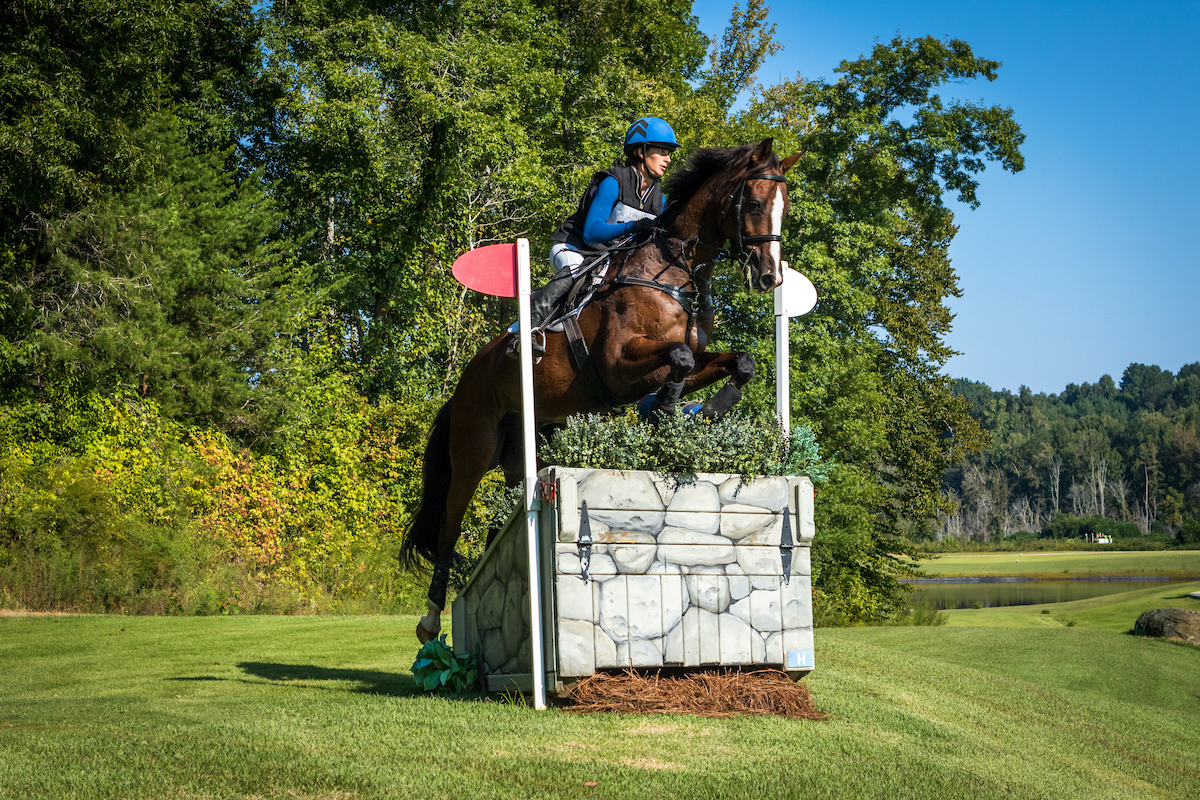 Lexi Scovil and Chico's Man VDF Z
©Anthony Trollope for Shannon Brinkman Photography
Scovil and her own 2010 Zangersheide gelding (Chico's Boy x Chardonnay Z) Chico's Man VDF Z led from Dressage, dropping just one rail in Tryon Stadium and producing the fastest Cross-Country time to earn the win. While the two have had many strong finishes together at the advanced level, this was Chico's Man VDF Z's first win.
"He's always pretty strong on the flat, but he put in a particularly good test this weekend. And then, honestly, he show-jumped a super round, I was a little disappointed to have a rail down. But he just touched one down. For Cross-Country, I just wanted to have a good, kind of constant forward run. I'm never quite the fastest Cross-Country rider. So, I went out to be as quick as I could and practiced going fast. And he was great. We had a really, really good ride," Scovil exclaimed.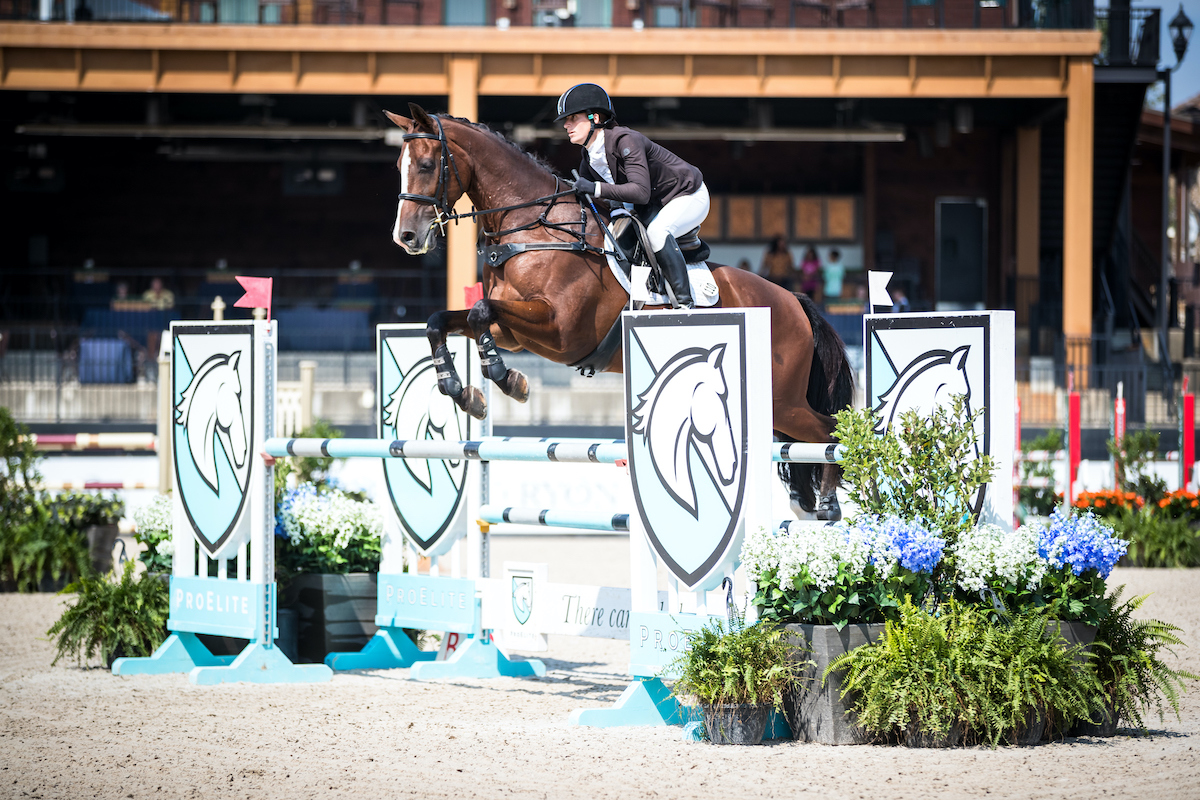 Lexi Scovil and Chico's Man VDF Z
©Natalie Suto for Shannon Brinkman Photography
The pair have their sights set on tackling the 5* in Kentucky again in 2023, and used this show as a warm up for other 4*-L events in the fall. Scovil said of the Captain Mark Phillips (GBR) course that "it asked all of the questions that we'll see in the future, and it was really good to practice all of those. Some of the [questions asked] on the mound and on the hills were really good for us, as we don't get to see those a lot."
Though this weekend was not her first trip to TIEC, it's been a few years since she's made it to the venue and she was thrilled with her experience, Scovil reported. "It was just really nice to run over there [on the White Oak Cross-Country Course]," she emphasized. "It's nice footing to run on, which is so important for the upper-level horses. That was really cool to experience. It's always nice to be able to show jump in the Tryon Stadium, where they get to see some more atmosphere they don't necessarily see in other places," she concluded.
Andrew McConnon and D'Luxe Steel Dominate Open Intermediate Division
Andrew McConnon (Southern Pines, NC) led from the first phase aboard Jeanne Shigo's D'Luxe Steel in the Open Intermediate Division of the Tryon Fall Horse Trials, collecting a total score of 41.8. Lucia Strini (Scottsville, VA) piloted four mounts through the division, claiming second, third, fourth, and sixth place honors with Excel Good Quality, Kevin G, FE Caspian, and Keynote Dassett, respectively. With Plain Dealing Farm's Excel Cool Quality, the 2013 Belgian Warmblood gelding (Emerald Van't Ruytershof x Gazelle Van Het Netehof), Strini finished on a score of 45.8, adding 13.6 time penalties on Cross-Country. To round out the podium with Plain Dealing Farm's Kevin G, the 2015 Dutch Warmblood gelding (Dakar VDL x Vaira), Strini added 22.8 time penalties to her Dressage score to finish on 53.6 points.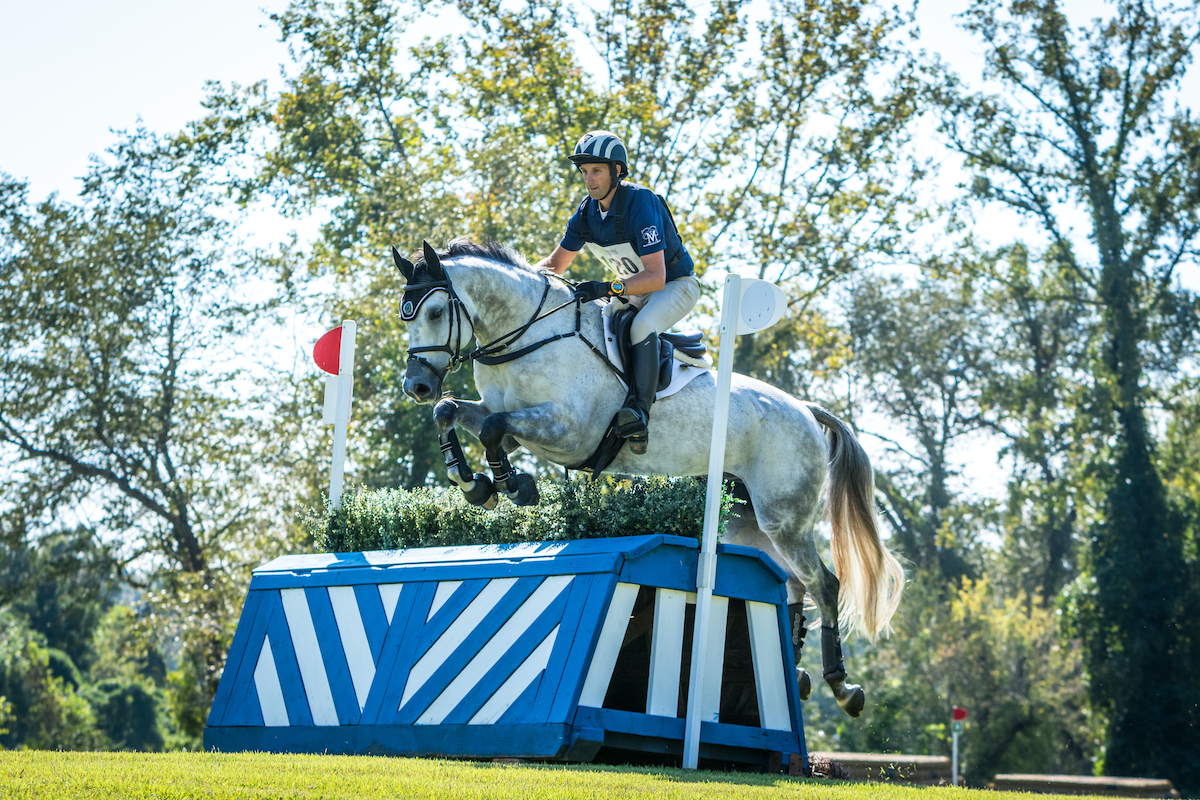 Andrew McConnon and D'Luxe Steel
©Anthony Trollope for Shannon Brinkman Photography
McConnon and the 2014 Dutch Warmblood gelding (Up to Date x Nicola D) produced the fastest run through the Captain Mark Phillips (GBR) course design, only adding 12 points to their 29.8. McConnon and D'Luxe Steel know each other quite well, with McConnon getting the ride when D'Luxe Steel was a rising five year old. Together they have been working on adding impulsion to the step, which was reflected in their Dressage marks and gave them a full five-point advantage after the first phase.
Despite an unlucky pole at the last fence, McConnon was still pleased with his show jumping round in Tryon Stadium, stating that "he had a really, really good round and [boosted his] self confidence." Going into Cross-Country, McConnon's original plan was to go slower, but "after walking the course and feeling the footing, I decided that it'd be nice for him to throw out a little bit more and ride a good upbeat rhythm."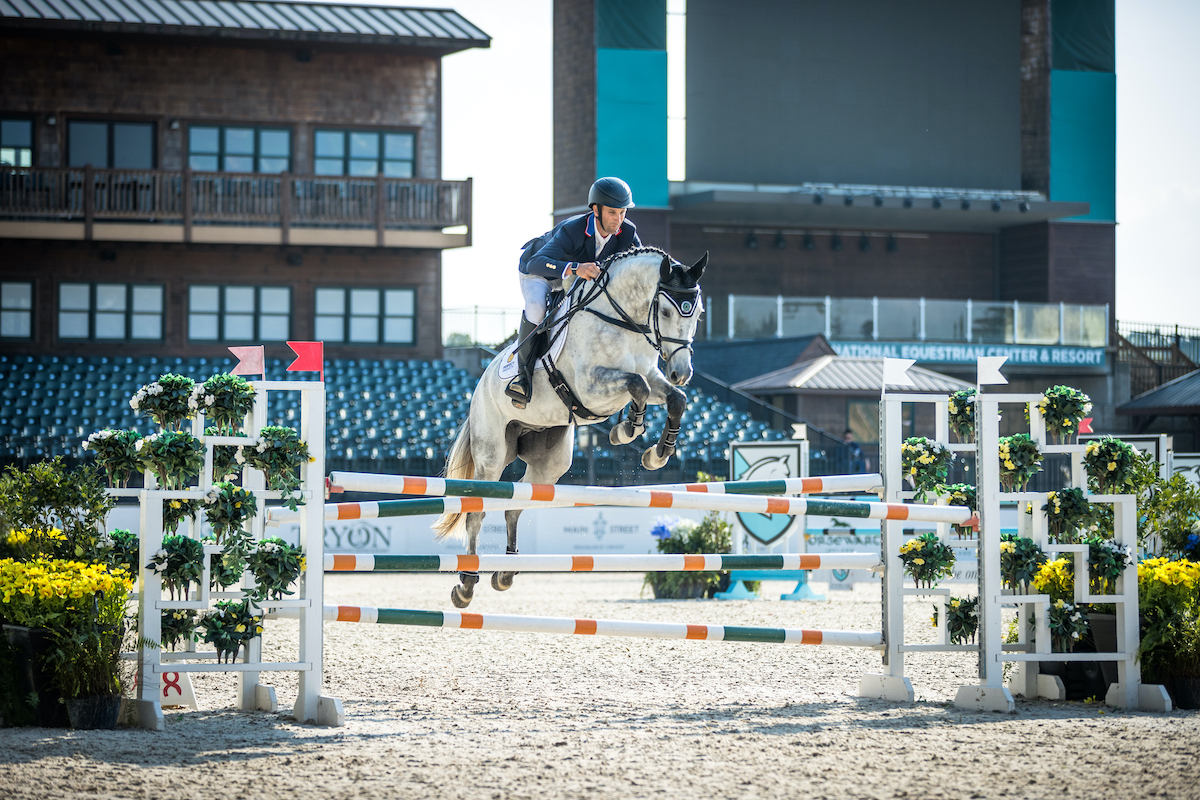 Andrew McConnon and D'Luxe Steel
©Natalie Suto for Shannon Brinkman Photography
Based in North Carolina, McConnon competes at TIEC often. He raved about the facility saying that, "the stabling is great. The Dressage areas are fantastic and show jumping courses are always good. It's a lot of atmosphere for our horses that don't always get to see a bigger venue like this. And also the Cross-Country always has great course design, is well presented, and has good footing."
Joe Meyer Takes Top Two Honors in Open Preliminary Division
Joe Meyer (Ocala, FL) had two mounts in the Open Preliminary Division, landing in first and second place when all three phases of competition had concluded. Aboard Brooks Searcy's FE Chiara Mia, the 2012 German Warmblood mare (MyLord Carthago x Cordina), Meyer led from wire to wire and finished on his Dressage score of 29.0. It was a near perfect weekend for the Platinum Syndicate's El Platanito, the 2015 Warmblood gelding (Meneuskel x Banana), as well: the duo pulled one rail in Show Jumping and executed a faultless Cross-Country run to finish on a score of 35.8. Paige Roy (hometown) completed the division podium riding her own Excel Star E.I. Bostonian, the 2015 Irish Sport Horse gelding (O.B.O.S. Quality 004 x Curraghchase Diamond), on a total score of 37.1 points for third place honors.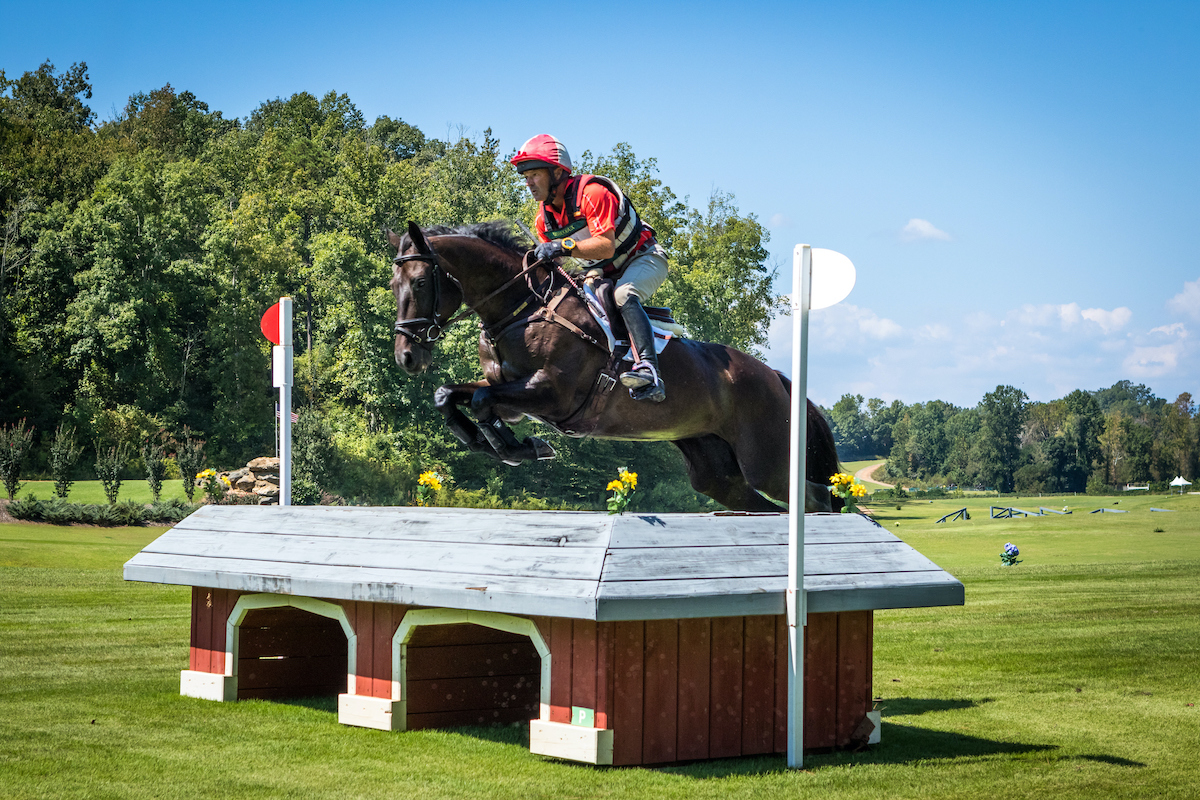 Joe Meyer and FE Chiara Mia
©Anthony Trollope for Shannon Brinkman Photography
Meyer brought four horses to the Tryon Fall Horse Trials, gaining experience with some newer mounts and preparing for an international run at the Tryon Fall International Three-Day Event hosted November 9-13 at the venue. Meyer has been paired with "Mia" since June, and he is now aiming the former junior rider's horse at either the 3*-L or 2*-L at TIEC in November. Their test run this weekend went "beautifully," he reported:
"She did a really good Dressage test, and she show jumped amazingly," he raved. "Then, because I'd had to push [El Platanito] for time, and she's a bit the same as he is, [I was riding her with that in mind] and looked down at my watch towards the end of my round and was like, 'Oh goodness, I can slow up a bit!' That's just the way it went; I don't think anyone has ever really put down the accelerator with her. She is nice in the bridle and starting to go really well."
El Platanito is a brand-new mount to Meyer, and the duo were able to find the finish line within the time allowed with a little bit of encouragement at the end of the run. "I'm just getting used to him, and he's still a little bit looky and spooky, but he's a horse that can really go and it's better that I run him a bit quick." When nearing the end of the course, Meyer realized his efforts hadn't been quite as fast as he thought, "so I kicked on a bit more, and away he went, and he just got inside the time."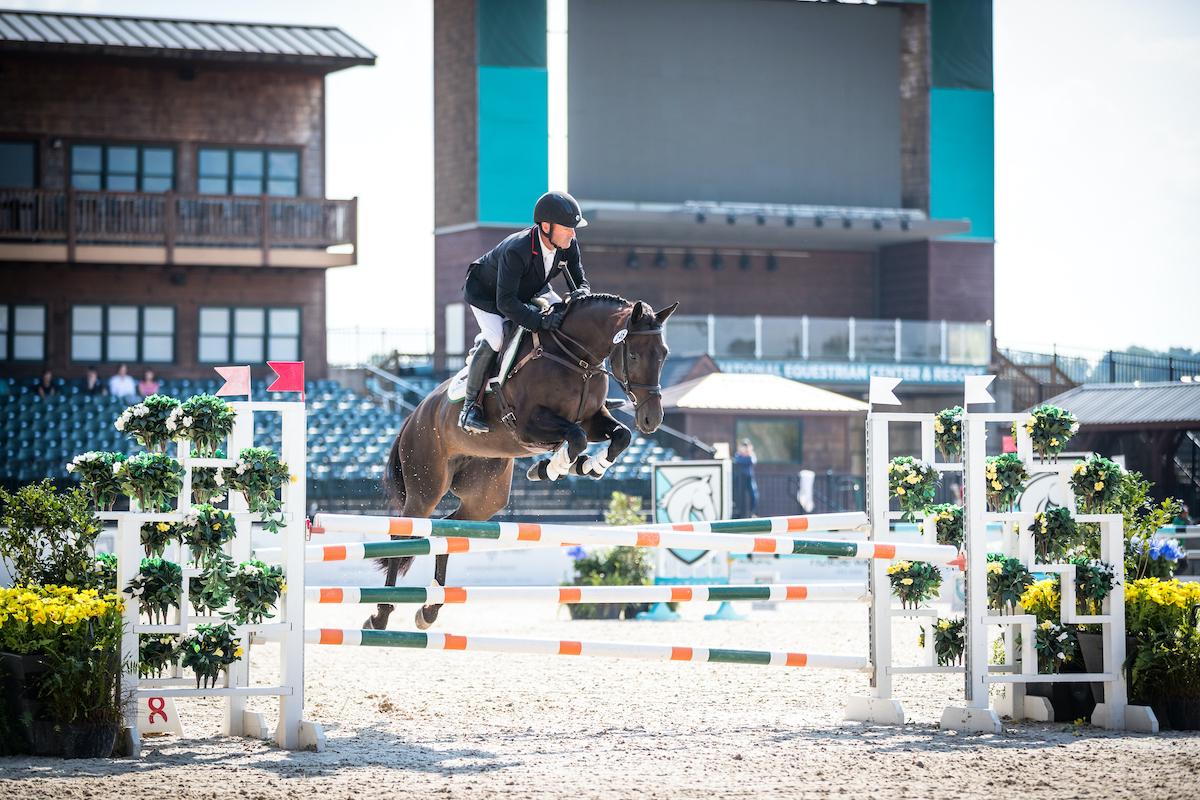 Joe Meyer and FE Chiara Mia
©Natalie Suto for Shannon Brinkman Photography
Meyer is a frequent competitor at TIEC, and appreciates all the amenities the facility offers competitors, he detailed. "I love coming here. The stables are obviously beautiful, and it's nice to have even the little things, like the General Store, where I can go and get stuff. I've jumped under the lights here in the advanced class and really enjoyed that. I think it's great that Tryon has a good community thing going on.
"I want to say thank you to the organizers who do a really, really good job, and thank you to all the volunteers," Meyer concluded. "I think I keep seeing a few familiar volunteer faces, which is great. So I'm just really happy everybody's coming back in and helping."
For full results from the Tryon Fall Horse Trials, click here.
The TIEC 2022 Eventing calendar continues with the Tryon International Fall Three-Day Event hosted November 9-13, featuring CCI 1*-4*-L and 4*-S divisions as well as the USEF Eventing Young Rider Championship presented by USEA. The 2022 Tryon Fall Series kicks off eight weeks of Hunter/Jumper competition on September 23rd with Tryon Fall 1, with all competitions free and open to the public to attend. More information can be found at www.Tryon.com/allevents.
Photos ©Natalie Suto and Anthony Trollope as noted for Shannon Brinkman Photography. These photos may only be used once, in relation to this press release. Competitors may view and purchase photos via link at www.Tryon.com/photos. With questions, contact media@tryon.com.