Tim Bourke Triumphs in Open Intermediate with Quality Obsession and Monbeg Libertine
Boyd Martin Rides Annie Goodwin's "Bruno" in Her Memory
Devon Brown Dominates Both Open Preliminary Sections
Open Novice Belongs to Emily Beshear
For Immediate Release
Sarah Madden and Emily Carpenter for TIEC
Mill Spring, NC – September 13, 2021- Boyd Martin (Cochranville, PA) and Wabanaki conquered the White Oak Cross-Country Course to win the Advanced A Division at the Tryon Fall Horse Trials at Tryon International Equestrian Center & Resort (TIEC) with a final score of 47.3. Sitting fourth after the Dressage and Show Jumping phases, Martin stepped up to the occasion and put in the fastest Cross-Country round of the day to add only 7.2 time penalties and take the win. Wrapping up her weekend in second place with a final score of 51.1 was Lillian Heard (Cochranville, PA) and Dasset Olympus, the 2013 Irish Sport Horse gelding owned by Debbie Greenspan. Third place honors were awarded to Lucienne Bellissimo (Wellington, FL) and Atlantic Vital Spark, the 2010 Irish Sport Horse gelding owned by Horse Scout Eventing LLC with a  score of 51.6.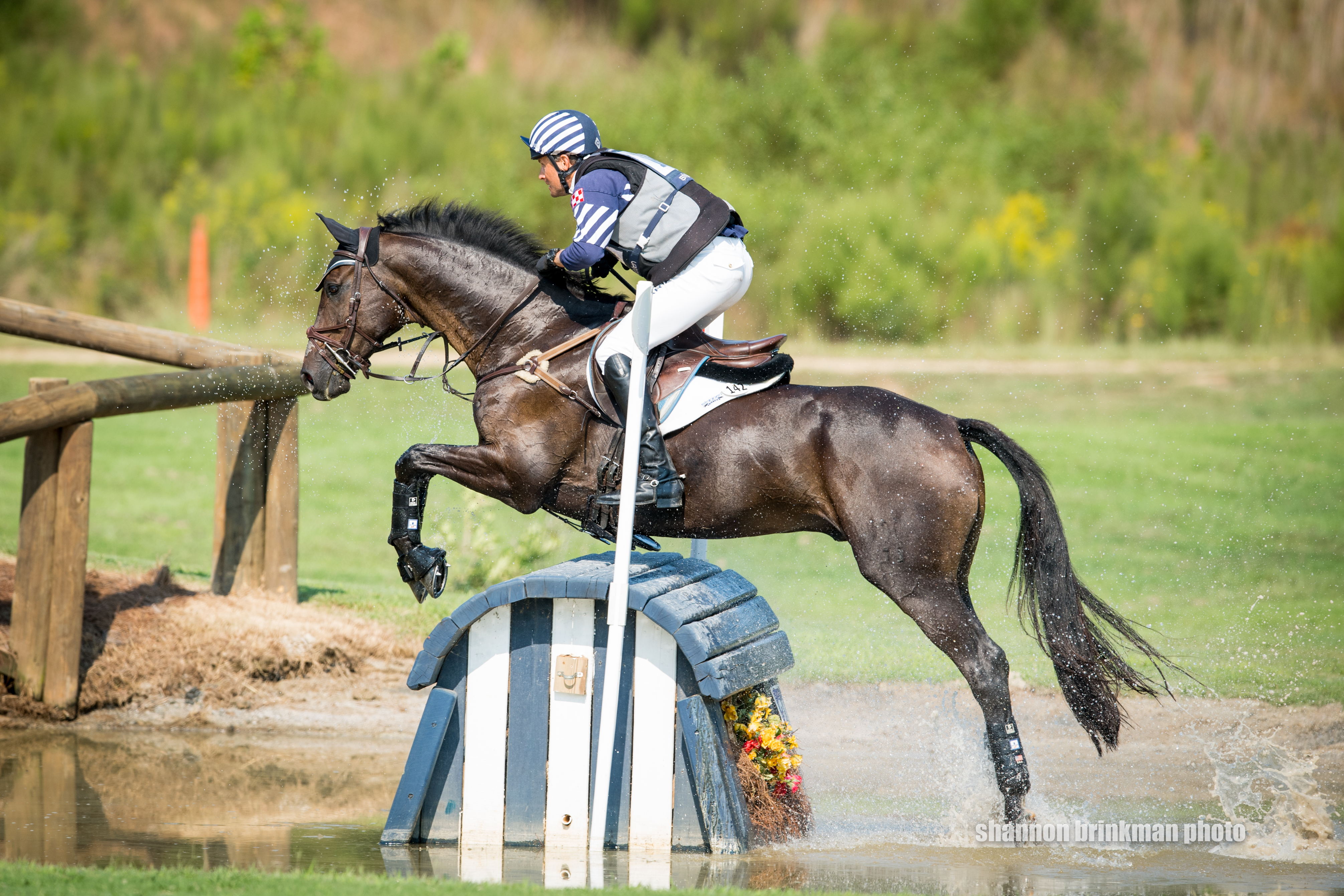 Boyd Martin and Wabanaki
©Shannon Brinkman Photography
Martin, who topped the competition aboard Wabanaki, the 2011 Hanoverian gelding owned by The Dawnland Syndicate, began on top after a Dressage test that earned the duo a score of 32.1. Though the tough competition proved to be no big deal for Wabanaki, Martin shared that his mount is still new to the Advanced division: "It's his third crack at the level. He was absolutely fantastic for where he is in his training. He still needs to grow, learn and get more seasoned. Tryon put on a spectacular event. Obviously, it was a difficult and tough competition, but it was a great learning experience for the young ones."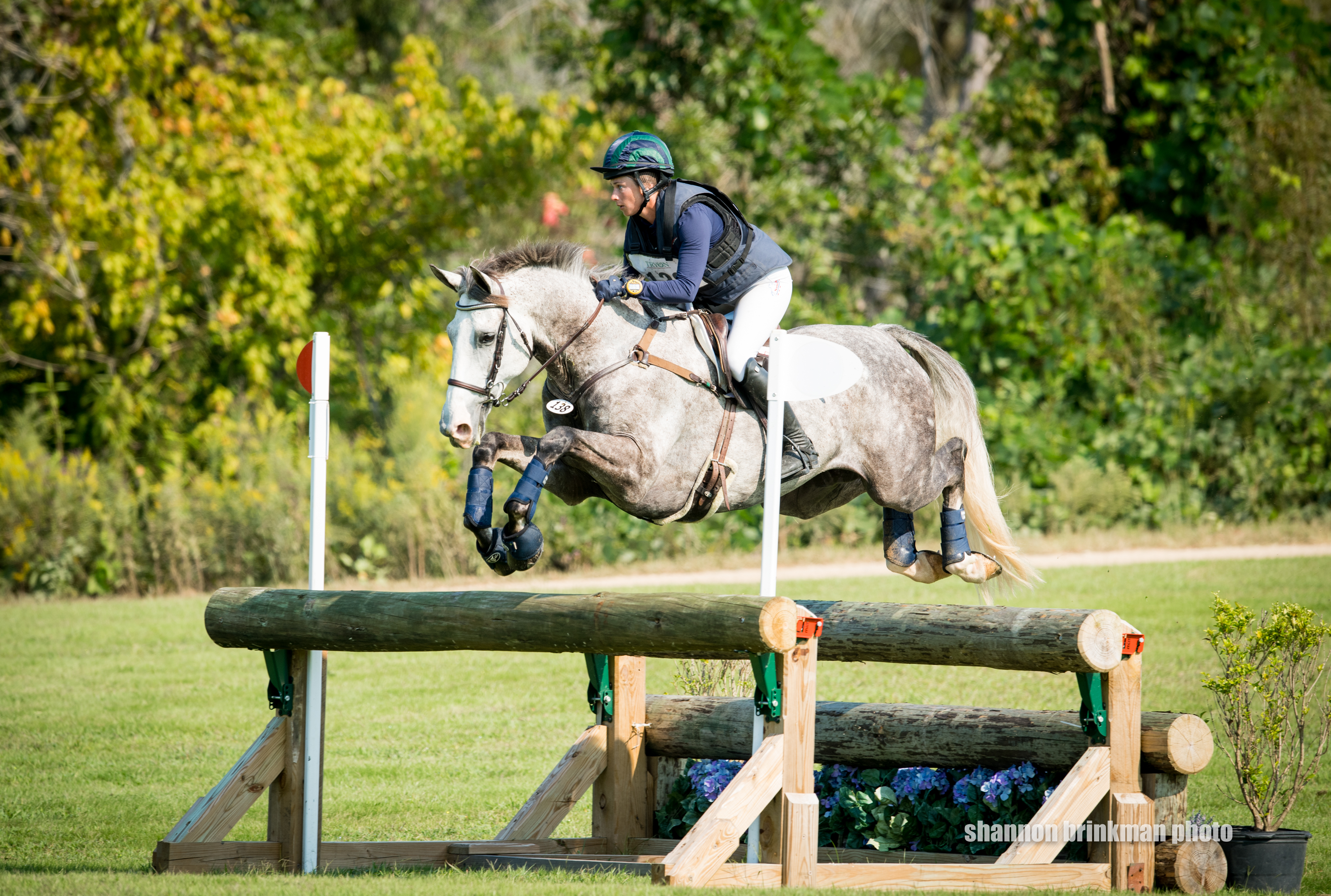 Lillian Heard and Dasset Olympus
©Shannon Brinkman Photography
Martin galloped to a time of 6:43 seconds in the Cross-Country phase of the competition, over ten seconds ahead of Heard's time of 6:54 seconds. The White Oak Cross-Country Course with tracks set by Captain Mark Phillips (GBR) offered Martin the perfect number of challenges, while still building Wabanaki's confidence. Martin commented, "There were a lot of difficult combinations followed by easier fences. It was good for the young ones to have a tough question and then nice and easy ones to keep them confident.
"Hats off to Tryon, because the footing feels like the golf course it is. The footing out there is spectacular," Martin emphasized. "I love Tryon and everything about it. The venue is world class from the Dressage rings to jumping under the lights last night in front of the crowd. There's great stabling. The Cross-Country course takes a bit of riding because it used to be a golf course, so it has those mounds and dips, which is good practice," Martin relayed. "Tryon has been unbelievable with the irrigation system. Walking out on the course, the grass was all spongey, which the horses love."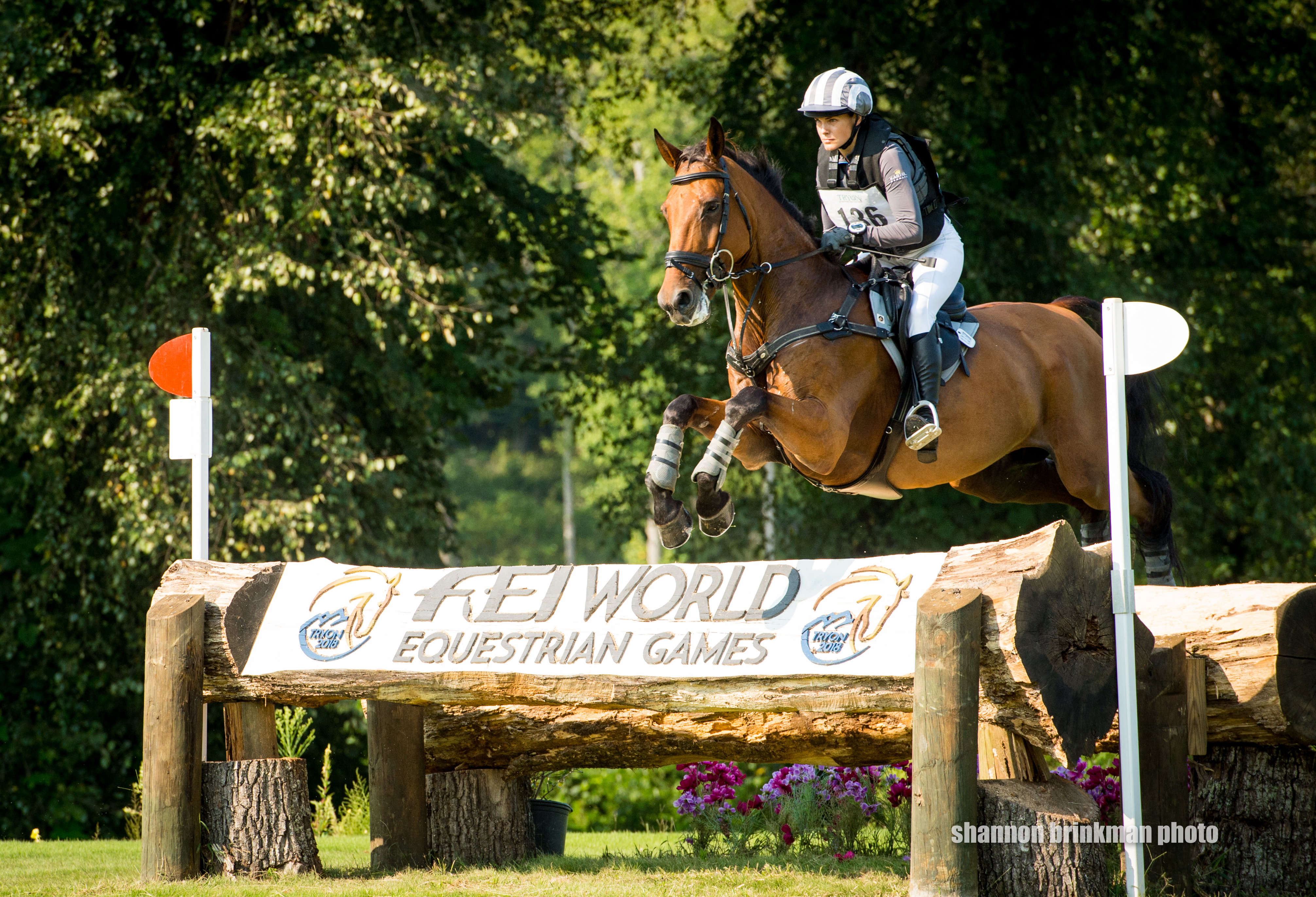 Lucienne Bellissimo and Atlantic Vital Spark
©Shannon Brinkman Photography
Heading into a busy and high-caliber lineup of competitions ahead, including the Tryon International Three-Day Event hosted at TIEC November 10-14, Martin feels satisfied with his choice to prepare for the next few competitions on his calendar by attending the Tryon Fall Horse Trials. "Eventing this time of year is grand," he concluded. "It's just premier event after premier event."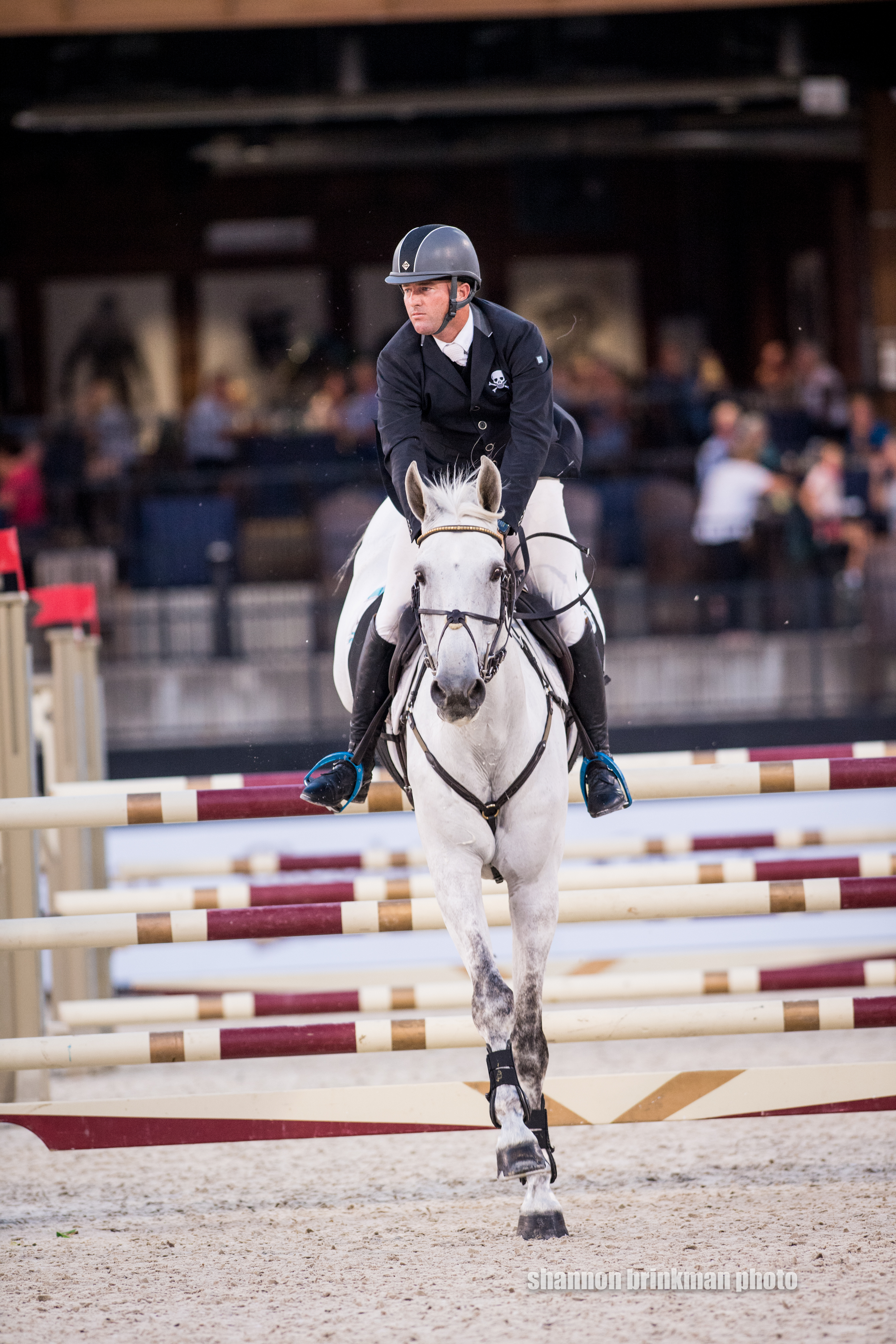 Will Faudree and Pfun
©Shannon Brinkman Photography
After the Jumping phase, Will Faudree and PFun held the top spot before withdrawing from the competition, also sitting in sixth with Mama's Magic Way. Faudree explained that like Martin, he's using the Tryon Fall Horse Trials to prepare for upcoming competitions, and chose to hone in on the Dressage and Jumping phases. "I'm using this event for a little prep for these two horses, since they're both headed to the Maryland 5*. PFun had a little minor setback this spring, but he's back in really good form, and I was happy with him in both phases," Faudree reported. "Mason [Mama's Magic Way] is a little wild, but he stepped up. Parts of his tests were excellent, and it's a work in progress, since he's still very young. He's just ten, but he's a very young ten!
"Tonight with the show jumping, It's really great to jump under the lights! It was a really good course, very technical, with tricky lines. I mean, a squirrel could jump PFun clean – he's just the most fun horse, no pun intended! He just had fun tonight, and he loved the crowd and atmosphere. My other horse, he's much easier after he runs cross country, he's a proper three-day horse! I was very happy with both of them.
Tim Bourke Triumphs in Open Intermediate with Quality Obsession and Monbeg Libertine
Tim Bourke (Berryville, VA) and Quality Obsession topped the Open Intermediate Division with a final score of 31.8. Bourke also earned a second place finish with his second mount, Monbeg Libertine, the 2013 Irish Sport Horse gelding owned by Lisa Takada, accomplishing a final score of 37.3. Third place honors were awarded to Boyd Martin (Cochranville, PA) and Federman B, the 2010 Dutch Warmblood gelding owned by Annie Goodwin with an overall score of 38.6. Bourke shared that he chose to bring these two mounts in particular to TIEC as a final prep before competing at Fair Hill in a few weeks, taking a new approach to his fall competition calendar.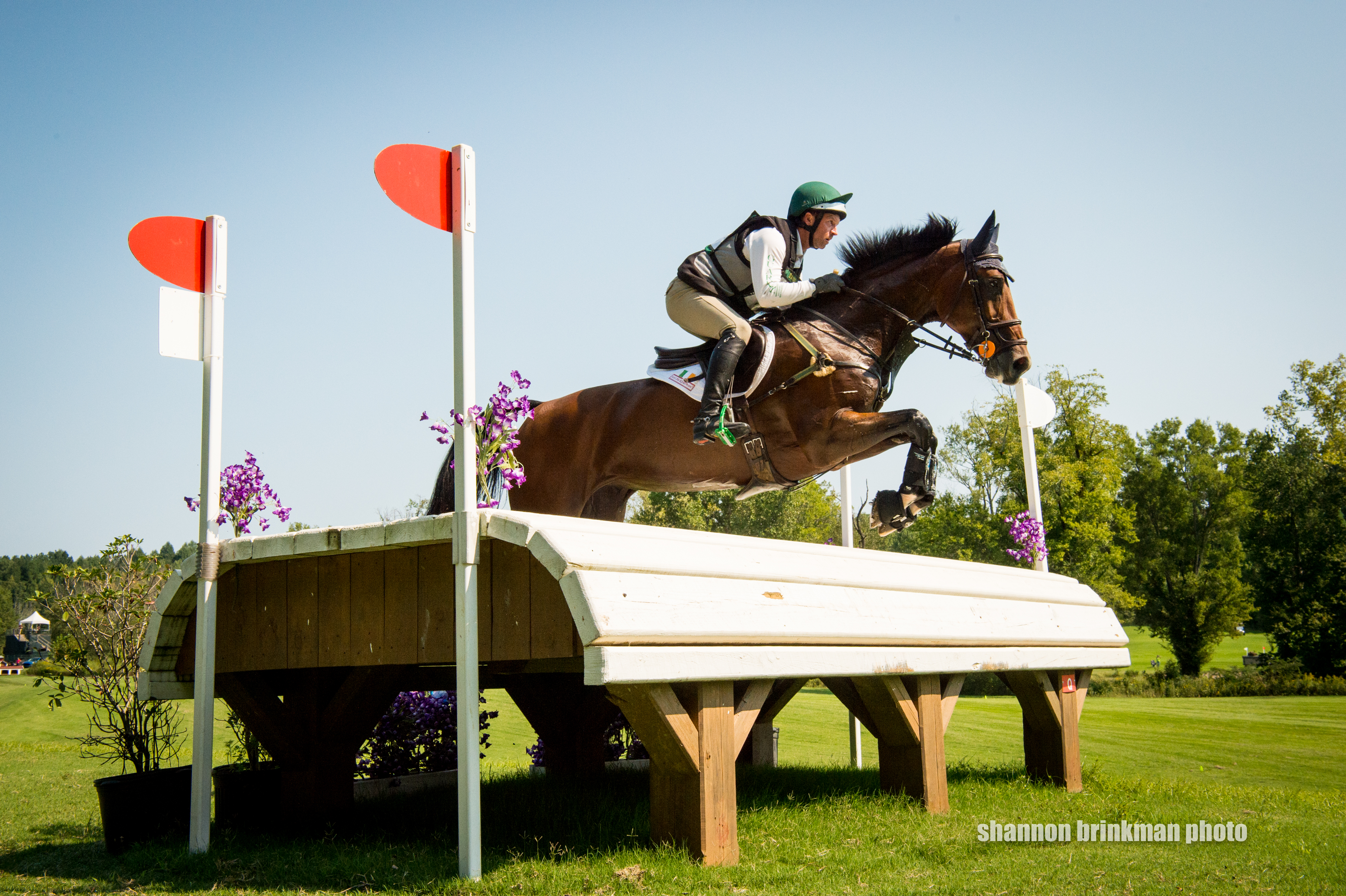 Tim Bourke and Quality Obsession
©Shannon Brinkman Photography
"It's nice to get a good run into them before they go. We're very happy with the horses. Quality Obsession, the 2013 Dutch Warmblood mare owned in partnership with Barbara Cassani, has been with the Bourkes since she was born and he calls her "quite a talented horse" who has "just come on really well this year." Monbeg Libertine is a bit of a new ride, and though they're still getting to know one another on the flat, things seem to be gelling well for the duo, Bourke explained:
"He's new to me, and we're trying to figure out the best thing for him on the flat, which is not my strongest suit either. If you ask me, he's as talented a horse as I've ever ridden, and he climbed up the leaderboard a little bit this weekend."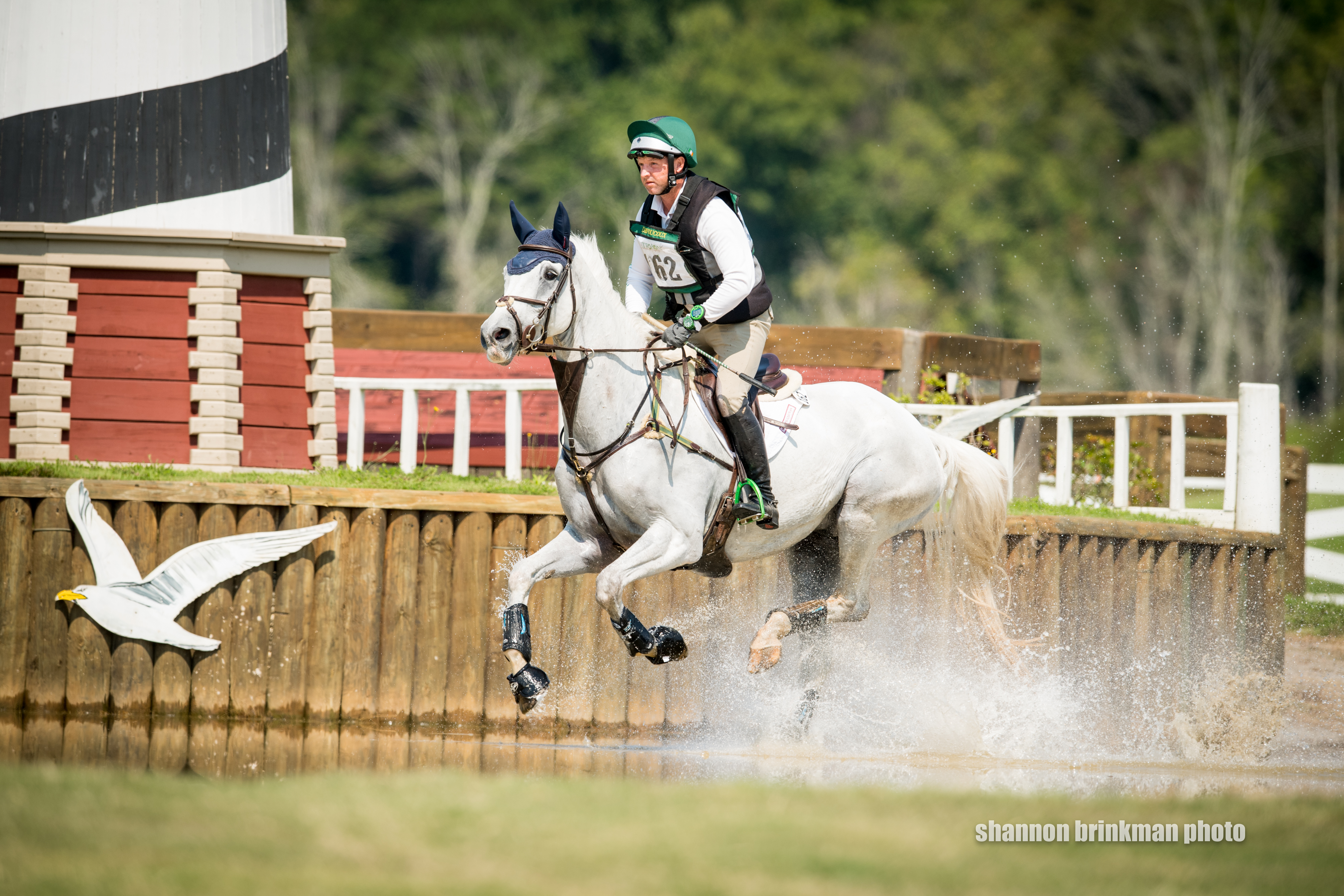 Tim Bourke and Monbeg Libertine
©Shannon Brinkman Photography
"It was nice to jump last night under the lights," Bourke noted. "I thought that was very, very good for the horses. The atmosphere was challenging for them and it was good jumping. On Cross-Country, for both of them, I just came out of the box and put my hands down and just let them canter around. At the end, after jumping through the last water jump, there's a little bit of a fitness test at the hill. I just looped the reins and if they wanted to gallop, I let them gallop. That's what they both wanted to do, and both ran right up the hill and finished up great. I was very happy with them. The course was beautifully presented, too."
Bourke actually piloted both his rides to the exact same time – 5:57 – over the Captain Mark Phillips track, and was the only rider to avoid adding time penalties to his scores. This kind of consistency is not uncommon, he revealed. "I came out of the last jump with pretty much a minute left and just let them go. That's not the first time that they've both been very similar on time! You've got to find places on course where you're efficient and keep the pace even," Bourke detailed.
"It was funny, because I came up the hill not knowing if my watch had started on time or late, but I knew I was about at the time for both of them. It didn't matter, either way… I wasn't pushing them to get the time, but they're both quite fast horses."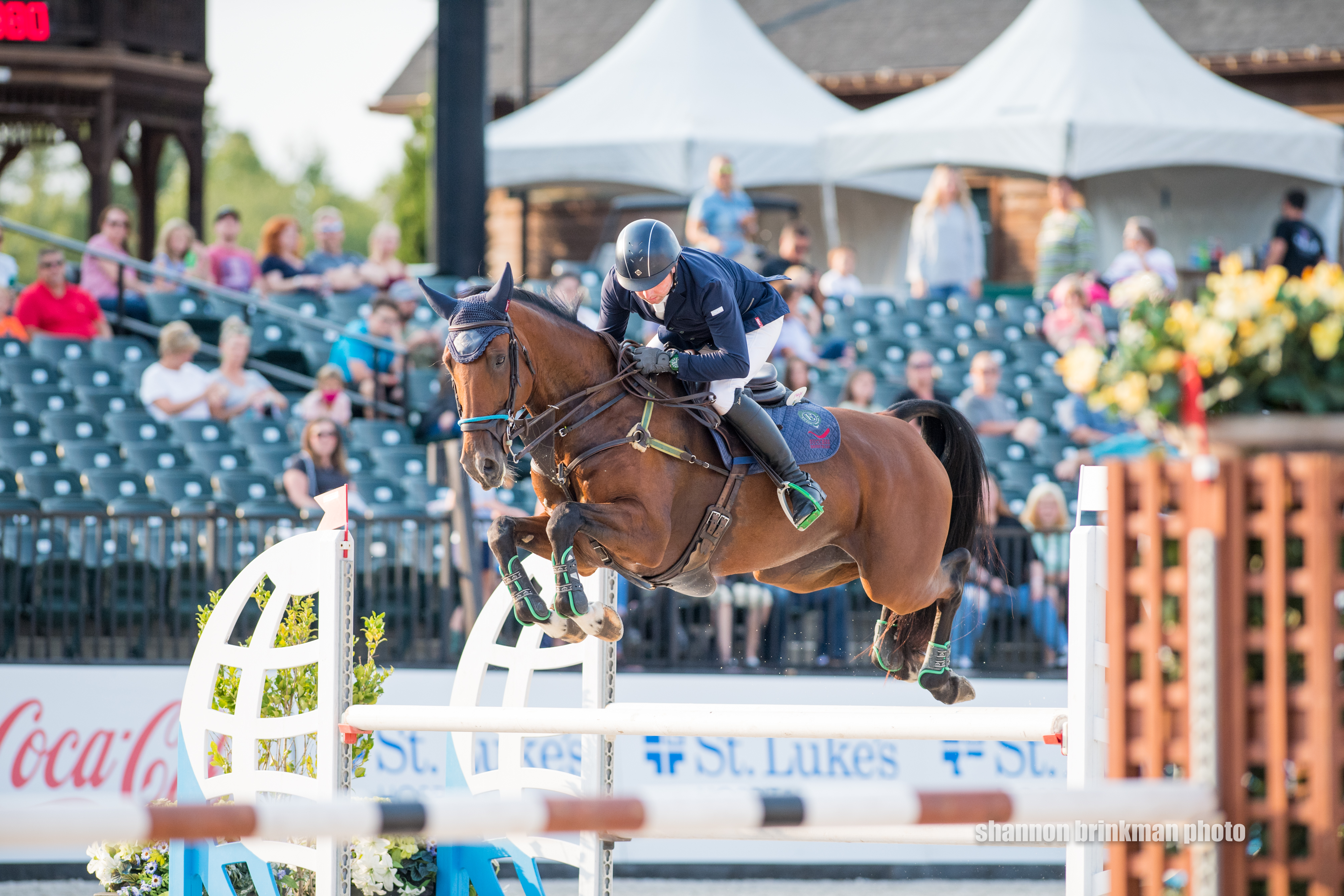 Tim Bourke and Quality Obsession
©Shannon Brinkman Photography
"I wouldn't normally put this event on our calendar," Bourke acknowledged, "but this year we thought we would do something a little bit different with the horses. I think that the event and the organizers and the whole team did a fabulous job. Going to a big venue like that and getting the atmosphere and crowds – getting to jump under the lights! – it's really nice for the owners to get to see the live stream in the stadium, and it's all just really nice. I think it's definitely one we will put back on our calendar for next year!"
Almost as important as his experience as a competitor and trainer, though, Bourke concluded that the TIEC experience available to his whole family was a highlight of the weekend. "For us, doing this sport, myself and my wife Marley, we do this as a family, and we bring our little boy with us everywhere we go. The facilities there in Tryon, being able to hook up the camper and have so many things for our son to do is awesome," Bourke emphasized. "He watched the juggling last night, and loved the cotton candy of course. The experience that it is for him, and having him occupied and enjoying the weekend is super important for us as well. As a whole, and as a family, it was awesome and so fun."
Boyd Martin Rides Annie Goodwin's "Bruno" in Her Memory
Sarah Madden for TIEC
It was a poignant weekend for Martin in the Open Intermediate division at the Tryon Fall Horse Trials as he competed aboard a special mount, Fedarman B, also known as "Bruno," and remembered more so for his previous partner, the dearly departed Eventer Annie Goodwin. After Goodwin suffered a fatal accident while Cross-Country schooling this summer, and while the eventing community continues to mourn her loss, Martin feels a weighty honor having been named to pilot Bruno going forward. The Tryon Fall Horse Trials marked Martin's first outing above the Training level with his new charge, leading to emotional moments for spectators and participants alike throughout all three phases as the duo earned third place on a score of 38.6.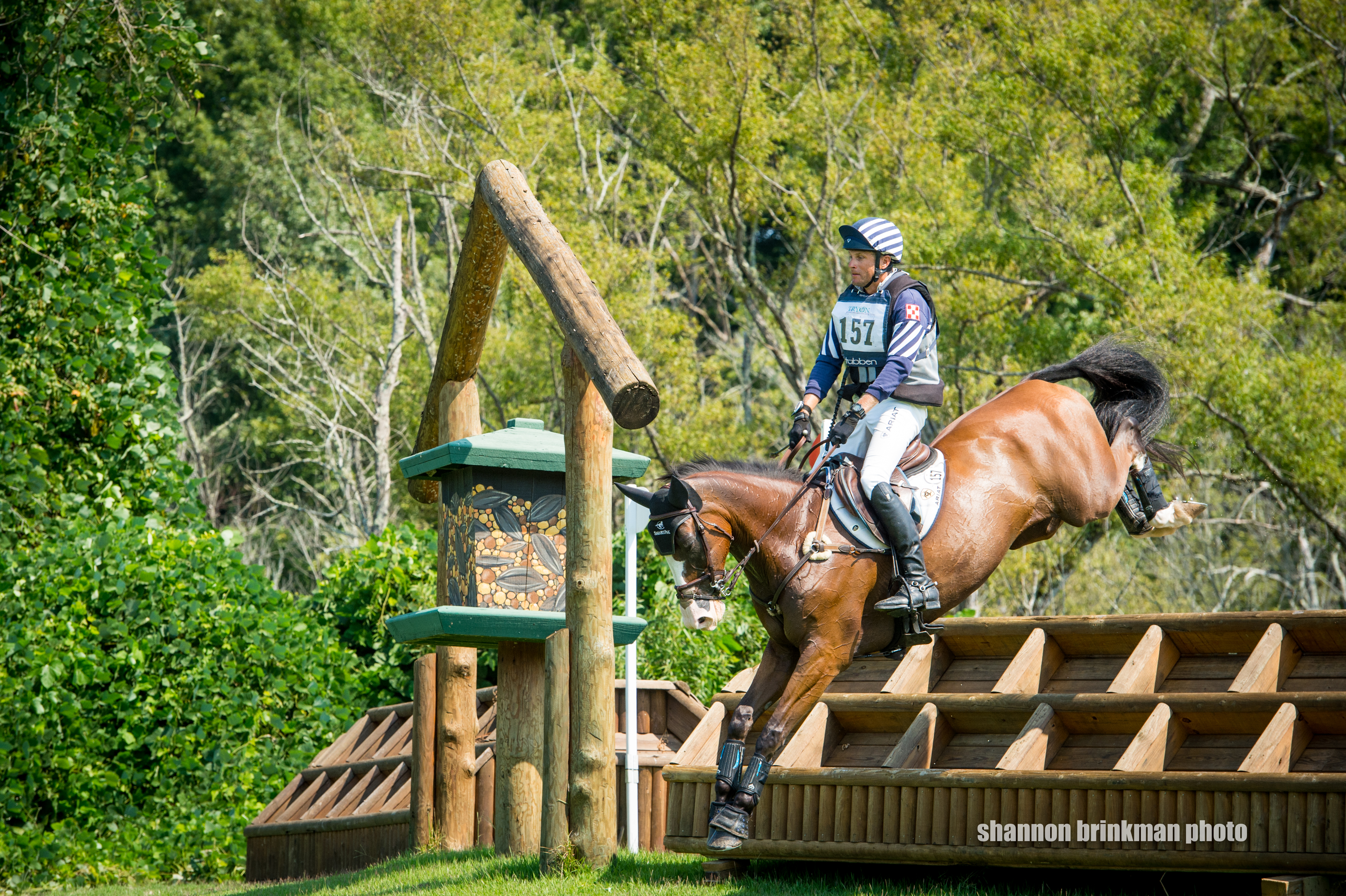 Boyd Martin and Fedarman B
©Shannon Brinkman Photography
He's a wonderful horse," Martin reflected after competing with Bruno under the lights in Tryon Stadium Saturday evening. "It was a horrible tragedy with the passing of Annie Goodwin, and I can't tell you how honored and privileged I am to have the ride, and that Annie's parents and fiancé chose me to take the reins," he shared. "I helped Annie over the years with Bruno, and I know he's a spectacular horse that's been sensationally produced. Annie did a superb job training him and he's jumped here many times before."
It's a solemn and emotional task to jump in when a horse suddenly loses its rider, Martin relayed, stating that he's focused on "doing right by the horse and Annie's memory." Though the duo have mostly been riding at the Training level while building a partnership, Martin recapped, he was impressed by Fedarman B's outing at the Intermediate level at TIEC. "He felt quite relaxed and settled in there," Martin revealed after his trip under the lights in Tryon Stadium. "It's pretty much the biggest I've jumped him. I've been popping him over more Training sized jumps, but he loved it. He jumped great."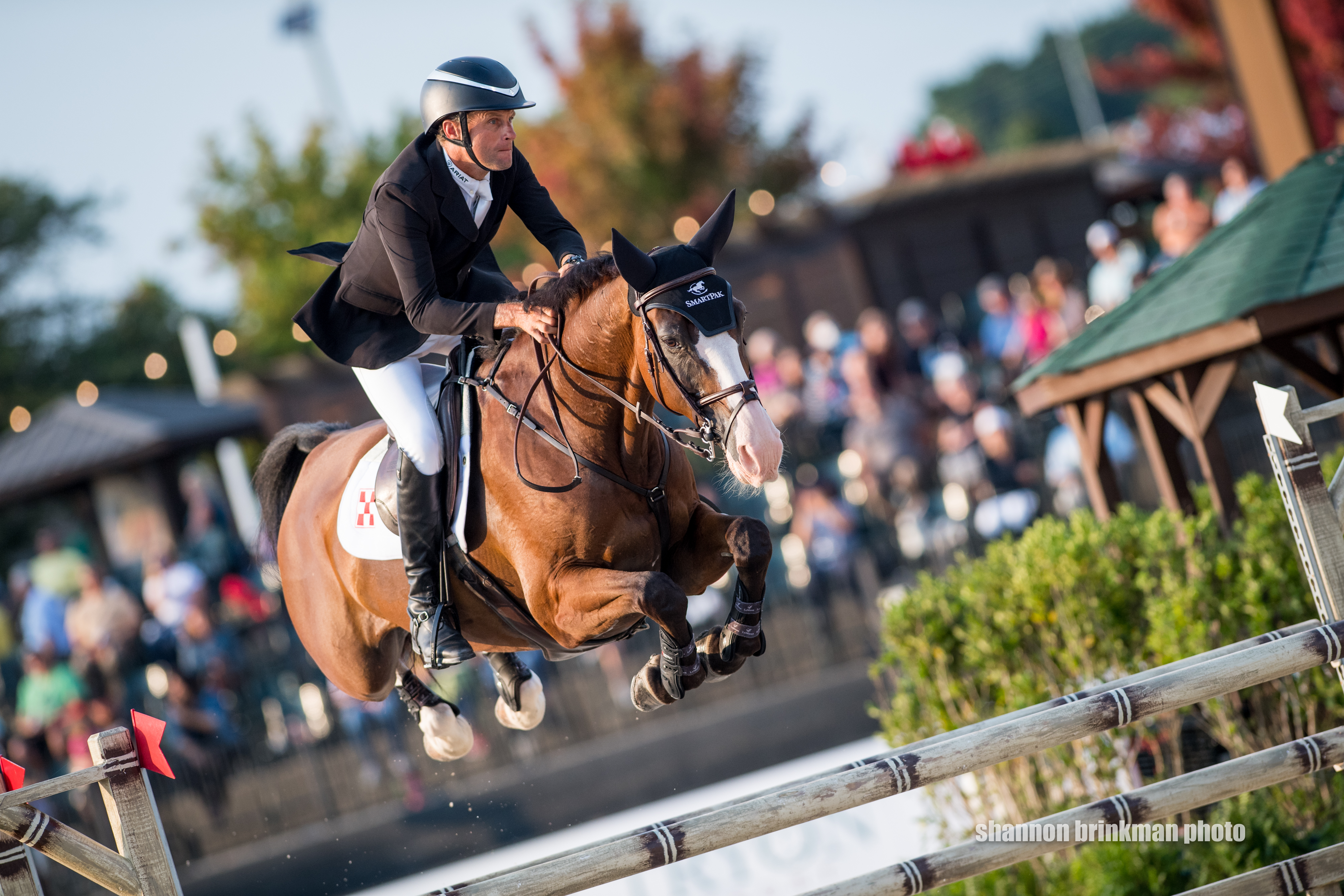 Boyd Martin and Fedarman B
©Shannon Brinkman Photography
The trend continued on Sunday's Cross-Country effort, where Martin said he wasn't quite sure what to expect. The takeaway? "Annie did a fantastic job producing this horse," he emphasized above all. "Riding around the course, I decided not to have too much speed, and prioritize building a partnership with him. He was looking for every fence!
"There were plenty of corners, narrows and technical questions on course, and Bruno was sensational. I can't say it enough what a true, humbling privilege it is to ride this horse. With this privilege comes a bit of pressure and responsibility, and I'm very honored that Annie's parents trust me with Bruno."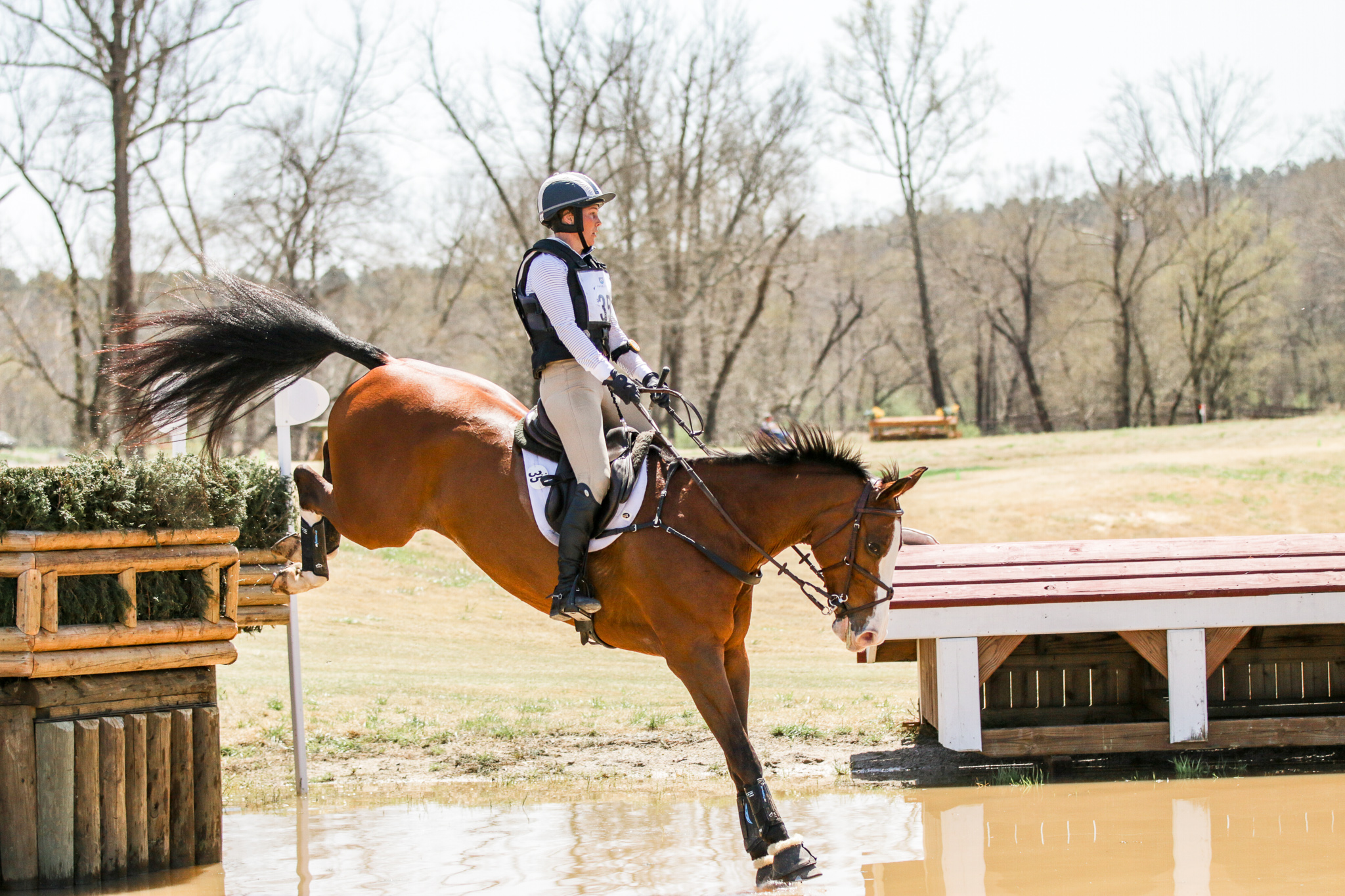 Annie Goodwin and Fedarman B
©TIEC
As Martin and Fedarman B continue in their partnership, Martin hopes to continue Goodwin's legacy as a cherished member of the eventing community whose contributions to the sport and her family ended far too soon. Having represented the United States in international competitions around the globe as a member of Team USA, Martin is no stranger to riding on behalf of others. Riding for Annie Goodwin, however, might be the most meaningful part of every minute Martin spends in the saddle with Bruno, no matter where they appear on podiums in the future.
Devon Brown Dominates Both Open Preliminary Sections
Devon Brown (Alpharetta, GA) aboard HC Celtic Mark were victorious in the Open Preliminary A Division with an impressive total score of 28.3. Finishing in second place with an overall score of 30.4 was Morgan McAllister (St. Louis, MO) and her own Made To Order, the 2007 Holstiener gelding. Wrapping up in third place was Maddie Hale (Chapel Hill, NC) and her own Cinzano 87, the 2012 Holsteiner gelding, with a final score of 32.7.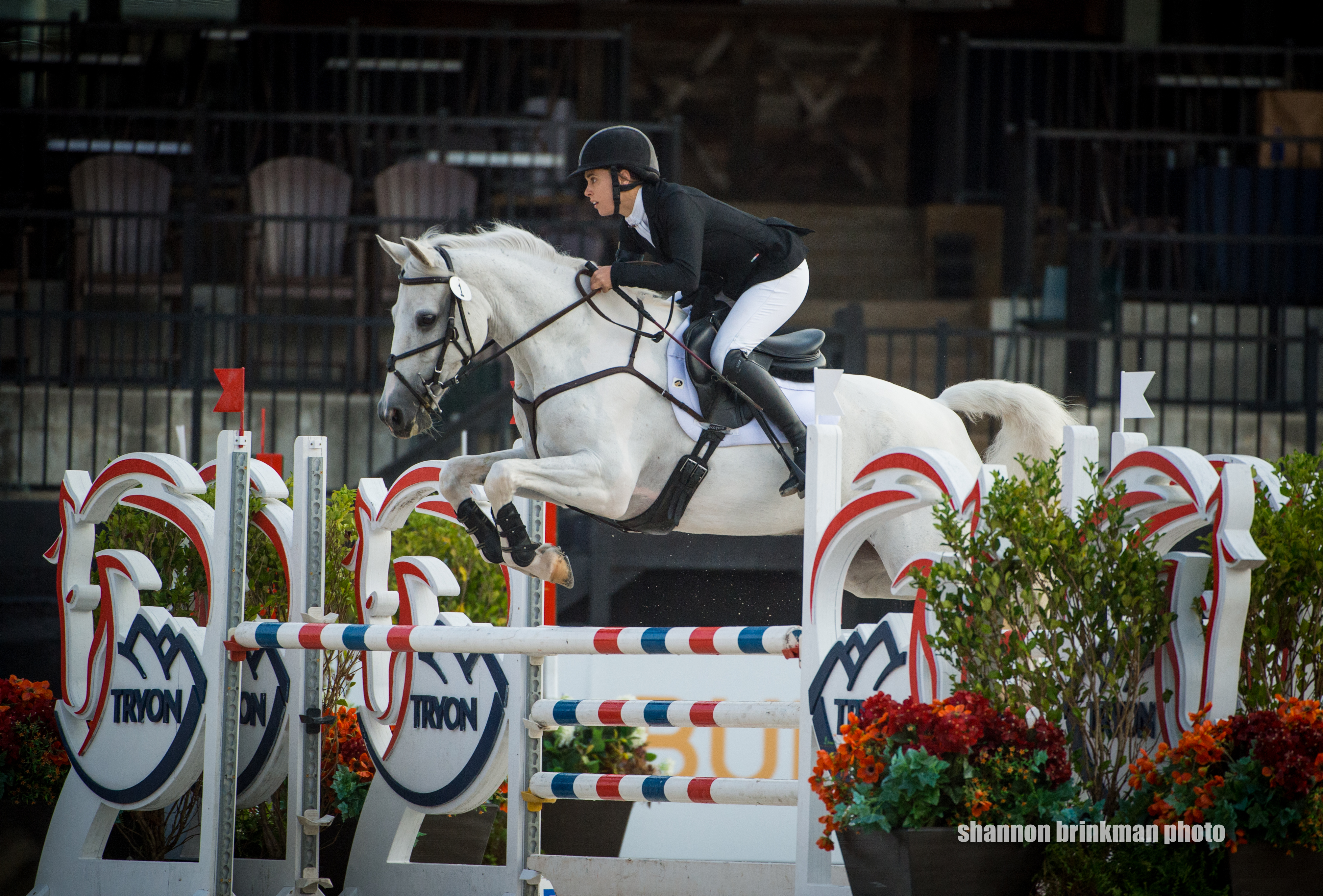 Devon Brown and HC Celtic Mark
©Shannon Brinkman Photography
Along with Brown's successes in the Open Preliminary A Division aboard HC Celtic Mark, she also topped the Open Preliminary B Division aboard Hickstead, her own 2012 KWPN gelding, on a score of 28.9. Brown is bringing this partner back after a year off, and had glowing remarks about her ride in all three phases, but she was most impressed with HC Celtic Mark's improvement, she noted.
Brown was confident in "Salty", the 2010 Connemara Warmblood Cross gelding owned by Donna Miller, as they improved from second place after Dressage to hold the lead after all three phases. "He was very obedient, respectful, and he was really great. On Cross-Country, he's just a machine… he did it all like he was asleep or something!" The pair's hard work in Dressage training paid off with Brown scoring a 27.1, setting them up for success. "We've been working very, very hard in that phase," Brown acknowledged, "to kind of put all of the pieces together, so it's quite nice to come out like that.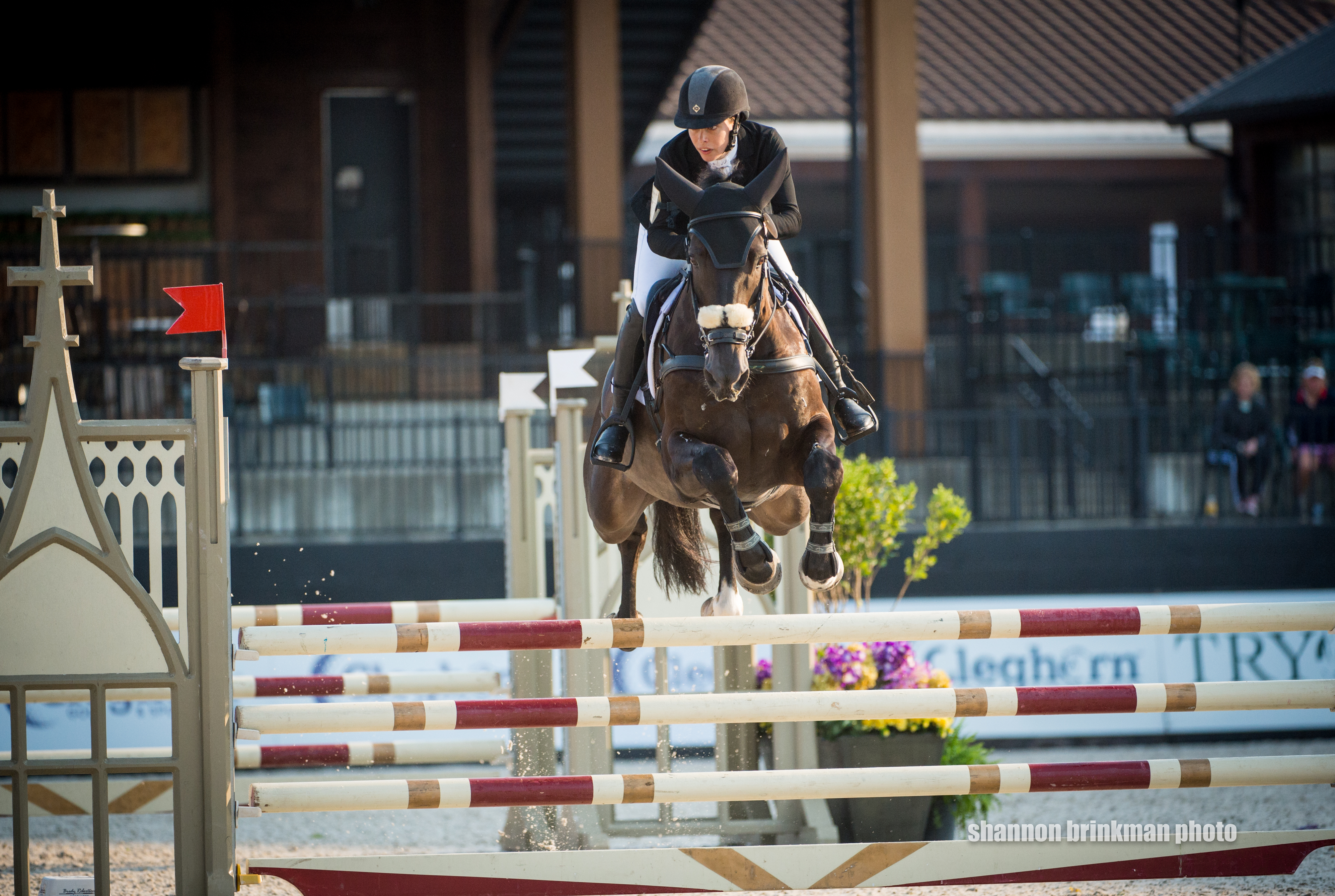 Devon Brown and Hickstead
©Shannon Brinkman Photography
"I was really glad I came here because the grass is so nice," Brown concluded. "My mom competed this weekend, too, and said [the same thing]. It was very good. The course was great, and I thought it was appropriately difficult in respect to where we are in the season, too. They asked fair questions and everything. It's just an overall beautiful venue."
Open Novice Belongs to Emily Beshear
Emily Beshear (Somerset, VA) and Card Shark, her 2016 Thorougbred gelding, landed their final stadium fence on a score of 29.3 to take the win in Open Novice, Meaghan Marinovich Burdick (Cumming, IA) and HSH Bitcoin, her own 2016 Irish Sport Horse gelding, scored second place honors after finishing their three phases on a score of 32.4. Rounding out the podium also with a score of 32.4 was Beth Wheeler (Aiken, SC) and Pippin, her` 2013 Thorougbred gelding.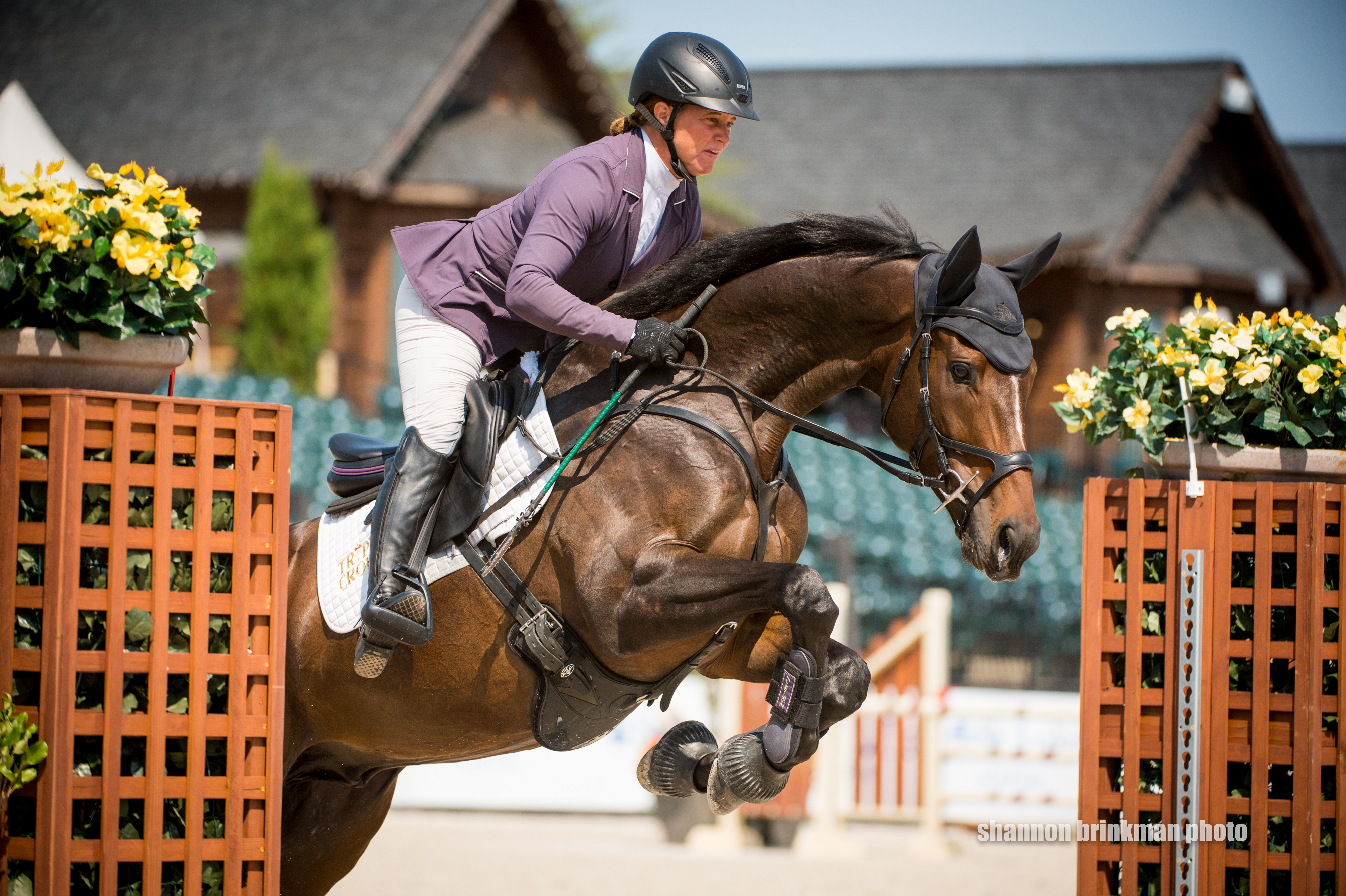 Emily Beshear and Card Shark
©Shannon Brinkman Photography
Beshear has been bringing along the young OTTB since last winter, developing his confidence, and she decided TIEC would be the perfect place to test his growth as a jumper, she said. "I got him because he was not particularly brave and wasn't necessarily going to be an easy horse for an amatuer to bring along. He seemed like he had a lot of potential, but it's taken a little while to convince him that jumping is fun," she revealed.
"I specifically brought him to Tryon because I feel like we're at the point now that it would be good to test him in an environment with lots to look at, and jumps that had a lot more variety to them, while he was still at the Novice level. I really wanted to see how he could handle that. He was fantastic, and it was a great experience for him."
Complimenting the facility as a whole, and particularly the Cross-Country course despite a full roster of divisions competing across the same footprint, Beshear appreciated the placement of the lower level courses in particular. "I love the way that they laid out the Beginner Novice and Novice tracks, just to have it nice and flowy and going around the pond," Beshear commented. "To see everything [in advance] and not necessarily constantly be surprised by obstacles, they have [time with this kind of setup] to take it all in and decide whether or not they can handle it. He handled it just fine!
"It's just a lot that is new and so much for them to see – with the hill and the pond, and spectators – and I think that if you can expose them to these kinds of things at the lower levels, it's just a really good building block from there on. For me," Beshear concluded, "it was important to bring the younger horses while they're at a level where this can be very educational for them, and it was. I certainly will be coming back as often as we can!"
For full results from the Tryon Fall Horse Trials, click here. 
The Tryon International Three-Day Event will be hosted November 10-14 at TIEC, featuring the 4*-1* Long and 4* Short formats. To learn more about the competition or to sign up to volunteer, visit www.Tryon.com/eventing. 
Photos ©Shannon Brinkman Photography. These photos may only be used once in relation to this press release. Competitors and photographers can find photo information at www.Tryon.com/photos. With questions, contact media@tryon.com.