Sarah Madden for TIEC
Tryon Fall Dressage 3 welcomed three days of National Dressage competition at TIEC October 29-31, concluding the 2021 Dressage calendar, alongside Adequan®/USEF Para Dressage National Championship competition.
Kevin Greelish and Flash Drive, his own 2010 Westphalian gelding (Fürst Piccolo x Lea x Laomedon), scored a 64.558% to dominate the Open section of the Coolvio FEI Prix St. Georges competition on Friday, October 29, also winning on Sunday, October 31. Adam Lastowka and Jagger, the 2012 Westphalian gelding (Johnson x SIgur Ros x Sandro Hit) owned by Michelle Hirshberg, scored 63.529% for reserve, while Michelle Adams rode Chivalry, the 2007 Dutch Warmblood (KWPN-NA) gelding (Sir Sinclair x Monza x Glendale) owned by Sue Anne Wells, to a score of 59.926% to earn third place.
Greelish and his wife just moved to Inman, SC as he begins his career as an emerging professional, but he's owned Flash Drive since he imported him from Germany as a young horse. Greelish and Flash Drive contested their first FEI Prix St. Georges competition at TIEC this weekend after competing at the lower levels previously:
"My wife and I moved down here from Connecticut to be close to TIEC so that we could come and show there. It was so exciting to go there on Thursday and school; I was so pumped for the entire weekend! I just love TIEC," Greelish emphasized. "I think it's fantastic."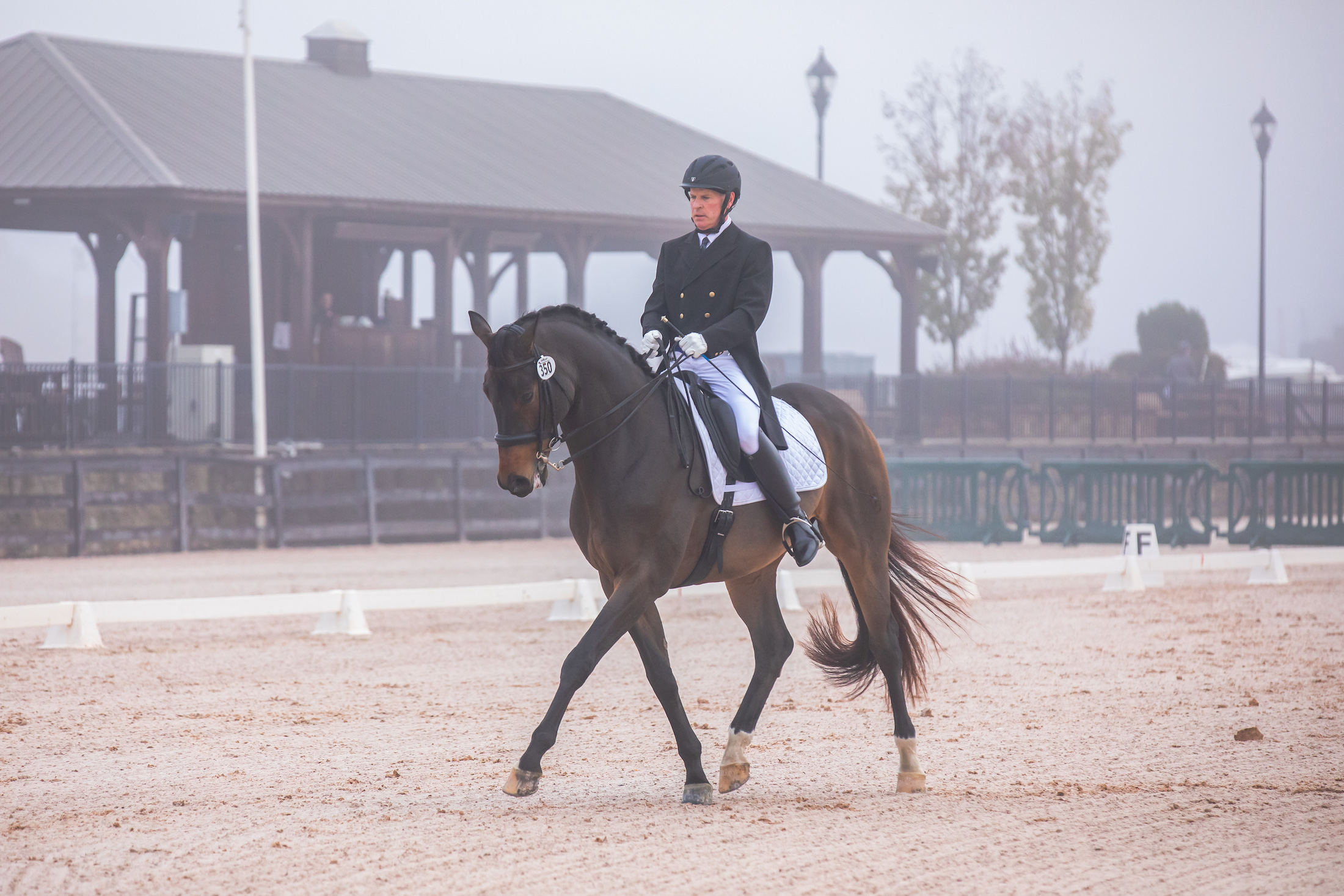 Kevin Greelish and Flash Drive
©TIEC/Bailey Beck
Allison Patterson and Onno, the 1995 Dutch Warmblood gelding (Haarlem x Dorien x Nimmerdor) owned by Lisa Campbell, conquered the Adult-Amateur section of Coolvio FEI Prix St. Georges competition at Tryon Fall 3, earning a 65.294% on Saturday, October 30 for the win. Mary Hoffman and Davion, her own 2008 Dutch Warmblood gelding (Rousseau x Zaccaria x Flemmingh), collected reserve on a score of 61.529%, while third place went to Christina Millhouse riding Askehavens Hot Hit, her own 2008 Danish Warmblood gelding (Blue Hors Hotline x Cassandra Hit x Sandro Hit), after their 61.47% performance.
Patterson and Onno have been partnered for a little over a year after he came out of retirement to help teach Patterson the ropes. Owned by Louisa Campbell and trained by Diane Ritz, the duo have worked towards Prix St. Georges competition together and have started to click in the show ring.
"She [Diane] started training me and going through the upper-level movements, and Onno, I think, has really enjoyed teaching me. Some days he's probably like, 'Girl, get it together,'" Patterson laughed. "For the most part, I think he's really enjoyed it. We did the Prix St. Georges last month at TIEC and didn't get above a 60, and I told my trainer, 'My goal this weekend is to get above a 60.' We did better than that! When she told me I won both classes, I was in shock."
"TIEC is amazing! It's one of my favorite places to compete," Patterson concluded. "The footing is great, the food is good, and there's shopping! So it's a weekend of horses, shopping, and a place where you can get wine! What's not to love?"
Full results from the weekend, including Para Dressage results, can be found here.
The 2022 Tryon Dressage calendar will be announced shortly, with more information to come. Stay tuned to
www.Tryon.com/Dressage
for updates.
National photos were taken by the in-house photo team and CPEDI photos were taken by Sharon Packer. Competitors can view and purchase photos from
www.Tryon.com/photos
.