Abraham Pugh and Elfenperfekt Claim first CDI-W Win(s) Together
For Immediate Release
Mill Spring, NC – October 26, 2020 – Abraham Pugh (USA) and Elfenperfekt grabbed their first career CDI wins together at Tryon Fall Dressage 3 at Tryon International Equestrian Center and Resort (TIEC), claiming the FEI Grand Prix on a score of 68.109% and topping the FEI Grand Prix Freestyle with a score of 74.010%. Julio Mendoza Loor (ECU) and Rosali, Aileen Daly's 2005 Danish Warmblood mare (Blue Horse Romanov x Mosegardens Ratina), claimed second in both the FEI Grand Prix Freestyle and the FEI Grand Prix, scoring 73.990%, and 67.022% respectively. Jessica Jo Tate (USA) and Kynynmont Gunsmoke's Gideon, the 2008 Connemara Cross gelding (Gun Smoke x Kynynmont Tara x Greystone McErrill) owned by Pam Liddell, claimed third in both CDI competitions, scoring 66.261% in the FEI Grand Prix and earning 71.150% in the FEI Grand Prix Freestyle.
Abraham Pugh and Elfenperfekt
©Sharon Packer Photography
Pugh and the 2006 Trakhener stallion (Peron x Elfentruam x Zauberklang) owned by Alice Drayer have been together for seven years now, he shared, and they keep "getting better and better" as they go. "My weekend went really well. This is our first time winning an international competition like that, so it's pretty special. He just keeps getting better, and I keep getting better, so it's really exciting. He really is a great partner," Pugh shared of his mount. "He really will try his heart out for me day, in and day out; he doesn't tell me no. He comes to work the same horse, whether we are at a show, whether we are in a big environment or a small environment."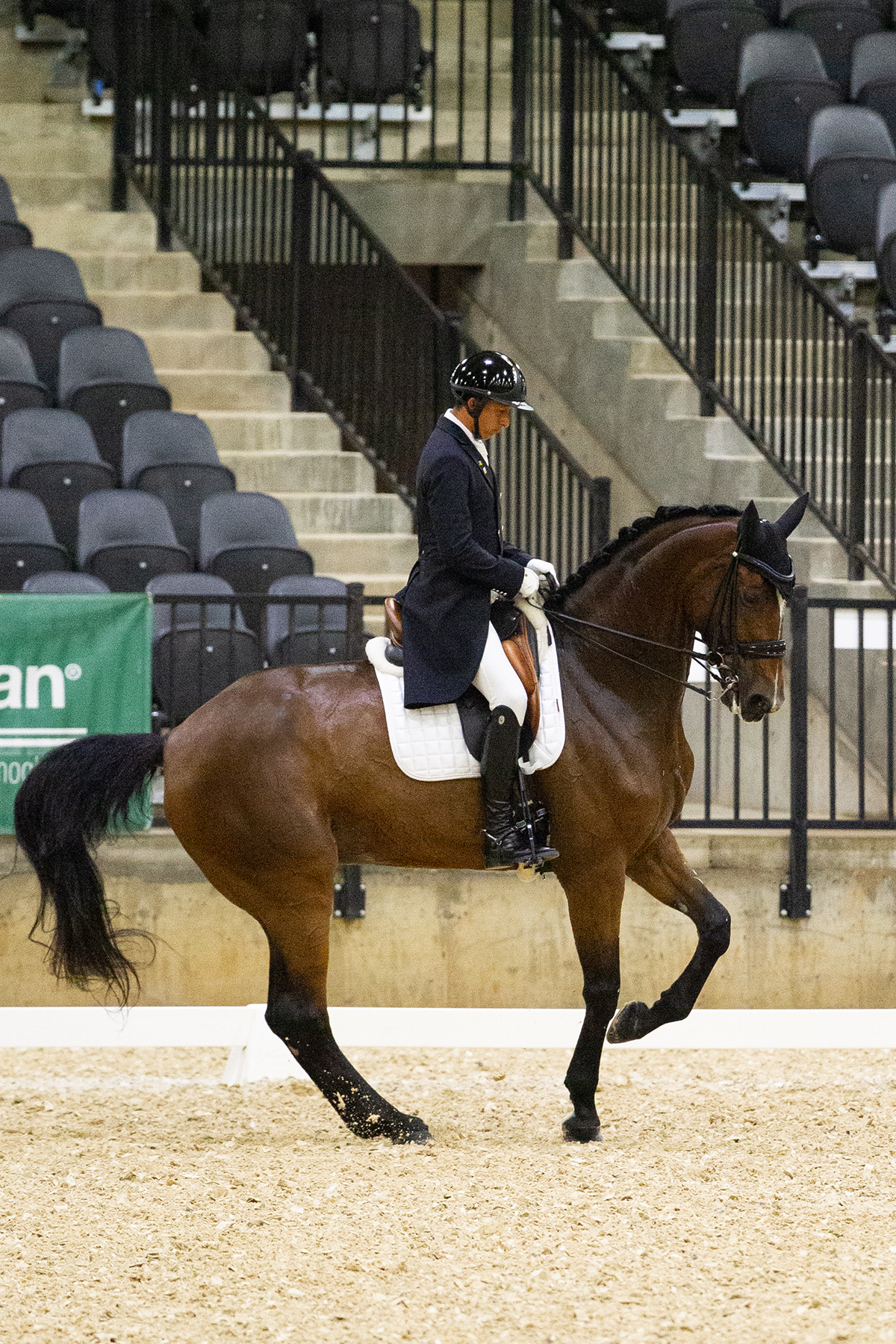 Julio Mendoza Loor and Rosali
©Sharon Packer Photography
Though successful all weekend, Pugh noted that his mount only improved throughout the competition. "I felt like today, I was able to have a little more fluidness and I was able to push him just a little bit more, without him being out of his comfort zone. Today we went out and I asked him for everything he had, and he answered and powered through it. The plan is to keep competing with him and seeing where we can go in the CDI ring!"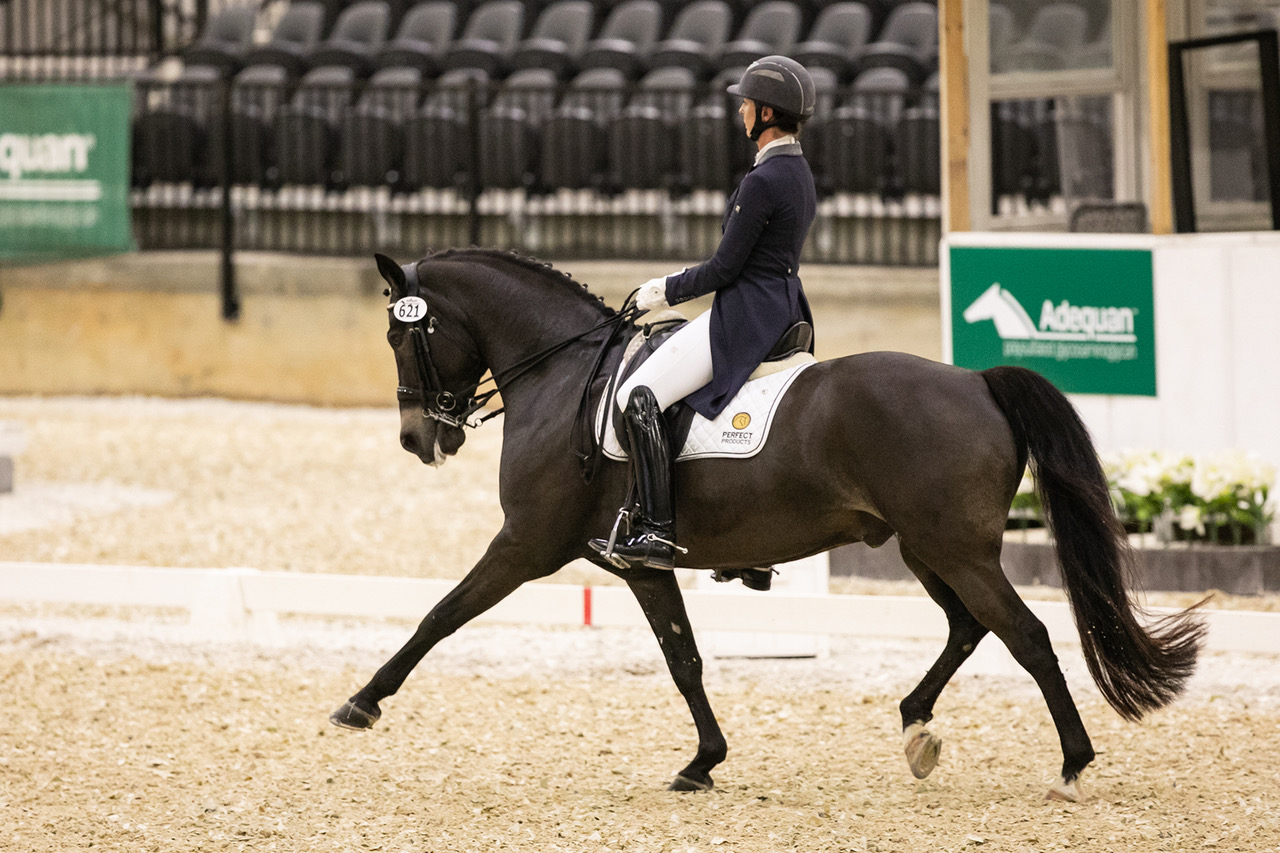 Jessica Jo Tate and Kynynmont Gunsmoke's Gideon
©Sharon Packer Photography
Pugh has not been to TIEC since the spring of 2018, and Tryon Fall Dressage 3 marked the first time Dressage and Para-Dressage were hosted at the INdoor Complex onsite. "The indoor has been lovely and the footing has been nice," Pugh reported. "The facility is quite lovely. I'm not sure if we will go to Florida or not, but we are definitely going to try and come back here in the spring."
Rebecca Hart is the 2020 Adequan®/USEF Para-Dressage National Champion
The Adequan®/USEF Para-Dressage National Championship named Rebecca Hart (Wellington, FL) and Rowan O'Riley's El Corona Texel the 2020 Champions, earning a total composite score of 77.029% in Grade III. The Reserve Championship was awarded to Sydney Collier (Ann Arbor, MI),  scoring a personal best in her freestyle with Going for Gold LLC's All In One in Grade I with a 78.711%, resulting in a composite score of 76.147%.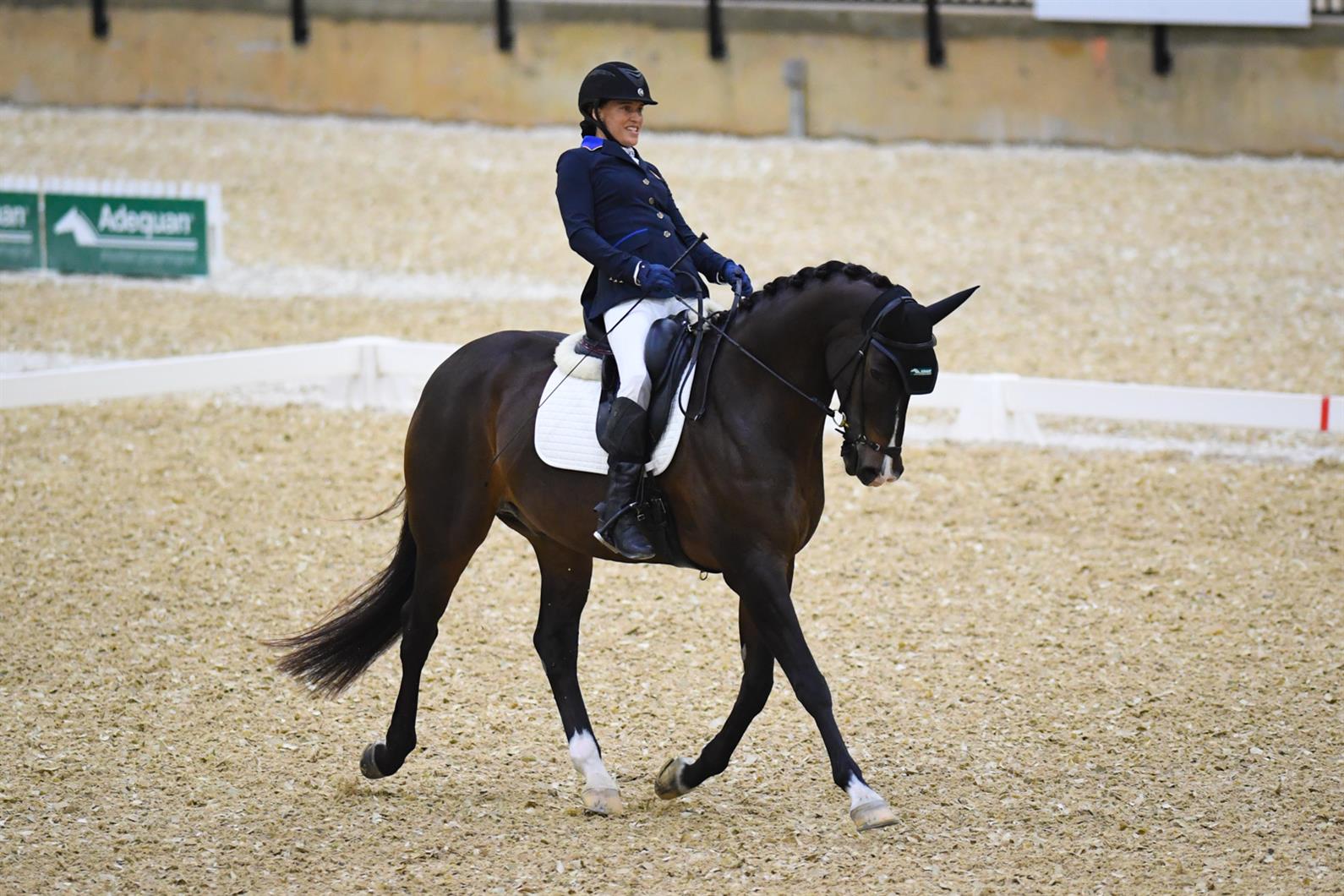 Rebecca Hart and El Corona Texel
©Leslie Potter/US Equestrian
"I'm so blessed to have him," said Hart, who led all weekend and produced consistent personal bests with the 2009 Dutch Warmblood gelding (Wynton x Urieta Texel x Goodtimes). "He's such a fun ride. He's very dynamic and powerful. He was just awesome all week for me. I couldn't have asked for more. He gave me the best birthday present ever! All three days were his top scores. Each test was the best it's ever been for that test."
With the 2020 season drastically impacted by COVID-19, Hart relayed that she focused on "getting back to basics," so that their debut performance this weekend would be a strong one. "It was a crazy year! We went back to basics. We [sometimes] get so set on this date and that date with all of the shows, so we took the break as a silver lining. We caught our breath and really focused on the training and keeping our horses happy and healthy," she emphasized. "We've done a lot of training at home working on certain things while in lockdown. This is our first time back out, so to have him be so happy and strong was fabulous."
Hart and "Tex" were the first pair down the centerline for the weekend, and even in a new environment, the sometimes spooky horse was a star, showing positive energy and harmony all weekend, she reported:
"With him, it was really just having the harmony and togetherness in the ring. This venue is very special to me because of the World Equestrian Games™ where we got the silver and bronze. He [Tex] loved this venue and was so comfortable here. They really pulled it together and did a very nice job."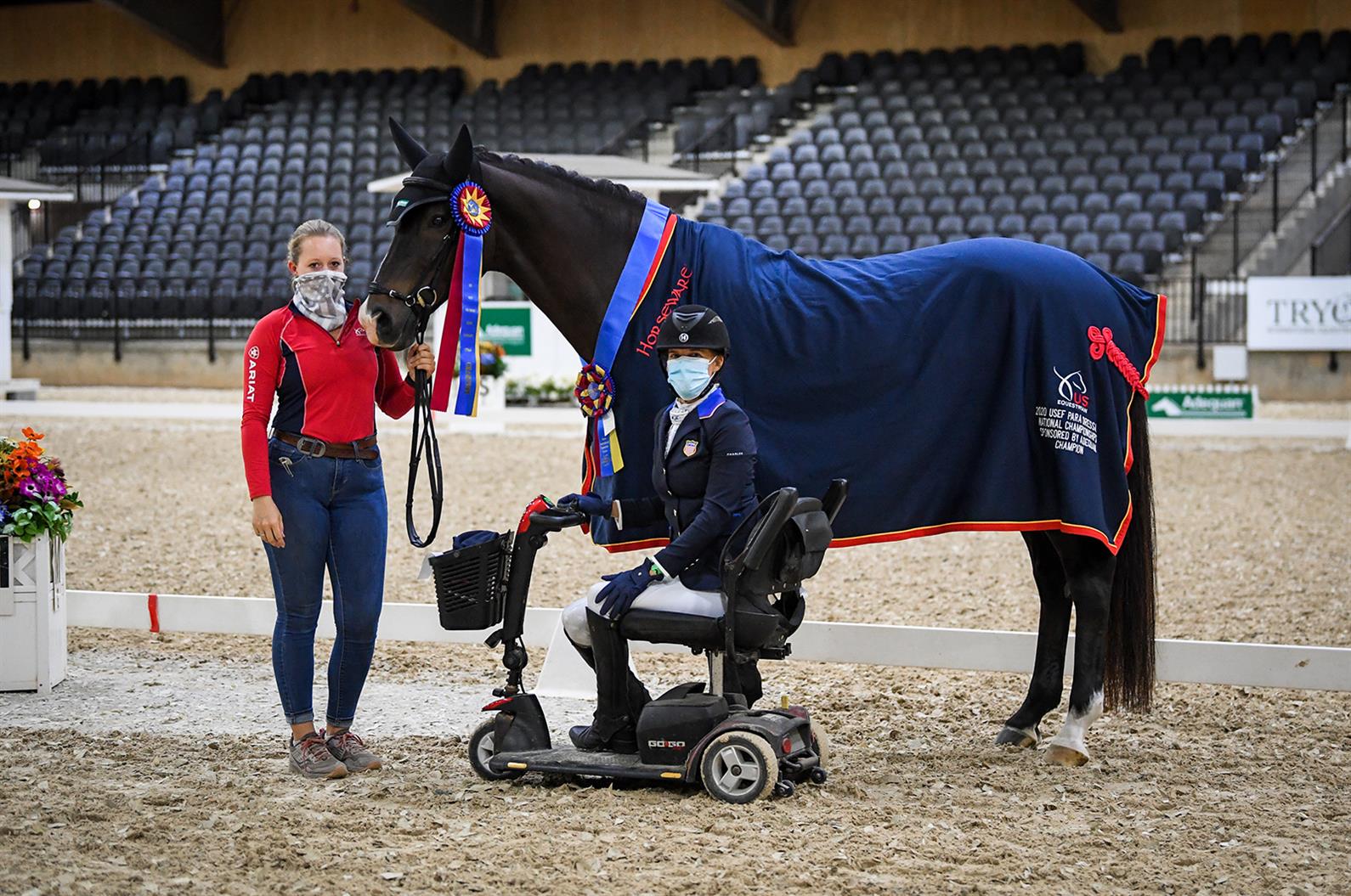 Rebecca Hart and El Corona Texel
©Taylor Pence/US Equestrian
Hart concluded, "I want to give a huge congratulations to all of my other competitors, sponsors, volunteers and organizers. Thank you all for the amount of effort and hard work that everyone puts in!"
Sydney Collier and "Alle," the 2009 Hanoverian gelding (Abanos x Dauphin), produced personal best after personal best to finish in reserve, and shared that she was searching for words other than "incredible" to describe her experience:
"It has been just so fun, and I wish I had better words to describe how good it feels to be back in the show ring, and to see all of our hard work during quarantine pay off. To step in there and be better than we ever have been is something that is really beyond words, and it invigorates me for going home and continuing on the same path and polishing up on some things before heading to Florida."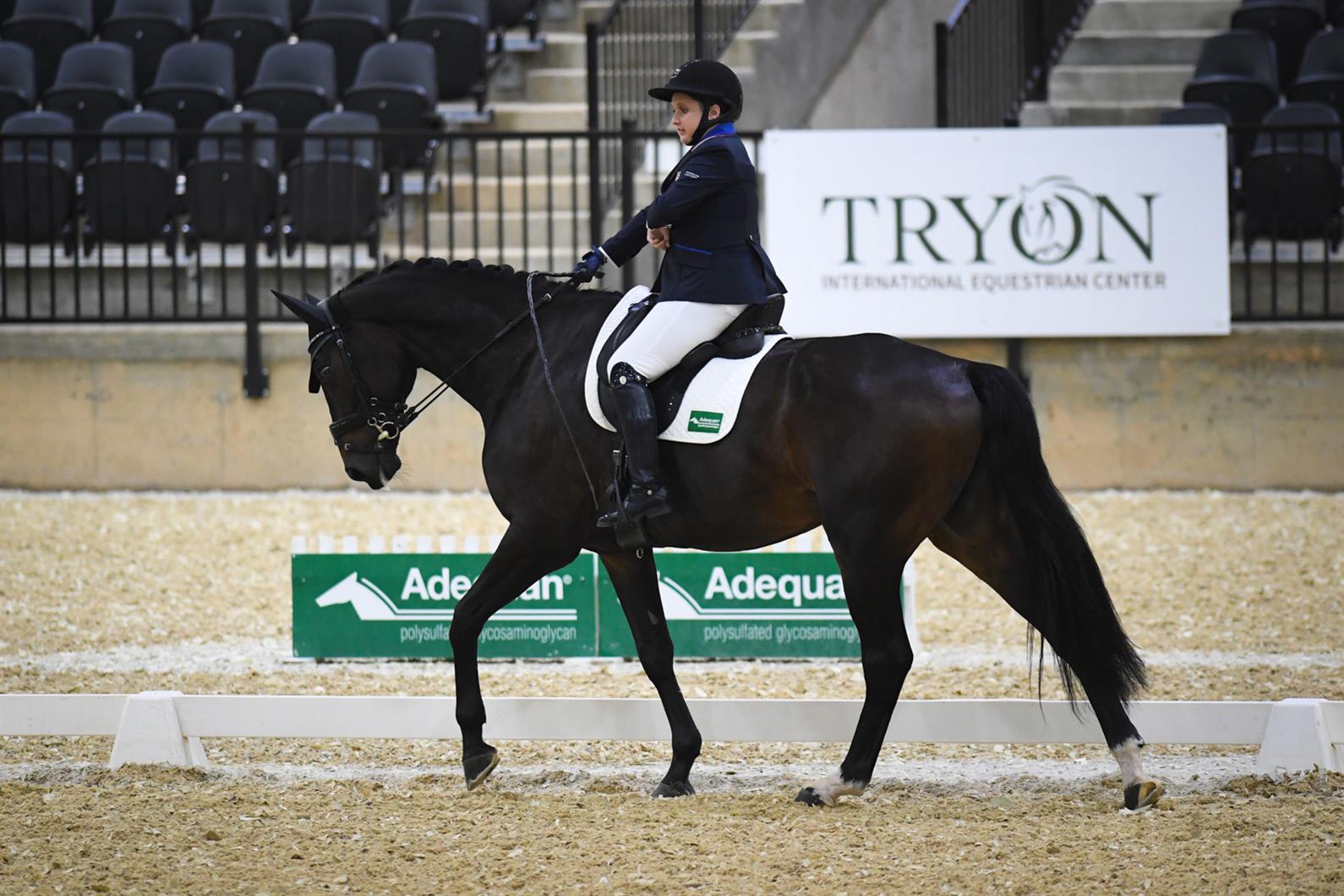 Sydney Collier and All In One
©Leslie Potter/US Equestrian
"I couldn't be happier with this weekend, and to be one of the newest horse-and-rider combinations vying for the Tokyo spots, I could not be happier with Alle. He has totally stepped up to the plate and really matched my passion, and when he steps into the show ring he is like 'alright, all eyes on me' and he just really loves it. It is so amazing to feel that connected in the show ring and to have him stepping up to that whole new level at this show."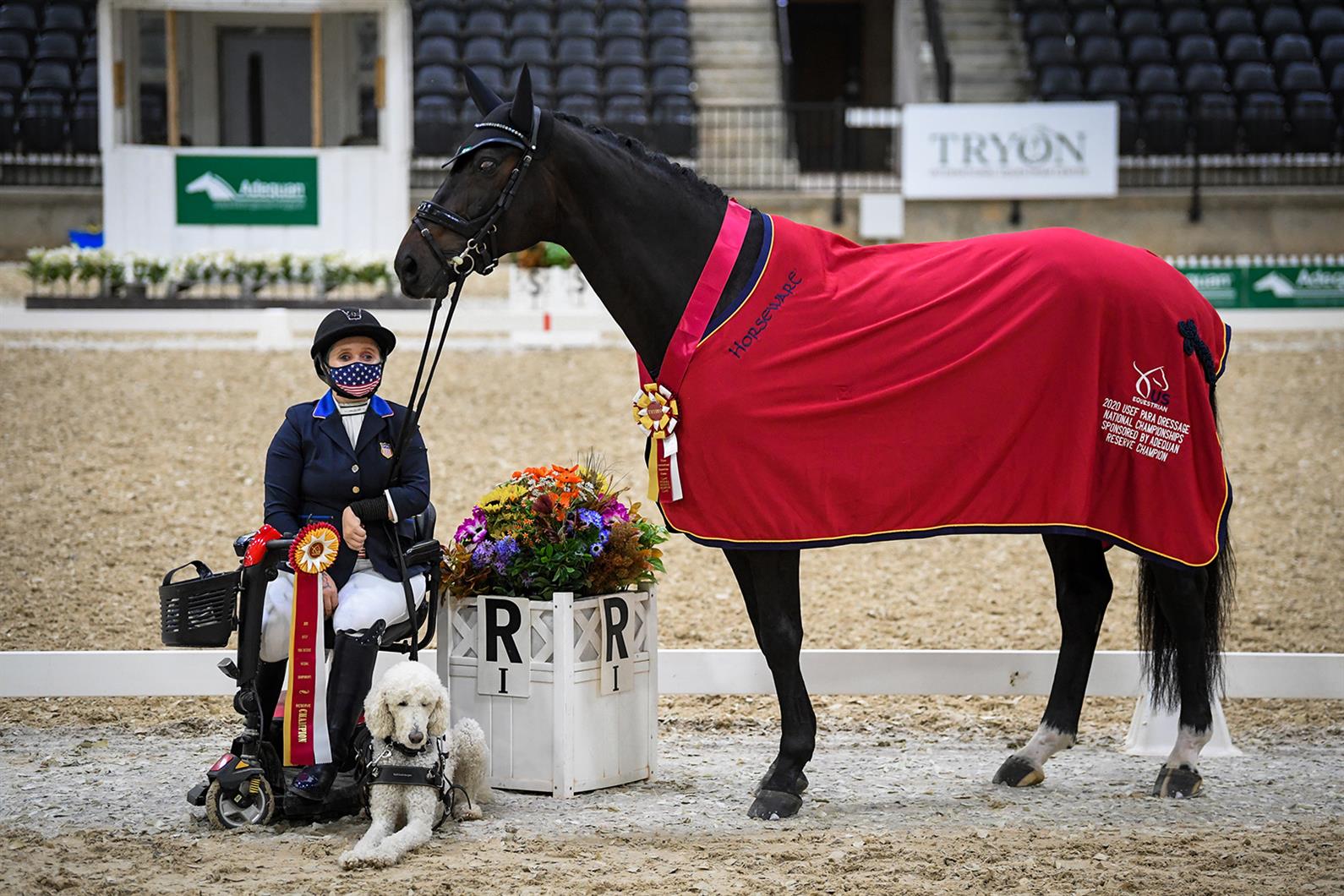 Sydney Collier and All In One
©Taylor Pence/US Equestrian
In place of a normal competition season this year, Collier focused on getting herself as mentally and physically fit as possible, she shared. "It has been a hard summer not being able to compete as much as we could, but really we have taken the time to get as fit as possible and get my head space totally prepared for the next show. I have to say, I am very happy with my head space at this competition," she continued. "I feel like I have really applied what I have been working on with my sports psychologist, and applying it on such a big scale is a whole new ballgame for me, and really staying level headed the whole time; that's something that's definitely going to help me going forward to future competitions."
Collier concluded, "It went better than I could have ever expected, and the Indoor Complex here is mind-blowing, how gigantic it is, and we couldn't be more thankful to be the first show in here, It has been such an honor to ride down the centerline here at Tryon. We are happy to be here!"
For all results from the Tryon Fall Dressage 3 CDI-W, click here.
For all results from the Tryon Fall Dressage 3 CPEDI, click here.
Tryon Fall Dressage 4 will host national competition at the venue October 30-November 1. Spectators are not permitted for the remaining 2020 competitions at TIEC. For more competition information, visit www.Tryon.com/dressage.
Photo credit ©Sharon Packer Photography unless otherwise noted. These photos may only be used once in relation to this press release with proper credit. Contact media@tryon.com with questions.