Trayce Doubek and Karin Stevens Score Top Honors in Training Level Test 3 presented by SS Saddlery
Hailey Guard Steps Back into Show Ring to Dominate Prix St. Georges with Dalwhinney
For Immediate Release
Mill Spring, NC – September 16, 2020 – Tryon Fall Dressage 1&2 welcomed nearly 200 entries to Tryon International Equestrian Center September 11-13, featuring consecutive wins for Julio Mendoza Loor in the FEI Grand Prix divisions aboard star mare Rosali, the 2005 Danish Warmblood mare (Romanov x Mosegardens Ratina x Ragazzo) owned by Aileen Daly. Scoring 69.620% Friday and 69.891% Sunday, Mendoza also piloted the mare to a 72.250% in the FEI Grand Prix Freestyle on Saturday, and shared that Friday's test was so full of power and adjustability, it made him emotional to start the weekend so well: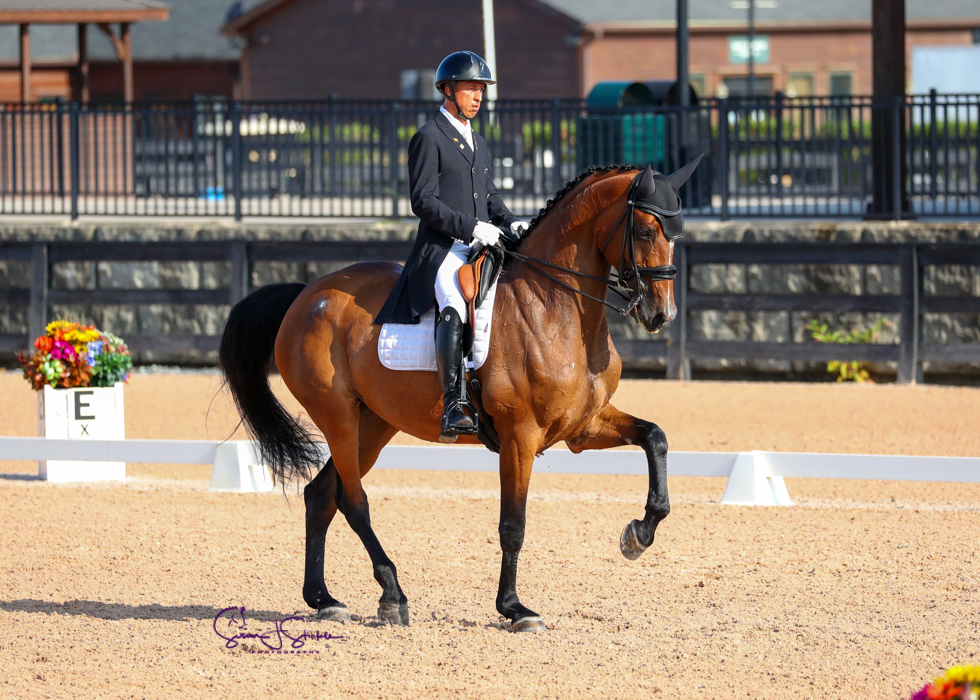 Julio Mendoza Loor and Rosali
©Susan J. Stickle Photography
"Friday was one of the best Grand Prix tests that we have done so far. She was [great] with her suppleness and adjusting the canter, even in the piaffe and passage transitions, keeping the same energy in both movements – she gave me such an amazing feeling that after I finished my Grand Prix on Friday, I cried. It was so emotional," Mendoza elaborated. "To feel the power in that mare made me cry. It was so amazing."
A local professional who is often seen riding in all levels at TIEC, Mendoza emphasized that his home show is one of his favorites for reasons beyond how close it is to his home base in Columbus, NC. "It's a very good show, and very organized. I brought six horses and had eight students, too. Tryon for me is one of the favorite shows. Even the staff enforcing that everyone was wearing masks – they were really nice, very polite. They were very professional, and that was super."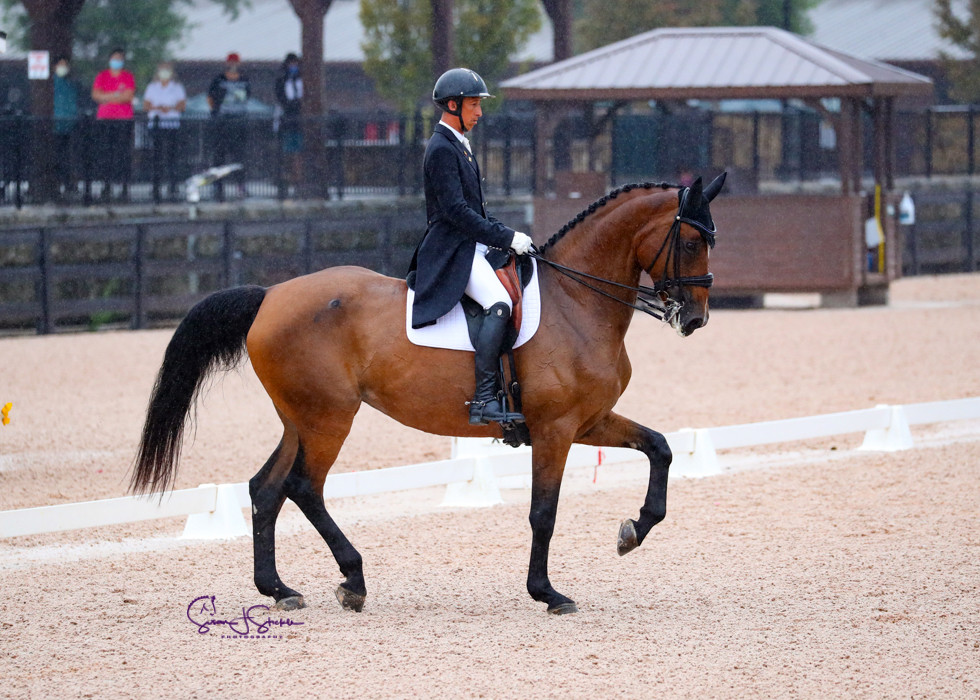 Julio Mendoza Loor and Rosali
©Susan J. Stickle Photography
With his eyes on the future with "Rosie," Mendoza will next head to Regionals and will then be pointing the mare at CDI competition hosted at TIEC in October as part of Tryon Fall Dressage 3. "I'd like her to go to the CDIs in Florida this winter. After the scores the judges gave us this weekend, I feel more confident and ready to go to Florida for the winter – she is able to perform at that level and has more confidence. I'm thankful to my coach and mentor for pushing me to be better every day, and for believing in me," Mendoza concluded. "And thankful to my wife – if not for my wife, I wouldn't be here competing! And my groom – without her I wouldn't be able to ride so many horses."
Trayce Doubek and Karin Stevens Score Top Honors in Training Level Test 3 presented by SS Saddlery
Friday's Training Level Test 3 Division presented by SS Saddlery resulted in a win for Trayce Doubek aboard Fala, the 2013 Oldenburg mare (Furst Impression x Symphony x Sandro Hit) owned and bred by Lisa Mullens, who posted a score of 72.414% despite having never been to a show before this weekend, Doubek revealed. "She had a bit of a slow start because of injuries and such, so she's more of a four coming five-year-old. She's an incredible horse. It was literally her first show ever at seven years old. You never know what you're going to get when you go to a horse show, particularly Tryon, and she went in there and told everybody to look at her. She was phenomenal. I was blown away."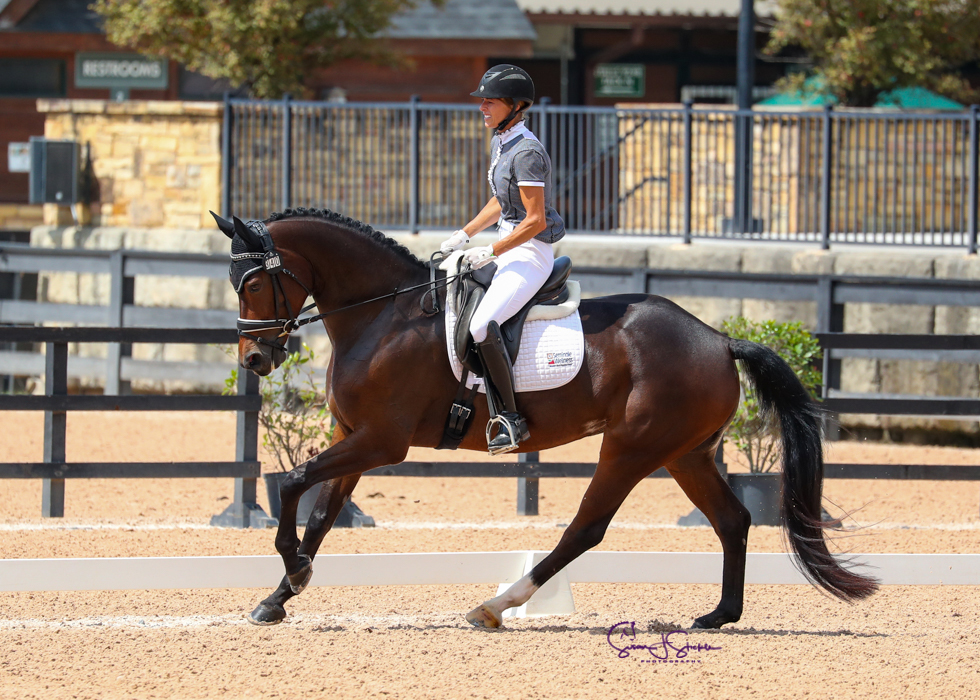 Trayce Doubek and Fala
©Susan J. Stickle Photography
"I've had her in my barn for about eight months now, and we've just been building her up," Doubek shared. "I'm really fortunate because I live right next door to Tryon. I have 300 acres of trails, so my horses go out and condition, hack, and do hill work. It's super to get her strong and fit enough. She's definitely one that I want to take my time with, because I think she's going to be a really good horse for the future."
Just behind Doubek in the Open Division, Rachel Chowanec Kaney and Egeo BRH, the 2015 Andalusian gelding (Ules Vdos x Bribona IX) owned by Lee Burton, scored 58.103% to take second place.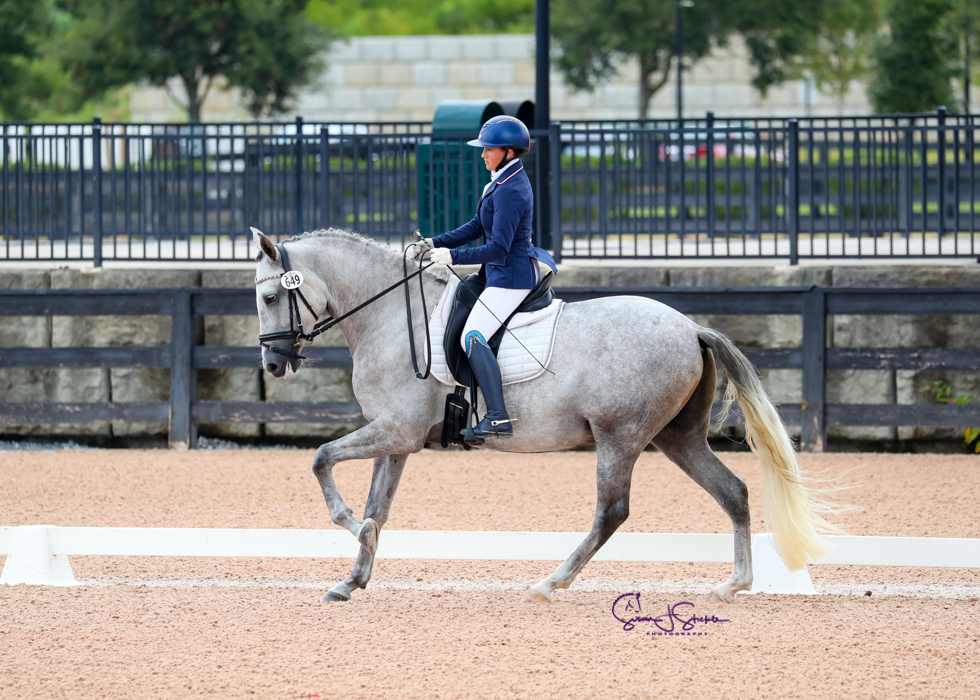 Rachel Chowanec Kaney and Egeo BRH
©Susan J. Stickle Photography
Meanwhile for Karin Stevens, this weekend's show was her first time competing at TIEC with Silver Lining, scoring 64.397% to top Saturday's Training Level Test 3 Division presented by SS Saddlery. Stevens and the 2007 American Warmblood gelding owned by Sarah Cook made their TIEC debut after her return to the sport as an adult last year, she detailed. "I did quite a bit of showing back in my youth before children came on the scene, so I had been out of showing for a long time. I think the last time I really showed was in 2006! I've been leasing this horse for not quite a year at this point. He's wonderful! He's very obedient and calm. He did great."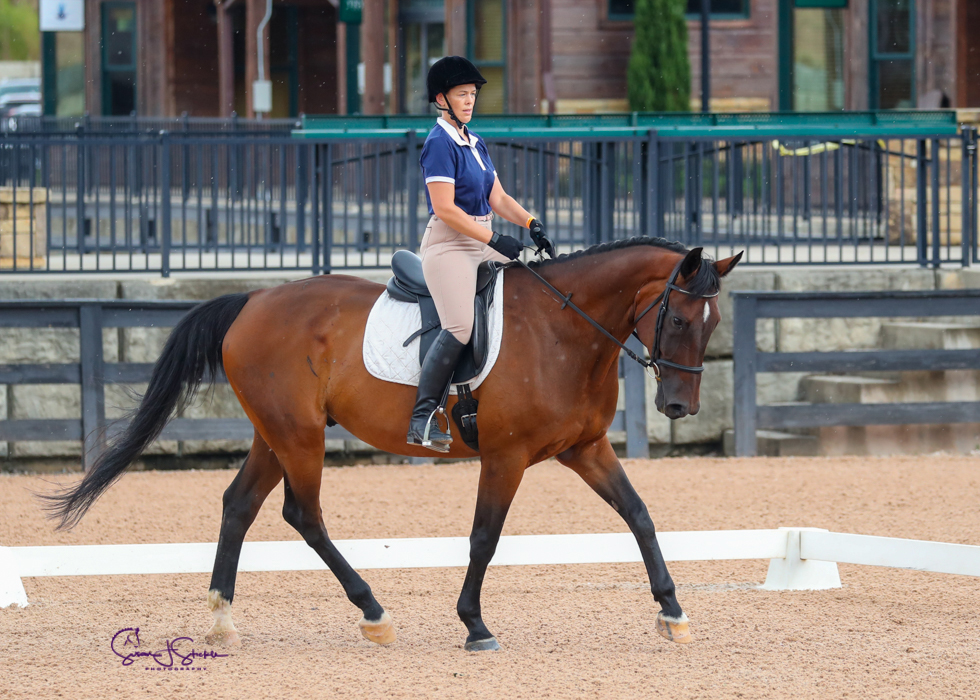 Karin Stevens and Silver Lining
©Susan J. Stickle Photography
Friday's Training Level Test 3 Open competition also saw Rachel Chowanec Kaney and Egeo BRH, the 2015 Andalusian gelding (Ules Vdos x Bribona IX) owned by Lee Burton, scoring 61.897% to take second, with 61.897%. Camyn Huneycutt and Reliant, her own 2012 Hanoverian-Thoroughbred cross gelding, received a total score of 58.276% for third.
"Seeing my scores – not just for the Training Level but also First Level Test I – really gave me a good idea of where I am in the training, and I think I'm right where I should be," Stevens shared. "My trainer directed me to be exactly where I need to be. The scores really helped confirm that I'm where I need to be."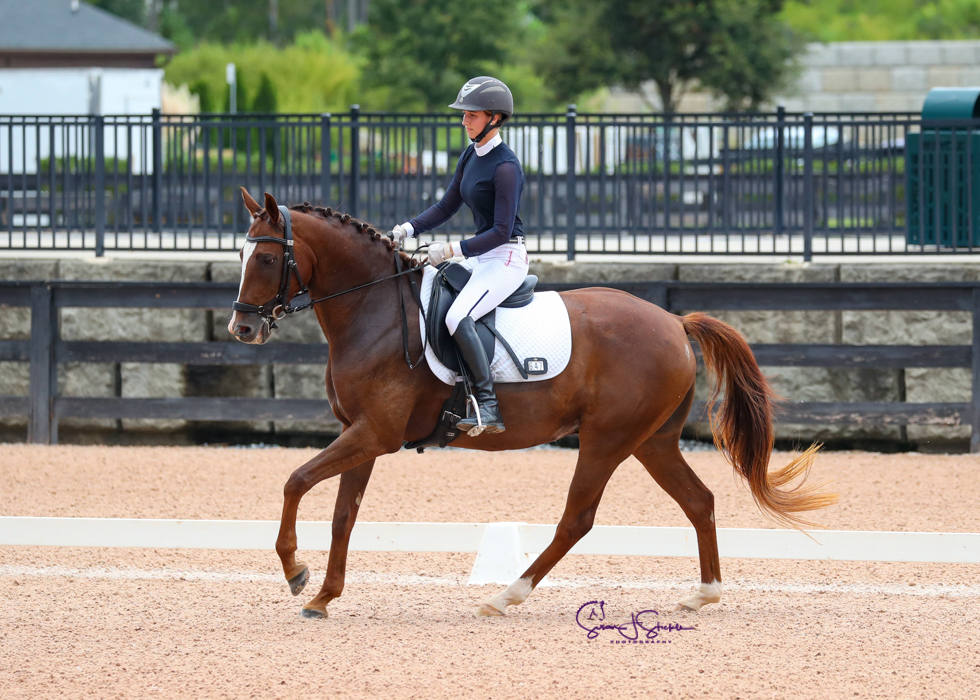 Camyn Huneycutt and Reliant
©Susan J. Stickle Photography
As a first-time competitor at TIEC, Stevens was impressed with her experience and emphasized that she found the layout to be competitor-friendly: "Everything was very well organized. This was my first time showing at Tryon, so I appreciated how well everything was marked to help you find things. That was very helpful as a first-timer to see the barns clearly marked as well as the stalls. When it's your first time at a show, you just don't know some things, so you end up wandering a lot. That was really my best impression," she concluded. "It made it easy for a first-timer to navigate the ins and outs of the facility."
Hailey Guard Steps Back into Show Ring to Dominate Prix St. Georges with Dalwhinney
In her first show of 2020, Hailey Guard and Dalwhinney scored a 66.382% to top the Open FEI Prix St. Georges on Saturday. In second, Ashley Guinn and Bennos Hit, the 2000 German Riding Pony gelding owned by Amy Jo Guinn, claimed second with a score of 58.971%, while third went to Cathryn Brekken riding Coin Toss, the 2002 Thoroughbred gelding out of Lilly Laredo and owned by Camilla Green, to a score of 50.809%.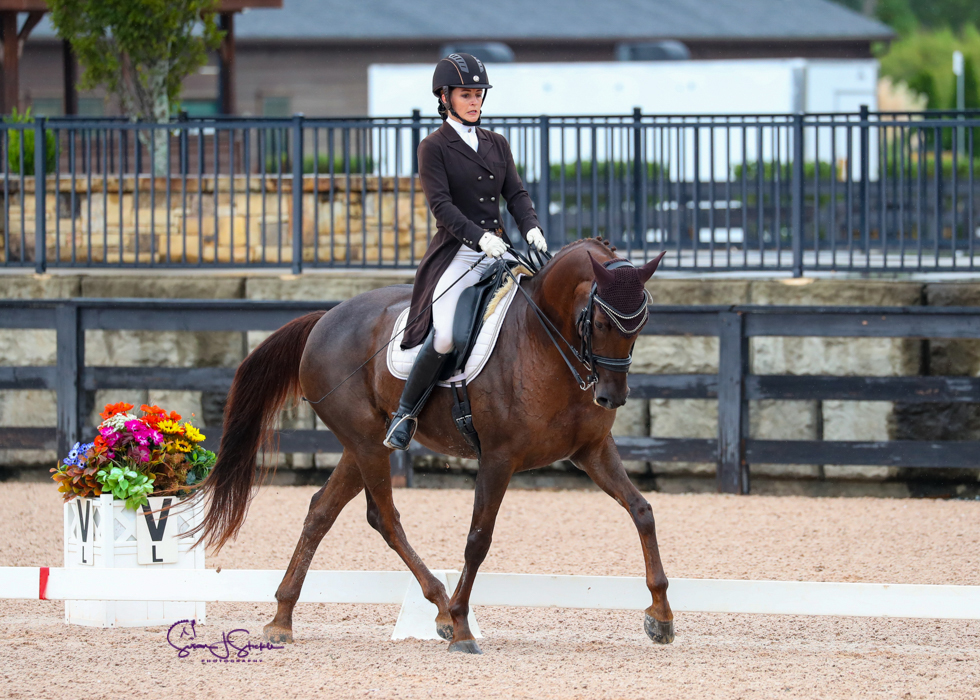 Hailey Guard and Dalwhinney
©Susan J. Stickle Photography
"I'm really proud of my horse," Guard emphasized. "It's still new territory for both of us [in PSG], so I'm excited that we were competitive. I've pretty much taken the year off of competing because of everything that's happened with the quarantine and all of that fun stuff, so I just focused on investing the money that I would normally spend on shows into training instead."
Guard and her own 2008 Dutch Warmblood mare (Ub40 x Windsor CA x Warkason) have been working once a week with Chris Hickey since January, she relayed, and saw the fruits of her efforts paying off this weekend at TIEC. "We've been working on getting her stronger and more confident in the FEI movements. I think we did Prix St. Georges three times all together last year. FEI is a whole different ball game and I'm still pretty new to that, so it was exciting to go out and see the improvements that we've made.
"I was really impressed with the way everyone is handling [COVID-19]," Guard concluded. "Everyone is respecting the rules and TIEC is doing such a good job with the temperature checks, wristbands and everything. It was nice to see such a big show with so many competitors all following the rules."
For full results from Tryon Fall Dressage 1, click here. 
For full results from Tryon Dressage 2, click here. 
Dressage competition continues at TIEC October 23-25 with Tryon Fall Dressage 3 CDI 3*/CDIW/CPEDI 3* and the USEF National Para-Dressage Championship presented by Adequan®. Visit www.Tryon.com/Dressage to learn more information and view the Prize List. 
Media information: to apply for media credentials for Dressage or any other events at TIEC, please click here or contact media@tryon.com. 
Photos ©Susan J. Stickle Photography. These photos may only be used once in relation to this press release with proper credit. Contact media@tryon.com with questions.