For Immediate Release
Mill Spring – October 26, 2020 – Jordan Coyle and Picador (Brewster, NY) galloped to victory in the $25,000 Nutrena® Grand Prix at Tryon International Equestrian Center and Resort (TIEC) to conclude Tryon Fall 6 competition. Ken Dickey (Phoenix, AZ) and Rocking D Ranch's Opium du Soufflet, a 2009 Swedish Warmblood gelding (Ogano Sitte x Nicky du Soufflet), were the short-course trailblazers, unfortunately going off course at the last fence to receive second place. Connor O'Regan (Upperville, VA) navigated the 2012 Belgan Warmblood mare (Hunter's Scendix x Cleopatra van Spalbeek) owned by Dynomite Ranch, LLC, Mendini DR, to a third place finish on a time of 78.186 in the first round, with a single time fault keeping them from the speed test.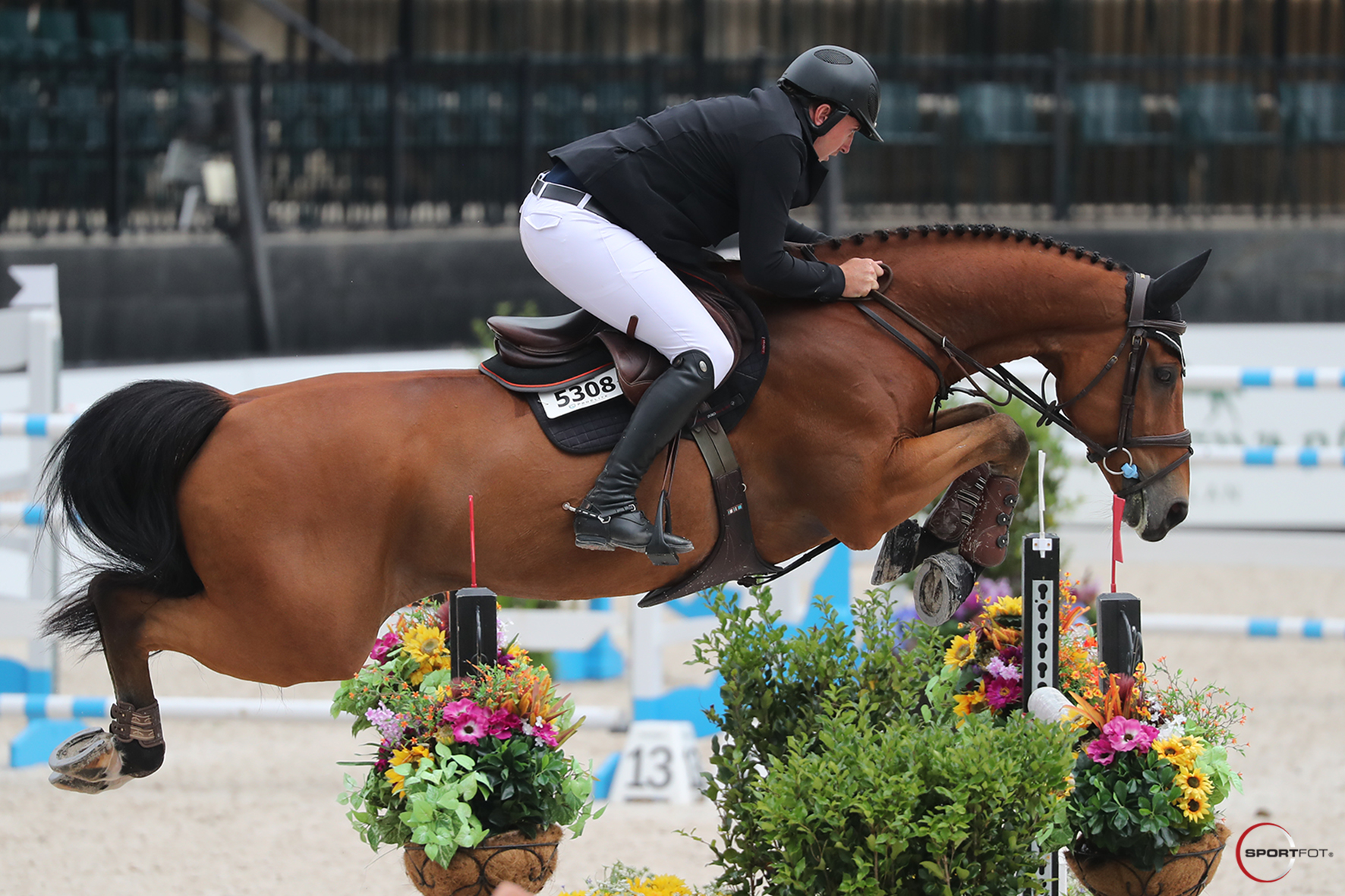 Jordan Coyle and Picador
©Sportfot
Coyle and the 2007 Anglo European gelding (Lupicor x Kind of Magic), owned by Elan Farm, were one of 39 entries to challenge the long course designed by Anthony D'Ambrosio (USA), with only two pairs gaining entry to the jump-off. Dickey was first to go, and his navigational error at the end of the course paved the way for a pressure-free jump-off experience for Coyle. The pair ended up on a time of 38.51 seconds with one rail down, but Coyle shared that it was nice for Picador to end his time at TIEC on a high note after a difficult two weeks.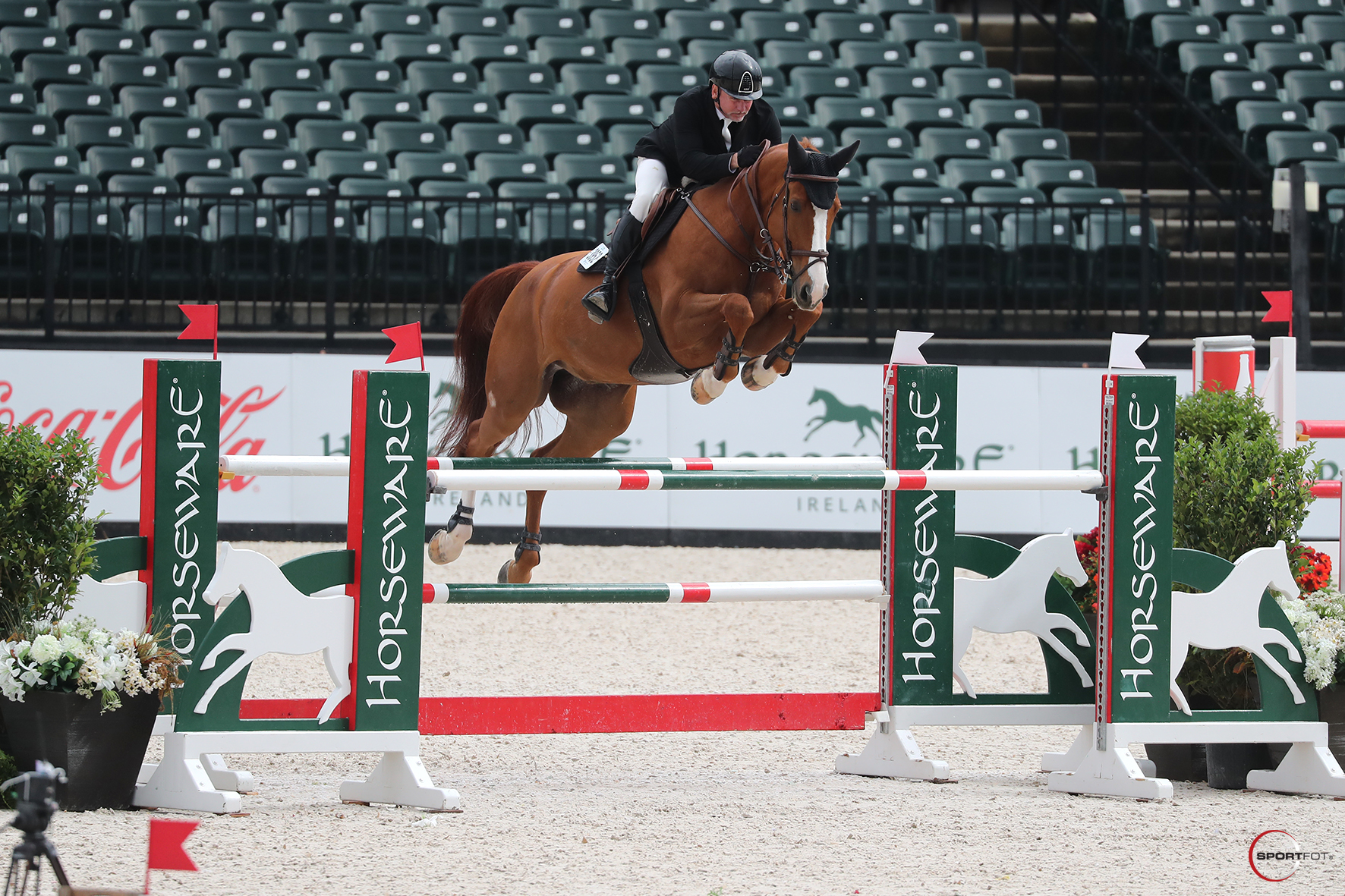 Ken Dickey and Opium du Soufflet
©Sportfot
"He [Picador] won the first class last week [$37,000 EquiSafe Global Power & Speed Stake CSI 3*] and things just didn't work out in between, but it's good he won today. The course rode tough… much tougher than I expected," Coyle revealed. "Since we're going to Kentucky next week I wanted to jump today just as an easy round. But there was nothing easy about that: it was as tough as any of the FEI classes!"
Coyle could not pinpoint an advantage over the rest of the field that secured him entrance to the jump-off, but reported that it's "normal" for him to jump clear. "I think the time allowed was tighter than I expected, so I was lucky there. Even though I was using it as a schooling class, I love to win as much as he does, so I guess we both tried."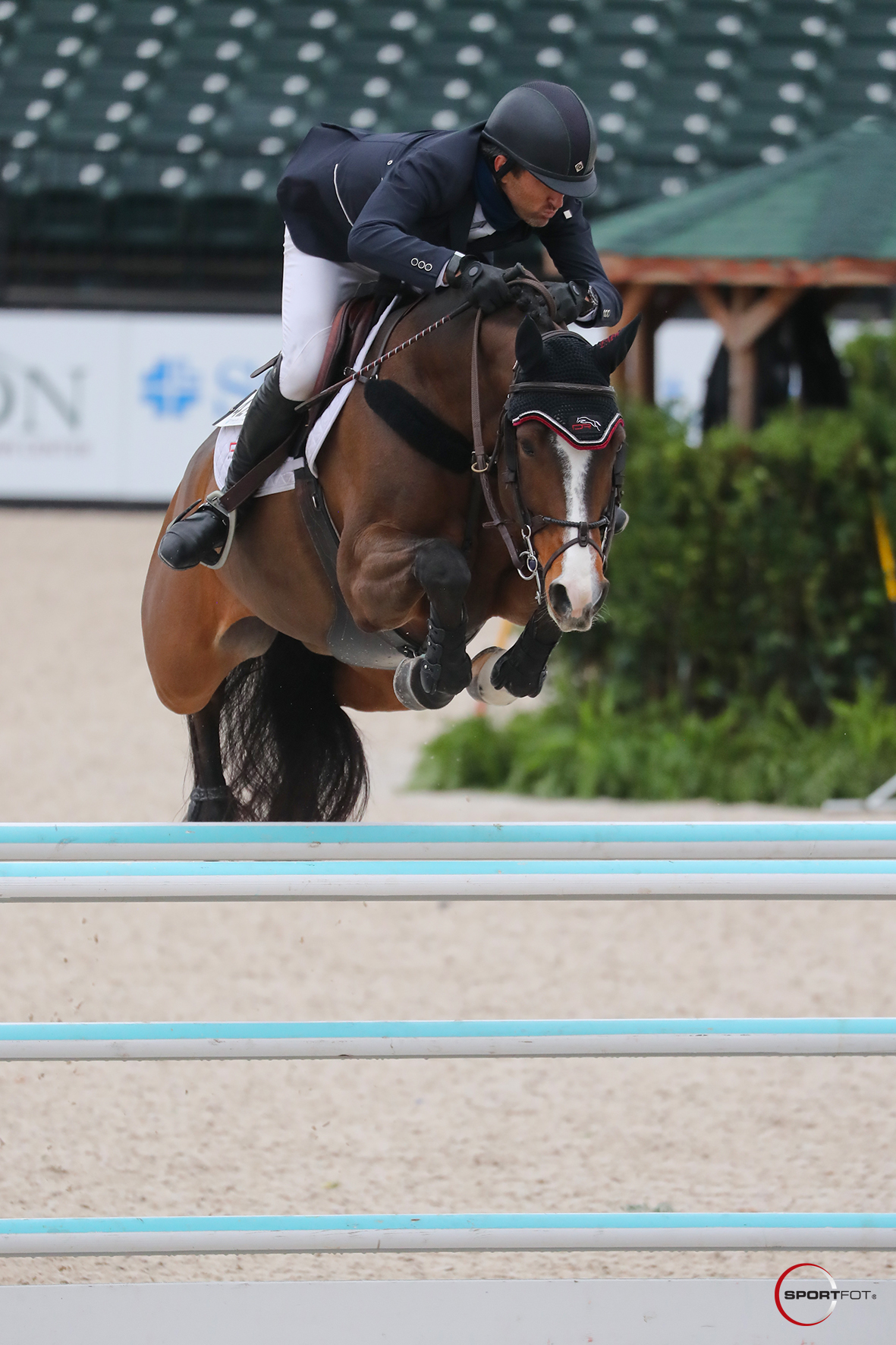 Connor O'Regan and Mendini DR
©Sportfot
Coyle reflected that an already strange class became even more unusual in the jump-off. "Normally, when there's two people in the jump-off like that, sometimes it can become kind of tricky because you don't know what to do, but I was very, very lucky that Ken had a mishap," he emphasized. "All I had to do was get through the start and the finish. It was a strange, strange class. That's all you can say about that! We'll take whatever we can get."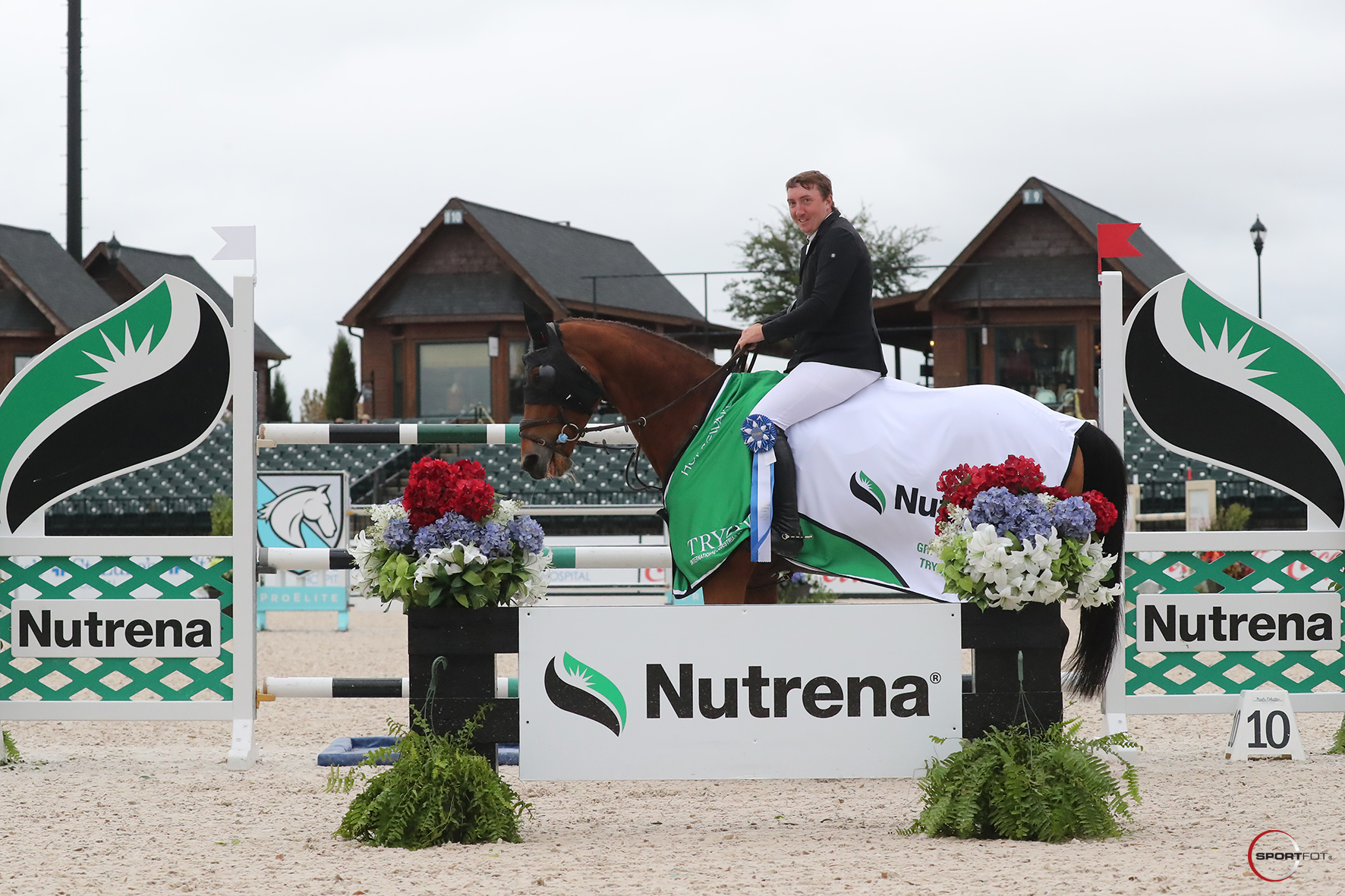 Jordan Coyle and Picador in their presentation ceremony.
©Sportfot
From TIEC, Coyle will cap off his year in Kentucky with Picador and Eristov, and shared that each of the 15 horses he brought appear to have benefited from their time at the venue: "It's great here, and I love it. All the horses enjoy it, also. I just came for two weeks, and I think that's perfect. There wasn't one horse that jumped badly here – we have 15 horses here, and everything jumped great, so I'm glad."
Jimmy Torano and Laskano Achieve Brilliance in $20,000 Hunter Classic
October 23, 2020 – Jimmy Torano (Wellington, FL) and Laskano were unstoppable in the $20,000 Hunter Classic at Tryon International Equestrian Center, earning a first round leading score of 90 followed by a second round score of 87 for a combined 177 total over the Skip Bailey (Loxahatchee, FL) course design. Michael Britt-Leon (Canton, GA) claimed the second and third place ribbons with Kelly Sims' Private I, the 2012 Oldenburg gelding (Corrado x Verdi) owned by Kelly Sims, earning a combined score of 175, and Bacchus, Sims' 2013 Hanoverian gelding (Bisquet Balou x Feliz V/D Donkhoeve) with a final score of 168.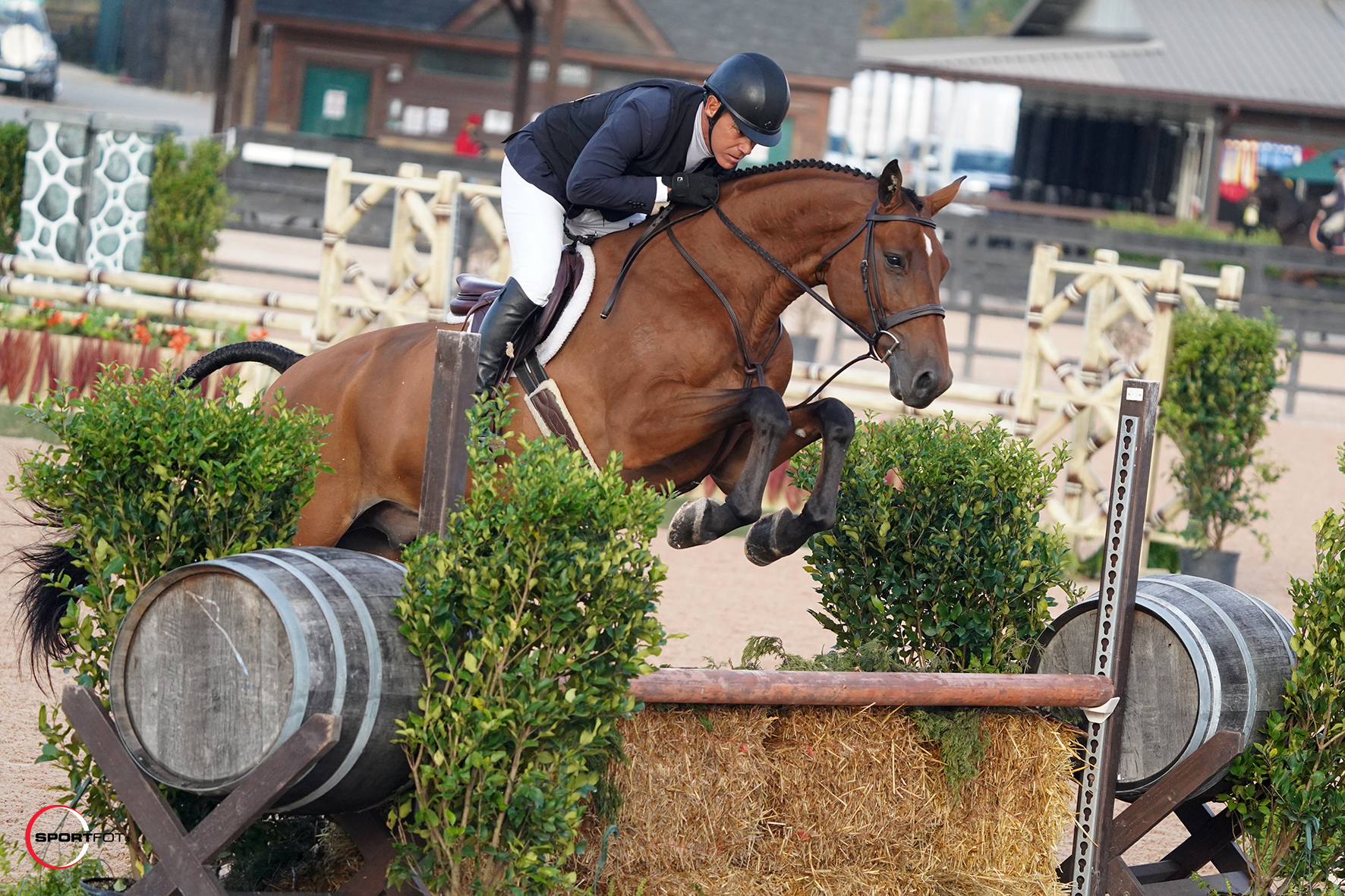 Jimmy Torano and Laskano
©Sportfot
"He [Laskano] is a new horse. We just got him in May and this [TIEC] was his first horse show back in June and from day one he has been a winner," Torano shared of his mount, the Isalou, Inc. entry and 2012 Westphalian gelding (Los Angeles x Laskaja). "Laskano is just one of those horses that never wants to let you down. You can count on him every time, and he is very predictable."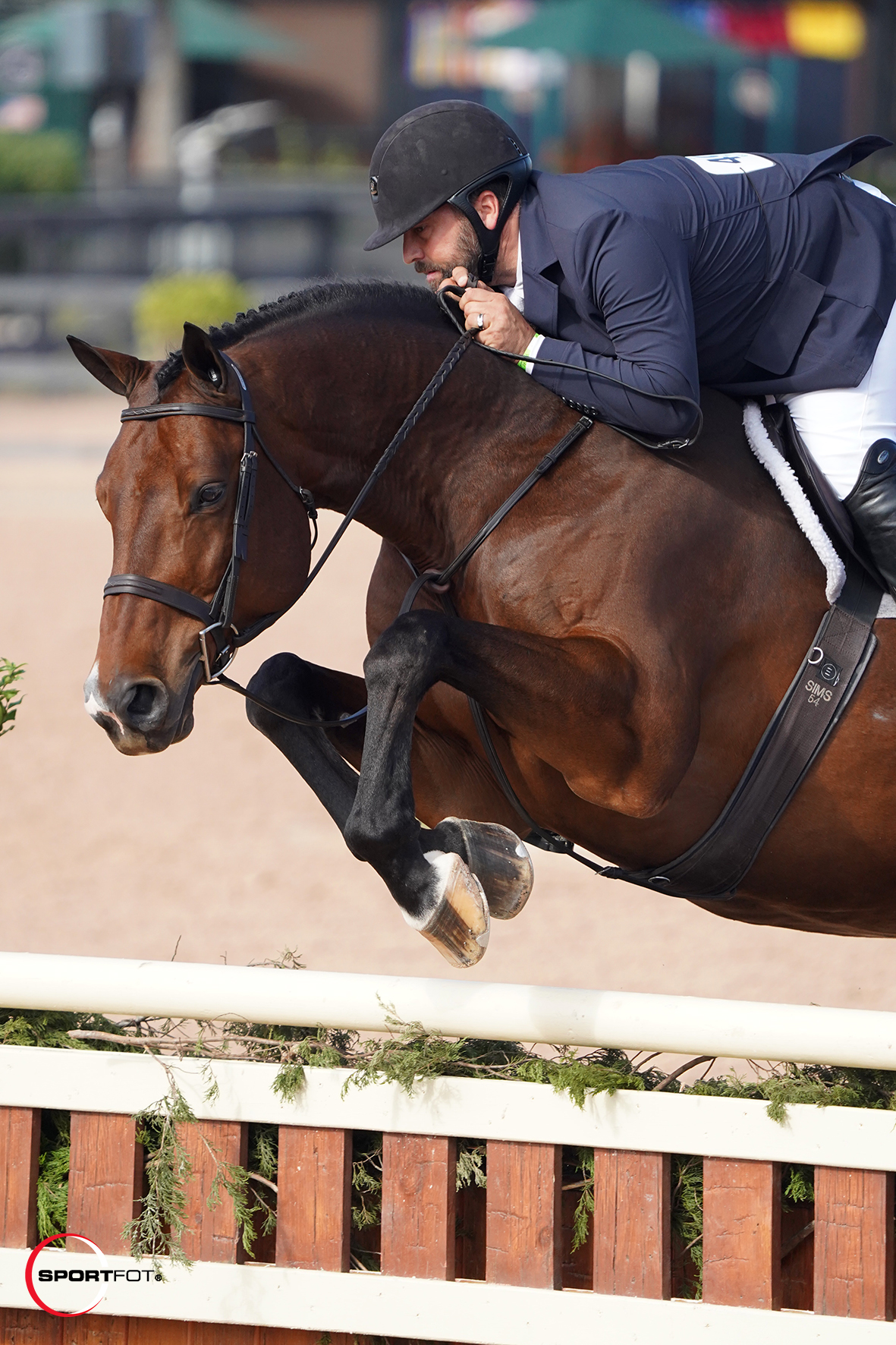 Michael Britt-Leon and Private I
©Sportfot
"I was four points ahead going into the second round but I did notice my horse was tired heading in," Torano explained. "Laskano is a very quiet horse and I just thought 'I have to show some brilliance' because I thought he [Laskano] might lack a little bit in his jump and not have as much spark [as in the first round]. So I went in and really picked up a gallop and just never touched the reins."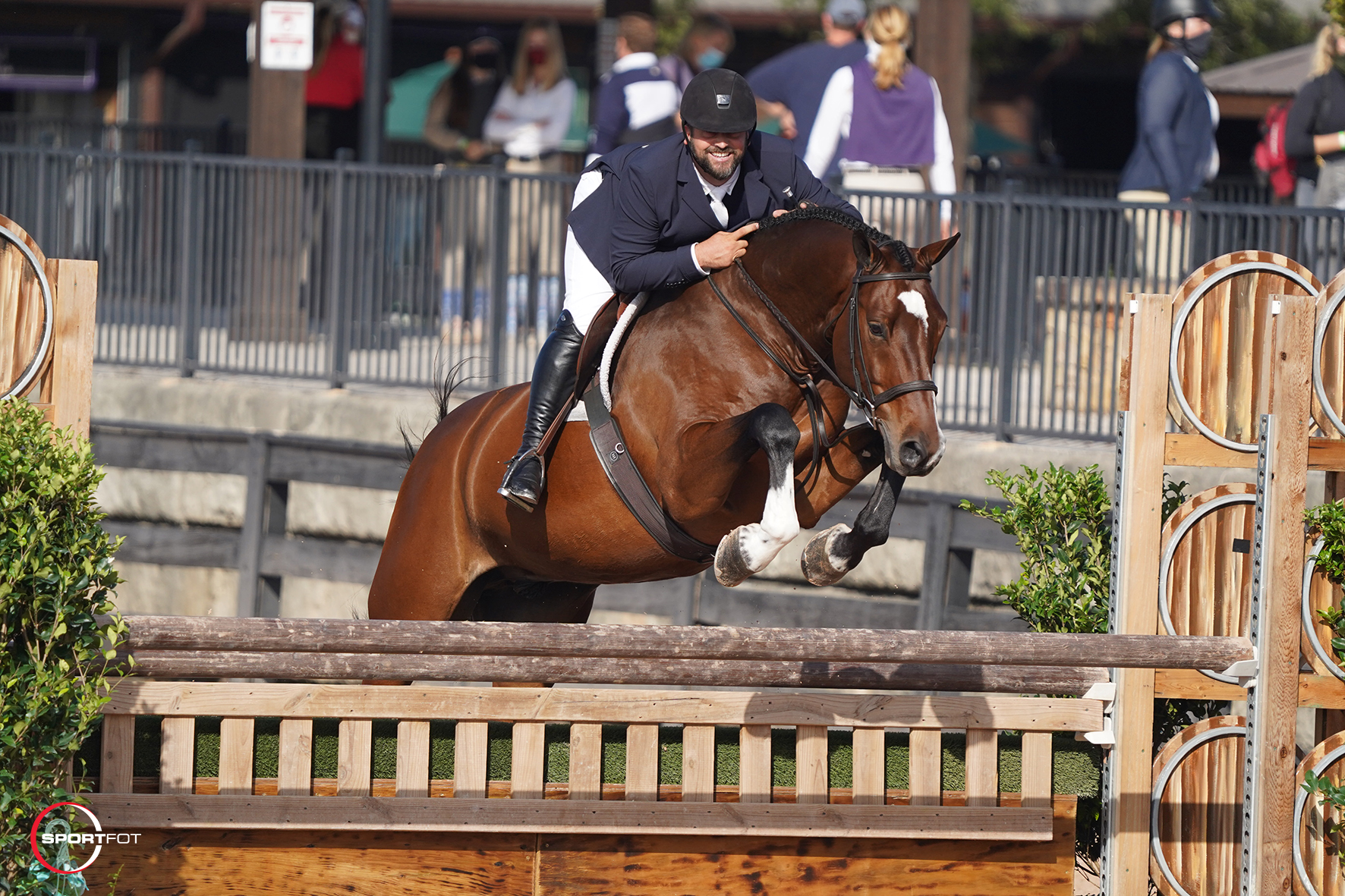 Michael Britt-Leon and Bacchus
©Sportfot
Torano and his clients spent five weeks at the beginning of the season at TIEC and are returning for another four. "We have been very lucky, our summer has been great," Torano shared. "This [TIEC] has been kind of home for us [this summer] and we have had great shows with lots of success for both my own horses and my clients' horses – we have been very fortunate."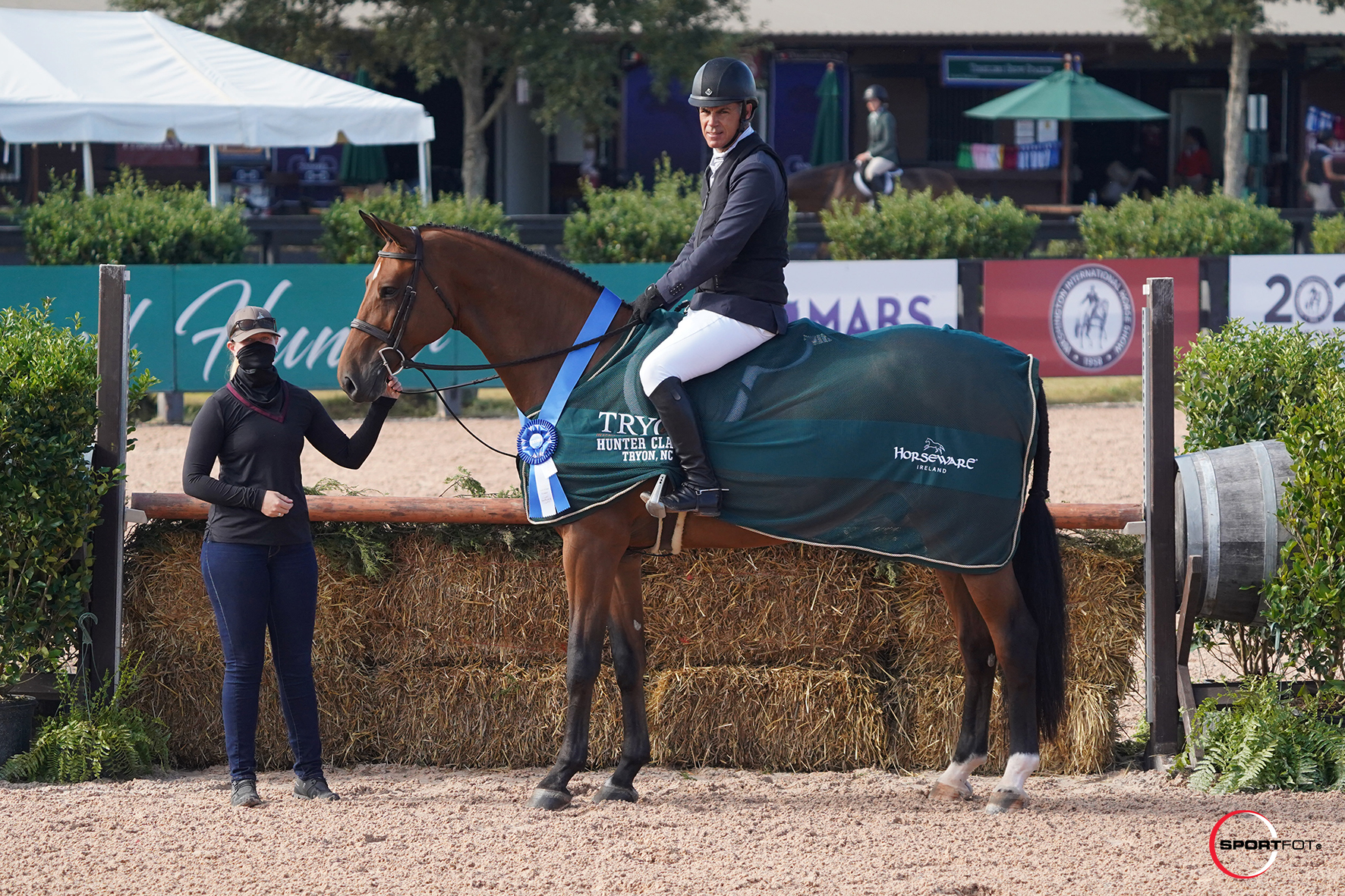 Jimmy Torano and Laskano in their presentation ceremony.
©Sportfot
Rodrigo Pessoa and La Caramba Sprint to $6,000 Speed Stake CSI 4* Win
October 23, 2020 – Rodrigo Pessoa (BRA) and La Caramba soared to a swift victory in the $6,000 Speed Stake CSI 4* with a time of 60.54 seconds over the Anthony D'Ambrosio (USA) track, piloting the 2010 Holsteiner mare (Carambole x Caretino 2) owned in partnership with Artemis Equestrian Farm LLC. Erynn Ballard (CAN) and Ronja, Ilan Ferder's 2011 Swiss Warmblood mare (Conteur x Czandor), stopped the timer at 61.37 seconds to land them a second-place finish, while Molly Ashe Cawley (USA) piloted Conrad 119, the 2010 Oldenburg gelding (Comme il Faut 5 x Landfrieden) owned by Louisburg Farm, to a third-place finish on a time of 64.1 seconds.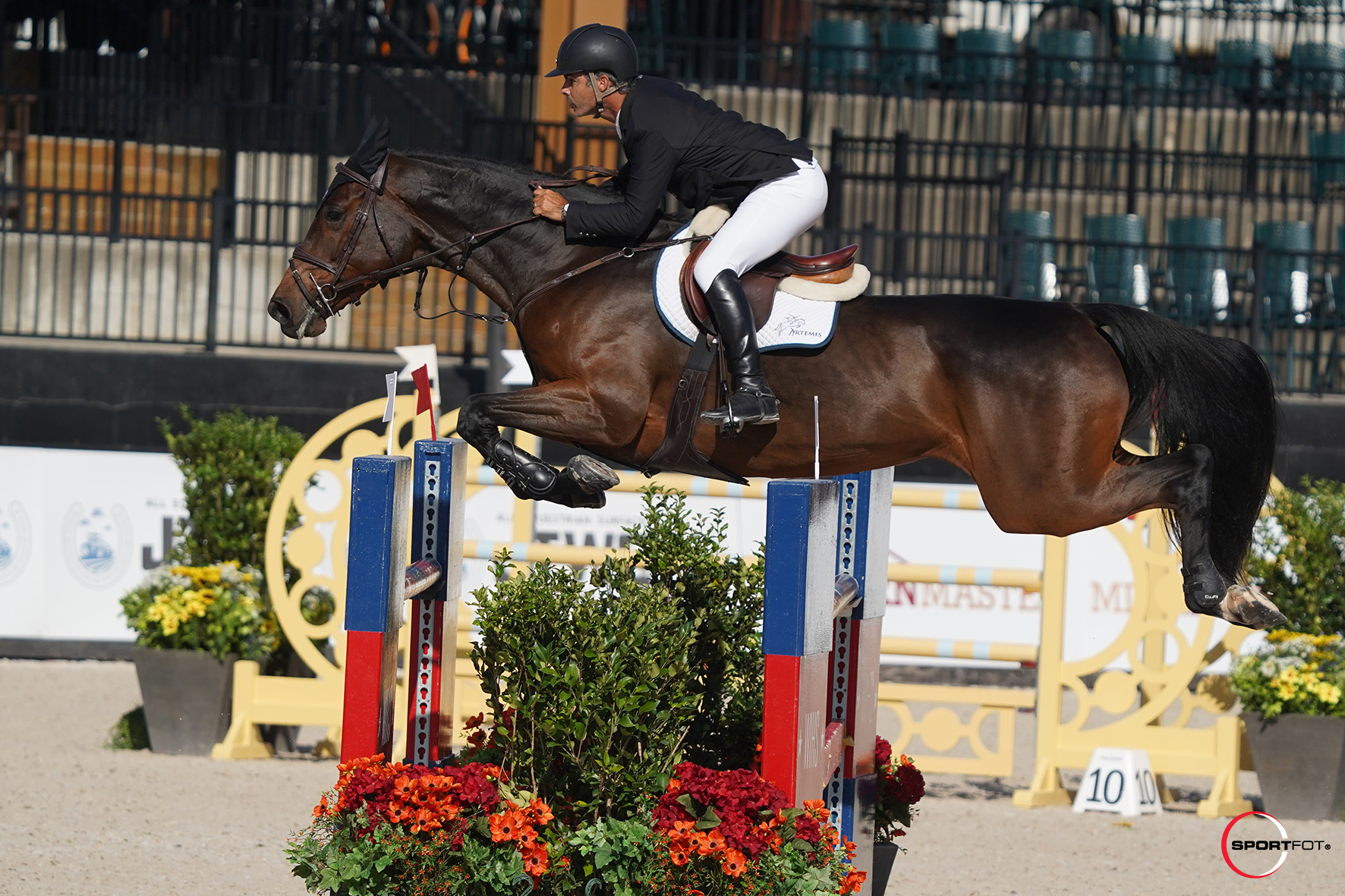 Rodrigo Pessoa and La Caramba
©Sportfot
Jumper Highlights:
Tessa Harper (Gurnee, IL) and Aarhus, owned by Lance Williamson, topped the .90m Non-Pro Jumper Division, with Maria Aljure (Washington, DC) and her own Philadelphia 54 collecting reserve for their efforts.
Leigh Nanda piloted her own mount El Casper to champion in the FarmPaint 1.15m Jumper division to represent Wilmette, IL, while Caroline Cardoza (Glencoe, IL) and Blythe Masters' Luken du Rouet received the reserve rosette on the week.
The Ken Feagin Truck & Trailer Low Children's 1.0m Jumper Division named Elizabeth Galloway (Taylors, SC) and her own F 16 champion of the division while Sadie Barnett (Wilmette, IL) and Leigh Nanda's Warpaint took home reserve honors.
Hunter Highlights:
The Marshall & Sterling Insurance Adult-Amateur Hunter 18-35 Division congratulated Taylor Kungle (Preston, CT) aboard her own Boston as its champion on the week, with reserve honors awarded to Courtney Lefebvre of Stem, NC, aboard her own Terroir.
The EquiSafe Global Green Hunter 3' Division recognized Winn Alden of Bristow, VA, as champion aboard EMO Stables' Starlit Bay, with Victoria Colvin of Loxahatchee, FL, stepping forward to receive reserve honors aboard Parker Peacock's Applaud.
Colin Syquia of Wellington, FL, and Eugenie Redman's Champion de Coeur were revealed as champions of the Foothills Hunter 2'6" Division, which also recognized Adam Sklansky (Irondale, AL) in reserve for her efforts aboard his own Cornet's Pilot.
For full division results from Tryon Fall 6, click here. 
For full results from the $25,000 Nutrena® Grand Prix, click here. 
For full results from the $20,000 Hunter Classic, click here.
For full results from the $6,000 Speed Stake CSI 4*, click here. 
The Tryon Fall Series continues through Sunday, November 1, featuring national Hunter/Jumper competition during Tryon Fall 7 to wrap up the series. All remaining 2020 competitions at TIEC are closed to spectators, with highlight classes live streaming for free at www.Tryon.com/streaming. For competition information, visit www.Tryon.com/compete. 
Photo credit ©Sportfot. Competitors can sign up for weekly packages at www.Sportfot.com. These photos may only be used once in relation to this press release with proper credit. Contact media@tryon.com with questions.
Tags:
Bacchus
,
Conja
,
Connor O'Regan
,
Conrad 119
,
EquiSafe Global
,
Erynn Ballard
,
FarmPaint
,
Hunter Classic
,
Jimmy Torano
,
Jordan Coyle
,
Ken Dickey
,
Ken Feagin Truck & Trailer
,
La Caramba
,
Laskano
,
Marshall & Sterling Insurance
,
Michael Britt-Leon
,
Molly Ashe Cawley
,
Nutrena
,
Picador
,
Private I
,
Rodrigo Pessoa
,
Speed Stake
,
Tryon Fall 6
,
Tryon Fall Series