Hunter Kay and Alright are $5,000 USHJA National Derby Winners
For Immediate Release
Mill Spring, NC – October 7, 2019 – Theo Genn (Lebanon, OH) and Taylor Reid's Boucanier came out on top in Sunday's $25,000 American Standard Grand Prix to conclude Tryon Fall 3 competition at Tryon International Equestrian Center (TIEC) at Tryon Resort, stopping the jump-off timers at 41.562 seconds. In second, Manuel Torres (Leesburg, VA) and Evermine, a 2006 Holsteiner gelding (Corofino I x Cantus) owned by Santa Catalina Farm, cleared the short course in a time of 42.062 seconds to earn reserve, while Sharn Wordley (Citra, FL) and Barnetta, his own 2004 Westphalian gelding (Baloubet Du Rouet x Polydor), received third on a score of 44.448 seconds.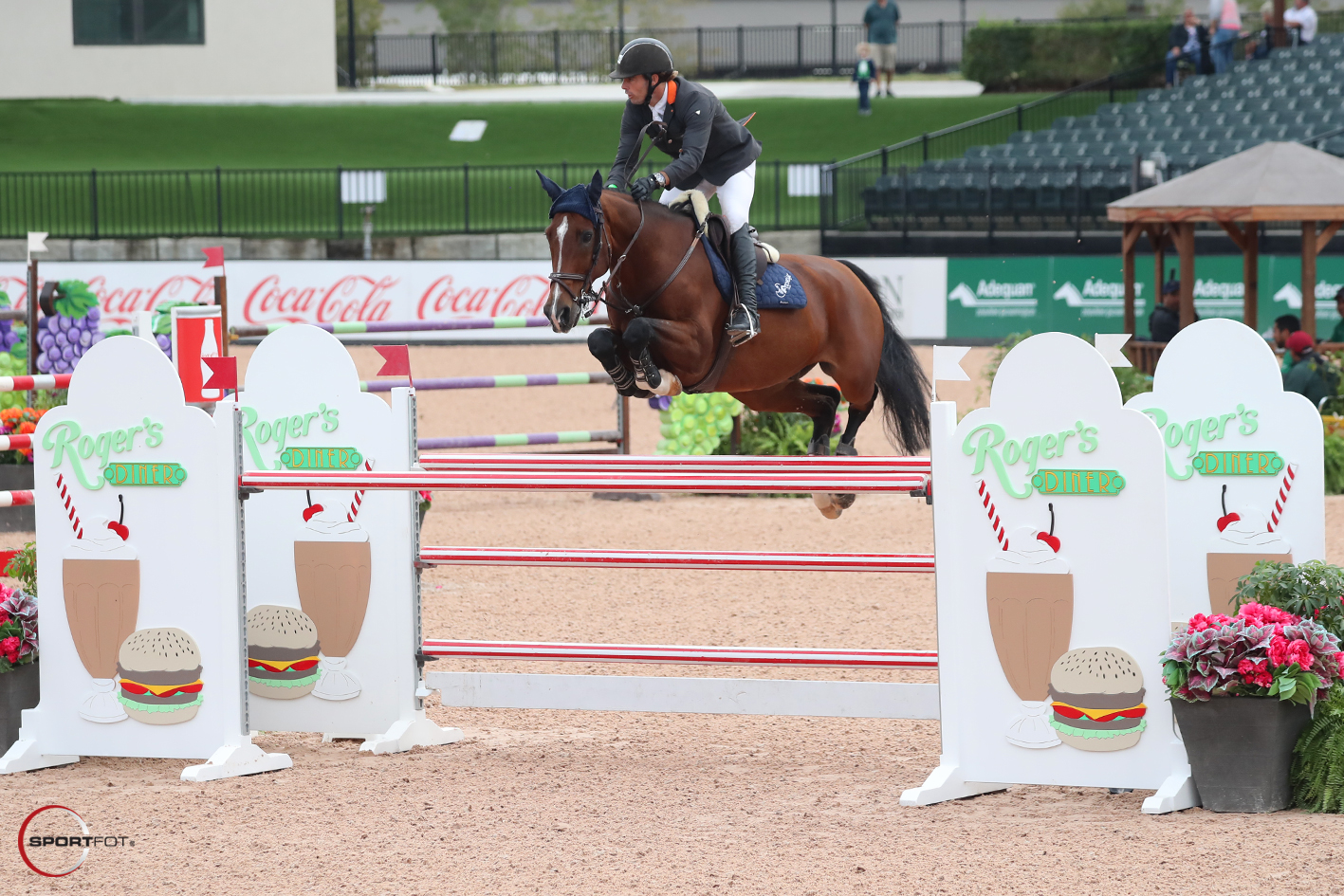 Theo Genn and Boucanier
©Sportfot
The Peter Grant (CAN) course welcomed 36 pairs on the first-round track, with nine pairs presenting for the jump-off challenge. Genn was second-to-last, and had a rough idea of what his strategy would be, but had to see what the 2006 Dutch Warmblood gelding (Ovidius x Joost) was up for, he detailed:
"For the jump-off, I only got to see the first couple go. I kind of had an idea of how fast I needed to go based on what I saw Sharn [Wordley] do when he was sitting in second. Boucanier is a naturally very fast horse – he skims a little bit across the ground – but he can get a little nervous when I go fast," Genn said. "I knew within the first two jumps whether or not I was going to be able to go for it. He popped over one and two really nicely, and listened to me when I asked him to go faster without getting nervous, so then I knew I could let it rip a little bit. Then, I just kind of went after it at every jump. I got a little lucky around a couple, but they all stayed up!"
For Genn, the win was a bit of "badly-needed" redemption following a week of stiff competition, he revealed. "Honestly, overall, it wasn't a great week for us [compared to last week]. I was having a really rough week, and was a little down! Last week, my horses were unbelievable here: it didn't matter what happened, we still ended up jumping clean. This week, even though they went around nicely, we had four faults almost every time. So, this was a nice way to end it and go home. I'm just happy. I needed that badly!"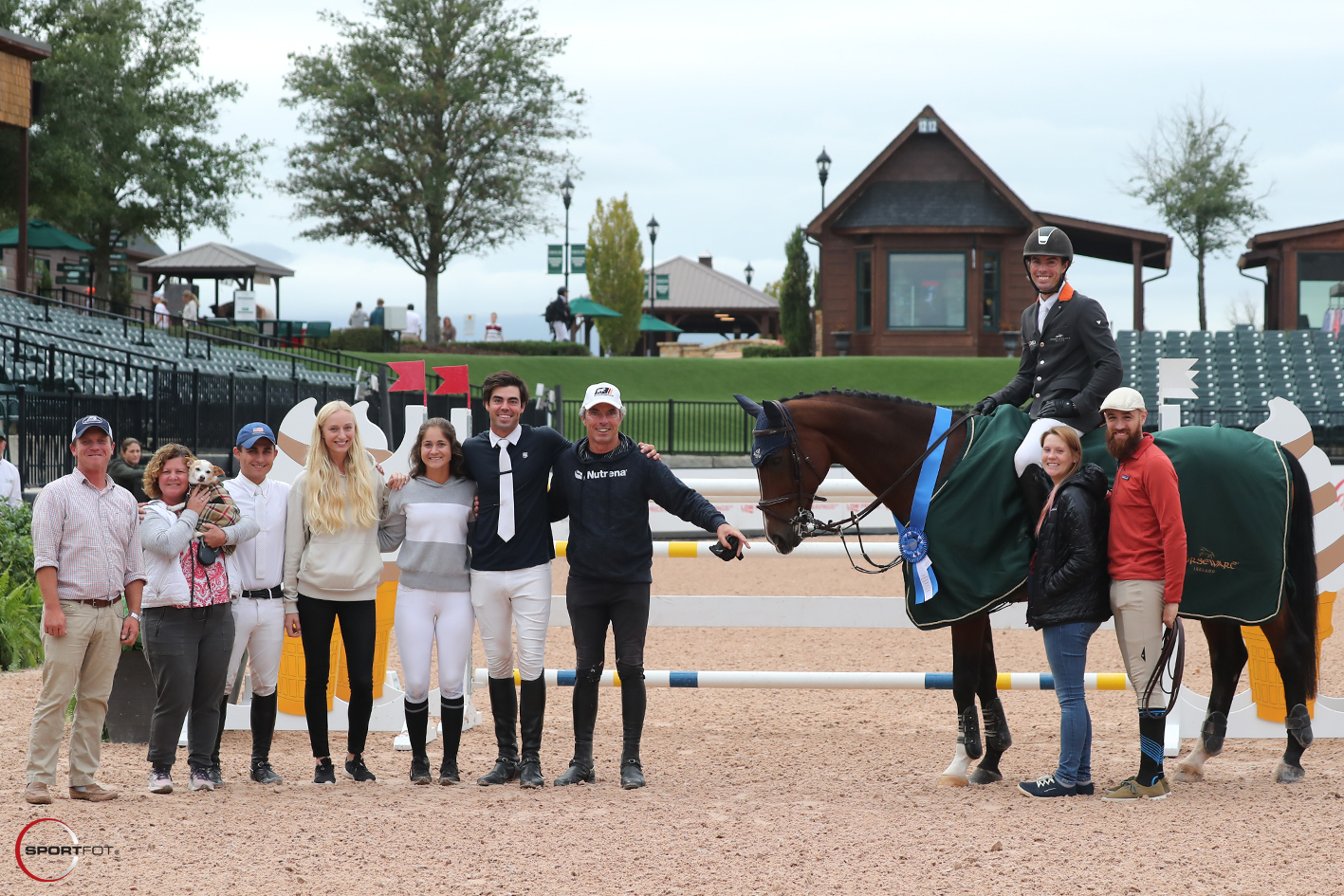 Theo Genn and Boucanier and company in their presentation ceremony alongside JP Godard, TIEC Competition Manager.
©Sportfot
Genn is currently riding Boucanier for his owner-rider, Taylor Reid, and it was particularly special that Boucanier ended up on top at TIEC, he shared. "Good friends of ours, Taylor Reid and Alex Blackman, own him along with some other horses we ride. They were here today to watch, and it's been a while since they were able to come visit, so that was really nice. Right now, Taylor is pregnant and due in four months, so I'm riding him and keeping him going, and then when she's ready she'll take him over and do him in the Junior Amateurs again."
For now, Genn and crew are headed home. "We've been on the road for three weeks now, and I don't like to show for more than three weeks in a row, so we'll go home, give the horses a little break, and then head to Florida already," concluded Genn.
Hunter Kay and Alright are $5,000 USHJA National Derby Winners
Hunter Kay (Columbia, SC) and Alright scored a two-round total of 176 to top the $5,000 USHJA National Hunter Derby at TIEC on Friday. Ashley Conkle (Wellford, SC) and Agnetta Currey's Tomcat, a 2004 Warmblood gelding (Mezcalero x Kitten), earned second with a total score of 173.5, while the yellow rosette went to Haiku, the Jo Ann Forman-owned 2011 Dutch Warmblood gelding (Advance x Utrillo van de Heffink) ridden by Aida Sanchez Long (Signal Mountain, TN), with scores totaling 169.
Hunter Kay and Alright
©Sportfot
"He's an eight-year-old gelding that we got a little bit over a year ago," Kay said of Ann Rice Ervin's 2011 Warmblood gelding with unknown breeding. "I've been doing him some in the national derbies as well as the second-year greens 3'9" divisions. He's a really sweet, easy-going guy. He's super quiet; you kind of just chuck the reins and kick! He's super fun. After this year, we're looking to move up to the international derbies in the next year, which is why I did this derby today as practice."
Alright was sitting on the edge of the podium after the first round, and Kay went into the handy round with a strategy to show off his mount's pace and efficiency, he explained. "In the first round, I was a little slow to the first jump, and when I came back for the handy I really wanted to just go for it a little bit to make up some ground, and just be efficient in my turns. I also wanted to step up the pace and show a real transition for the hand-gallop jump."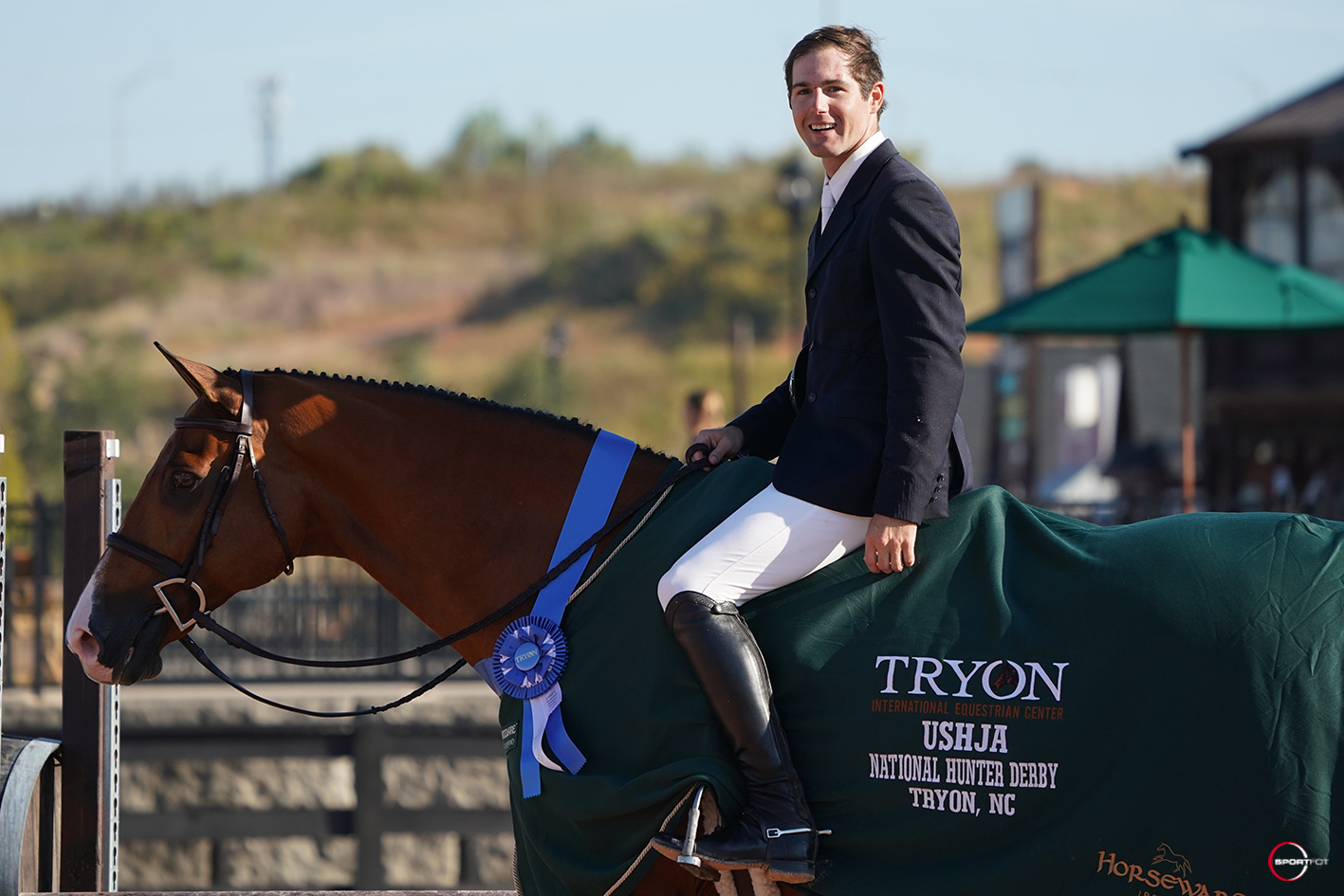 Hunter Kay and Alright in their presentation ceremony.
©Sportfot
Kay noted that TIEC is "close to home," which allows him to come just for the week to help prep Alright for competition in Raleigh and Florida going forward. "It's pretty easy to come just for one week. I really love Legends [Grille] – I go there a good bit – and Roger's Diner as well is great to go and grab a milkshake. It's nice that they have so many options here for food, as well."
Jumper Highlights:
Darragh Kerins (IRL) and Delight M-G C de Leuze, the 2009 Belgian Warmblood mare (Armitage x Vox Dei MG C De Leuze) owned by Trefoil Farm LLC, earned top honors in Friday's $5,000 Speed Stake CSI 2*, stopping the clock in 72.7 seconds to handily take the win. Johan Kachelhoffer (RSA) and his own Carlos 691, a 2009 Oldenburg gelding (Catoki x Carry Gold), claimed second in a time of 78.45, while Luiz Francisco de Azevedo (BRA) and My Way, the 2010 Oldenburger stallion (Mylord Carthago x Cassini II) owned by Hest Investment Fund Limited, produced a four-fault round in a time of 79.43 to receive third.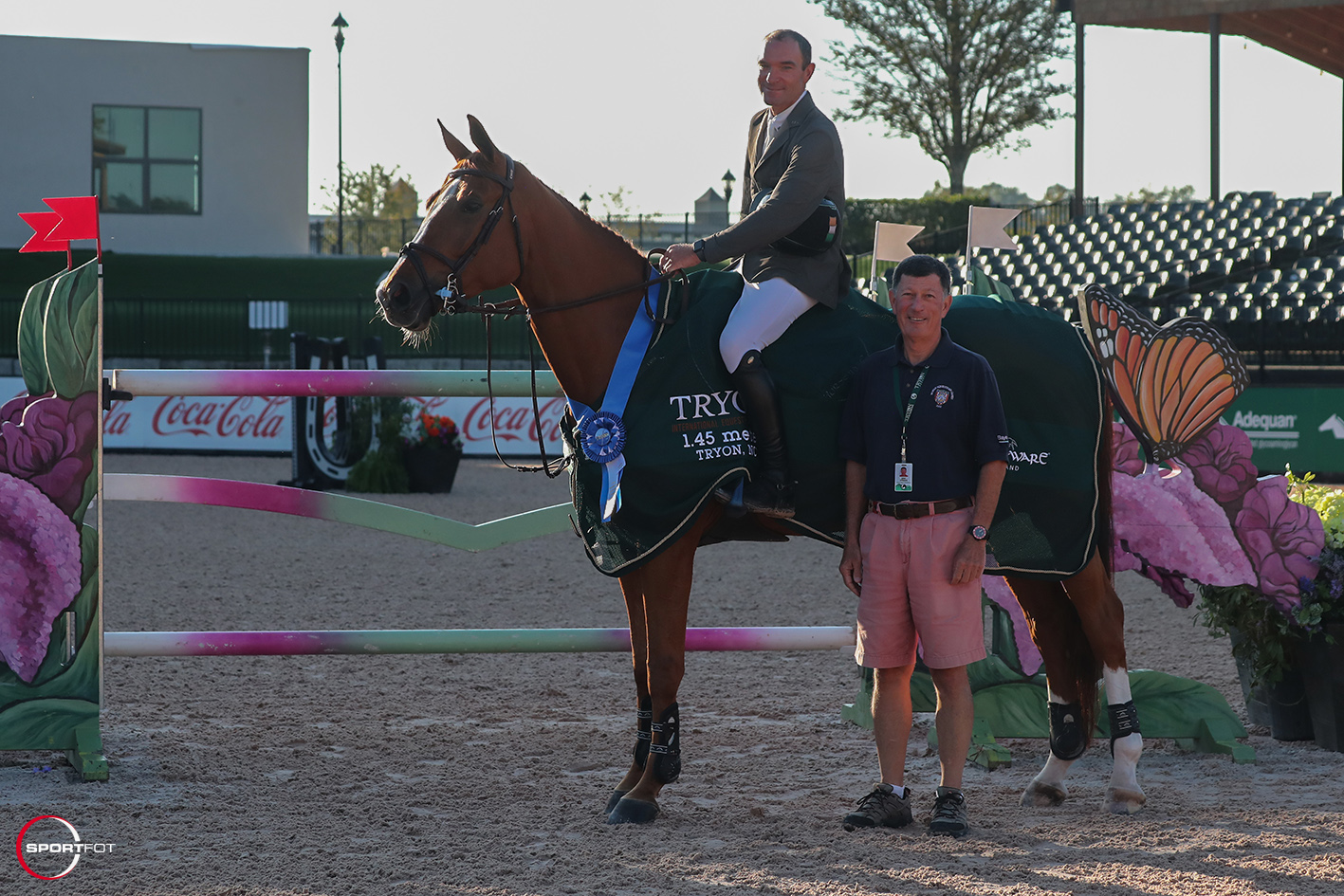 Darragh Kerins and Delight M-G C de Leuze in their presentation ceremony alongside Eric Straus, TIEC General Manager of Equestrian Operations.
©Sportfot
The Nutrena® 1.40m Open Jumper Division saw one champion and three pairs tie for reserve, with Sharn Wordley (Citra, FL) taking top honors with Cobalou, owned by Sky Group & Sharn Wordley. Reserve was named to Ryan Genn (Lebanon, OH), Peter Leone (Wellington, FL), and Lauren Balcomb (Citra, FL), riding Bridlebourne Stables LLC's Colora, Ciara Charcamm Z for Gabriella Greco, and Lauren Balcomb's own Verdini D'Houtveld Z, respectively.
Brooke Kemper (Culpeper, VA) and Rocket J Squirrel, owned by Thinks Like A Horse, claimed champion in the CaptiveOne Advisors 1.20m Open Jumper Division, while reserve went to Amy Shafmaster (Newington, NH) and her own Basje.
Alexa Lowe (Upperville, VA) piloted VDL Heros to champion in the Developing Jumper Series 7-Year-Old Young Jumper 1.30m-1.35m Division for Windsor Farm Sales, with Hunter Holloway (Topeka, KS) earning reserve aboard Cesna M for HB Investments.
Kay Lawson and her own Payback dominated the Tryon Estates Adult-Amateur 1.10m Jumper Division, with reserve going to Bonnie Orlowski (New York, NY) aboard her own Eyecatcher.
Hunter Highlights:
Hunter Kay (Wellford, SC) and Madeline Grebow's Hamilton claimed the Absorbine® Green Hunter 3' Division, with reserve named to Donald Sheehan of Maryville, TN, aboard Kashmere Farms LLC's entry, Indian Ocean.
Sara Steady (Greensboro, NC) and her own Skywalker finished out the Amateur-Owner Hunter 3'3" Division as champion, joined in recognition by Devon Degen (Water Mill, NY) riding Zippo for Degenmoor Farm Inc.
In the Children's Pony Hunter Division, Sandman was awarded champion with Avery Smith (Milton, GA) in the irons for Molly Segars, while Alexandra Rowe (Alpharetta, GA) rode Morgan Ashby's Beatrix Potter to reserve.
The Foothills Child/Adult Hunter 2' Division congratulated Kolbie Watson of Youngsville, NC, as champion riding X's and Bow's for Caia Watridge, and Melissa Duran (Wake Forest, NC) steered her own Guilty As Charged to reserve.
Gabriella Morin (McLean, VA) and Emily Morin's Ace of Spades were victorious in the Junior Hunter 3'6" Division, with Claudia Levi (Farragut, TN) taking reserve aboard her own Hollister.
To view all Division Results from Tryon Fall 3, click here.
For full results from the $25,000 American Standard Grand Prix, click here.
For full results from the $5,000 USHJA National Hunter Derby, click here.
Photo credit ©Sportfot. These photos may only be used once in relation to this press release with proper credit. Contact media@tryon.com with questions.