Wilhelm Genn and Van Gogh Victorious in $15,000 Horseware Ireland Welcome Stake
For Immediate Release
Mill Spring, NC – September 28, 2020 – Matt Cyphert (Northlake, TX) and his own Lochinvar cleared the jump-off in 38.974 seconds to take home the win in Saturday's $30,000 Tryon Resort Grand Prix at Tryon International Equestrian Center (TIEC). In second, John Angus (Fort Lauderdale, FL) and W. Tonix Hero, the 2003 Dutch Warmblood gelding (Ogano Sitte x Major de la Cour) owned by Stephanie Angus, stopped the timers in 38.998 seconds, while Bryn Sadler (Santa Fe, NM) and Cinven CR, the 2007 Holsteiner gelding (Clearway x Coronado) owned by Showcase 81 LLC, collected third place on a time of 41.178 seconds.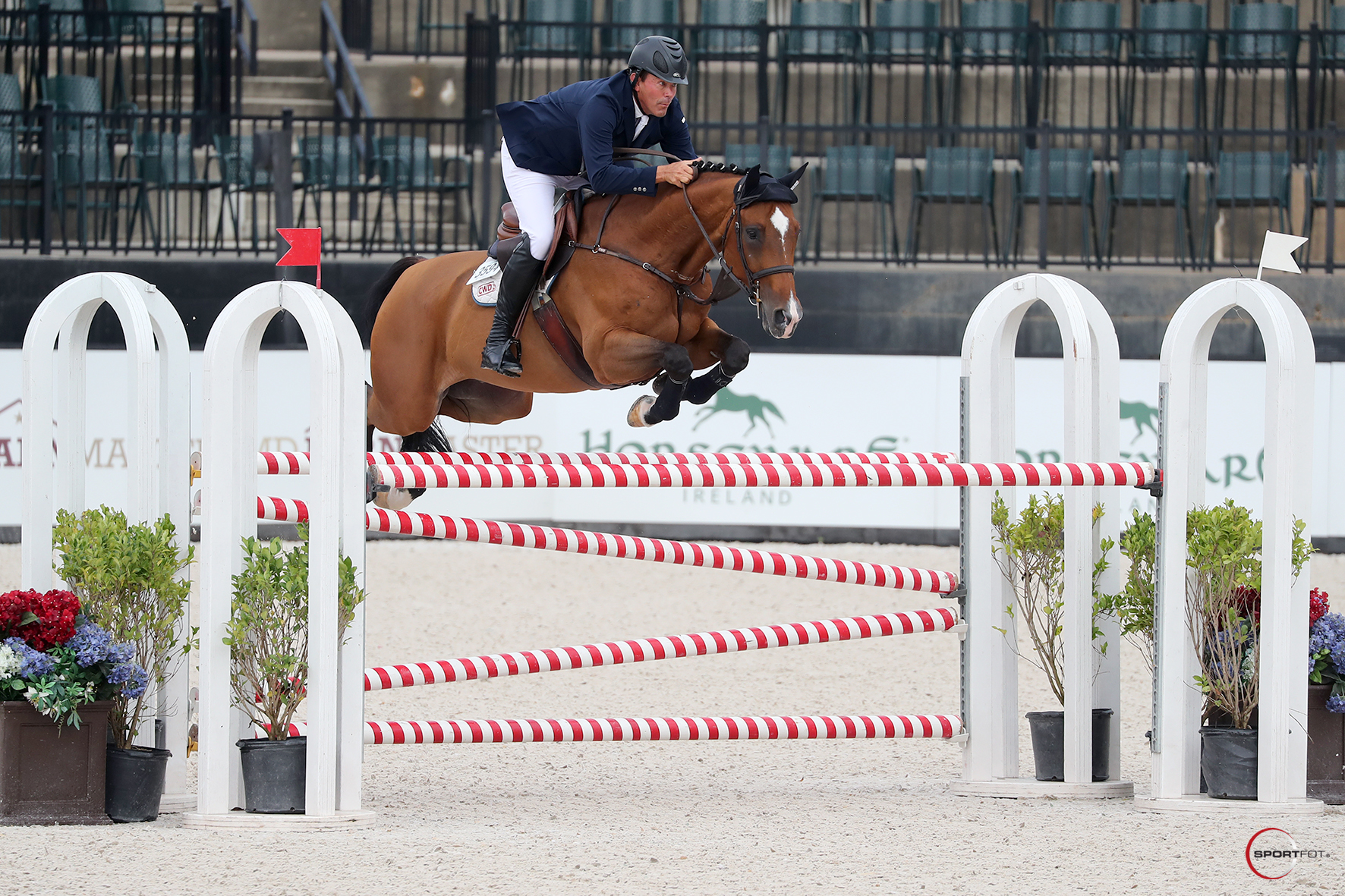 Matt Cyphert and Lochinvar
©Sportfot
The Peter Grant (CAN) course design saw 34 pairs challenge the first round of competition, with 12 entries returning for the jump-off track. Cyphert and the 2004 gelding (Karamiro x L'espirit) were able to capture a tight time set by Angus by putting in a smooth round, he reported:
"He's a superstar horse! He's the best horse I've ever ridden, and I'm old enough to know that by now. I'm fortunate with him as he's really naturally fast. He's quick across the ground and has a big step. He's also really good at reading the jumps," Cyphert added. "He doesn't spend a lot of time in the air. I felt like if I followed the right track, there were enough places where I could run across the ring and use the speed to my benefit. I tell my clients all of the time that smooth is fast."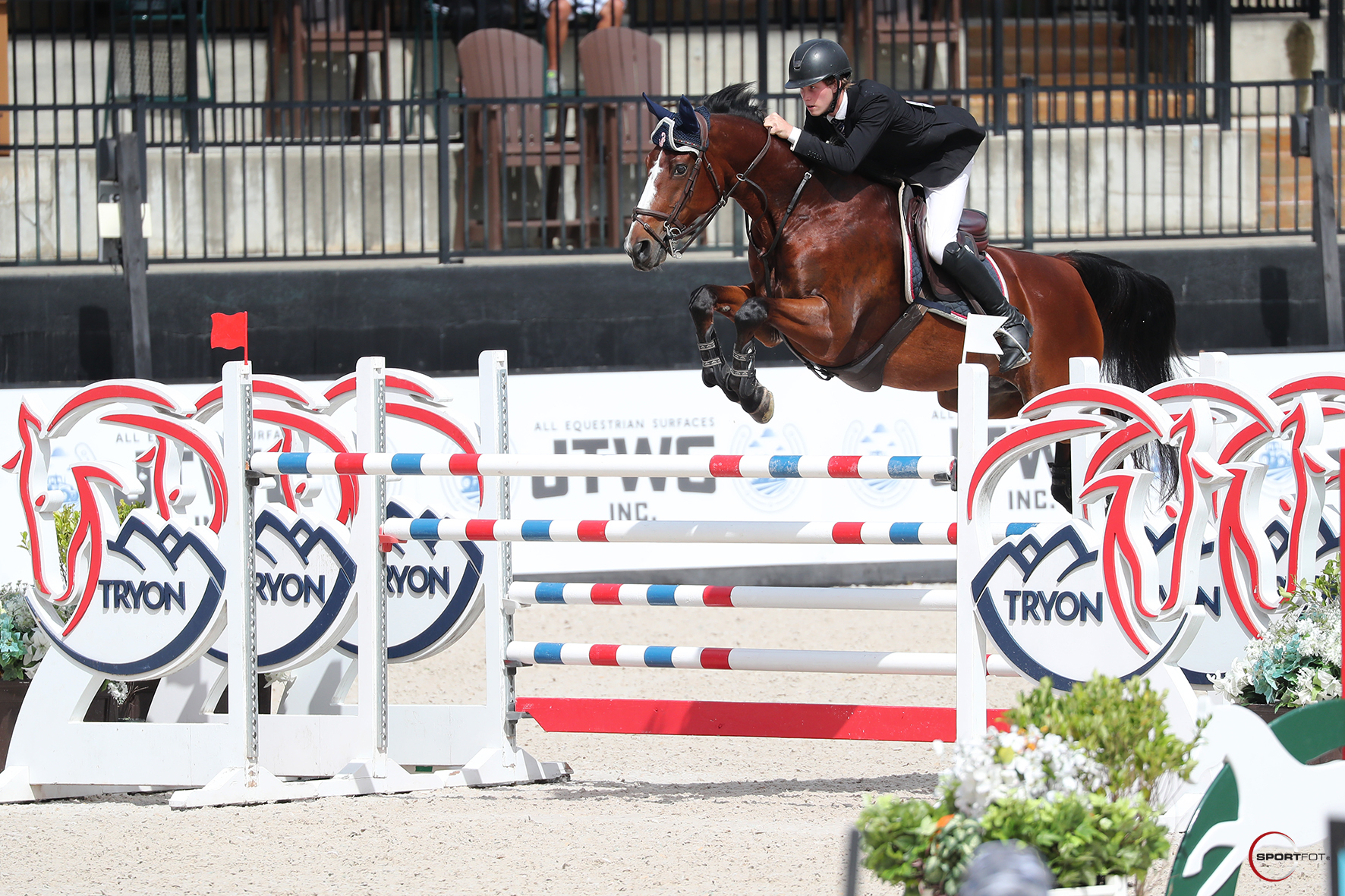 John Angus and W. Tonix Hero
©Sportfot
Cyphert and Lochinvar have been together for a decade, he revealed, and noted his competitive streak has not faded over the years. "I've had him since he was five, and he's now sixteen. He's timeless. He was absolutely ridiculous going up to the Grand Prix check-in yesterday… He was bouncing around like a five-year-old! He just loves what he does. He understands that it's a game, and gets that it's a competition. He loves the sport as much as I do. It's really neat to feel that when you're on him," Cyphert shared.
"The footing is fantastic, and they jump so well on it," Cyphert said of the recently re-engineered footing in Tryon Stadium. "My horse probably hadn't jumped that big in about a year, but it was so easy for him because of how good the footing was. It's also a very quick footing. You can get across the ring, and they dig in and feel confident on it."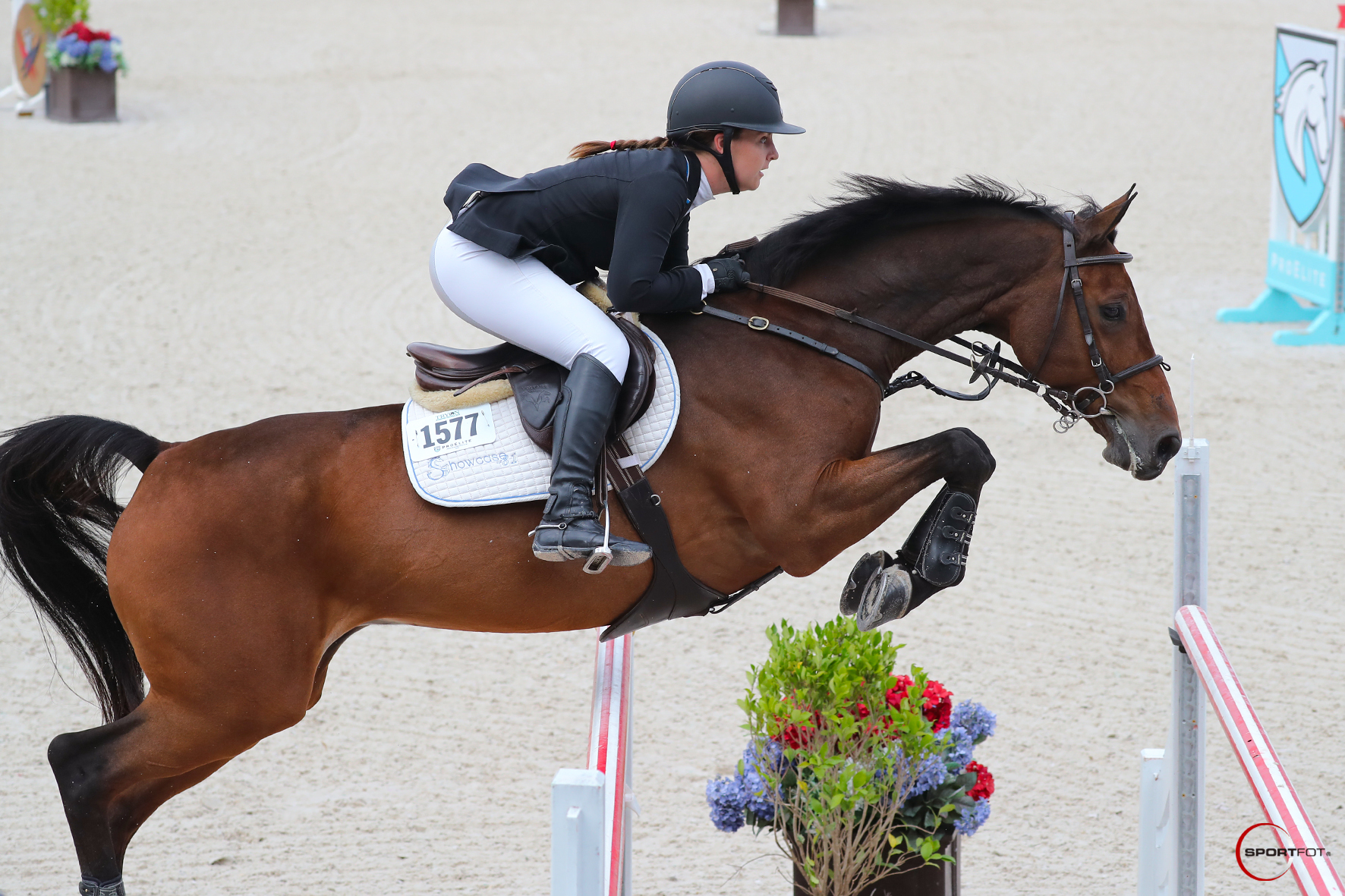 Bryn Sadler and Cinven CR
©Sportfot
With so many horse shows this season canceled or postponed, Cyphert explained that he's taken a unique approach to competition by splitting his time between two venues at once. "I'm actually splitting my time between here and Capitol Challenge. I showed here on Wednesday, then I flew to Ohio and did two days of Capitol Challenge, and then flew back last night. It's a little bit of a crazy schedule, but we're making it work!"
Making it work requires a great team, Cyphert emphasized. "I work with an amazing person named Audrey Norrell. She took care of things here, helped the clients, and rode him [Lochinvar] this week. It was so nice knowing that things would be taken care of and he would be prepared for this class. I want to give her a lot of the credit for how well he went today. I'm very lucky to have such a good support team."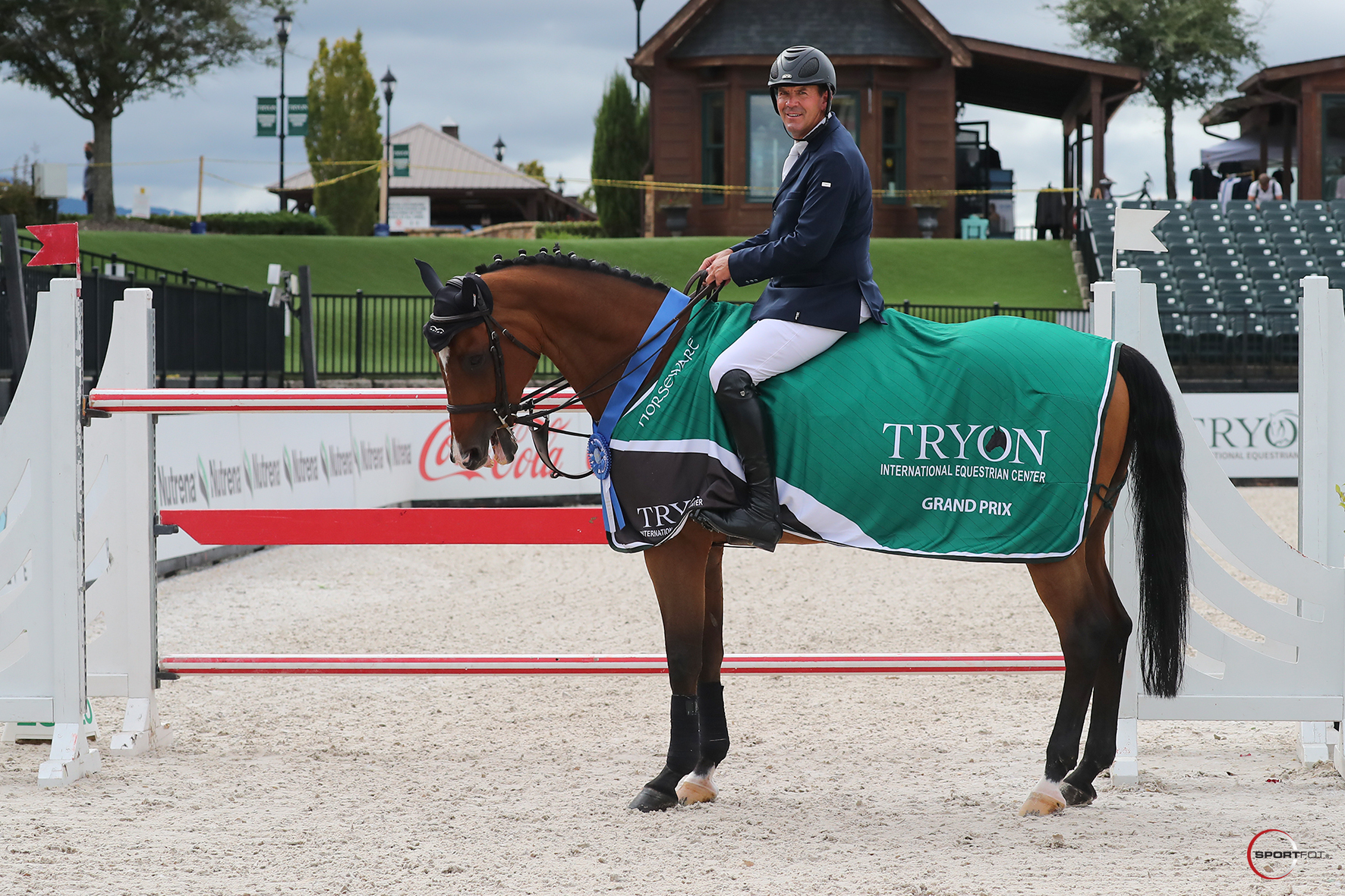 Matt Cyphert and Lochinvar
©Sportfot
Though Cyphert and his team will stick close to home for the remainder of the year, he shared, TIEC is a regular venue on his show schedule. "It was sure nice to make the trip out here and see this place again. For it to be successful is even better! We love the people who run this horse show, and it's a very competent and friendly staff. It's so refreshing to come here every year. It's a beautiful part of the country and makes all of our clients happy. We're having a great time. I wish we could stay longer!"
Wilhelm Genn and Van Gogh Victorious in $15,000 Horseware Ireland Welcome Stake
September 24, 2020 – Thursday's $15,000 Horseware Ireland Welcome Stake saw Wilhelm Genn (Lebanon, OH) pilot Van Gogh to victory in Tryon Stadium, stopping the jump-off timers at 44.409 seconds. Brittni Raflowitz (Palm City, FL) and Hilton van de Breepoel, the 2007 Belgian Warmblood gelding (Contact Van de Heffinck x Opium) owned by ESI Show Jumpers, Maarten Huygens & Darragh Kerins, claimed second on a time of 44.898 seconds, while third place went to Ramiro Quintana (Wellington, FL) and GQ, the 2011 Dutch Warmblood gelding (Contago x Cinderella) owned by Miriam McClure Adam, after their 45.634-second performance.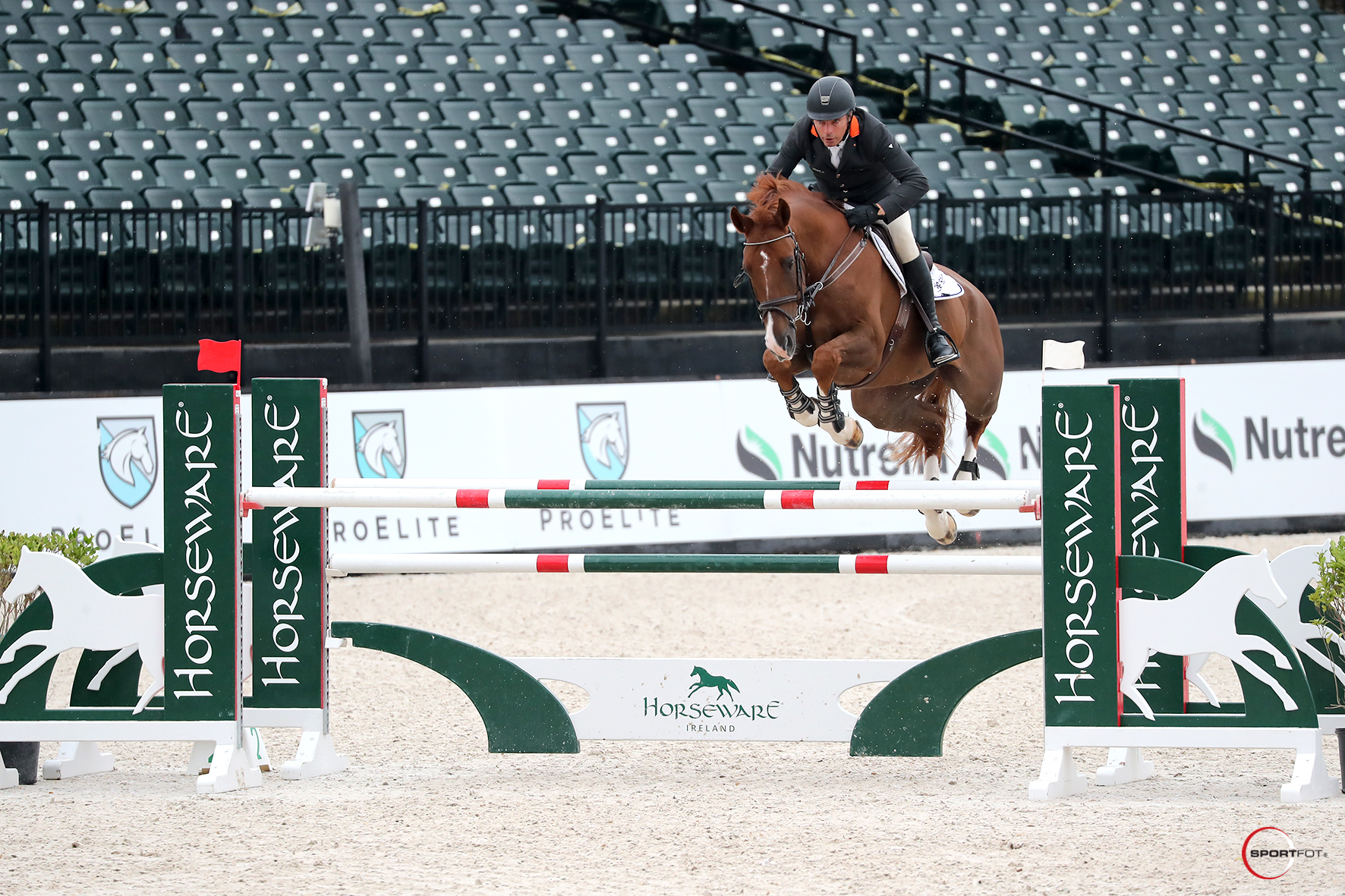 Wilhelm Genn and Van Gogh
©Sportfot
One of 27 entries in the first round and one of ten pairs to qualify for the short course over the Peter Grant (CAN) track, Genn explained that he was aiming for an efficient double-clear, but not necessarily the win with the 2008 Oldenburg gelding (Valentino x Caretano Z) owned in partnership with Patty Genn:
"He's not a quick horse. He jumps a lot of clean rounds, but he's not quick. So, for me, I like to start the course as fast as I finish. My goal for today, because I didn't want to ruin my rideability for Saturday, was to have a nice double-clean, and to be efficient," Genn detailed. "I wanted to get a good check hopefully if I stayed double-clear, but the goal is to win on Saturday. Winning today was a nice bonus! In the first round, I realized that in the jump-off I could do one less stride from 6A-B to 7. He's a good turner, so it just came up nicely.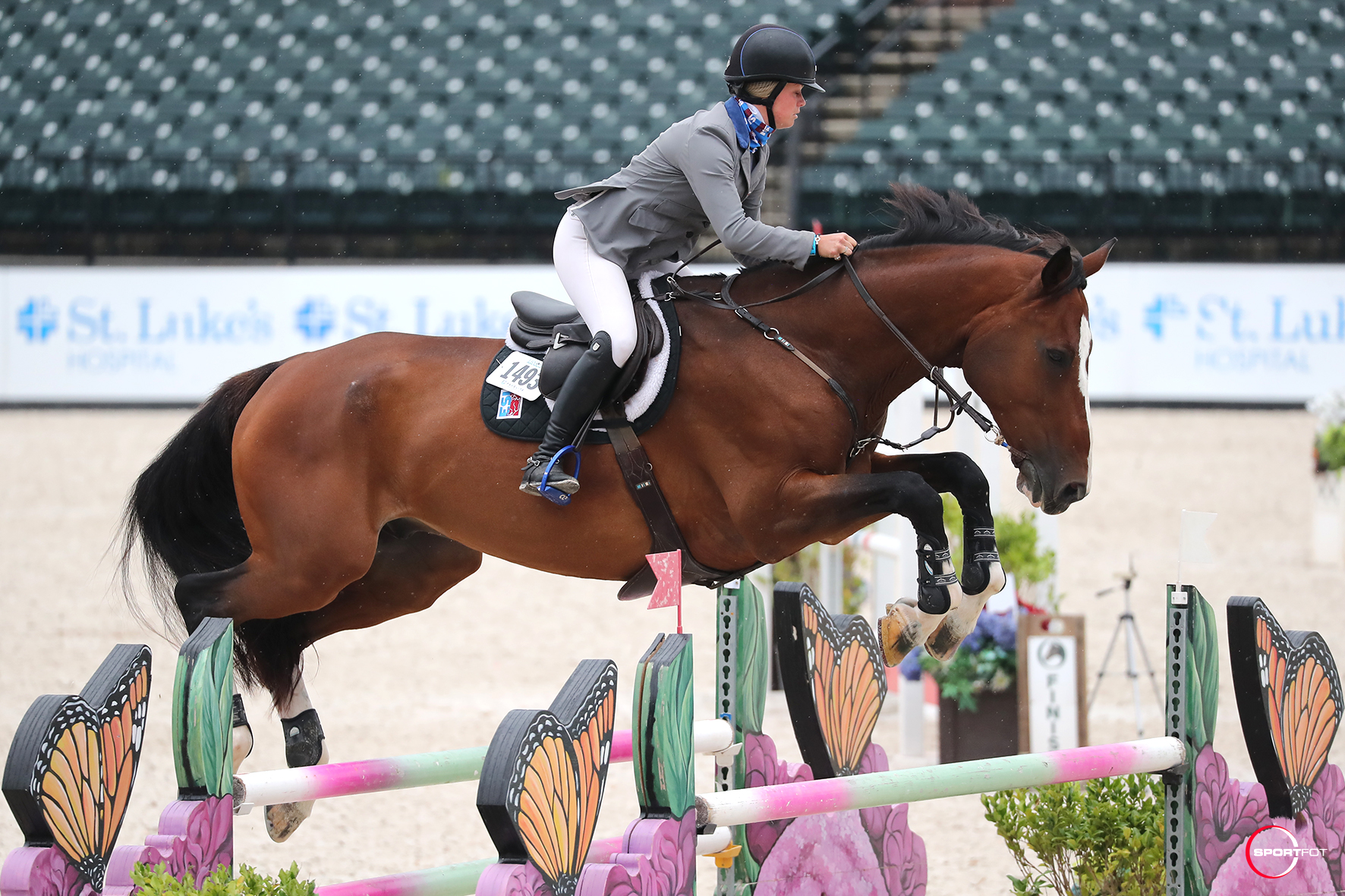 Brittni Raflowitz and Hilton van de Breepoel
©Sportfot
"The course rode well, and it was well-built. At 1.40m, it can be tough to build with such a good group of horses and riders," Genn admitted. "When he [Grant] shortened the time by six seconds, that obviously changed things a little bit, because you're pressed to ride faster and you'll pull more rails with that. It was a very nice and inviting course, and the footing was good."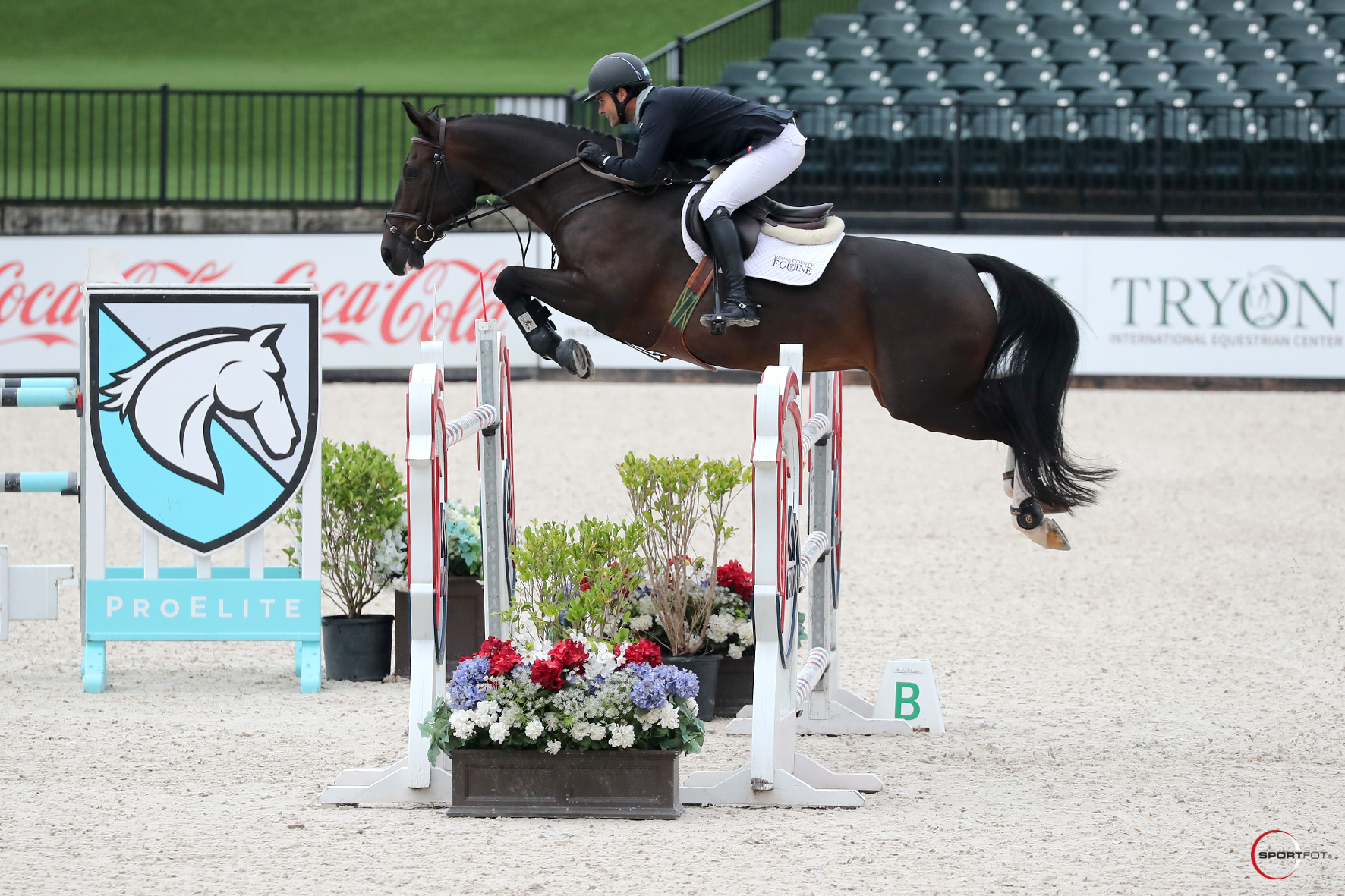 Ramiro Quintana and GQ
©Sportfot
Genn and family have been taking things easy this season due to COVID-19, he reported, and will continue to play their competition plans by ear. "We came home from Palm Beach [last winter] and didn't show, like everyone else. We wanted to get a feel for how the horse shows were changing, and so we were kind of patient. We showed in Traverse City for two weeks, and then we did Kentucky, and then we stayed home for two months. This is our first show back. Going forward, we're not rushing into anything, either. We're going to take it easy. We may not show again til Florida! It's a strange year, but everybody has to adjust to the new normal," he concluded.
Hunter highlights:
The EquiSafe Global Green Hunter 3' Division saw Harold Chopping (Southern Pines, NC) and Halston champion the week for owners Rick Gabel and Carole O'Brien, while Tommi Clark (Tryon, NC) piloted Amber Hill Farm's Balou du Joule to reserve.
Chopping was also named champion in the High Performance Hunter 4' Division, this time riding Catchphrase for Barbara Scott. Christina Fisher (Alpharetta, GA) and her own Levland claimed reserve on the week.
Parker Peacock (Winston Salem, NC) and mount C.E. Remarkable championed the Medium Pony Hunter Division, with reserve going to Haily Guidry (Metairie, LA) and the Honor Hill Farm LLC entry, Whispering Marquis.
Jumper highlights:
The JTWG, Inc. 1.30m Open Jumper Division resulted in top honors for Julia Curtis (Villa Rica, GA) riding her own Kennedy VD Rechri, with reserve named to Rebecca Conway (Wellington, FL) and Con Coleur, owned by Blue Hill Farm, LLC.
Lynsey Whitacre (Saint Joseph, MO) and her own mount Stand By Me were champions in the 1.15m Non-Pro Jumper Division, with Daniel Kerins (Wellington, FL) earning reserve aboard Superstition for Andra Sinclair.
The 1.20m Open Jumper Division went to Todd Minikus (Lake Worth, FL) and Carlos Santana for Emma Brunell. In reserve, Heather Steinman (Canton, GA) rode Alexandra Doyle's First Lady BH.
For full results from all divisions, click here.
For full results from the $15,000 Horseware Ireland Welcome Stake, click here. 
For full results from the $30,000 Tryon Resort Grand Prix, click here. 
The Tryon Fall Series continues through November 1,  five more weeks of Hunter/Jumper competition to come. Competition information can be found at www.Tryon.com/compete. While all remaining 2020 competitions are closed to spectators, highlight classes are being live streamed for free at www.Tryon.com/streaming.
Photo credit ©Sportfot. Competitors can sign up for weekly packages at www.Sportfot.com. These photos may only be used once in relation to this press release with proper credit. Contact media@tryon.com with questions.
Tags:
Brittni Raflowitz
,
Bryn Sadler
,
Christina Fisher
,
Cinven CR
,
Daniel Kerins
,
EquiSafe Global
,
GQ
,
Harold Chopping
,
Hilton van de Breepoel
,
Horseware Ireland Welcome Stake
,
John Angus
,
Lochinvar
,
Matt Cyphert
,
Ramiro Quintana
,
Rebecca Conway
,
Todd Minikus
,
Tommi Clark
,
Tryon Fall 2
,
Tryon Fall Series
,
Van Gogh
,
W. Tonix Hero
,
Wilhelm Genn