Donna Crookston Aces Advanced Single Horse Division
Raymond Helmuth Drives to Preliminary Single Horse Win
For Immediate Release
Sarah Madden for TIEC
Mill Spring, NC – October 1, 2021 – The Tryon CDE presented by Main Street Insurance hosted combined driving competitors at Tryon International Equestrian Center & Resort (TIEC) September 26-29, featuring three phases of competition over three days. Dressage and Cones phases of competition were hosted in Rings 6/7 at TIEC, while Marathon competition took place on the White Oak Cross-Country Course. Read below to hear from competitors and view results.
Donna Crookston Aces Advanced Single Horse Division
Donna Crookston (PA) drove to a win in the Advanced Single Horse Division of the Tryon CDE presented by Main Street Insurance, topping the biggest section of competitors at the second-ever fall CDE competition. Crookston took second place in both the Dressage and Marathon phases before dominating Cones competition to finish on a score of 146.70 for the win. In reserve, South Carolina's Taylor Bradish ended her weekend on a score of 147.67, while third place went to Carrie Ostrowski (KY), who drove to a final score of 158.81 after three phases of competition.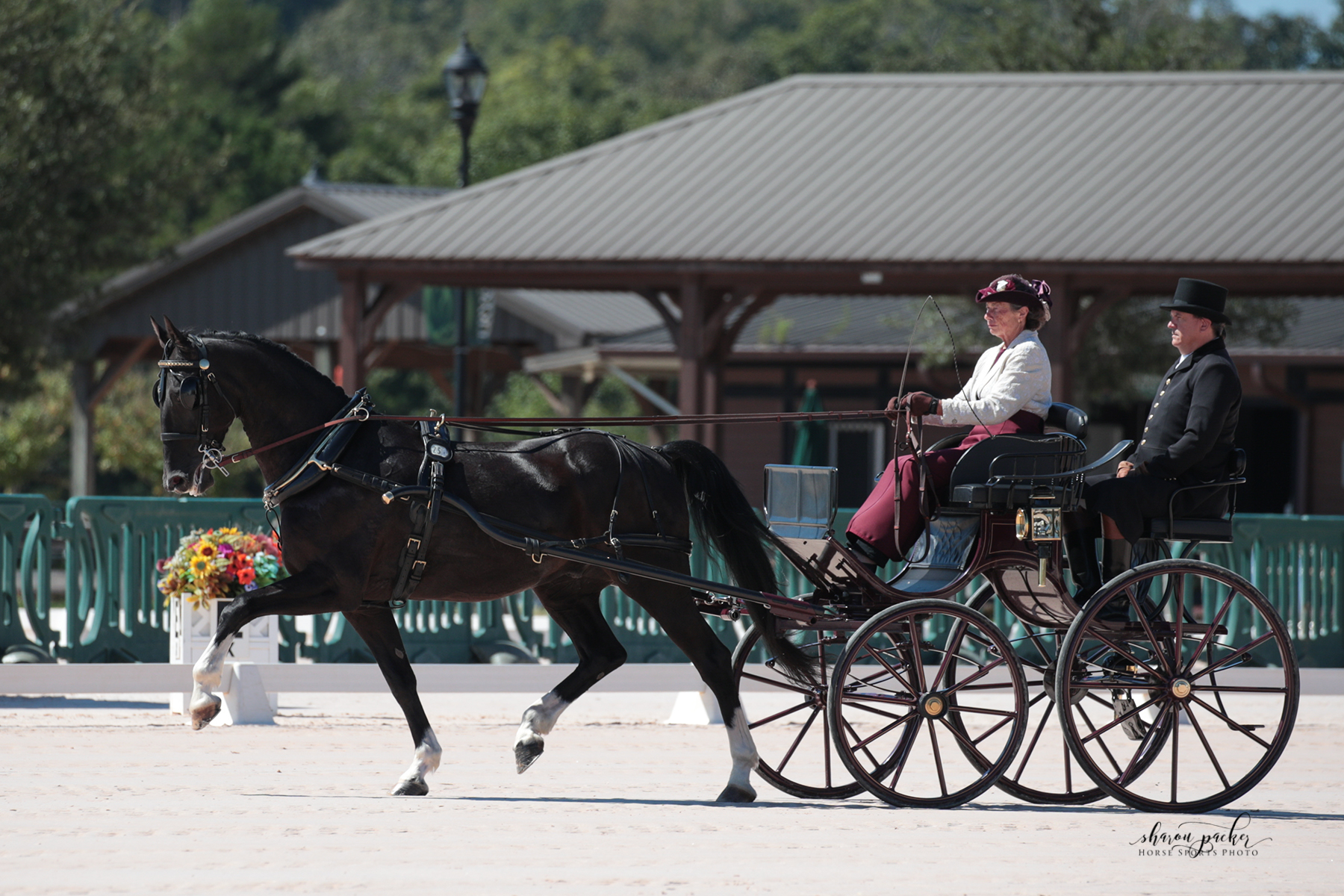 Donna Crookston
©Sharon Packer Photography
Crookston was pleased with how the weekend unfolded, particularly since it was her first competition attempt at a new 3* Dressage test, she shared:
"I'm very, very happy with my horse. Dressage went well, much better than I expected for our first time doing the new 3* canter test. He was very, very good and we ended up second in Dressage. I was very happy with that."
Crookston also earned reserve honors in the Marathon competition, and she noted that she was thrilled to be just behind Bradish, known for her Marathon performances.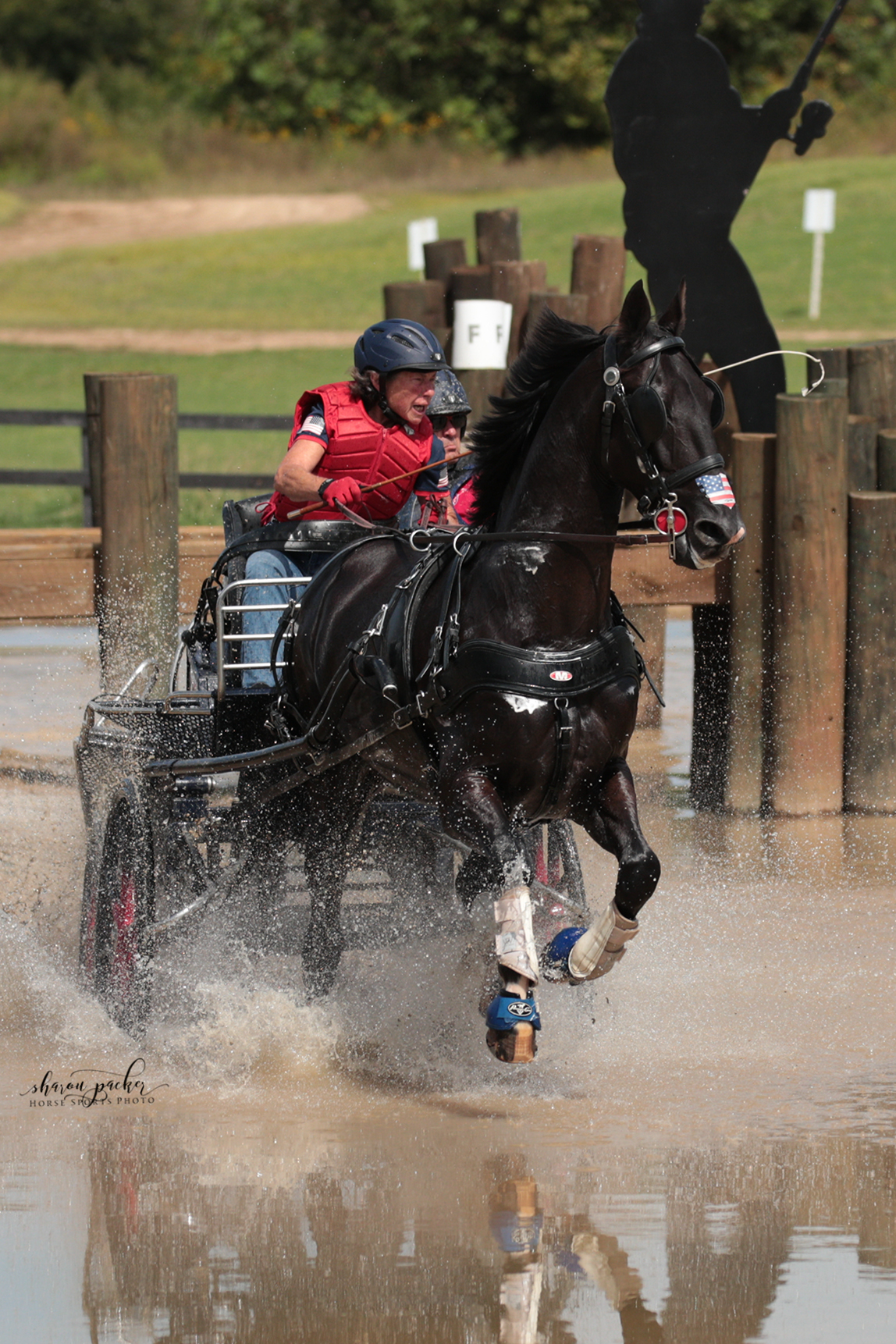 Donna Crookston
©Sharon Packer Photography
"On Marathon, he was super. We won three hazards and were second at one of them. He loves to run in the water, so he obviously won those water hazards! I think we were only four points behind Taylor [Bradish], which was quite good, I thought."
The domination continued in the Cones phase, where Crookston clinched the win on the weekend and concluded what she had hoped would be a successful and educational weekend for herself and her horse before challenging the Garden State CDE, hosting the USEF Advanced Single Horse National Championships for 2021.
"I've shown here a couple of times now, and this was our first selection trial for next year's World Championships, but primarily I wanted to get down here to compete that new 3* test, because Garden State is in a few weeks and that's our national championship.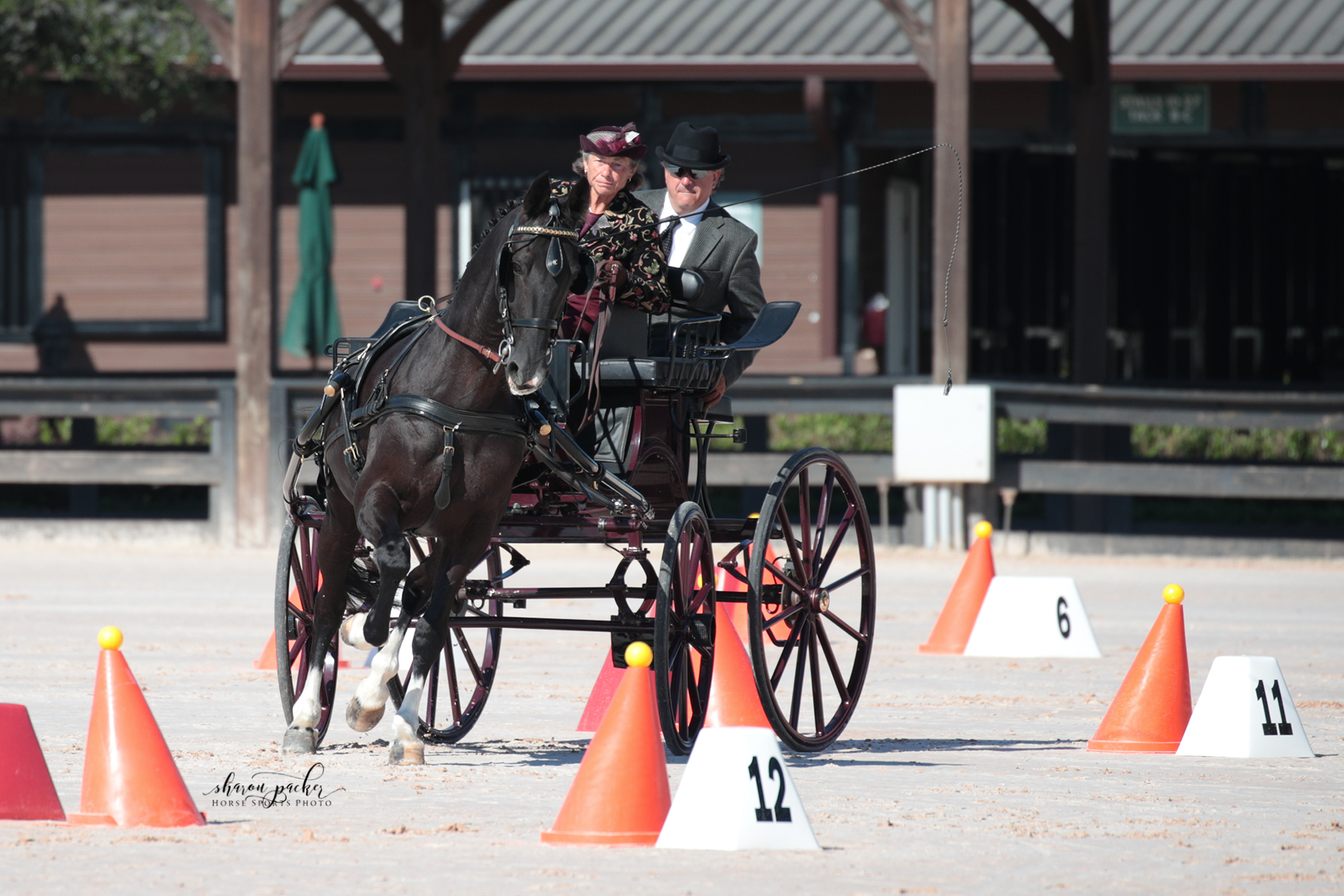 Donna Crookston
©Sharon Packer Photography
"Being here has helped me prepare really, really well. The obstacles here are absolutely super, and the footing is fabulous. You couldn't ask for anything better, so it's a great place to have the horse come and get a good experience. The stabling is great, too." Crookston concluded, "The horses seem to be very comfortable here, and everything is very convenient. It's very nice to be able to come and have everything on-site. Hopefully we will be able to keep coming down here and using this facility for Driving because it's just such a great place."
Raymond Helmuth Drives to Preliminary Single Horse Win
Raymond Helmuth (IA) competed in both the Advanced and Preliminary Single Horse Divisions during the Tryon CDE, and won his Preliminary competition with a horse who hasn't competed in more than two years, while also laying the groundwork for a chance at contesting the World Championship in 2022, he revealed.
"I'm very proud of my horses. It was just a fantastic weekend. This is his second competition – he really hasn't done anything for the last two and a half years, so you can pretty much call it his second competition ever – and he was super in all three phases. He really caught on well, and was just fantastic. It was just really, really nice. I loved the facility."
Raymond Helmuth
©Sharon Packer Photography
Helmuth noted that despite a technical course, his mount grew in confidence and skill as the track progressed, for a positive learning experience all around: "There were definitely some hazards that were technical and a little challenging, but I definitely like a challenge," he emphasized. "It was a great course. It tested my driving skills as well as his ability to take it on. About halfway through, he definitely caught on and I was so proud of him."
In addition to getting one horse back in the competition rings, Helmuth decided to challenge his former Preliminary/Intermediate horse with a debut at the Advanced Division – for himself, too.
"It was his first time doing Advanced and my first time doing Advanced. He was the Prelim Single Horse USEF Champion, and then this last winter in Florida he was unbeaten in Intermediate, so I decided I might as well go ahead and see how Advanced went!"
The duo finished fourth in the Advanced Single Horse Division, and Helmuth was pleased with what he learned about himself and his horse.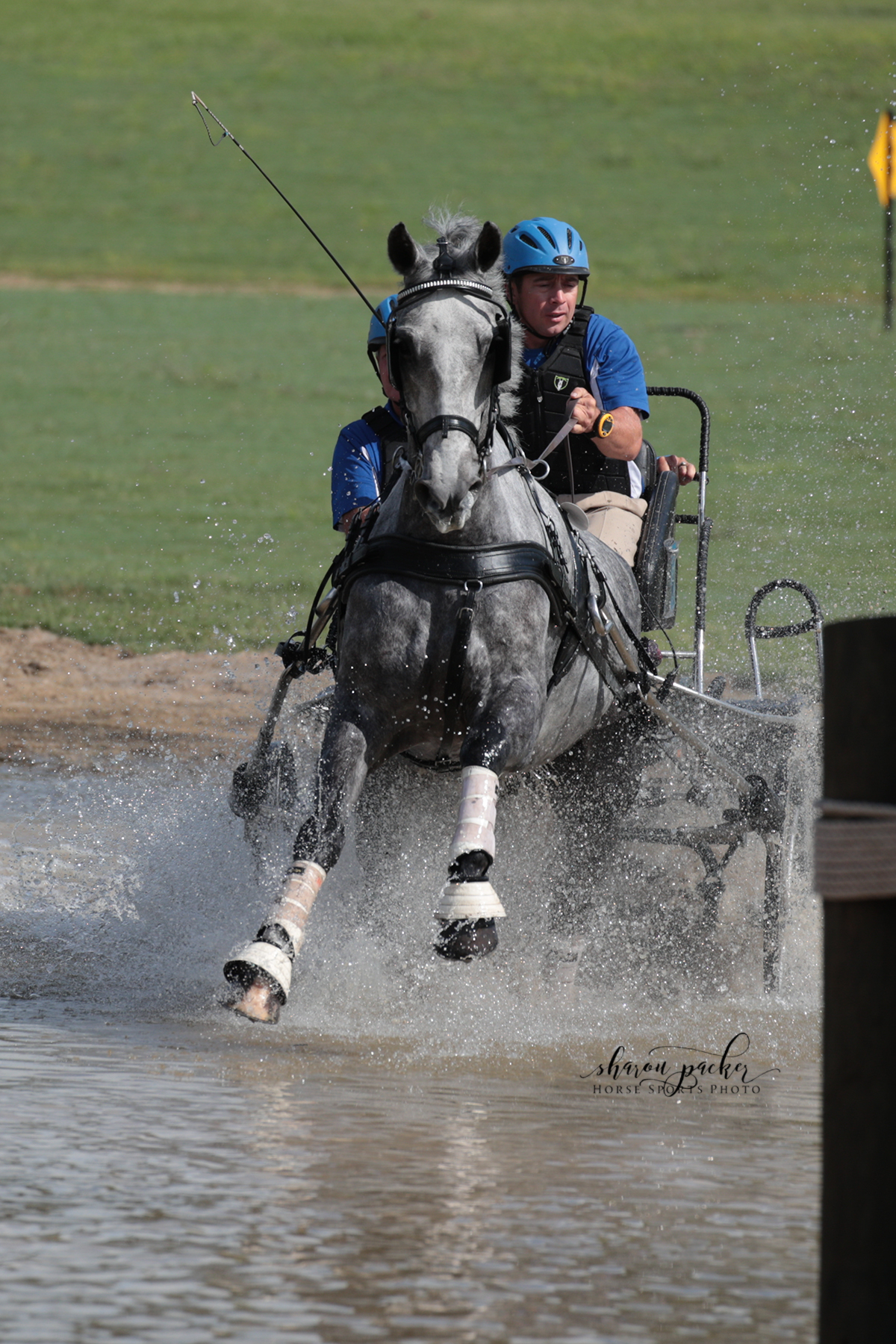 Raymond Helmuth
©Sharon Packer Photography
"He gave me some super good moments in Dressage. There is plenty to work on, but he definitely has the talent to do it. For the Marathon phase, I definitely wasn't driving as well as I can. I think I felt the pressure of that level, so there were some hazards that were not as smooth as I would've wanted," Helmuth admitted. "The last three [hazards], he was really good, and took them on. He was excellent, for his first time, and for traveling that far he recovered well and I was so, so pleased."
Like many Tryon CDE competitors, Helmuth heard of TIEC's impressive facility and was curious to compete for the first time at the venue, personally encouraged to enter based on lower-than-expected entries. Helmuth couldn't ignore the educational value of such an experience, he concluded.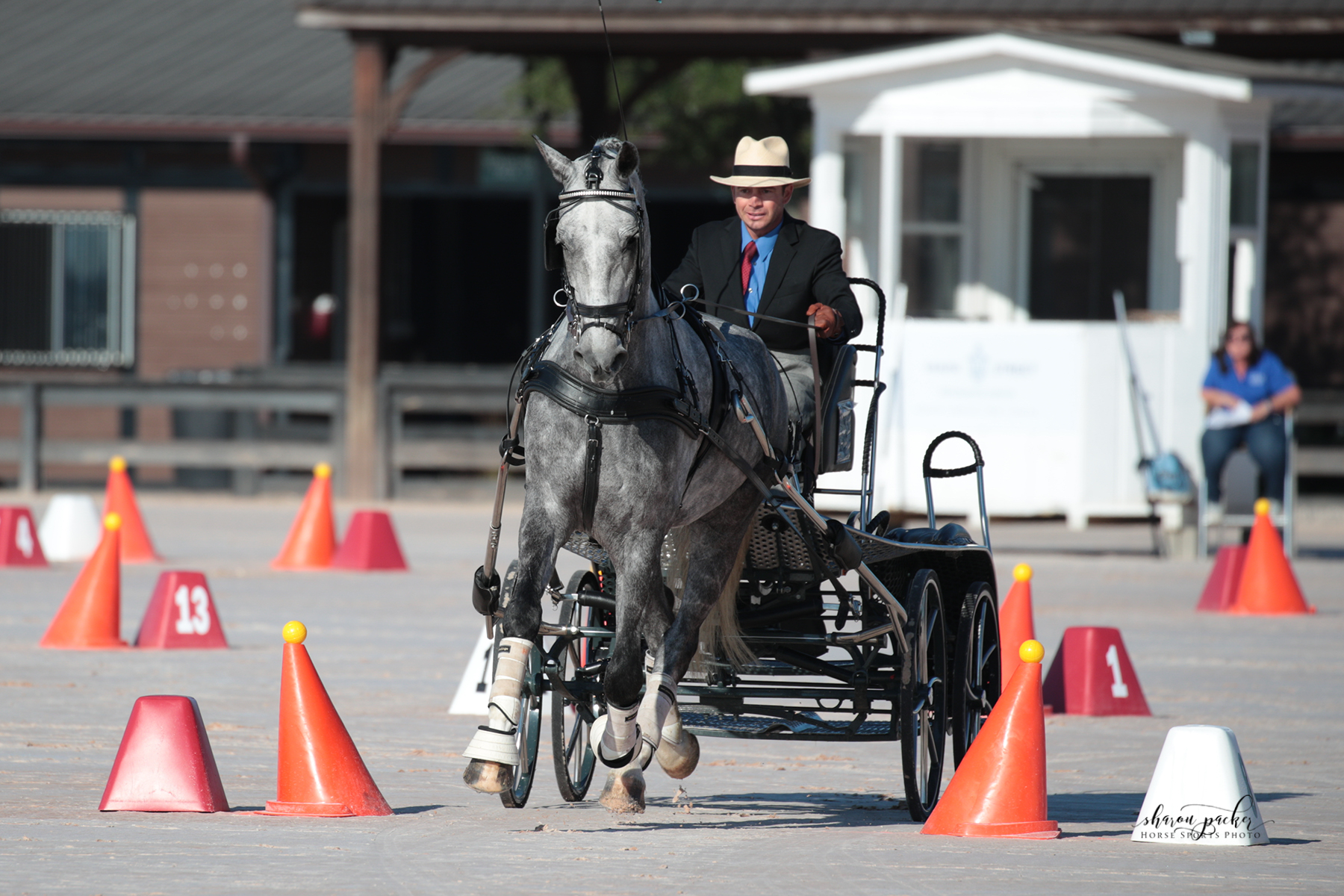 Raymond Helmuth
©Sharon Packer Photography
"One of the reasons [I came to TIEC] is that my longshot goal would be to make the team to go to the World Championships next year with my Advanced horse. When I heard there were fewer entries than expected, I talked to Jennifer [Matheson] and the owners of the horses, and I immediately started learning the test! I also heard it was just an unbelievable facility, so I had to come," he acknowledged. "It was very good, and I don't have anything to be disappointed about!"
Click here to view results by phase. 
Combined Driving will return to TIEC in 2022, including the Katydid CDE at TIEC in the spring. More information to come at www.Tryon.com/Driving. 
Photos ©Sharon Packer Photography. These photos may only be used once in relation to this press release. Competitors may purchase show photos here. With questions, email media@tryon.com.