Kristen VanderVeen and Bull Run's Almighty Ace $15,000 Horseware Ireland Welcome Stake
For Immediate Release
Mill Spring, NC – August 16, 2020 – Victoria Colvin (Loxahatchee, FL) and Gemino bested a nine-horse jump-off to take the $30,000 Sunday Jumper Classic at Tryon International Equestrian Center (TIEC), stopping the jump-off timers in 43.57 seconds. Kristen VanderVeen (Wellington, FL) and Bull Run's Almighty, the Bull Run Jumpers Six LLC-owned 2008 Hanoverian gelding (Caspar x Quidam De Revel), claimed second place on a time of 44.39 seconds, with Hector Florentino (Rutherfordton, NC) earning third aboard Carnaval, the 2005 Oldenburg gelding (Chacco-Blue x Landadel) owned by Spruce Meadows Ltd., in a time of 46.824 seconds.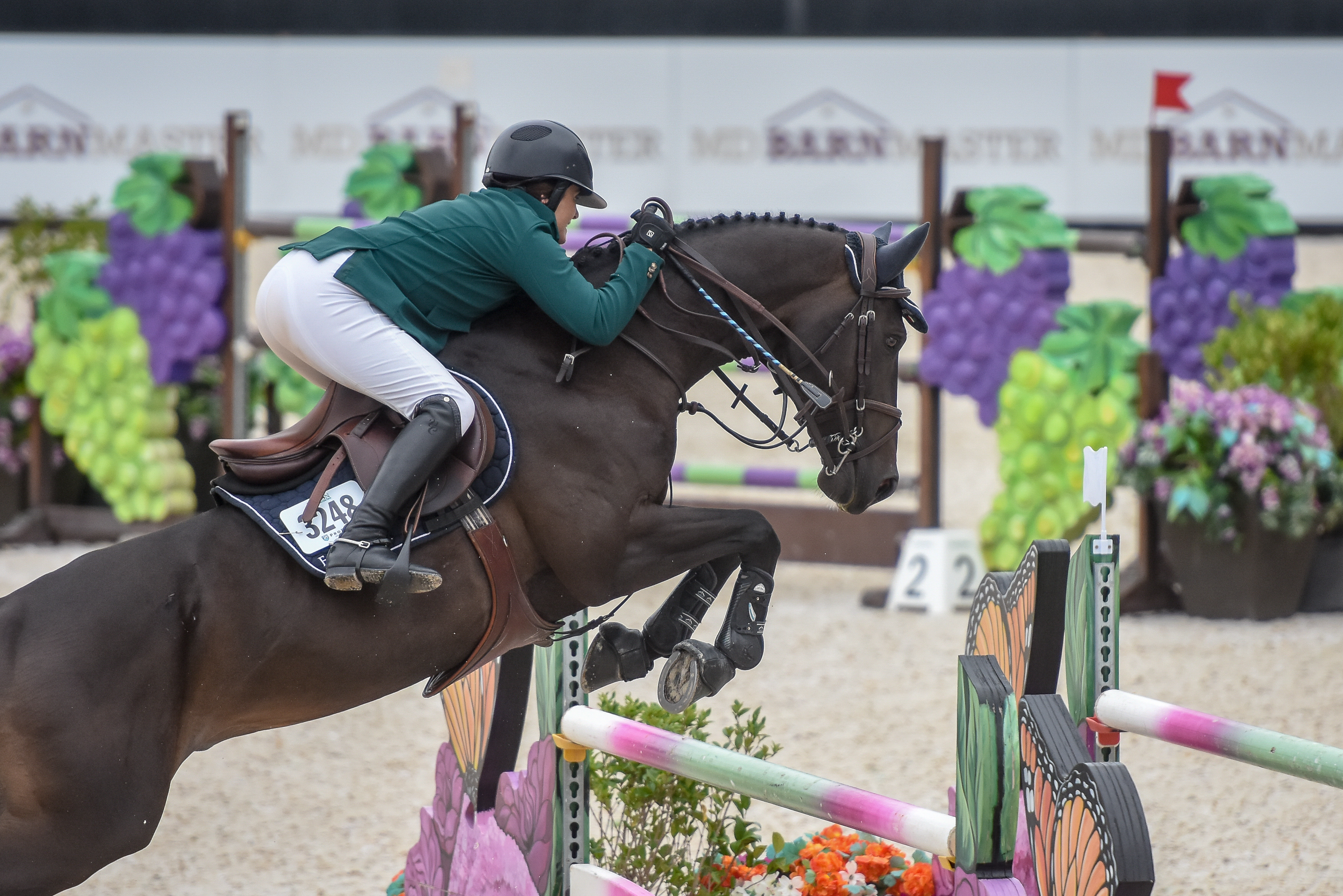 Victoria Colvin and Gemino
©TIEC
Course designer Nick Granat (Wellington, FL) saw 43 entries test the first-round track, with nine pairs qualifying for the short course. Colvin was chasing a speedy time from VanderVeen, and said that her goal was really just to "go in and have fun, and see what [Gemino] could do. I haven't done a Grand Prix in a while, so it was a bit different for me, since it's been a couple months," Colvin revealed. "He's only eight, and it was probably my fourth time riding him, ever. I'm riding a couple for Lauren [Hough] right now since she's injured, but he's super fast as it is," she said of the 2012 Dutch Warmblood stallion (Manhattan x Democraat) owned by Chester Siuda.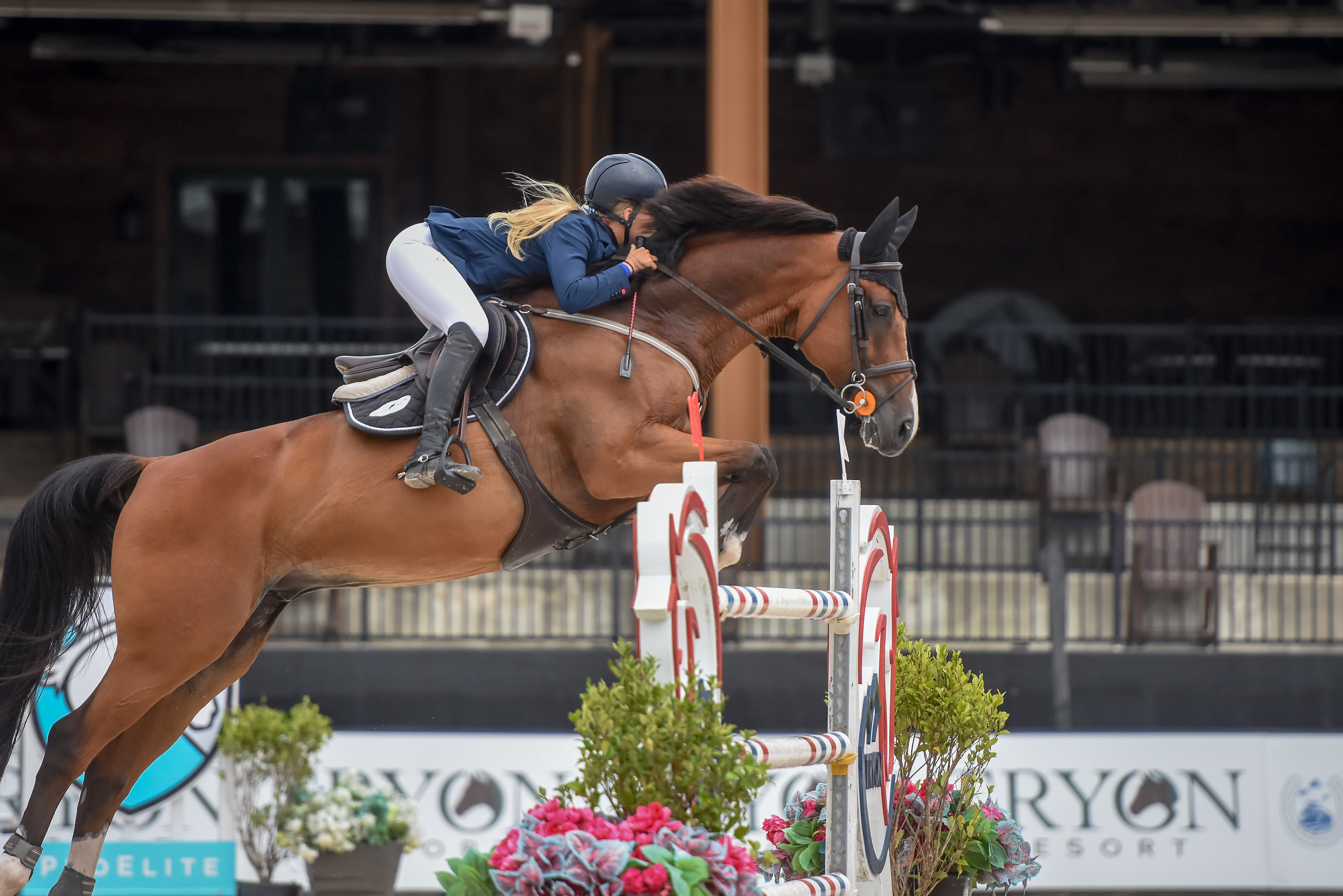 Kristen VanderVeen and Bull Run's Almighty
©TIEC
Though she's mainly been focused outside the Jumper ring this year excepting her current rides for Hough, Colvin was able to put in a smooth and quick dash through the course to take the win, and thought the course design rode nicely, she shared. "There was one line, from the four to the one to the six, that was probably the toughest line, but I think it was a nice course for everybody, and there were enough in the jump-off," Colvin relayed.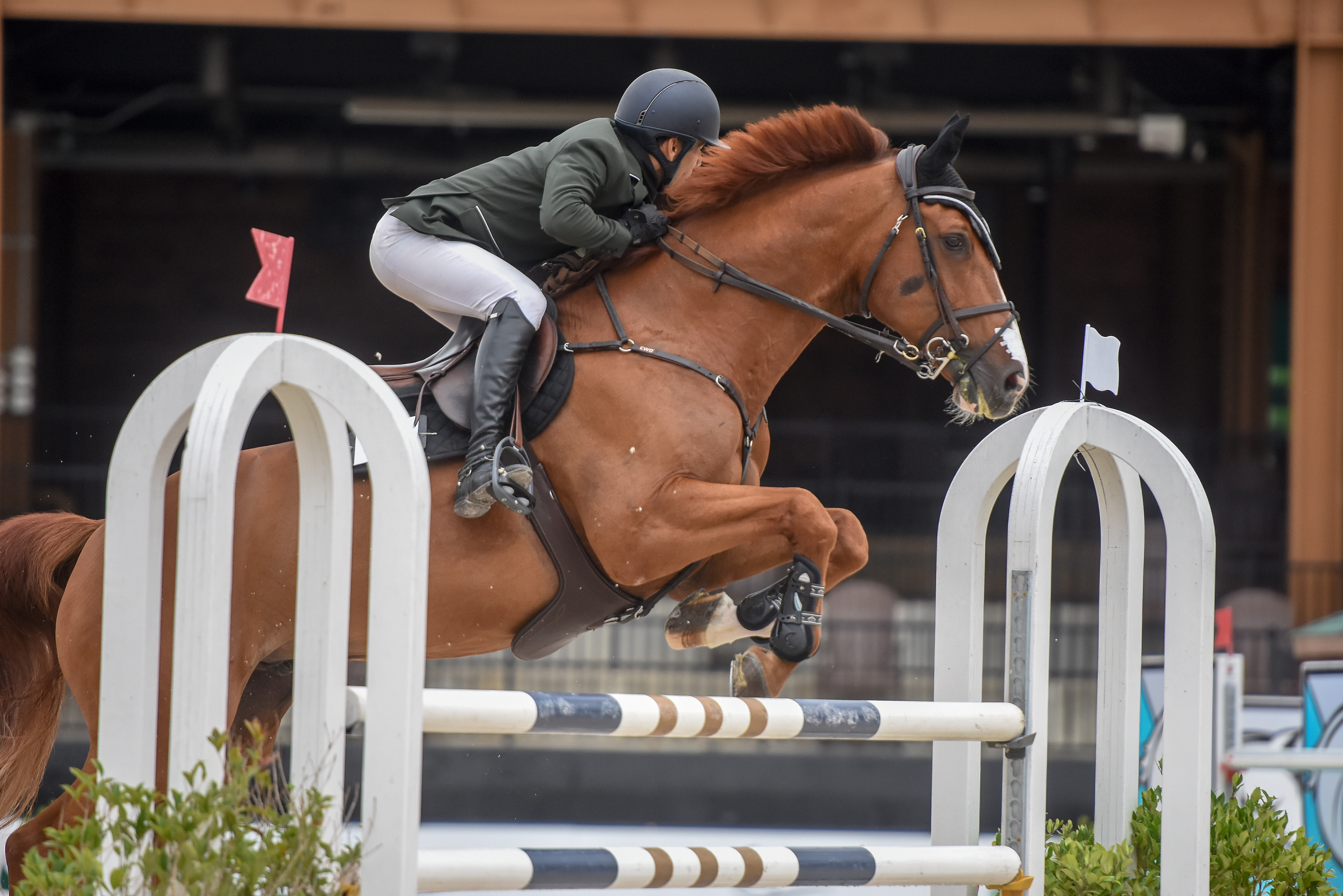 Hector Florentino and Carnaval
©TIEC
"I've been showing in Kentucky a little bit, because I was prepping for Derby Finals, and now I've come here with Lauren," Colvin recounted of her show season, which like for many equestrians, has been rearranged several times. "I'm going to be here next week, then back to Florida, and that's all I know for right now! I was here for one week before I went to Kentucky, but before that, I hadn't been here in a couple years.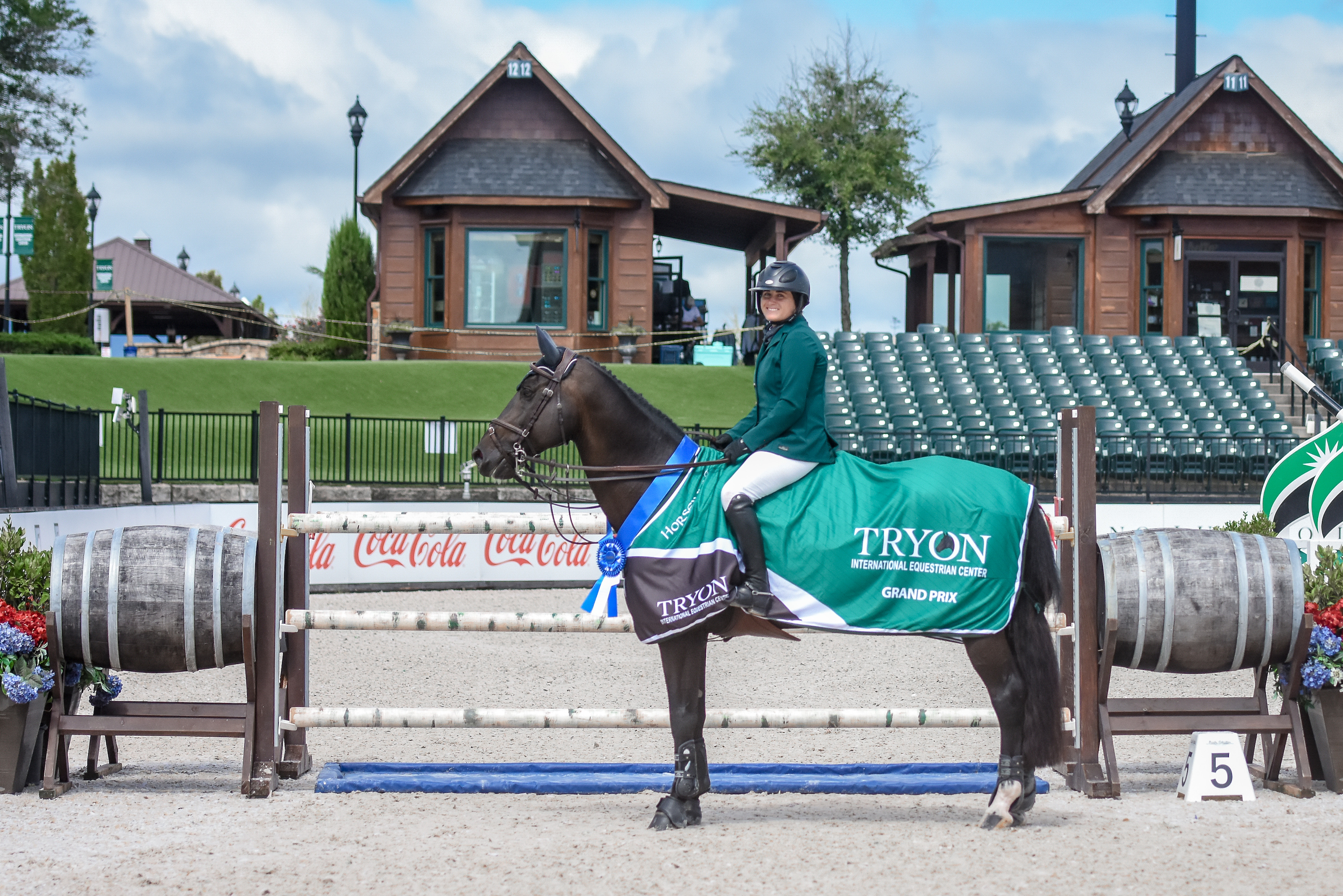 Victoria Colvin and Gemino in their presentation ceremony.
©TIEC
"I love it here," Colvin said of the venue. "The last time I was here, a couple of these buildings weren't here! I do love it here. It's a big space, and everything is good for the horses, like the fans in the barns, and such. Everything's nice."
Kristen VanderVeen and Bull Run's Almighty Ace $15,000 Horseware Ireland Welcome Stake
August 14, 2020 – Friday's $15,000 Horseware Ireland Welcome Stake resulted in a win for Kristen VanderVeen (Wellington, FL) and Bull Run's Almighty, after their 34.889-second jump-off performance. Andrea Torres Guerreiro (Waterford, VA) and Fifty Shades, her own 2008 Westphalian gelding (Call Me Number One x Sion), took home second place on a time of 36.301 seconds, while John Angus (Fort Lauderdale, FL) rounded out the podium aboard Ecanto J, Barnhill and Cheska's 2009 Dutch Warmblood gelding (Canturano x Verdi), in 37.562 seconds.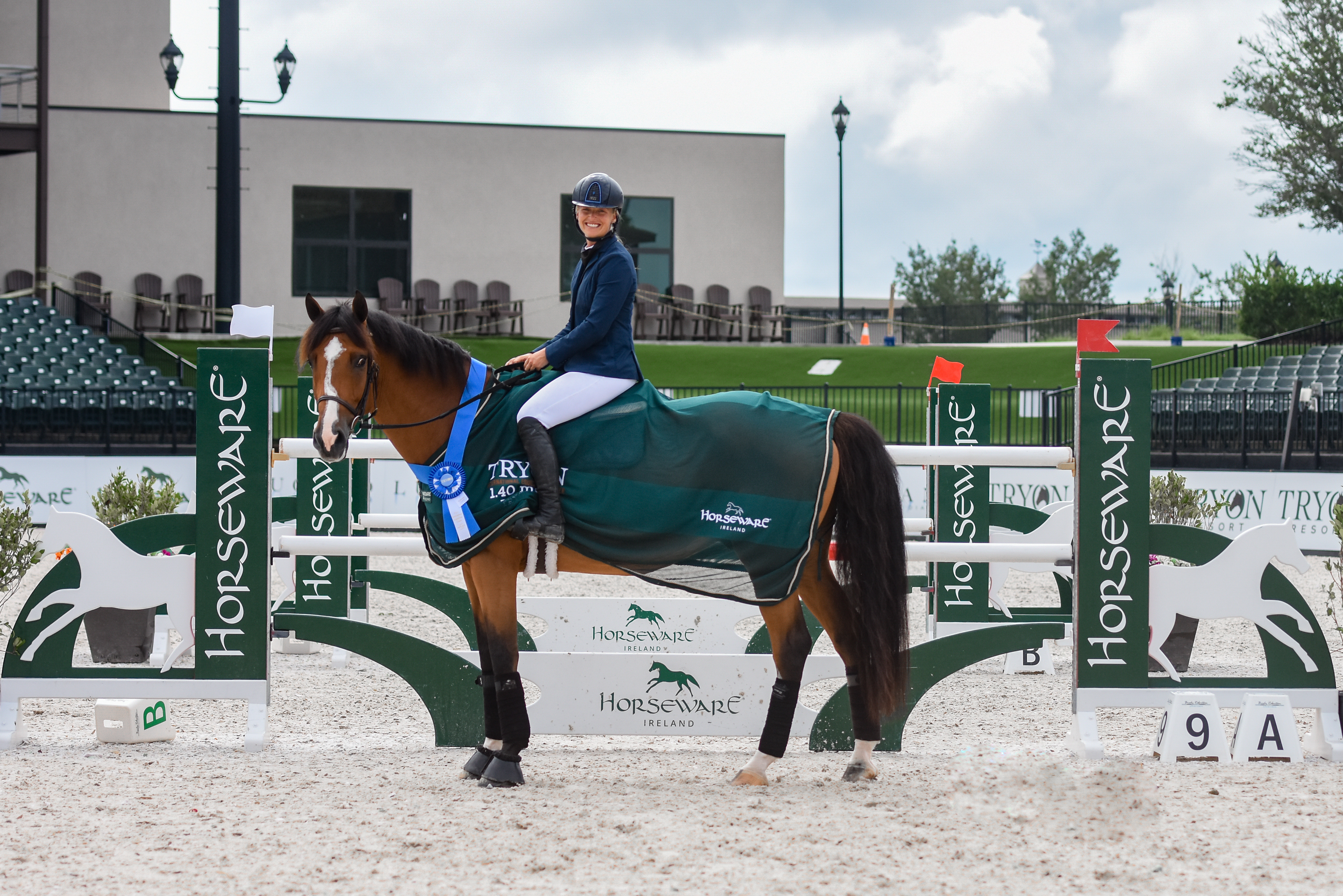 Kristen VanderVeen and Bull Run's Almighty
©TIEC
"Almighty," the 2008 Hanoverian gelding (Caspar x Quidam De Revel) owned by Bull Run Jumpers Six LLC, "has really come into himself the last year or two," VanderVeen detailed. "We've really gotten on the same page about how to go fast and keep the jumps up. It's been fun to have him in these national Grand Prix classes, as we get to really practice our speed. He's really started to find the jumps, so he's gotten much faster."
Known for her speed and efficiency over jump-off tracks, VanderVeen noted that Tryon Stadium's fully-engineered riding surface, installed this spring, allows for stability even in tight turns: "The new footing is great! I was really able to get out of the turns today. I did a pretty aggressive leave-out in the first line, and he was able to land and still have his feet under him, then push out of the corner to the next jump. It felt very secure."
VanderVeen, a familiar face at TIEC, has been splitting her time – and her horses – between show venues this month, prioritizing national competition at TIEC for some of her string and competing at the international level with others at the Great Lakes Equestrian Festival. "I just flew in from Michigan [this week], and had two successful weeks there. With the limited show options, I left three horses here in Tryon and brought three to Michigan, so I'm splitting my team a little bit to try to get as much showing in as possible."
Vanderveen and her string will be competing in the upcoming Tryon Fall Series, likely staying "through the FEI shows. Then, if things go well, we'll head back to Florida!"
Hunter highlights:
In the Marshall & Sterling Insurance Adult-Amateur Hunter 36-49 Division, Paige Miller (New Bern, NC) piloted her own Shamrock to championship honors, with reserve named to Michelle Drum (Campobello, SC) aboard her own Drumfields Ellusion.
Tommi Clark (Tryon, NC) topped the Green Hunter 3' Division aboard Amber Hill Farm's Balou du Joule, and Michael Britt-Leon (Canton, GA) claimed reserve on the week with Protege for Kate Marie Davis.
Ruth Kilgo's Hard to Be Humble with Ashley Conkle (Wellford, SC) in the irons dominated the Foothills Hunter 2'6" Division, while Colin Syquia (Wellington, FL) earned reserve riding Champion de Coeur for Eugenie Redman.
Jumper highlights:
The Adult-Amateur Jumper 1.10m Division congratulated Madison Orr (Canton, GA) and Kelly Sims' Delta Work as champion on the week, with Megan Davis (Wellington, FL) riding her own Phineas to reserve.
In the MD BarnMasters Medium Junior/Amateur Jumper 1.30m Division, Alexandra Pielet (Highland Park, IL) rode David Raposa's Elarina to top honors, with reserve going to Faith Davis (Gurley, AL) aboard her own Cardiff CR.
The Developing Jumper Series Six-Year-Old Young Jumper 1.20-1.25m Division saw a win for David O'Brien (Lexington, KY) and Octavius SCF, the Spy Coast Farm LLC entry, while Mario Gracia (Lake Worth, FL) guided his own Cyrus to reserve.
For all Tryon August 2 Division Results, click here.
The Tryon August Series continues through August 23, 2020, with one week remaining of Hunter A/Jumper 4 competition. Though competitions remain closed to spectators, highlight classes are live streamed for free at Tryon.com/streaming. With questions, contact media@tryon.com.
For full results from the $30,000 Sunday Jumper Classic, click here.
For full results from the $15,000 Horseware Ireland Welcome stake, click here.
Photo credit ©TIEC. August Series photos covered with priority given to requests; available for purchase at www.baileybeckphotography.pixieset.com. These photos may only be used once in relation to this press release with proper credit. Contact media@tryon.com with questions.