For Immediate Release
Mill Spring, NC – July 2, 2019 – Todd Minikus and Calvalou dominated the $36,000 Sunday Classic CSI 2* at Tryon International Equestrian Center (TIEC), stopping the jump-off timers at 35.465 seconds. Aaron Vale (USA) and Eye Catcher, a 2009 Dutch Sport Horse gelding (Tangelo Van De Zuuthoeve x Narcos II SF) owned by Troy Glaus, took second place on a clear jump-off performance of 38.112 seconds, while David O'Brien (IRL) and Kir Royal SCF, a 2010 Belgian Warmblood gelding (Amaretto D'Arco x Nabab de Reve) owned by Spy Coast Farm, LLC, claimed third-place honors on an eight-fault effort in 36.169 seconds.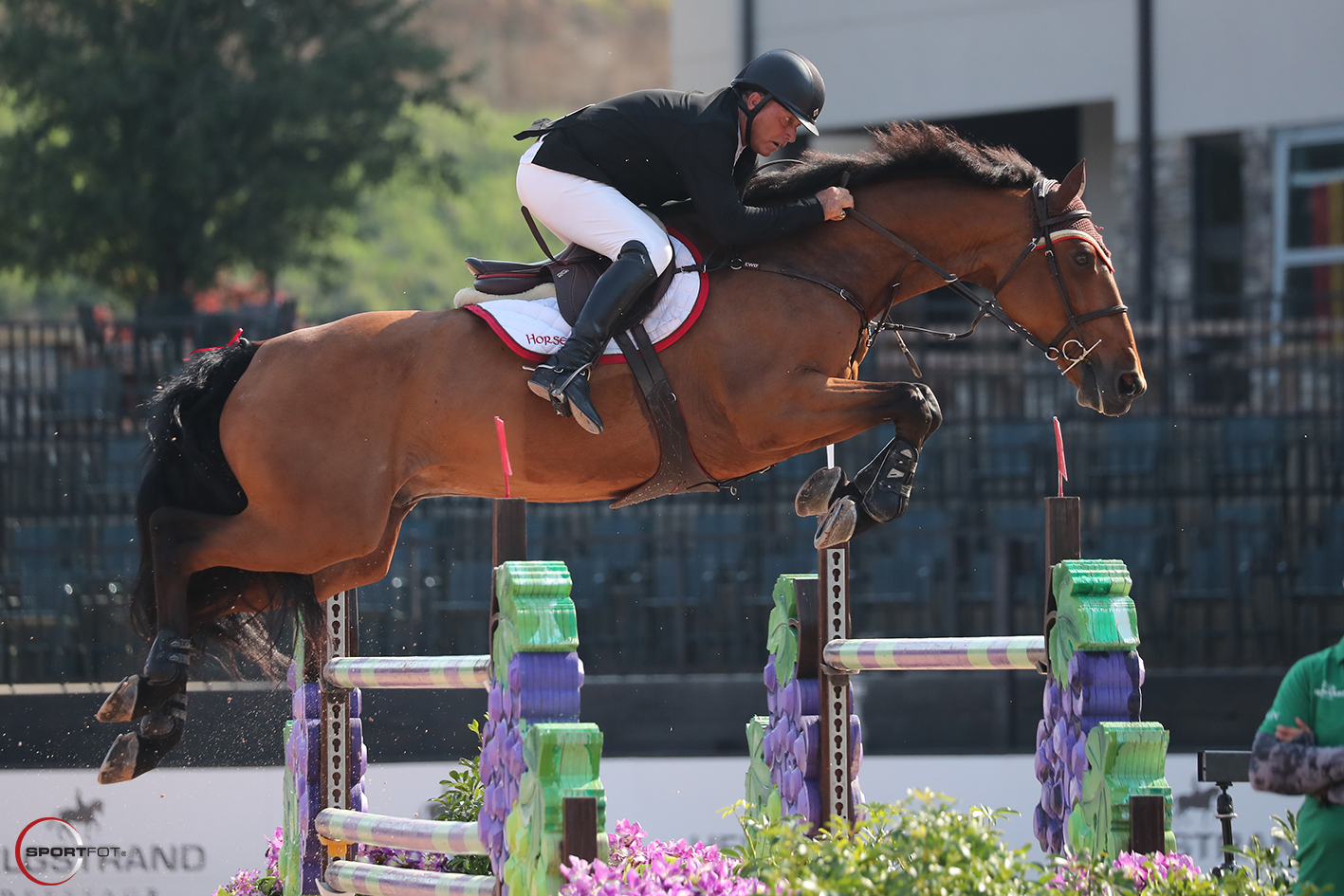 Todd Minikus and Calvalou
©Sportfot
The Guilherme Jorge (BRA) designed course did not fail to test the riders, with only three pairs out of the field of 20 qualifying for the short-course track. Minikus and his own 2007 Oldenburg gelding (Calvaro F.C. x Baloubet du Rouet) laid down a careful and efficient round that put them well ahead for the win.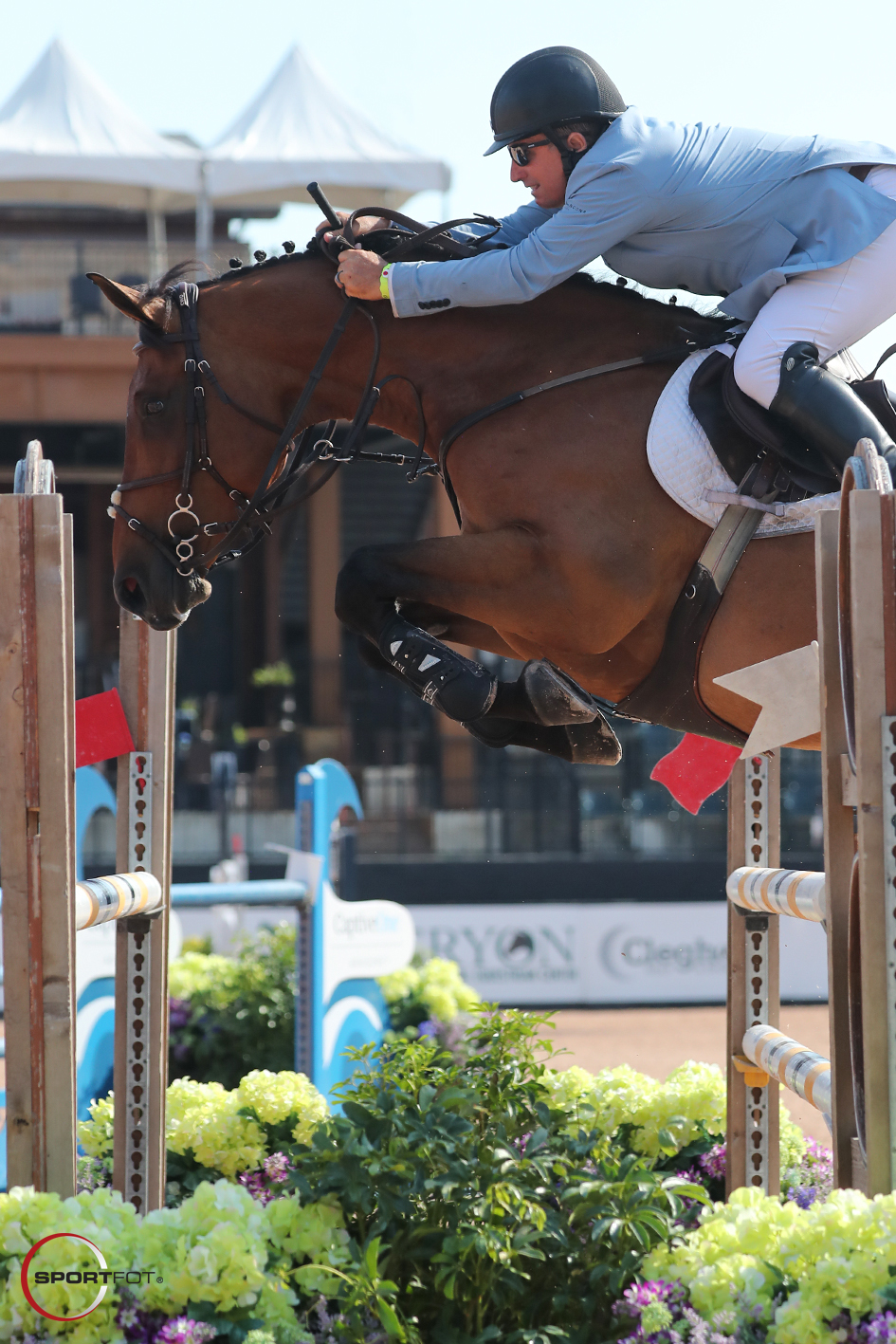 Aaron Vale and Eye Catcher
©Sportfot
<
Minikus explained that heading into the three-man jump-off was stressful following his performances in Saturday night's $72,000 Ingles Grand Prix CSI 2*: "I was a little frustrated heading into today. I didn't do much differently [this morning] other than just ride better and not make silly mistakes. There were only three clear, so it was a hard enough course."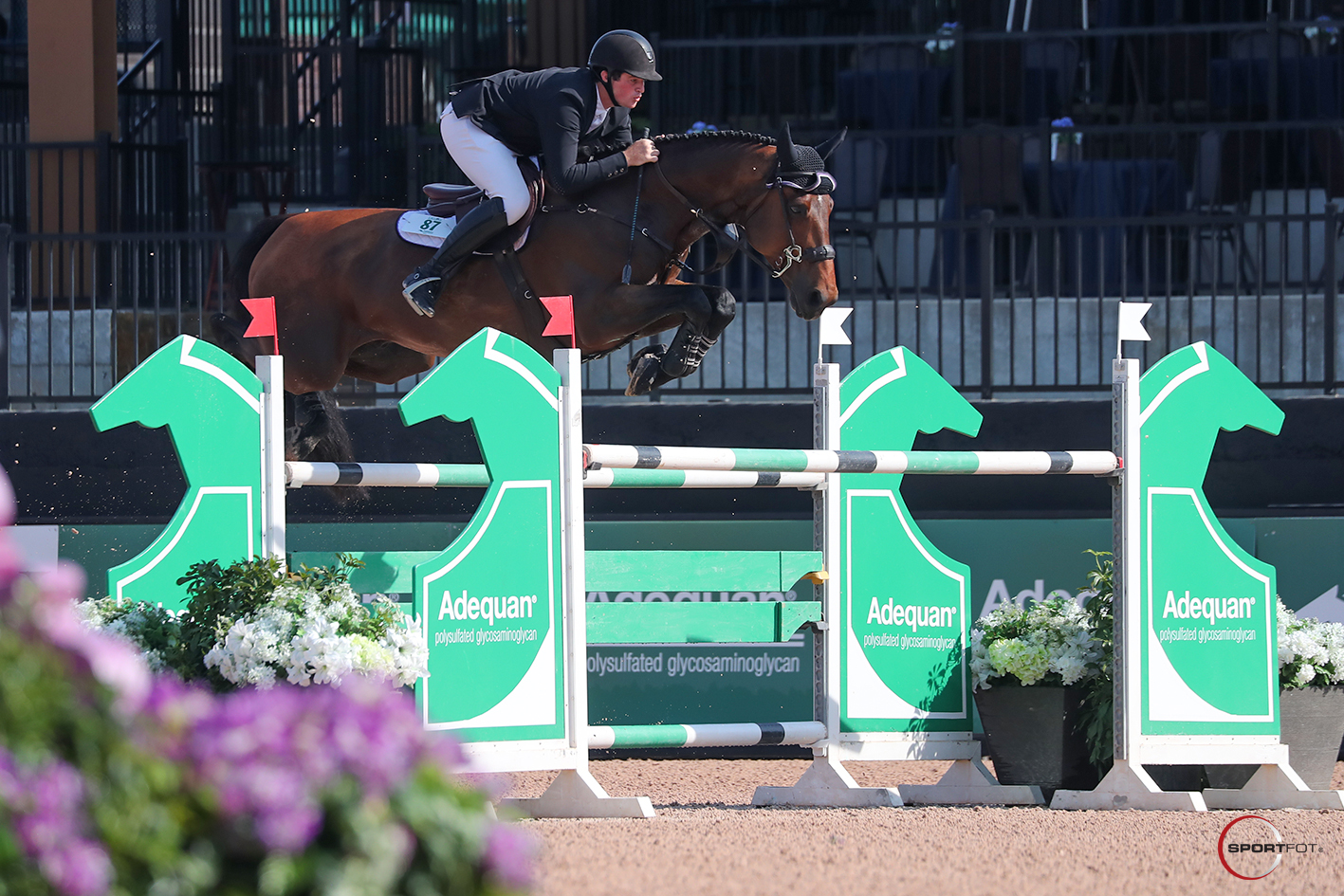 David O'Brien and Kir Royal SCF
©Sportfot
"Aaron put in just a nice clear and so I tried not to shoot myself in the foot and go too fast," Minikus shared on his strategy heading into the jump-off. "I don't know what the [time] margin was, but I did one or two less strides in the first line and the second line, and I think that was the difference. I'm proud of Calvalou – he jumped great, so we'll keep feeding him Purina and come back next week!"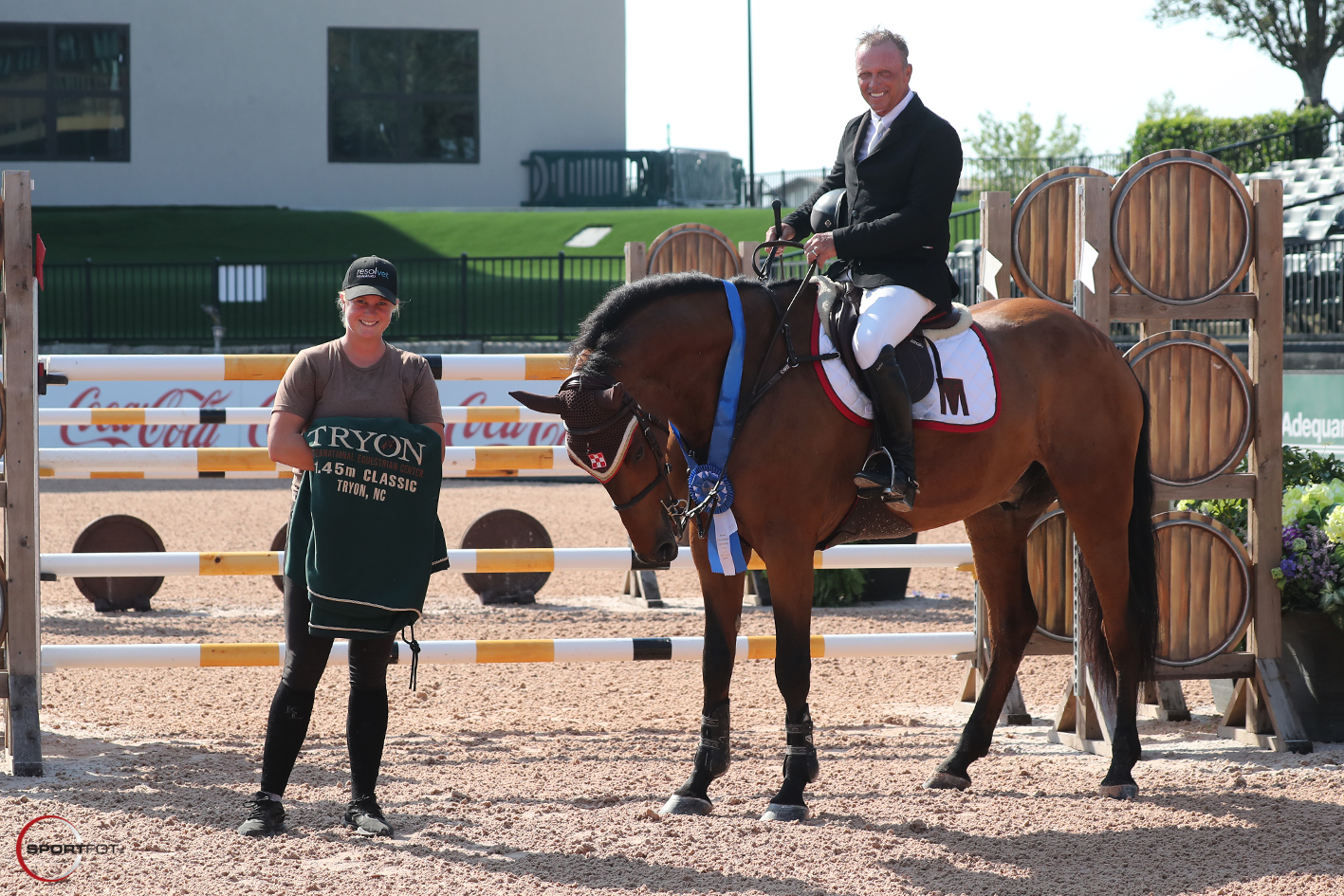 Todd Minikus and Calvalou in their presentation ceremony.
©Sportfot
Minikus, a familiar face at TIEC, will be based at the venue for the remainder of the summer and also plans to compete in the fall series, he shared, and aims to carry his positive momentum into next week's CSI 3* competition. "We will be back for the 3* Grand Prix next week!" Minikus concluded.
For full results from the $36,000 Sunday Classic CSI 2*,
click here.
Jumper Highlights:
Alison Robitaille (USA) and Hector Aad, owned by Andrew Kocher, flew to win Friday morning's $5,000 Speed Stake CSI 2* during Tryon Summer 3 at TIEC in a time of 63.66 seconds to best her competition by a stunning ten seconds. Second place was awarded to Gemma Paternoster (USA) and her own entry, Kempo Caretino Boy, who completed the course fault-free in 73.56 seconds. Amanda Flint (USA) and her own VDL Wittinger earned third-place honors with a clear round and a time of 74.73 seconds.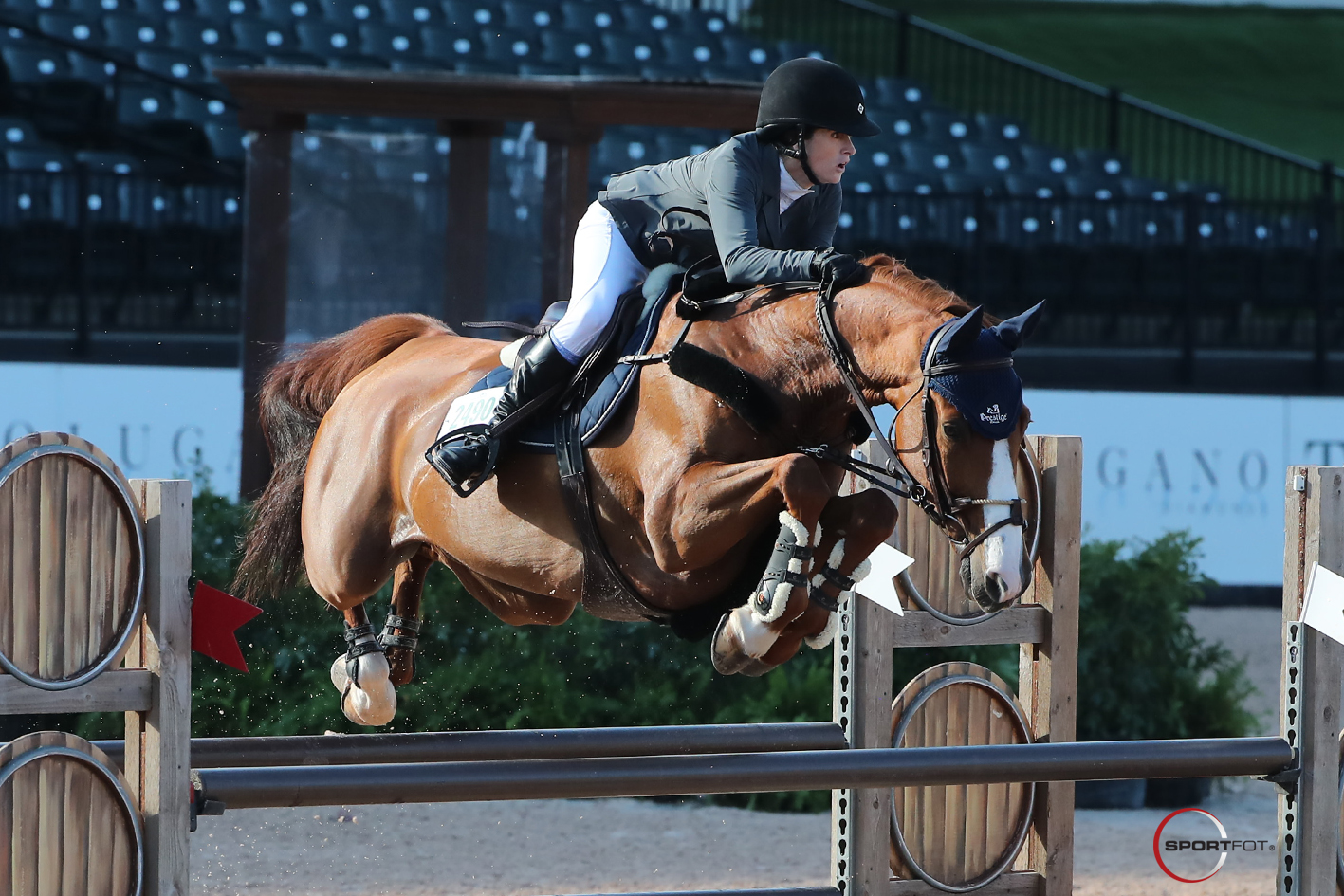 Alison Robitaille and Hector Aad
©Sportfot
The Developing Jumper Series 6 Yr Old Young Jumper 1.20-1.25m Division saw Amanda Flint (Bourbonnais, IL) and her own, Irvington VDL, earn the champion honors for the week. Reserve champion honors were awarded to Aaron Vale (Williston, FL) and the Thinks Like A Horse owned, Vander Esch.
It was Adam Sklansky (Irondale, AL) and Ann Miller Morton's Ragazzo who took the championship in the 1.10m Jumper Division this week. Ever Renninger (Sanford, FL) and Falcon Eye WB, owned by WB Equestrian Enterprise, earned the reserve champion honors.
In the CaptiveOne Advisors 1.20m Open Jumper Division, Francesca Damasceno (Palm Beach, FL) piloted her own Watermill Time to champion honors. Reserve champion honors were awarded to two riders this week: Maria Costa (Wellington, FL) aboard the Ravello Farm LLC entry, Elian 5, and Lynsey Whitacre (Saint Joseph, MO) with her own Zorzuela Leuze Z.
Chanel was piloted by owner and rider Sarah Meier (Lexington, KY) to be crowned champion of the 1.35m Open Jumper Division, while Santiago Lambre (Wellington, FL) and his own Doloris took the reserve champion honors.
In the Adequan® 1.30m Open Jumper Division, Aaron Vale (Williston, FL) rode Wendy Peralta's entry, Campo S, to earn champion of the division. Chelsea Sundius (Wellington, FL) and Astika, owned by JR Show Stables LLC, earned the reserve champion honors.