David O'Brien and Maldonado SCF Win $6,000 Speed Stake CSI 3*
For Immediate Release
Mill Spring, NC – July 5, 2020 – Tryon Summer 4 concluded with a win for Todd Minikus (Lake Worth, FL) and Calvalou, stopping the jump-off timers in 34.762 seconds to best the field at Tryon International Equestrian Center (TIEC). Kristen VanderVeen (Wellington, FL) and Bull Run's Almighty, the 2008 Hanoverian gelding (Caspar x Quidam De Revel) owned by Bull Run Jumpers Six LLC, combined to produce a 35.398 second jump-off round for second place, while the podium was completed by Ginger Pop, the 2009 Irish Sport Horse mare (Luidam x Cruising), with Alison Robitaile (Upperville, VA) in the irons for Bertram and Diana Firestone clearing the short course in a time of 35.592 seconds.
Minikus and the 2007 Oldenburg gelding (Calvaro F.C. x Baloubet du Rouet) owned by Todd Minikus, LTD were able to turn and burn across the Oscar Soberon (Dallas, TX) course design to take the win, Minikus explained. "He's had some nice successes and jumped big classes [in the last year that we've had him]. He hasn't always been able to turn so well in the jump-offs, but lately he's been turning better, and today he turned fantastically. I couldn't be happier!"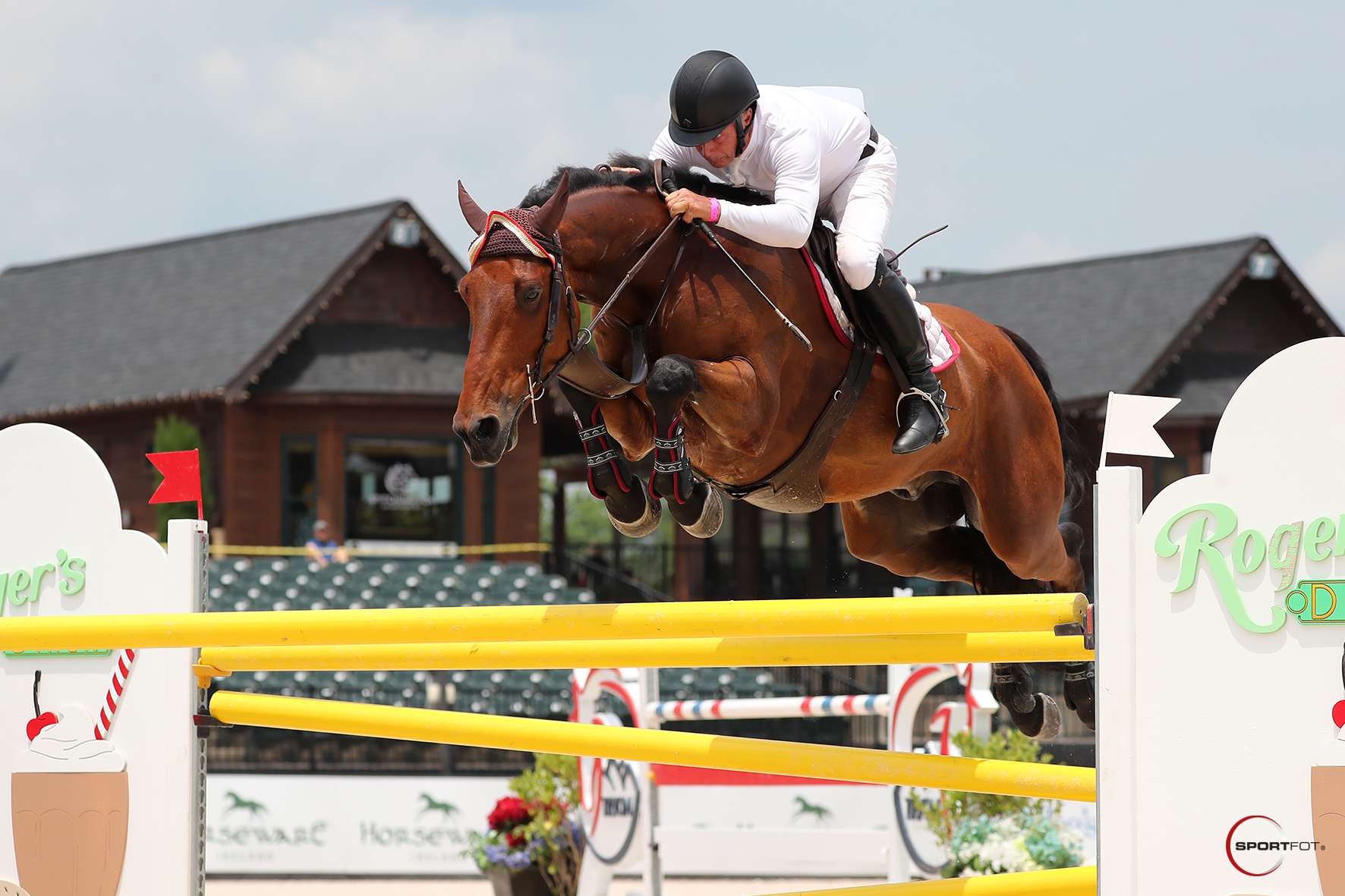 Todd Minikus and Calvalou
©Sportfot
Though the course was "pretty difficult for a Sunday Classic," Minikus noted, ten pairs of the initial 31 pairs to test the track returned for the jump-off round, which "was a good number. It makes for a fun jump-off! There were plenty of speed racers in the jump-off with Aaron Vale, Kristen VanderVeen, Rowan Willis, and so on," Minikus acknowledged. "We're lucky we caught them!
"The [new engineered] footing has been fantastic," Minikus continued. "My horses have been jumping on it for a few weeks in a row now, and they feel very comfortable. It seems like they're turning well on the footing," Minikus detailed, emphasizing that the ability to turn safely is an important metric to him. "A lot of people tend to worry about the takeoff and the landing, but I personally think that horses can get hurt more while turning than the actual act of jumping. Very few athletes get hurt running in a straight line, but they always get hurt when they make a sharp cut or turn right after landing."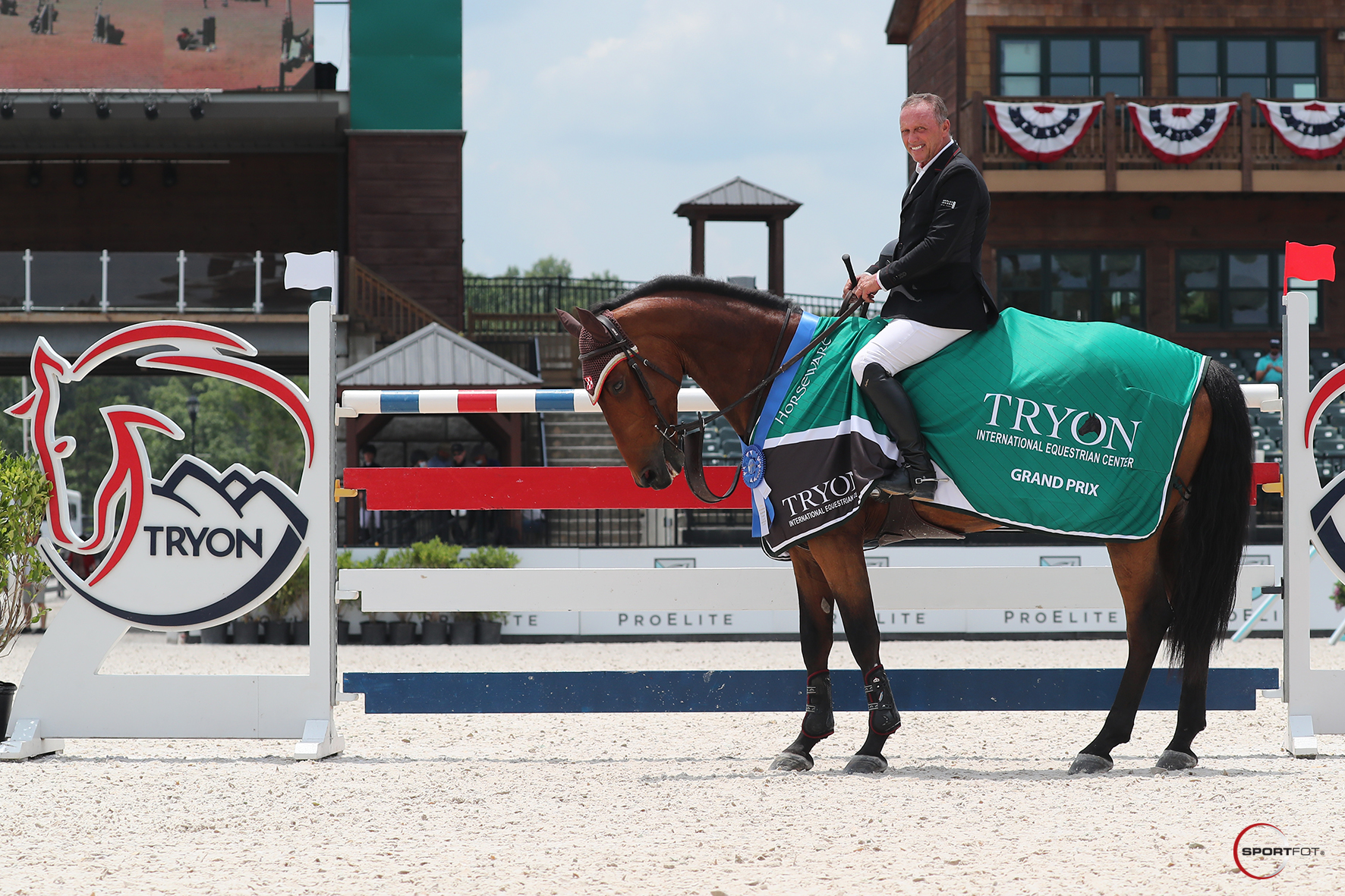 Todd Minikus and Calvalou in their presentation ceremony.
©Sportfot
Like many riders, Minikus is planning competitions tentatively, but will be back next week to challenge Tryon Summer 5 competition, he concluded. "We're taking it one day at a time [with our show plans], but we'll definitely be here next week!"
David O'Brien and Maldonado SCF Win $6,000 Speed Stake CSI 3*
David O'Brien (IRL) and Maldonado SCF, a 2012 Belgian Warmblood gelding (Diktator van de Boslandhoeve x Landino) owned by Spy Coast Farm, LLC, won the Tryon Summer 4 $6,000 Speed Stake CSI 3* at Tryon International Equestrian Center (TIEC), stopping the jump-off timers at 63.82 seconds. Katherine Strauss (USA) and Famous, a 2010 Dutch Warmblood gelding (Aerobic TN x Kojak) owned by Katherine Strauss, LLC, took second place on a clear jump-off performance of 65.25 seconds, while Aaron Vale (USA) and Elusive, a 2009 Dutch Warmblood gelding (Rodrigoo x Capfucino), owned by Thinks Like A Horse, claimed third-place honors on time of 65.66 seconds.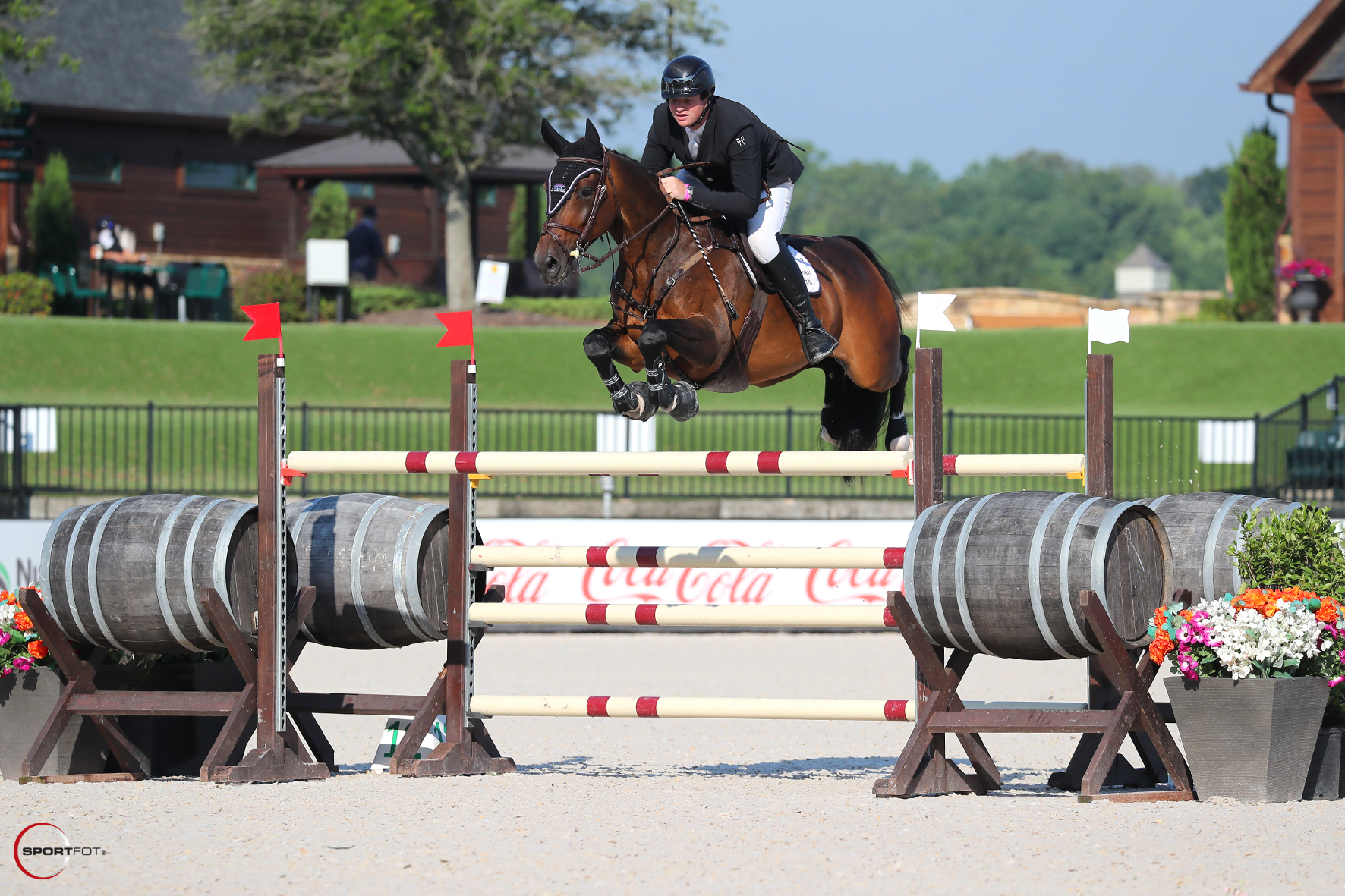 David O'Brien and Maldonado SCF
©Sportfot
Hunter Highlights
In the High Performance Hunter 4' Division, Kelley Farmer (Lexington, KY) secured the win with the David Glefke and Oakmont Stables LLC entry Meaningful. Joy Janouskovec (Raleigh, NC) and Casadoble, owned by Sharon Winnie, followed as reserve champion.
Eliza Hay (Johns Island, SC) and Stehle Wolfe's Pepperwood Enchanted won top honors in the USHJA Hunter 2' Division with reserve champion honors going to Katherine Mercer (Wellington, FL) aboard her own Clovermead Pop Secret.
Michael Newman (Pace, FL) claimed both champion and reserve champion titles with Blakely Ansley's Superlative and Maggie Huffman's Kepler respectively in the Baby Green Hunter 2'6" Division.
Jumper Highlights
Leslie Burr-Howard (Newtown, CT) and After Eight, owned by Laure Sudreau and Peter Howard, claimed champion status in the Nutrena 1.40m Open Jumper Division while reserve champion honors ended with a tie between Aaron Vale (Williston, FL) and Think Like A Horse's Lebron and Victor Amaya (Ocean, NJ) aboard Susanne Hanson's Jenco DW.
In the JTWG, Inc. 1.30m Open Jumper Division, Aaron Vale (Williston, FL) claimed champion status with Obi Wan, owned by Thinks Like A Horse. Jad Dana (Calgary, AB) and Midonal Partners' Cardi B took home reserve champion. 
Nikko Ritter (Geneva, FL) and WT Scorsese, owned by Oak Meadow Ranch, LLC, landed the champion title in the 1.20 Open Jumper Division. The reserve champion title ended in a tie between Tomas Yofre (Lexington, KY) aboard Peacock Ridge LLC's Dasino and Lindsay Bedoya (Magnolia, TX) riding her own Majik.  
View all Division Results from Tryon Summer 4 here. 
The Tryon Summer Series continues next week with Tryon Summer 5 and concludes with Tryon Summer 6 on July 19, 2020. While the entire Summer Series is closed to spectators, highlight classes are available for free live streaming at www.Tryon.com/streaming. 
For full results from the $25,000 Sunday Classic, click here. 
For full results from the $6,000 Speed Stake CSI 3*, click here. 
Photo credit ©Sportfot. Competitors can sign up for weekly packages at www.Sportfot.com. These photos may only be used once in relation to this press release with proper credit. Contact media@tryon.com with questions.