For Immediate Release
Mill Spring, NC – April 3, 2021 – The Fork at TIEC presented by Nutrena® kicked off with more than 600 scored rides in one day after two phases of competition, sending ten divisions through the White Oak Cross-Country Course and testing six divisions in Show Jumping competition in Tryon Stadium. With more than 300 entries, the fourth running of the event is the biggest ever held at Tryon International Equestrian Center and Resort (TIEC), and competition continues through Sunday, April 4. The Fork at TIEC presented by Nutrena® is closed to spectators per USEF guidelines for COVID-19. For live scoring and competition information, check www.Tryon.com/eventing.
All Cross-Country courses for The Fork at TIEC presented by Nutrena® have been crafted by Captain Mark Phillips (GBR), while Michel Vaillancourt (CAN) created the Show Jumping courses testing competitors in Tryon Stadium. All divisions started their day with Dressage before challenging the Show Jumping or Cross-Country phases, with the third phases to be completed by all competitors on Sunday. 
Tamie Smith and Mai Baum Lead ProElite® CCI 4*-S Division Ahead of Cross-Country
Tamie Smith (USA) and Mai Baum, the 2006 German Sport Horse gelding (Loredano x Rike) owned by Alexandra Ahearn, Ellen Ahearn and Eric Markell, laid down an impressive 20.4 in Dressage and finished Show Jumping on a score of 21.2 for a comfortable lead in the ProElite® CCI 4*-S Division. In reserve heading into the Cross-Country test, Boyd Martin (USA) and Tsetserleg, the 2007 Trakehner gelding (Windfall *PG* x Buddenbrock) owned by Christine, Thomas IV and Tommie Turner, carry a score of 23.7 after their clear jumping round under the lights in Tryon Stadium. Rounding out the podium after two phases and improving from fourth, Doug Payne (USA) and Vandiver, the 2004 Trakehner gelding (Windfall 2 x Mystic Replica XX) owned by Debi Crowley and Doug and Jessica Payne, will contest Cross-Country on a score of 25.7.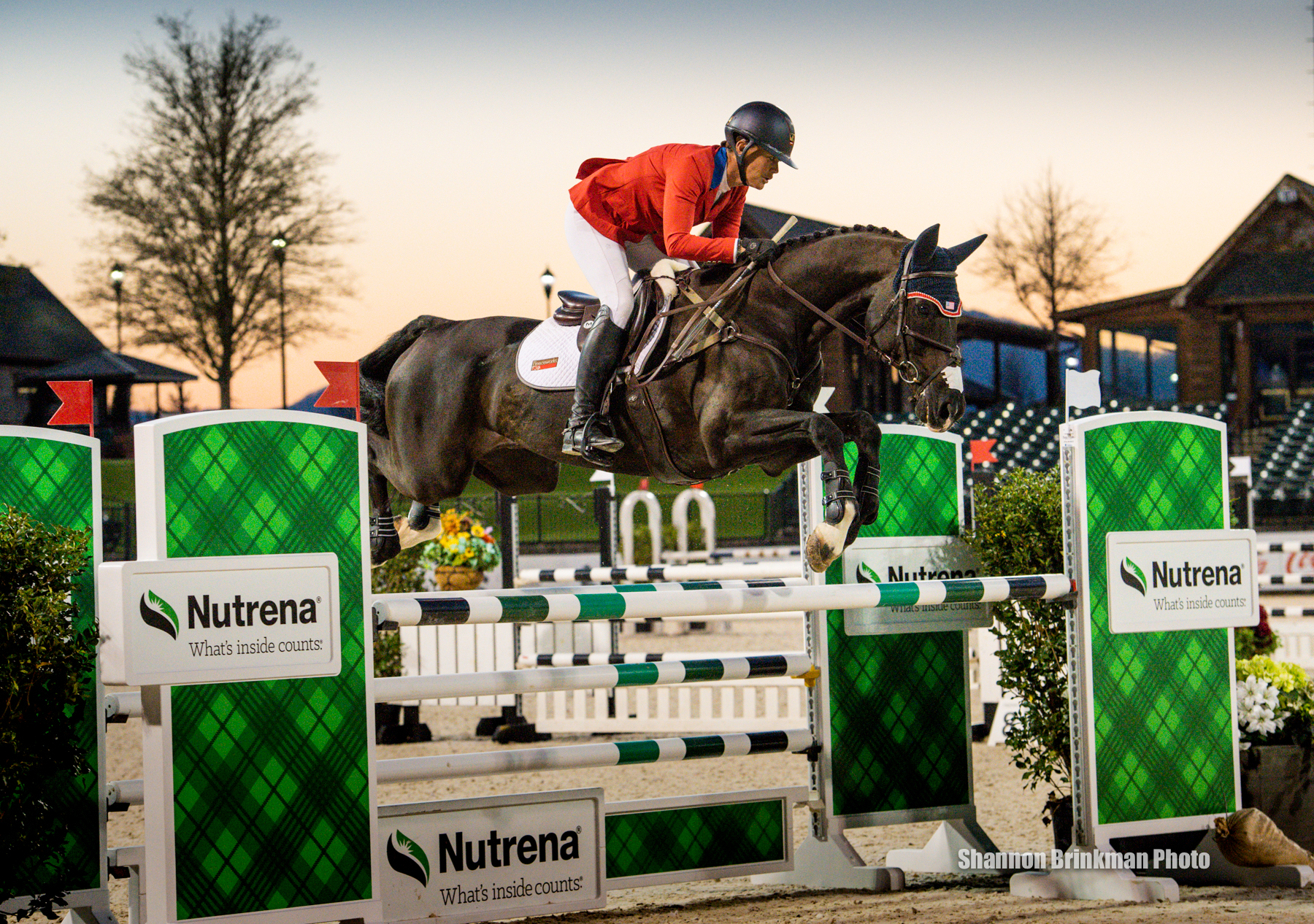 Tamie Smith and Mai Baum
©Shannon Brinkman Photography
About her noteworthy Dressage score, Smith mused that while "like any competitor, you can always find places where you can improve, but he's just super consistent. The things we're improving are very miniscule, really. I was really pleased with him. He's such a professional in the sandbox."
While Smith herself has competed at TIEC before, Mai Baum is a Tryon first-timer, but wasn't phased by the atmosphere in Tryon Stadium, she reported. "I wouldn't have been in a stadium like that with him before, and he's never been here to Tryon. The atmosphere in the stadium is quite electric, and he's a careful horse, so sometimes that can work against you, but he was super confident and felt great."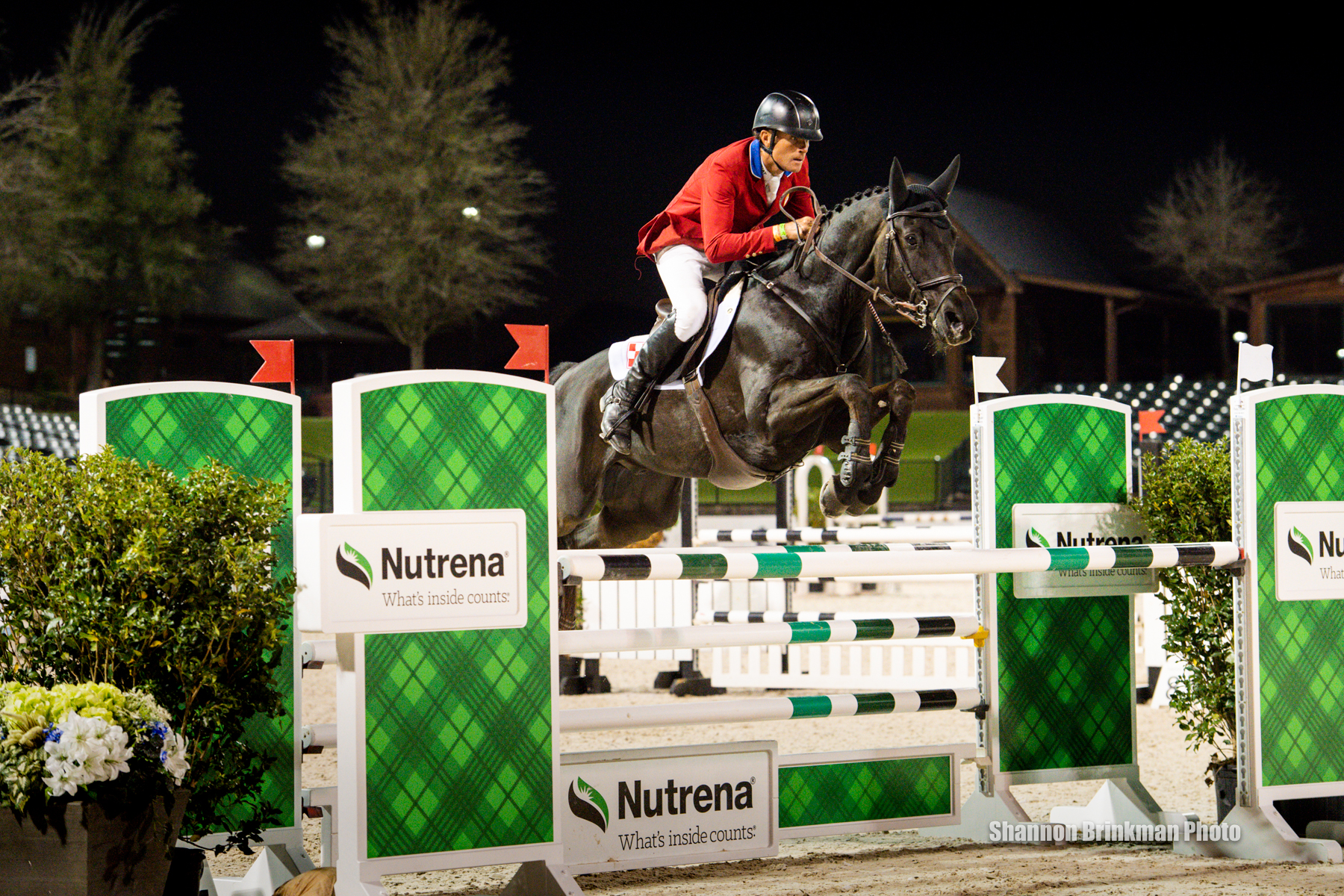 Boyd Martin and Tsetserleg
©Shannon Brinkman Photography
A confident ride in a new, exciting environment was exactly what Smith was hoping to get from her experience before heading to contest the Land Rover Kentucky Three-Day Event, she revealed. "I thought that it would be a good idea to come to Tryon to get the electric, big arena atmosphere, because that's how Kentucky is going to be. I wanted to get a read on the horses leading up to Kentucky, so I'm just really pleased with how he handled it, and he's super rideable and confident," Smith detailed.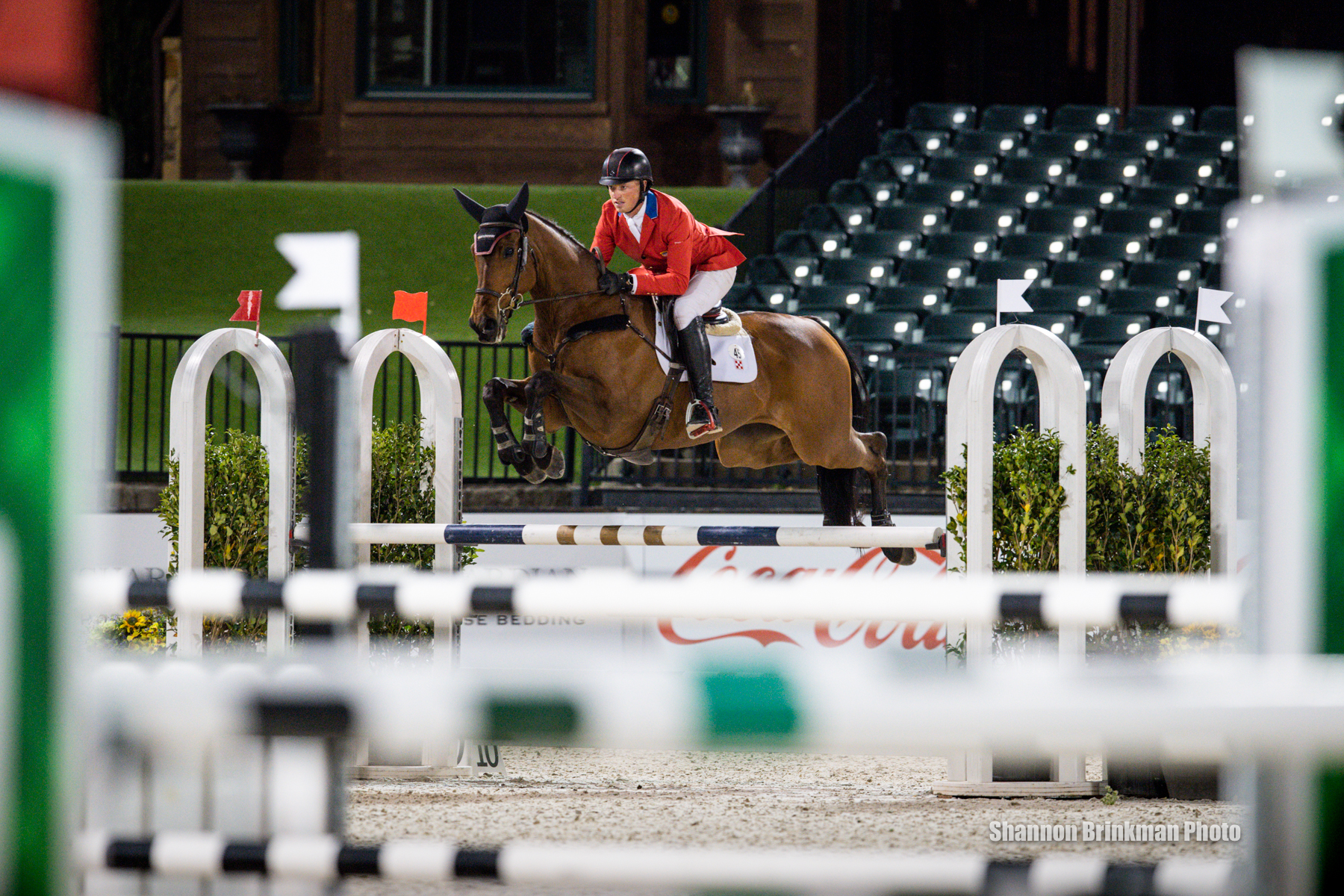 Doug Payne and Vandiver
©Shannon Brinkman Photography
"It's awesome being here," Smith concluded. "Everything is just so well run and organized. [Competing at Tryon] is a really good prep for any kind of big time championship because it gives you that big atmosphere feel. The show jumping was a proper show jumping track, and technical. It's so nice to come to these kinds of venues and have everything up to standard and be able to test our horses and figure out where we have to make improvements. We're lucky to have this place." 
Lucienne Elms and Tremanton Dominate CCI 3*-S Division After Show Jumping
Lucienne Elms (GBR) and Tremanton improved from third to first place after Dressage and Show Jumping phases, keeping a score of 28.9 in their pocket ahead of Cross-Country. Not far behind, Business Ben and Allison Springer (USA) in the irons with the 2010 Thoroughbred gelding (Artie Schiller x Danzig) owned by The Business Ben Partnership, produced a two-phase score of 29.3, while Tamie Smith (USA) and Solaguayre California, 2011 Silla Argentina mare (Caspara x Casall) owned by David and Julianne Guariglia, sit on a score of 30.8.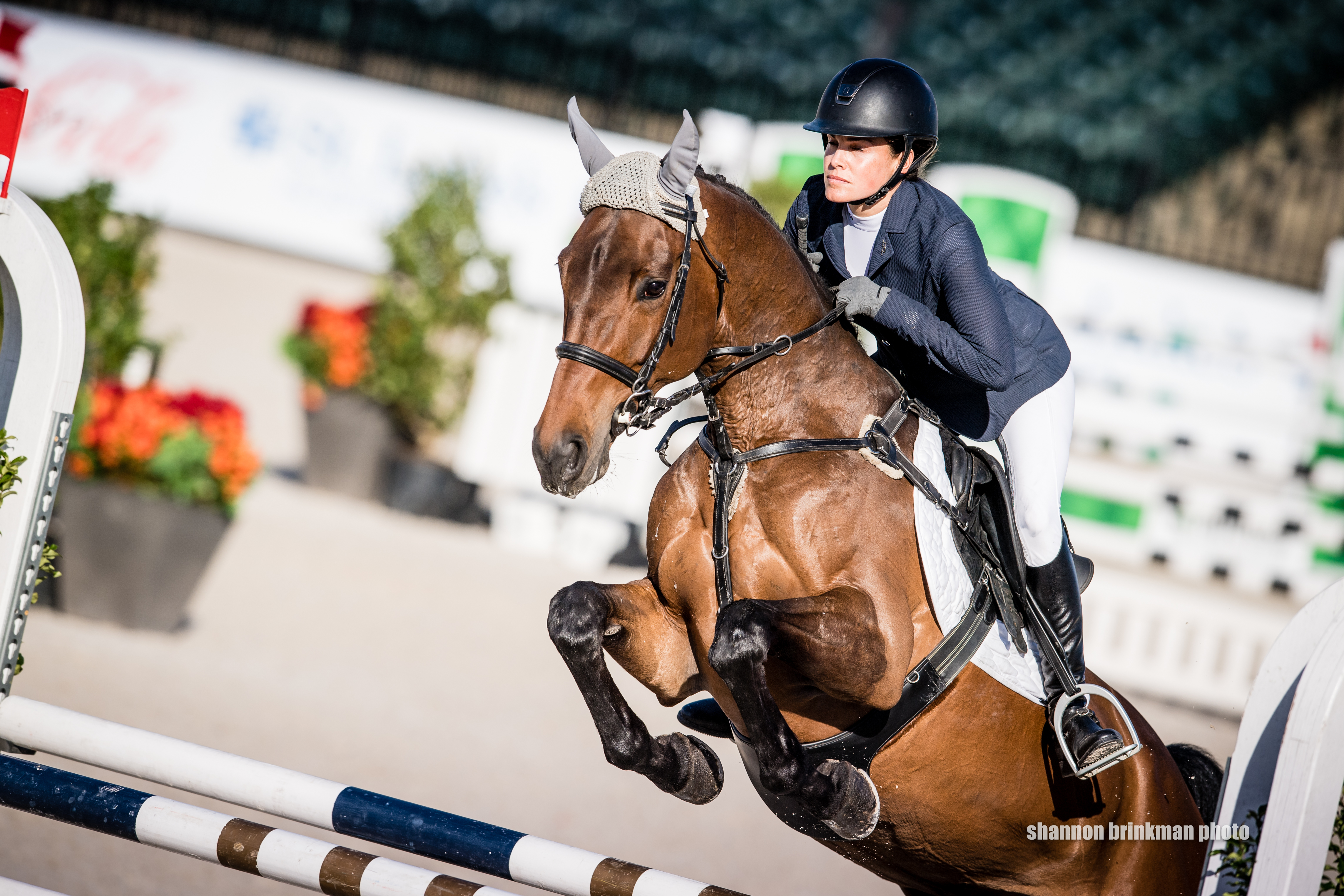 Lucienne Elms and Tremanton
©Shannon Brinkman Photography
Elms and Tremanton are a new partnership who just completed their first 3* contest together in March, and she's thrilled with the effort the 2012 Sport Horse Breeding of Great Britain mare (Birkhof's Graffenstolz x Hand in Glove) demonstrated in the sandbox and over fences, she shared. "She's still very green at the 3* level, and just did her first one last month with me at Stable View. Dressage today was the best result that she has had at the FEI level. She's a very nice moving mare," Elms explained, "but she has a tendency once she gets in the arena [to let] tension interrupt her lateral work, and today was the first time that she really let me ride her, so I am thrilled for that! It was the biggest track that she has jumped, and I was pleased that she jumped really cleanly, [for] a nice confident round."
Though thrilled with her mount's results from the day, Elms predicts that she will not retain her lead after Sunday's Cross-Country challenge if all goes to plan. "I have to go steady with her tomorrow. It wouldn't be in her best interest for me to try and make the time because she is still very new to this level. I would like to keep her in a rhythm that keeps her in a fairly decent position. She is really one that I want to produce slowly and properly," Elms emphasized. "I have no doubt at all that one day she will be back in the lead and I can then put my foot [on the gas] a little bit!"
Elms plans to return to TIEC in the fall with what she hopes will be a more experienced CCI 3* mount beneath her, and concluded that she's "just so thrilled to be back out eventing" at what she called a phenomenal facility for horses of all experience levels: "We had so much rain this week, but I don't think that there is any course in America that drains quite as well as the [White Oak Cross-Country Course] at Tryon. It is astounding. I think that the facility is phenomenal!" 
Maya Black and Double Diamond C Jump to CCI 2*-S Division Lead After Two Phases
Maya Black (USA) and Double Diamond C kept their Dressage score of 28.9 to land in first place after two phases of the CCI 2*-S Division, with Ariel Grald (USA) sitting in second on a score of 29.7 ahead of Cross-Country with Isla de Coco, Annie Eldridge's 2014 Holsteiner mare (Cascadello I x Limbus). In third heading into the third phase, Meghan O'Donoghue (USA) and Fashionable Man, her own 2013 Thoroughbred gelding (Charitable Man x Unknown), hold a score of 30.8 after their clear jumping performance.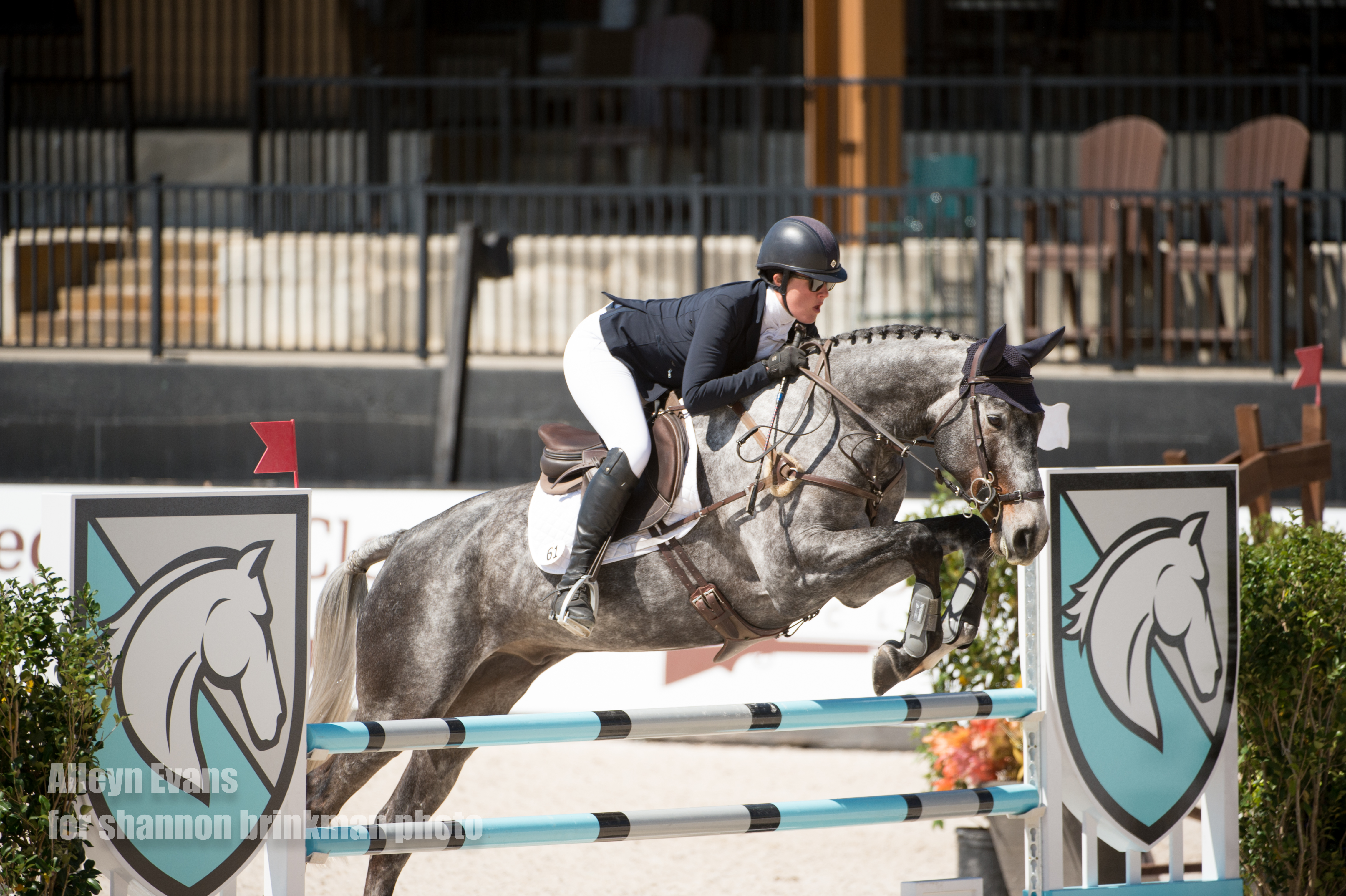 Maya Black and Double Diamond C
©Shannon Brinkman Photography
Double Diamond C, a 2015 Hanoverian gelding (Diacontinus x Lois Land CBF) owned by Laurie Cameron, is challenging his first CCI 2*-S event, and Black reported that her mount seemed to be unphased by the step up from Preliminary: "I think he's handling the atmosphere really well, and he went into both the Dressage and Show Jumping and just was on task, and jumped well and confidently. He was really rideable and really as good as he could be for this point in his training and his career."
Though she feels her horse is a pretty straightforward ride, anything is possible when jumping into the water, Black admitted. "I have a feeling it might be a big leap into that first water we have at the big brush jump. But, he's been very honest. It might be a bit of a splash!"
Black is ready for a chance to redeem her past record at that particular brush jump into the water complex, she shared, after taking a tumble on another mount last fall. "I'm going to try not to do that again! I get three chances at it tomorrow. I don't know that I would necessarily make any adjustments to my ride from last time, so, you know, we'll just try again! We'll try to put our floaties on better or something [this time]," she joked. 
Will Faudree and Boyd Martin Top Advanced Divisions Heading into Cross-Country
Will Faudree (Southern Pines, NC) and Mama's Magic Way, the 2011 Hanoverian gelding (Mighty Magic x Straightaway) owned by Jennifer Mosing and Sterling Silver Stables, kept their lead over two phases in the Advanced – Test A Division, leading with a 35.8. Sarah Kuhn (Aiken, SC) and Mr. Cash van de Start, Deborah Kuhn's 2012 Belgian Warmblood gelding (Deauville de la Vie x Ishtar van de Start), earned a score of 39.5 to sit in second place, while Caroline Martin (Miami Beach, FL) holds third aboard Islandwood Captain Jack, the 2009 Irish Sport Horse gelding (Jack of Diamonds x Suir Touch) owned in partnership with Sherrie Martin, on a score of 40.1.
Will Faudree and Mama's Magic Way
©Shannon Brinkman Photography
Boyd Martin (Cochranville, PA) held tight to both first and second place across two phases in the Advanced – Test B Division, in first with Luke 140 (28.3), the 2011 Holsteiner gelding (Landos x Omega VI) owned by the Luke 140 Syndicate, and second with Long Island T (30.2), the 2006 Oldenburg/Thoroughbred gelding (Ludwig von Bayern x Highlight) owned by the Long Island T Syndicate. Third place currently belongs to Daniela Moguel (Shelby, NC) and Cecelia, the 2003 Thoroughbred mare (Connecticut x Penny Stock) owned by Jorge Martinez and Paloma Garcia, on a score of 34.9.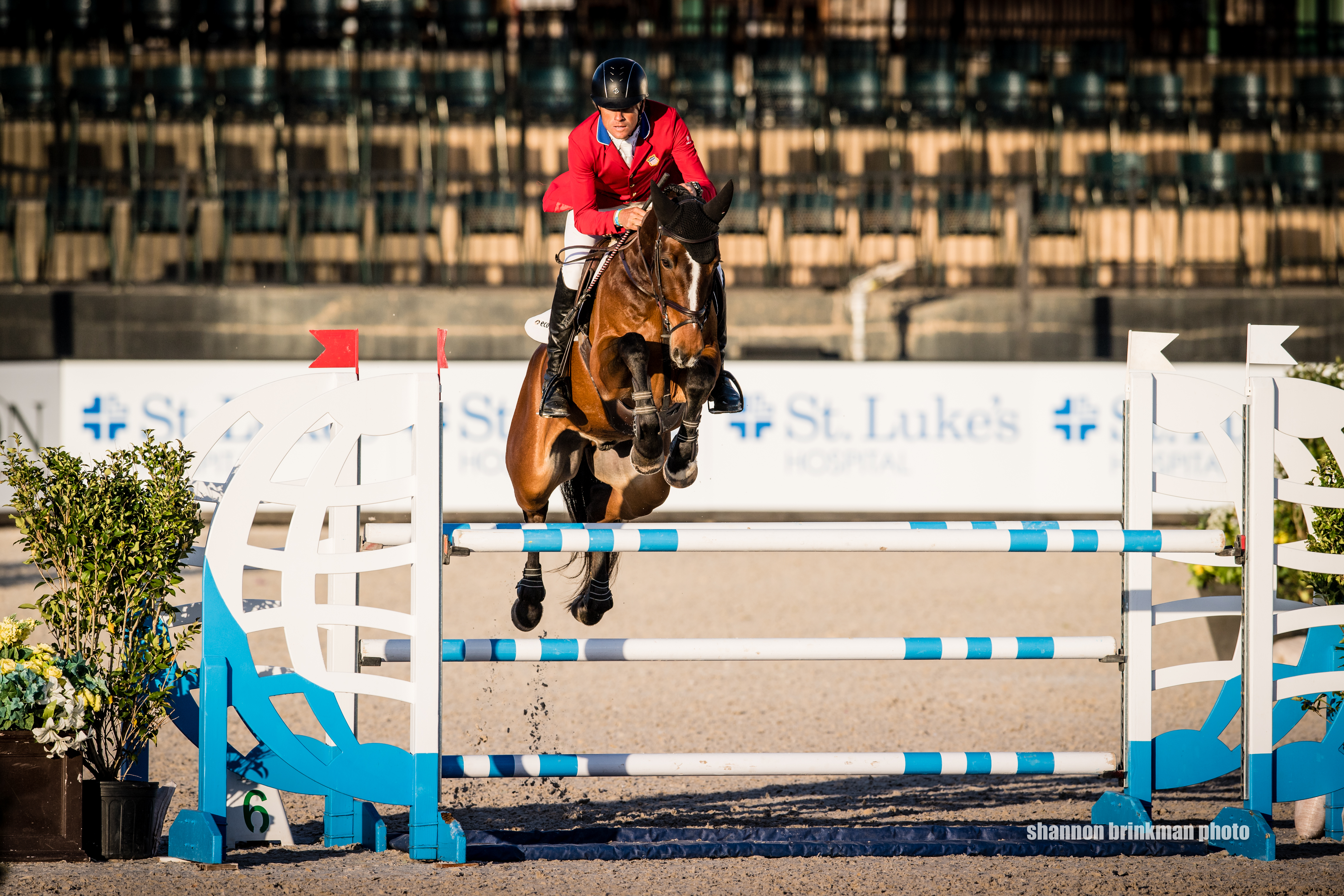 Boyd Martin and Luke 140
©Shannon Brinkman Photography
Martin slated his syndicate horses for the Advanced – Test B Division, taking top honors with both after "spot on" performances from both, he recapped: "They're both fantastic movers and great jumpers. As we are getting close to Kentucky, I think it's important to try and do a bit of a dress rehearsal here at The Fork. I got here a day early, and really tried to make sure that the horses were primed up for a good run here."
Aiming for a competitive trip around the White Oak Cross-Country Course, Martin said he planned to run at about 80%, he estimated. "They need to run – they haven't run much this year. I am going to make sure that they are confident and riding well, but they also get used to jumping big fences at high speeds again. I think I will run them at about 80%. It's such an amazing venue here at Tryon," he emphasized. "Absolutely world-class, and it is a real privilege to compete here."
Though a familiar face at TIEC and especially in the winner's circle, Martin did note that Saturday's competition did hold a "first" for him at the venue: jumping under the lights in Tryon Stadium, where he typically competes in daylight hours. "I tried to split my horses up [between divisions] this weekend, just to give myself physically a bit of a break between rides. He [Tseterleg] came out and jumped really well under the lights tonight. It was the first time that I had jumped these horses at night. I think it's a great experience getting out there and dealing with the shadows from the bright lights." 
Lisa Borgia and Storm's End Lead Open Training After Two Phases
Lisa Borgia (Minnetrista, MN) and Storm's End, her own 2015 Thoroughbred gelding, remain on their Dressage score of 22.1 after Cross-Country competition, navigating the course clear and within the time to improve to first place ahead of Show Jumping. Sophie Click (Coupeville, WA) and Tarantino 54, the 2013 Oldenburg gelding (Quattro B x Los Argentina) owned in partnership with Amy Click, currently hold second place with a score of 23.8, while Erin Pullen (Louisville, KY) and Theodoor, the 2008 Dutch Warmblood gelding (Great Pleasure x Jokatosa) owned by Nicole Lakin, also kept their Dressage score intact to improve to third place on 24.5 points.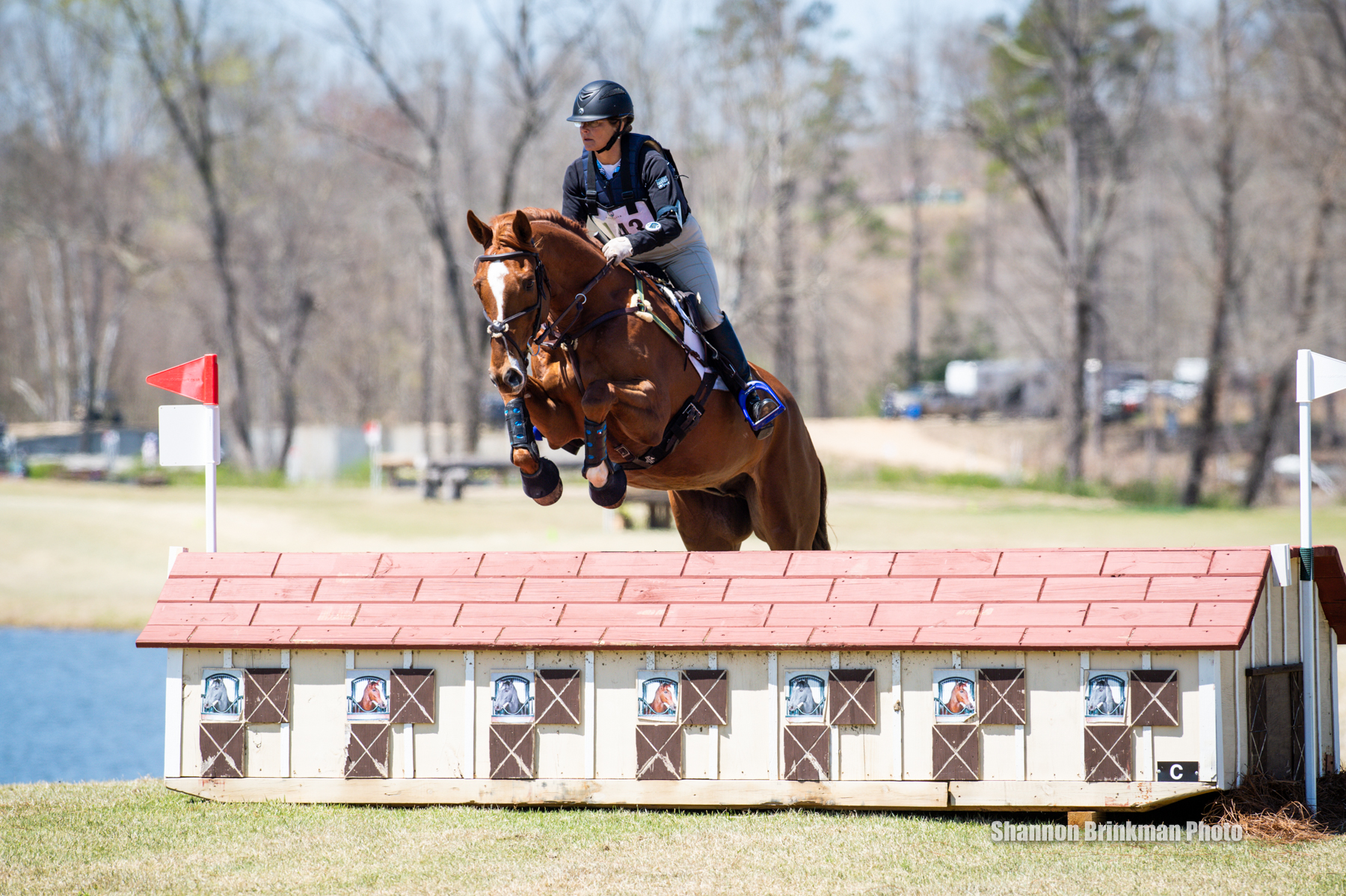 Lisa Borgia and Storm's End
©Shannon Brinkman Photography
Borgia is guiding Storm's End around a newer level to him, "but he's a very nice mover, when he wants to throw a good dressage test, he can," she shared. "The Cross-Country course [suits him], with open galloping and bigger fences, and not a lot of banks and ditches." The trickiest part of the Cross-Country phase was actually hacking down the hill to the start with her "suspicious red-head," she revealed: "He is still getting his feet beneath him for some of that stuff, but he was very brave today. I thought for a minute we weren't going to get down the hill on the hack, but he sucked it up! It's an intimidating hill, especially because he has never been here before."
After taking things easy for the first half of the course to let him have a look around, Borgia knew she was in the clear after crossing the water complex and the bridge successfully, she acknowledged. "Once we made the turn after the first two combinations and came back through the water and got across the bridge, then I knew we were golden. I opened him up a little bit, and we were just under time, so I was happy with that. I would say going across the bridge at the latter part of the course was the best part, for that reason."
Borgia was one of the many competitors who took advantage of schooling rounds under the lights on offer for riders Thursday evening, and hopes to keep Storm's End "concentrated and up in front of me, so he's more careful with his front end, since he's not the most careful stadium jumper. It's a nice score to finish on, if we can! That would probably be the lowest finishing score he's ever had." 
Paige Crotty Leads Open Preliminary After Cross Country with Excel Star Armina Z
Open Preliminary two-phase results show Paige Crotty (Southboro, MA) in the lead with Excel Star Armina Z, her own 2012 Irish Zangersheide mare (Air Jordan Z x Cromina Z), on a score of 29.4 after their clear Cross-Country round. Caroline Martin (Miami Beach, FL) and Vamanos, the 2015 Zangersheide gelding (Andiamo VH Kapelhof Z x Quasimodelle Kapelhof Z), which she owns with Sherrie Martin, sit in second with a score of 32.2, while Mary Bess Davis (Mansfield, GA) and Imperio Magic, the 2014 Warmblood gelding (Cassander C x Khadija des Hayettes), hold onto third place with a score of 34.1.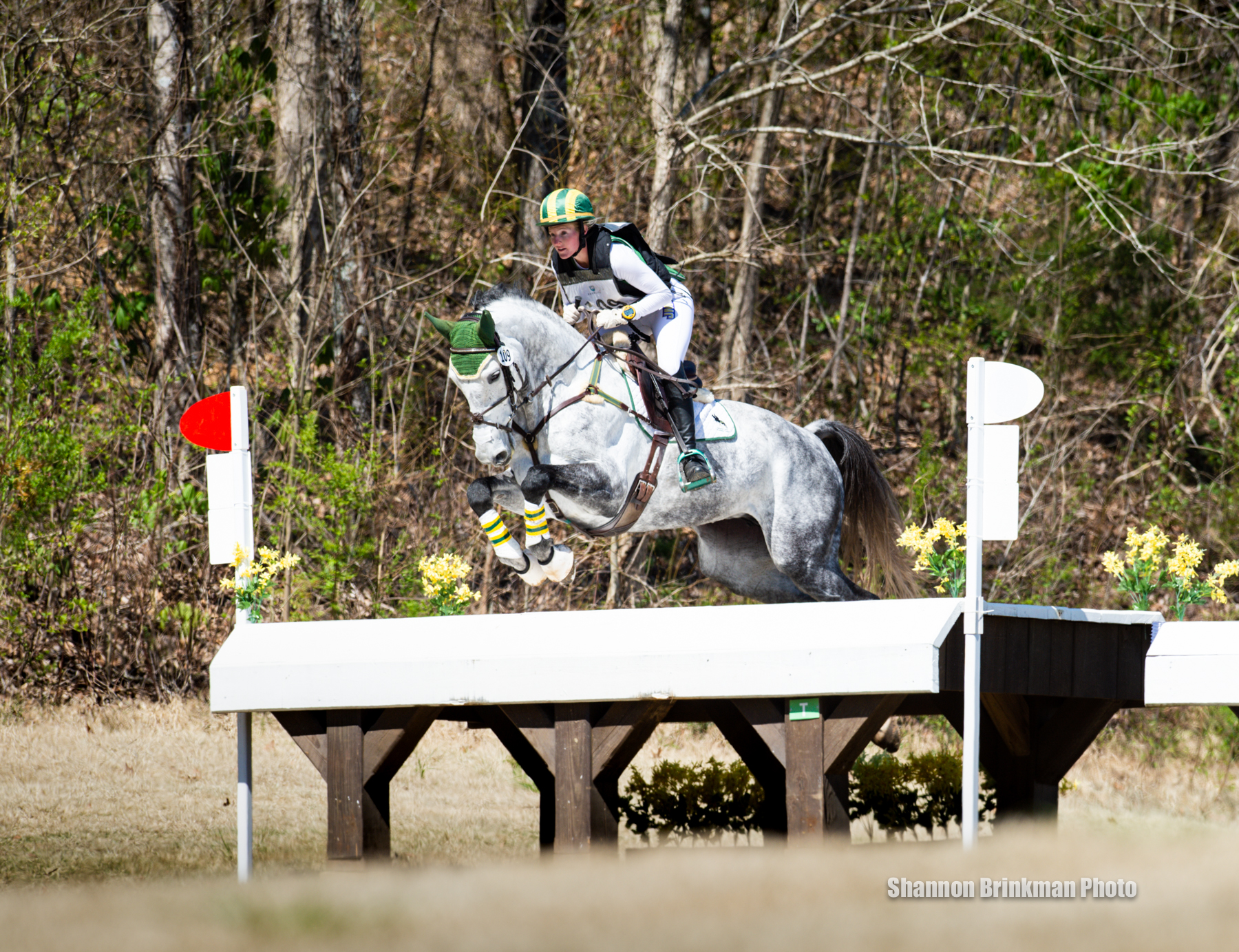 Paige Crotty and Excel Star Armina Z
©Shannon Brinkman Photography
Click here to view all division results from The Fork at TIEC presented by Nutrena®.
The Fork at TIEC presented by Nutrena® continues tomorrow, Sunday April 4th. No spectators are permitted per USEF policies for COVID-19. Competition information is available at www.Tryon.com/eventing, including live scoring, the event program and more. 
Photos ©Shannon Brinkman Photography. These photos may only be used once in relation to this press release with proper credit. Contact media@tryon.com with questions.