Liz Halliday-Sharp Holds On for CCI 4*-S Lead with Cooley Moonshine
For Immediate Release
Sarah Madden for TIEC
Mill Spring, NC – April 9, 2022 – Day two of The Fork at TIEC featured Cross-Country and Show Jumping competition hosted at Tryon International Equestrian Center & Resort (TIEC) as part of the three-day Eventing competition. Upper levels contested Show Jumping in Tryon Stadium in the afternoon over the Dean Rheinheimer (USA) course, while levels Beginner Novice through Preliminary challenged the Cross-Country track set by Captain Mark Phillips (GBR). Ahead of Sunday's final phase of competition, free and open to the public, results and comments from Saturday's competition can be found below.
Liz Halliday-Sharp Holds On for CCI 4*-S Lead with Cooley Moonshine
Liz Halliday-Sharp (USA) and Cooley Moonshine were cool under pressure under the lights in Tryon Stadium, putting in a double-clear round to maintain their lead in the CCI 4*-S Division, bringing forward a score of 26.0 to Sunday's Cross-Country test. The rest of the leaderboard also remains unchanged: Will Coleman (USA) and Off the Record, the 2009 Irish Sport Horse Gelding (VDL Arkansas x Ard Ohio) owned by Off The Record Syndicate, kept their score of 27.2, while Boyd Martin (USA) and Tsetserleg, the 2007 Trakehner gelding (Windfall *PG* x Buddenbrock) owned by Christine, Thomas IV and Tommie Turner, also produced a double-clear stadium round to hold third place and 27.7 points.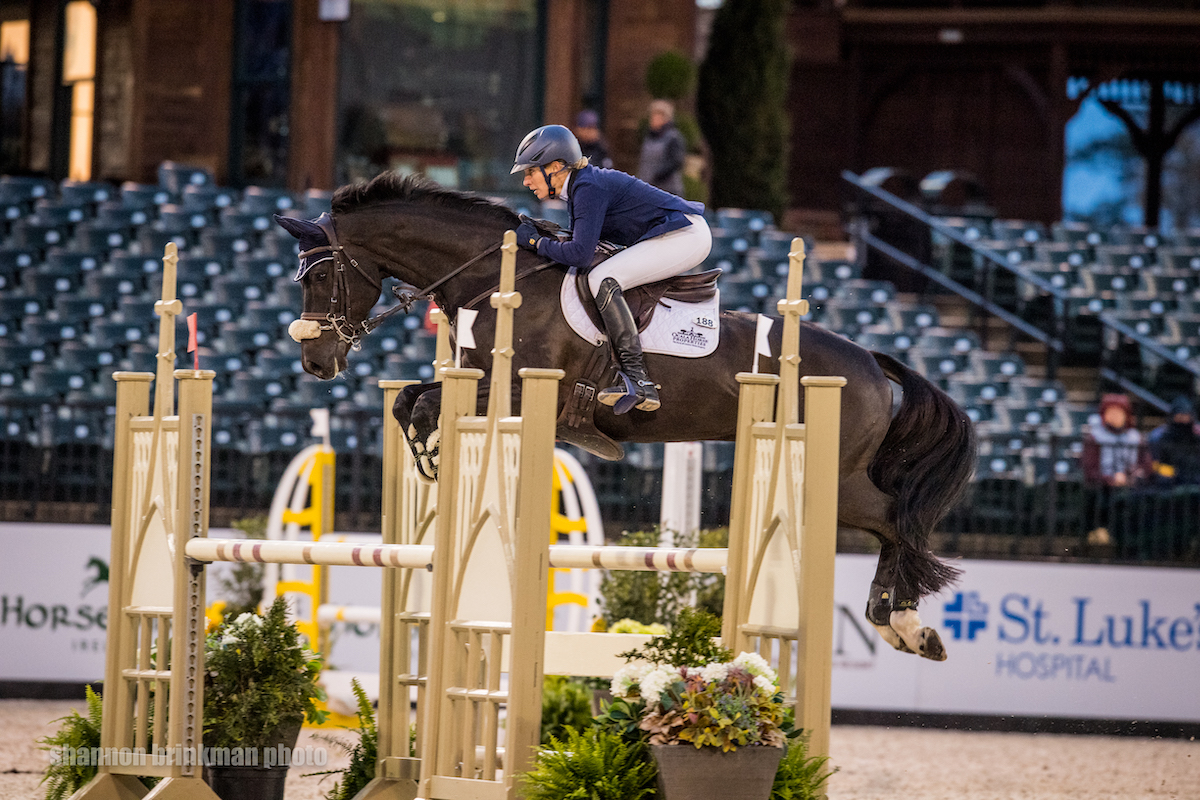 Liz Halliday-Sharp and Cooley Moonshine
©Shannon Brinkman Photography
Halliday-Sharp and the 2012 Irish Sport Horse gelding (Cobra x Kings Master) owned by The Monster Partnership had a "wonderful" round to keep their lead, though Halliday-Sharp admitted that it was a bit brutal to ride such a brilliant jumper while still injured:
"The Show Jumping phase was quite good on all the horses. Cooley Moonshine's just incredible. He's a really amazing horse, so I had a lot of fun riding him. He's pretty hard on my body because he's such an extravagant jumper, so I was a little bit beaten up at the end of that one! He was just wonderful," she continued, "and it's always a pleasure to have him in the ring, because he always fights for it."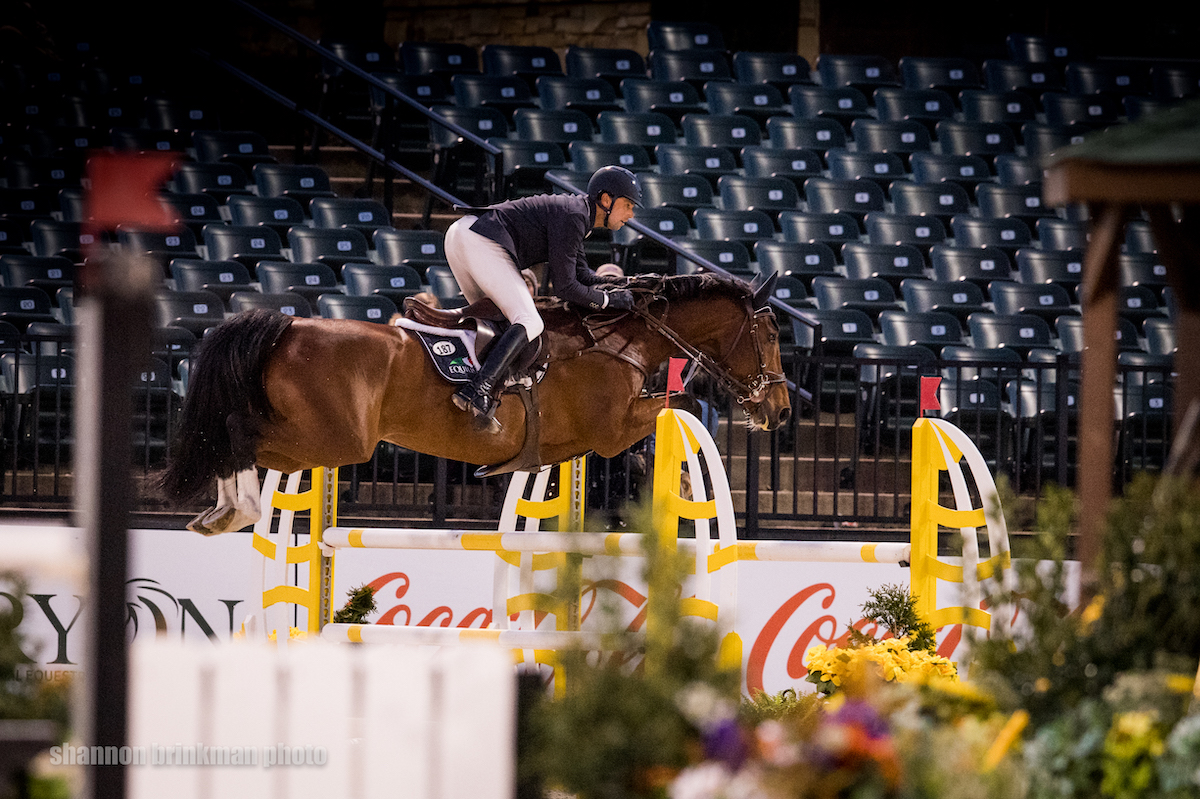 Will Coleman and Off the Record
©Shannon Brinkman Photography
Halliday-Sharp's more green ride at the level, Cooley Be Cool, improved from tenth to seventh after producing a double-clear round, and she praised the class of the 2013 Irish Sport Horse gelding (Heritage Fortunus x Unknown) owned by Ocala Horse Properties and the Monster Partnership.
"I was totally thrilled with Cooley Be Cool. He's a greener horse and we've been kind of playing around with some things in his Show Jumping, and I think it was the best round he's ever jumped. He really rose to the occasion under the lights, which was kind of cool. He's quite an arrogant horse," she revealed, "and thinks a lot of himself. It's nice to have him, sort of, channeling the arrogance the right way!"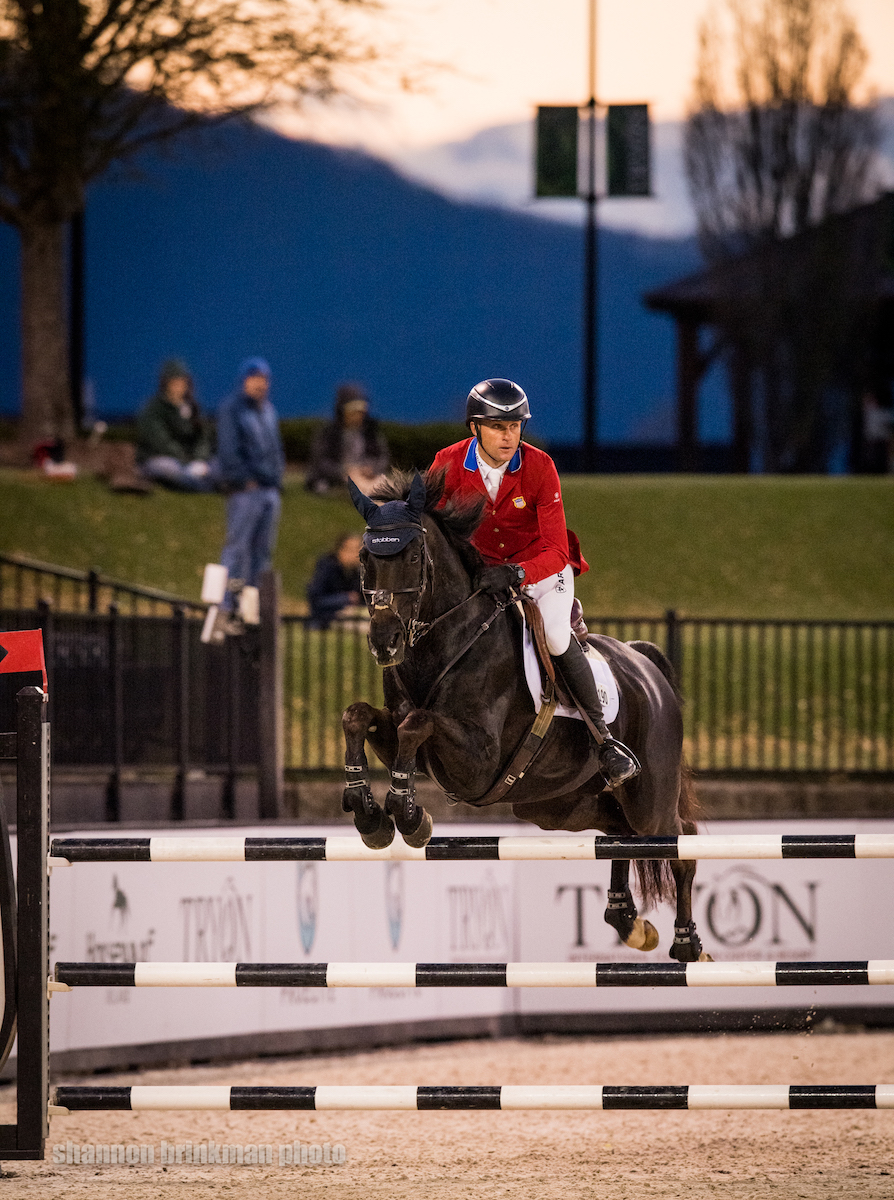 Boyd Martin and Tsetserleg
©Shannon Brinkman Photography
While she's planning on giving her CCI 4*-S horses the fitness runs they need and protecting herself in the process, Shanroe Cooley will be contesting his first CCI 3*-S, and will tell her what he needs on course, Halliday-Sharp detailed.
"The track is big and bold, like Mark [Phillips] builds, and my plan is to run quick enough on them, because the four-star horses need the run, and need to have a good gallop. But obviously, I'm just trying to ride smart and set them up for their spring three-day events." She concluded, "For Shanroe Cooley, since he's greener, my plan is that he will tell me where he's at, and I will ride him accordingly. He's a very, very good Cross-Country horse, and I think he will rise to the occasion."
Marc Grandia Grabs CCI 3*-S Division Lead
Marc Grandia (USA) and Campari FFF produced a double-clear Show Jumping round in Tryon Stadium to rise to the top position after two phases on a score of 29.3. Liz Halliday-Sharp dropped a rail and added 0.4 for time to carry forward a score of 30.8, holding onto reserve with Shanroe Cooley, the 2015 Irish Sport Horse gelding (Dallas VDL x Unknown) owned by Ocala Horse Properties. Heidi Hewlett Crowell (USA) rode Tinraher Diamond, Craig McCallum's 2014 Irish Sport Horse mare (Jack of Diamonds x Prospect Pride), to a double-clear round to keep their score of 31.0 and improve to third place at the moment.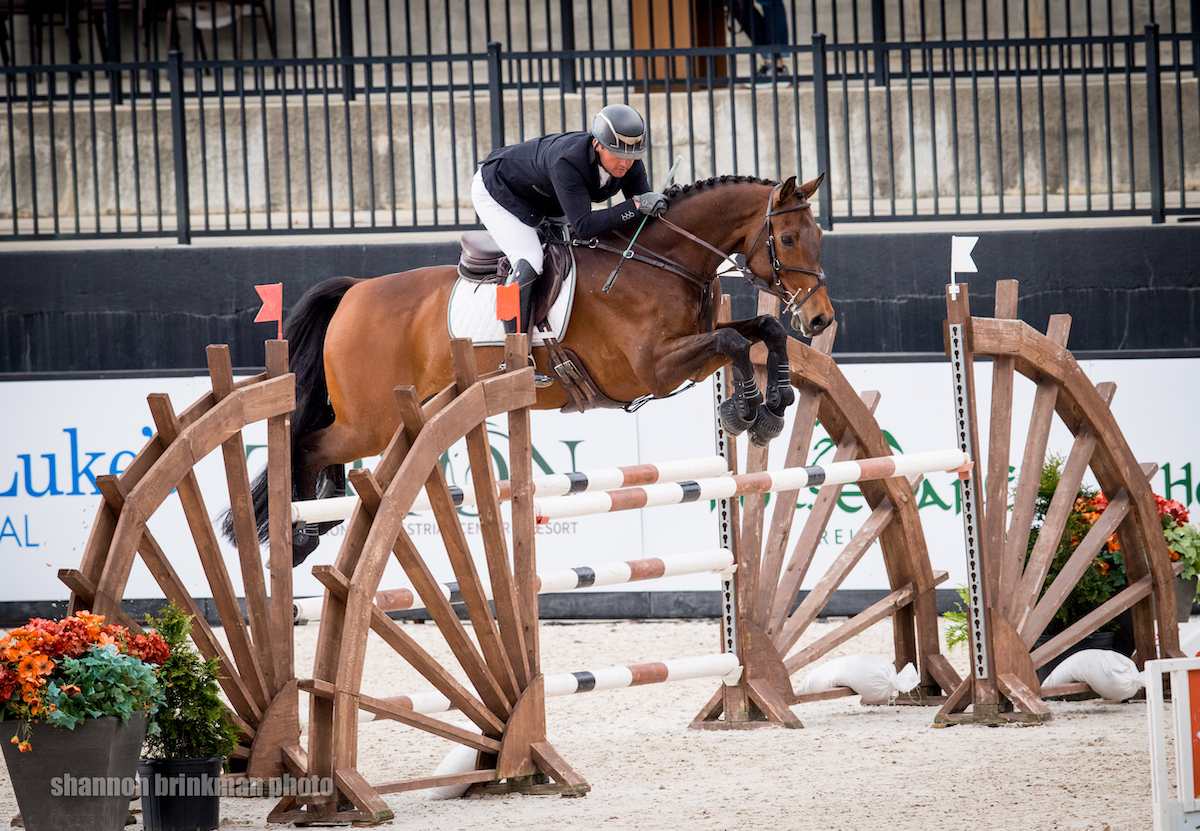 Marc Grandia and Campari FFF
©Shannon Brinkman Photography
Grandia and the 2010 Holsteiner gelding (Camros x Ariadus) owned by Team Rebecca, LLC managed a clear round despite wind gusts that caused some trouble for the ring crew during the afternoon, he recapped. "It's a big arena [Tryon Stadium] and sort of a spooky environment. The wind was blowing and fences were even falling over at one point because the wind was so hard. He just went in there and did his job!"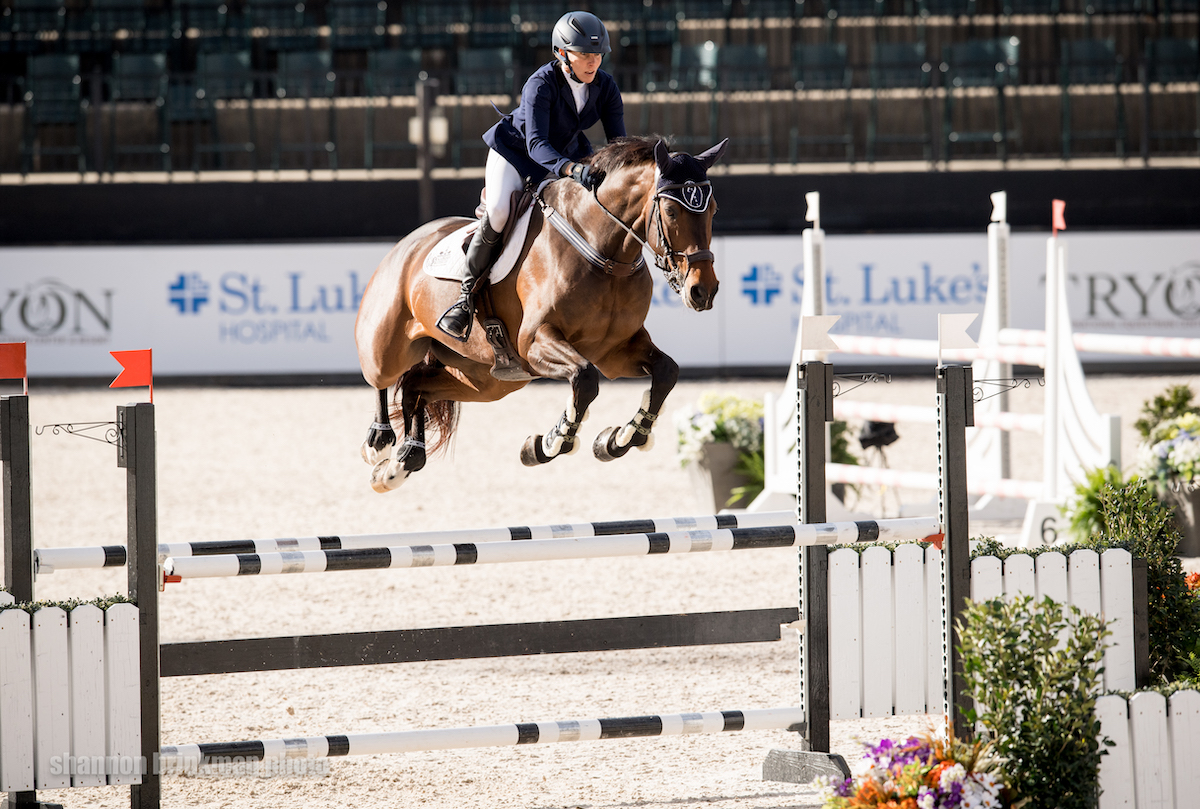 Liz Halliday-Sharp and Shanroe Cooley
©Shannon Brinkman Photography
Using his time at TIEC to prepare for Kentucky, Grandia is still debating his Cross-Country strategy for Sunday, he admitted. "We're here [at TIEC] for one final round of fitness and schooling before Kentucky in just a few weeks. The footing looks like it's going to be just about perfect. I'm here for the fitness, and there's a nice big hill at the end. I think I'd like to go around quickly with him, but I'll decide in the morning.
Heidi Hewlett Crowell and Tinraher Diamond
©Shannon Brinkman Photography
"It's a lovely venue. You feel very spoiled to get to come here," he concluded. "I've been in the area for a few weeks. I got to go to Carolina, now I get to be here, and then I get to go to Kentucky. I feel very spoiled right now as an Event rider! I want to thank the organizing committee and everyone who makes this possible, and to Team Rebecca, of course. They've given me an opportunity to ride a wonderful horse."
Doug Payne Maintains CCI 2*-S Lead Before Cross-Country
Doug Payne (USA) kept his lead in the CCI 2*-S Division aboard Fenix Rouge Du Claux, the 2015 Selle Francais gelding (Chef Rouge x Fleuron de Dun) owned by Anna Antrobius, adding nothing to their Dressage score of 29.9. Caitlin Romeo (USA) and her own Fernhill B Good, the 2015 Irish Sport Horse gelding (Ramiro B x Lord de Luxe), improved from third to the reserve slot after posting a double-clear stadium round, carrying forward a score of 31.8. Kathleen Bertuna (USA) and Excel Star Harry, her own 2015 Irish Sport Horse gelding (Luidam x Coolcorron Cool Diamond), currently hold the third place position on a score of 36.4.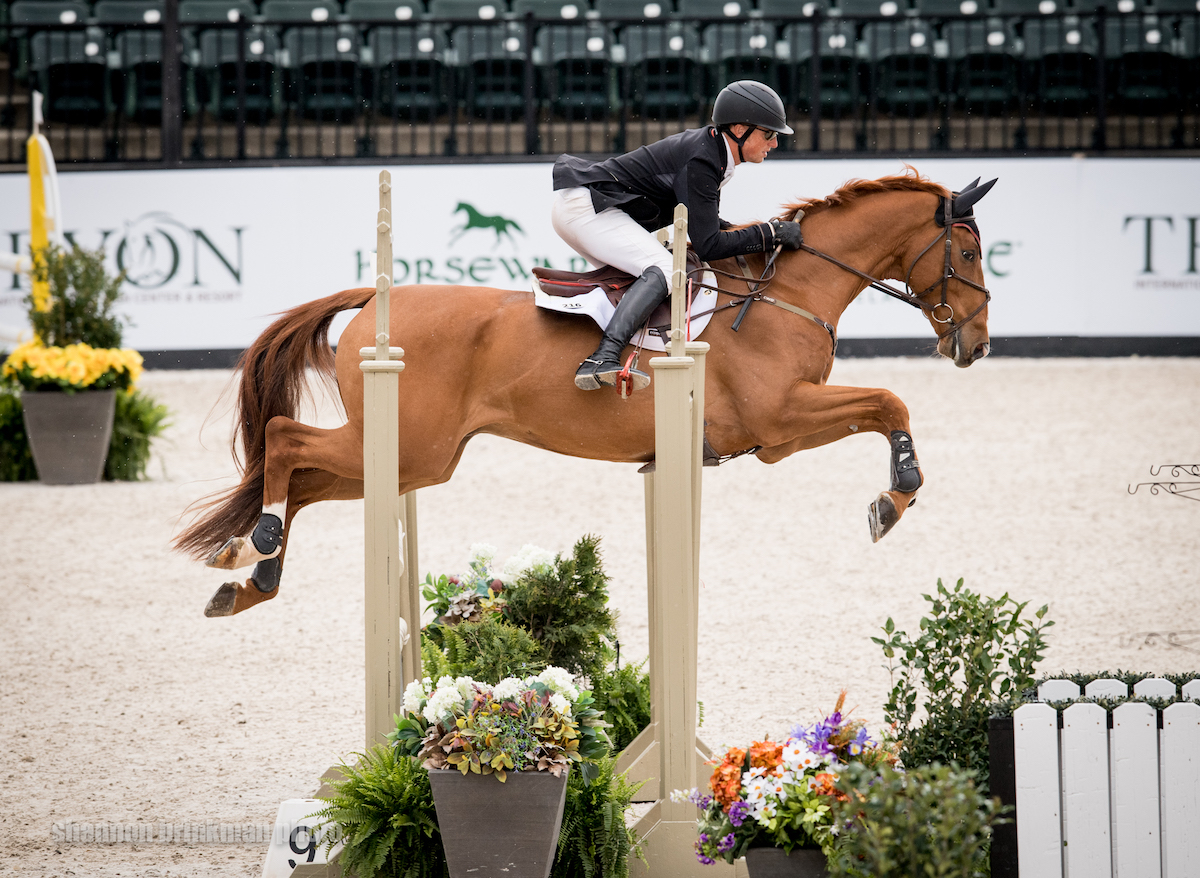 Doug Payne and Fenix Rouge Du Claux
©Shannon Brinkman Photography
CCI 1*-S Division Lead Stays with Marissa Griffin
Marissa Griffin (USA) and Conguistador, her own 2007 Dutch Warmblood gelding (Van Gough x Haarlem), went double clear to protect their lead on a score of 28.7 in the CCI 1*-S Division. A double-clear stadium round promoted Sandra Holden (USA) and Evil Munchkin, her own 2003 Holsteiner gelding (Clearway x Caretino), to second place on a two-round total of 32.8. Ashton Benefiel (USA) and Kingston Van Meerzicht, the 2015 Dutch Warmblood gelding (Harley VDL x Indoctro) owned by Ashton Brooke Benefiel, hold their podium placing on a score of 35.5.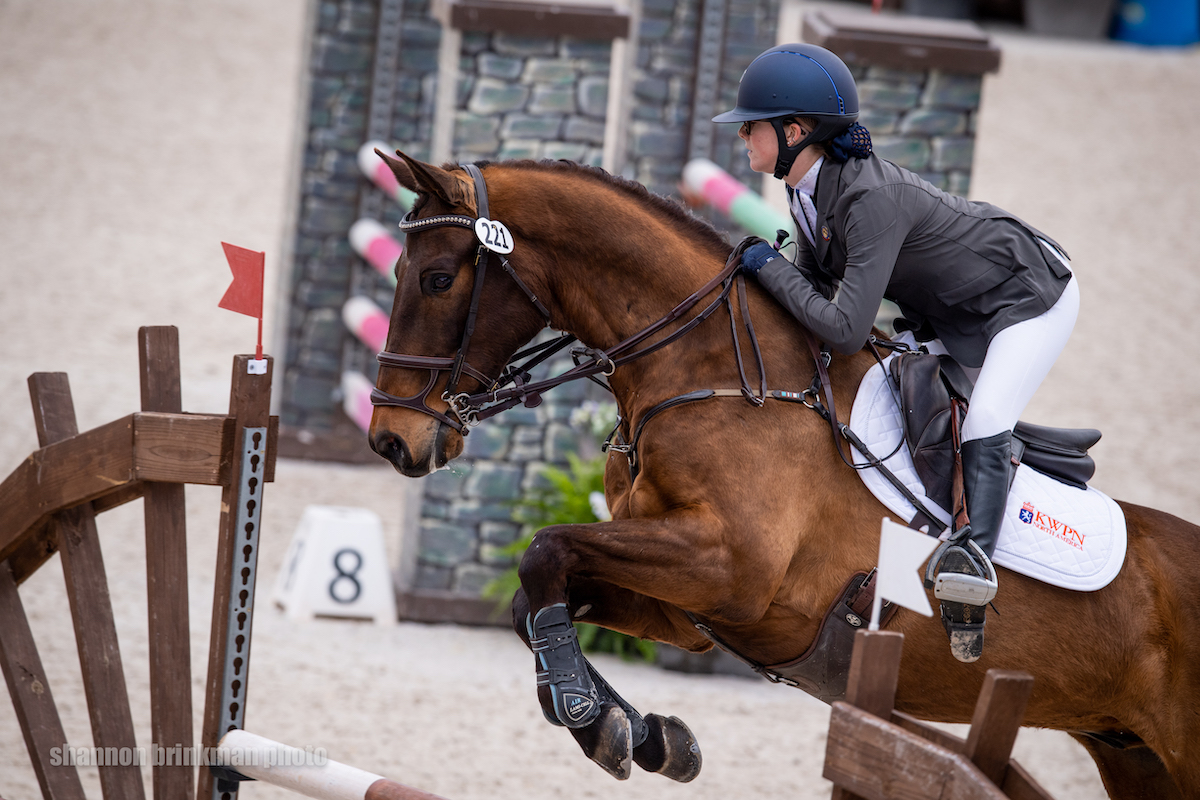 Marissa Griffin and Conguistador
©Shannon Brinkman Photography
Griffin, who is contesting her first event at the FEI level, described the intimidating experience of being first in her order of go and warming up alongside other international competitors.
"I've had a great experience so far. This is my first FEI, and it was a bit nerve-wracking as the first rider in the one-star, so I had a warm up with all the people in the four-star and three-star. But Dressage went really amazing, and my horse was perfect. Same thing with Show Jumping; I was the first FEI rider, so it was a little bit nerve-wracking also, but as always, he was perfect and amazing."
By the time she arrived in Tryon Stadium for her Show Jumping round, Griffin admitted that her strategy was "to ride… to remember how to ride!" But the nerves and big atmosphere of the ring only gave her a boost, she reflected. "It's obviously a very big atmosphere, so you come into it a little different, and it always seems to ride better for me that way. You come out happier because you just accomplished this big arena."
Heading into Cross-Country on Sunday, Griffin is all excitement for her favorite phase of competition. Having previously competed at The Fork and also at the Tryon Fall Horse Trials, Griffin is pleased with her introduction to the FEI levels as part of her path up the levels.
"I recently moved up to Modified, and I want to move up to Prelim, so I thought I would try a few one-stars to start. They're very friendly and a very nice introduction to FEI levels before I move up to Prelim, and then hopefully to two-star. I've been working a lot in Dressage. We've had a wonderful experience so far."
Open Intermediate Division Sees Solomon Edwards and Urlanmore Beauty Jump to Lead
The Open Intermediate Division had a bit of a shakeup in the standings after two phases. Solomon Edwards rode Urlanmore Beauty to a score of 37.0 and the lead after a double-clear Show Jumping round with the 2003 Irish Sport Horse gelding owned by Tawn Edwards, improving from fifth. In reserve at the moment, Sarah Kuhn and Grey Gatsby, Deborah Kuhn's 2013 Irish Sport Horse gelding (Albano x Loughnatousa Kim), carry forward a score of 39.2 after two rails in the Show Jumping phase. Third place and a score of 39.4 currently belongs to two entries: Marc Grandia and Hyacinth, the 2012 Sutch Warmblood mare (Contendro x I. Vesper) owned by Jessica Rosch, and Elle Choate riding Paddrick, her own 2011 Irish Sport Horse gelding (Kroongraaf x Temple Clover).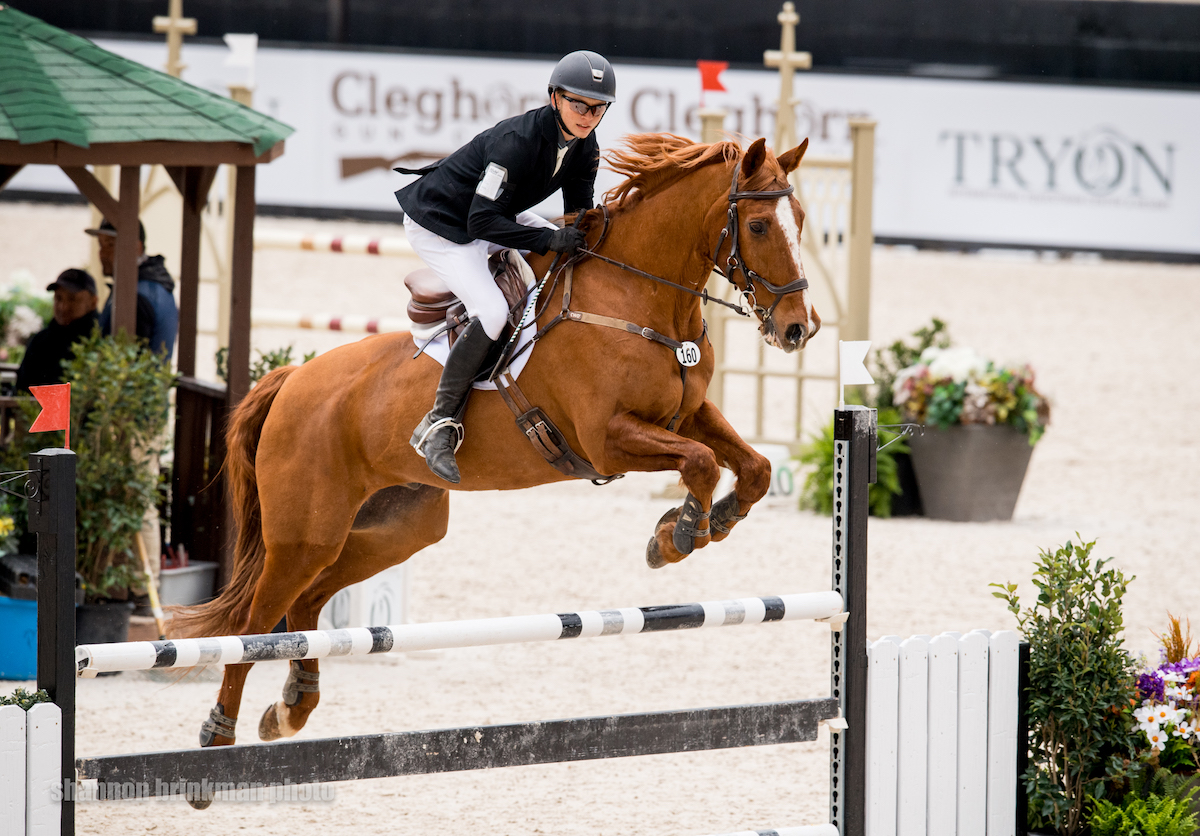 Solomon Edwards and Urlanmore Beauty
©Shannon Brinkman Photography
Megan Sykes Overtakes Open Preliminary Lead
Megan Sykes and Classic's Mojah started the day tied for first, and kept a hold on the placing following their double-clear Cross-Country run. Sykes and her own 2009 Oldenburg gelding (Chambertin x Senna) finished their second phase on a score of 26.3. Ariel Grald and In Vogue, Claire Williams' 2016 Irish Sport Horse mare (Future Trend x Ballymolloy Hollyhock), maintained their reserve placing and a two-round total of 29.2, while Grald also stepped up to third aboard Belline Cavalary Man, the 2015 Irish Sport Horse gelding (Tolan R x Cavalier Cloe) owned by Anne Eldridge, going double-clear to carry forward a score of 31.1 to Show Jumping.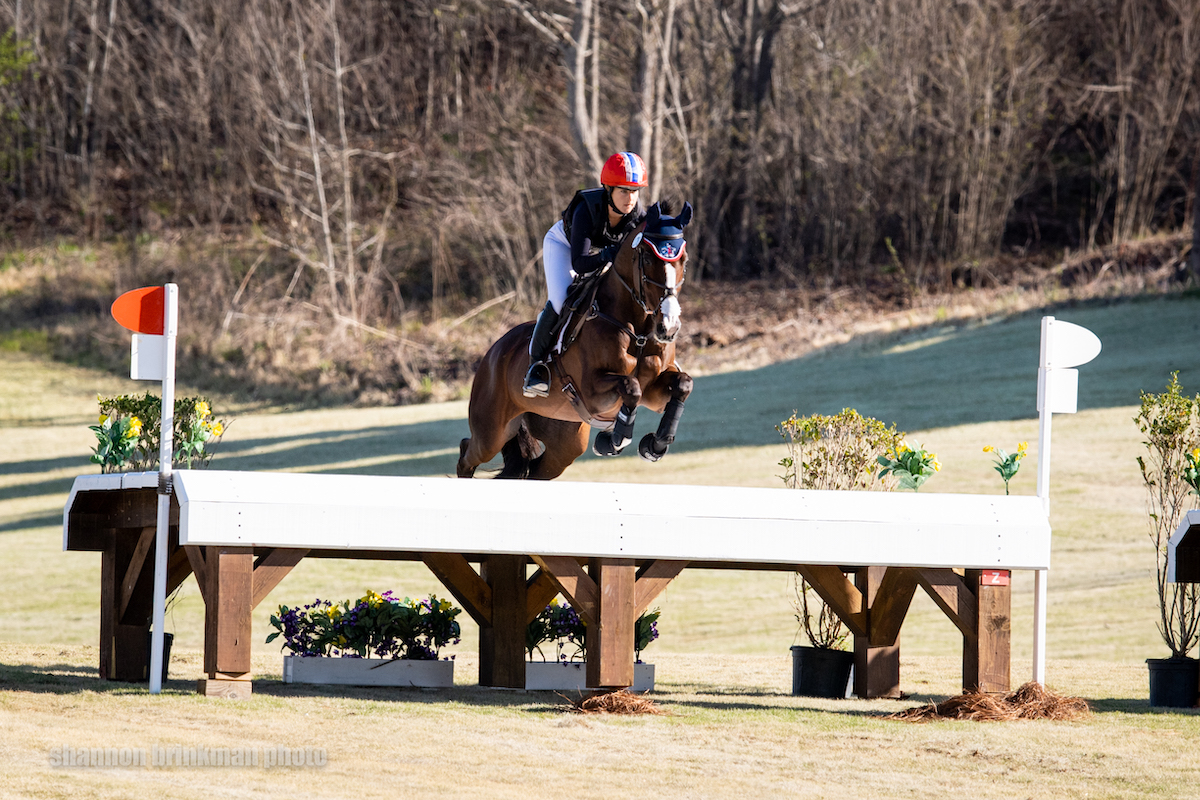 Megan Sykes and Classic's Mojah
©Shannon Brinkman Photography
While Sykes and "Mo" have competed to the Advanced level, this weekend is serving as his first true outing of the season, she explained, and took the opportunity to cruise through the Preliminary tests. "It was a really good course. He has had just a really slow start to the season this year, and this is kind of his first outing. So, we just kind of cruised around and it felt great. I had a great time out there!
"I thought it was super fun," she reported of the Captain Mark Phillips course design. "I think there were definitely good challenges, especially for a prelim course. There were lots of questions for the horses and riders to maneuver, but I think all of them were set up very fairly, and were on good lines. Everything was well decorated, and it was super fun."
A frequent face at TIEC, Sykes noted that she brought clients with her this weekend for whom it was their first experience at the venue. "I absolutely love it here. This is my fifth or sixth time being here. It's always such a great event, and it's so fun," she concluded. "I'm thankful to bring some clients for their first time here to compete this weekend, and they're all having a blast and, you know, hopefully the good times will keep going throughout the weekend."
Modified Division Lead to Julia Fanello
Julia Fanello and FE Clooney, the 2014 Holsteiner gelding (Crunch x V-Mona Lisa) owned by Clayton Fredericks, produced a double-clear Cross-Country round to earn the lead on a 26.8 ahead of Sunday's Show Jumping test. Audrey Ogan and her own Second Amendment, a 2015 Dutch Warmblood gelding (Colonist x Allie), improved from third to reserve and will bring forward a score of 28.5. The third place position resulted in a tie after two phases for Dylan Phillips with FVF Top Gun, Dylan Philipps' 2013 Dutch Warmblood gelding (C. Quito x Vignette), and Adalee Ladwig riding her own Santiago, a 2009 Oldenburg gelding (Balta Czar x Unknown). Both sit on a score of 30.3 ahead of the final phase of competition.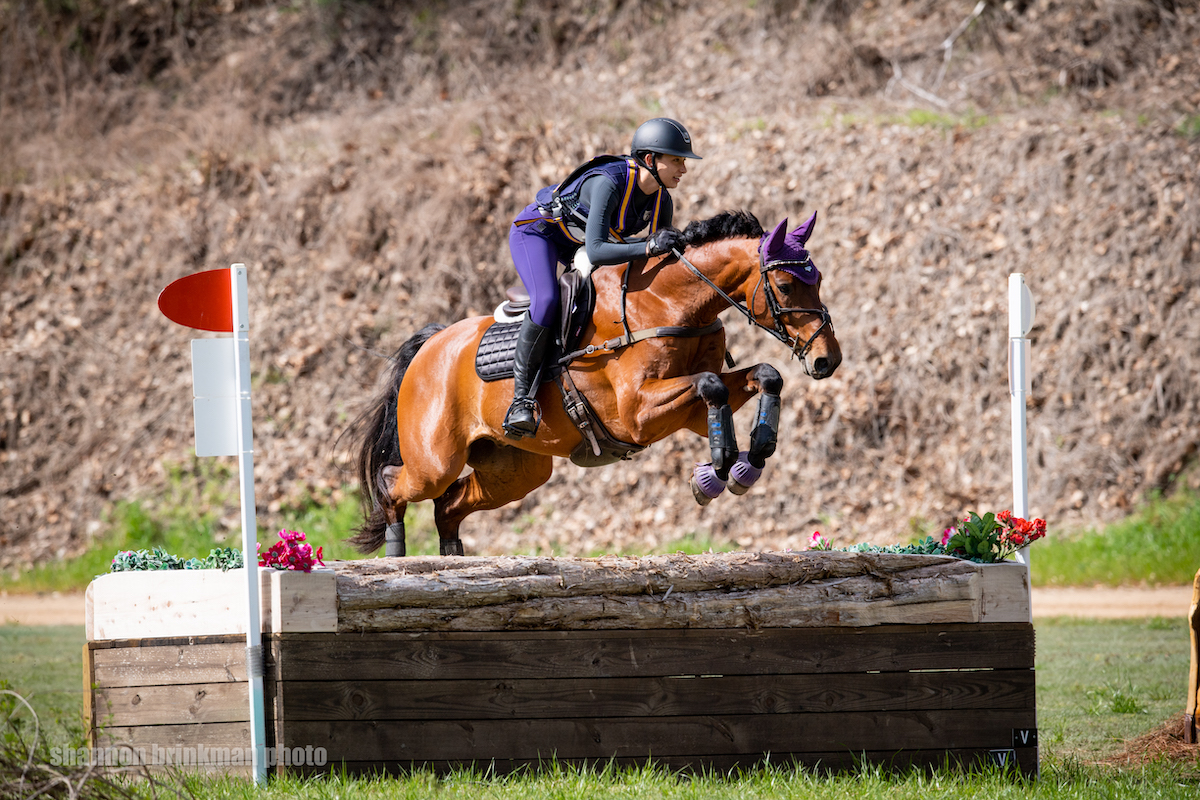 Julia Fanello and FE Clooney
©Shannon Brinkman Photography
For full results from The Fork at TIEC, click here.
Competition continues through Sunday, April 10, with competition open to the public and no live stream available. Sunday will feature Cross-Country competition for the upper levels9am-3:30pm, with Show Jumping in Tryon Stadium taking place from 8am-3:40pm for the lower national levels.
For parking and shuttle information, XC course maps, live scoring, Orders of Go and more, visit www.Tryon.com/eventing.
Photos ©Shannon Brinkman. These photos may only be used once, in relation to this press release. With questions, contact media@tryon.com.