For Immediate Release
Mill Spring, NC – November 11, 2021 – The Dutta Corp/USEF CCI 4*-L Eventing National Championship kicked off at Tryon International Equestrian Center & Resort (TIEC) with two days of Dressage competition as part of The Dutta Corp Tryon International Three-Day Event. The week features CCI 1*-4*-L competition alongside CCI 4*-S competition and the Adequan®/USEF Eventing Youth Team Challenge East Coast Finals. In the chase for the national title, Will Coleman (USA) and Chin Tonic HS hold the lead going into Cross-Country, dancing to a score of 26.0. The remainder of the podium is also all-American at the moment: Woods Baughman (USA) and C'est La Vie, the 2008 Hanoverian gelding (Contendro I x Aarking xx) owned in partnership with James Baughman Jr. and Kim Baughman, scored a 29.4 in the sandbox for second, and Sharon White (USA) sits in third with Claus 63, her own 2012 Holsteiner gelding (Catoo x Levisto), after their 29.9-point performance in Dressage.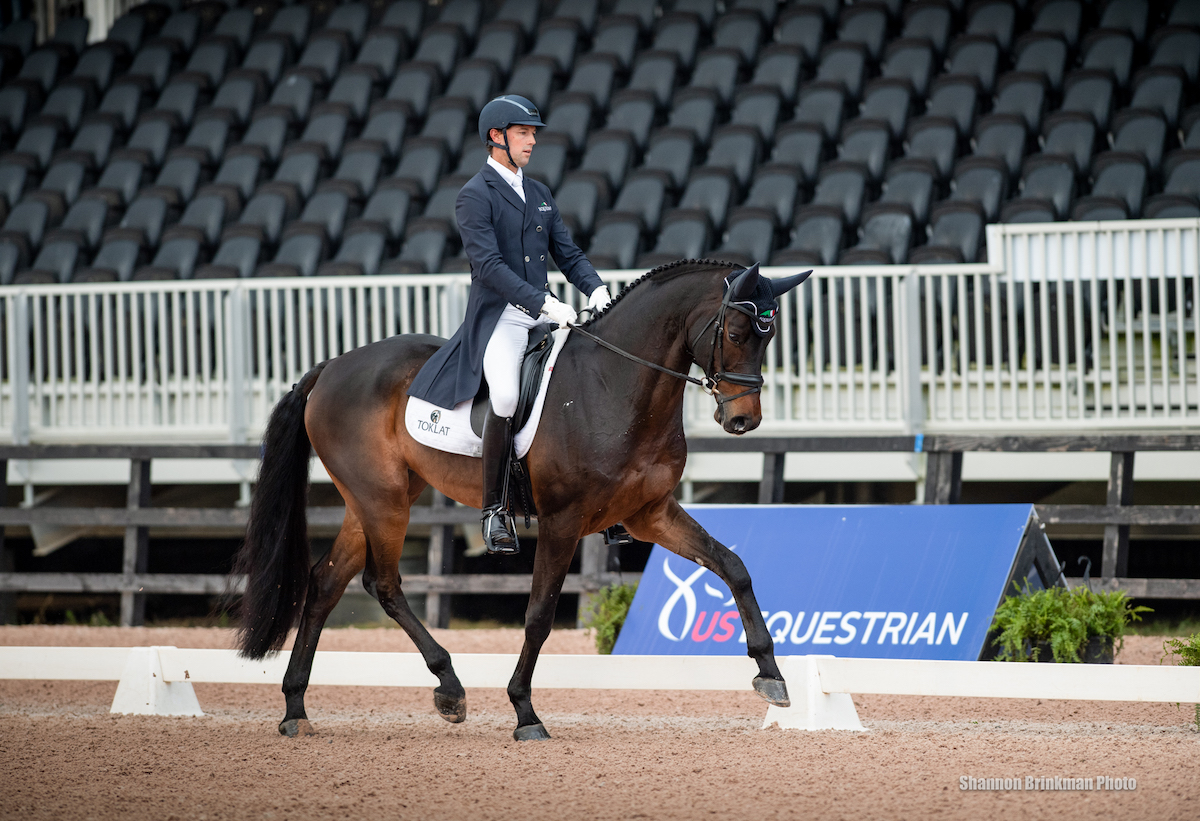 Will Coleman and Chin Tonic HS
©Shannon Brinkman Photography
Coleman and the 2012 Holsteiner gelding (Chin Champ x Quinar) owned by Hyperion Stud LLC) are contesting their third-ever Advanced competition, so he's aiming for an educational yet competitive experience. "He's a very talented young horse," Coleman detailed. "He's very green for this kind of competition, but we feel that he's ready. He showed some of his greenness in his test, but he has so much quality that he can get away with it. I feel fortunate to be where we are and recognize I'm riding a really good horse in that phase."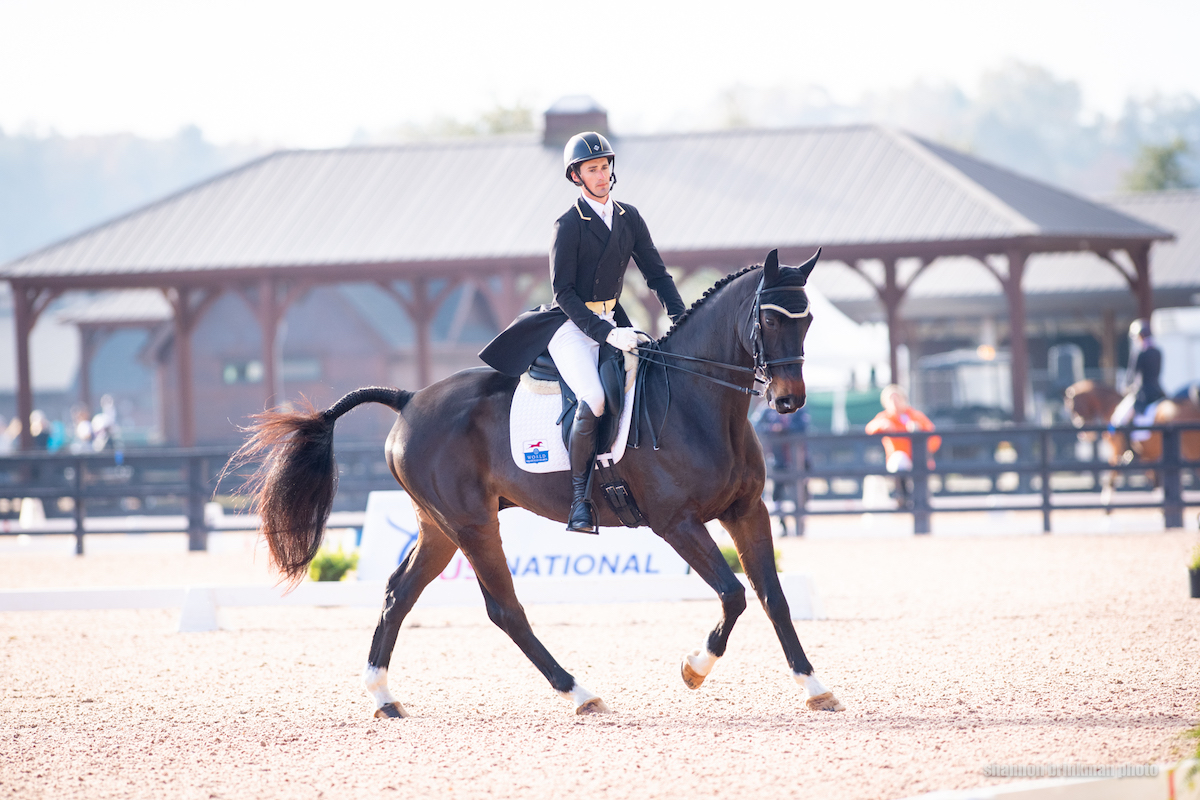 Woods Baughman and C'est La Vie
©Shannon Brinkman Photography
Since it's Chin Tonic's third run at the Advanced level, Coleman is proceeding with caution but is excited to contest the Captain Mark Phillips (GBR) course design on the White Oak Cross-Country Course Saturday. "The main thing we want to think about is just giving him a good run for his future and development, but we're here to be competitive as well," Coleman shared. "We're formulating a good plan for him, and then we'll go out there tomorrow and try our best to execute it.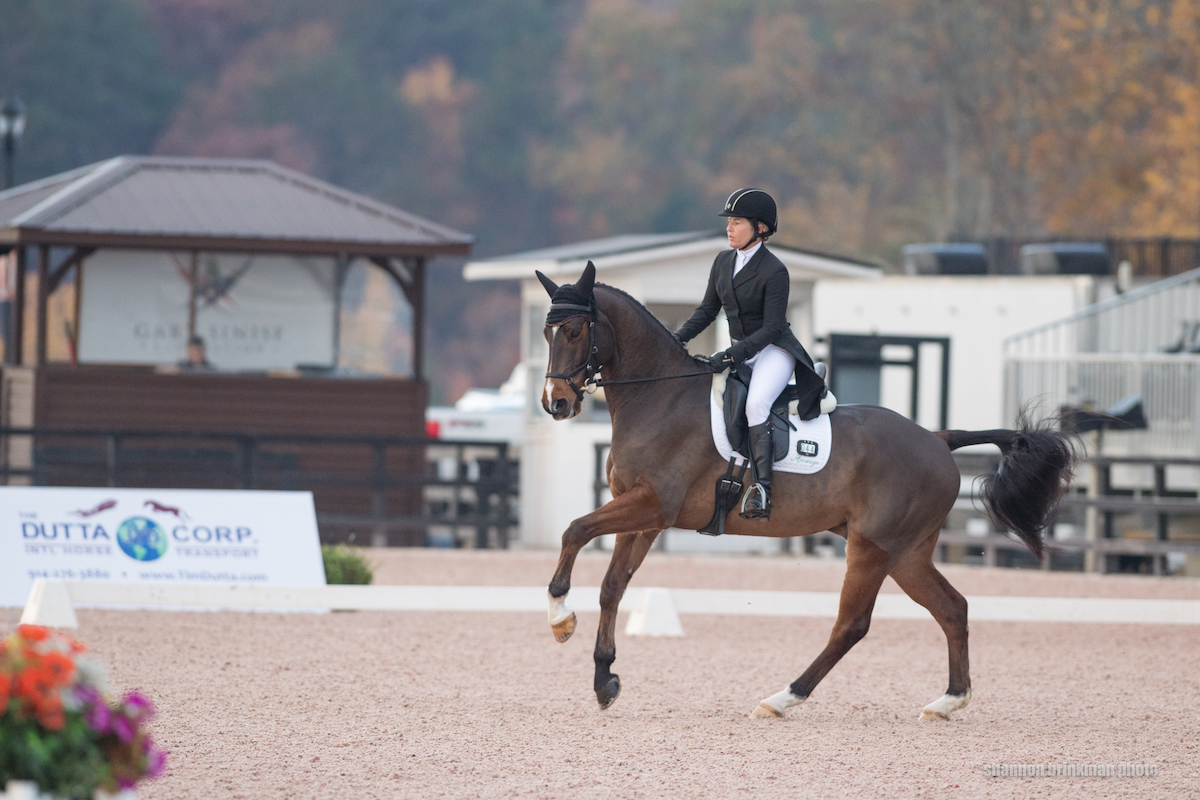 Sharon White and Claus 63
©Shannon Brinkman Photography
"It's been great here as always," Coleman commented on the venue. "Tryon is first-class. The horses get a sense of the atmosphere that you might encounter at big-time events around the world. I think it's wonderful that we're able to compete here." he concluded, "Fingers crossed for tomorrow. I hope everyone has great runs and that we have a great day of sport!" 
Lynn Symansky and RF Cool Play Lead after Dressage in CCI 4*-S Competition
Lynn Symansky (USA) and RF Cool Play are the duo to beat after Dressage concluded for CCI 4*-S competitors, scoring a 28.2 with the 2008 German Warmblood gelding (Condors Champion x Radscha) owned by the Donner Syndicate, LLC. Phillip Dutton (USA) and Z, the 2008 Zangersheide gelding (Asca x Babouche VH Gehucht Z) owned by Evie Dutton, Ann Jones, Suzanne Lacy, Caroline Morgan, Simon Roosevelt, and Thomas Tierney, received a score of 29.2 for second place so far, while Jessica Phoenix (CAN) and Humble GS, the 2006 Trakehner/Canadian Sport Horse stallion (Ferrari GS x Amiego GS) owned by Charlotte Schickedanz, currently sit just behind with a score of 29.7 for third.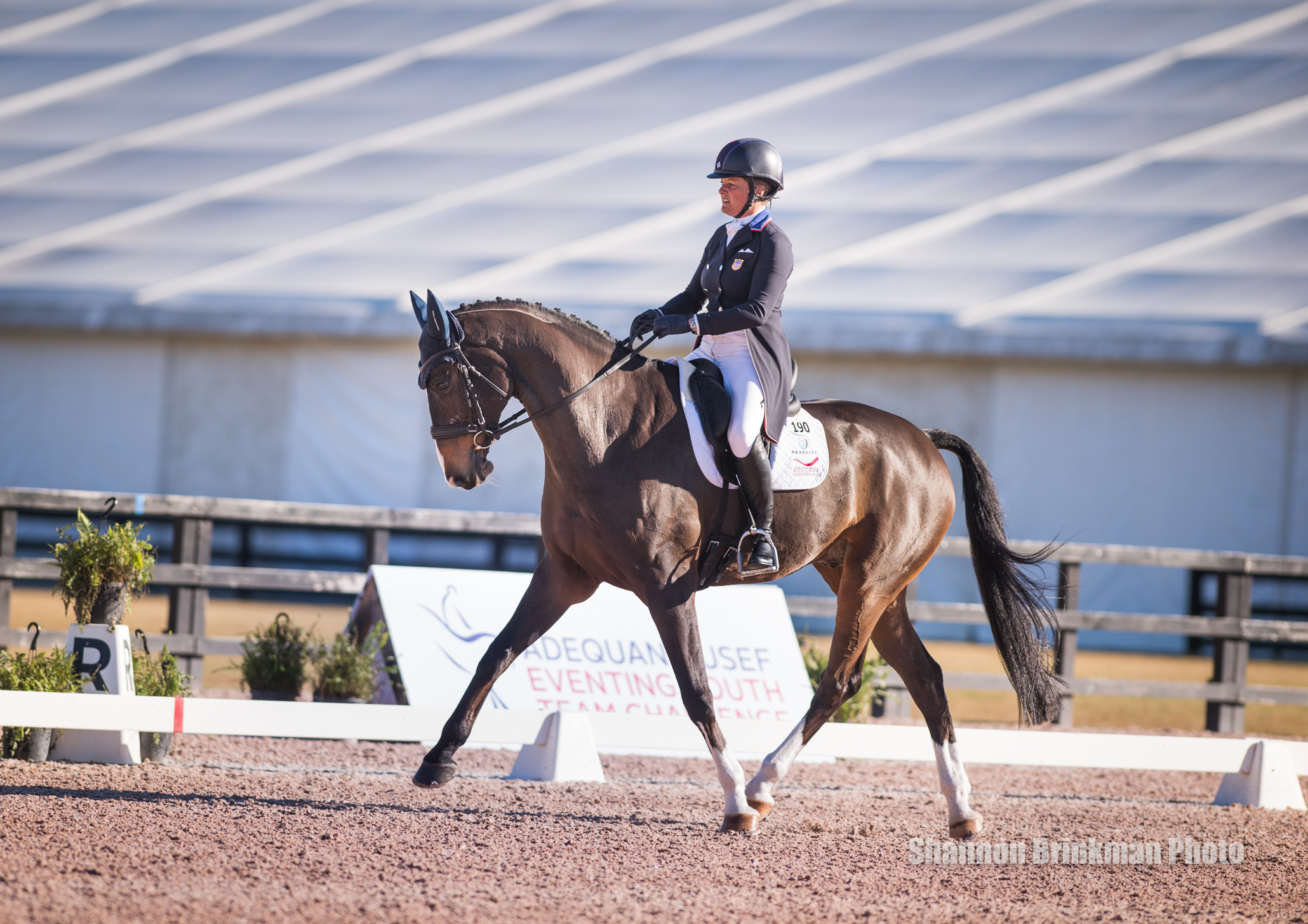 Lynn Symansky and RF Cool Play
©Shannon Brinkman Photography 
Buck Davidson Jr. and DHI Showman Hold CCI 3*-L Lead after Dressage
Bruce "Buck" Davidson, Jr. (USA) and DHI Showman put on a show in the sandbox, scoring a 26.1 to sit atop the CCI 3*-L division heading into Cross-Country competition. Dan Kreitl (USA) and Carmango, the 2013 Westphalian gelding (Chirivell x Templer GL XX) owned by Kay Dixon, earned a 27.5 from the judges to hold second place. Ariel Grald (USA) has a hold on the third-place slot with Forrest Gump 124, the 2011 Hanoverian gelding (Fuerst Nymphenburg x Amerigo Vespucci XX) owned by Anne Eldridge, after scoring a 27.7.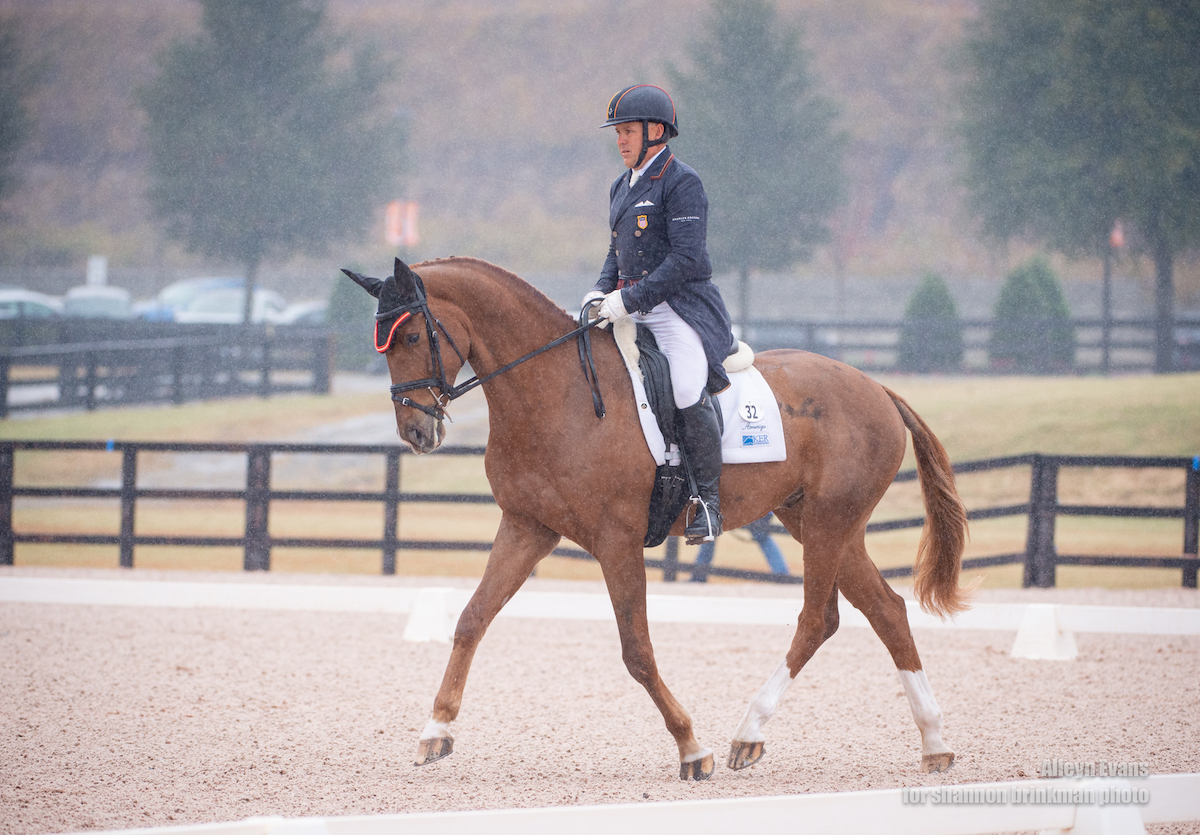 Buck Davidson and DHI Showman
©Shannon Brinkman Photography
Davidson complimented the 2014 Selle Francais gelding (Elvis Ter Putte x Vigo D'Arsouilles) owned by Sami Crandell for his consistency despite his young age, and noted that Dressage comes easily to him so far. "He's very consistent. He's very pretty, really quiet, and a good mover. He just really has a presence about him. He's very reliable in the Dressage."
While Showman has never contested a Cross-Country course this long before, Davidson acknowledged, he is excited to show off his mount's bravery and honesty on the White Oak Cross-Country Course Saturday. "He's a fantastic jumper. He's very brave and honest. He's never gone this far before, so he can be a little green in the sense that he's just a baby. I think going past all of these fences that we have to go past earlier in the course is going to be a little bit trickier for him," he analyzed.
"He's a super nice horse, and certainly not a finished product yet, but he's a nice canvas to start with. [Dressage] was a good start, and hopefully we can just keep getting better through the weekend!"
When not competing in the irons, Davidson joined Will Coleman for a little competition on the golf course, he revealed, making use of Tryon Resort's Cleghorn Golf & Sports Club. "Also, my cousin from the Charlotte area, who I don't get to see often, is coming to the Cleghorn Gun Club today, so I'm going to say hi to them." Davidson is enjoying all of Tryon Resort's amenities, getting the full Tryon Resort experience "down to the tee-shirt and everything," he joked. "I'm staying in one of the cabins on-site, too. There's lots to do here, that's for sure!" 
Tik Maynard and Galileo Post Best Score of Week in CCI 2*-L Division
If all divisions were combined at the Dutta Corp Tryon International Three-Day Event, Tik Maynard (CAN) and Galileo, the 2011 Dutch Warmblood gelding (San Remo x Rousseau) owned by Richard Maynard, would be leading all 180 entries after Dressage. The pair earned a 21.4 in the sandbox, with Elisabeth Halliday-Sharp (USA) coming closest on a score of 24.7 with Quite Nice 11, the 2011 Holsteiner gelding (Quadros 3 x Caretino 2) owned by Emilie Mudd. Ayden Schain (USA) rode Fernhill Hole Shot, the 2013 Zangersheide gelding (Entertainer x Coriall Z) owned by Dawn Barclay, to a 26.3, which puts them in third place at the moment. The CCI 2*-L division is the largest, with 78 pairs completing the Dressage phase.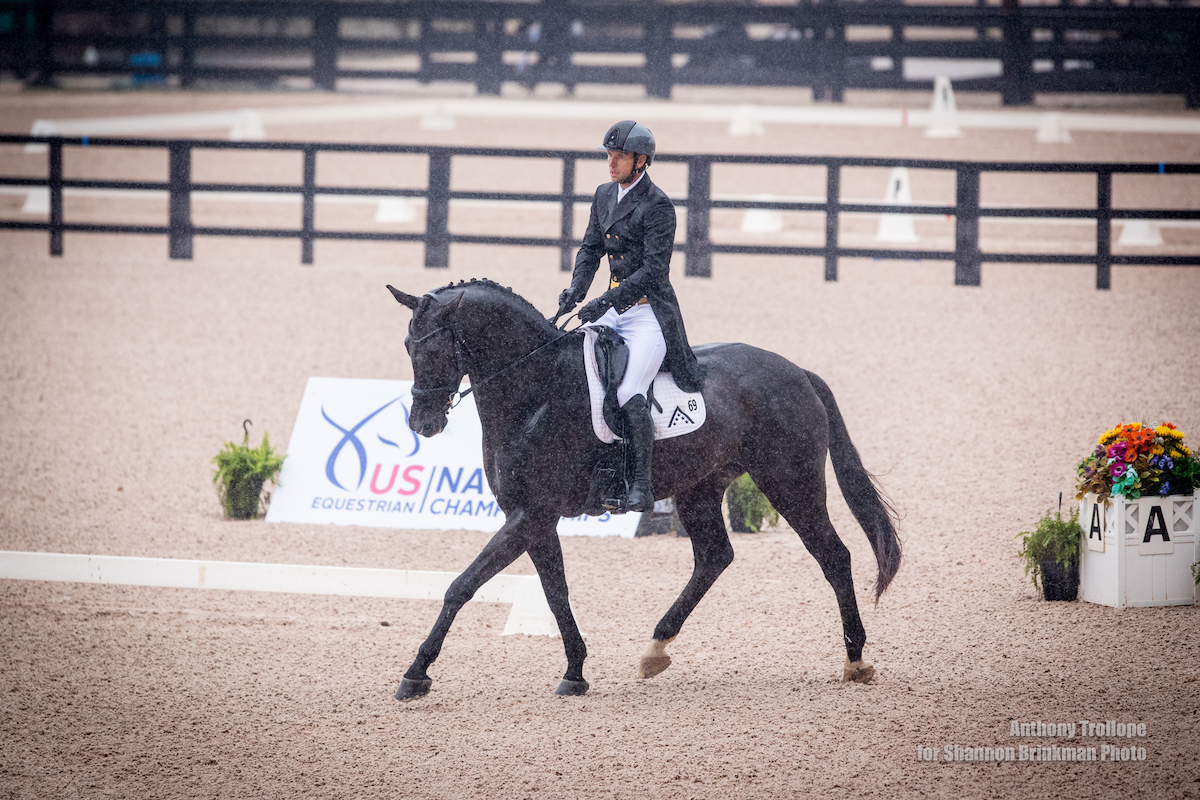 Tik Maynard and Galileo
©Shannon Brinkman Photography 
Adequan® CCI 1*-L Division Belongs to Chloe Johnson and Chilli Bean Before Cross-Country
Leading the Adequan® CCI 1*-L Division after Dressage, Chloe Johnson (USA) and Chilli Bean scored a 26.3 for the lead with her own 2011 New Zealand Sport Horse mare (Chilli Morning x Steal the Show) ahead of Cross-Country competition. Boyd Martin (USA) and Gestalt, the 2012 Mecklenburger gelding (Gloriosus 1 x Colander 2) owned by Sherry Pound, sit in second with a score of 27.3. Right behind on a score of 27.9, Grace Mykityshyn (USA) and MTF Cooley Classic, the 2010 Irish Sport Horse gelding (Ars Vivendi x Olympic Lux) owned by Plain Dealing Farm, hold third place.
Chloe Johnson and Chilli Bean
©Shannon Brinkman Photography 
Adequan®/USEF Eventing Youth Team Challenge East Coast Finals Standings After Dressage
The Adequan®/USEF Eventing Youth Team Challenge East Coast Final (YTC) has welcomed ten teams and ten individual entries to CCI 1*-L, CCI 2*-L, and CCI 3*-L competition. Teams of four horse-and-rider pairs carry forward scores of three riders following Dressage into Cross-Country competition tomorrow. After Dressage, the team standings are as follows: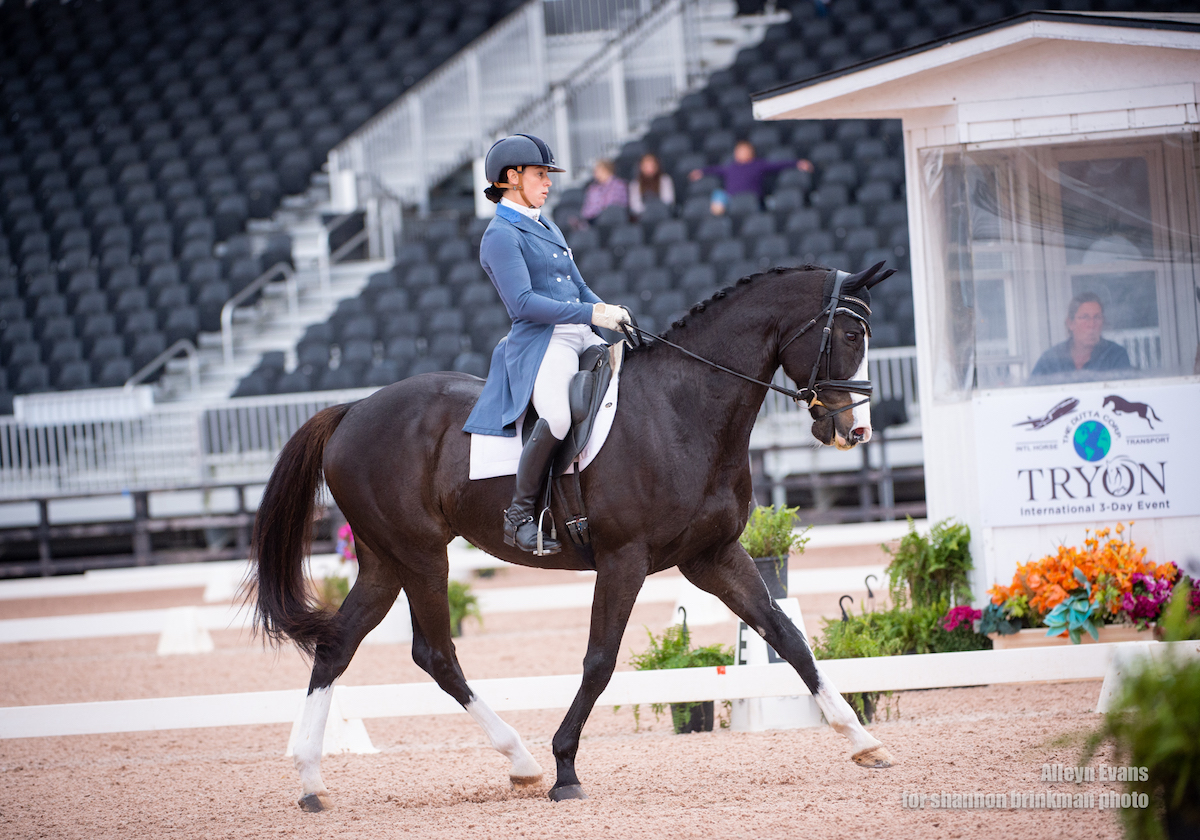 Elizabeth Bortuzzo and Belongs to Teufer
©Shannon Brinkman Photography
CCI 3*-L: Two teams have presented for the CCI 3*-L competition, with the leading team hailing from Areas 2, 3, and 8. Alexandra Baugh (who is also the only CCI 3*-L individual competitor), Elizabeth Bortuzzo, Benjamin Noonan, and Sarah Bowman produced a collective score of 96.1, while the team from Areas 5 and 6 earned a score of 111.3 after Dressage.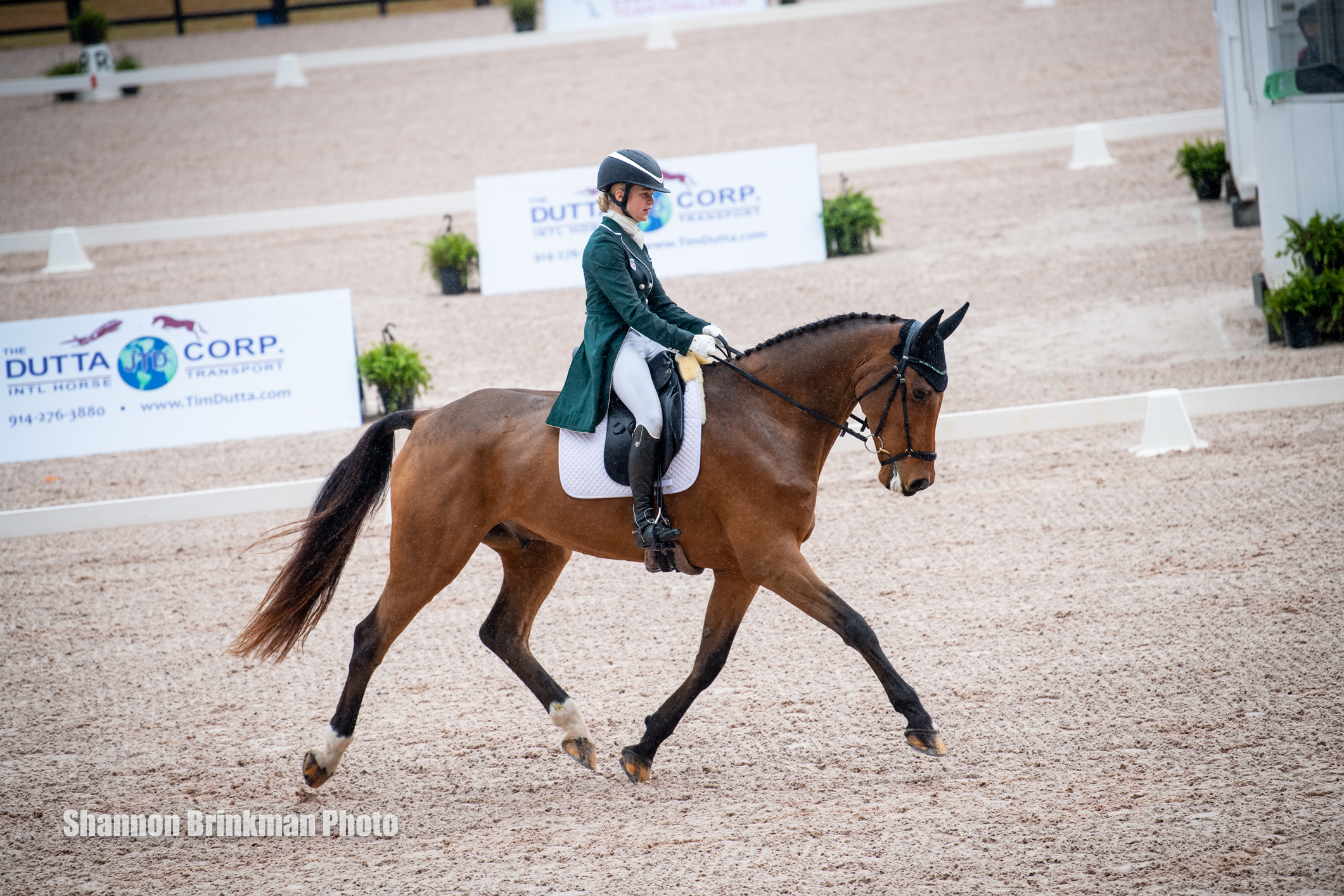 Ayden Schain and Fernhill Hole Shot
©Shannon Brinkman Photography
CCI 2*-L: There are six teams in the CCI 2*-L competition, with the leading team hailing from Area 2: Jackson Dillard, Mia Braundel, Maddie Hale and Kiera Kenny combined for a Dressage team score of 97.8. Six individuals are chasing the individual title, with Jackson Dillard riding Elmo to the lead so far on a score of 30.8.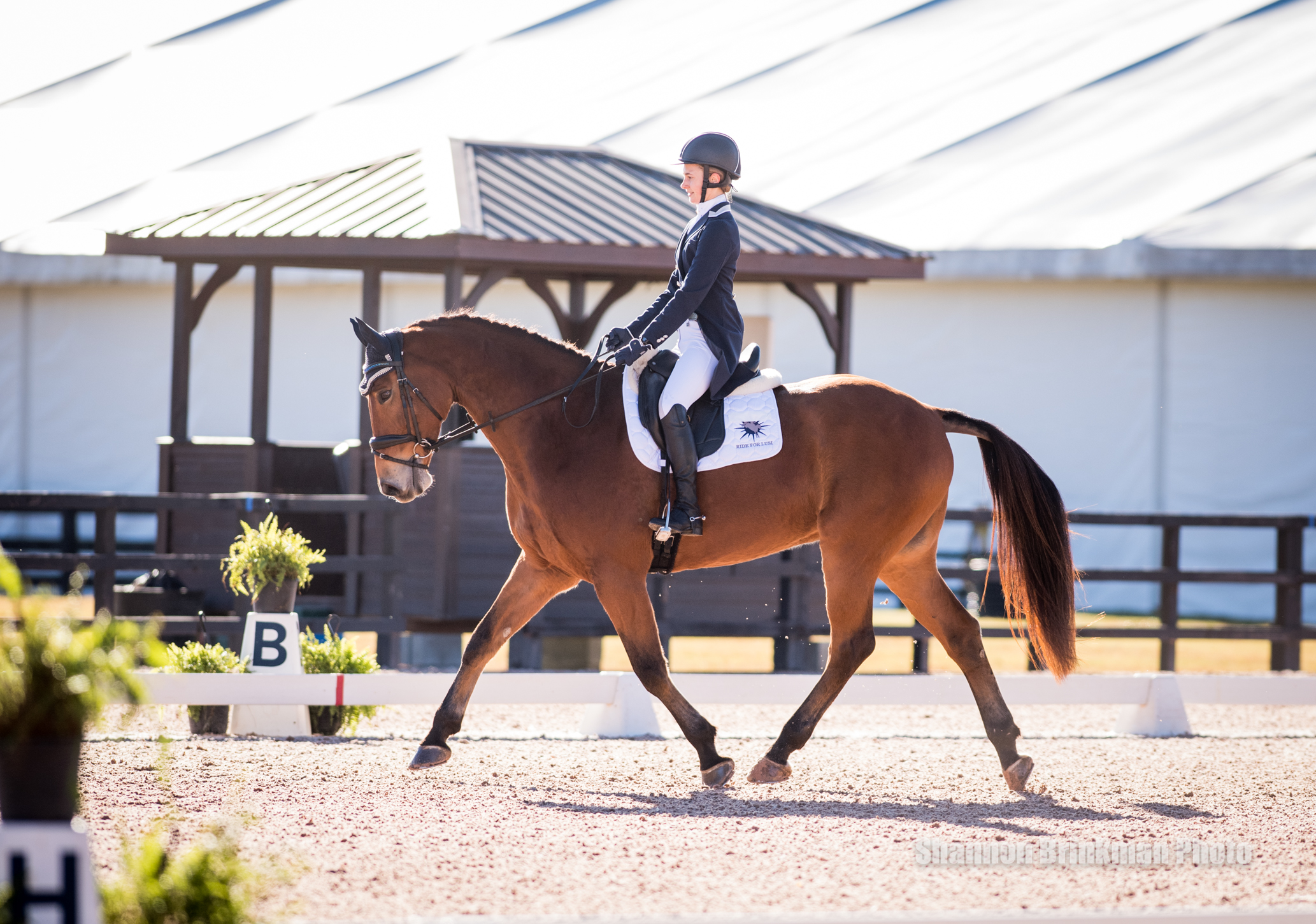 Grace Mykytshyn and MTF Cooley Classic
©Shannon Brinkman Photography
CCI 1*-L: The Area 2 team composed of Ella Braundel, Carolina Brown, Grace Mykityshyn, and Juliana Cassar sit on a score of 92. The Team representing Areas 3, 7, and 5 currently sits in second place: Camryn Chung, Crockett Miller, Ava Holmes, and Chloe Johnson have joined forces and produced a team score of 95.1.
There are three entries competing at the Individual level, all from Canada. Claudia Oppedisano has entered with God of Thunder, scoring 28.5 to lead. Matthew Heinzle has two mounts: Tallboy Tuesday and FE Blackjack, and currently sits in second and third place on scores of 35.4 and 40.7, respectively.
View all results from the Dutta Corp Tryon International Three-Day Event here.
Competition continues Saturday, November 12 with Cross-Country competition beginning at 8am and continuing through 4:30pm. Full schedules and viewing information, including live stream links, are available at www.Tryon.com/eventing. Shuttles are available from the Legends Plaza at TIEC.
View YTC results below.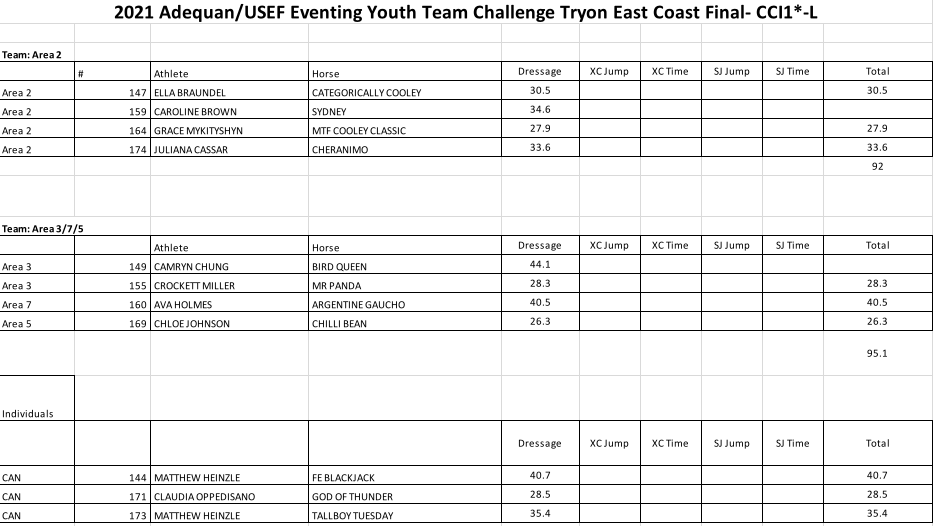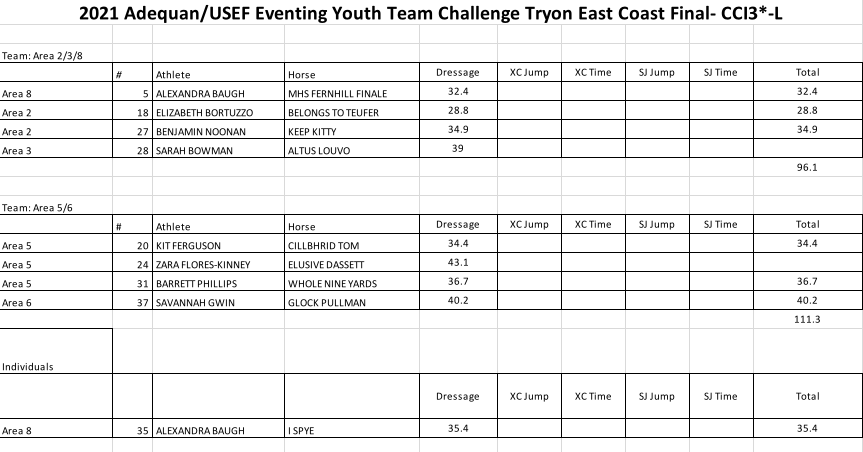 Photos ©Shannon Brinkman Photography. These photos may only be used once, in relation to this press release. With questions, contact media@tryon.com.