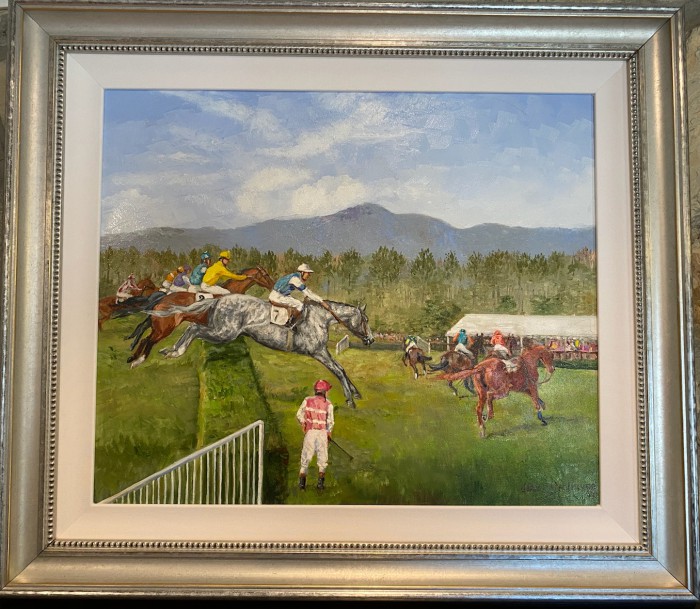 Known for her renderings of horses across disciplines, from Thoroughbred racing to foxhunting, Saddlebreds and more, Joan MacIntyre's official artwork for the 2021 Tryon Block House Races poster will be auctioned Friday, April 10, at the Pre-Race Party in celebration of the 73rd running of the historic steeplechase in 2020. Titled "Almost Made It!" the painting tells the story of when everything doesn't go according to plan, as a testament to the teamwork it takes for horse and rider to be successful in this exhilarating sport.
"I've done so many steeplechase posters, for Aiken and for this region, and they were all kind of on the same thing, capturing the same moment of the horses going over fences together," MacIntyre explained. "So, with this one, I wanted to tell more of a story with it, so that's why I put the loose horse and the jockey watching him continue the race.
"It wasn't based on an actual moment, but I just wanted the image to have a story to it. I wanted to be a little different," she elaborated. "I also wanted to incorporate and celebrate the new surroundings of the Green Creek Race Course, so I made sure to include that in the composition. Hopefully, it'll excite people enough to get a good price for it at the auction!"
The artwork will serve as the basis for the poster of next year's race, and will be reflected on all promotional materials for the next year.
MacIntyre paints every day, she revealed, and loves to paint Thoroughbred racing and foxhunting when she's not painting steeplechasing. "That's all I do, aside from commissions of people's pets once in a while. I used to have to travel a lot, but by moving here, I have all the business I need right here. I'm 88 and not quite ready to retire!"
A rider herself, MacIntyre first rode and competed in the Morgan and Saddlebred disciplines before moving to California and owning several racehorses who competed at Santa Anita, but was immersed in both steeplechase and foxhunting when she relocated to the Tryon region in 2002.
"My daughter wanted to foxhunt, and we were ready to make a change, so we left California and never looked back. It's been great here, for me and for her as well. I still love Saddlebreds – my daughter hunted her Saddlebred for 13 years with the Green Creek Hounds."
While foxhunting captured her daughter's attention, steeplechasing – and particularly the Tryon Block House Races – was what MacIntyre embraced. "The excitement of steeplechase is one of my favorite parts," she said. "I had never seen steeplechasing in California, so I was introduced to it when I moved here. I've been going to the Block House Races since I arrived. Of course, [steeplechasing] is very popular in Europe, and it's on international channels every weekend, so I watch those very often. In fact, I'm able to get some technical information on equipment and things like that by watching, without ever having to leave the house!"
MacIntyre was unable to attend the Tryon Block House Races for a few years due to mobility issues, but is excited to attend this year's Pre-Race Party to see her work auctioned to bidders on Friday, April 10.
"I've been at it a long time," MacIntyre says of her art. "That's all I've ever done – I sold my first painting when I was 13, and it's just gone on from there. And I've met so many interesting people that you wouldn't ordinarily run across, by painting their horses. It's an aspect of art that I really enjoy, besides the horses, of course.
"I feel like I've been very blessed to be able to paint the horses that I love, and it's never diminished – I find each painting as exciting as the last one," she concluded.
Preview the Painting:
"Almost Made It!" will be on display at the following locations and dates for public viewing:
First Citizens Bank Columbus – 80 Walker Street – March 2-13
Entegra Bank Columbus – 160 W Mills Street – March 16-April 3
HomeTrust Bank Tryon – 341 N Trade Street – April 6-10



About the 73rd Tryon Block House Races:
Tickets to the 73rd Tryon Block House Races, the historic steeplechase of Tryon Riding & Hunt Club, are on sale now at Tryon.com. Join the ultimate tailgating party in Western North Carolina on April 11 at Tryon International Equestrian Center's Green Creek Race Course in Columbus, NC. Five races throughout the day will showcase the power and athleticism of the horse alongside live music, fun contests, VIP dining, entertainment, and kids' activities. For more information, visit Tryon.com/allevents or email tickets@tryon.com.