Elisa Broz and Tinkerbell Take $6,000 Speed Stake CSI 2* Win
For Immediate Release
Sarah Madden for TIEC
Mill Spring, NC – July 5, 2022 – Cassio Rivetti (Wellington, FL) and Chattanooga climbed to the top of the $25,000 Tryon Resort Sunday Classic podium after their double-clear performance at Tryon International Equestrian Center & Resort (TIEC), stopping the jump-off timers in 40.62 seconds. Ricardo Villa (Campobello, SC) and Juan Pablo Betancourt's Diamond HH Z, a 2012 Zangersheide gelding (Diamant de Semilly x Pasta HH Z), flew around the short course in 37.469 seconds but lowered the height of one fence for four faults, taking home reserve honors. Joanna Wolffer (Sag Harbor, NY) also collected four faults in the jump off with Au Top de la Byche, Joey Wolffer's 2010 Dutch Warmblood gelding (Diamant De Semilly x Espiegle D'Authieu), traversing the track in 40.973 seconds for third place.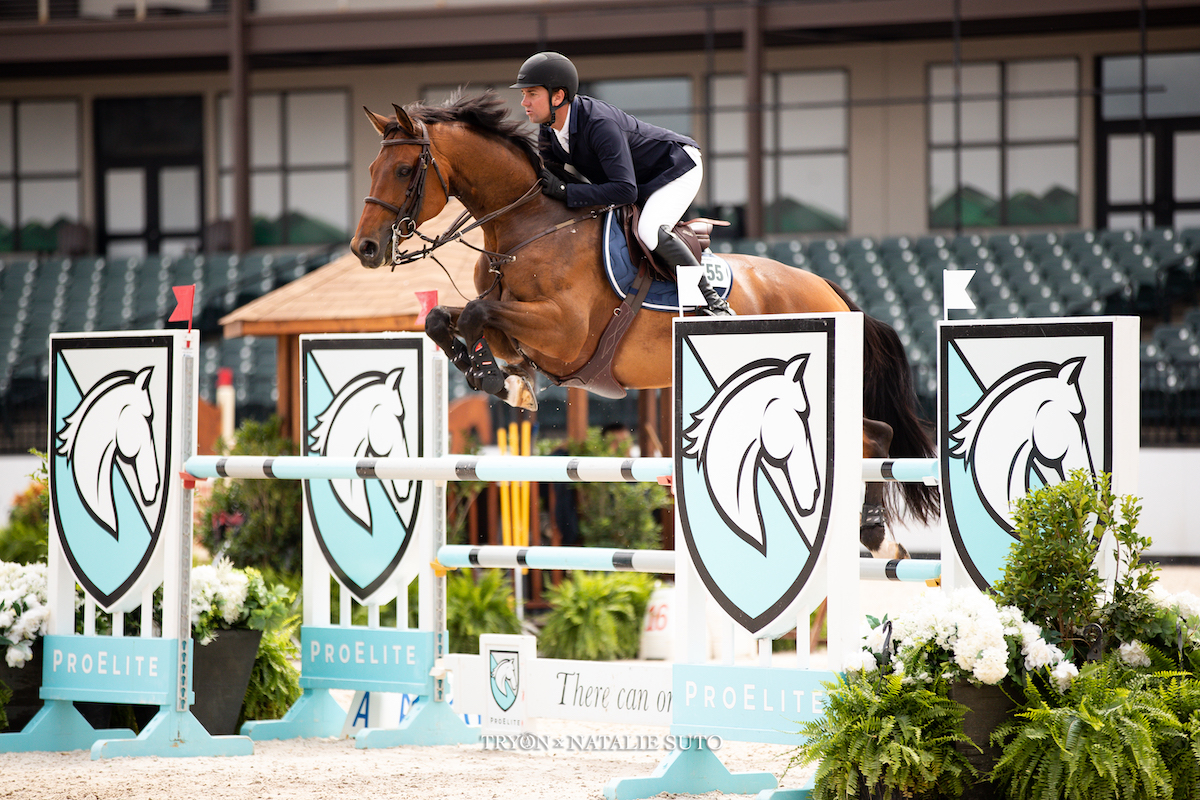 Cassio Rivetti and Chattanooga
©Natalie Suto for TIEC
Twenty horse-and-rider pairs challenged the first round of the Ivan Tagle (ARG) course design, with just the three podium finalists continuing on to the jump off. The Wellington-based, California-bound professional is currently riding Chattanooga for a student, and is pleased with the performance of the 2010 Oldenburg gelding (Cornet's Prinz x Abraxa) owned by HF Farms LLC.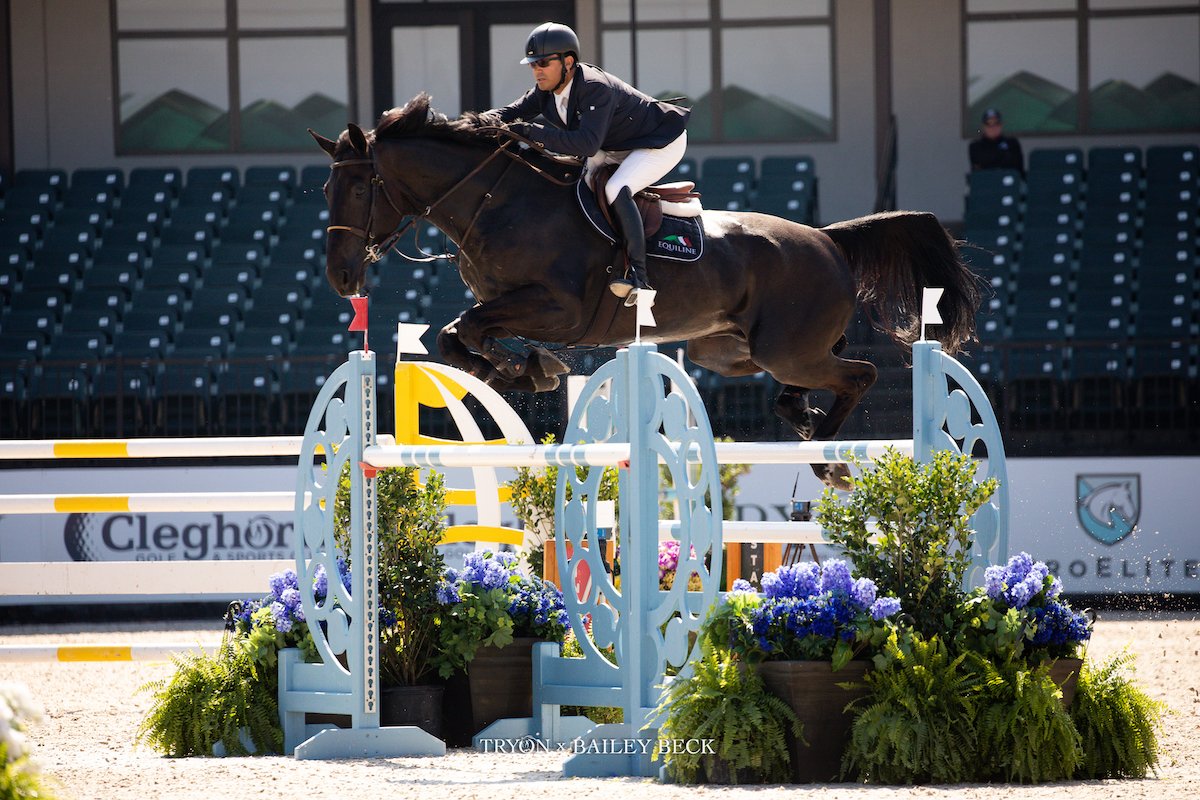 Ricardo Villa and Diamond HH Z
©Bailey Beck for TIEC
"She's in Europe showing another horse right now, so I took him to Tryon. He's a really good horse, and I'll probably show him in the Grand Prix classes. This was a good start for him for the three weeks I'll be here."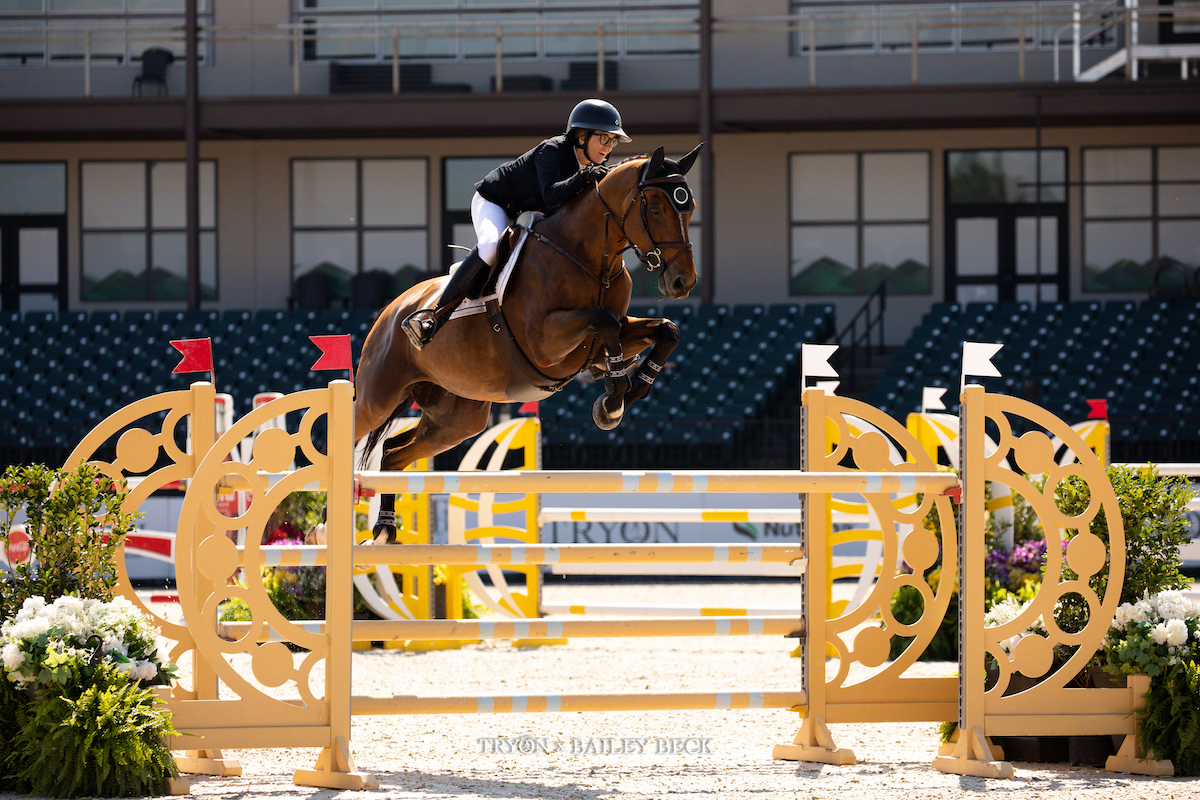 Joanna Wolffer and Au Top de la Byche
©Bailey Beck for TIEC
Utilizing his last-to-go slot in the lineup, Rivetti knew he just had to go clear to take the win. "The course was good," he recapped. "I went at the end with him, and had one horse before, so I knew what to do. He's an easy horse, and was jumping great. I knew the two [other qualifiers] had one down, so I didn't have to go too fast. He jumped it great."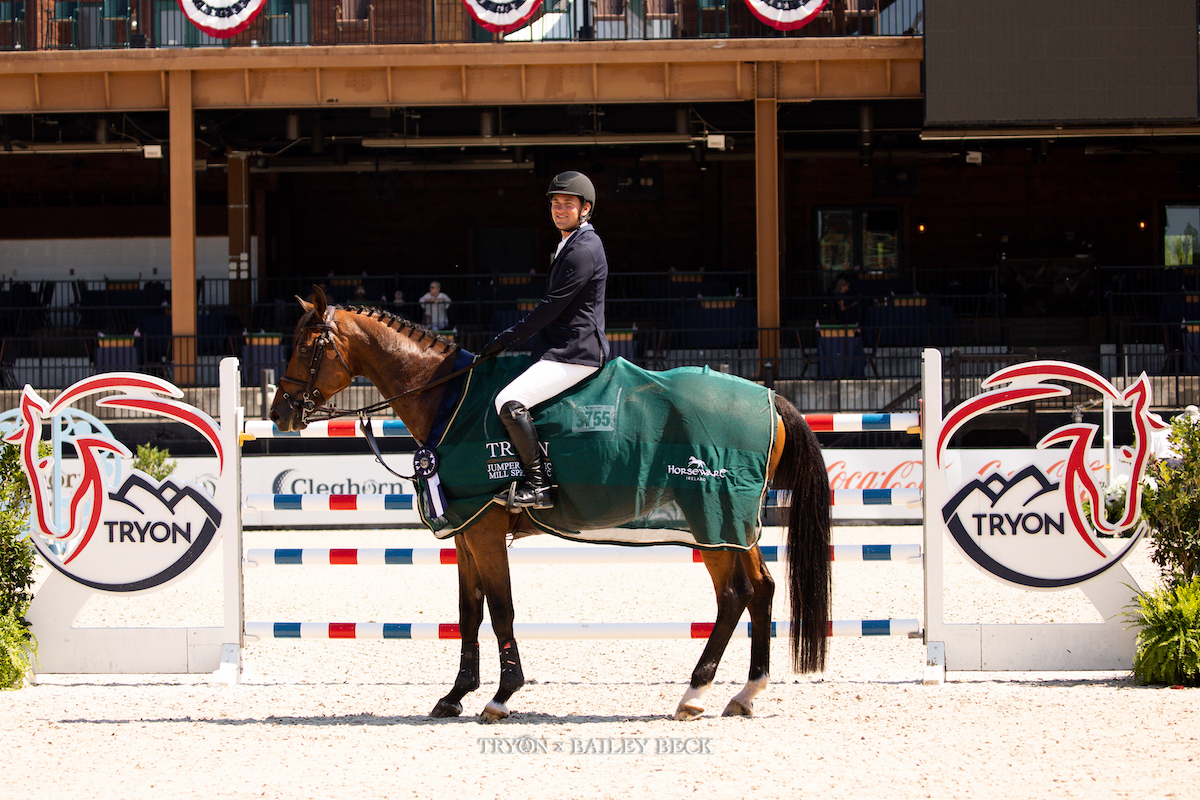 Cassio Rivetti and Chattanooga in their presentation ceremony.
©Bailey Beck for TIEC
Chattanooga is aimed at CSI 3* competition during Tryon Summer 4 competition, and Rivetti's team is enjoying three weeks of success and fun at the venue, he concluded. "I'm going to be here two more weeks, and he'll do the three-star next week. [My first week] was great. My team had four wins, and everybody had a lot of placings. I can't complain! [I want to say] thank you to my sponsors for their support, and to my clients for being here. We're excited for the next two weeks!"
For full results from the $25,000 Tryon Resort Sunday Classic, click here.
Elisa Broz and Tinkerbell Take $6,000 Speed Stake CSI 2* Win
July 1, 2022 – Elisa Broz (USA) and Tinkerbell were the fastest duo through the $6,000 Speed Stake CSI 2* timers on Friday, claiming the win in 70.61 seconds aboard the 2010 Mecklenburger mare (Chacco-Blue x Silvio I) owned by Constance and Elisa Broz. Jack Hardin Towell (USA) rode Florida N, the 2013 Holsteiner mare (Clarimo x Lavall II) owned by Equus Marl GmbH, to a time of 71.54 seconds to take reserve, while third place went to Alison Robitaille (USA) and Diane de Sivry, the 2013 Selle Francais mare (Quite Capitol x Tresor de Cheux) owned by Alison Firestone LLC, on a time of 72.51 seconds.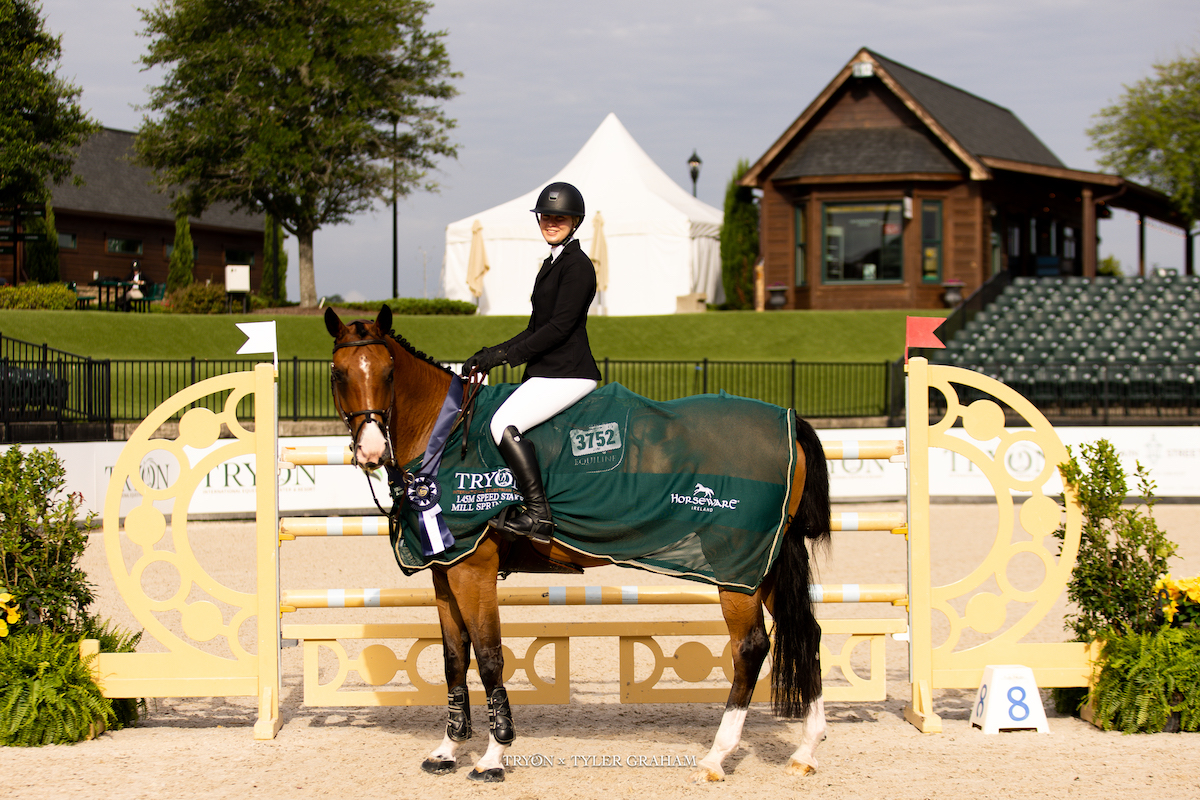 Elisa Broz and Tinkerbell in their presentation ceremony.
©Tyler Graham for TIEC
For full results from the $6,000 Speed Stake CSI 2*, click here.
Hunter Highlights:
Clayton Farrell (Venice, FL) and Wendy Peralta's PS Call Me claimed the championship in The Farm House Junior Hunter 3'3" Division, with reserve honors given to Sara Aberle (Monmouth Beach, NJ) and Ravello, owned by Wolfstone Stables & Sales Inc.
Caroline Biggs (Knoxville, TN) swept the Foothills Hunter 2'6" Division, claiming champion with Ellen Brandt's Jack Sparrow and earning reserve aboard Margery Hartley's Dreamwork.
Jumper Highlights:
Hailee Roberts (Inman, SC) and Sydney Hare's Enzo were champions in the Ken Feagin Truck & Trailer Low Children's Jumper Division, with Caroline Earle (Ponte Vedra, FL) guiding her own Diamant WP Z to reserve.
The Nutrena® 1.40m Open Jumper Division was championed by MTM Unexpected with owner-rider Carlee McCutcheon (Aubrey, TX) in the irons, and reserve championship honors were named to Alison Robitaille (Upperville, VA) and the Alison Firestone LLC entry, Jikke-Cara.
For full division results from Tryon Summer 3, click here.
Tryon Summer Series competition continues with Tryon Summer 4 competition hosted July 6-10, and featuring the sixth annual Pony Spectacular. All competition is free and open to the public, with highlight competitions live streaming at www.Tryon.com/streaming. Learn more at www.Tryon.com/compete.
Photos ©TIEC (Bailey Beck, Tyler Graham and Natalie Suto as noted). These photos may only be used once, in relation to this press release. The TIEC In-House Photography team serves as the official photographer for all Hunter/Jumper competition at TIEC. Competitors may purchase official show photos and request photos of their rides for the Summer Series by visiting www.Tryon.com/photos. ALL photographers must be credentialed in order to distribute or sell photos taken at TIEC. With questions, contact media@tryon.com.