Tommi Clark Collects $10,000 USHJA National Hunter Derby Win with Extraordinaire
Santiago Lambre and Dingeman Prove Untouchable in $5,000 Speed Stake CSI 2*
Mark Bluman and Jenni's Chance Top Sunday's $25,000 National Grand Prix
For Immediate Release
Mill Spring, NC – July 16, 2019 – Sharn Wordley (NZL) and Rye Val de Mai sped to win the $36,000 Sunday Classic CSI 2* at Tryon International Equestrian Center (TIEC), stopping the jump-off timers at 36.358 seconds fault-free to claim the win. Diego Perez Bilbao (ESP) and the Starlight Farms 1 LLC entry, Helios, a 2007 Belgian Warmblood gelding (Couleur Rubin x Grandeur), took second place on a clear jump-off performance of 37.168 seconds, while Samantha Rice (CAN) and Ringwood Zebo, a 2009 Irish Sport Horse gelding (Califax x Ringwood Audacity) owned by NRG Farm LLC, claimed third-place honors with a clear round and time of 40.211 seconds.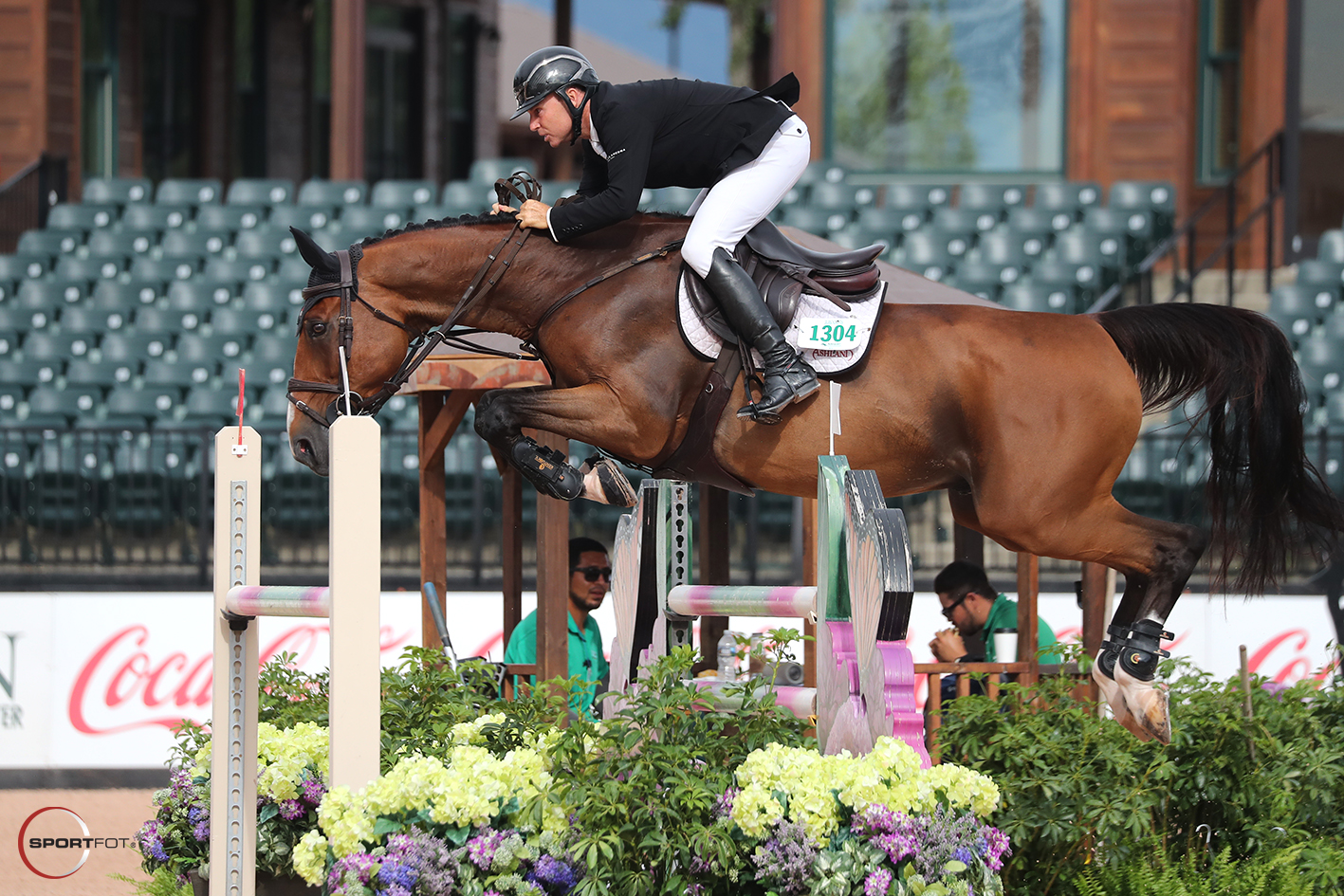 Sharn Wordley and Rye Val de Mai
©Sportfot
Course designer Bernardo Costa Cabral (POR) had 22 entries test the first course, with five returning for the jump-off. "The first round rode great. Bernardo is such a good course builder," Wordley explained. "All of his courses ride well; I've never ridden one of his courses that didn't ride well, and he always nails it. Everything is smooth and is always challenging enough, but with nothing that doesn't make sense, so I really love riding his courses."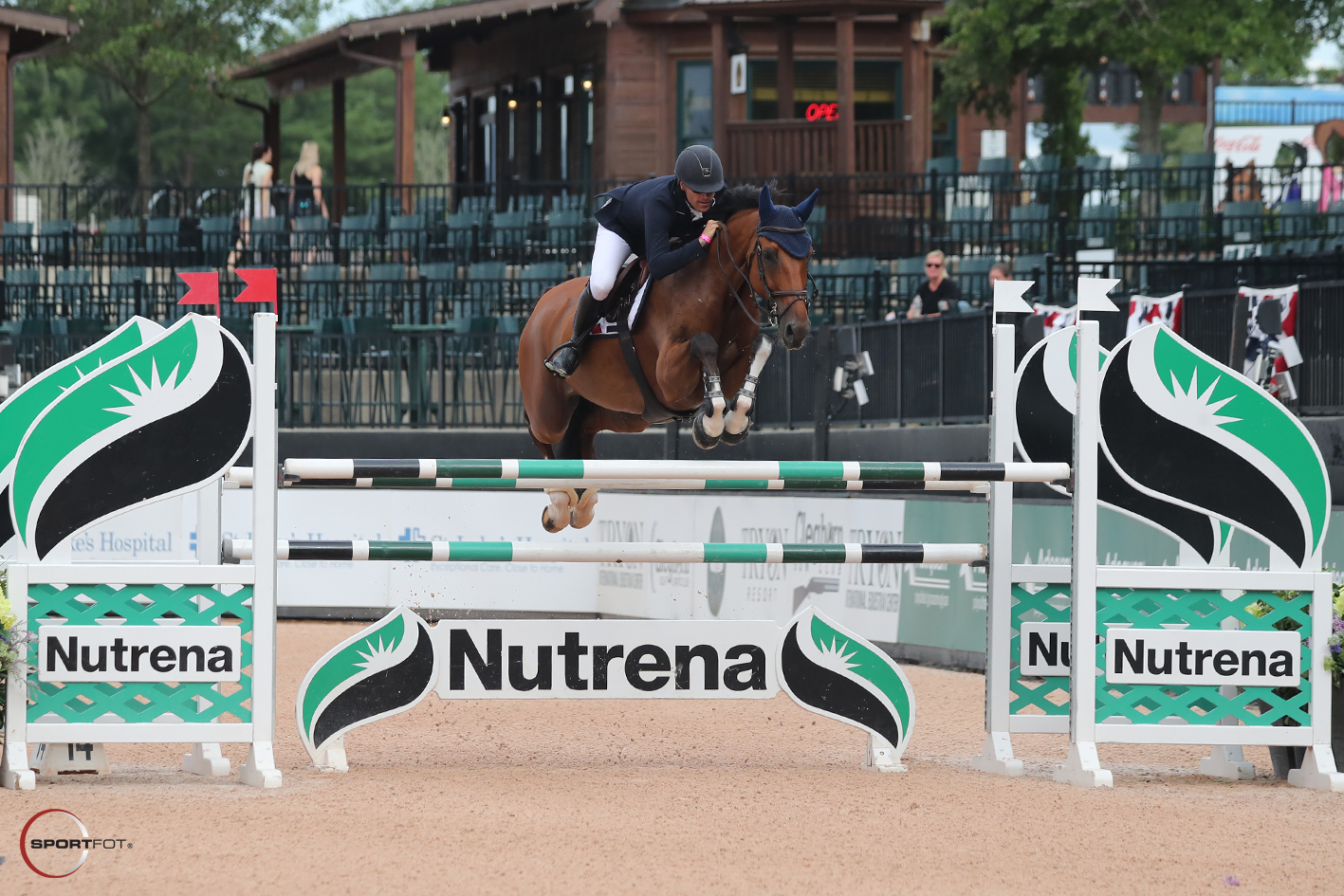 Diego Perez Bilbao and Helios
©Sportfot
Wordley shared that he has owned the 2005 Selle Francais stallion (Helios de La Cour II x Type D'Elle) for about three years now. "He's a big trier, and he's just a really good horse to have on your team. You can pull him out for any class and he gives his all."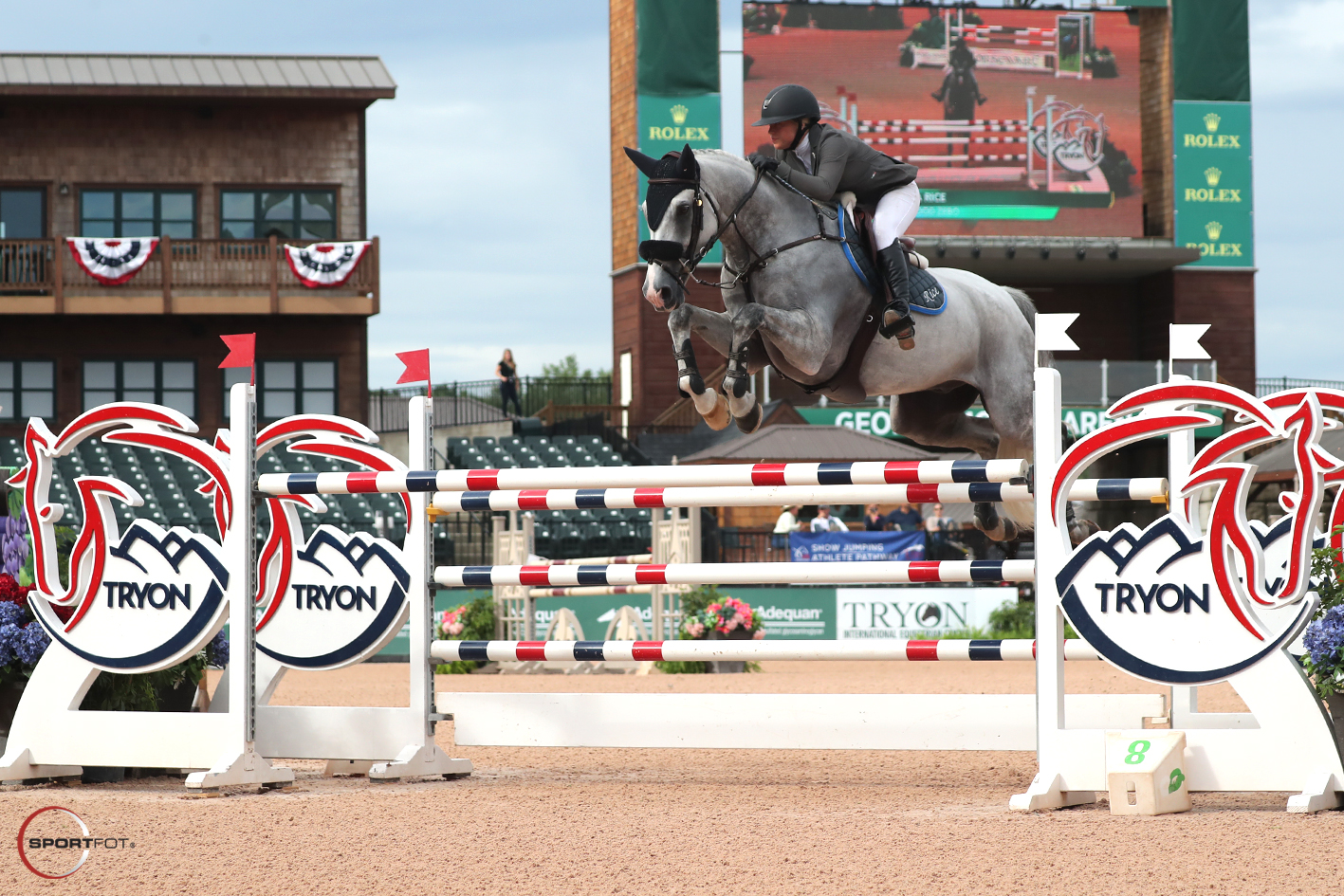 Samantha Rice and Ringwood Zebo
©Sportfot
Wordley continued, "He does the ranking classes at different shows and I'm deciding whether I'll keep him for next week's class here or take him home and jump him in Kentucky. I haven't decided yet. He's always busy, because he's a good part of the team. He has a light winter, so summer is when he does most of his jumping."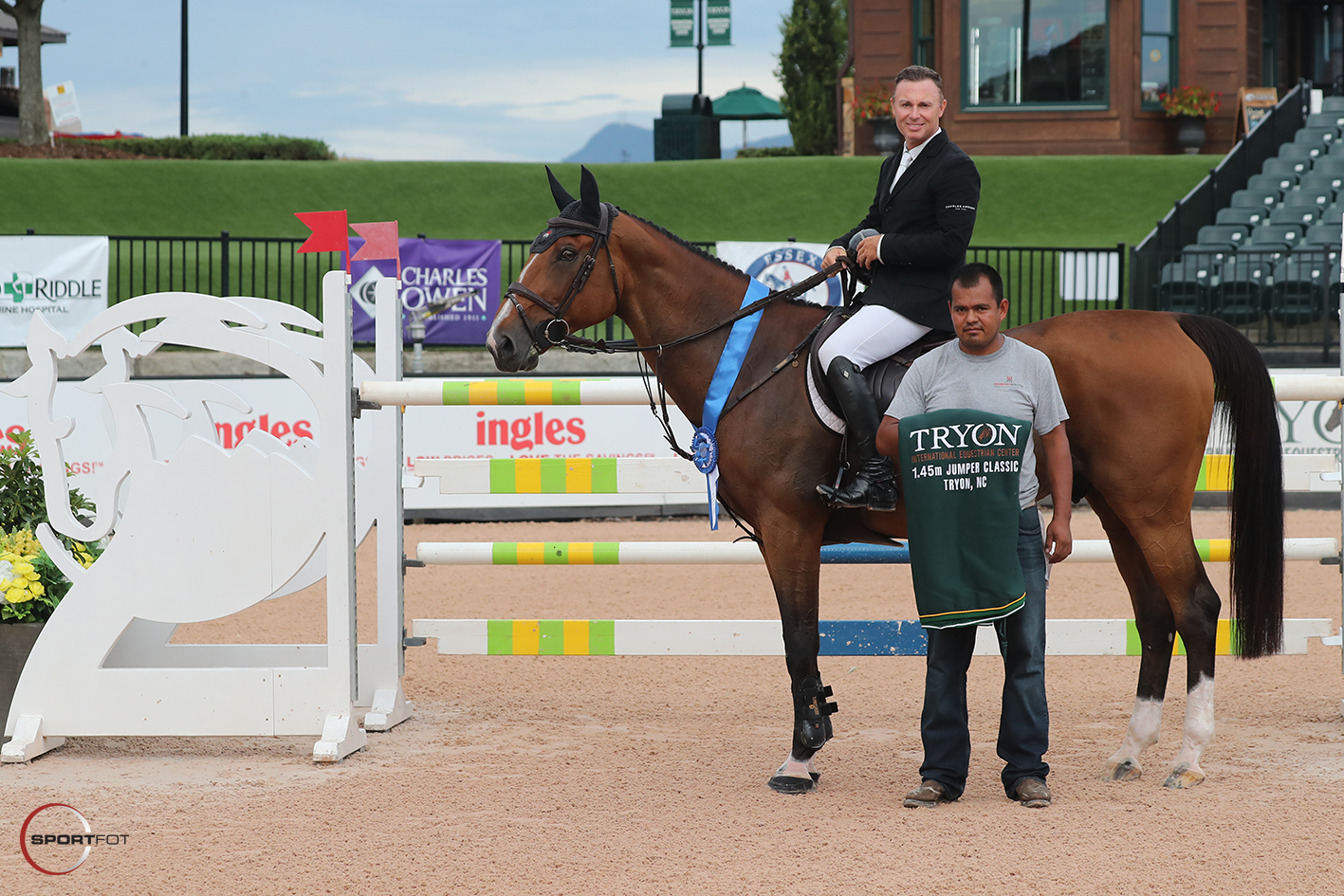 Sharn Wordley in his presentation ceremony with groom Luis Gaytán.
©Sportfot
Wordley, who also won Saturday's $72,000 Nutrena Grand Prix CSI 2* aboard his own Gatsby, stated that Rye Val de Mai will certainly return to the Tryon Stadium soon. "I'll look at the program and plan it out, but he'll definitely be back at Tryon in the fall to do some ranking classes, and will also do some Kentucky Grands Prix. I'll be here next week!"
Tommi Clark Collects $10,000 USHJA National Hunter Derby Win with Extraordinaire
Tommi Clark (Tryon, NC) and Extraordinaire claimed the $10,000 USHJA National Hunter Derby at Tryon International Equestrian Center (TIEC), earning a combined score of 174. Megan Wexler (Ocala, FL) and Catherine Merrill's Amara, a 2007 Holsteiner mare (New Quidam x Jasmin IX), collected a total score of 172.5 to receive second place, while Keri Kampsen piloted Marjourie Sugarman's Mr. Fox, a 2013 Dutch Warmblood (Casskeni II x Kimberly), to a combined score of 170 to land in third place.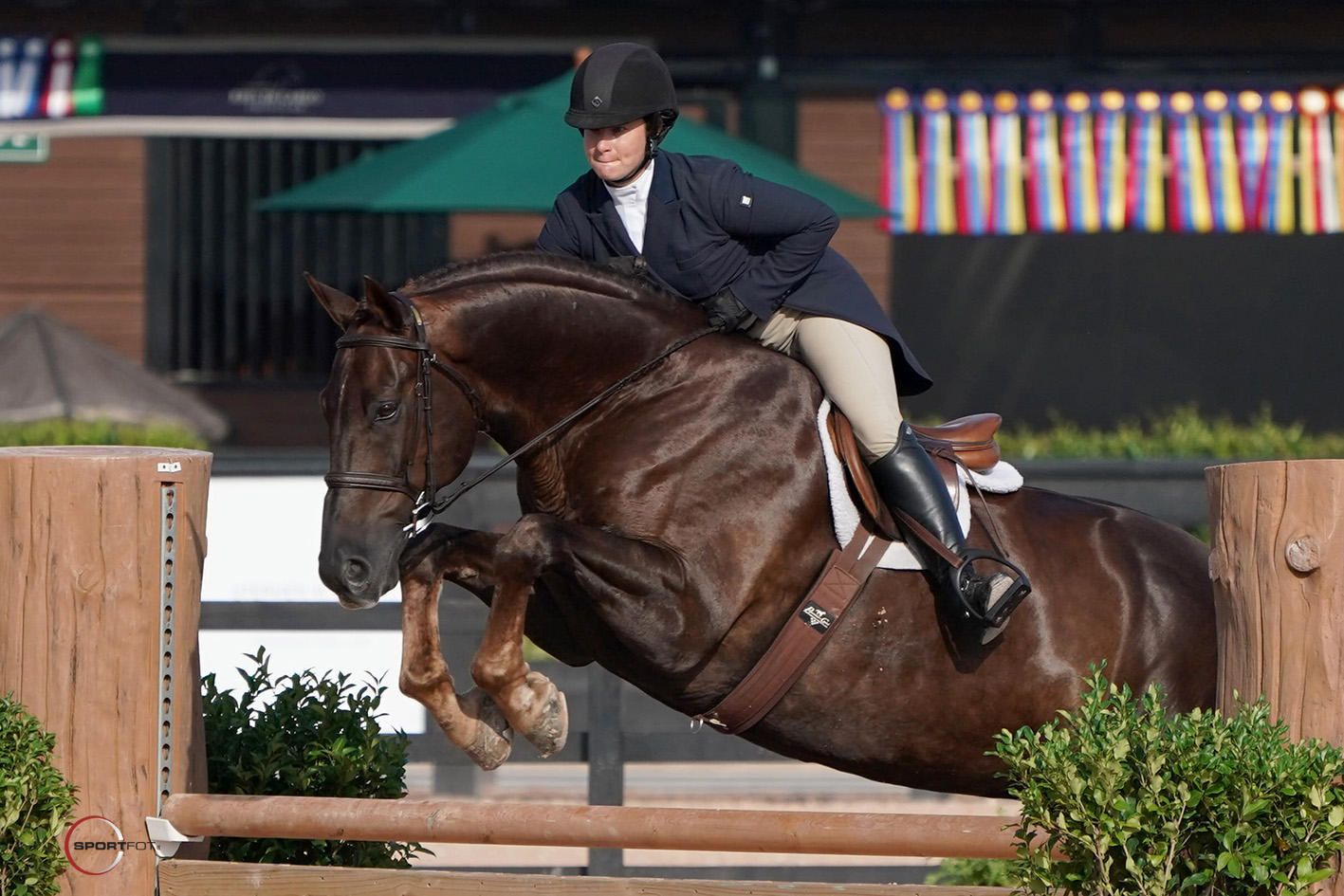 Tommi Clark and Extraordinaire
©Sportfot
Clark was excited about the course that Dean Rheinheimer (Sheridan, IN) designed for the 24 pairs in the Derby: "I thought the courses were set beautifully." Clark added that she has always had good experiences with the courses set at TIEC, sharing, "The course designers at Tryon are just excellent; they set them just tough enough for our horses, but at the same time there is nothing over-facing. He did a wonderful job."
After the first round, the 2007 Hanoverian gelding's (Stolzenberg x Cleopatra) score had landed Clark in second place before the handy. "My really good friend, Keri Kampsen, was in the lead for the first round, so my plan was just have as smooth of a handy round as possible. We were hoping to stay within the top five between the two of us, and then that would be a good day!" Clark shared.
Clark and the gelding owned by Stephen Borders have been partnered for awhile, doing both national and international derbies. Clark revealed that Extraordinaire is starting to begin his next career in the Junior Hunters, and will soon be offered for sale. "It feels good to have another win on him before he is sold," Clark expressed.
"He will do some derbies with me and then some junior hunters with some of my students until he is sold," Clark shared of the pair's summer plans. "We are planning on staying here [TIEC], we mostly stay here, we will go to Kentucky for a few weeks and a couple others but our plans for the summer mostly involve sticking around Tryon."
Clark is a familiar face around the showgrounds, and has racked up top placings at the venue since she arrived in the region. "I cannot say enough good things [about TIEC]," Clark emphasized. "We actually moved [to Tryon, NC,] from California just for the Tryon International Equestrian Center. We absolutely adore the shows here! There are big money classes for your bigger horses, there are smaller shows for your younger horses, and there is something here for everyone."
Clark concluded that she plans to stick around the area and to continue to compete at TIEC in the years to come. "The rings are beautiful, there are always great course designers, and the office staff are just unbelievable. I can honestly not say enough things about the Tryon International Equestrian Center and how it has really helped bring my horses along this year."
Santiago Lambre and Dingeman Prove Untouchable in $5,000 Speed Stake CSI 2*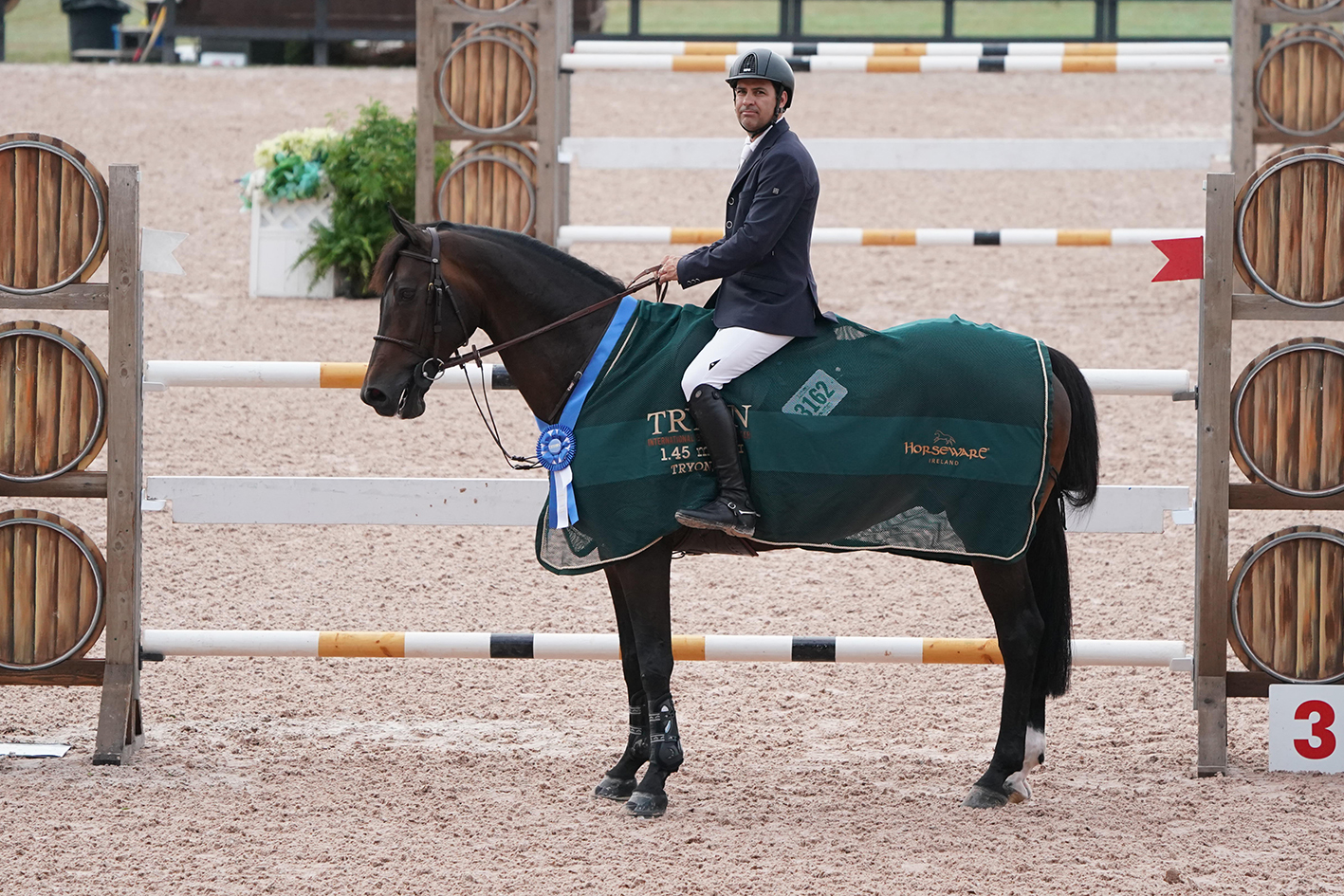 Santiago Lambre and Dingeman in their presentation ceremony.
©Sportfot
Santiago Lambre (MEX) rode Aurora Rangel De Alba's Dingeman, a 2008 Dutch Warmblood gelding (Nintender x Darnels), to win Friday morning's $5,000 Speed Stake CSI 2* during Tryon Summer 5 at TIEC with a clear round and time of 65.81 seconds to collect his second FEI win of the week. The TFS LLC-owned Gauguin, a 2011 Dutch Warmblood gelding (Querly Elvis x Douglas), earned the second-place position with Darragh Kerins (IRL), navigating the course fault-free in 69.67 seconds. In third place was Liubov Kochetova (RUS) aboard her own 2012 Hanoverian stallion (Graf Top x Stakkato), Trevita, riding to a time of 73.69 seconds and a five-fault score.
Mark Bluman and Jenni's Chance Top Sunday's $25,000 National Grand Prix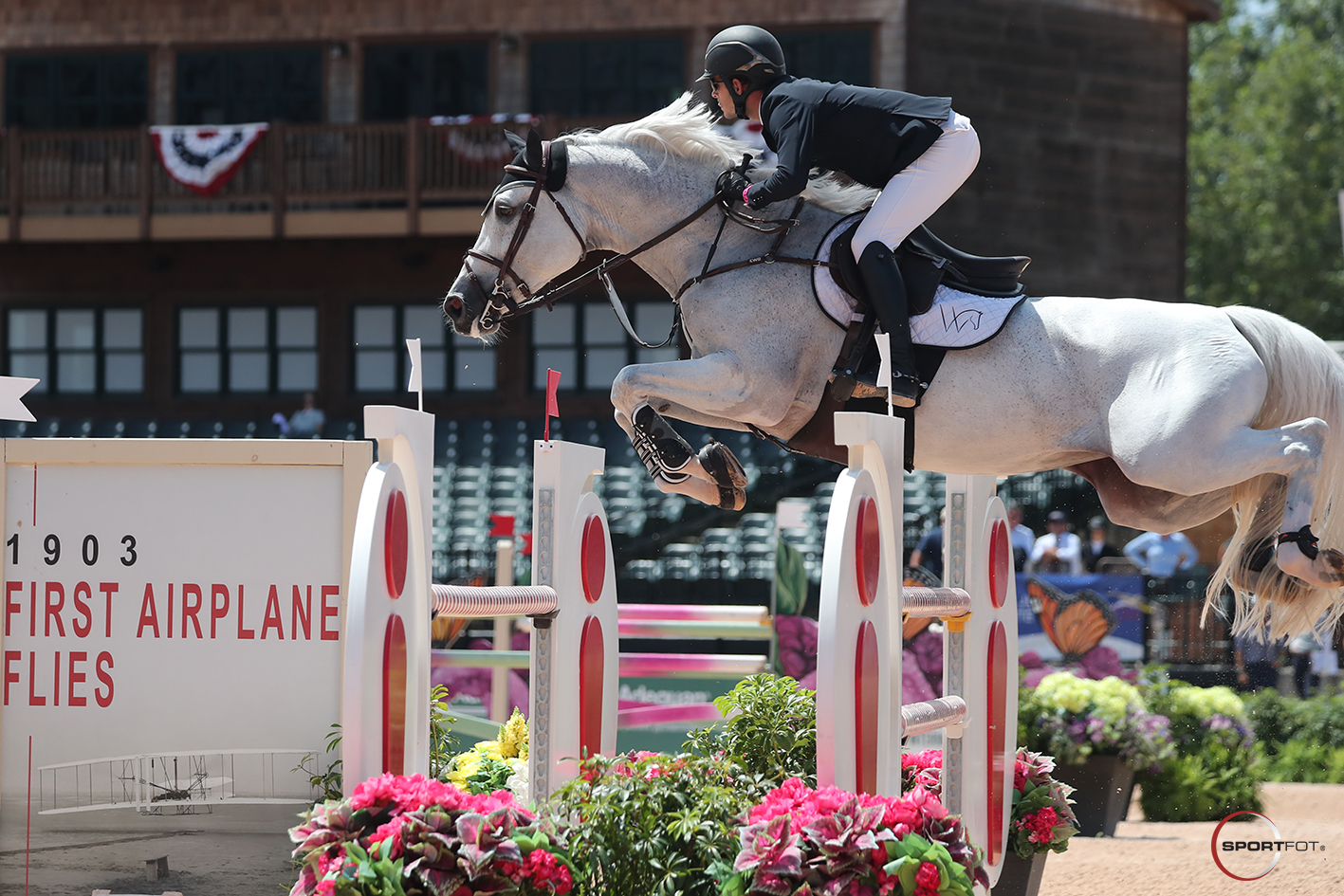 Mark Bluman and Jenni's Chance
©Sportfot
Mark Bluman (Lexington, KY) piloted the Melissa Wight-owned Jenni's Chance, a 2009 Belgium Warmblood mare (Clinton I x Heartbreaker), to first place in the $25,000 National Grand Prix on Sunday morning of the Summer 5 Series at Tryon International Equestrian Center (TIEC) double clear with a jump-off time of 31.681 seconds. Second place was awarded to Jesse Smith (Wellington, FL) aboard her own Charles Pinckney Windsor Z, a 2005 Zangersheide gelding (Caretino x Carolus 1), with a double-clear round and jump-off time of 33.098 seconds. Nicole Loochtan (Lincolnshire, IL) earned third place aboard her own Famoso D Ive Z, a 2007 Zangersheide gelding (For Pleasure x Chin Chin), with no faults and a jump-off time of 36.147 seconds.
Jumper Highlights:
Samuel Parot and his own I&H Boogy Woogy were crowned champion in the Adequan® 1.30m Open Jumper Division. Reserve honors were awarded to Deborah Stephens and Centennial Farm Inc's Sherkan du Haut for their effort.
In the 1.35m Open Jumper Division, Harold Chopping aboard Tara Dow-Rein's Gerderieka II VL finished with champion honors, while Catherleen Driscoll piloted her own Enzo H to a reserve champion finish.
In the Developing Jumper Series 6yr Old Young Jumper 1.30m Division, Thaisa Erwin (Middleburg, VA) rode her own entry, Itina, to champion honors for the week. Reserve champion was awarded to Mark Bluman (Lexington, KY) and Melissa Wight's entry, Northern Exposure.
The Developing Jumper Series 7yr Old Young Jumper 1.30-1.35m Division crowned David O'Brien (Lexington, KY) and Spy Coast Farm's Maldonado SCF as division champions. Kyle Dewar (Ocala, FL) rode Joan Burke's Habanera RHF to reserve champion honors.
Emma Pell (Winchester, VA) rode her own entry, Ari 55, to earn champion in the Low Junior Jumper 1.20m Division. Ellie Bruder (Argyle, TX) earned the reserve champion honors of the divison aboard the Plain Bay Farm-owned, Smartie.
Deborah Perkins (Wellington, FL) rode her own entry, Chivu, in the Low Amateur Jumper 1.20m Division to earn champion for the week. The Noel Flauntleroy-owned, Centurion, was then awarded reserve champion honors with Eliza Fauntleroy (Manakin Sabot, VA) in the irons.
Hunter Highlights:
Keri Kampsen piloted Mary McKenzie's Qualified in the Absorbine Green Hunter 3' Division, receiving champion honors. I.M. Gold, owned by Redfield Farm, ridden by Keith Alaimo were crowned reserve champions for their performance.
Barbara Scott's Catchphrase, ridden by Harold Chopping, were crowned champion in the Green Hunter 3'6/3'9/High Performance 4' Division. Robert Stucky navigated The Girl From Ipanema, owned by Allie Rae Hayes, to reserve champion honors.
In the $500 Marshall & Sterling Insurance NAL/WIHS Adult-Amateur Hunter Classic, Lisa Baugh piloted KJ Equine LLC's Resolute to first place honors with a score of 163. Aboard her own Say Cheese, Alexis Worthington was awarded second place honors for their effort scoring a 162.5, while Carly Reinsel and Constantine, owned by Patricia Scopellite, finished in third with a score of 162.
First Class, ridden by owner Katelyn North, was awarded champion honors in the Amateur-Owner Hunter 3'3 Division, while Katherine Paul navigated her own Plot Twist to reserve honors.
Karina Jones's Finnegan, ridden by Kelly Kocher, were presented champion honors for their effort in the Baby Green Hunter 2'6 division, while William Russell rode Zed, owned by Kimberley Kaminsky, to reserve honors.
For full results from the $36,000 Sunday Classic CSI 2*,
click here.
For full results from the $10,000 USHJA National Hunter Derby,
click here.
For full results from the $5,000 Speed Stake CSI 2*,
click here.
For full results from the $25,000 National Grand Prix,
click here.
The Tryon Summer Series continues through Sunday, July 21, 2019. For more information, visit 
Tryon.com
.
Photo credit 
©Sportfot
. These photos may only be used once in relation to this press release with proper credit.