Molly Ashe Cawley and Berdien Ride to Blue in $37,000 Power & Speed Stake CSI 3*
For Immediate Release
Connelly Grant for TIEC
Mill Spring, NC – July 8, 2022 – Sharn Wordley (NZL) and Valentine Car topped Thursday's $37,000 Horseware Ireland Welcome Stake CSI 3* by stopping the jump-off timers at 31.02 seconds. The red ribbon went to Conor O'Regan (IRL) atop Mendini DR, a 2012 Belgian Warmblood mare (Hunter's Scendix x Cassini I) owned by Dynomite Ranch LLC. O'Regan jumped to a time of 31.66 seconds. Claiming third was Wesley Newlands (CAN) and Maestro van het Binnenveld, a 2012 Belgian Warmblood gelding (Hunter's Scendix x Conan Z) owned by Weslands Farm, with a time of 32.27 seconds.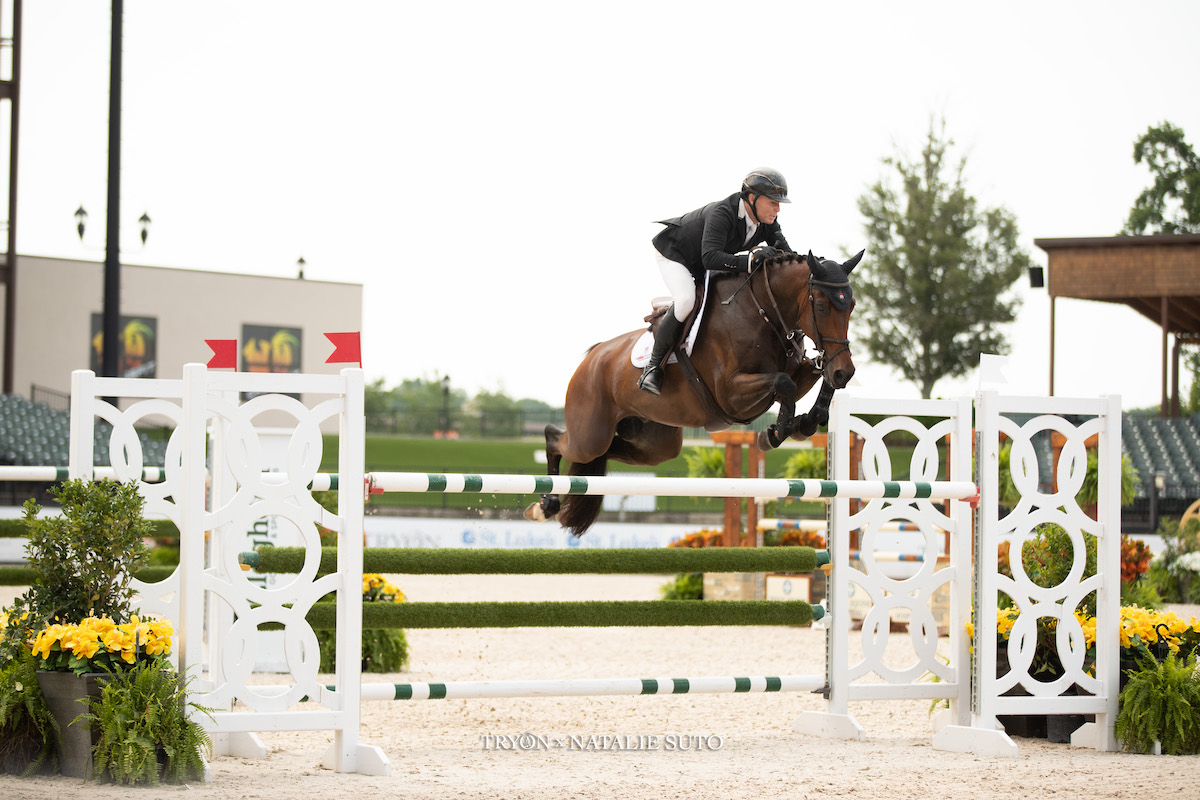 Sharn Wordley and Valentine Car
©Natalie Suto for TIEC
Valentine Car, a 2009 Warmblood gelding (Son of Juan Car x Galiani CH) owned by Fernando Cardenas, is a new mount for Wordley, and has proven himself successful at TIEC this week. "It's a fairly new horse for me, his name is Valentine Car; I've been riding him just this year and he's a very good horse. I like him very much," said Wordley.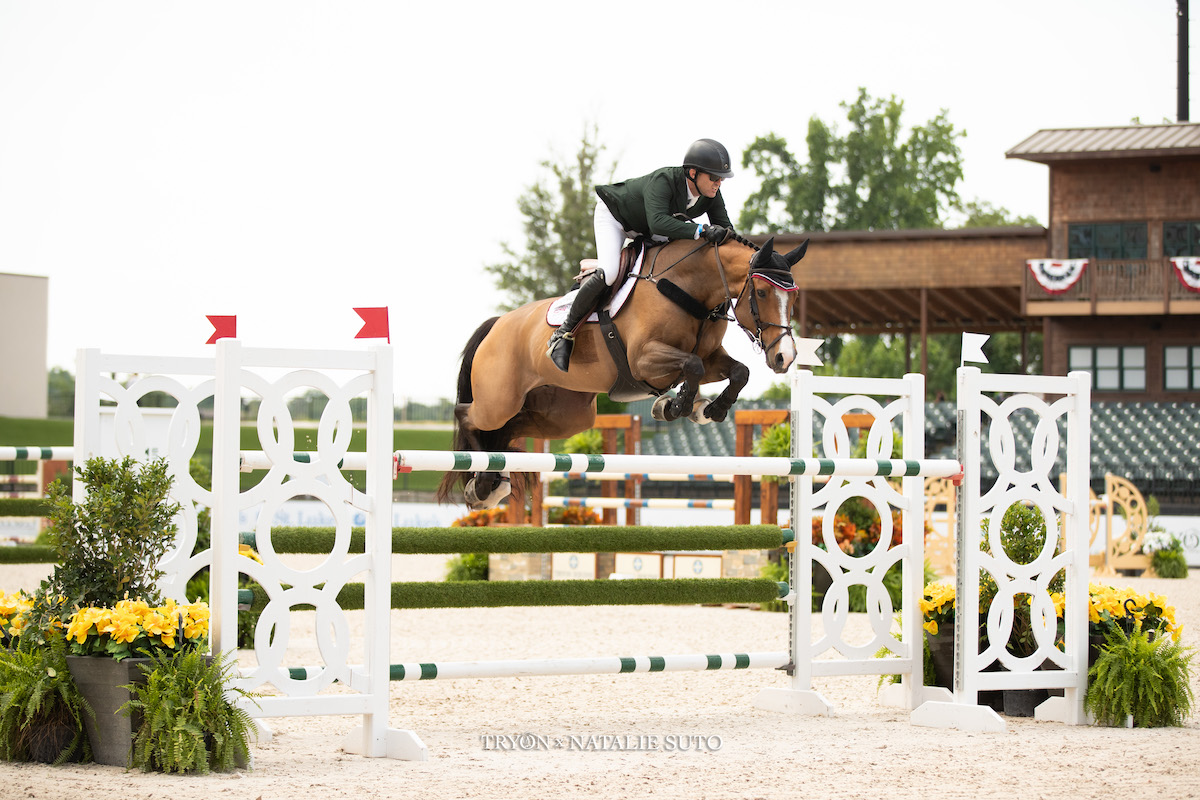 Conor O'Regan and Mendini DR
©Natalie Suto for TIEC
Wordley was very complimentary of the tricky course Alan Wade (IRL) built. "Alan Wade [is] probably the best course builder in the world in my opinion, I thought he built a fantastic course. It was tough enough and the time was snug, so it forced a few people to rush a little bit. It wasn't too difficult, but it wasn't easy to jump clear either, so he had faults all over; he knows just how to do that."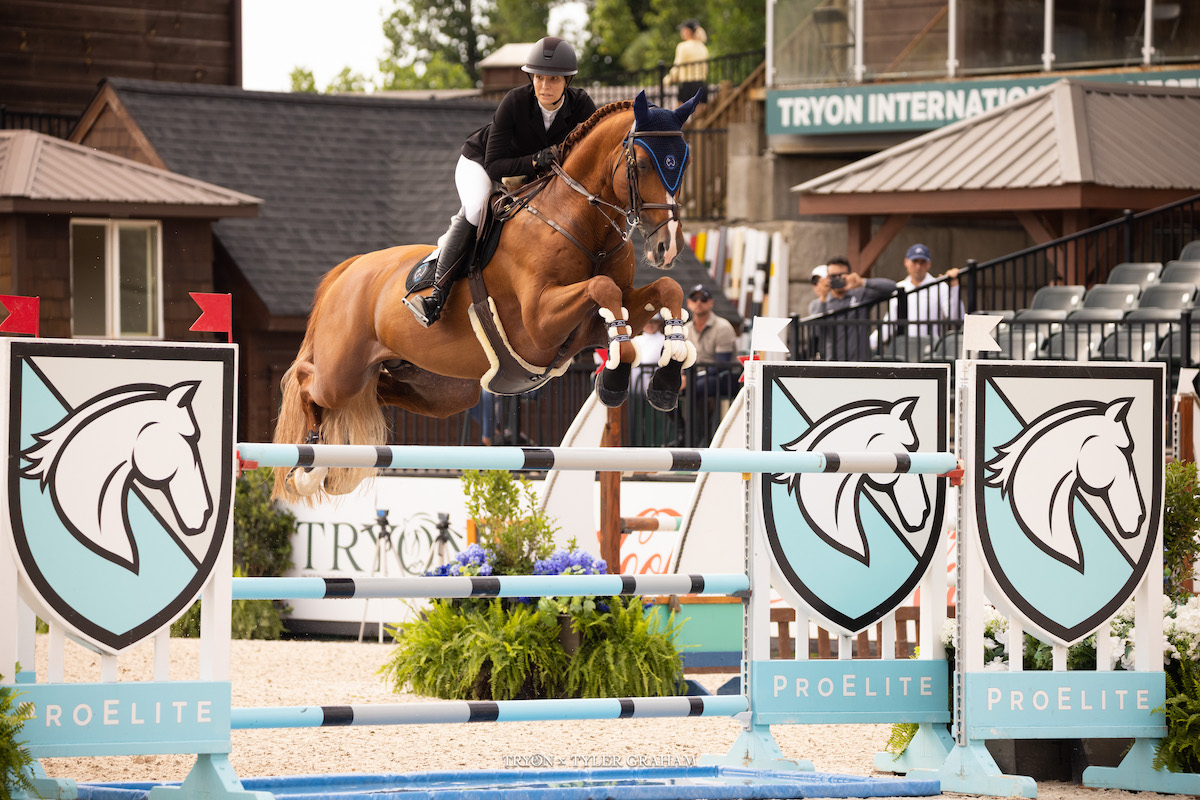 Wesley Newlands and Maestro van het Binnenveld
©Tyler Graham for TIEC
Going into the jump off, Wordley knew that his best tactic to win was to ride conservatively after watching his competition go, "The fastest one in the jumpoff was going to be Molly Ashe, and she was very quick, but she did seven steps, which was very tight, and had a rail down. Once she'd gone, I knew to be sort of a little bit conservative in the jump off because my horse is very fast, so I did that and it worked out perfectly."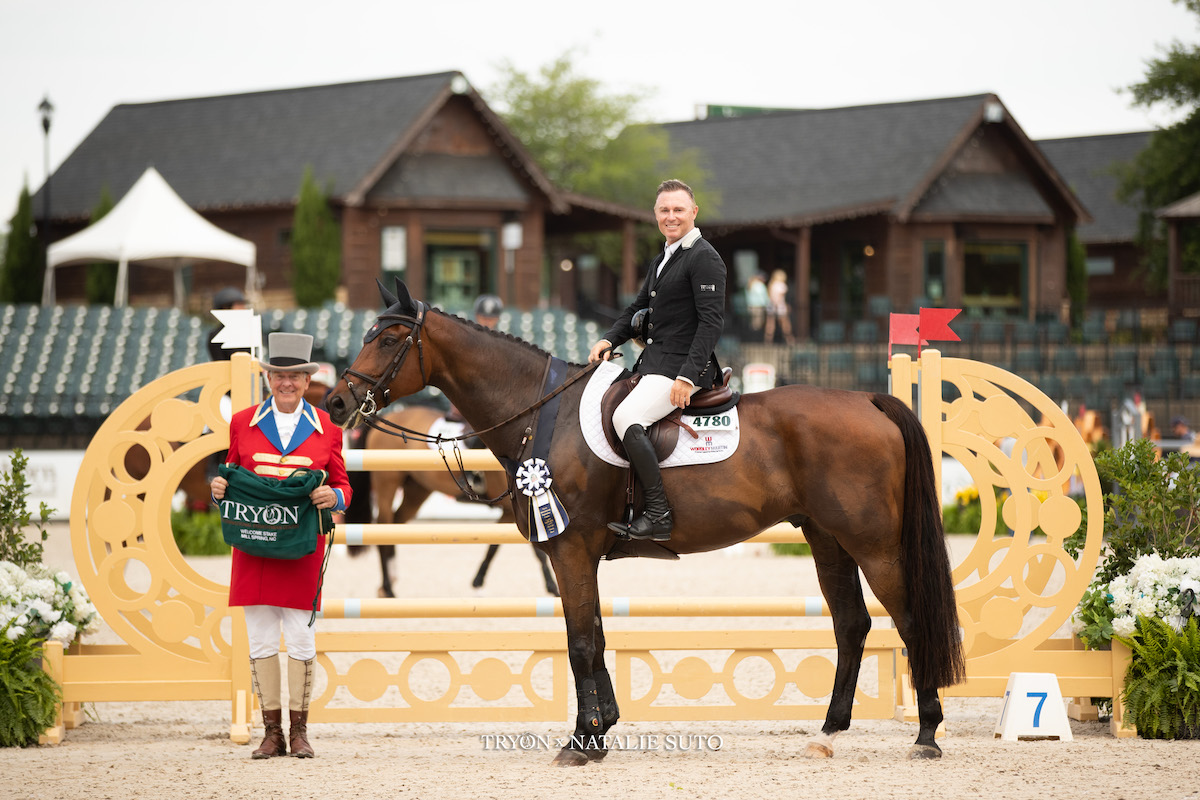 Sharn Wordley and Valentine Car in their presentation ceremony along Ringmaster Steve Rector.
©Natalie Suto for TIEC
"I love Tryon; it's always been a great show to me over the years. We stay with some friends down the road, so it's always fun. The footing has been managed very well, which I'm very happy about."
For full results from the $37,000 Horseware Ireland Welcome Stake CSI 3*, click here.
Molly Ashe Cawley and Berdien Ride to Blue in $37,000 Power & Speed Stake CSI 3*
July 6, 2022 – Molly Ashe Cawley (USA) rode Louisburg Farm's Berdien to the blue in Wednesday's $37,000 Power & Speed Stake CSI 3*. Berdien and Cawley stopped the speed phase timers at 27.7 seconds. Claiming second in 27.72 seconds was Samuel Parot (CHI) and Buga Z, Samuel Parot Jr. 's 2010 Zangersheide gelding (Chester Z x Quality Touch Z). Cawley also cinched a third place ribbon at 29.13 seconds atop Dior P Z, a 2011 Zangersheide gelding (Diarado x Havidoff) owned by Sagamore Farms.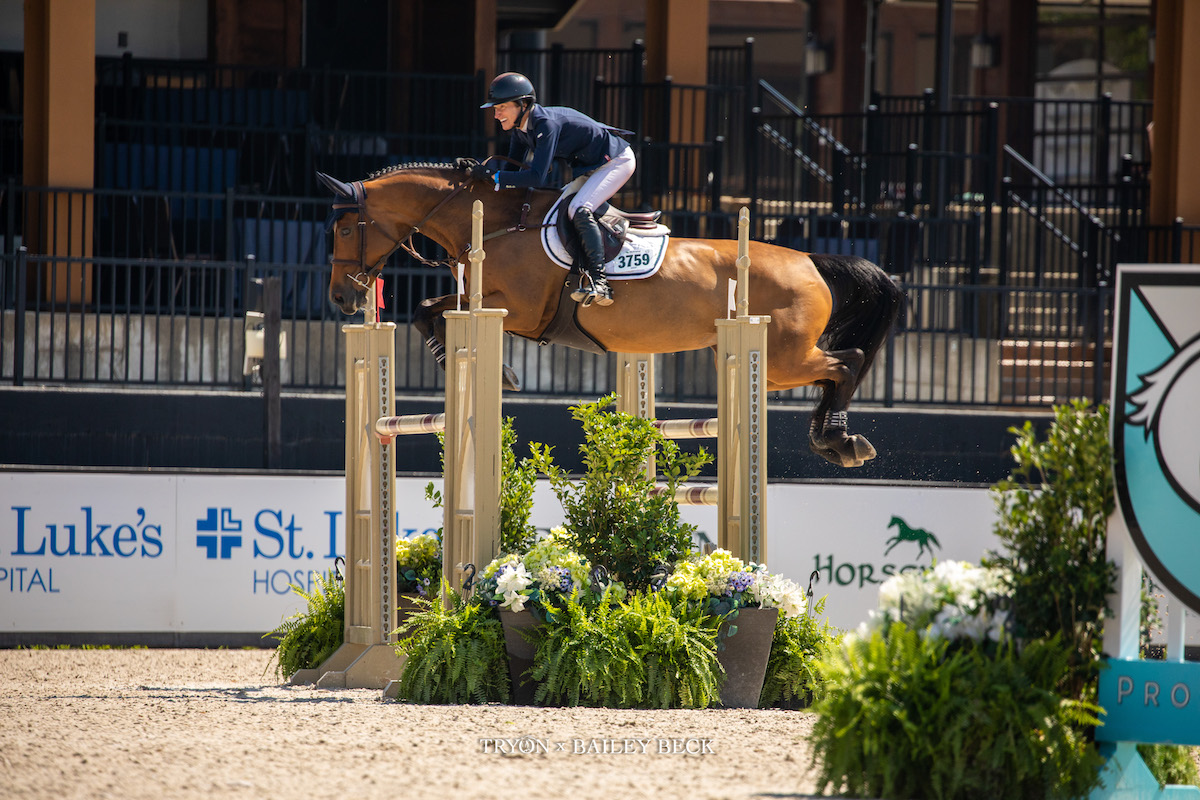 Molly Ashe Cawley and Berdien
©Bailey Beck for TIEC
Berdien, a 2011 Zangersheide mare (Bustique x Querlybet Hero), has been under Cawley's care for a while. "I've had Berdien since she was six, turning seven, so I know her really well," said Cawley about her winning mount. "She's always a winner and a tryer, and gives it her all. She's quick, obviously! She's careful, so I took a big risk coming into the in-and-out and it paid off!"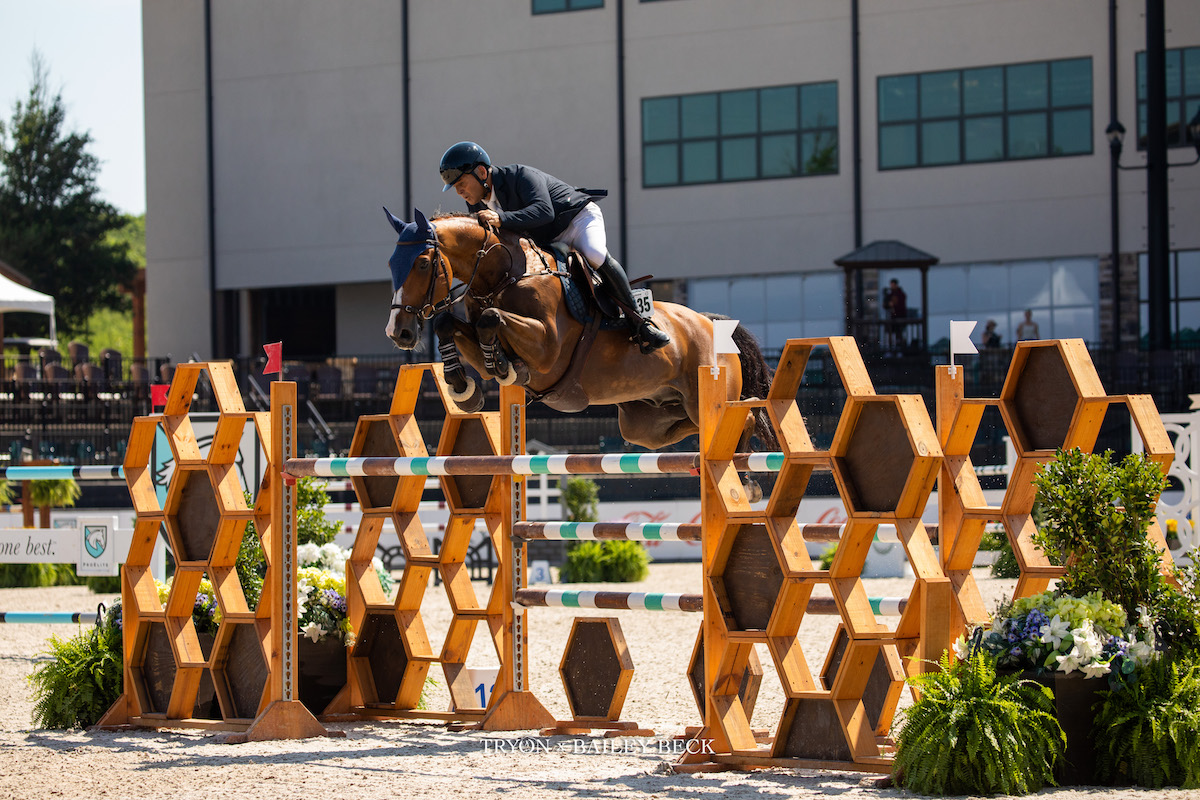 Samuel Parot and Buga Z
©Bailey Beck for TIEC
Eighteen of the 24 entries advanced to the speed phase over the Alan Wade (IRL) track, with Cawley explaining that her strategy was to turn tightly, as that is what Berdien does best. "I often times end up second or third with her because she spends time in the air, and then I get trying to go so fast that I get down the lines early. So, my strategy this time was to do the loop-de-loop as tight as I could."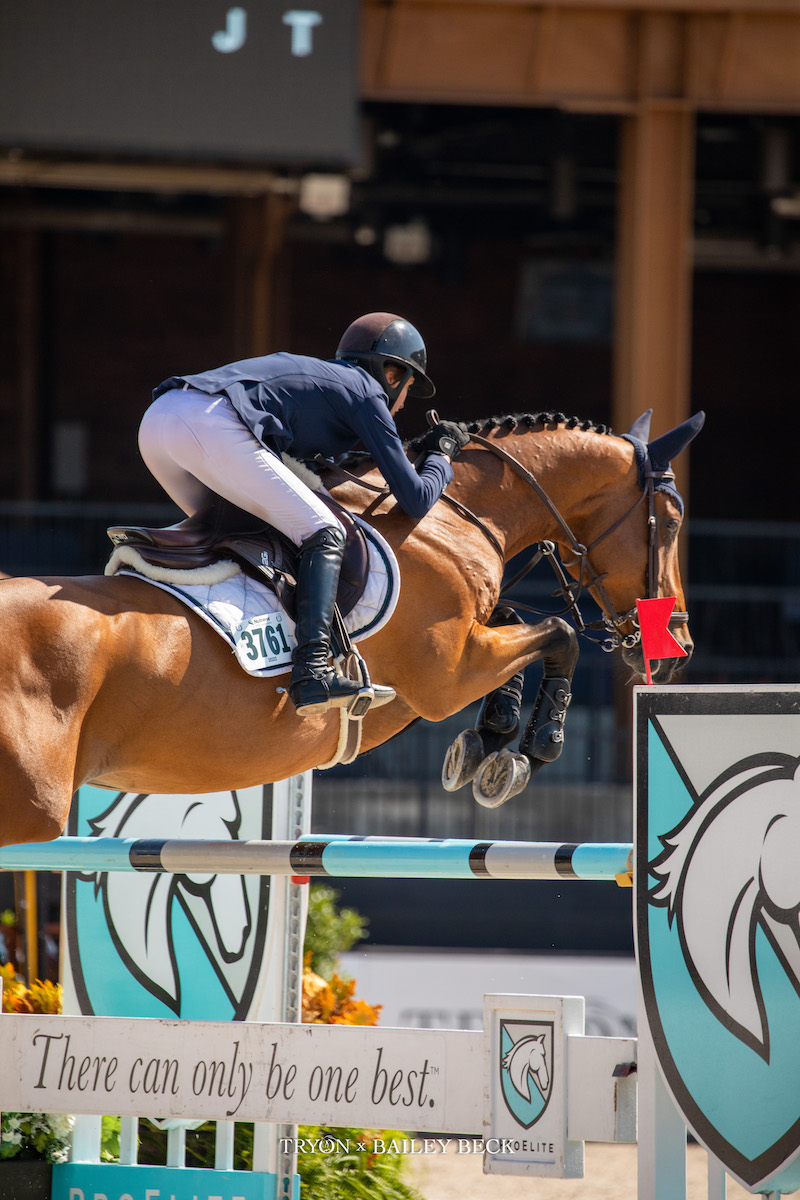 Molly Ashe Cawley and Dior P Z
©Bailey Beck for TIEC
Cawley took a big risk in the speed phase, which paid off in the end, she shared. "When I went to run over to the in-and-out, which was the first part of the speed, it was right in between: I was either going to really have to re-arrange her to do one more [stride] or take the risky one, and we went with risky! She turned so well, and she was quick today. I'm grateful for Louisburg and my owners for standing by me and letting me have days like this!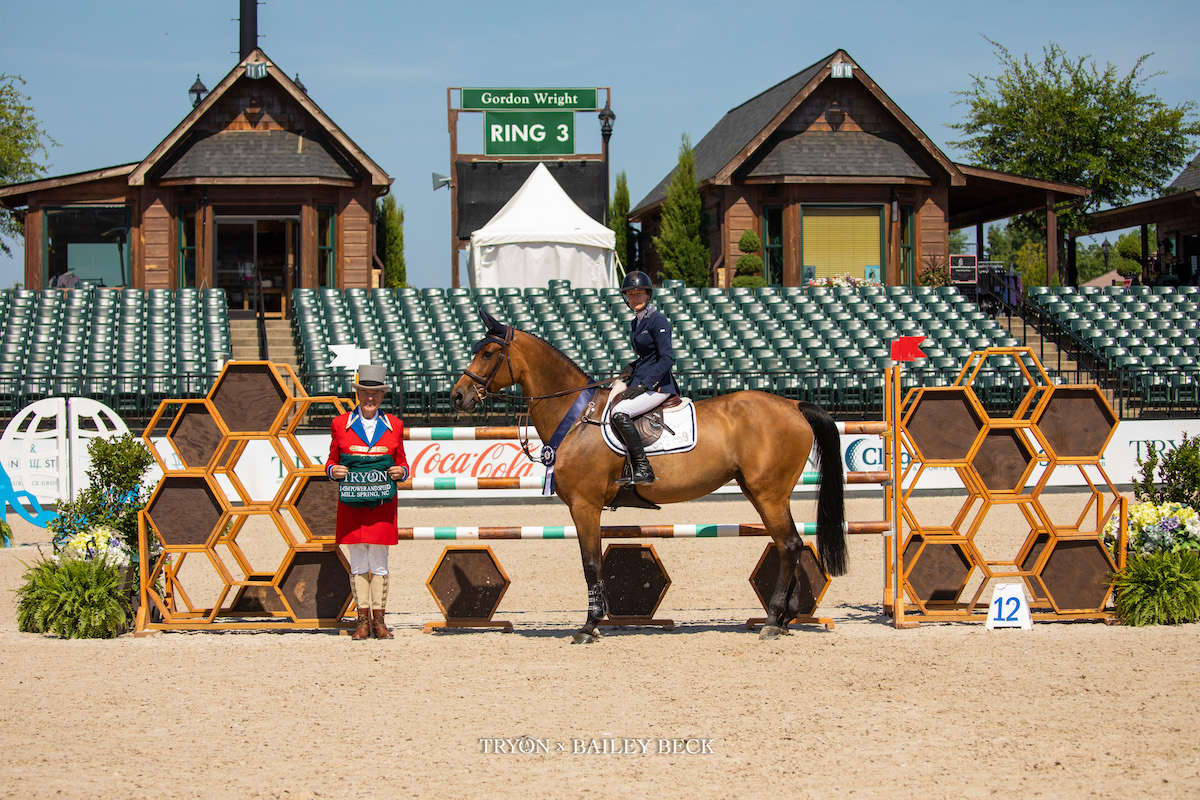 Molly Ashe Cawley and Berdien in their presentation ceremony alongside Ringmaster Steve Rector.
©Bailey Beck for TIEC
"[Tryon] has been great! I really enjoy coming here. It's a great show, and fun, and my kids are with me so we have lots of things to do. We just discovered pickleball in the [Crossfit Wide Open] gym, so we were playing pickleball yesterday, which was fun! So, it's been great and really nice!"
For full results from the $37,000 Power and Speed Stake, click here.
Highlight competitions are available for live viewing and on-demand replay at www.Tryon.com/streaming.
Tryon Summer 4 continues through Sunday, July 10th, with highlight Pony Spectacular festivities including the $10,000 USHJA Pony Hunter Derby in Tryon Stadium at 8am Saturday, July 9th. The competition is free and open to the public, also live streamed. Saturday Night Lights presented by Tryon Horse & Home will take place in the evening with the $139,000 Coca-Cola® Grand Prix CSI 3* at 8:00pm. To learn more, visit www.Tryon.com/thisweek.
Photos ©TIEC (Bailey Beck, Tyler Graham and Natalie Suto as noted). These photos may only be used once, in relation to this press release. TIEC Photography serves as the official photographer and competitors may view and purchase photos, as well as submit advance photography requests at www.Tryon.com/photos. With questions, contact media@tryon.com.