For Immediate Release
Allie Hay for TIEC
Mill Spring, NC – July 22, 2021 – Santiago Lambre (MEX) and his mount, Dingeman, took first place honors in the Tryon Summer 6 $37,000 Horseware Ireland Welcome Stake CSI 3* at Tryon International Equestrian Center (TIEC), stopping timers at 28.935 seconds. Caelinn Leahy (USA) and Coldplay 31, a 2009 Westphalian gelding (Cassini ll x Phantom) owned by Steve Schaefer, took second place on a clear jump-off performance of 29.585 seconds, while Aaron Vale (USA) and Elusive, a 2009 Dutch Warmblood gelding (Rodrigoo x Capfucino) owned by Thinks Like A Horse, claimed third-place honors on a fault-free effort in 29.773 seconds.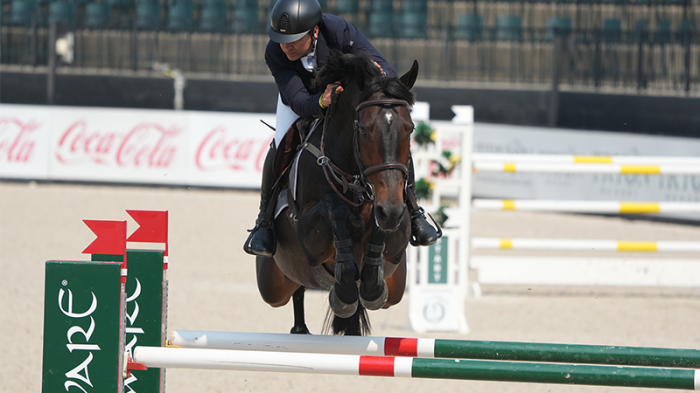 Santiago Lambre and Dingeman
© Sportfot
The Ken Krome (USA)-designed course saw 37 horse and rider combinations in the first round, with 15 pairs returning for the jump-off. Lambre and the 2008 Dutch Warmblood gelding (Nintender x Darnels), owned by Aurora Rangel De Alba and Gestut Lewitz, were first to go in the shortened second round, so he took all risks once he walked into the ring, ensuring he would not be bested by the competition. "It was all or nothing to win; there was no room for adding strides!" he said with a grin.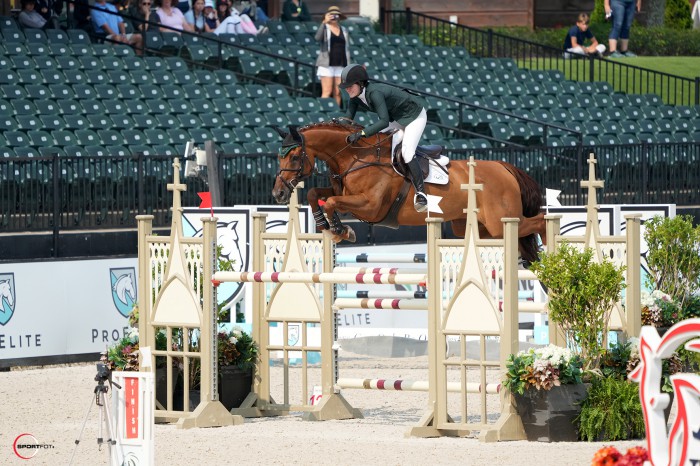 Caelinn Leahy and Coldplay 31
© Sportfot
Today's victory has been culminating for years; Lambre has owned Dingeman for the last nine years and they have had great success throughout their partnership. "I bought him when he was four and he is 13, so I've known him for a long time. He's won many ranked classes so far. He's a super horse! I showed him today in the Welcome and then I'll jump others tomorrow in the Grand Prix, but this one is done for the week!"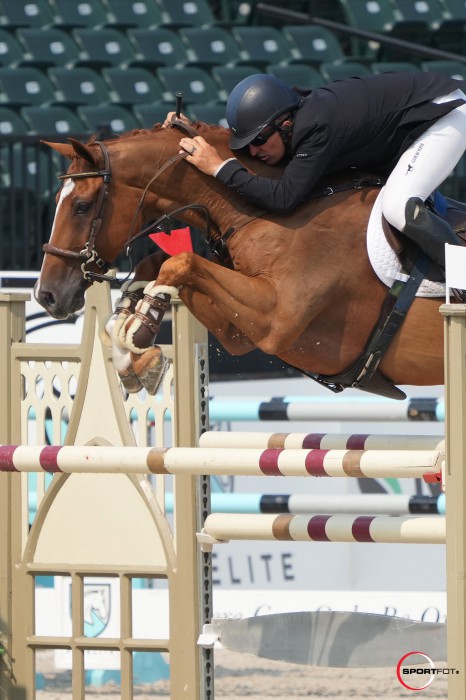 Aaron Vale and Elusive
© Sportfot
Lambre has spent the past few weeks collecting wins at TIEC, and he will return home after this week's competition to give his horses a well-earned break. He hopes to return to the "amazing facility" in the fall for more FEI competitions.
"The organization here is fantastic," he stated. "Tryon always puts these kinds of classes early in the morning so the horses are in the best condition. The footing is great, and they do a lot of work on it during the week. On Mondays, I always see them working on the footing, so this place is always amazing and always improving. We can't ask for more!"
Santiago Lambre and Dingeman in their awards presentation.
© Sportfot
Conor Swail and Count Me In Continue Success in $37,000 Power & Speed Stake CSI 3*
Emily Carpenter for TIEC
Mill Spring, NC – July 21, 2021 – Conor Swail (IRL) added another first to his list during the Tryon Summer Series with a win in the $37,000 Power & Speed Stake CSI 3* at TIEC aboard Count Me In. Capturing a time of 30.64 seconds in the speed phase of the competition, the duo conquered a field of 21 entries. Following in second place was Simon McCarthy (IRL) and Gotcha, the 2011 Holstiener mare (Stakkato x Cassini I) owned by Rock Ridge Farms, with a time of 32.06 seconds. Luiz Larrazabal (VEN) earned third place honors with Caristina, the 2010 mare of unknown breeding, owned by Juan Carlos Morstadt, with a jump-off time of 33.19 seconds. 
Conor Swail and Count Me In
© Sportfot
Swail reflected on his winning streak throughout Tryon Summer 5 by saying, "We're just continuing our run on from last week!" Swail and Count Me In, the 2007 Hanoverian gelding (Count Grannus x Sherlock Holmes), have had an exciting start to their FEI career together over the past few weeks. "It's certainly a very good start for us!" Swail added, "We were double clear in the $25,000 Sunday Classic [during Tryon Summer 5], and we finished second."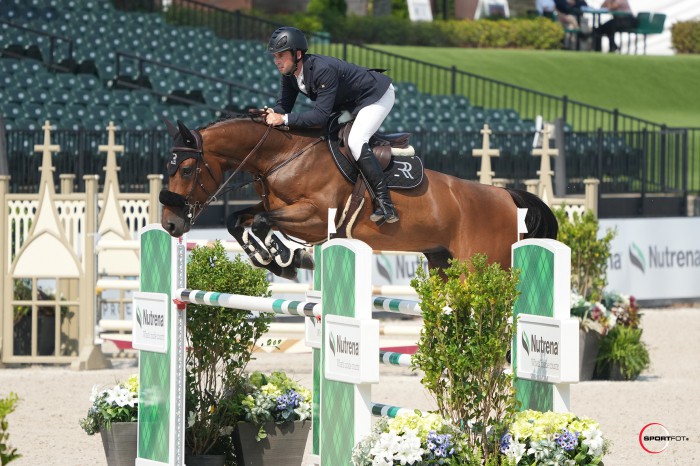 Simon McCarthy and Gotcha
©Sportfot
The course design by Ken Krome (USA) course saw 21 horse and rider combinations, with 14 fault-free competitors qualifying for the second round of the class. Swail recapped his time on course sharing, "For the speed phase, it was quite flowing and everything came up for me really well, I must say. All the distances came up very smoothly and we saw the distances very early. I think that's why I ended up so quick – everything came up nicely for me." Despite his recent success, Swail admitted, "I wasn't expecting to be the winner before the class because we're just kind of finding each other out a little bit, so I don't expect too much."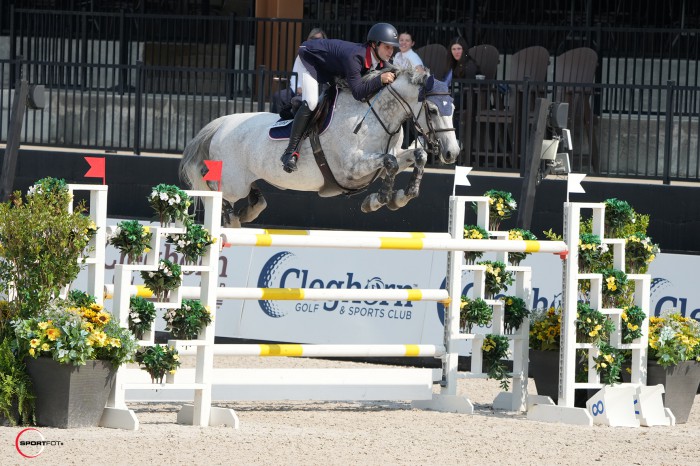 Luiz Larrazabal and Caristina
©Sportfot
Swail was thrilled with his success throughout Tryon Summer 5 and is enthusiastic to begin Tryon Summer 6 with a win. "The thing that is very pleasing to me is that this is the fourth different horse that I have won on. It's great that they're all in the right place." Swail shared that he plans to compete in the $137,000 Horseware Ireland Grand Prix CSI 3* on Saturday riding two horses. He concluded, "Hopefully we can get something else out of the rest of the week, but if I don't, it's been good already."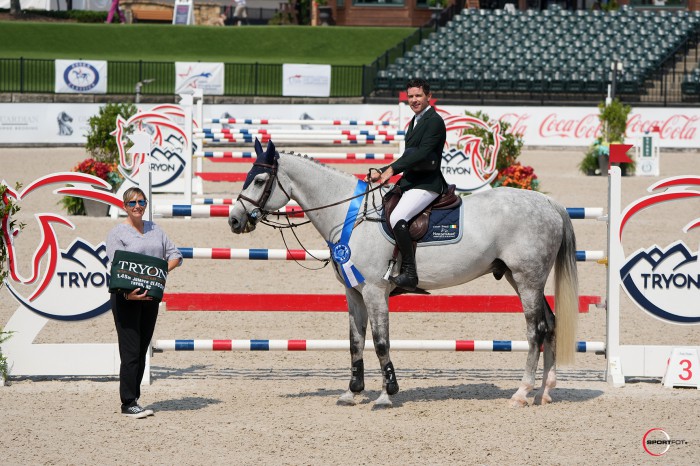 Conor Swail and Count Me In in their presentation ceremony alongside TIEC Director of Equestrian Operations Molly Oakman.
©Sportfot
Wim Janssen and Quadros 3 Win $2,000 Power & Speed Stake CSI 3*
Mill Spring, NC – July 21, 2021 – Wim Janssen (NED) and Quadros 3, the 2007 Holsteiner stallion (Quidam de Revel x Corrado I) owned by Ashland Show Stables LLC, claimed the win in Wednesday's $2,000 Power & Speed Stake CSI 3* with a time of 43.79 seconds.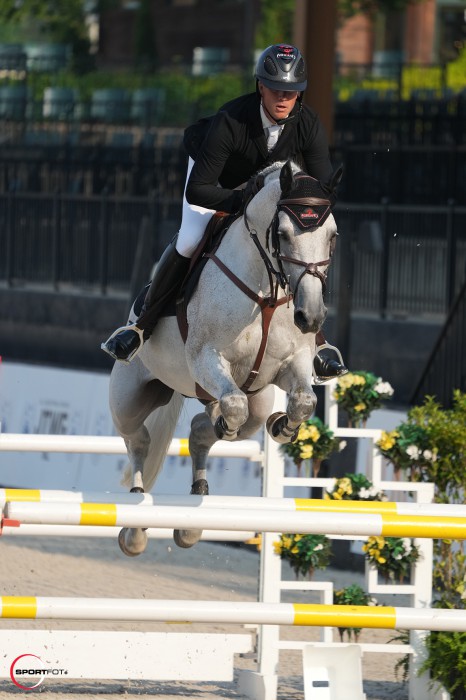 Wim Janssen and Quadros 3
©Sportfot
For full results from the $37,000 Horseware Ireland Welcome Stake CSI 3*, click here.
For full results from the $37,000 Power & Speed Stake CSI 3*, click here.
For full results from the $2,000 Power & Speed Stake CSI 3*, click here.
Tryon Summer 6 continues through Sunday, July 25 featuring the $6,000 Speed Stake CSI 3* on held Friday morning and Saturday evening's $137,000 Horseware Ireland Grand Prix CSI 3* at 8pm in Tryon Stadium. Live streaming for highlight classes is available at Tryon.com/streaming. Learn more about the competition schedule at Tryon.com/compete.
Photos ©Sportfot. These photos may only be used once in relation to this press release. Tryon Summer Series competitors can request photos and review galleries at Tryon.com/photos.