For Immediate Release
Sarah Madden and Connelly Grant for TIEC
Mill Spring, NC – July 23, 2022 – Samuel Parot (CHI) and Captain Z conquered 33 entries to claim victory in Saturday's $139,000 Earl Scruggs Music Festival Grand Prix CSI 3* at Tryon Resort. The duo jumped-off to a time of 39.55 seconds. Cinching second prize was Sean Jobin (CAN) and Darius, a 2008 Dutch Warmblood gelding (Warrant x Calvados) owned by Foxridge Farms Stables, with a time of 43.56 seconds. Claiming third at a time of 42.36 seconds with four faults was Audrey Muscari (USA) and her own Cicero HS, a 2010 Westphalian gelding (Carlucchi 13 x Funke).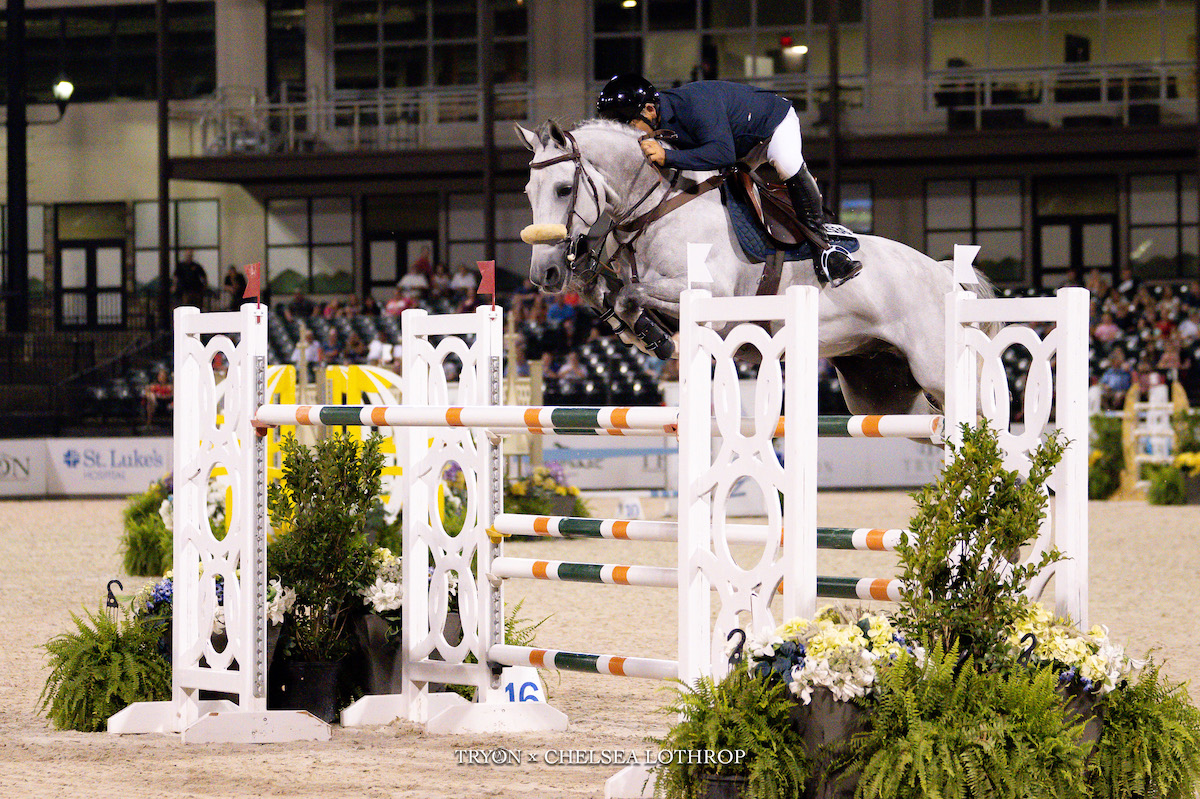 Samuel Parot and Captain Z
©Chelsea Lothrop for TIEC
More than half of the 33 entries attempted the first round before Juan Ortiz produced a faultless round to start the jump-off list, where only 5 entries progressed to the final portion of the Ken Krome (USA) course. Parot and his own Captain Z, the 2012 Zangersheide gelding (Calvino Z x Voltaire) bested the very difficult course by Krome. "It was a very difficult course, not easy at all. There were a lot of very tight turns and rollbacks everywhere except for the last line. You needed to do u-turn after u-turn, and it was very difficult, but good for my horse. My horse was fantastic."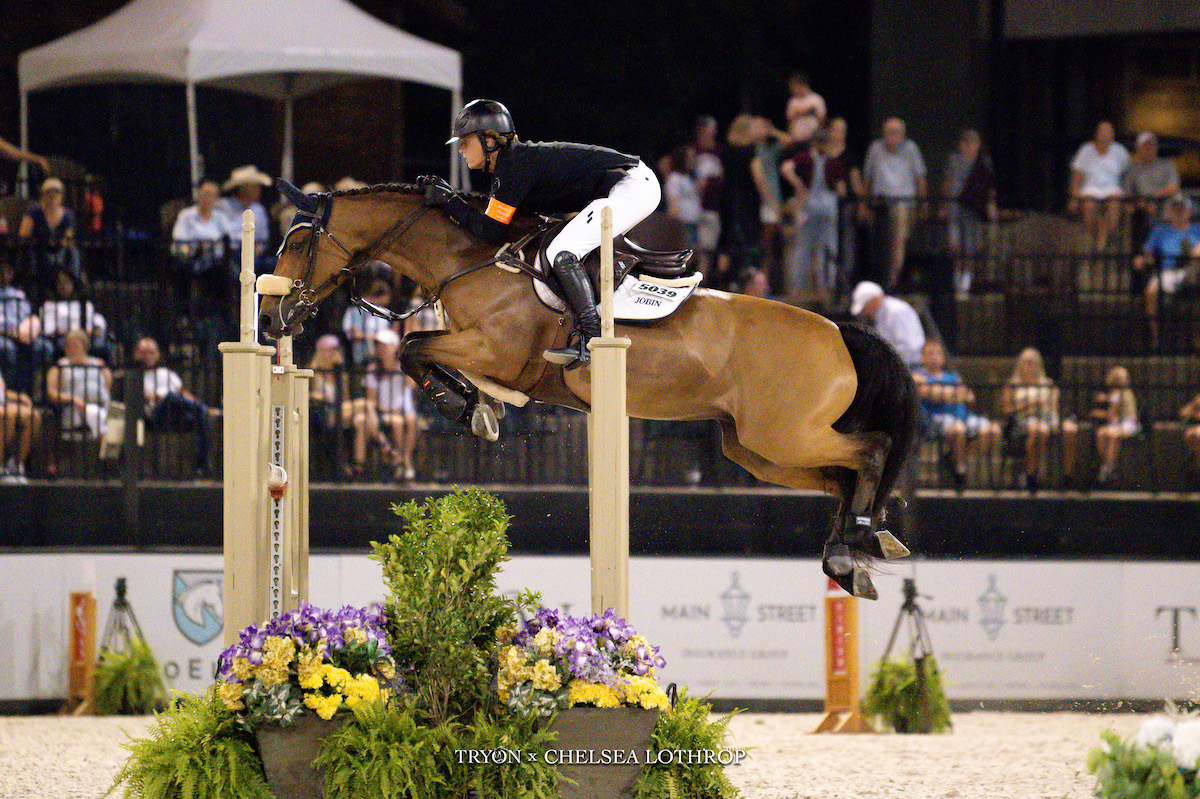 Sean Jobin and Darius
©Chelsea Lothrop for TIEC
Captain Z and Parot have had an extremely successful Tryon Summer Series together, but tonight marks their first major victory as a pair. "This is his first big Grand Prix win," said Parot about the winning mount of the night. "He's jumped clear in FEI classes before, like in the 2*. But he's young: he's nine years old, and he's really becoming better and better.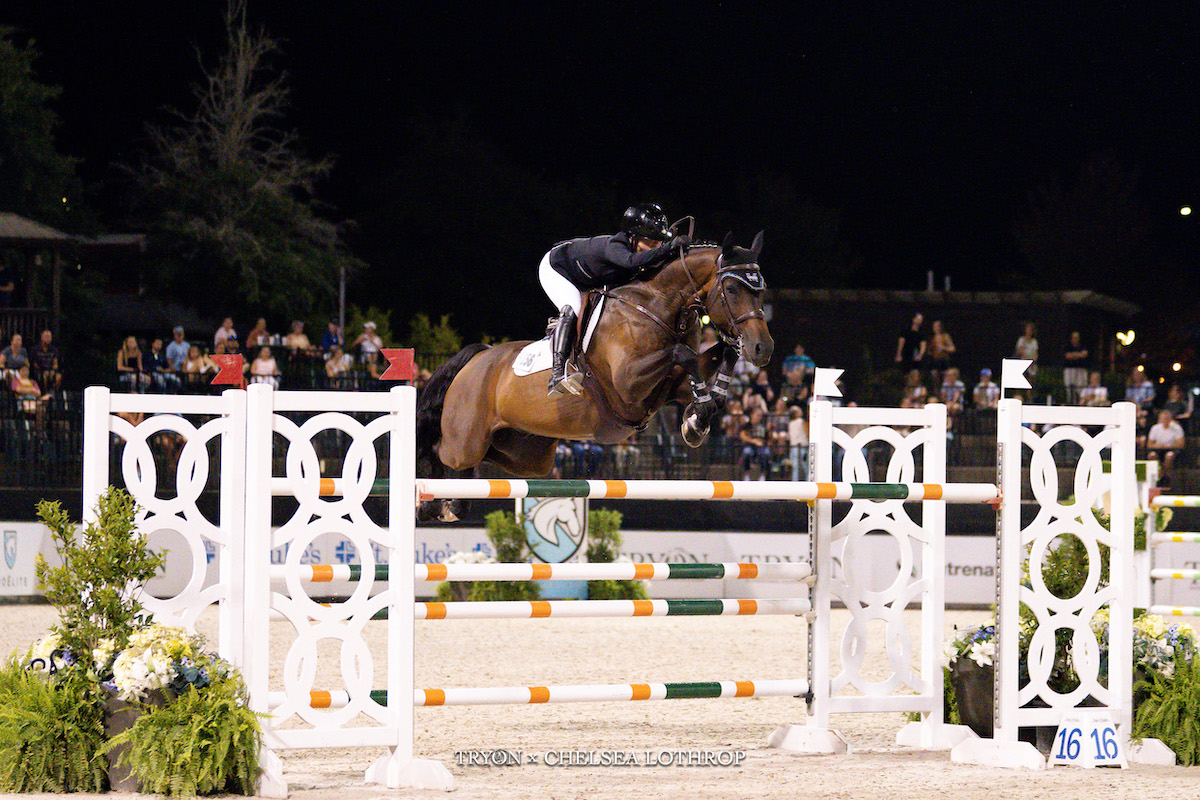 Audrey Muscari and Cicero HS
©Chelsea Lothrop for TIEC
"In the first Grand Prix here, he had two down, then one down, then he [started going] clear. Before, I didn't go as fast in the Grand Prix. I'm so happy with him," Parot described about his winning mount of the night.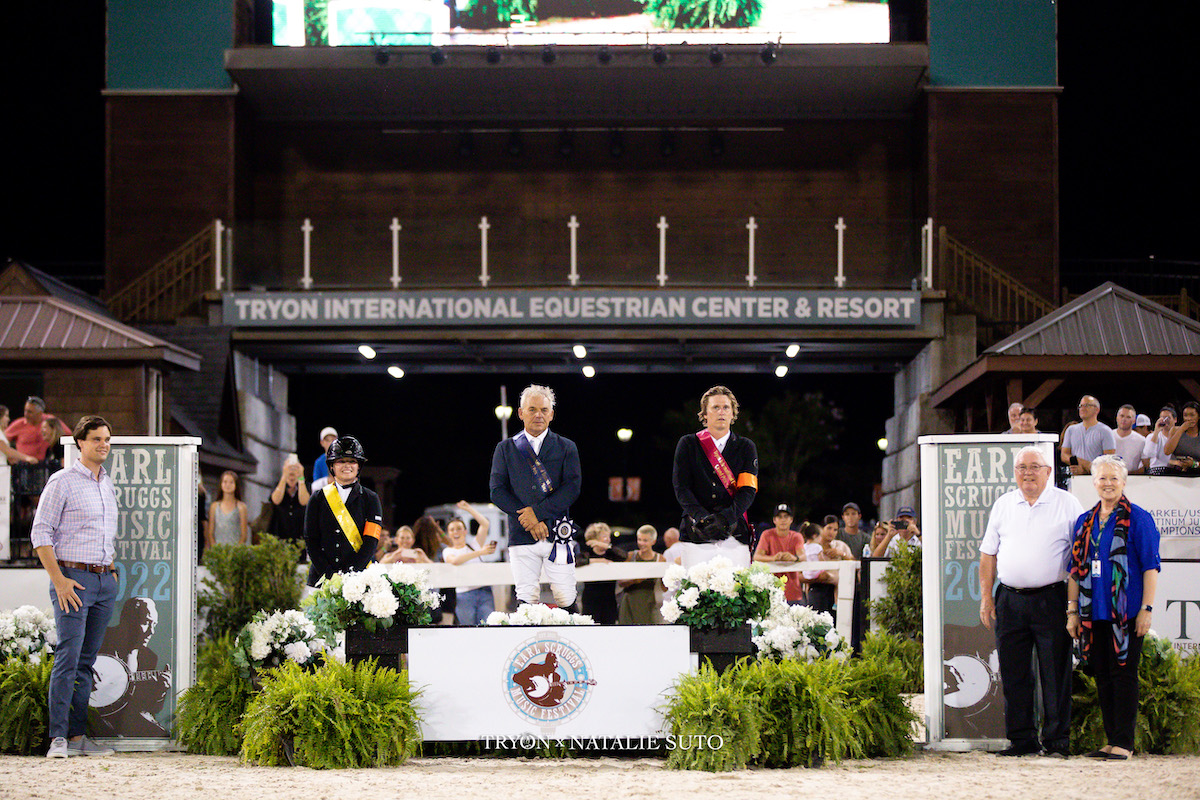 Muscari, Parot, and Jobin in their presentation ceremony alongside TIEC Director of Events & Entertainment Jeff Fissel, Earl Scruggs Music Festival Director JT Scruggs, and Tryon Equestrian Partners Carolinas Operations President Sharon Decker.
©Natalie Suto for TIEC
"He's amazing and I'm so happy because he's new and he has everything he needs to be a top, top horse: the scope, he's careful, he's fast, but needs experience."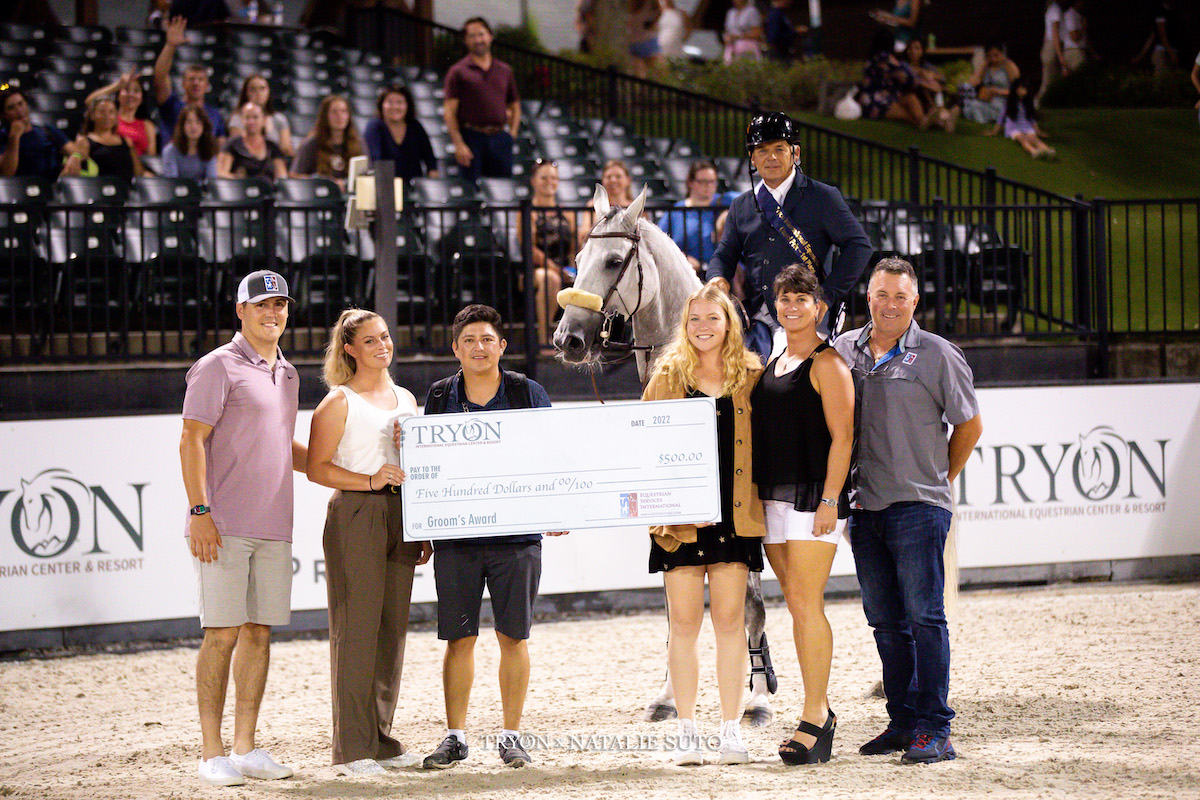 Raphael Lopez was awarded the Equestrian Services International Groom's Award for his care and dedication to Captain Z, alongside: Anders DeShields, Brittni Raflowitz, Emma Brunnell, Tracy and Brett Raflowitz.
©Natalie Suto for TIEC
RESULTS: $139,000 Earl Scruggs Music Festival Grand Prix CSI 3*
Horse Name, Year Breed gender (Sire x Sire of Dam)
Rider (COUNTRY), Owner: Faults/Faults/Time
1. Captain Z, 2012 Zangersheide gelding (Calvino Z x Voltaire)
Samuel Parot (CHI), Samuel Parot: 0/0/39.55
2. Darius, 2008 Dutch Warmblood gelding (Warrant x Calvados)
Sean Jobin (CAN), Foxridge Farms Stables: 0/0/43.56
3. Cicero HS, 2010 Westphalian gelding (Carlucci 13 x Funke)
Audrey Muscari (USA), Audrey Muscari: 0/4/42.36
4. Kinky Boy van het Gildenhof, 2010 Belgian Warmblood gelding (Nabab de Reve x Darco)
Juan Ortiz (VEN), Jos Lansink and Frank Schuttert: 0/4/42.55
5. Escada 289, 2012 Holsteiner mare (Clearway x Coriano)
Caitlyn Connors (USA), Windridge Farm LLC: 0/4/43.68
6. Verdini D'Houtveld Z, 2011 Zangersheide gelding (Verdi TN x Caretino 2)
Lauren Balcomb (AUS), Lauren Balcomb and Sharn Wordley: 4/76.03
7. Vital Chance de la Roque, 2009 Selle Français gelding (Diamant De Semilly x Rivage Du Poncel)
Conor Swail (IRL), Mannon Farm: 4/76.44
8. Valentine Car, 2009 Warmblood gelding (Son of Juan Car x Galiani CH)
Sharn Wordley (NZL), Fernando Cardenas: 4/79.13
9. Coquelicot VH Heuvelland Z, 2012 Zangersheide stallion (Catoki x Cassini II)
Sean Jobin (CAN), Foxridge Farms Stables: 4/80.23
10. Flintstone, 2010 Dutch Warmblood gelding (Mr. Blue x Caretino)
Sarah Segal (USA), Horatio Street Ventures LLC: 4/81.05
11. Nashville, 2013 Belgian Warmblood gelding (Diamant De Semilly x Darco)
Luiz Francisco de Azevedo (BRA), Eurohorse BVBA: 4/81.11
12. Frieda, 2012 Oldenburg mare (Balou du Rouet x Canturo)
Grant Seger (USA), Grey Fox Crossing: 4/81.47
For full results from the $139,000 Earl Scruggs Music Festival Grand Prix CSI 3*, click here. 
The Tryon Summer Series concludes Sunday, July 24 with the final day of Tryon Summer 6 competition. The $25,000 Tryon Resort Grand Prix will take place in Tryon Stadium around 10:00am, concurrently hosting the Markel/USHJA Platinum Jumper Championships Individual Final. For more information about the 2022 competition season at TIEC, visit www.Tryon.com/compete. 
Photos ©Chelsea Lothrop and Natalie Suto for TIEC as noted. These photos may only be used once, in relation to this press release. TIEC Photography serves as the official photographer and competitors may view and purchase photos, as well as submit advance photography requests at www.Tryon.com/photos. With questions, contact media@tryon.com.
About Earl Scruggs Music Festival:
The Earl Scruggs Music Festival is presented in partnership by the Earl Scruggs Center, a museum and cultural center located in Shelby, NC, and WNCW 88.7 radio station at Isothermal Community College, the greatest advocate of roots music in Western North Carolina. The inaugural festival will take place Labor Day weekend 2022 at the impressive Tryon International Equestrian Center in Mill Spring, NC. This unique venue set at the foot of the beautiful Blue Ridge Mountains offers onsite camping, lodging, restaurants, experiences, and much more. The Earl Scruggs Music Festival honors the life and legacy of American icon and musical legend, Earl Scruggs, who was born in the small Flint Hill community of nearby Cleveland County, NC. Best known for bringing the "Scruggs style" of playing the 5-string banjo to the world. Bringing the best of bluegrass, Americana, and roots music together with fans who have a true appreciation for the music, the Earl Scruggs Music Festival is a multi-day celebration of Mr. Scruggs' incredible contributions and the rich musical culture of the region. Learn more at www.earlscruggsmusicfest.com. 
About Equestrian Services International:
Equestrian Services International is your one-stop-shop for all of your Equestrian facility needs. Our team will work to develop your site as a whole, providing design, installation and maintenance services for any type of riding surface. Visit us at www.esifooting.com to make your Equestrian site dreams a reality.