For Immediate Release
Allie Hay for TIEC
Mill Spring, NC – July 24, 2021 – Richie Moloney (IRL) and Rocksy Music rocked the short course during the Tryon Summer 6 $137,000 Horseware Ireland Grand Prix CSI 3* at Tryon International Equestrian Center & Resort (TIEC), finishing first with a time of 38.57 seconds. Brooke Kemper (USA) and Arpeggi, the 2010 Westphalian gelding (Arpeggio x Lancer III) owned by Caroline Blum, finishing just 0.2 seconds behind Moloney, claimed second place with a time of 38.71 seconds. Third place honors were awarded to Santiago Lambre (MEX) and Easy Girl, the 2011 Oldenburg mare (Conthargos x Nintender) owned by Mario Onate, after a clear round and a jump-off time of 39.25 seconds.
Richie Moloney and Rocksy Music
©Sportfot
A thunderstorm that began midway through first-round action Saturday evening paused the competition, which resumed Sunday morning. Thirty-four riders attempted the first round of the Ken Krome (USA) course, with six riders qualifying for the shortened second round of the competition; three riders qualified during Saturday night's competition and three qualified Sunday morning. Moloney earned his ticket to the jump-off on Sunday morning, and acknowledged that the delay was a benefit to his mount. "The weather helped me a little bit, I think!" Moloney said. "He's a little bit more up under the lights, so he was more relaxed this morning."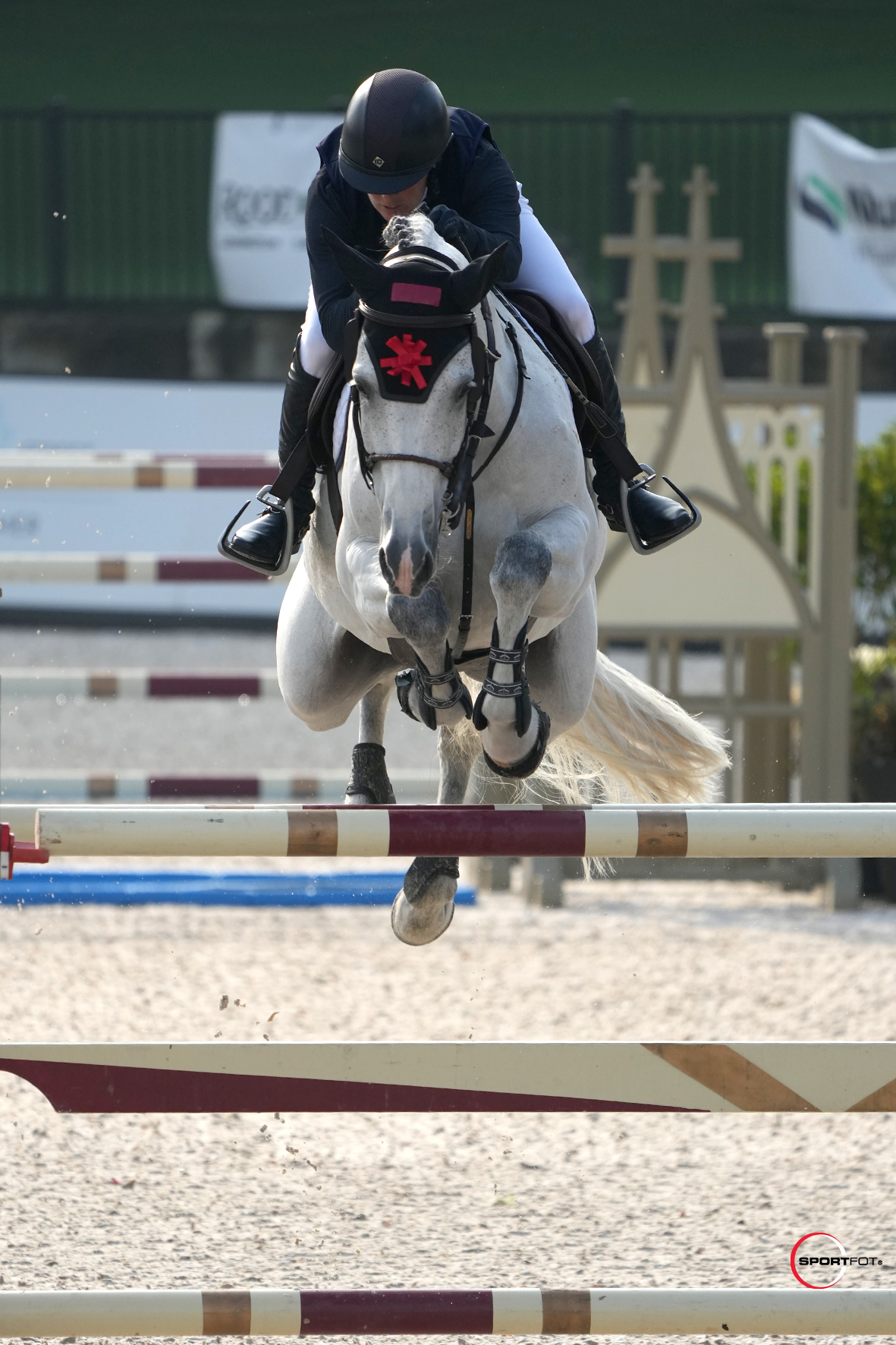 Brooke Kemper and Arpeggi
©Sportfot
Moloney and Rocksy Music, the 2008 Irish Sport Horse gelding (Ars Vivendi x Diamond Serpent) owned by Equinimity LLC, have competed together for the last five years. "I've had him for five years, since he was an eight-year-old, actually!" he explained enthusiastically after his win. "He's been jumping really well lately, so I'm really happy I got this win."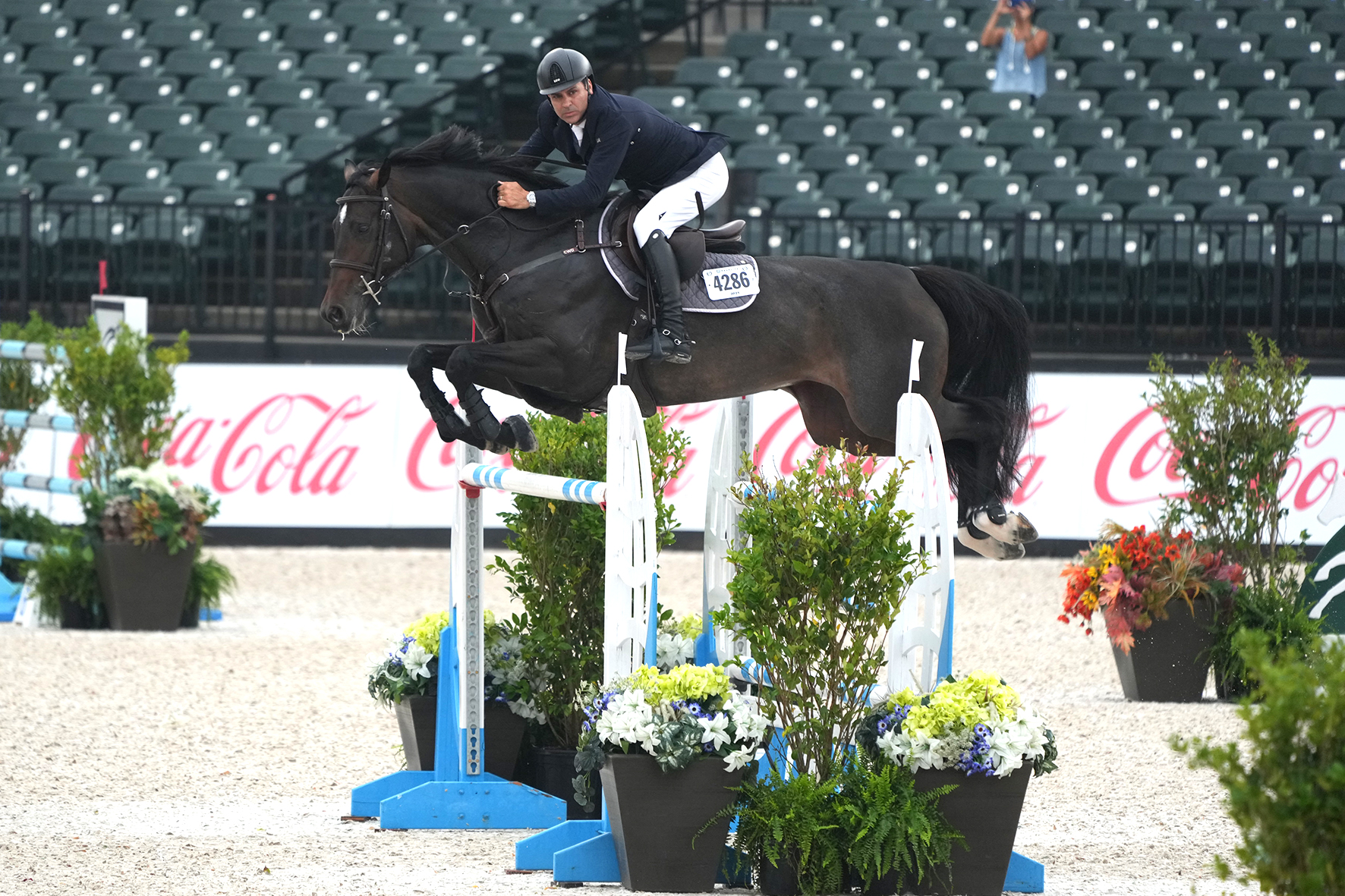 Santiago Lambre and Easy Girl
©Sportfot
The Irishman was fifth to go in the jump-off, and he was determined to win, planning his round accordingly after watching the first pair go. "I watched Brooke [Kemper] go, so I tried to get more or less the same numbers," he elaborated. "I did one less [stride] to the last jump. She did eight, and I did seven. It was a little bit risky, but it paid off."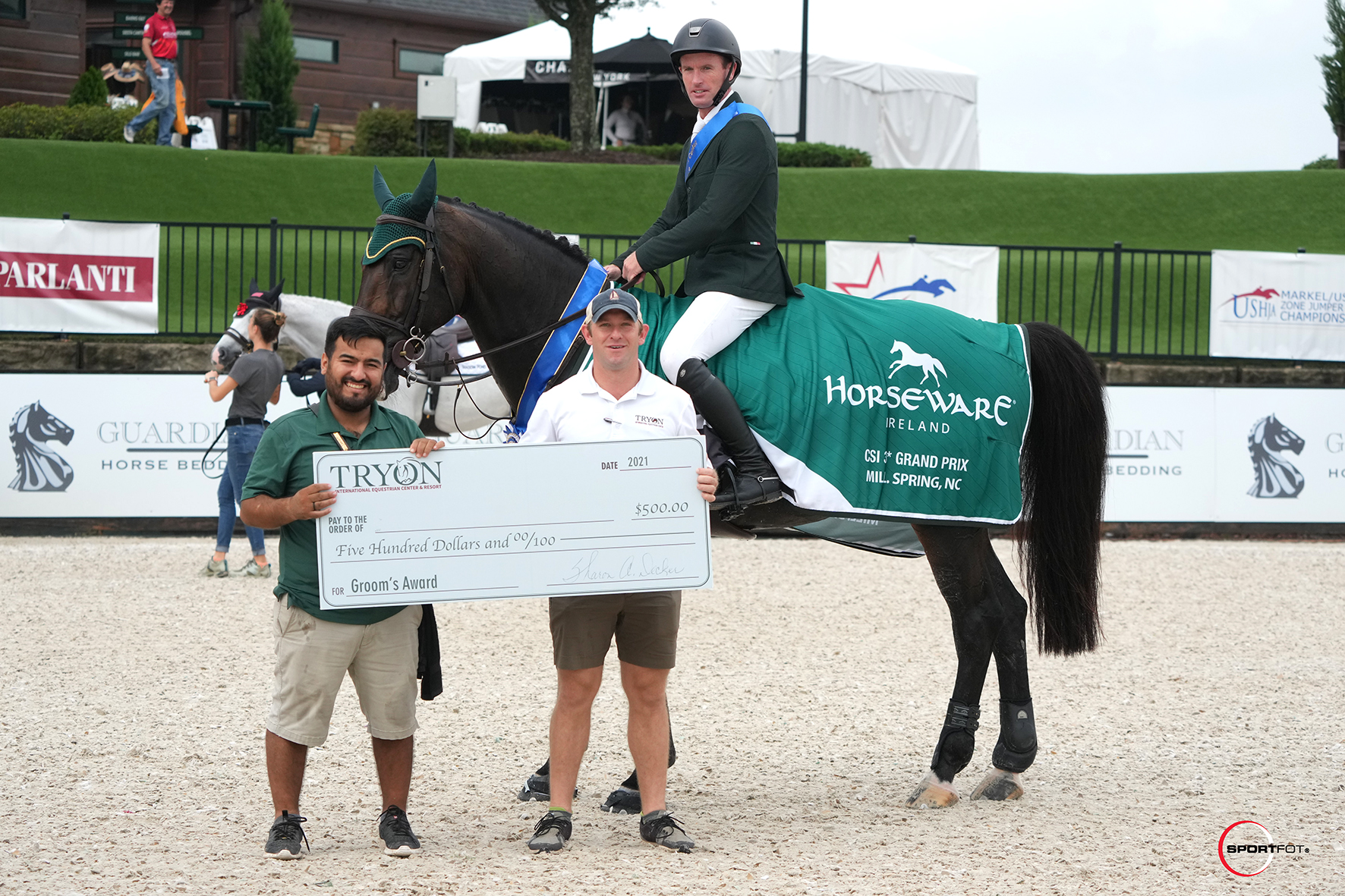 Rodrigo Pimentell was presented with the Tryon Resort groom's award for his care and dedication to Rocksy Music, alongside Drew Page, TIEC Paddock Master.
©Sportfot
After competing throughout the duration of the Tryon Summer Series, Moloney reported that he was thrilled to step atop the podium in the Tryon Stadium and hear the Irish national anthem played during the Horseware Ireland sponsored competition. "The shows are great and it's good competition. It's nice when the crowd is here. It's a great atmosphere!" he said with a smile.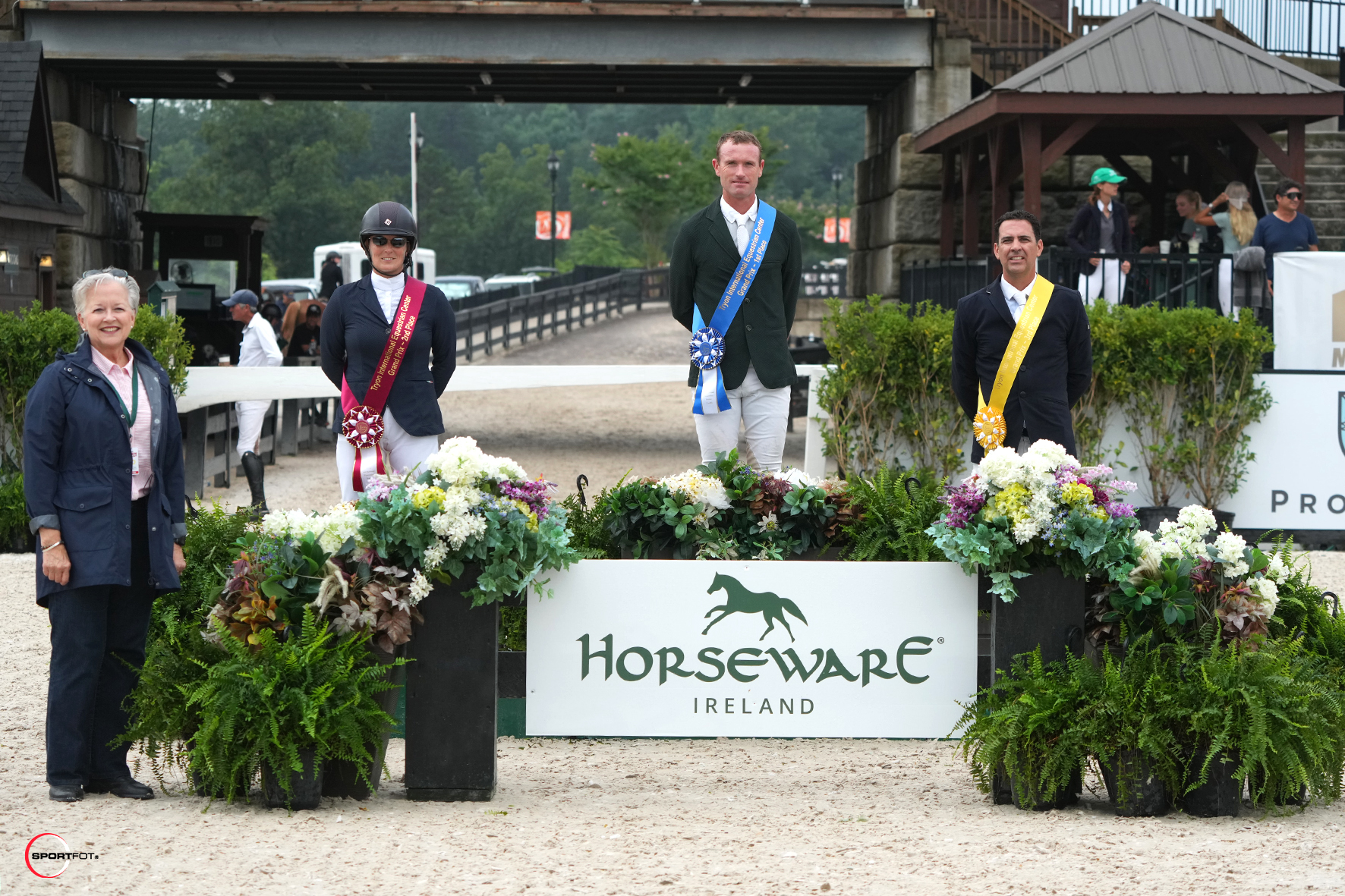 Brooke Kemper, Richie Moloney, and Santiago Lambre in their presentation ceremony alongside Sharon Decker, Tryon Equestrian Partners President, Carolinas Operations.
©Sportfot
As the Tryon Summer Series comes to an end, Moloney will be taking a vacation before maintaining the momentum of today's win once he returns to competition in a month. Moloney concluded by saying,"I just want to thank the owners of the horse. I'd like to thank the groom and everyone that helped with this. It's a team effort; there's a lot of people involved!"
RESULTS: $137,000 Horseware Ireland Grand Prix CSI 3*
Horse Name, Year Breed gender (Sire x Dam Sire)
Rider (COUNTRY), Owner: Faults/Faults/Time
1. Rocksy Music, 2008 Irish Sport Horse gelding (Ars Vivendi x Diamond Serpent)
Richie Moloney (IRL), Equinimity LLC: 0/0/38.57
2. Arpeggi, 2010 Westphalian gelding (Arpeggio x Lancer III)
Brooke Kemper (USA), Caroline Blum: 0/0/38.71
3. Easy Girl, 2011 Oldenburg mare (Conthargos x Nintender)
Santiago Lambre (MEX), Mario Onate: 0/0/39.25
4. Gotcha, 2011 Holsteiner mare (Stakkato x Cassini I)
Simon McCarthy (IRL), Rock Ridge Farms: 0/1/50.13
5. Hilton van de Breepoel, 2007 Belgian Warmblood gelding (Contact Van de Heffinck x Opium)
Brittni Raflowitz (ISR), ESI Show Jumpers, Maarten Huygens & Darragh Kerins: 0/4/37.53
6. Eluna CL Z, 2012 Zangersheide mare (Emerald Van't Ruytershof)
Eliza Lehrman (USA), Five Way Farm LLC: 0/4/44.49
7. Koss Van Heiste, 2010 Belgian Warmblood gelding (Breemeersen Adorado x Contact Van de Heffinck)
Conor Swail (IRL), Eadaoin Aine Ni Choileain PC: 1/87.24
8. Lucky Luke De Goedereede, 2011 Belgian Warmblood gelding (Numero Uno x Darco)
Ashley Fleischhacker (USA), Ashland Show Stables LLC: 1/88.34
9. Vital Chance De La Roque, 2009 Selle Français gelding (Diamant De Semilly x Rivage Du Poncel)
Conor Swail (IRL), Conor Swail: 4/76.82
10. San Chano, 2009 Oldenburg gelding (Sandro Boy x Chacco-Blue)
Jacqueline Ruyle (USA), Jacqueline Ruyle: 4/78.54
11. Comtess 202, 2011 Westphalian mare (Comme II Faut 5 x Pilot)
Santiago Lambre (MEX), Santiago Lambre: 4/82.38
12. Venue D'Fees Des Hazalles, 2005 Belgian Sport Horse mare (President x Alcatraz)
Eve Jobs (USA), Eve Jobs: 4/82.4
For full results from the $137,000 Horseware Ireland Grand Prix CSI 3*, click here.
Stay tuned to Tryon.com for more results from Tryon Summer 6. The 2021 Hunter/Jumper competition calendar continues with the Tryon August Series, abbreviated to include Tryon August 1 competition August 13-15 ahead of the Tryon Fall Series. Full competition information is available at www.Tryon.com/compete. 
Photos ©Sportfot. These photos may only be used once in relation to this press release. Tryon Summer Series competitors can request photos and review galleries at www.Tryon.com/photos.