Hunter Kay and Alright Rise to the Top in the $20,000 Open Hunter Classic 3'-4' 
For Immediate Release
Mill Spring, NC — October 27, 2019 — It was Richie Moloney (IRL) aboard Merqusio to win Sunday's $25,000 American Standard Grand Prix to conclude Tryon Fall 6 competition at Tryon International Equestrian Center (TIEC), with a fault-free effort in a time of 43.623 seconds.Tracy Fenney (USA) and MTM Apple, a 2011 Danish Warmblood mare (Favorit Ask x Willemoes) owned by MTM Farm, retired in the jump-off to finish second, while fastest four-faulter Roberto Teran Tafur (COL) and Dena Sienne, a 2008 Dutch Warmblood mare (Van Gogh x Animo) owned by Waldman Horses BV, claimed third-place honors after completing the first round in 75.697 seconds.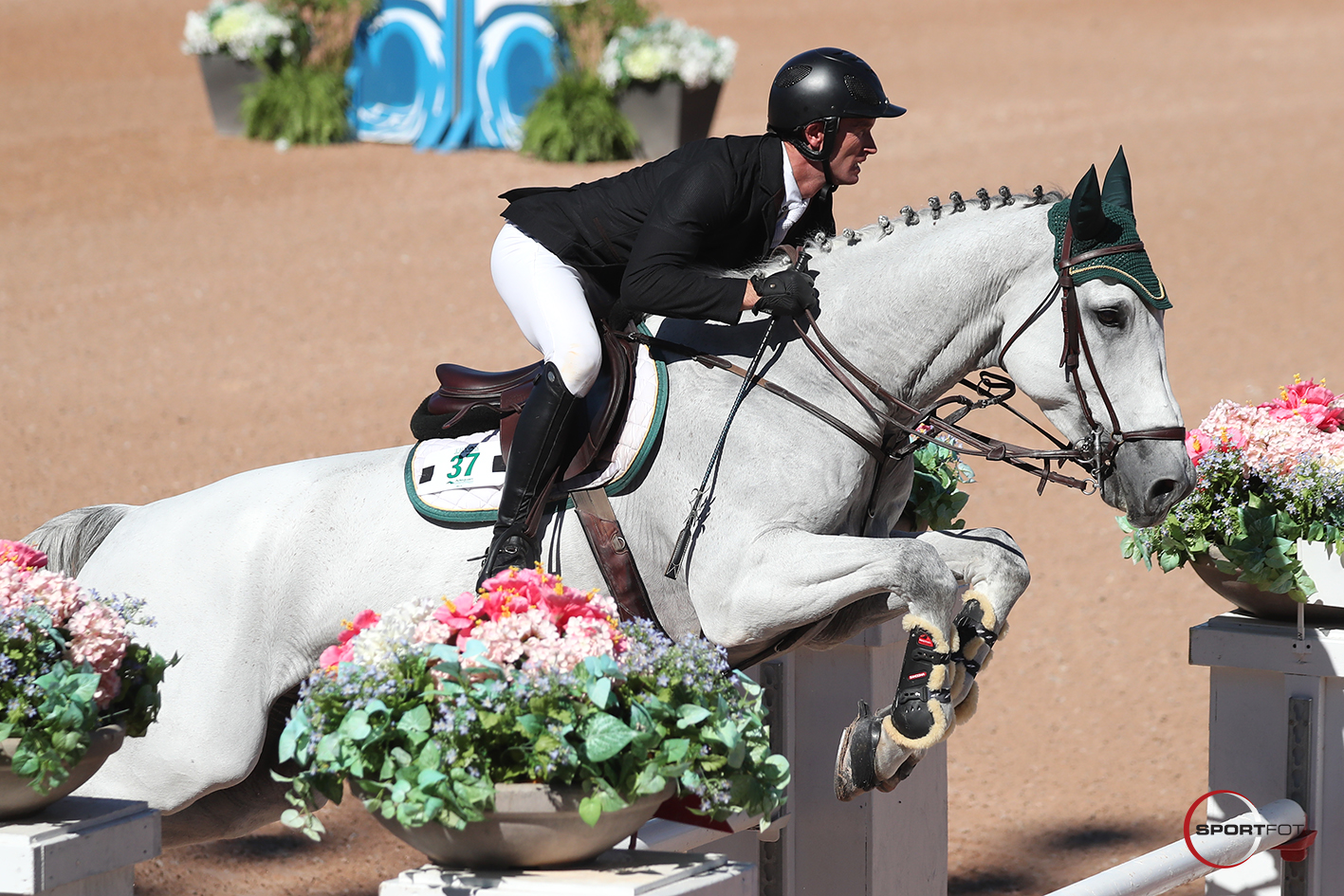 Richie Moloney and Merqusio
©Sportfot
Anthony D'Ambrosio's (USA) course saw 22 entries test the first round, with only two returning for the jump-off. Moloney explained that he thought it was the triple combination in the first round that seemed to cause the most trouble but "apart from that it was a really fair course.
"I went first in the jump-off, so I just wanted to be quick and put some pressure on her [Tracy Fenney]. I knew her horse is really fast so it was important for me to leave all the jumps up," detailed Moloney of his second-round strategy.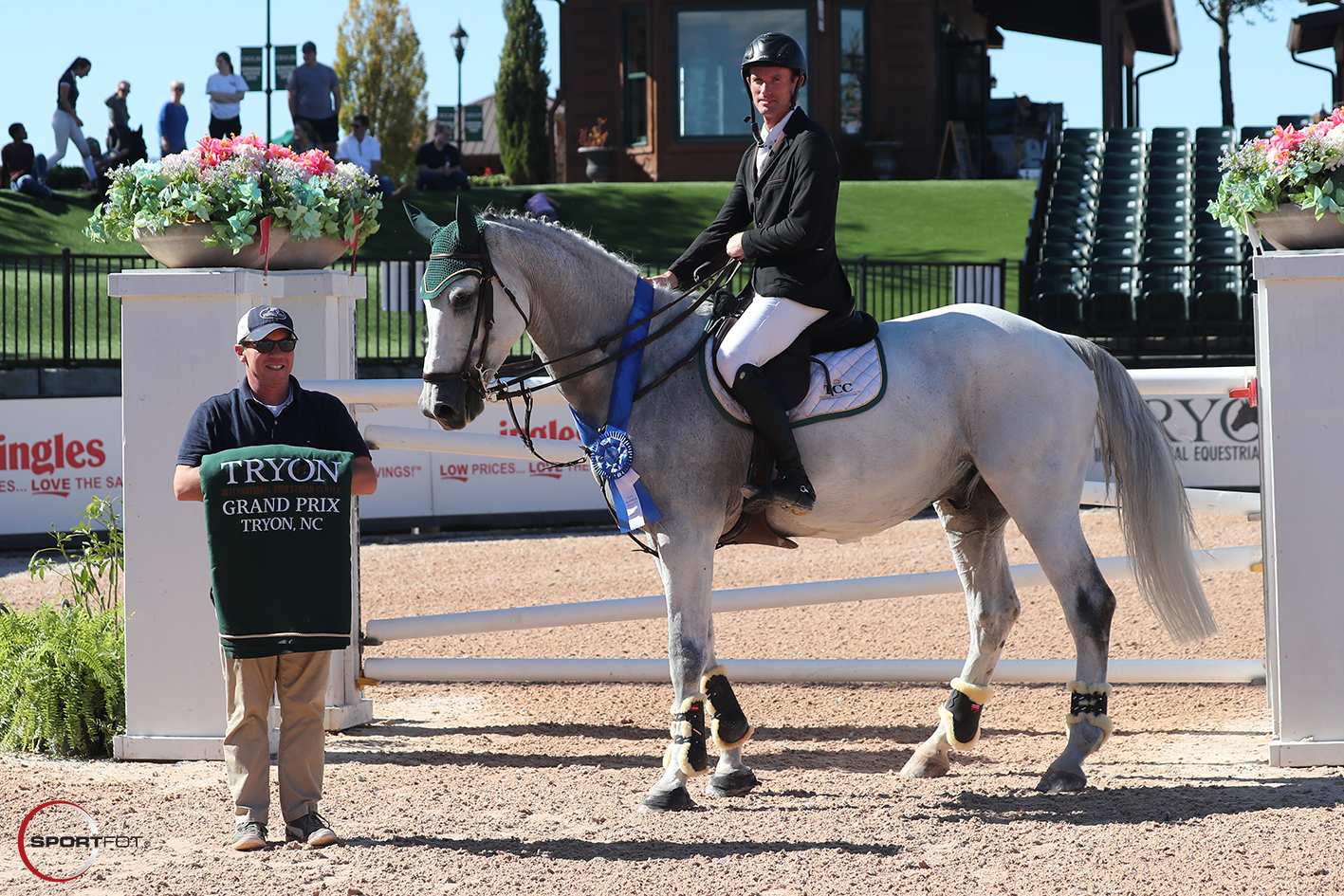 Richie Moloney and Merqusio in their presentation ceremony alongside JP Godard, TIEC Competition Manager.
©Sportfot
Moloney and the Equinimity LLC-owned 2007 Belgian Warmblood gelding (Cicero Z x Flamenco De Semilly) have been a team for a couple years, shared Moloney. "He's been competing at the 1.45m and 1.50m level and he has done some FEI Grand Prix as well. He's a good horse and is very careful.
"Last Sunday I had really good results and then yesterday I was second in the Grand Prix and today I had a win, so it's a nice way to finish up," Moloney said. "We're going to Wellington on Tuesday but Equinimity, who I work for, has a farm ten minutes away so I'll be back in April."
Hunter Kay and Alright Rise to the Top in the $20,000 Open Hunter Classic 3'-4' 
Friday's $20,000 Open Hunter Classic 3'-4' at TIEC saw Hunter Kay (Columbia, SC) and Alright score a two-round total of 176.25 to win the blue rosette. Dorothy Douglas and Abigail Davenport's MTM Exceptional, the 2009 Holsteiner gelding (Casall Ask x Unknown), earned second after receiving a two-round score of 173, while Jacqueline McQueen piloted Quadrolino, the 2011 Bradenberg gelding (Quadroneur x Unknown) owned by Holly Calantoni Houser, to a third-place finish after receiving scores of 172.5.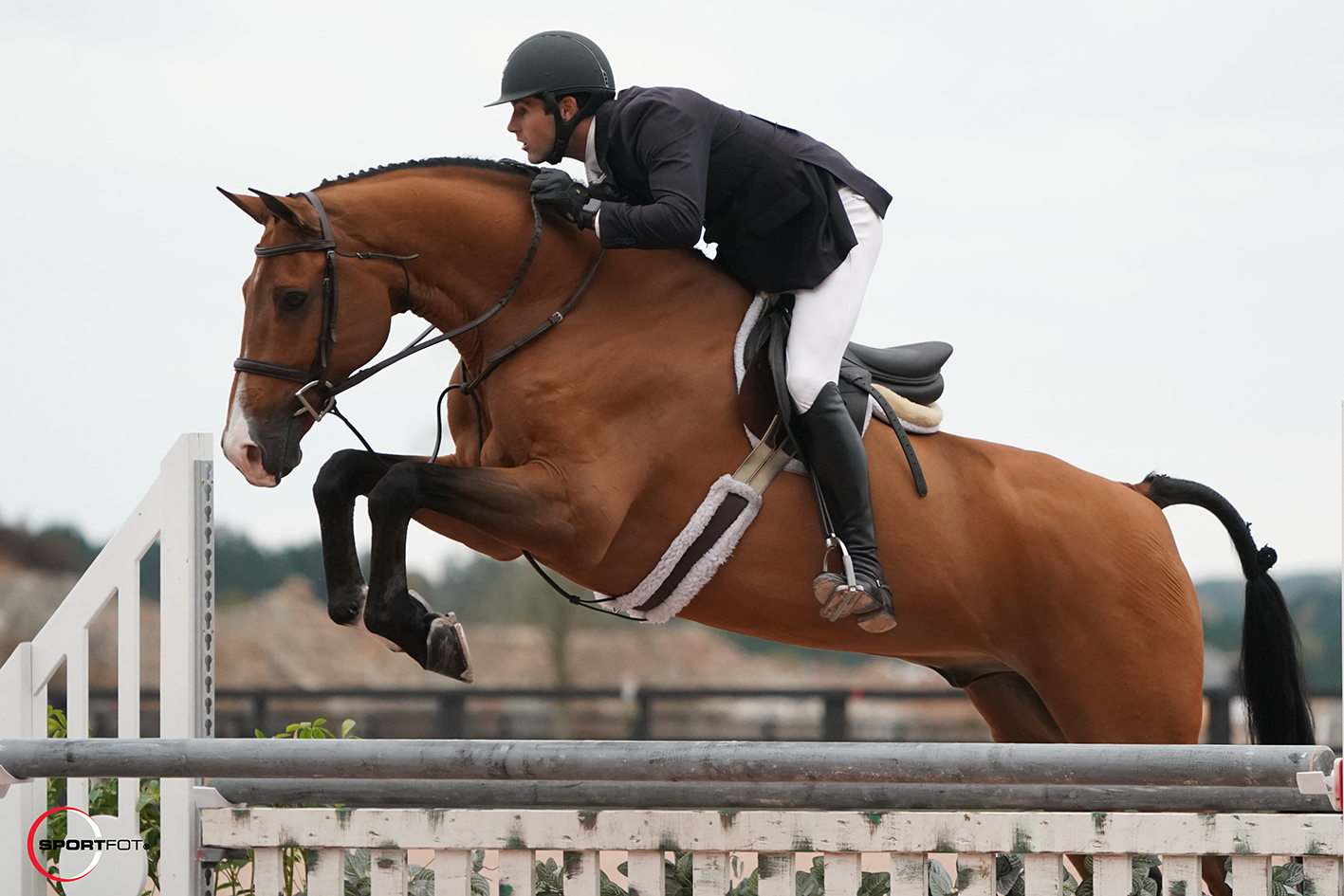 Hunter Kay and Alright
©Sportfot
Twenty-six horse-and-rider pairs tested the Archer "Skip" Bailey course in the first round, with Kay qualifying for the handy on three different mounts. "I liked the course. There were a lot of broken lines, a couple of combinations, and not a lot of direct distances or numbers so you could just do what you wanted and show off with different things.
"He felt really good in this class," Kay said of Ann Rice Ervin's 2011 Warmblood gelding with unknown breeding. "I think the big ring got his attention and he was able to gallop. I thought he might be a little tired since he also competed in the 3'9" division this week, but he jumped great. We love the big ring!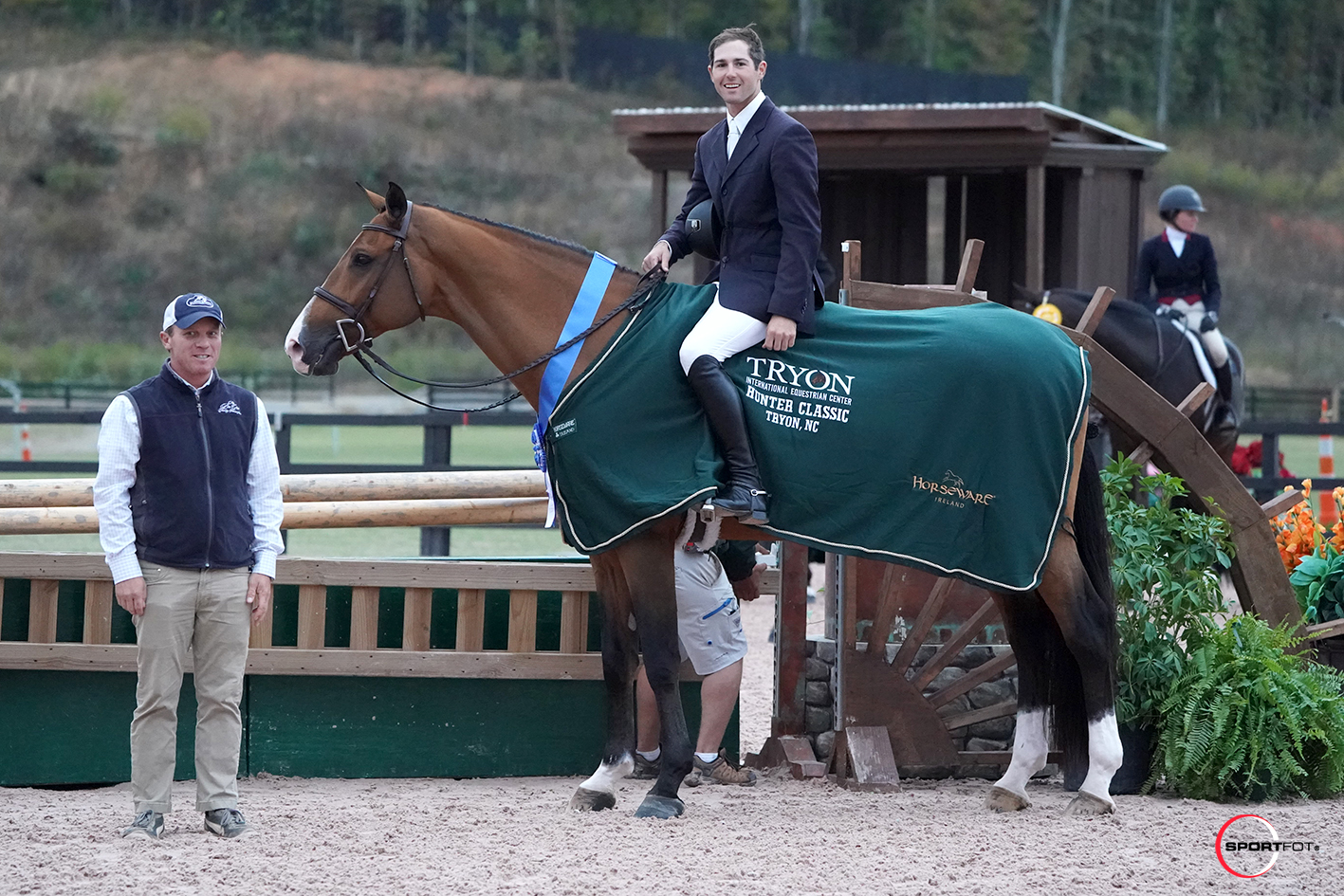 Hunter Kay and Alright in their presentation ceremony alongside Eric Straus, TIEC General Manager of Equestrian Operations.
©Sportfot
"I had just a little bit of a bobble in the first round, so I wanted to correct that. We picked up a good canter from the start and just tried to maintain the same pace and have a nice gallop at the last one," shared Kay of his handy-round strategy.  
Kay is a regular face at TIEC and has enjoyed much success at the venue, but he admitted that originally they had not planned to compete this week: "We were here several weeks ago and then decided to come back at the last minute for this week. I'm definitely glad that we came back! They do a great job and offer a lot of prize money to the Hunters and Jumpers." Kay concluded, "I love coming here!"
Jumper Highlights
Siena Vasan (USA) and Tokyo D'Ellipse, the 2007 Selle Français gelding (Kashmir Van Schuttershof x Double Espoir) owned by Palm Ponies LLC, earned top honors in Friday's $5,000 Speed Stake CSI 2*, stopping the clock in 65.05 seconds to handily take the win. Erin Haas (USA) and North Face Farm's Umano Des Dragons, a 2008 Selle Français gelding (Diamant De Semilly x Objet D'Art), claimed the red rosette after finishing with a time of 65.38 seconds, while Paige Jardine (AUS) and A Toute Vitesse, the 2010 Dutch Warmblood gelding (Arthos R x Lancelot) owned by F J Equine LLC, finished in a time of 65.59 seconds to receive third.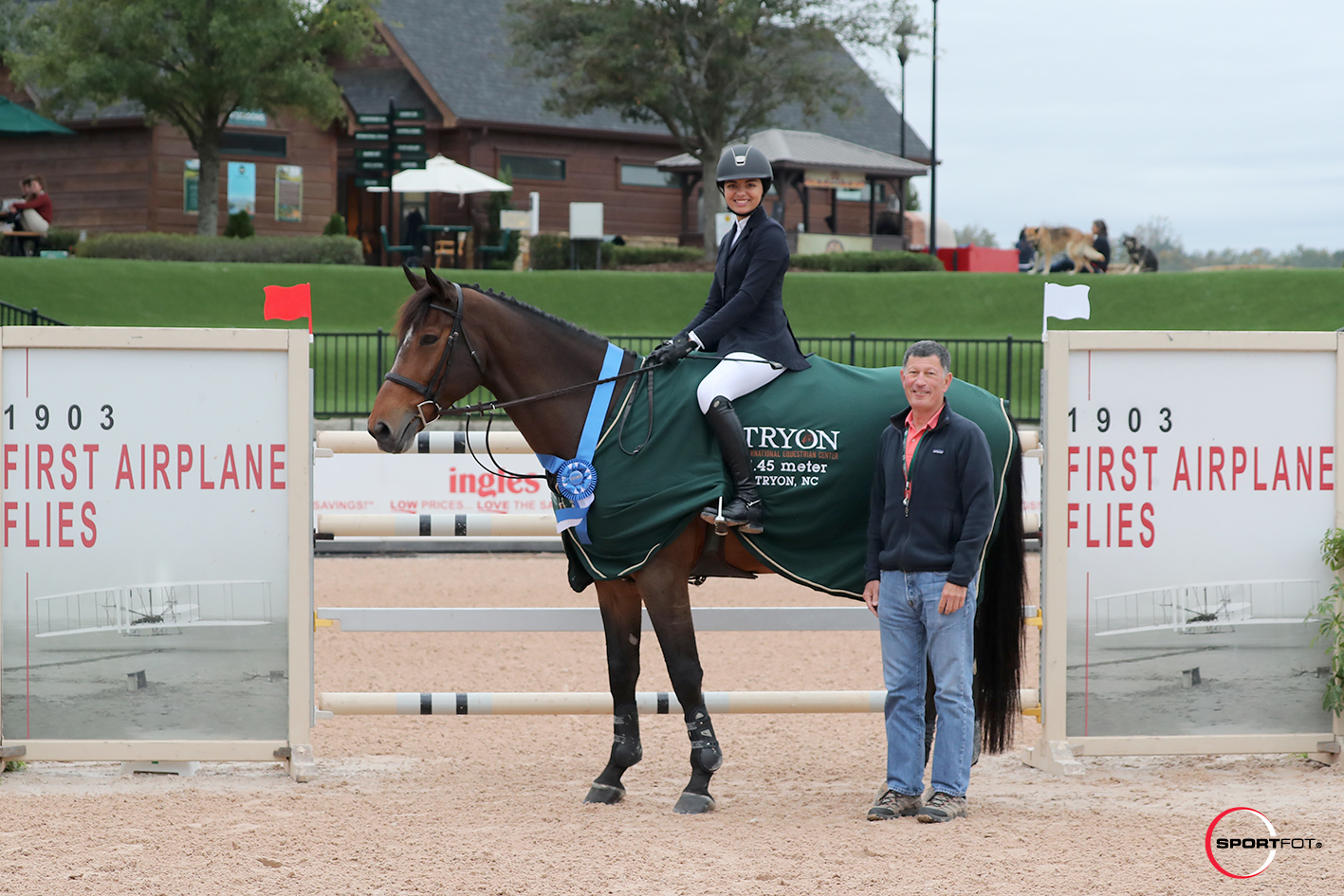 Siena Vasan and Tokyo D'Ellipse
©Sportfot
Doug Payne (Aiken, SC) and Captain Chacco, owned by Shanon Baker, claimed champion in the CaptiveOne Advisors 1.20m Open Jumper Division, while reserve was awarded to Roberto Teran Tafur (Wellington, FL) and Caitlyn Connors LLC's Don't Worry Z.
The Adequan® 1.30m Open Jumper Division saw one champion and two pairs tie for reserve, with Tiffany Hammack (Hawthorn Woods, IL) taking top honors with her own Ellely's Quality. Reserve was named to Nicky Galligan (Keswick, VA) and Erin Haas (Ann Arbor, MI), riding November Hill's Handsome A and Hagelin for North Face Farm, respectively.  
Daniel Coyle (Cheltenham, ON) piloted Ibiza to champion honors in the Developing Jumper Series 6-Year-Old Young Jumper 1.30m Division for Ariel Grange, with Peter Petschenig (Pilot Point, TX) earning reserve aboard Petschenig Showjumping LLC's Countdown.
Hunter Highlights
The Gardner-Webb University Children's Hunter 15-17 awarded Grayson Shelton (Charlotte, NC) and Martin Videla's Cher Z champion honors, with Anna Hengstmann (Taylors, SC) piloting Sign On to reserve for Daniel Geitner.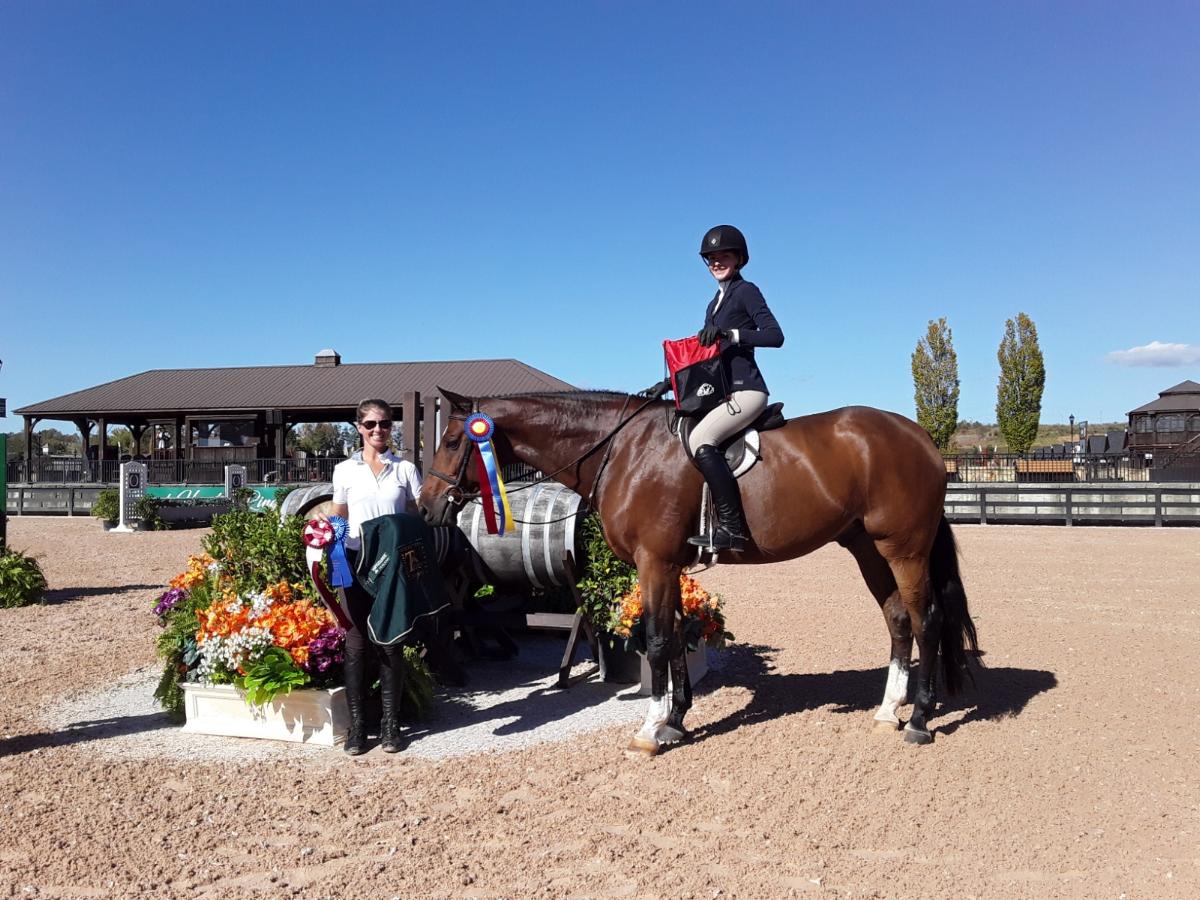 Grayson Shelton and Cher Z in their presentation ceremony alongside her trainer, Catherine Tucker.
©TIEC
Kyle Owens (Powell, OH) and his own Messick claimed champion in the Adult-Amateur Hunter 18-49 Hunter Division, while reserve was awarded to Caroline Waugh (Mooresville, NC) and her own Padji D'Eos.
The Cross-rails 18" Combined Division congratulated Emma Almes (Huntersville, NC) as champion riding City Limits for Jenna Weiner LLC, and Addison Riddle (Davidson, NC) steered Ellen Tighe's Dust Bunny to reserve.
In the USHJA Hunter 2'9" Hunter Division, Catherine Tucker (Huntersville, NC) was awarded champion honors aboard  Pattie Archer's Gotta Dream, with reserve awarded to Lisa Spriggs (Campobello, SC) and her own Romantico. 
To view all Division results from Tryon Fall 6, click here.
For full results from the $25,000 American Standard Grand Prix, click here.
For full results from the $20,000 Open Hunter Classic 3'-4', click here.
For full results from the $5,000 Speed Stake CSI 2*, click here.
Photo credit ©Sportfot. These photos may only be used once in relation to this press release with proper credit. Contact media@tryon.com with questions.