For Immediate Release
Emily Carpenter and Allie Hay for TIEC
Mill Spring, NC – July 5, 2021 – Abigail McArdle (Wellington, FL) and Victorio 5 conquered the competition in the $25,000 Tryon Resort Sunday Classic at Tryon International Equestrian Center (TIEC) to conclude Tryon Summer 3 competition. Kady Abrahamson (Loveland, OH) and Vancouver, the 2009 Westphalian gelding (Valentino x Cocco) owned by Abrahamson Equestrian LLC, collected second-place honors with a time of 40.78 seconds. Rounding off the podium and earning third place was Hector Florentino (Rutherfordton, NC) aboard D'artagnan, the 2008 Dutch Warmblood gelding (Mr. Blue x Tamellie) owned by Santiago Lambre, with a jump-off time of 41.05 seconds and one rail to the floor.
Abigail McArdle and Victorio 5
©Sportfot
McArdle stopped the jump-off timers after a mere 39.846 seconds to take the win on Victorio 5, the 2006 Hanoverian stallion (Uccello x Graefin) owned by Victorio Equine Group LLC. Fourteen riders tackled the first round alongside McArdle and Victorio 5, but the pair topped a three-horse second round. After her win, McArdle shared that her connection with Victorio 5 has developed to cultivate a winning strategy. "He [Victorio 5] has been my mount for almost three years now. I know him very well and we've had a lot of Grand Prix wins together," she explained. "I don't want to say it was an easy class, but I know him well that I just went in, rode my plan and came out with success!"
McArdle and Victorio 5's long-standing partnership led to a jump-off performance that was more than a second faster than the previous leader. With a tight cohort of competitors challenging the jump-off test. "For the jump-off, I had to go all-out, because I didn't know what was going to win it," she admitted. "I did all of the inside turns, and it turned out great!"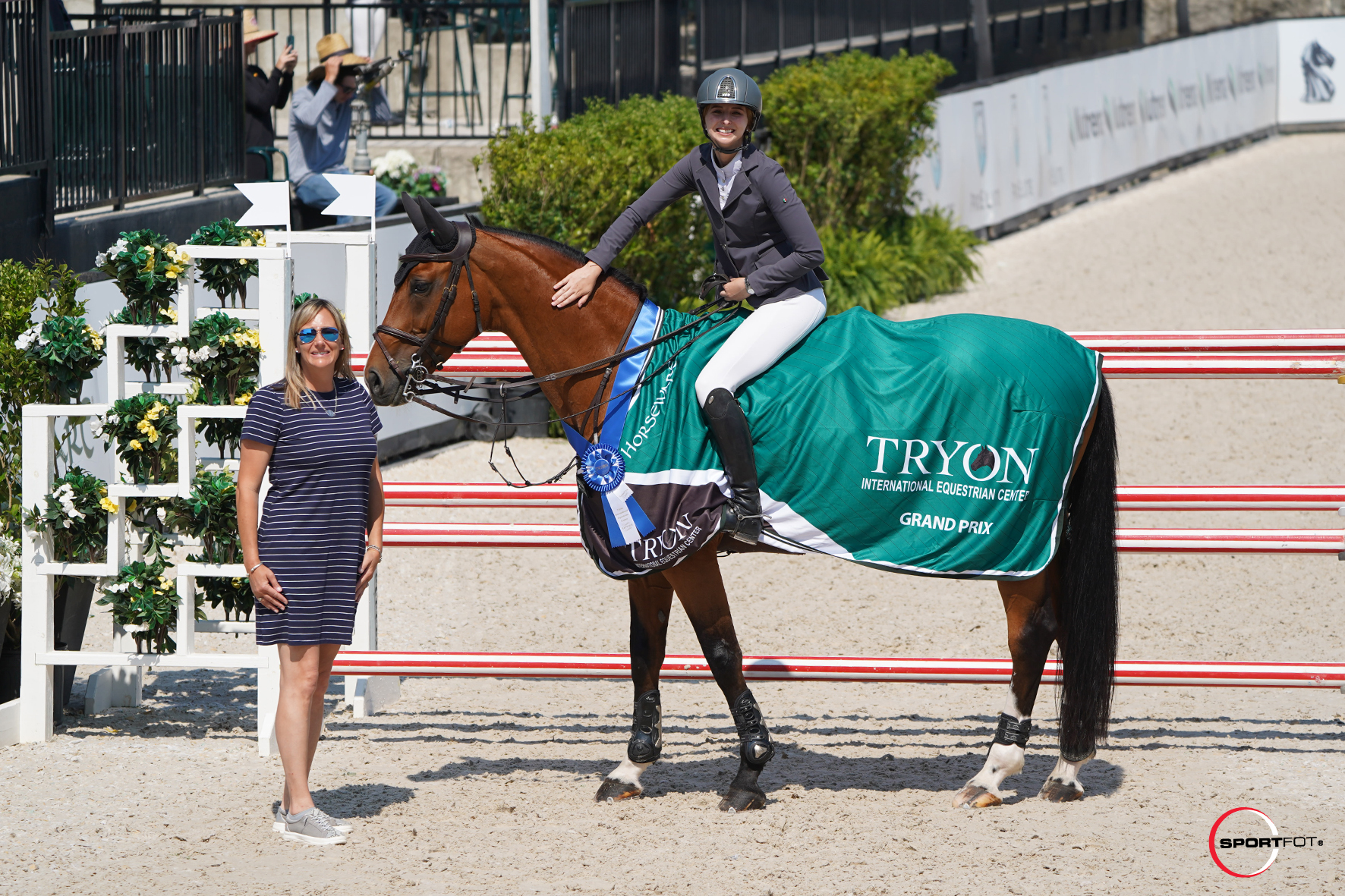 Abigail McArdle and Victorio 5 in their presentation ceremony alongside Molly Oakman, Director of Equestrian Operations at TIEC.
©Sportfot
McArdle and her mount will continue to compete at TIEC for the next two weeks. She hopes to have the same good fortune in the weeks to come, and plans to enter the $137,000 Night in the Country Grand Prix CSI 3* during Tryon Summer 4. "We love Tryon!" she concluded. "All of our clients and horses love showing here. It's a great place to be with lots of space to ride, and the stables are excellent."
Hunter Highlights:
Champion honors of the Medium Pony Hunter Division were presented to Goldrush with rider and owner Evana Somareddy (Clearwater, FL). Rosmel's Screen Shot, piloted by Finley Morgan (Concord, NC) and owned by Madeline Brooks, earned reserve honors.
The Children's Hunter 14 & Under Division was dominated by My Wingman, earning champion with owner/rider Mairin Lanahan (Jacksonville, FL). Reserve Champion honors were given to With a Twist, along with owner and rider Charli Lally (Aubrey, TX).
Jumper Highlights:
The 1.20m Open Jumper Division was championed by Jordan Gilchrist (Flower Mound, TX) and CR Justified, owned by Sydney Murdoch. Vanessa Mannix (Calgary, AB) and her very own, Ikonic PB, earned reserve honors.
The ProElite 1.10 Children's Jumper Division champion rosette was awarded to Kassidy Rapplean (Wellington, FL) and her own Landanima, with reserve champion accolades going to Jayden Toomy (Ponte Vedra, FL) and his own mount Jonnas Corint.
Equitation Highlights:
Nicole Ferrera (Riverview, FL) took home champion honors aboard her own horse Bellisima. Reserve champion honors went to Peyton McSherry (St. Pete Beach, FL) and Casanova, owned by Danielle Appley.
First-place honors of the WIHS Pony Equitation class went to Finley Clement (Waxhaw, NC) and Small Business owned by Siri Batalden. Second place was awarded to Campbell Clement (Waxhaw, NC) aboard Howie Do It, owned by Finley Morgan.
For full division results from Tryon Summer 3, click here. 
For full results from the $25,000 Tryon Resort Sunday Classic, click here. 
To read more news from Tryon Summer 3, click here.
The Tryon Summer Series continues through Sunday, July 25, and features international and national Hunter, Jumper and Equitation competition. For competition information, visit www.Tryon.com/compete. All competitions are open to the public with highlight classes available for live streaming at www.Tryon.com/streaming. 
Photos ©Sportfot. These photos may only be used once in relation to this press release. Tryon Summer Series competitors can request photos and review galleries at www.Tryon.com/photos.