For Immediate Release
Mill Spring, NC – September 19, 2020 – The inaugural ProElite Tryon CDE hosted at Tryon International Equestrian Center (TIEC) at Tryon Resort showcased Marathon competition on the White Oak Cross-Country Course Saturday, where the Marathon portion of the FEI World Equestrian Games™ Tryon 2018 were also held. Thirty-four competitors over 18 classes challenged the hazards, including participants in the ADS Preliminary & Intermediate North American Championships taking place in conjunction with USEF Advanced divisions. The ProElite Tryon CDE is closed to spectators due to COVID-19 protocols. However, live scoring and competition information are available at www.Tryon.com/Driving.
The Best Preliminary Marathon performance was Barbara Sims (SC) with Errisistable, after completing the course on a score of 65.19. Paul Maye (VA) and his team scored 81.76 to post the best run in Intermediate competition, while the Advanced division was bested by Taylor Bradish (SC) and Katydid Duchess, completing the course on a score of 73.89.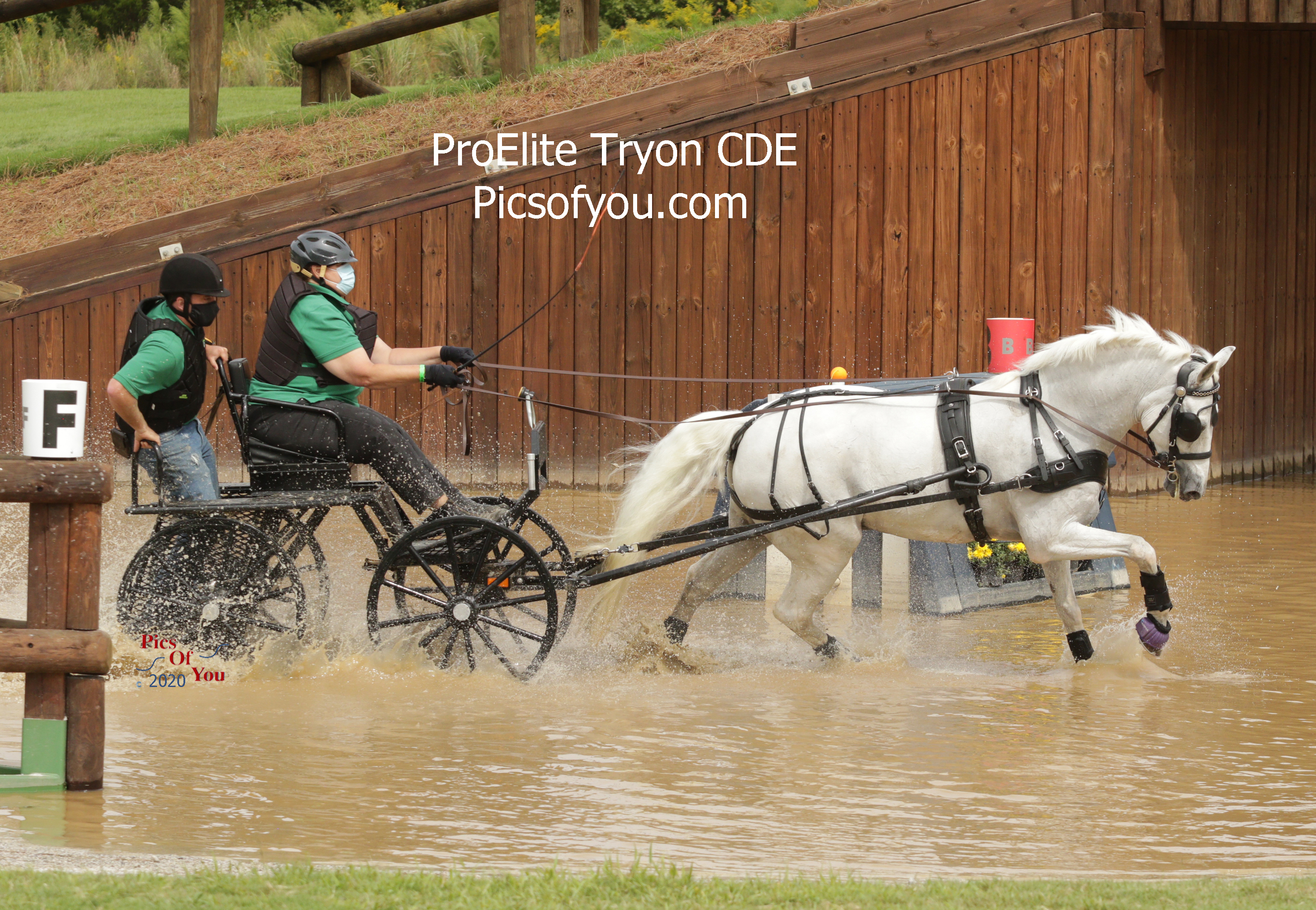 Alice Baughman and Captain Jack Sparro
©Pics Of You
Alice Baughman (SC) and Captain Jack Sparro, the 2003 Connemara gelding, won Marathon in the Championship Intermediate Single Pony Class, also holding first after two phases. Their Marathon score of 83.83 resulted in a total of 137.40 carrying forward into Cones, while Jessica Reuterskiold (WI) and Woodland's Kandi, a 1998 Fjord mare, earned 99.11 in Marathon for a total of 167.16.
"It went really well," Baughman reported of her day with "Johnny," saying, "It got better as I went. The first and third hazards were a little tighter than I thought they'd be. I really enjoyed hazard five, six and seven. I really liked the water hazard at the end, too! Johnny is very well trained. He knows his stuff. I'm actually learning from him."
Motivated to sign up as a competitor by the fact that she'd be driving on the same course utilized for WEG in 2018, Baughman emphasized that she "thought it was fantastic [driving Marathon on the White Oak Cross-Country Course]. That was one of the main reasons why I wanted to come. I was dying to see the facility and have an opportunity to drive something world-class. I can't tell you how impressed I am with the whole facility," she reiterated. "I'm looking forward to TIEC offering more Driving competitions."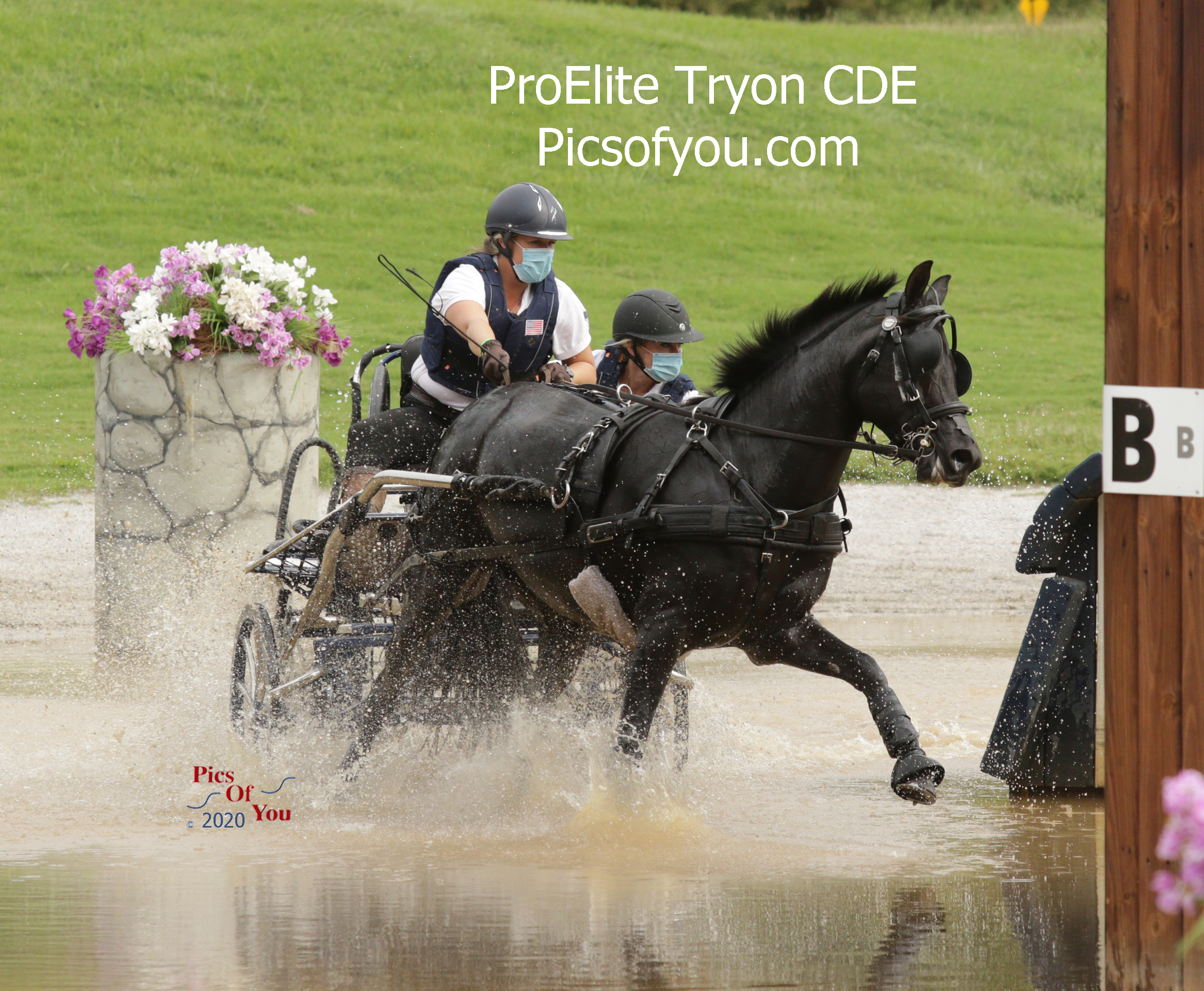 Taylor Bradish and Katydid Duchess
©Pics Of You
Taylor Bradish (SC) and Katydid Duchess, the 2009 Welsh Cross mare, bested the Marathon phase of the Advanced Single Horse Division with a score of 73.89. Taking second place in the phase was Nifty Hamilton (FL) who also holds second after two phases with Makari Design, the 2008 Dutch Warmblood gelding, scoring 78.76 for a total of 118.30. Jennifer Thompson (WI) and Funnominal CG, the 2010 Dutch Warmblood gelding, still hold the lead after two phases, on a total score of 116.69 ahead of Cones competition.
Despite "taking it easy" on Marathon, Bradish won the phase comfortably, crediting her forward mare. "[Today] was really good. I had a new navigator that I've never used before, so I took it easy at the first obstacle just to make sure things were okay. In the second one, I got a little bit faster, then I started feeling comfortable after the third, so I asked her to go. It was great, and she was super responsive," Bradish relayed. "The obstacles were beautiful. The footing was a little wet, so we had to change some of our routes to stay dry, but other than that, I really enjoyed the course.
"[Katydid Duchess] was ready to do another Marathon," Bradish reported. "I was a little worried about the hills because we don't have hills where we are, but she was ready to go again after the sixth obstacle. She loves it. She's fun to drive because I just have to keep up with her!"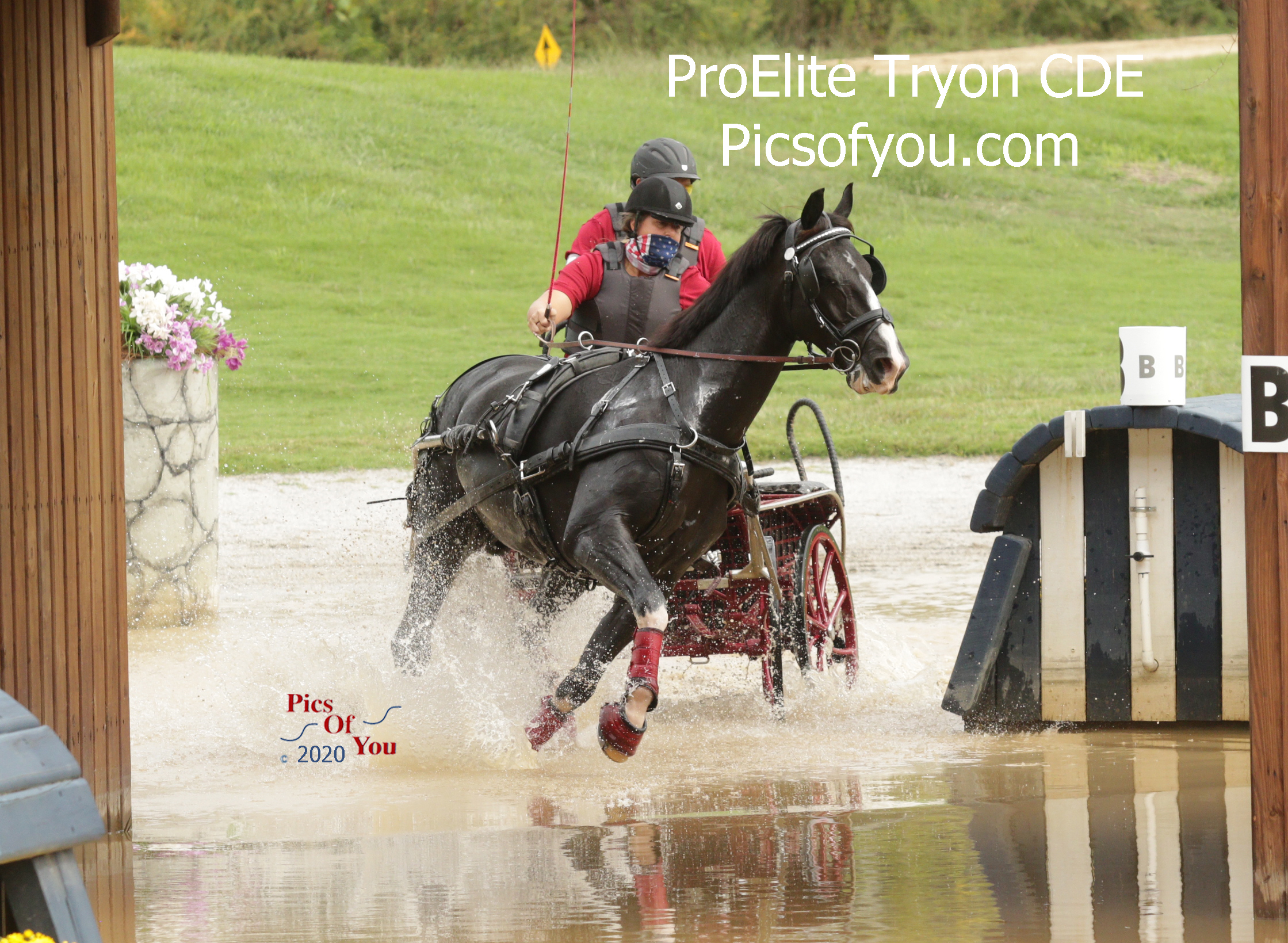 Jennifer Thompson and Funnominal CG
©Pics Of You
Currently sitting in fourth ahead of Cones competition, Bradish revealed that her main goal is to produce a double-clear. "I'm feeling good [heading into tomorrow]. I'm pretty confident in my Cones training… I've finally figured it out with her. We're just trying to go double clear!"
Commenting on the facility, Bradish emphasized that she's grateful the ProElite Tryon CDE was able to be hosted after a year with so many CDE cancellations in 2020. "It's been really nice," she shared about competing at the venue. "It's nice to be here, especially since they had the WEG here. Jennifer [Matheson] is my employer, so I've been hearing about how they [TIEC] were getting ready for this. I'm just glad that we're here. The barns are beautiful and the wash racks are nice. Everything is just easy here. The food is amazing!"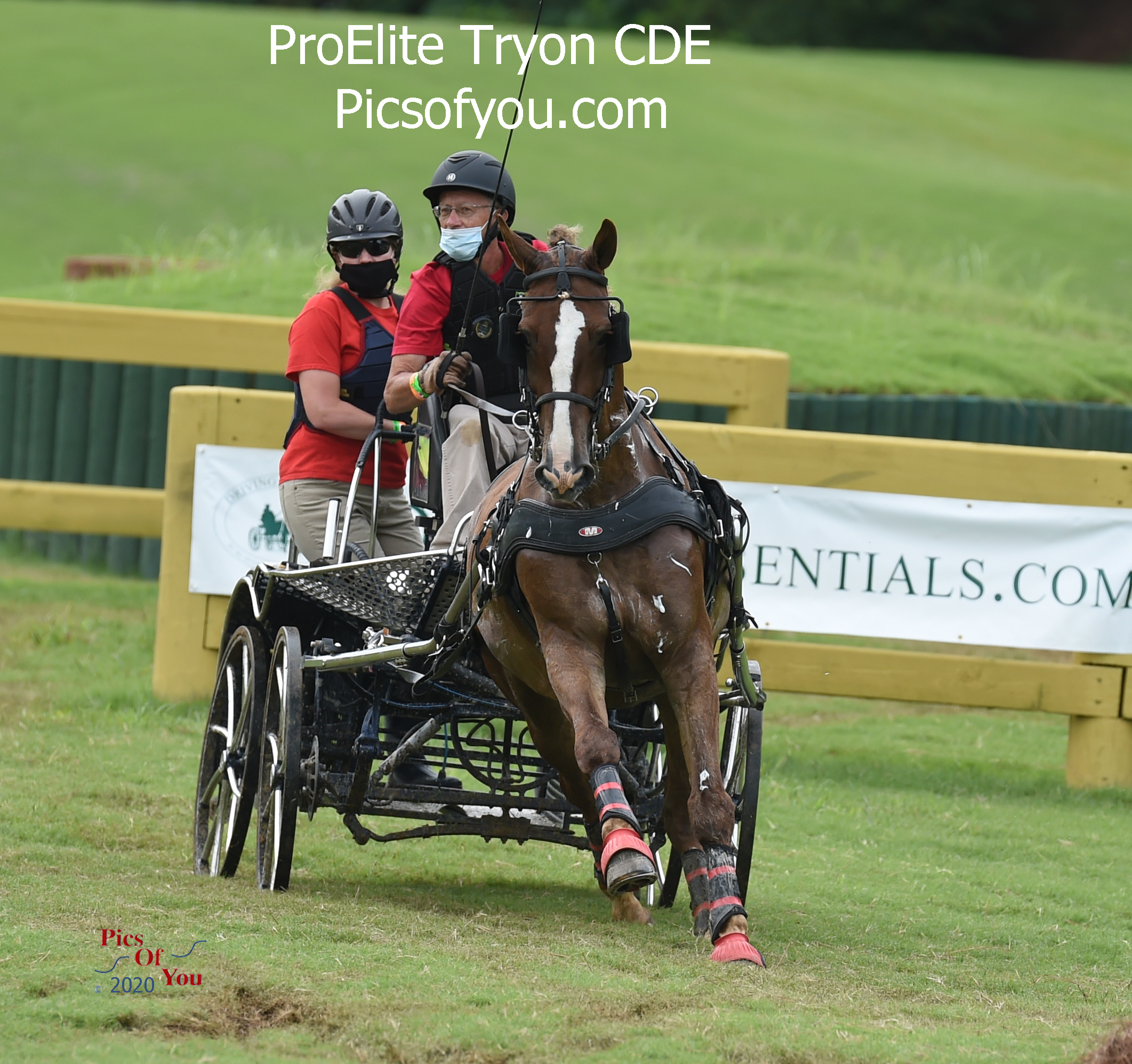 Bob Vance and Buckeye
©Pics Of You
The Championship Preliminary Single Horse Class saw Bob Vance (TN) and Buckeye top the day, ending on a score of 78.17, while Gene Rhinehart (SC) and BF Troubadour, a 2014 Friesian Sport Horse gelding, scored 80.19 for second. Rhinehart currently holds first after two phases on a total of 136.86, with Vance just behind with 136.97 heading into Cones competition Sunday.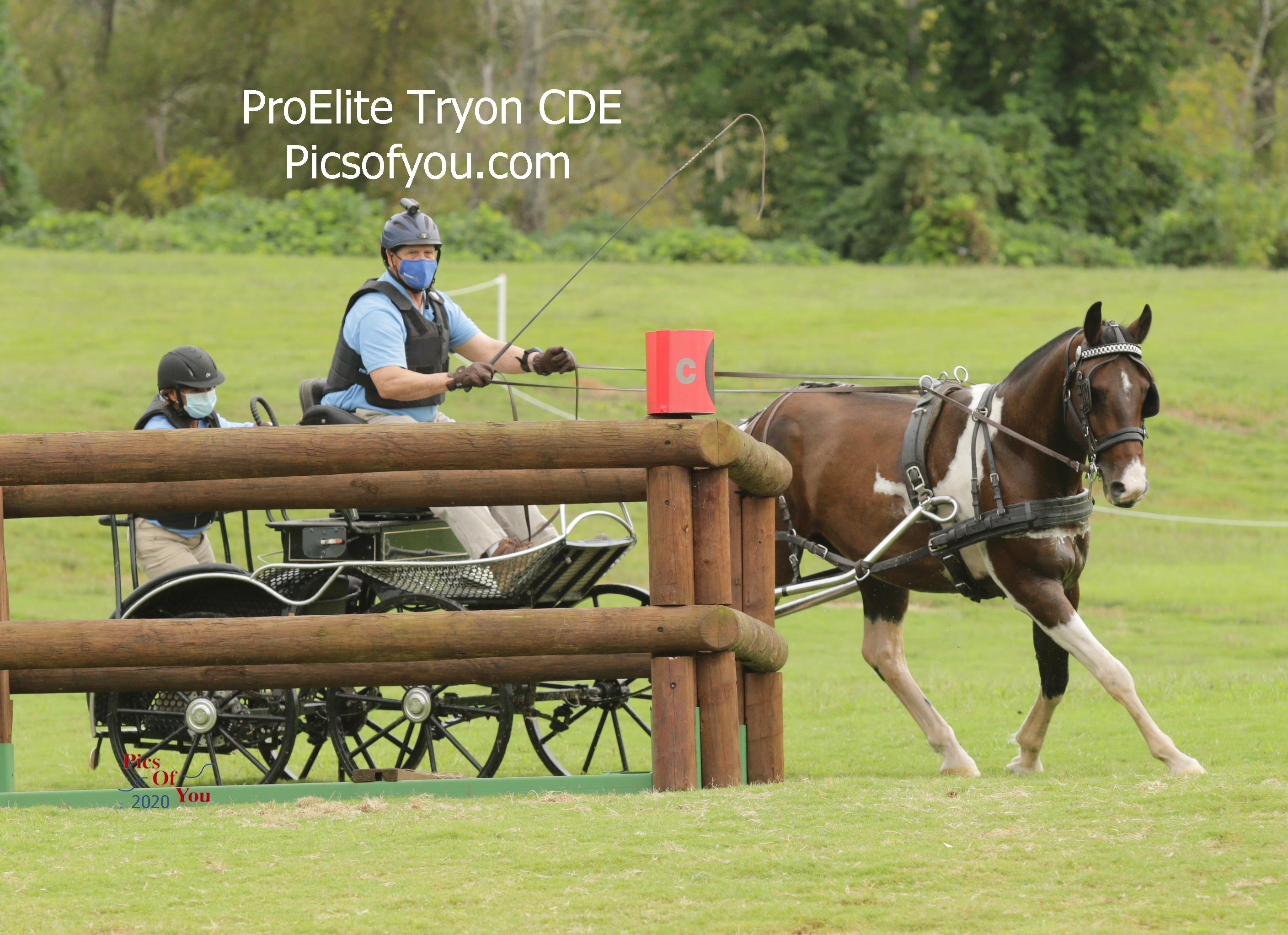 Gene Rhinehart and BF Troubadour
©Pics Of You
Results: Full results from both phases can be found at www.Tryon.com/Driving along with Sunday competition information and frequent competition updates.
Photos ©Pics of You. These photos may only be used once in relation to this press release with proper credit. Contact media@tryon.com with questions.