Mill Spring, NC – November 5, 2021 – The 3rd Annual Tom Bass Seminar on Diversity in Equestrian Sports will be held as a Zoom webinar hosted virtually by Tryon International Equestrian Center (TIEC) on Saturday, November 20th at 1:30 p.m. Eastern Time (20:30:00 UTC). The virtual meeting will examine issues relating to diversity in domestic and international activities.
Launched in 2019 as part of the annual Day of the African Equestrian (DOTAE) celebrations, the 2021 seminar takes place in a time of political, commercial and societal disruption highlighted by the ongoing Covid-19 pandemic, never-ending cultural wars, ramifications of the MeToo and Black Lives Matter movements and a widening gap between "the haves" and the "have nots" in the United States and other countries.
The 2021 Tom Bass Seminar will feature the following panels: Domestic Sport, Youth, Media and International.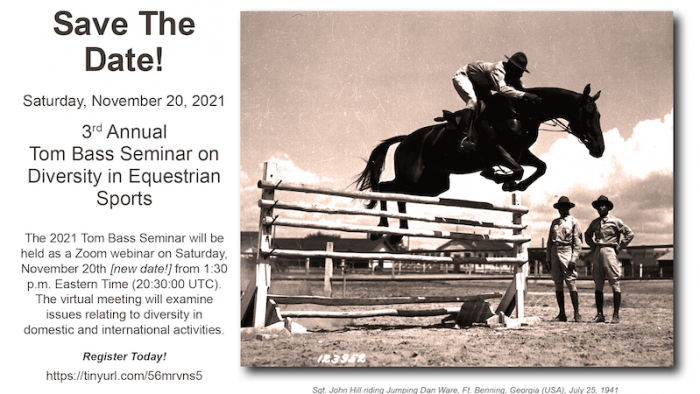 The seminar will pay tribute to equestrians of color participating in the recent Olympic and Paralympic Games in Tokyo as riders, coaches, officials and members of supporting delegations.
A legendary American Saddlebred trainer, Tom Bass (1859 – 1934) was born enslaved in Columbia, Missouri. He played a prominent role both in the establishment of the American Royal Horse Show in Kansas City and in the promotion of the city of Mexico, Missouri as the 'Saddle Horse Capital of the World'.
Highlights of his extraordinary career include championships at two World's Fairs and more than 2,000 blue ribbons. For many years he was the only African-American permitted to compete at the American Royal.
The Tom Bass bit, developed to give the rider control without causing pain to the horse, is still in use today.
During his lifetime, Bass performed before such luminaries as Queen Marie of Romania, William Jennings Bryan, P.T. Barnum and U.S. Presidents Grover Cleveland, William McKinley, Theodore Roosevelt, William Howard Taft and Calvin Coolidge. His more prominent clients included Mr. Roosevelt, Buffalo Bill Cody, Anheuser-Busch executives Adolphus and August Busch and Will Rogers.
Melvin Cox, Managing Director of SportsQuest International, LLC and a Lecturer at the University of California, Santa Cruz, will serve as moderator of the seminar.
Public relations assistance and technical support are being provided by the Tryon International Equestrian Center (TIEC). Additional support is provided by EventingNation.com and its sister publications.
Topics to be explored during the 2021 Tom Bass Seminar on Diversity in Equestrian Sports include:
Demystifying horse sport – not for rich kids only… Reviving equestrian heritage in lower and middle income communities
Developing broad-based community support for equestrian activities at all levels
Building sustainable programs that support diversity in the horse industry
Incorporating the lessons gleaned from social activism into the ways in which we do business
Leveraging (new and traditional) media in horse focused education and promotion
Developing stories that more accurately reflect the life experiences of equestrians of color
Incorporating the rich equestrian heritages of non-white, non-European communities (including African, African-American, Asian, Hispanic, Native-American, Romani, South Asian and others) into our shared equestrian narrative
Celebrating participants in the Tokyo Olympic and Paralympic Games
Supporting entrepreneurship within the equestrian marketplace
The seminar is presented by The AFRICAN CONNECTIONS Research and Education Fund, Inc. in association with SportsQuest International, LLC.
A world-class destination for everything equine, the Tryon International Equestrian Center played host to the FEI World Equestrian Games (the official world championships of equestrian sport) in September 2018.
Post-event coverage of the 2021 Tom Bass Seminar will be available from the following websites:
The African Connections Research and Education Fund, Inc. (www.africanconnections.com)
SportsQuest International, LLC (www.SportsQuestInternational.com)
Eventing Nation (www.eventingnation.com)
The Tryon International Equestrian Center (www.tryon.com)
Contact:
SportsQuest International, LLC
email: marketing@SportsQuestInternational.com