Columbus, NC – April 17, 2022 – The 74th running of the Tryon Block House Races, the historic steeplechase of the Tryon Riding & Hunt Club (TR&HC), hosted four races on Saturday, April 16, 2022 at the Green Creek Race Course in Columbus, NC, just minutes from the Tryon International Equestrian Center & Resort (TIEC). Of the four races, Parker Hendriks, just two weeks into his professional career, galloped to victory in half of them, including the feature contest, The Block House presented by Camp Wayfarer.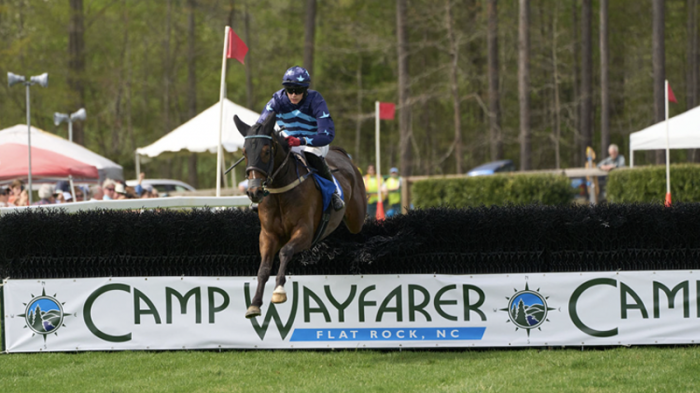 Parker Hendriks and Boulette
©Monica Stevenson
With more than 3,000 attendees , the combined races offered $90,000 in purse money, with The Block House presented by Camp Wayfarer testing five entries over two miles of the irrigated turf chasing a $30,000 pot. Hendriks and Boulette, the four-year-old gelding (Epaulette – Tiz the Whiz by Tiznow) owned by Molly and Paul Willis, dominated the course with an early lead, in similar fashion to their win in Aiken a few weeks prior. In reserve, Graham Watters rode Animal Kingston, the seven-year-old gelding (Animal Kingdom – Private Dining by Royal Academy) owned by William M. Russell and trained by Neil Morris. Third place went to Allison Fulmer's six-year-old gelding (Frost Giant – Marquet Rate by Marquetry), The Happy Giant, with Mell Boucher in the irons. 
"Obviously, as everybody saw, he just likes to go out and do his business," Hendriks shared. "He just likes to rock and roll. I just kind of let him do whatever he wants! He's a fantastic jumper, and he actually jumped even better today than he did at Aiken. He went up nine pounds in the weights since the last time he ran, which clearly didn't seem to slow him down. He's a really cool horse."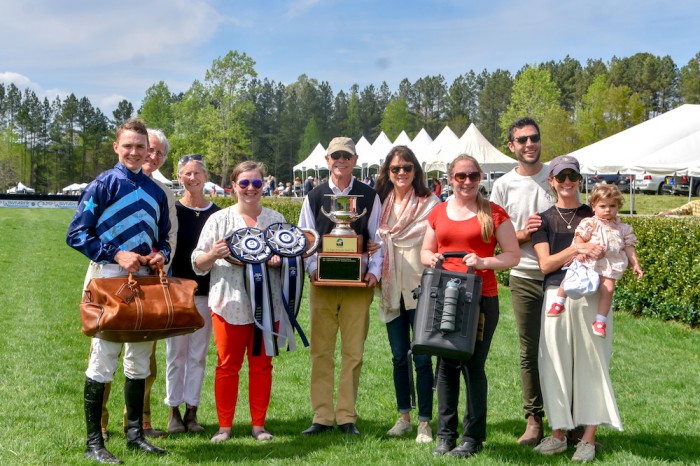 (From L-R) Parker Hendriks receiving the Block House Roger and Jennifer Smith Cup sponsored by Camp Wayfarer in his presentation ceremony alongside Camp Wayfarer Founders Jim Bob and Nancy Wilson, Name Unknown, Tryon Equestrian Partners Roger & Jennifer Smith, Trainer Keri Brion, and Camp Wayfarer Director Mary Kenson Lewis with her husband Bennett and their family.
©TIEC
The 18-year-old jockey who rides for trainer Keri Brion has only been pro for two weeks, he revealed. "I rode my first race when I was 16. Some of the guys I'm riding against have had jockey's licenses longer than I've been alive, so it's kind of incredible to think that we're all out here competing on the same playing field.
"We're winning races just about every weekend, so I can't complain! I'm very privileged to be in the position I am," Hendriks emphasized. "I've got nice horses to ride week in, week out. I actually just got the news that I'm going to get to ride The Mean Queen at National. I will ride her in a flat race next week, so that's pretty special."
Hendriks also earned a win in the second race of the day, the Tryon Riding & Hunt Club Race, offering a purse of $25,000 to maidens four years old and older over two miles of hurdles. Piloting Going Country, the six-year-old gelding (Yeats – Frankly Native by Be My Native) owned by The International Venture, Blue Streak Racing LLC, and Metahorse Racing. In second place, Graham Watters took reserve aboard Bickley, the six-year-old gelding (Flashback – Karma Lina by King's Best) owned by Mrs. S.K. Johnston Jr. and trained by Jack Fisher. Bright Eyed Eagle swooped to the third place position for Nancy A. Reed and trainer Katherine Neilson, with Barry Foley riding the five-year-old gelding (Gleneagles – Euphrasia by Windsor Knot).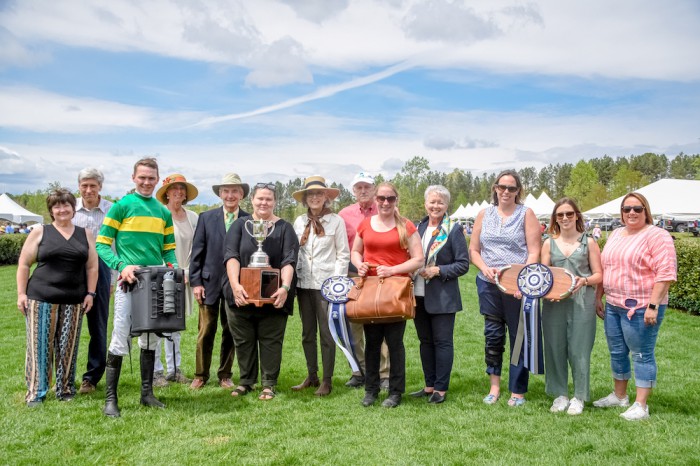 Parker Hendriks  receiving the Tryon Riding & Hunt Club Mulberry Farm Cup in his presentation ceremony alongside (L-R): Stacy Hindt, Unknown supporter, Tryon Riding & Hunt Club President Angie Millon, Tim & Lucy Brannon with their daughter-in-law Tara Brannon and her father Robert Tennyson representing Mulberry Farm, Trainer Keri Brion, Tryon Equestrian Partners President Sharon Decker,  Erica Gartner, and additional supporters. 
©TIEC
"He's a great jumper," Hendriks said of the "pretty nice little guy" who won by a length. "He was great, and he jumped like a bunny. And I kind of had to commit him a little bit earlier than I would have wanted down the hill, just because I thought I was going to get stuck in a box if I waited any longer."
Taking a shot paid off, and Hendrik credited his ride for his talent. "He's an above-average horse, I would say. He's a pretty nice little guy. This win is great for the owners; he's a syndicate horse, and a bunch of people will get enjoyment out of him winning here. I'm just delighted."
After a successful day at the races, Hendriks reiterated several times how perfect the conditions were for horses and jockeys alike. 
"It's a lovely track. Toby Edwards and his team [with Tryon] have done a fantastic job. The ground is perfect. I have zero complaints, and the fences are placed perfectly. The horses are building confidence and racing competitively because they don't slip on the takeoff and they don't get stung on the landing. They've nice prize money, it's a beautiful place, and we're really delighted to be here," he concluded. "Massive thank you to everybody that makes it happen." 
The Carter P. Brown Race presented by Tryon Horse & Home was the third race of the day, with eight entries chasing a purse of $20,000. Mell Boucher, who made history in 2021 as the first female jockey to win The Block House Race, returned to the winner circle once again, this time riding Jump Ship to top honors for Brownland Farm LLC and trainer Ted Thompson. Winning by just over five lengths, Boucher and the 10-year-old gelding (Jump Start – Britannia by Sea Hero) held off Graham Watters aboard Riverdee Stable's entry Twenty Years On, the six-year-old gelding (Rip Van Winkle – Distinctive by Tobougg) trained by Jack Fisher. Don't Shout, an eight-year-old gelding (Oscar – Asta Belle by Astarabad) and owned by the Potter Group USA LLC, earned a third place finish under the hands of Thomas Garner and trainer Leslie Young. 
"It was a great run. It actually rode very similarly to the Happy Giant's win last year here," she revealed. "He just settled nicely out the back and just ended up coming with a really big run, and I didn't want to stop him."
Boucher and Jump Ship are old friends, too. "It's a really fun story, actually. He's a really cool horse. We've actually had this horse since he was two years old, and we sold it to the owners who have him now," she detailed. "I grew up horse showing with that horse! It's fun to finally get a win on him."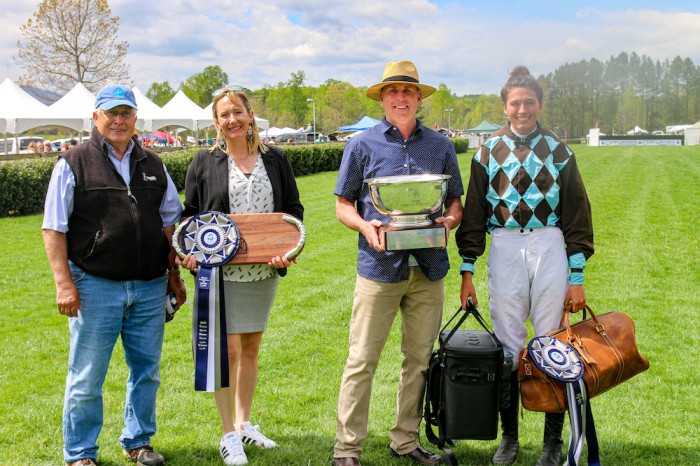 Mell Boucher receives the Carter P. Brown Memorial Trophy in her presentation ceremony alongside (L-R): Brooke Boyer, TIEC Director of Equestrian Operations Molly Oakman, and Tryon Horse & Home Owner Karl Small.
©TIEC
Graham Watters claimed reserve in all races but the first, which he won aboard Make a Stand owned by Shamrock and Thistle. The five-year-old gelding (Union Rags – Graser by Motivator) that Watters trains himself won by nearly five lengths in the $15,000 maiden claiming hurdle over two miles, the Cannon Harmon Memorial Race presented by Tryon Resort. 
"Tryon's is a tricky track to ride," Watters reflected prior to race day. "It takes a very different type of horse as it's a sharp track. You're always turning, and always going up or down. If you're not doing either of those, you're jumping. You need a horse to be able to take you along and have a lot of natural speed. They also need to be able to handle the slightly softer ground because they have an irrigation system there, which makes the ground very safe."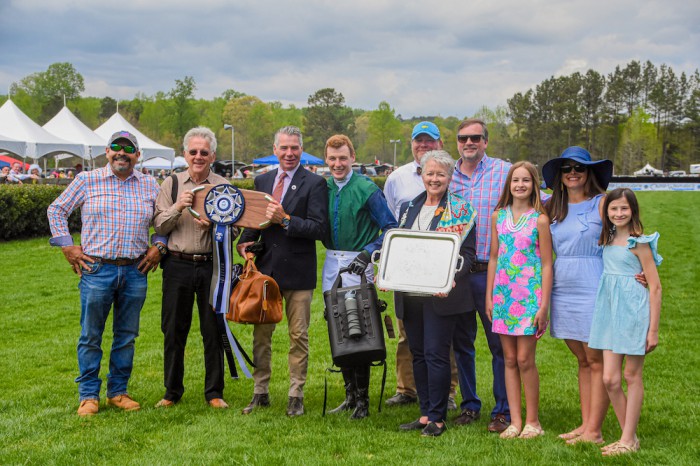 Graham Watters (center) receives the Cannon Harmon Memorial Trophy sponsored by Tryon Resort in his presentation ceremony alongside (L-R): Leo Ayala, William Russell, Neil Morris, Tryon Equestrian Partners President Sharon Decker, Jack Allison, John and Michelle Hoffman and their two daughters.
©TIEC
Watters concluded, " It's a great day and a great atmosphere. As riders, we love when there are big crowds. When we're galloping around, we can hear the roaring and shouting, people calling out for us. It's great support for us and a fantastic deal for the supporters."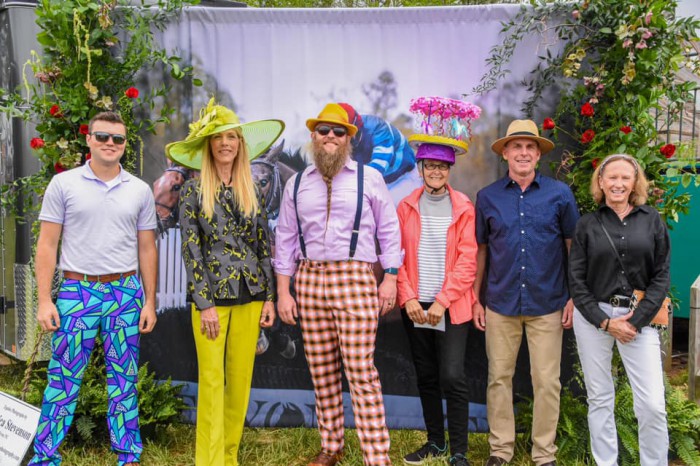 Hat and Crazy Pants Contest Winners pictured with event sponsors. 
©TIEC
The day also featured festivities for the community, including the free Tryon Riding & Hunt Club Kids' Zone presented by Ken Feagin Truck & Trailer, which featured pony rides, hobby horse competition, face painting, a magic show, and more. The annual Tailgate and Crazy Pants and Hat contests were extremely well attended, with event sponsors judging the outfits and WSPA's Chief Meteorologist Christy Henderson emceeing the proceedings. Numerous vendors and food trucks could also be found in the infield, along with a beer garden that added to the festive atmosphere.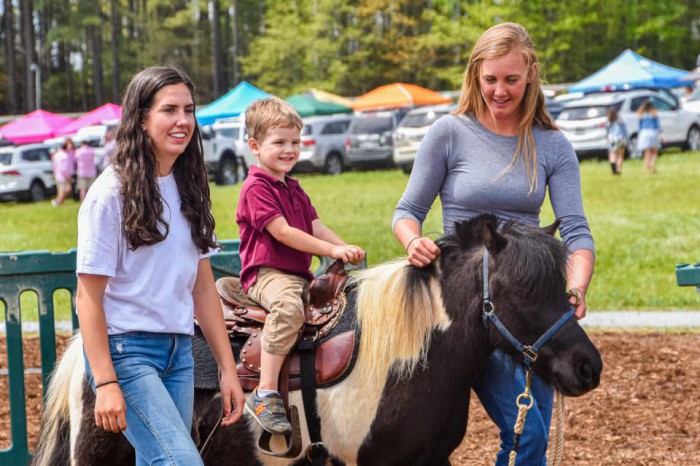 Pony rides in the Tryon Riding & Hunt Club Kids' Zone presented by Ken Feagan Truck & Trailer. ©TIEC
The Tryon Block House Races will celebrate the 75th running of the historic steeplechase next April, with expanded celebrations planned for the anniversary event. Stay tuned for more information at Tryon.com/steeplechase. 
Full results from the Tryon Block House Races can be found here.