For Immediate Release
Mill Spring, NC – August 12, 2020 – Tryon Summer Dressage 3&4 saw Julio Mendoza Loor dominate the levels, taking back-to-back wins in numerous divisions August 8-9 at Tryon International Equestrian Center (TIEC) at Tryon Resort. Mendoza and Rosali, the 2005 Danish Warmblood mare (Romanov x Mosegardens Ratina x Ragazzo) owned by Aileen Daly, posted scores of 69.130% and 71.359% to take wins in both FEI Grand Prix competitions. Mendoza also topped the largest division of the weekend, Training Level Test 3 sponsored by SS Saddlery, aboard Zafira MWF, the 2015 Friesian mare (Meinse 439 x Wanda of Black Pearl x Wander 352) owned and bred by Sherri Garner, collecting scores of 70.431% and 71.897%.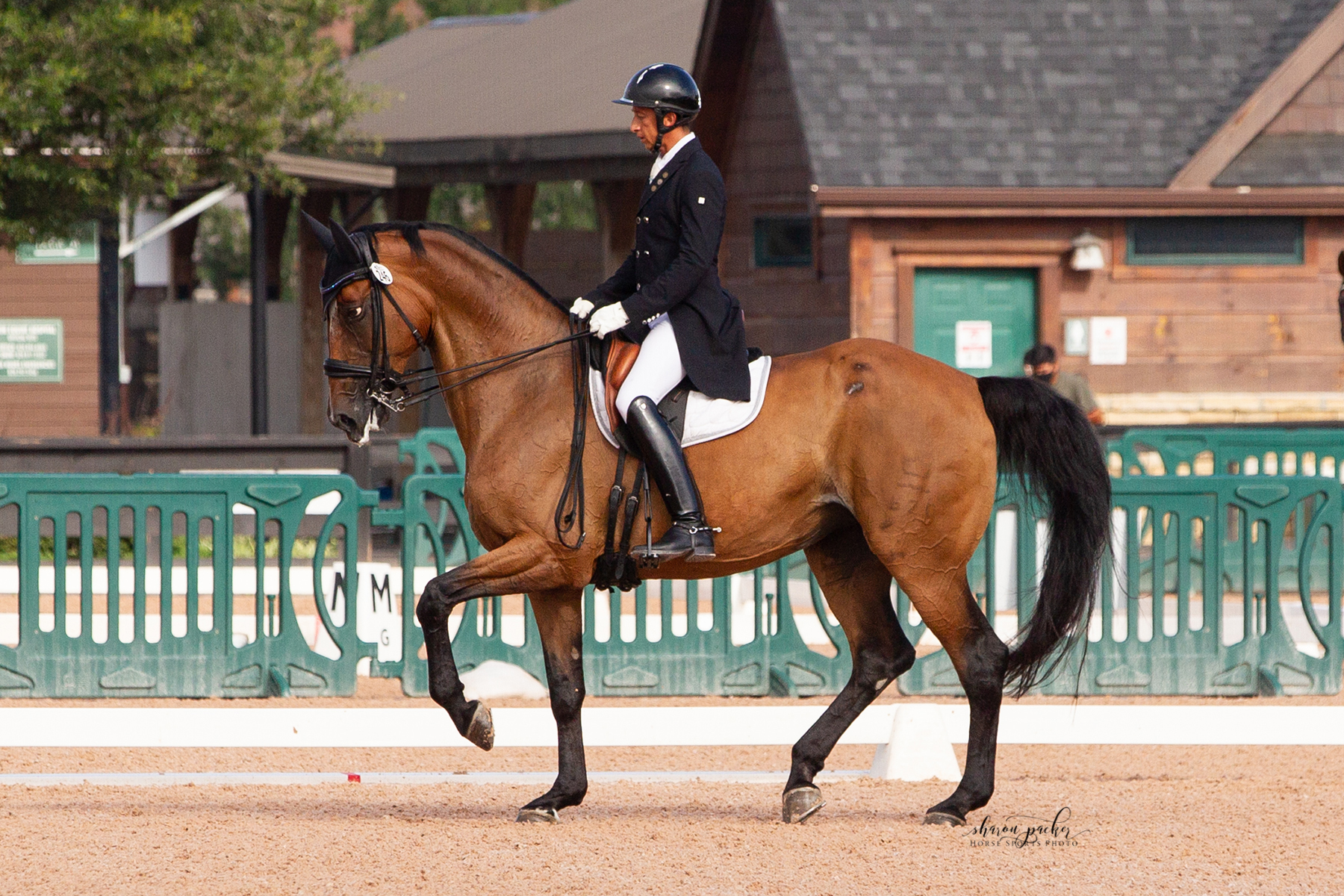 Julio Mendoza Loor and Rosali
©Sharon Packer
"Oh my gosh, my weekend was amazing. It was great to compete with some new horses. I competed a young mare (Wild Rhapsody) for her first time in the show ring, at First Level Test 3," Mendoza highlighted. "We did Training Level Test 3 sponsored by SS Saddlery with Zafira MWF, and then my special lady, Rosali, a phenomenal, phenomenal mare, did the FEI Grand Prix divisions. Every day, her tests improved, and she gets stronger every time. I'm looking forward to the future with her.
"I was very excited to see my son Mateo compete in his Fourth Level Test 3 for the first time with his horse Beneo," Mendoza added. "So, my main goal this weekend was to see him go down centerline and be able to explain to him his great moments in the show ring. And, how he can have fun – it's not all about competing. I also wanted to see where we are with Rosali, and see what we're working with for the Grand Prix."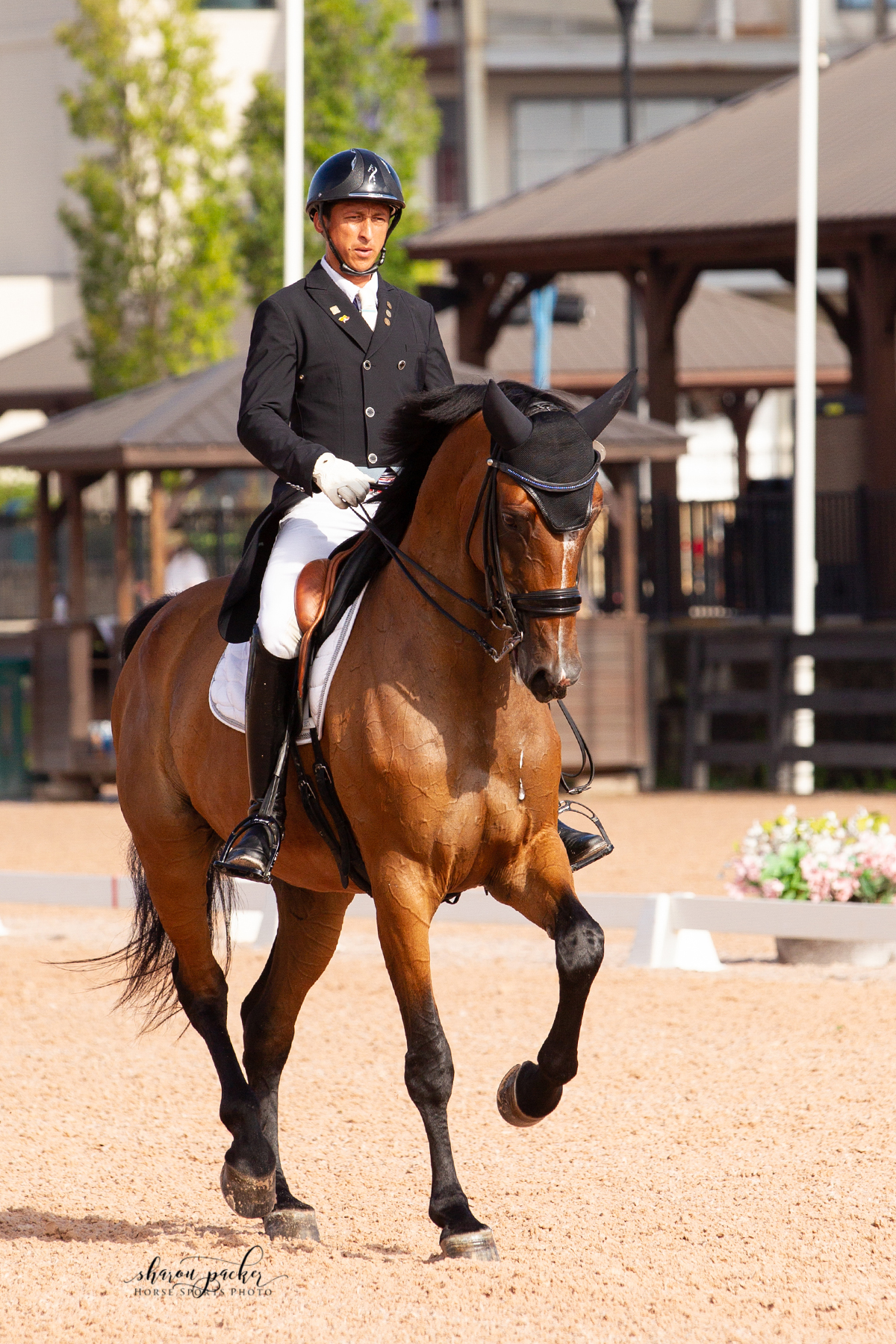 Julio Mendoza Loor and Rosali
©Sharon Packer
Rosali and Mendoza remained on top both days of competition, improving from Saturday to Sunday in several ways, he detailed:
"Saturday, my one tempis had some mistakes there because I ran out of room. She's a very large horse, 18 hands, and Saturday I was just running out of room on the diagonal after 13 ones. I said, 'Holy moly, I'm running out of room. You know what, honey, I'm leaving you with 13, and tomorrow is a different day – I need to start preparing you better.' My pirouettes were tighter and stronger, with a better rhythm [Sunday]. All of it just improved, like my transition to piaffe."
In the Training Level Test 3 division sponsored by SS Saddlery, Mendoza stood out with Zafira MWF, a young mare that has been in his program since she was three years old.
"Zafira is a young mare that's been training with me for two years, when she was three. She's a Friesian mare, a little petite at 15.3 hands. But good things come in small packages! She is a wonderful horse with a heart of gold. She always wants to work hard for you in the ring, and every time she comes down centerline, she is a big diva, and I like that about her," Mendoza shared. "I love her – she has a great canter and a great trot. I'm excited to see where the future takes her."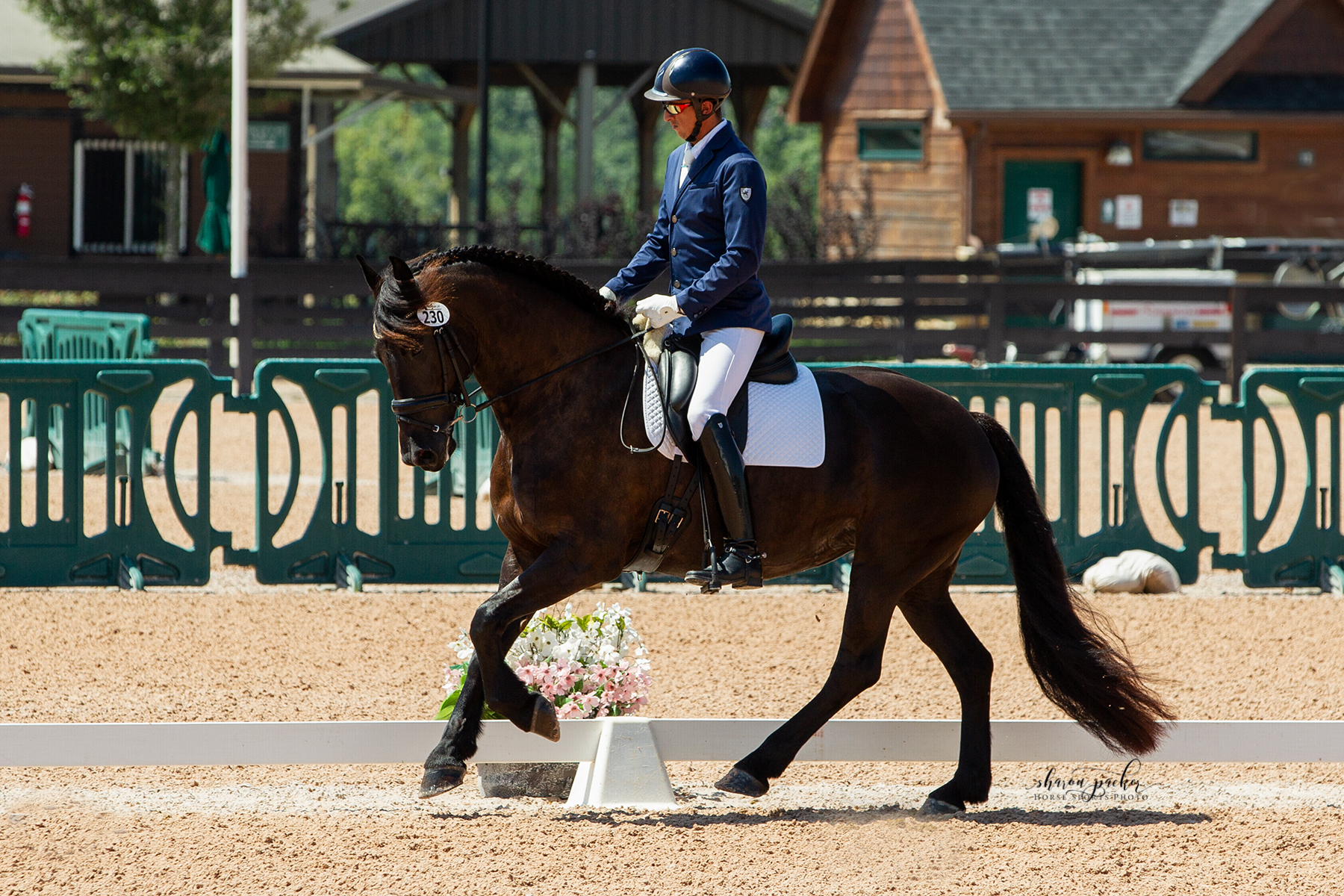 Julio Mendoza Loor and Zafira MWF
©Sharon Packer
Though COVID-19 has thrown all facets of competition into question, especially with international competitions and Tokyo 2021, Mendoza is still aiming to travel to Japan with Rosali if given the chance, and is using TIEC as his home show to keep refining their partnership, he explained. "Absolutely, we are still aiming for Tokyo with Rosali. That is my goal, if God gives me the opportunity. We need to see how COVID plays out and what procedures would allow us to go. There are so many things in the air right now that we don't know exactly how it will work, but there is a great team of people working it out and keeping us [competitors] safe."
In the meantime, Mendoza will continue to be a familiar face at the venue, including at the Tryon Fall Dressage 1&2 competition hosted September 11-13, to which he plans to return with at least seven horses. "I'll do at least three horses in the Prix St. Georges, and Rosali will do Grand Prix again. Then, we'll do the CDI in October [Tryon Fall Dressage 3, October 23-25] and start planning our winter season in Florida, wherever that takes us." Mendoza concluded, "I want to thank all my sponsors, my owners, and all my clients who support me. If not for my clients, I could not be doing this business. My family, my wife, and my children – I want to thank them, too!"
For full results by class for Tryon Dressage 3, click here.
For full results by class for Tryon Dressage 4, click here.
Tryon Fall Dressage 1&2 Prize Lists are now available at www.Tryon.com/Dressage.  
About SS Saddlery:
SS Saddlery knows that it takes time, research, and dedication to find the right saddle for you and your horse. So we are here to help. As a DP Saddlery certified dealer, we offer one on one customer service to ensure you get the right tack for your needs. Check us out at 
https://ssfarmandsaddlery.com/
.
Photo credit ©Sharon Packer. Photos are available for purchase here. These photos may only be used once in relation to this press release with proper credit. Contact media@tryon.com with questions.