Kristen VanderVeen and Bull Run's Almighty Best the $37,000 EquiSafe Global Power & Speed Stake CSI 4*
Doug Payne and Quintessence Secure $6,000 Power & Speed Stake CSI 4*
For Immediate Release
Mill Spring, NC – October 22, 2020 – Mario Deslauriers (CAN) and Amsterdam 27 dominated the $73,000 Horseware Ireland Welcome Stake CSI 4* at Tryon International Equestrian Center and Resort (TIEC), clearing the jump-off track in 36.35 seconds to take the win. In reserve, Daniel Bluman (ISR) and Gemma W, the 2011 Dutch Warmblood mare (Luidam x Unaniem) owned by Blue Star Investments, sped through the timers in 37.31 seconds, while Schuyler Riley (USA) completed the podium with the 2005 Selle Francais gelding (Elf d'Or x Calypso d'Herbiers), Robin de Ponthual, achieving the first clear short-course round of the day in 42.06 seconds for Katherine Gallagher & M. Michael Meller.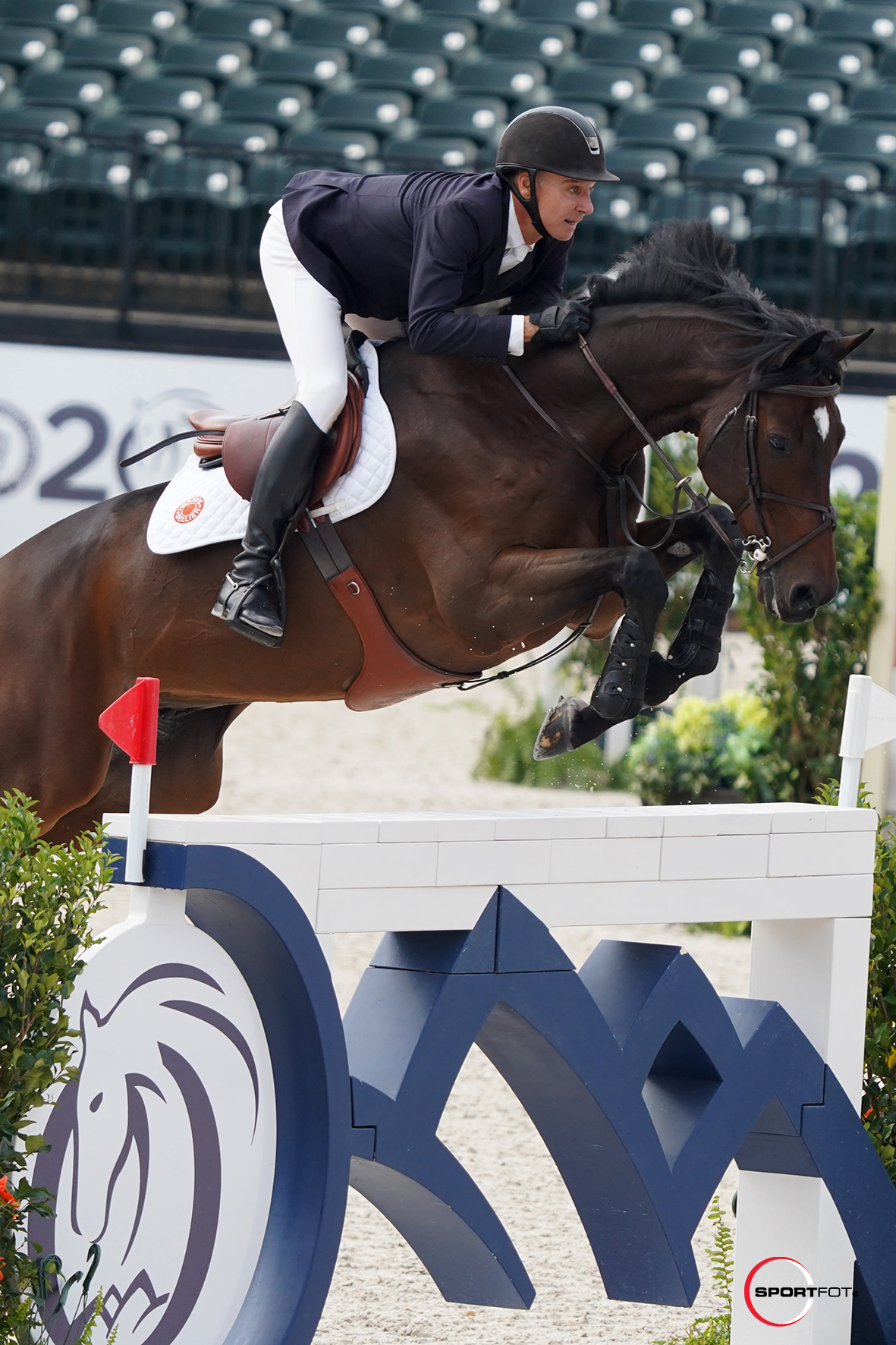 Mario Deslauriers and Amsterdam 27
©Sportfot
Deslauriers and the 2010 Holsteiner gelding (Catoki x Acord II) he owns in partnership with Luja LLC and Wishing Well Farm LLC were one of 89 entries to challenge the first round of the Anthony D'Ambrosio (USA) course design, with 12 pairs earning the opportunity to tour the jump-off course. In Deslauriers' first visit to the venue since the FEI World Equestrian Games™ Tryon 2018, he shared that he chose to spend three weeks at the venue because he knew it would be a "safe zone" and a quality facility:
"We're trying to stay put at the same place, so we know everything is monitored well. The show here is doing a great job monitoring everything. We're just happy to be out there competing. [My experience here] has been great, and people couldn't be nicer. I think that we're in a pretty safe zone here. It's good for everyone!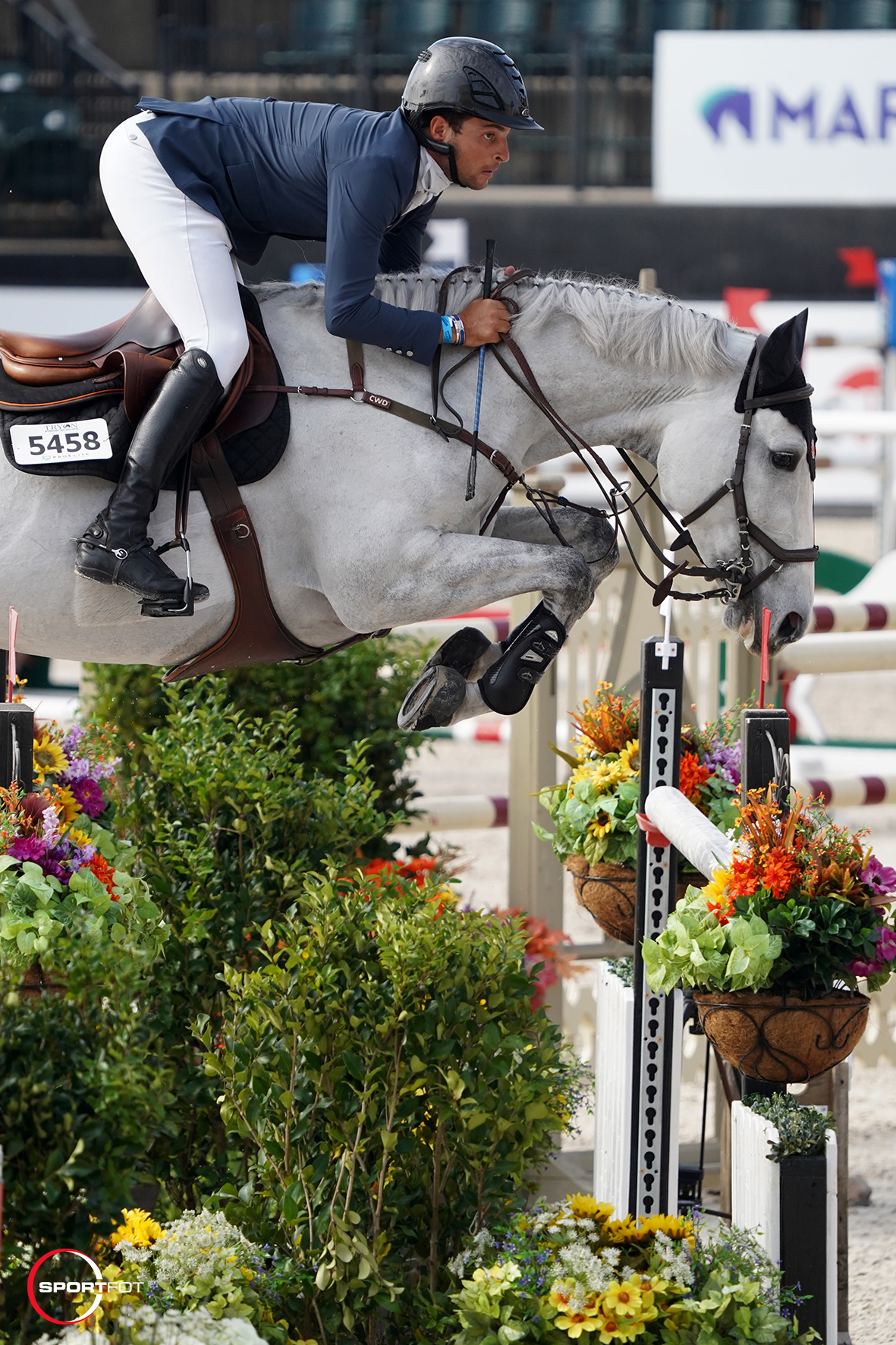 Daniel Bluman and Gemma W
©Sportfot
"The footing is great!" Deslauriers continued about the venue. "I think our country in general has really made a big jump on taking care of the ground and the footing at every facility, and it's a very good thing for our sport here in the United States. I think everybody is doing a great job here with all the watering, dragging, and monitoring."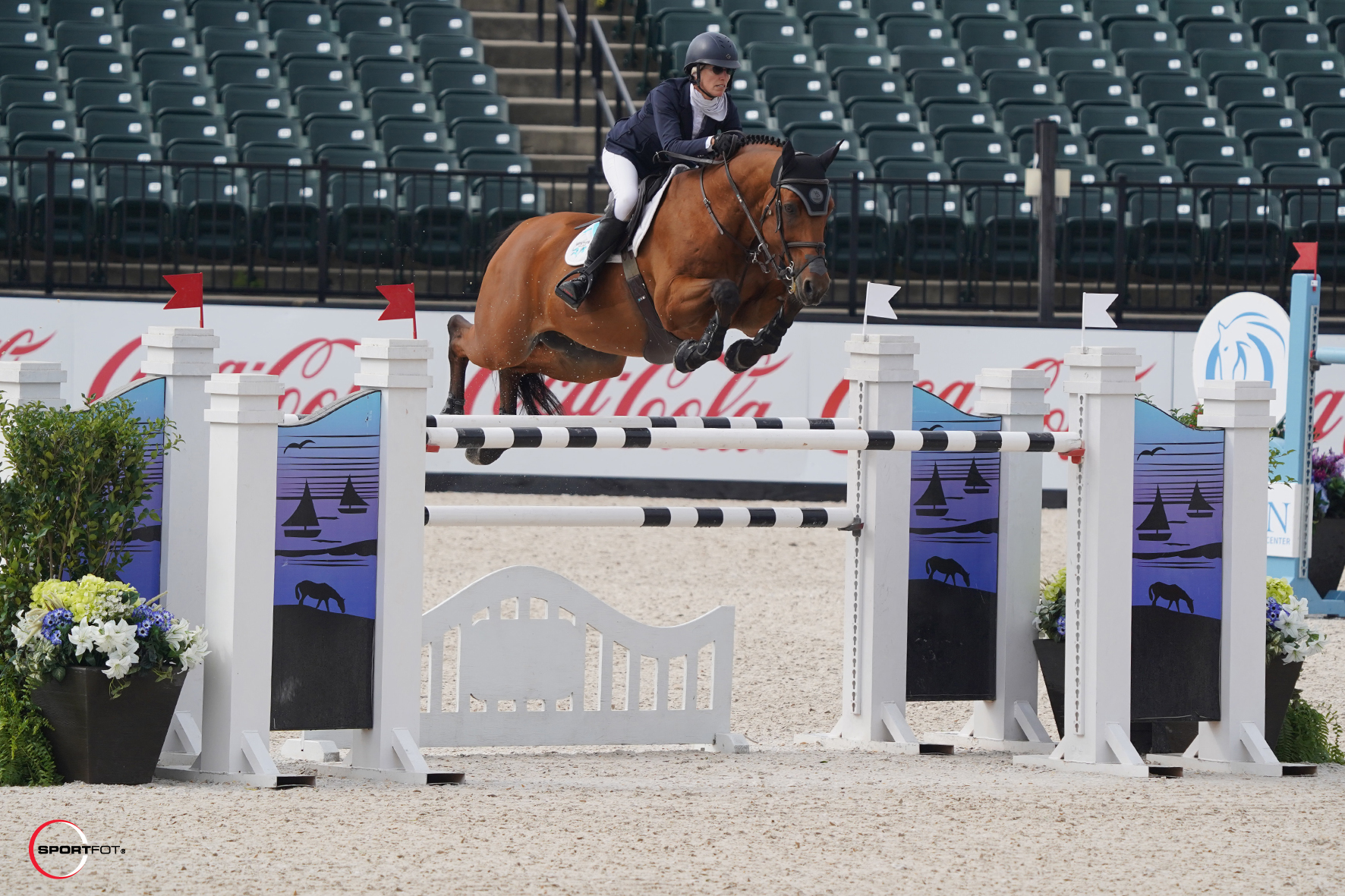 Schuyler Riley and Robin de Ponthual
©Sportfot
In the jump-off, which only saw three double-clear efforts when all said and done, Deslauriers followed just after Riley's trailblazing clear round and sought to put in a conservative, but neat clear, he relayed. "Nobody had gone clear," Deslauriers explained, "and I didn't want to overuse my horse today because he's going to jump again Saturday. He has such a good natural canter, so I just tried to stay smooth and turn sharp. It really paid off! I had a great distance coming back to the double. It was almost an angle. The horse jumped fantastically today."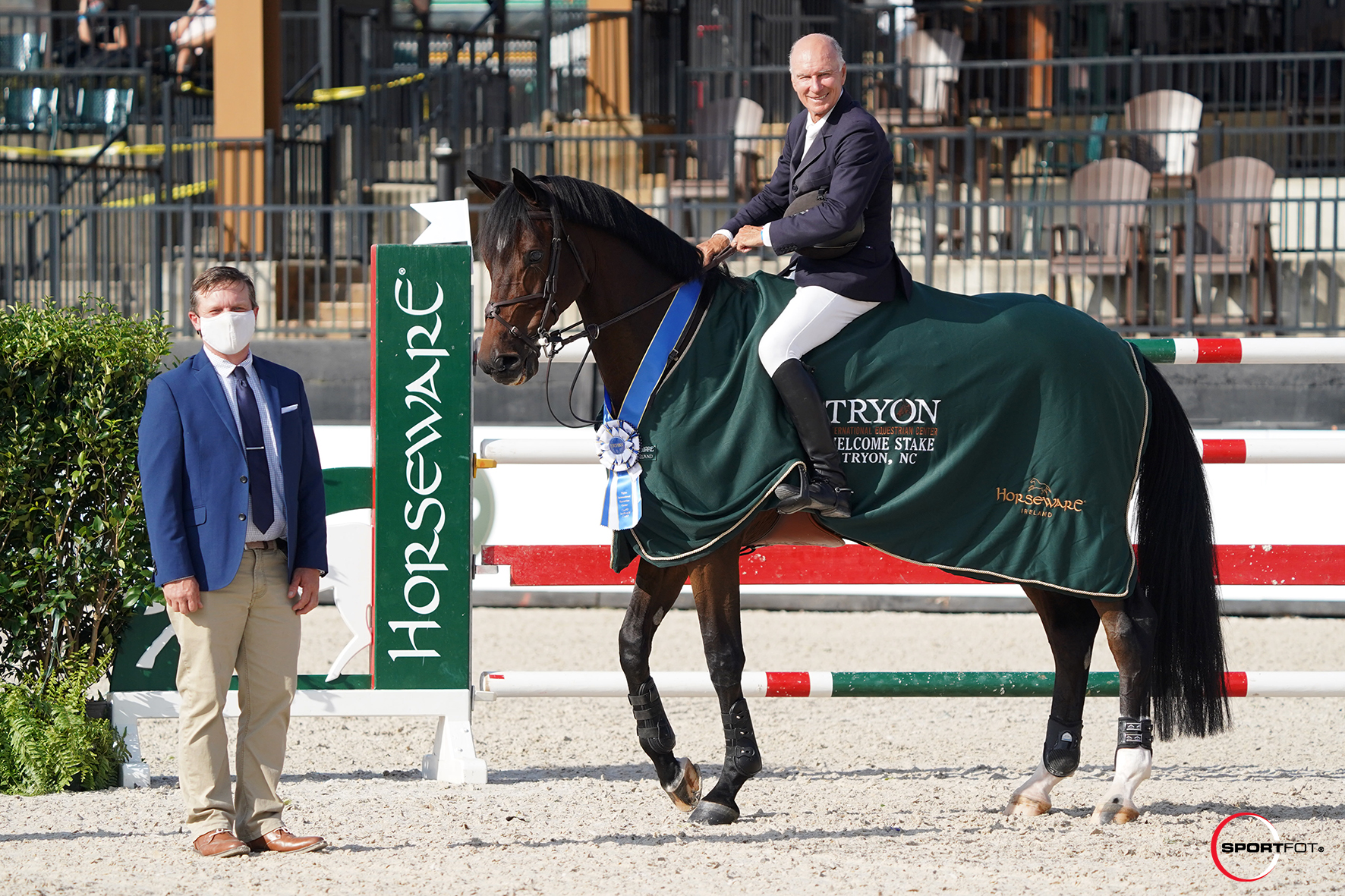 Mario Deslauriers and Amsterdam 27 in their presentation ceremony alongside JP Godard, TIEC Competition Manager.
©Sportfot
Deslauriers has had the ride on Amsterdam 27 for the past two years, and called him an "unbelievable" ride. "He's so nice to ride and jumps beautifully. He's unbelievable! He's well mannered. He's progressed tremendously and keeps going better and better."
Against stiff competition, a challenging track proved to be no difficulty for "Amsterdam," but Deslauriers acknowledged expert course design from D'Ambrosio, concluding, "The course was difficult today, and Anthony did a great job. I thought that he laid out a good plan and the time allowed was fine. You could add, and you could leave out. There were a lot of options. It turned out to be only twelve clears, so I think he put up a great test."
Kristen VanderVeen and Bull Run's Almighty Best the $37,000 EquiSafe Global Power & Speed Stake CSI 4*
October 21, 2020 – Kristen VanderVeen (USA) and Bull Run's Almighty left out strides across the board to claim a win in the $37,000 EquiSafe Global Power & Speed Stake in Tryon Stadium, completing the speed phase in 26.98 seconds. Erynn Ballard (CAN) and Ceitasi, the 2010 Westphalian mare (Caretello B x Cavalier) owned by Marigold Sporthorses LLC, dashed to a reserve placing on a time of 27.75 seconds, while Tanner Korotkin (USA) and Deauville S, Castlewood Farm Inc.-owned 2006 Holsteiner gelding (Diamant de Semilly x Lux Z), stopped the timers in 27.87 seconds for third.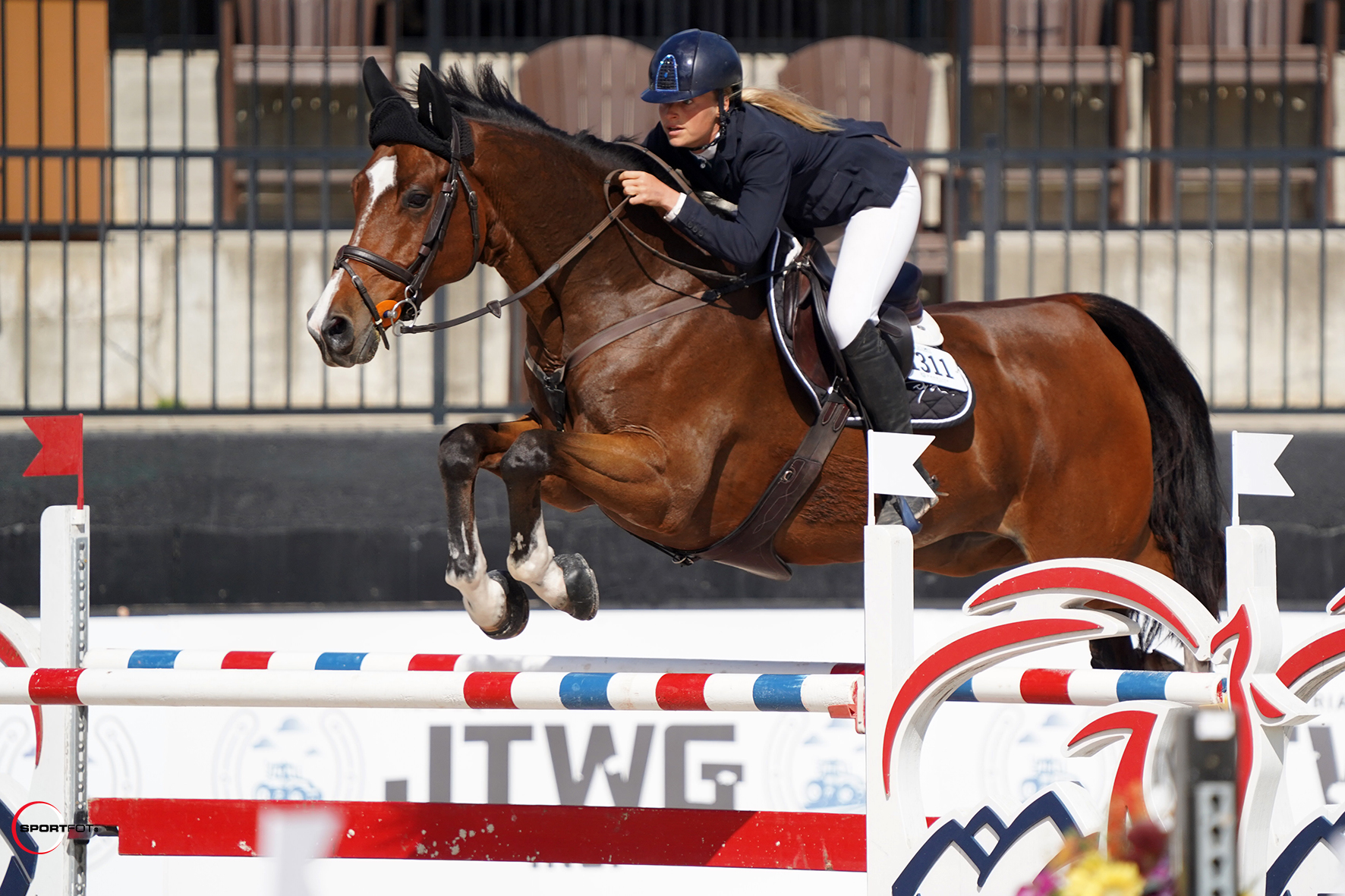 Kristen VanderVeen and Bull Run's Almighty
©Sportfot
VanderVeen and the Bull Run Jumper Six LLC entry, the 2008 Hanoverian gelding (Caspar x Quidam De Revel), were one of 45 horse-and-rider pairs to challenge the Anthony D'Ambrosio (USA) layout, with 30 pairs continuing through the speed phase and 19 entries going double-clear. VanderVeen explained that she was able to leave a stride out in every line in order to take the win:
"Actually, when I walked it, I was a little bit unsure [of my plan], because the numbers for the leave-outs seemed very aggressive to me. He's a bit of a slower-moving horse, so I didn't feel like I would be competitive if I didn't leave out the strides," she elaborated. "In the first phase he felt amazing, so I decided to just go for it. I was able to leave our one stride in every line. He was amazing!"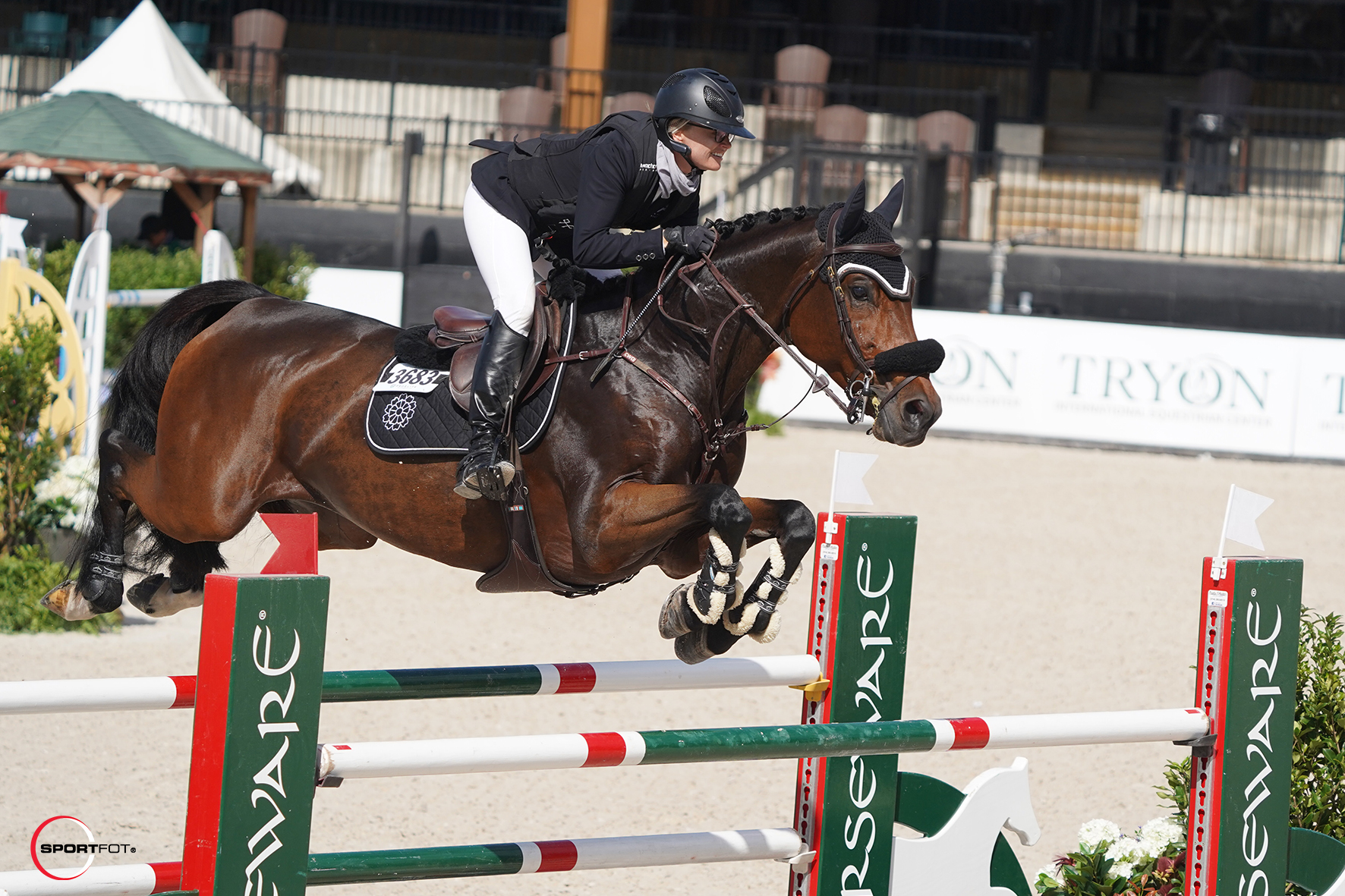 Erynn Ballard and Ceitasi
©Sportfot
VanderVeen took a spill on course from Bull Run's Faustino de Tili due to a refusal, landing on her feet, but joked that "Frosty" keeps her humble and has caused her to reassess her plans for the week. "Well, Frosty threw me a little curveball today. I have Prince of Peace who I'm planning on using for the Grand Prix, so he'll jump Thursday, possibly along with these two from today."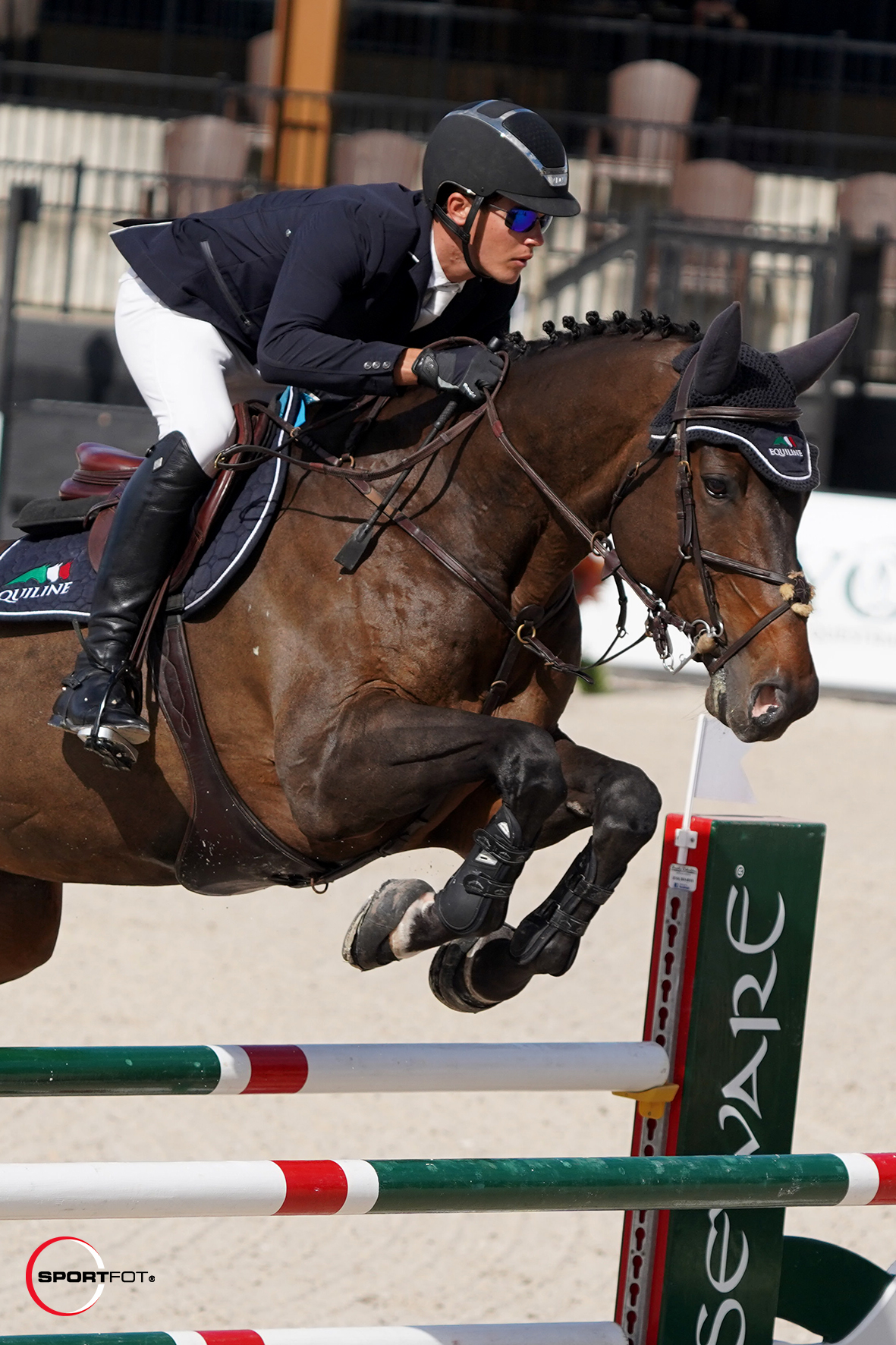 Tanner Korotkin and Deauville S
©Sportfot
VanderVeen and crew have been based at TIEC for much of the 2020 season, sometimes traveling back and forth between two competitions simultaneously to maximize her show mileage despite abbreviated competition calendars. "We will stay busy after we leave here," she shared. "Two horses will go to Kentucky, then two horses will to Aiken, and then the next week, there's a CSI 3* in Wellington, so we'll just keep going. I figure if we're all going to be working, we may as well show and get to have the rewards of working!"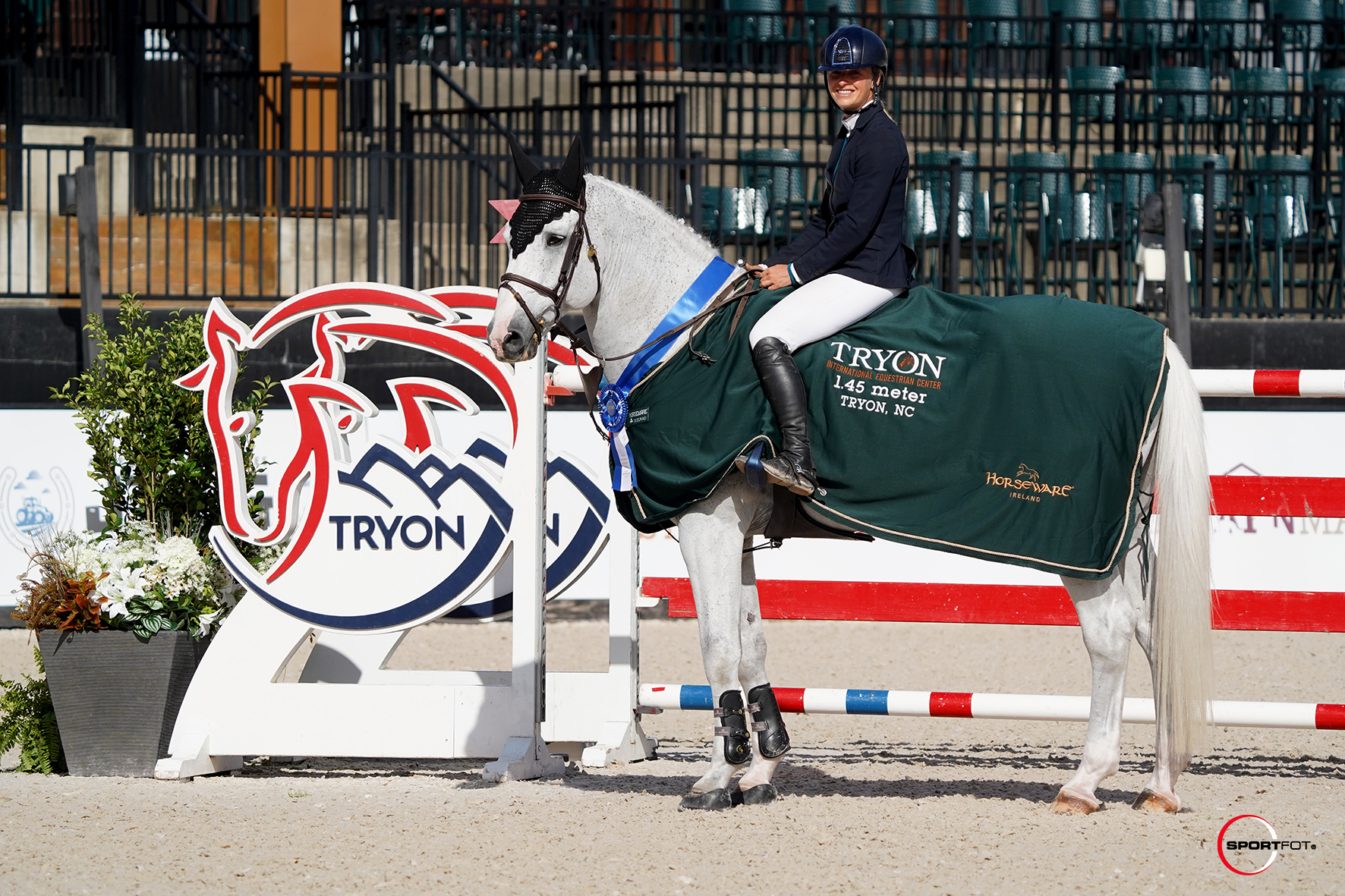 Kristen VanderVeen in her presentation ceremony with Bull Run's Faustino de Tili standing in.
©Sportfot
Doug Payne and Quintessence Secure $6,000 Power & Speed Stake CSI 4*
October 21, 2020 – Doug Payne (USA) and Quintessence, the 2011 Holsteiner gelding (Unknown x Unknown) owned by Jane Dudinsky, stopped the timers in 27.8 seconds to claim top honors in the $6,000 Power & Speed Stake CSI 4* on Wednesday at TIEC. Adrienne Sternlicht (USA) and Shadowfax 111, the Starlight Farms 1 LLC entry and 2012 Belgian Warmblood stallion (Der Senaat 111 x Tangelo van de Zuuthoeve), completed the speed phase in 31.95 seconds for second-place honors in the class of 35 competitors, while Rodrigo Pessoa (BRA) cleared the speed phase in 33.61 seconds to capture the yellow ribbon with Calle 67, the Artemis Equestrian Farm LLC-owned 2009 Westphalian gelding (Carell x Capitalist).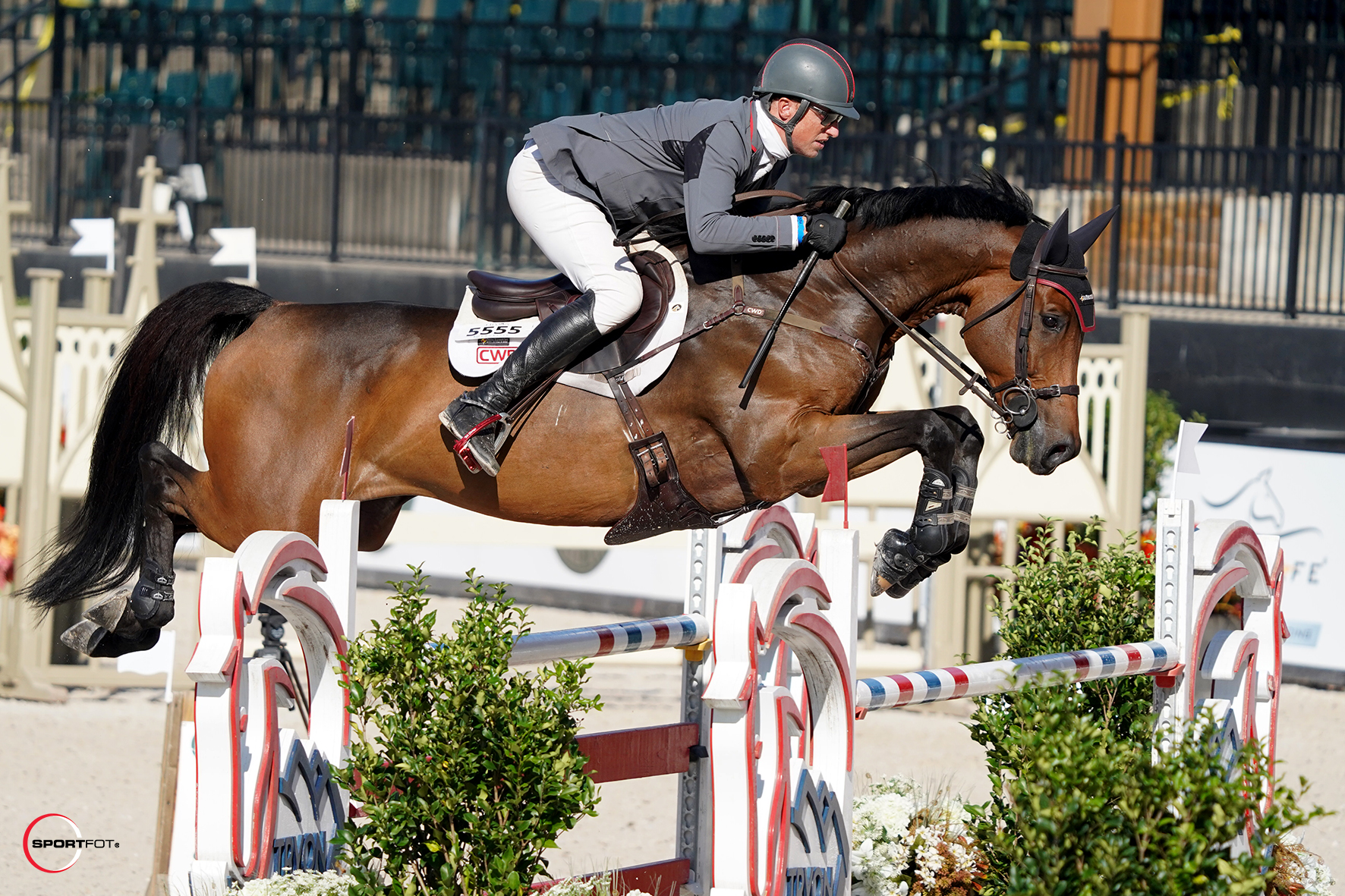 Doug Payne and Quintessence
©Sportfot

Tryon Fall 6 continues Friday, October 23, with the $20,000 Hunter Classic, Round 2 of the Developing Jumper Series Finals presented by Spy Coast Farm, the $6,000 Speed Stake CSI 4*, Tryon Fall Dressage 3's FEI Grand Prix* CDIW, and the Washington International Horse Show Equitation Finals – Hunter Phase. Though spectators are not permitted onsite, live streaming is available through Tryon.com/streaming and the USEF Network. Click here to preview all live streaming for Tryon Fall 6. 
For full results from the $73,000 Horseware Ireland Welcome Stake CSI 4*, click here. 
For full results from the $37,000 EquiSafe Global Power & Speed Stake CSI 4*, click here.
For full results from the $6,000 Power & Speed Stake CSI 4*, click here.
Photo credit ©Sportfot. Competitors can sign up for weekly packages at www.Sportfot.com. These photos may only be used once in relation to this press release with proper credit. Contact media@tryon.com with questions.