For Immediate Release
Sarah Madden and Lily Yampolsky for TIEC
Mill Spring, NC – October 15, 2022 – The $139,000 Coca-Cola® Grand Prix CSI 3* winner was Luis Sabino Gonçalves (POR) and Sigma Stables LLC's Vick du Croisy with a time of 36.59 seconds at Tryon International Equestrian Center & Resort (TIEC). Callie Schott (USA) and Southern Arches LLC's 2011 Dutch Warmblood gelding Garant (Warrant x Verdi TN) were able to take the second place position with a time of 38.91 seconds. Third place was Lauren Balcomb (AUS) and hers and Sharn Wordley's 2011 Zangersheide gelding Verdini D'Houtveld Z (Verdi TN x Caretino 2) with a time of 38.99 seconds.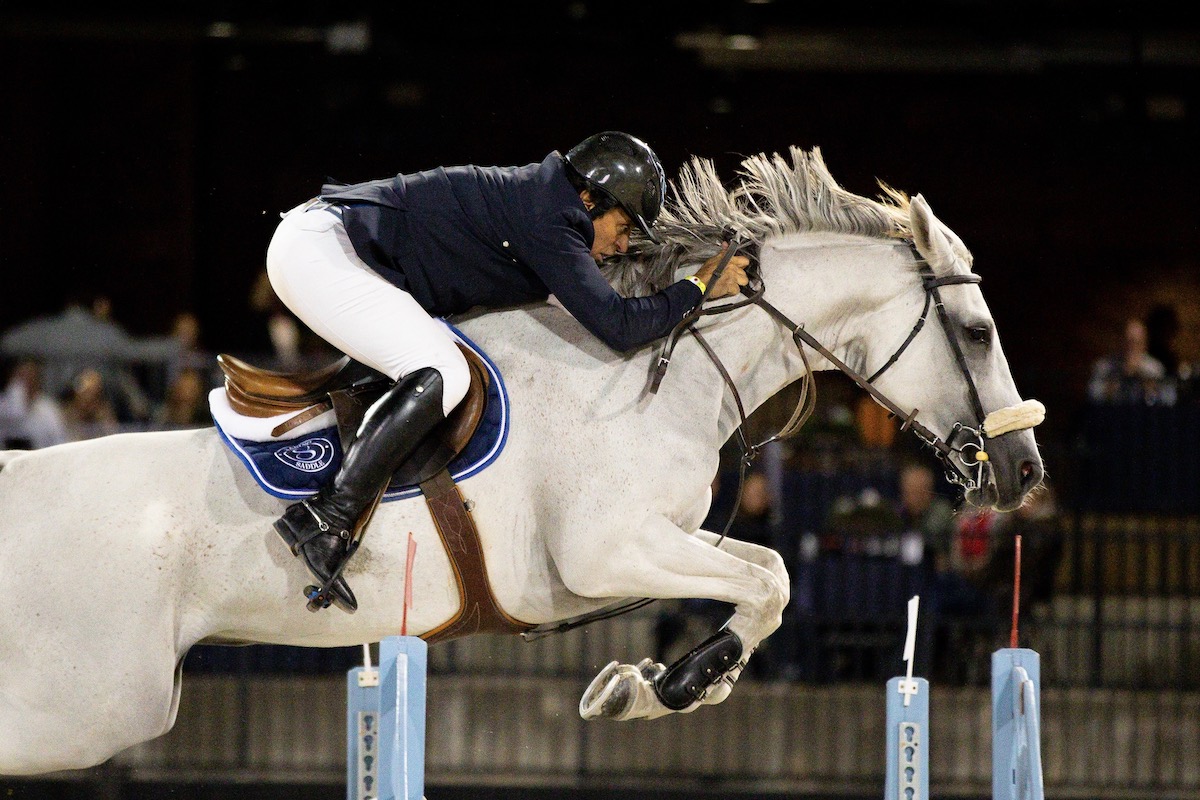 Luis Sabino Gonçalves and Vick du Croisy
©Natalie Suto for TIEC
Peter Grant's (CAN) course was contested by 38 entries, with only six going clear to progress to the jump-off. Sabino Gonçalves and the 2009 Selle Français mare Vick du Croisy (Lord Carthago x Vondeen) were able to win the class by almost two seconds.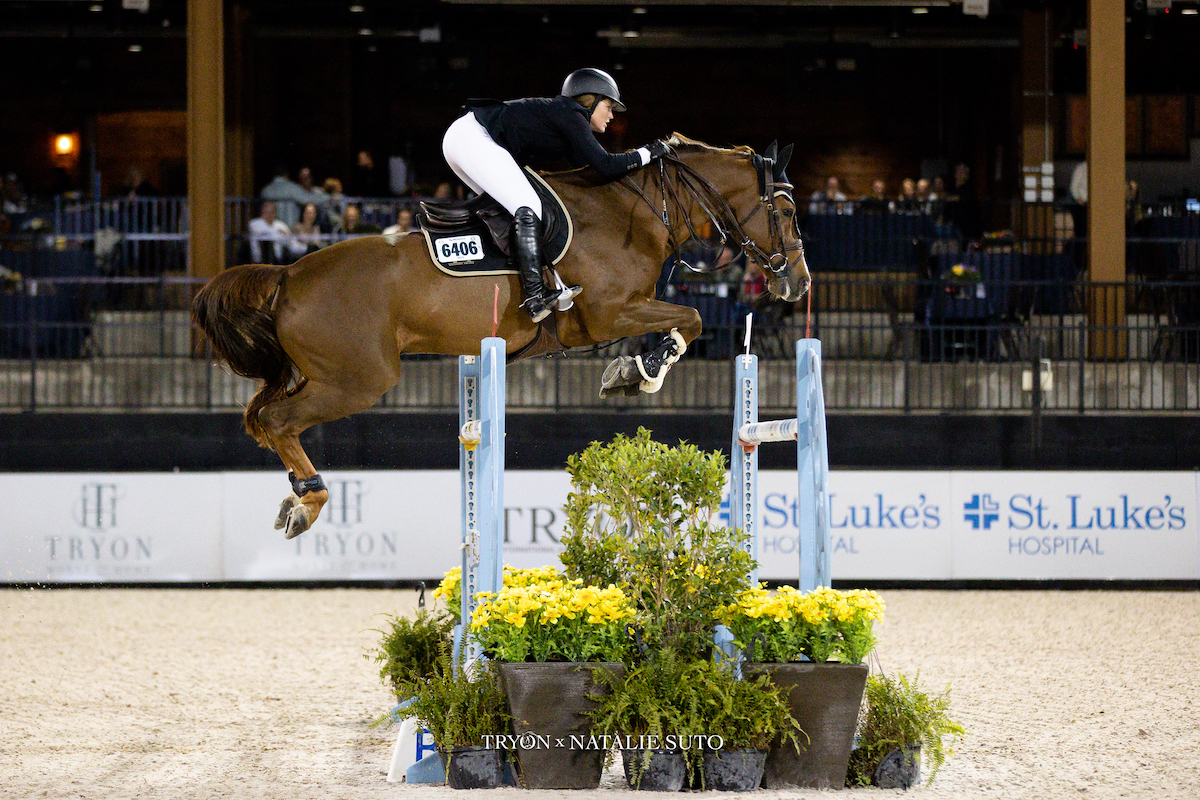 Callie Schott and Garant
©Natalie Suto for TIEC
It's great [to win twice]… unbelievable," Sabino Gonçalves marveled. "This horse is one that I have had for maybe six months. She is an amazing mare: she's very clever, really smart and fast."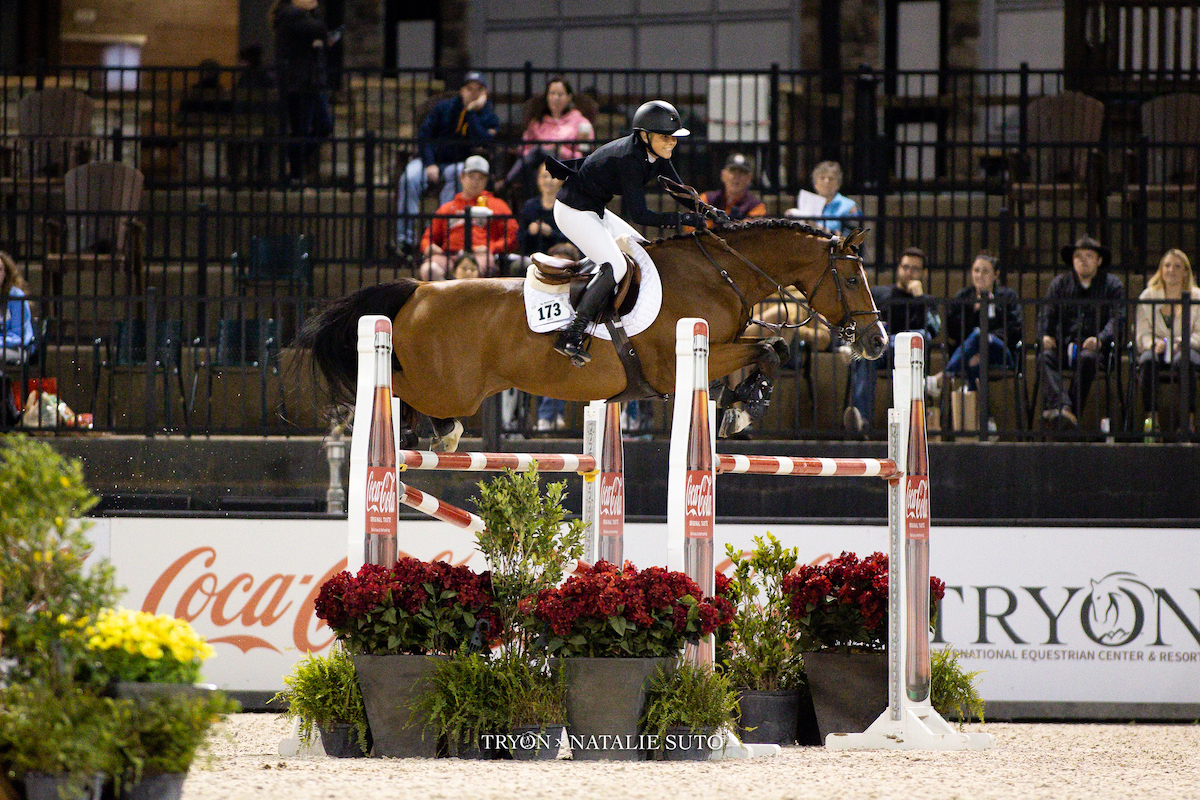 Lauren Balcomb and Verdini D'Houtveld Z
©Natalie Suto for TIEC
Sabino Gonçalves was impressed by his quick-footed mare's first-round performance, and decided that his best course of action in the jump-off was to stay out of her way and let her shine:
"Today she did a super first round, and was within the time. In the jump-off, I thought to myself, 'I should not disturb her.' I was just on her, in like surfing. It was perfect."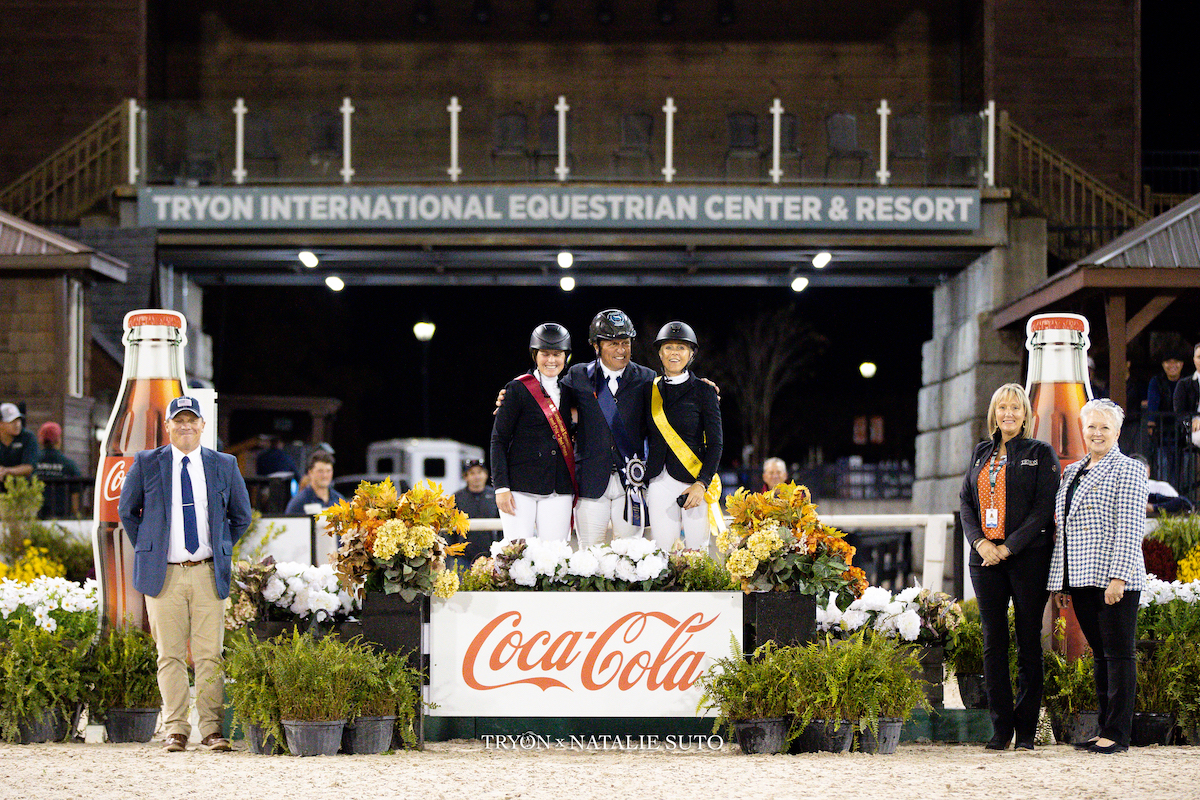 Callie Schott, Luis Sabino Gonçalves, and Lauren Balcomb in their presentation ceremony alongside (L-R): TIEC Competition Manager J.P. Godard, TIEC Director of Equestrian Operations Molly Oakman, and Tryon Equestrian Partners Carolinas Operations President Sharon Decker.
©Natalie Suto for TIEC
The duo also found advantage in the mare's scope, and the track they took after the double combination, Sabino Gonçalves assessed. "I think [we won at] the skinny, because a few people tried to take care of it [and slowed down]. But she's so careful, so she took care of it. And after the double to the yellow one I took a shot.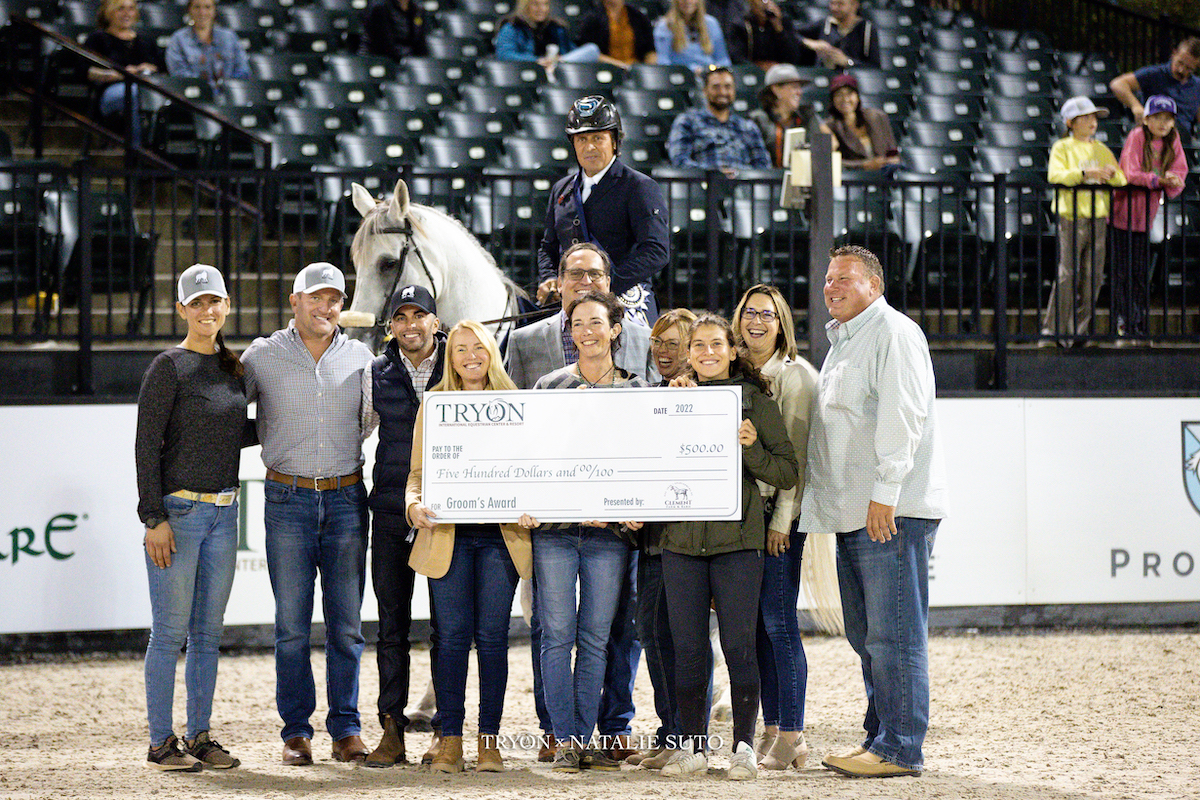 Winner of The Groom's Award presented by Clement Farm & Barn, Maria Pinto, was recognized for her care and dedication to Vick du Croisy with Michael and Amy Cece and representatives alongside.
©Natalie Suto for TIEC
"I love to be here," he concluded. "I was here for the first time in 2018 in the WEG [World Equestrian Games]. The second time was last year, with other horses, and I came back again because I like to be here."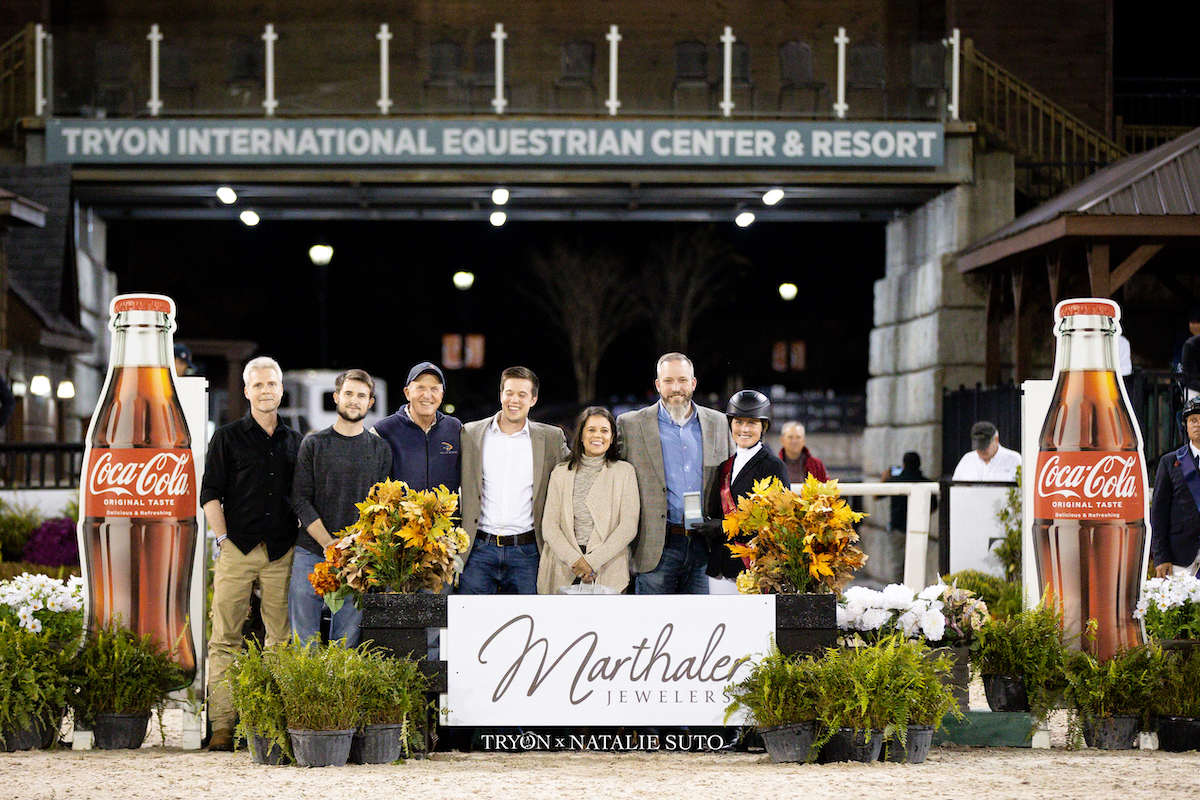 Callie Schott and the presenting sponsors of the Leading Lady Award, Marthaler Jewelers: Tonya, Andy, and Matthew Marthaler, Joe Cottrell, Sean Berkheiser and Luke Hargrove.
©Natalie Suto for TIEC
The Leading Lady Award presented by Marthaler Jewelers was awarded to Callie Schott as the highest placed female rider in the Grand Prix. "This is the first time I've won a Leading Lady award," Schott exclaimed. "The necklace is absolutely stunning, so I'm really excited!"
RESULTS: $139,000 Coca-Cola® Grand Prix CSI 3*
Horse Name, Year Breed gender (Sire x Dam Sire)
Rider (COUNTRY), Owner: Faults/Faults/Time
1. Vick Du Croisy, 2009 Selle Français mare (Lord Carthago x Vondeen)
Luis Goncalves (POR), Sigma Stables LLC: 0/0/36.59
2. Garant, 2011 Dutch Warmblood gelding (Warrant x Verdi TN)
Callie Schott (USA), Southern Arches LLC: 0/0/ 38.91
3. Verdini D'Houtveld Z, 2011 Zangersheide gelding (Verdi TN x Caretino 2)
Lauren Balcomb (AUS), Lauren Balcomb and Sharn Wordley: 0/0/38.99
4. Ennebel Van Het Posthuijs, 2009 Dutch Warmblood mare (Numero Uno x Argentinus)
Peter Petschenig (AUT), Brooke Peterson: 0/4/41.25
5. Ikigai, 2013 Dutch Warmblood stallion (Elvis ter Putte x Okori-Retti B)
Alex Matz (USA), 5 Star Partners: 0/012/41.85
6. Pepita Con Spita, 2011 Westphalian mare (Con Spirit 7 x Come On)
Hunter Holloway (USA), Hays Investment Corp.: 0/15/60.93
7. Chinox, 2010 Holsteiner gelding (Cancara x Paramount 14)
Chris Sorensen (CAN), Highbranches Group: 2/79.81
8. Bull Run's Jireh, 2014 Holsteiner gelding (Uriko x Colman)
Kristen VanderVeen (USA), Bull Run Jumpers, Inc.: 3/80.2
9. Keoki, 2009 Holsteiner gelding (Catoki x Cassini I)
David Blake (IRL), Pine Hollow Farm: 4/77.11
10. Dez' Ooktoff, 2008 Dutch Warmblood stallion (Colandro x Lys Rouge)
Roberto Teran Tafur (COL), Maria Camila Gonzalez, Lola Teran, and Roberto Teran Tafur: 4/77.24
11. J'Adore Flamenco, 2012 Anglo-Arab gelding (Je T'aime Flamenco x Corofino 2)
Maria Gabriela Brugal (DOM), BG Stables LLC: 4/77.45
12. Escada 289, 2012 Holsteiner mare (Clearway x Coriano)
Caitlyn Connors (USA), Windridge Farm LLC: 4/77.9
For full results from the $139,000 Coca-Cola® Grand Prix CSI 3*, click here.
Marthaler Jewelers is a first-generation, family-owned, full-service jewelry repair and retail store in Fletcher, NC. The Marthaler Jewelers team comprises six jewelers with over 112 years of experience combined. The first location opened in 2010, with the recent Fletcher location expansion allowing for the addition of state-of-the-art manufacturing equipment to produce all types of jewelry from start to finish, like the beautiful Leading Lady pendant. Incredibly loyal customers, attention to providing an outstanding jewelry buying experience, unwavering commitment to never compromise integrity, and divine blessings have enabled Marthaler Jewelers to grow beyond wildest imaginations.
Clement Farm & Barn is a leader in the upstate area for providing the widest selection of premium horse hay as well as top-of-the-line custom barns and run-in sheds. Founded in 1936, they offer small and large bale varieties of timothy, orchard, alfalfa, mixed grass, and more. Bales are sourced from across the country to ensure the best nutrition and quality at the best prices. A dedication to superb customer service and product standards has made clement a local favorite among both horses and owners!
Tryon Fall 4 competition continues through Sunday, October 16, with the Tryon Fall Series continuing through October 30. The Tryon Fall Finale Series features two weeks of B/Level 3 competition in November, with more information available at www.Tryon.com/compete. Saturday Night Lights presented by Tryon Horse & Home continues all Saturdays in October, with more information available at www.Tryon.com/snl.
Photos ©Natalie Suto for TIEC. These photos may only be used once, in relation to this press release. Official show photos can be viewed and purchased at www.Tryon.com/photos. With questions, please contact media@tryon.com.