Highlights from Tryon Spring 6/92nd Tryon Riding & Hunt Club Charity Horse Show
Charity Spotlight: Three Local Nonprofits Receive TR&HC Recognition & Funds
Competitor Photos Available Online
For Immediate Release
Mill Spring, NC – June 7, 2020 – Leslie Burr-Howard (Newtown, CT) guided Donna Speciale to a win in Saturday's $75,000 Grand Prix at Tryon International Equestrian Center (TIEC) at Tryon Resort, stopping the jump-off timers at 33.71 seconds. Alex Granato (Wellington, FL) and Page Tredennick's Carlchen W, a 2008 Mecklenburger gelding (Chacco Blue x Celline-W), claimed second on a time of 34.6 seconds, while Daniel Bedoya (Magnolia, TX) rounded out the top three aboard Abracadabra WKT, a 2008 Holsteiner mare (Casaii x Famousgirl II) owned by Monica Hanks, after their 35.013 second jump-off round.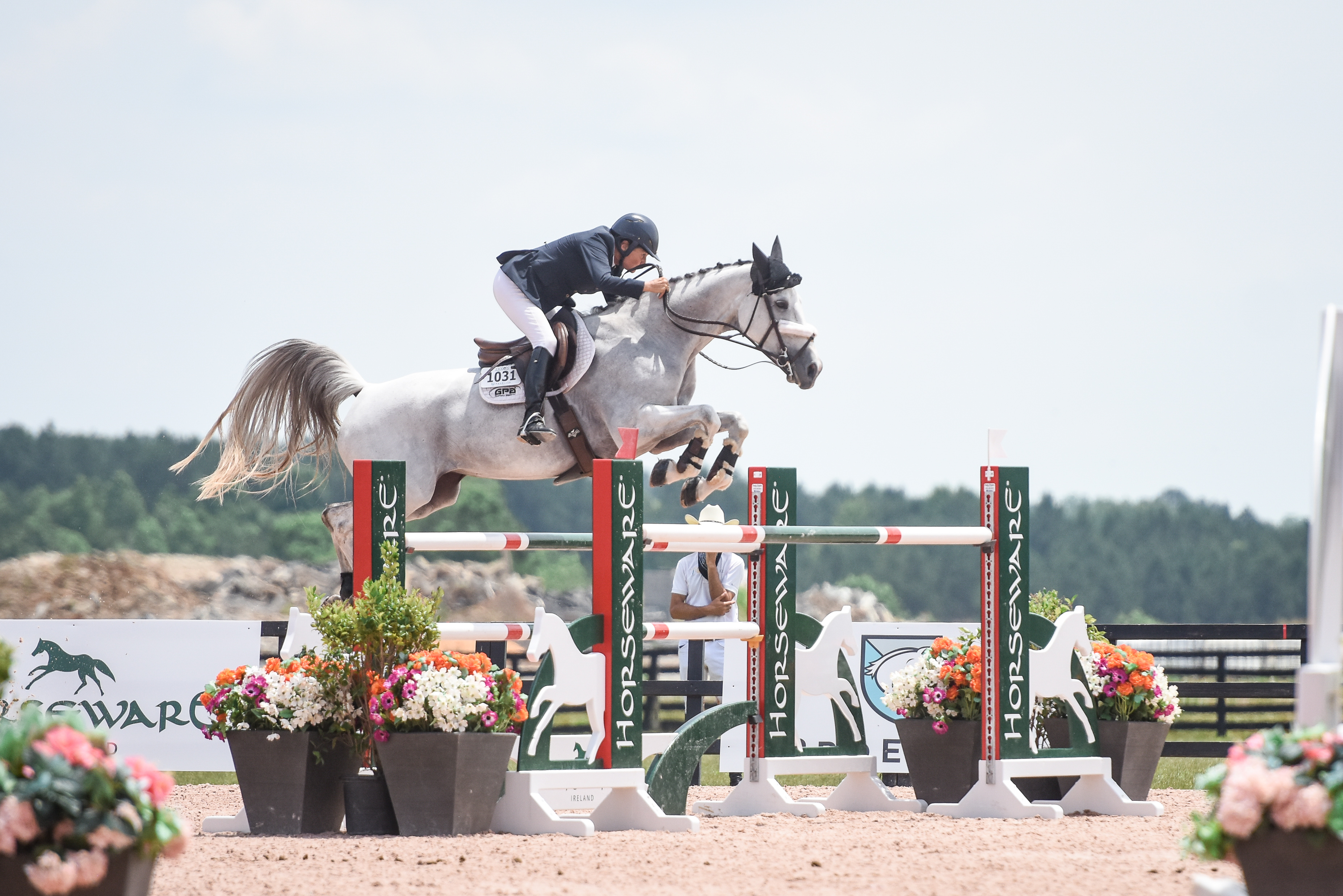 Leslie Burr-Howard and Donna Speciale
©TIEC
The highlight Jumper class of the Tryon Spring 6/92nd Tryon Riding & Hunt Club Charity Horse Show welcomed 45 entries to test the Michel Vaillancourt (Aiken, SC) course design, with ten horse-and-rider pairs qualifying for the jump-off. Burr-Howard and the 2008 Dutch Warmblood mare (Cavalier x Paris) noted that the course design was "quite clever" in the questions it asked of competitors:
"I thought it was a super course. Where he [Vaillancourt] put that last in-and-out was quite clever," she explained. "You had rails falling all over [the course], but nobody got hurt. It was a great course! It's always a pleasure to come here."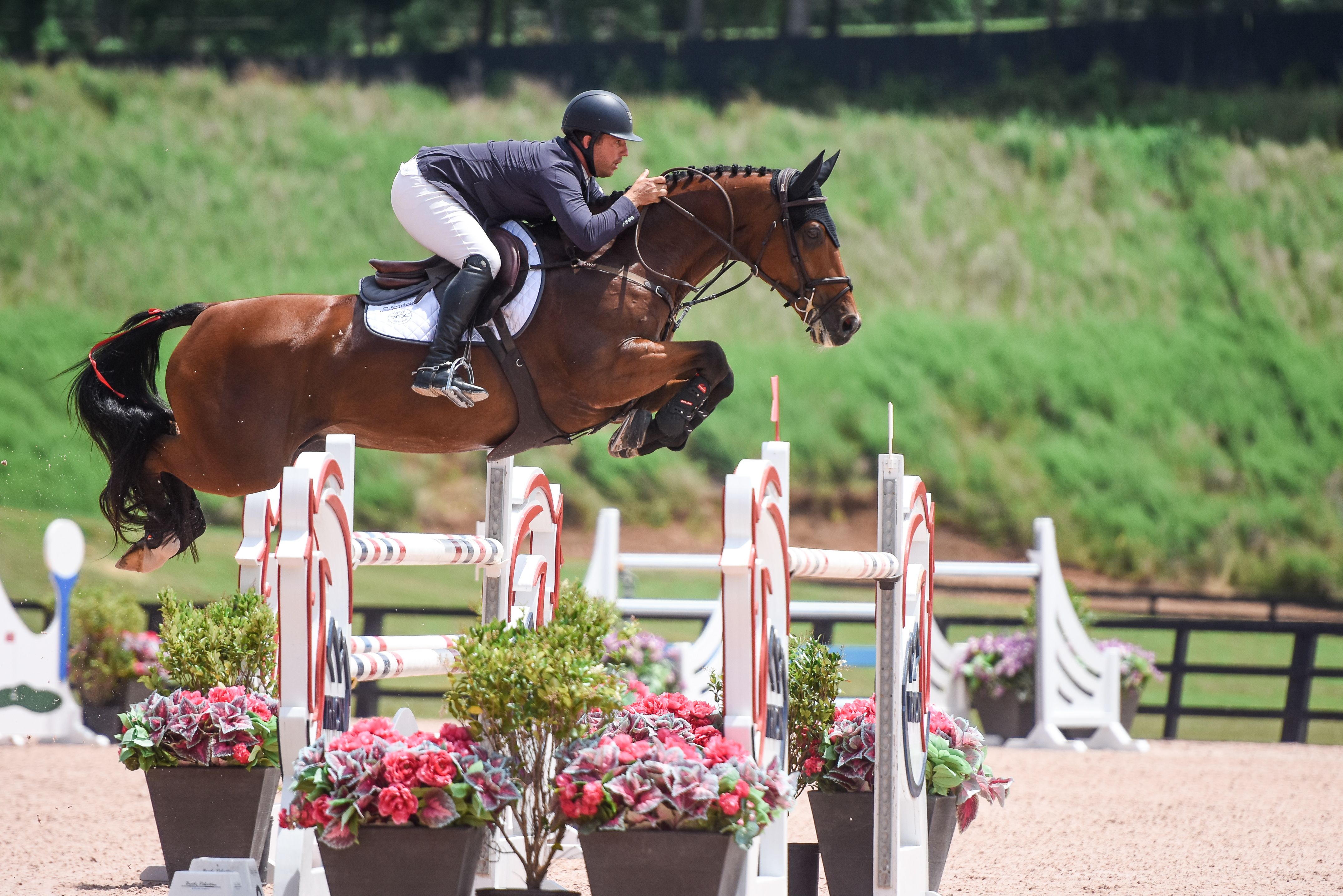 Alex Granato and Carlchen W
©TIEC
Burr-Howard and "Donna" have had Grand Prix wins at TIEC before, and she noted that the mare "seems to love this venue. She actually won a Grand Prix here in Tryon about two years ago. We know each other extremely well, and she's always been a very good mare for me. She's very fast, careful, and competitive."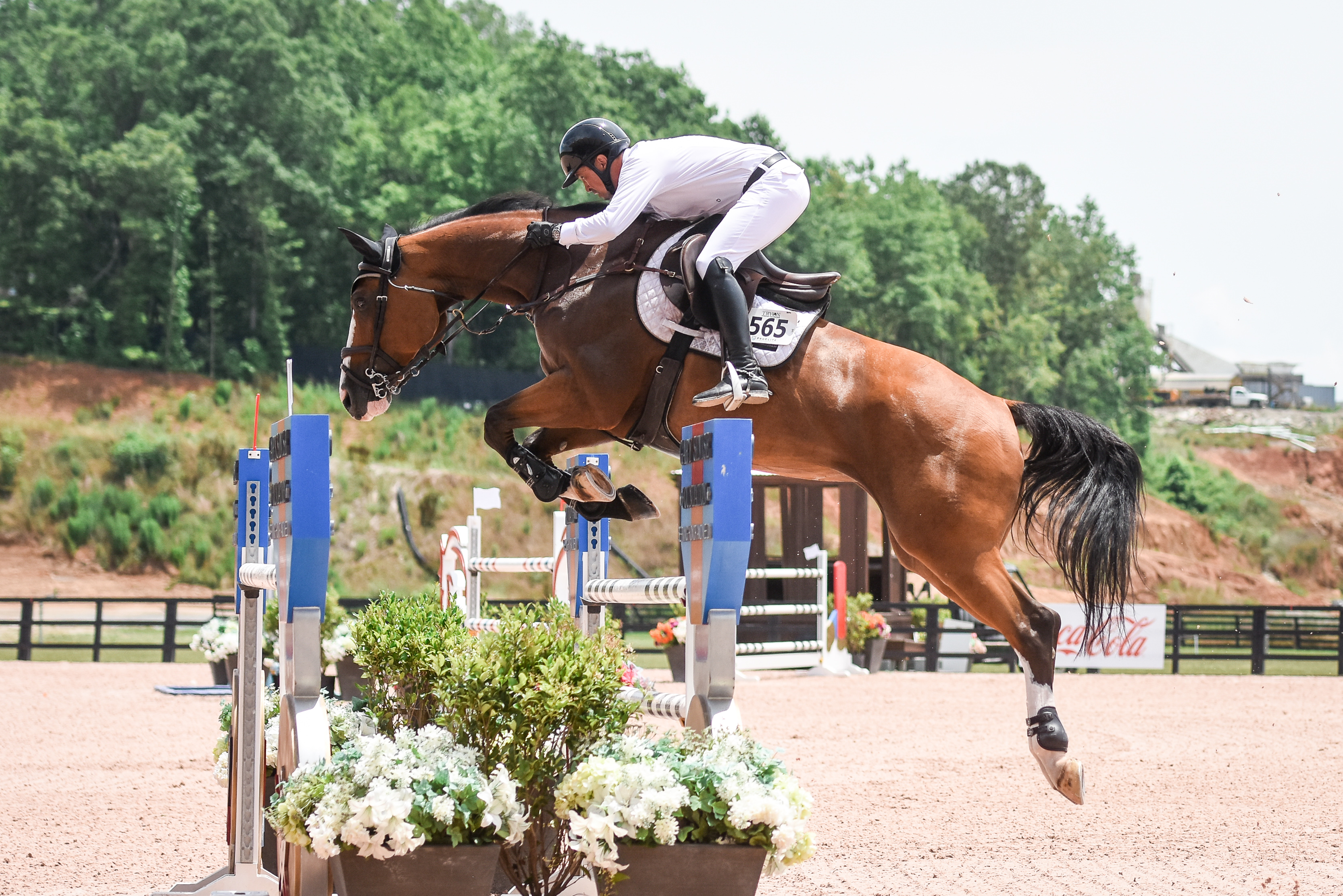 Daniel Bedoya and Abracadabra WKT
©TIEC
Though taking a pause in competition for a few weeks, Burr-Howard plans to return to TIEC for the Summer Series and potentially for the fall season. "From here I'm going home to Wellington, FL, for two weeks, then coming back here for two weeks," she concluded. "Then, I'm going back to our base in Connecticut, and hopefully, by then shows will be starting back up there. We'll probably head back to Tryon in the fall, then back down to Florida."
Highlights from Tryon Spring 6/92nd Tryon Riding & Hunt Club Charity Horse Show
Hunter Highlights
Joy Janouskovec (Raleigh, NC) and Sharon Winnie's Casadoble claimed champion honors in the High Performance Hunter 4' Division, with reserve awarded to Brian Feigus of Colts Neck, NJ, riding Camelot BF for Hammer-Jadick Hunters LLC.
The USHJA Hunter 3' Division named More Than Words its champion with Vick Russell (Columbus, NC) in the irons for Christina Fisher. Reserve honors were awarded to Robert Stucky (Waxhaw, NC) aboard Allie Rae Hayes' The Girl from Ipanema.
Jimmy Torano (Wellington, FL) rode Moonlight to champion the Green Hunter 3' Division for Isalou, Inc., while reserve went to Justin Thyme piloted by Erica Quinn of Wellington, FL.
Jumper Highlights
The Nutrena® 1.40m Open Jumper Division recognized Michael Murphy (Apopka, FL) and Ransome Rombauer's Lord Up as champions on the week, with a tie for reserve champion: Shane Sweetnam (Lexington, KY) aboard Labalou for Triple S Group and Todd Minikus (Loxahatchee, FL) riding Juju VDM for Todd Minikus LTD.
Harold Chopping (Southern Pines, NC) swept the 1.35m Open Jumper Division, claiming champion with Fantom for Andrew Philbrick and earning reserve aboard Gerderieka II VL for Rein Family LLC.
Michael Britt-Leon (Marietta, GA) and his own Bendelacreme championed the 1.10m Jumper Division, with reserve split between Alex Granato (Wellington, FL) aboard Micki Mickado van de Nethe for Rebdeck Farms LLC and Madison Kondracki (New Smyrna, FL) riding her own Sweet Encore.
The Tryon Summer Series kicks off June 10 and features six weeks of AA Hunter and Level 6 Jumper competition, with four weeks of CSI 2* and 3* competition. Learn more about the 2020 competition calendar here.
View all Division Results from Tryon Spring 6/92nd Tryon Riding & Hunt Club Charity Horse Show here.
For full results from the $75,000 Grand Prix, click here.
Photo credit ©TIEC. These photos may only be used once in relation to this press release with proper credit. Contact media@tryon.com with questions.