Rowan Willis and Ekita Eindeken Z Zip to $6,000 Speed Stake CSI 3* Win
Colin Syquia Takes First and Second in $5,000 USHJA National Hunter Derby
For Immediate Release
Mill Spring, NC – July 21, 2020 – Kristen VanderVeen (Wellington, FL) added her name to both ends of the podium after the $25,000 Sunday Jumper Classic to conclude Tryon Summer 6 competition at Tryon International Equestrian Center (TIEC), grabbing first with Bull Run's Almighty in a time of 40.435 seconds, and earning third aboard Bull Run's Prince of Peace after their four-fault, 40.285-second jump-off performance. Second place honors went to David Blake (Wellington, FL) and Don't Touch Du Bois, a 2009 Belgian Sport Horse mare (Kashmir Van Schuttershof x Indoctro) owned by Pine Hollow Farm, stopping the clock in 41.855 seconds.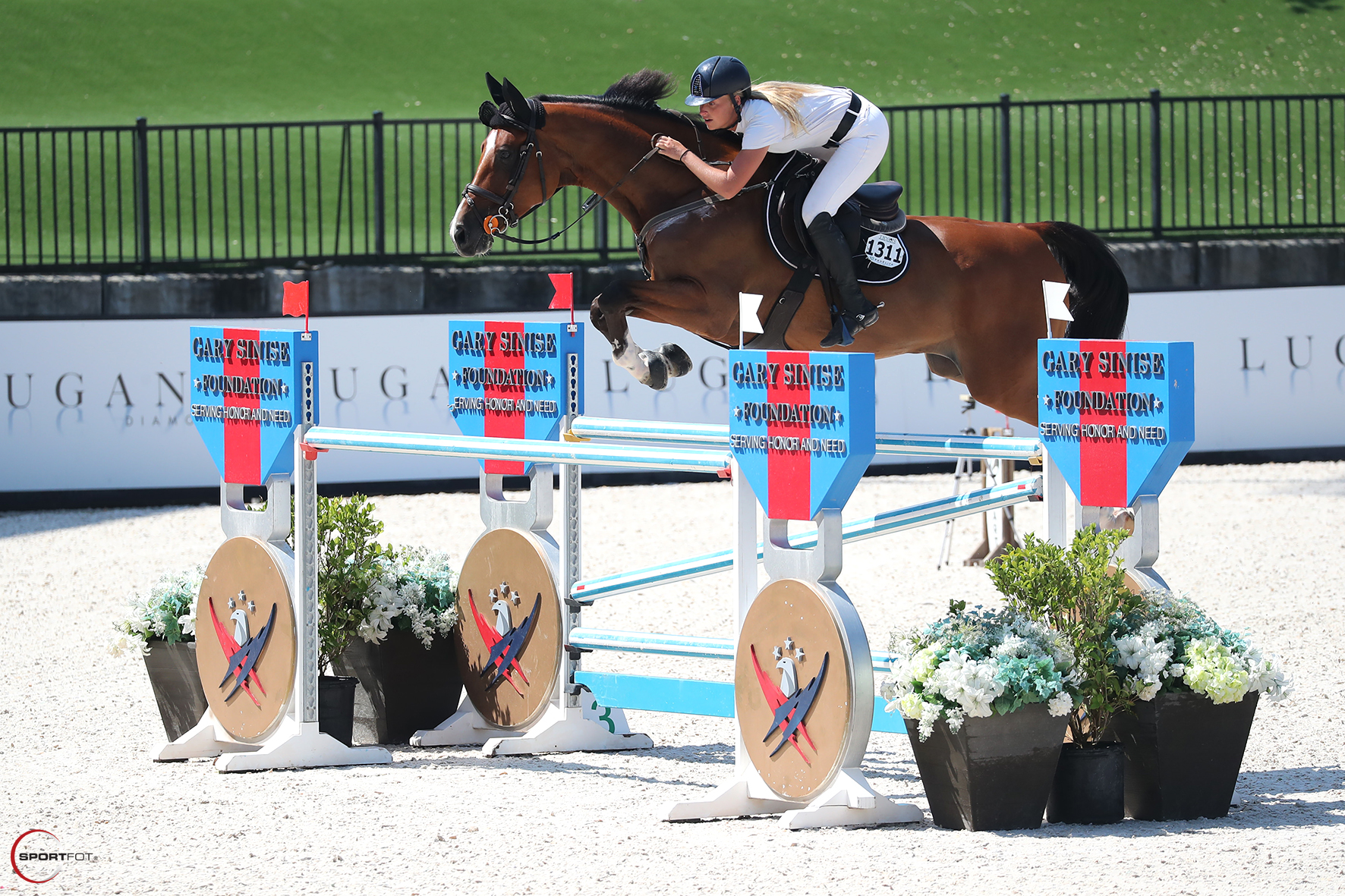 Kristen VanderVeen and Bull Run's Almighty
©Sportfot
VanderVeen, who also claimed a bookend podium during Tryon Summer 4 competition, first challenged the Ken Krome (Westminster, MD)-designed course with Bull Run's Prince of Peace, the 2009 Holsteiner gelding (Cardenio x Contender) owned by Bull Run Jumpers Six LLC, and called her single knockdown "frustrating" for an otherwise great ride:
"Honestly, I was super frustrated that I had a rail on my first horse cause I thought he was so good, so I was just actually trying to keep my composure," she revealed. "And 'Prince' jumped phenomenal for me. I was not on my A-game, I don't think, but he was fighting; he wanted to win today.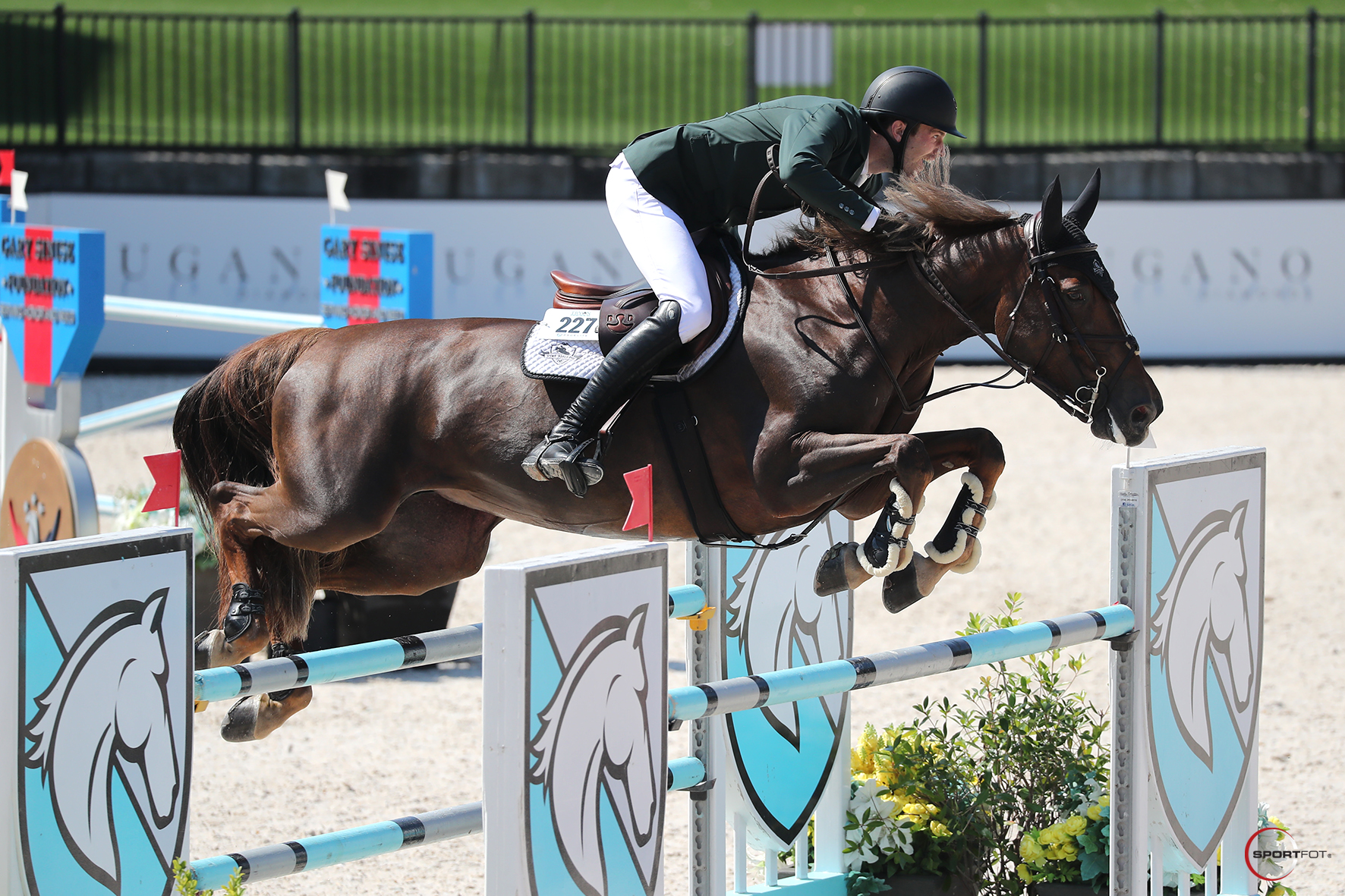 David Blake and Don't Touch Du Bois
©Sportfot
"I was surprised the class didn't have more clears," VanderVeen admitted. "I thought Ken did a great job, because it was nice to finally have a little bit of a smaller jump-off and get paid for the jump-off, so we could really give it a try and know we [were] still going to get rewarded even if we knocked one down."
VanderVeen and Almighty, the Bull Run Jumpers Six LLC's 2008 Hanoverian gelding (Caspar x Quidam De Revel), has been in her string for a few years, and might continue to shine at TIEC in the upcoming Tryon August Series, VanderVeen explained. "He has jumped a couple 5* classes, so this is also a little bit easier for him, and his plan might be to actually stay here. I might be splitting up my group of horses and showing a few in Michigan and a few here during these national shows, so that they can all keep jumping.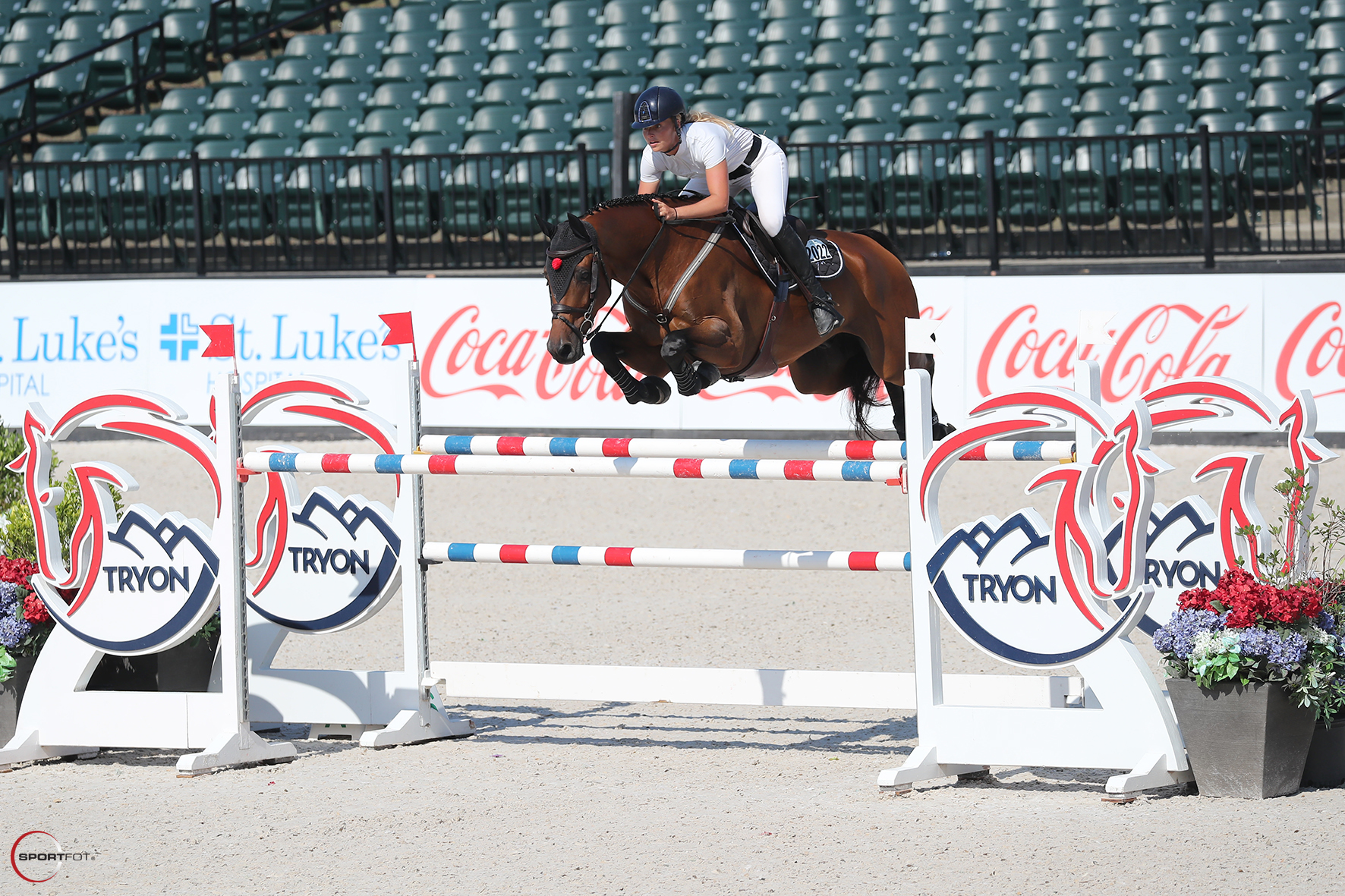 Kristen VanderVeen and Bull Run's Prince of Peace
©Sportfot
"Tryon is like our second home," VanderVeen concluded. "We always love the facility. It's set up really nicely. The grounds are great, and the lakes are great to have around here, too. Overall, I think it's just one of the best horse shows in the US, to be able to show a horse at a high level and enjoy your time. I am looking forward to coming back!"
Rowan Willis and Ekita Eindeken Z Zip to $6,000 Speed Stake CSI 3* Win
July 17, 2020 – Rowan Willis (AUS) continued his hot streak in the Speed Stake at TIEC with a win aboard Ekita Eindeken Z, Martine Lamesch's 2010 Zangersheide mare (Emilion van T Schaaphof x Codex), stopping the clock in 62.95 seconds for the win over the Ken Krome (USA) course. Second went to Todd Minikus (USA) and the Todd Minikus LTD entry Calvalou, a 2007 Oldenburg gelding (Calvaro F.C. x Baloubet du Rouet), stopping the timers in 67.89 seconds, while third was awarded to Sean Jobin (CAN) and Darius, a 2008 Dutch Warmblood gelding (Warrant x Calvados) owned by Foxridge Stables Farms, after their 81.15-second performance including one time fault over the Ken Krome (USA) course design.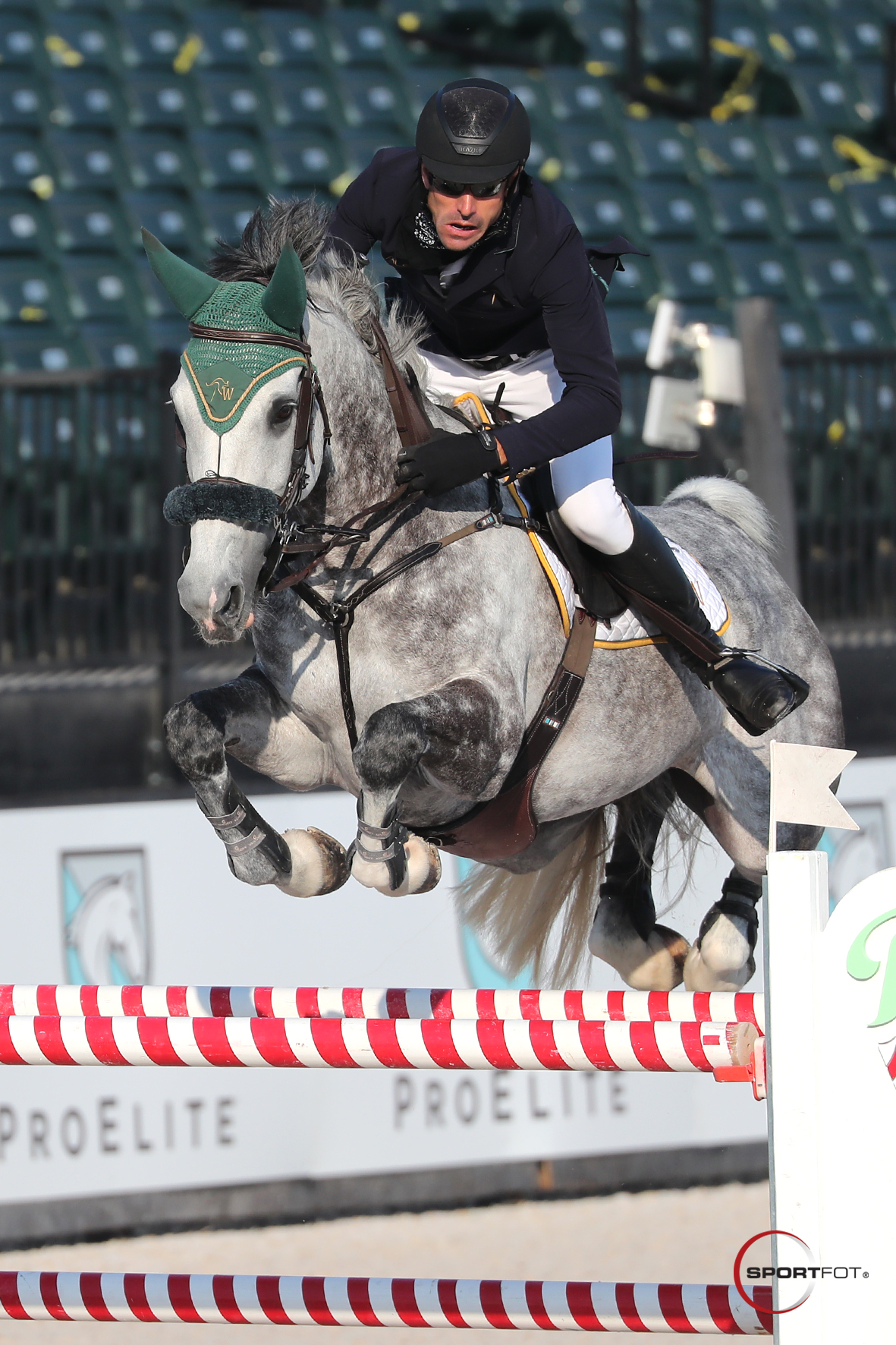 Rowan Willis and Ekita Eindeken Z
©Sportfot
Colin Syquia Takes First and Second in $5,000 USHJA National Hunter Derby
July 17, 2020 – Colin Syquia (Wellington, FL) demonstrated winning consistency once again in the $5,000 USHJA National Hunter Derby at TIEC Friday, piloting two mounts to top two placings within a half point of each other in total scores: in first, Syquia rode Magic Lady H, the 2012 Belgian Warmblood mare (Cumthago C x Chita H) owned by Fiach Byrne Inc., to a two-round score of 183.5 after walking into the handy round with a 91, while Durant, the 2011 Hanoverian gelding (Stakkato x Chamira) owned by Eurasia Inc., scored a 94 in the handy to end up on a total score of 183 for second with Syquia in the irons. Third place was named to Megan Wexler (Ocala, FL), who rode Blue Moon, the 2015 Dutch Warmblood gelding (Durango VDL x Venneyfee), to a total score of 180 to round out the podium for the Dean Rheinheimer (Sheridan, IN)-designed track that tested 26 entries.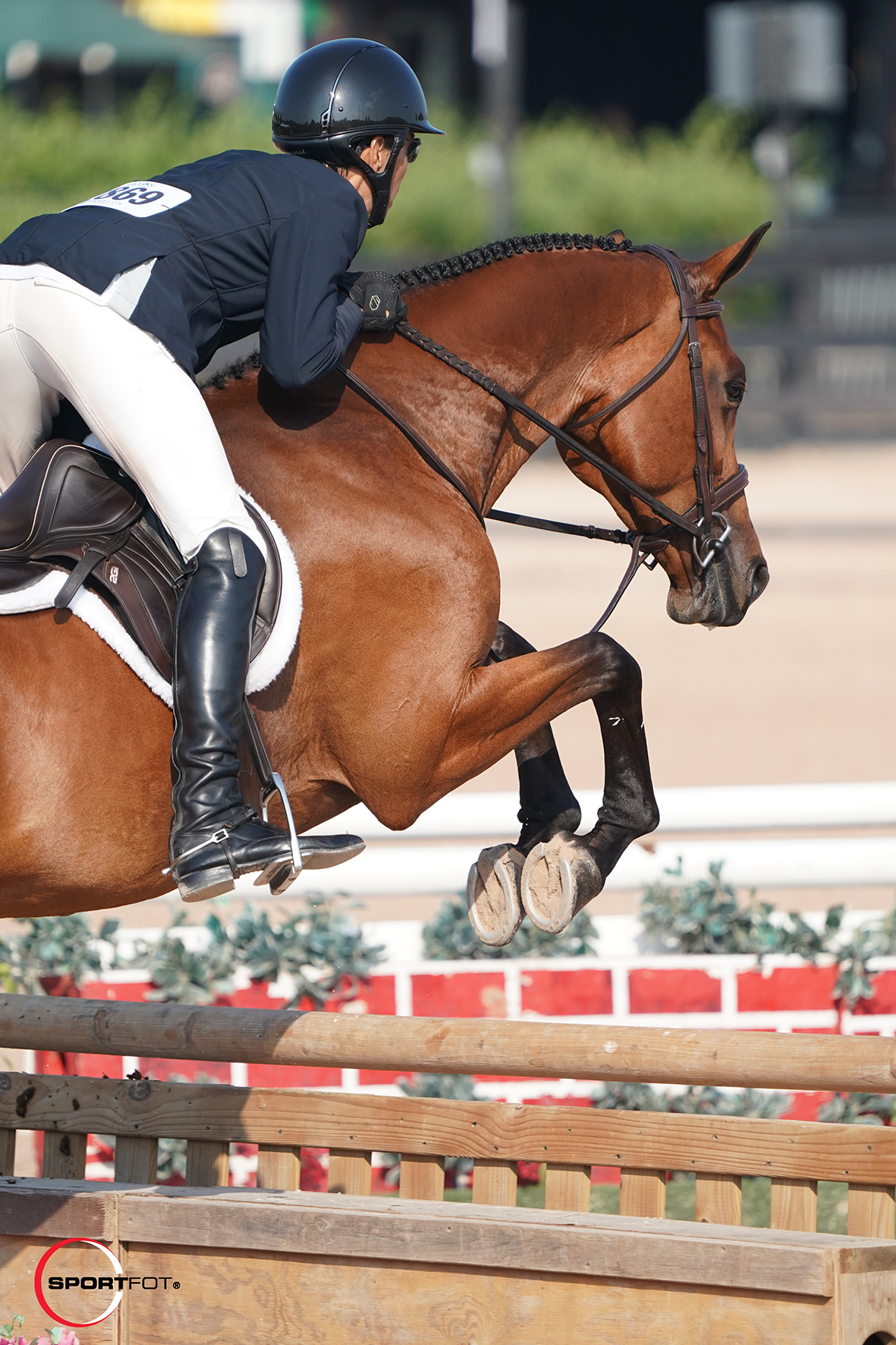 Colin Syquia and Magic Lady H
©Sportfot
Hunter Highlights:
The EquiSafe Global Green Hunter 3' Division saw Harold Chopping (Southern Pines, NC) and Halston – owned by Rick Gabel and Carole O'Brien – claim champion honors, with Tommi Clark (Tryon, NC) taking reserve in the irons for Stephen Borders aboard Exceed.
Ruth Exum (Greenville, NC) and CRF Caramellow, owned by Cannon Padgett, went home as champions in the Short Stirrup Hunter 2' Division, while Anna Fountain (Winterville, NC) and her own Southern Riptide earned reserve.
The Marshall & Sterling Adult-Amateur Hunter 50 & Over Division was championed by Page Tredennick (Wellington, FL) and Agneta Currey's Tomcat, and JoJo Howland (Saint Simons Island, GA) claimed reserve aboard her own Star Jewel.
Jumper Highlights:
The Nutrena® 1.40m Open Jumper Division congratulated Napoleon of Picobello and Todd Minikus (Lake Worth, FL) in the irons for Louisburg Farm as champions, while reserve belonged to Karen Polle (New York, NY) and her own Celine.
Troy Medina (Oak Island, NC) and Park Avenue, the Isabella Cheers entry, took home champion honors in the Pony Jumper 1.05m Division, followed in reserve by Hannah Haines (Fayetteville, GA) piloting her own Astroworld.
In the ProElite Children's Jumper 1.10m Division, Kalli Meagher (Virginia Beach, VA) was champion with Cruising Altitude, the Santa Catalina Farm entry, while Elizabeth Cram (Aiken, SC) piloted Vancouver IV to reserve for Southland Stables.
For full results from all Divisions at Tryon Summer 6, click here. 
The conclusion of Tryon Summer 6 competition also concluded the Tryon Summer Series, featuring six weeks of Jumper, Hunter, Equitation and International Jumper competition. The Tryon August Series features three weeks of Hunter A/Level 4 Jumper competition running August 5-23, 2020, and competitions will continue to be closed to spectators for this series. More information about the TIEC competition calendar for 2020 can be found at Tryon.com/compete. 
For full results from the $25,000 Sunday Jumper Classic, click here. 
For full results from the $6,000 Speed Stake CSI 3*, click here.
For full results from the $5,000 USHJA National Hunter Derby, click here. 
Photo credit ©Sportfot. Competitors can sign up for weekly packages at www.Sportfot.com. These photos may only be used once in relation to this press release with proper credit. Contact media@tryon.com with questions.
Tags:
Blue Moon
,
Bull Run's Almighty
,
Bull Run's Prince of Peace
,
Calvalou
,
Colin Syquia
,
Darius
,
David Blake
,
Don't Touch Du Bois
,
Durant
,
Ekita Eindeken Z
,
Kristen Vanderveen
,
Magic Lady H
,
Megan Wexler
,
Rowan Willis
,
Sean Jobin
,
Speed Stake
,
Sunday Classic
,
Todd Minikus
,
Tryon Summer 6
,
Tryon Summer Series
,
USHJA National Hunter Derby