For Immediate Release:
Lily Yampolsky and Sarah Madden for TIEC
Mill Spring, NC – October 22, 2022 – Kent Farrington (USA) and Kent Farrington LLC's Orafina were victorious in the $139,000 Horseware Ireland Grand Prix CSI 3* with a time of 39.06 seconds. Luiz Francisco De Azevedo (BRA) and Eurohorse BVBA's Nashville (Diamant De Semilly x Darco), the 2013 Belgian Warmblood gelding, took the second place position with a time of 39.39 seconds. Rounding out the podium was Maria Gabriela Brugal Gasso (DOM) and BG Stables LLC's J'Adore Flamenco, the 2012 Anglo-Arab gelding (Je T'aime Flamenco x Corofino 2), with a time of 41.69 seconds.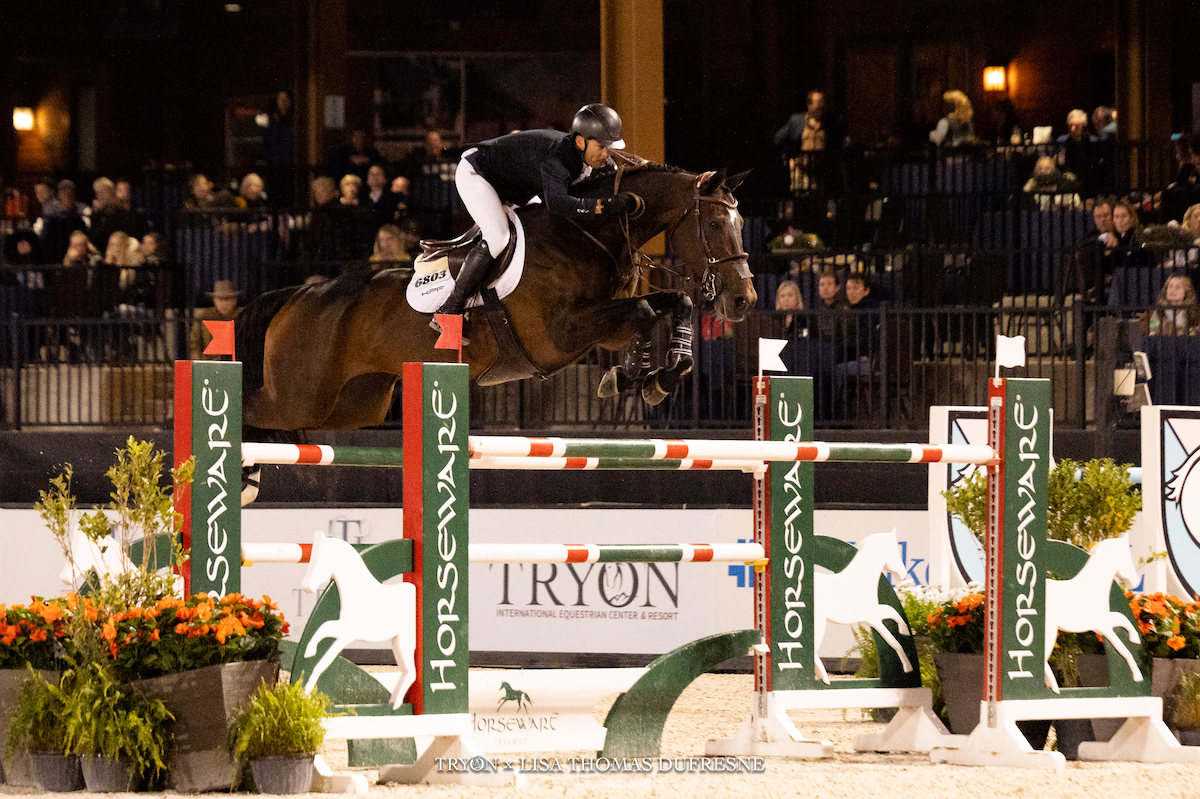 Kent Farrington and Orafina
©Lisa Thomas Dufresne for TIEC
Thirty-three entries contested Michel Vaillancourt's (CAN) course, with seven pairs advancing to the short course. Farrington and the 2012 Dutch Warmblood mare Orafina (For Fashion x Canturo) were able to produce a round that couldn't be bested, despite some communication issues in the first round, he recapped.
"I tried a new bridle today. It felt great in the practice class, and then as soon as I went over number one, I knew that I was in trouble and it was going to be a long way around the ring. We managed to get through the first round, and then I changed the equipment a little bit for the jump off, and it was so much better."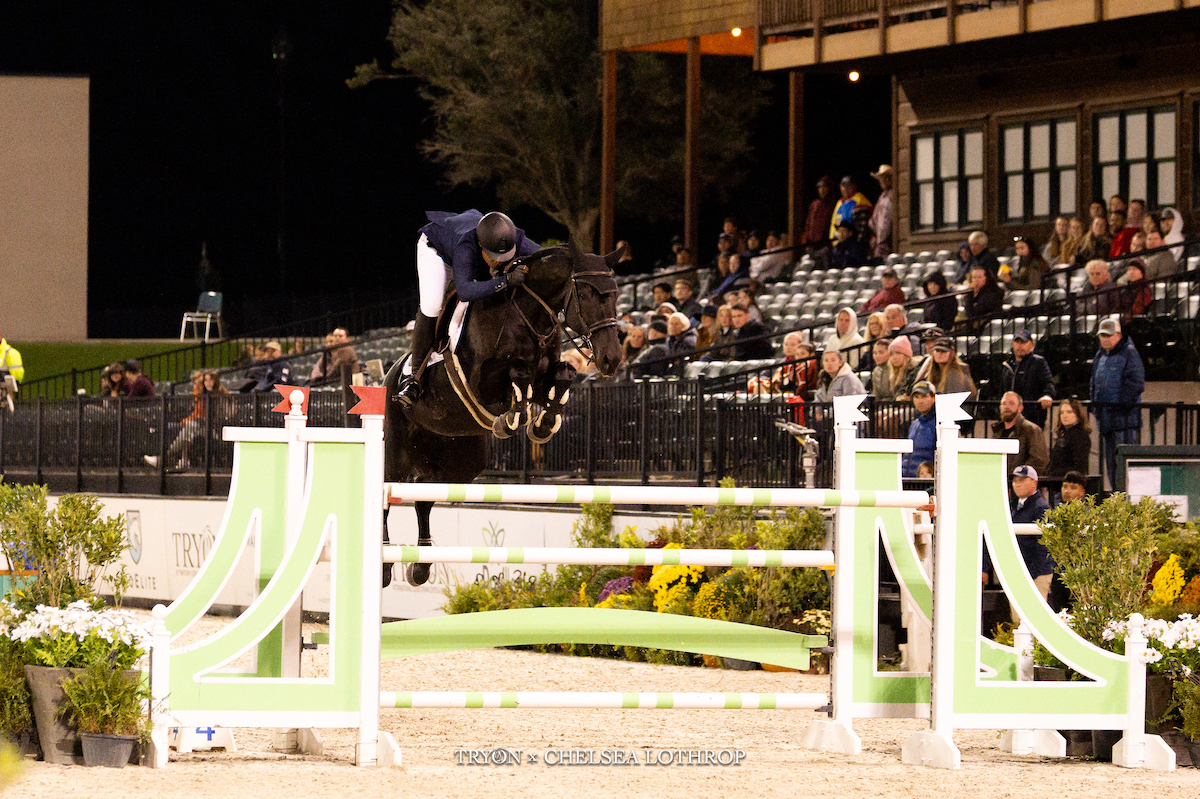 Luiz Francisco De Azevedo and Nashville
©Chelsea Lothrop for TIEC
"She's an incredible horse," Farrington described. "She's lightning fast and she's unbelievably careful. The hardest part is just the control, so that's my limitation right now. If I can get the control, I think she will be a top horse in the world. Right now I'm still managing the controls, so I have been moving up and down in my classes. We'll see how far I get, but on days when she's good, it feels great."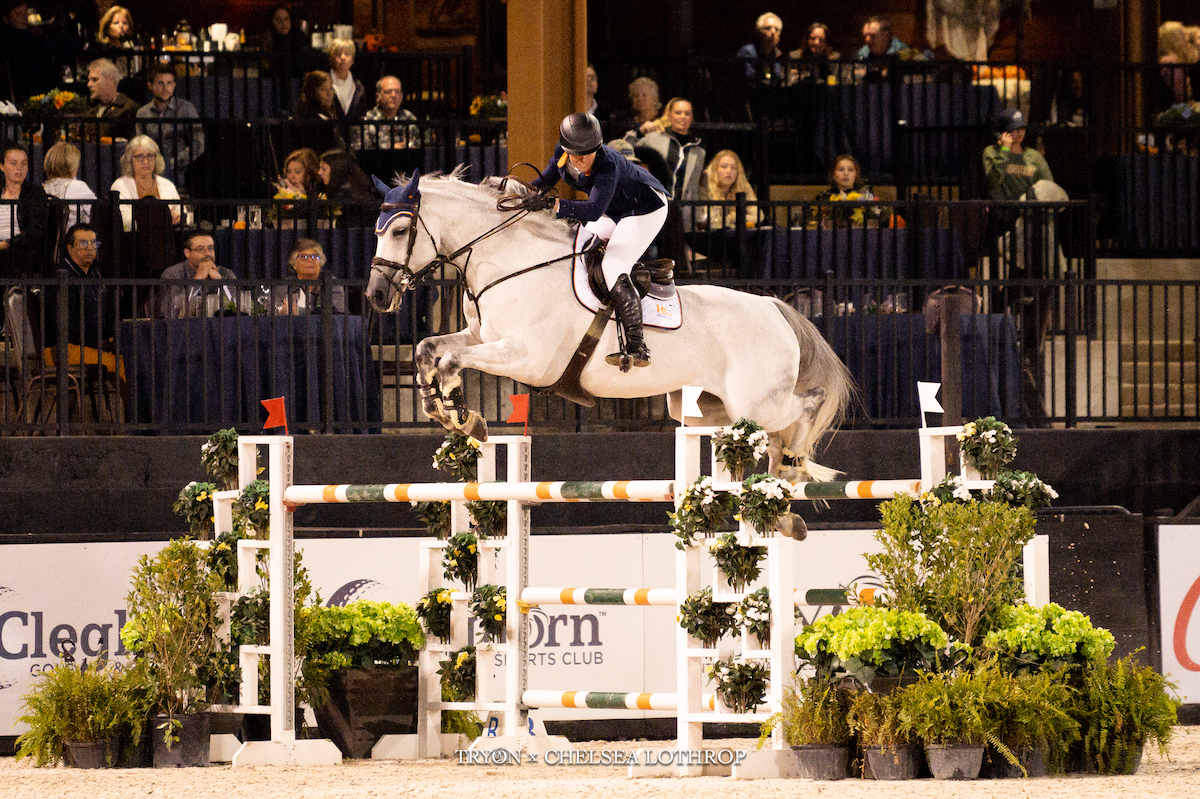 Maria Gabriela Brugal Gasso and J'Adore Flamenco
©Chelsea Lothrop for TIEC
Orafina and Farrington have been quite a winning combination, currently ranking 6th in the FEI World Rankings as a pair: "I got her from Leon Thijssen. I've done business with him for over 20 years. He said, 'I think this horse could be great, but she is very difficult, and she needs a particular ride and will be hard to train. But if you can make her go well, I think she can be exceptional.'"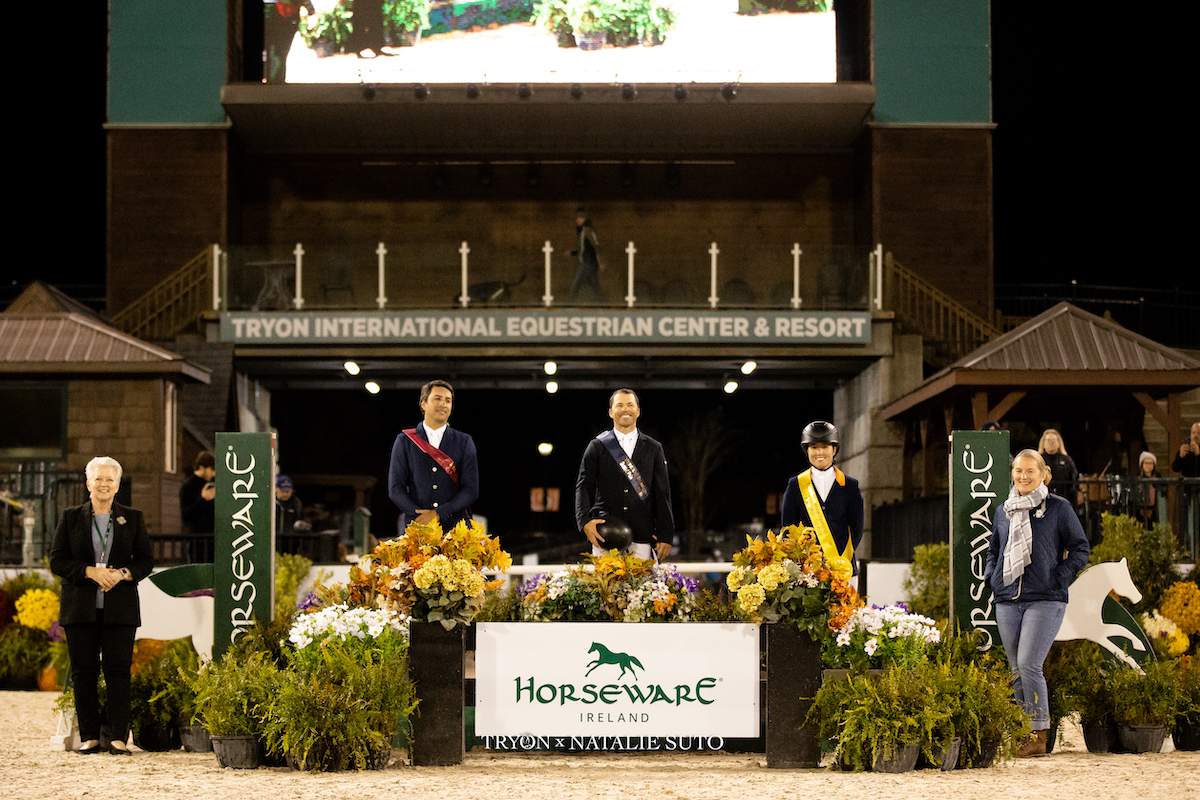 Luiz Francisco De Azevedo, Kent Farrington and Maria Gabriela Brugal Gasso in their presentation ceremony alongside Tryon Equestrian Partners Carolinas Operation President Sharon Decker and Dena Inman of Horseware Ireland.
©Natalie Suto for TIEC
Farrington has competed at TIEC consistently for the past few years saying, "The facility here is great, especially with the upgraded footing a couple years ago. In terms of a showjumping venue, I think it's great."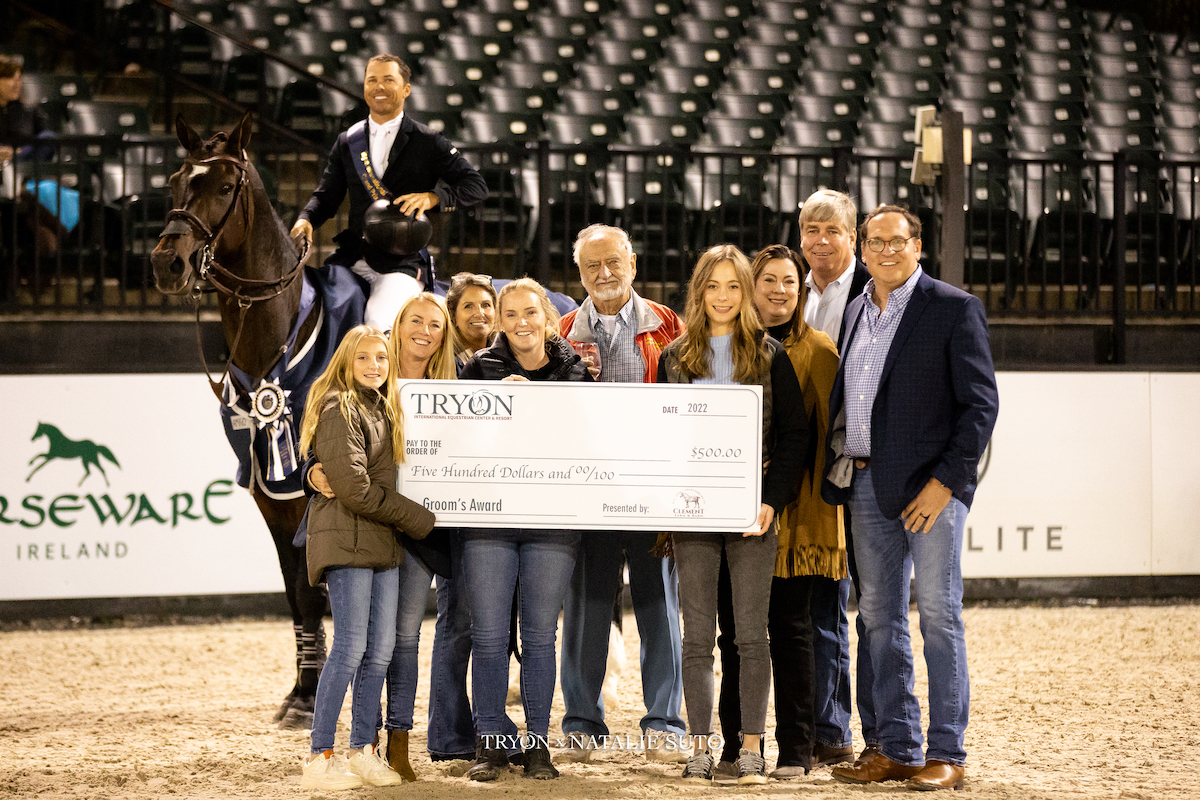 Denise Moriarty was presented the Groom's Award presented by Clement Farm & Barn alongside Michael and Amy Cece and team, for her care and dedication to Orafina.
©Natalie Suto for TIEC
Leading Lady Maria Gabriela Brugal Gasso was given the Leading Lady Award presented by Marthaler Jewelers, as the highest-placing female rider in the Grand Prix. With a young – and somewhat nervous – horse beneath her, Brugal Gasso was thrilled to reach the podium and even more overwhelmed at the gift she received from the presenting sponsors, she shared.
Maria Gabriela Brugal Gasso was gifted the Leading Lady Award presented by Marthaler Jewelers, alongside Matthew Marthaler, Joe Cottrell and team.
©Natalie Suto for TIEC
"I have no words. I don't know what to say! I'm just very thankful," Brugal Gasso emphasized. "In my eyes, my horse was the best one in there. We gave it our best shot. And today, it was good enough for a lot of things. This is his last show of the season, so I think he knew it mattered. I love my horse!"
RESULTS: $139,000 Horseware Ireland Grand Prix CSI 3*
Horse Name, Year Breed gender (Sire x Dam Sire)
Rider (COUNTRY), Owner: Faults/Faults/Time
1. Orafina, 2012 Dutch Warmblood mare (For Fashion x Canturo)
Kent Farrington (USA), Kent Farrington LLC: 0/0/39.06
2.Nashville, 2013 Belgian Warmblood gelding (Diamant De Semilly x Darco)
Luiz Francisco de Azevedo (BRA), Eurohorse BVBA: 0/0/39.39
3. J'Adore Flamenco, 2012 Anglo-Arab gelding (Je T'aime Flamenco x Corofino 2)
Maria Gabriela Brugal (DOM), BG Stables LLC: 0/0/41.69
4. Ilex, 2013 Dutch Warmblood gelding (Baltic VDL x Chin Chin)
Fabio Leivas De Costa (BRA), Bonne Chance SCEA: 0/0/41.83
5. Keoki, 2009 Holsteiner gelding (Catoki x Cassini I)
David Blake (IRL), Pine Hollow Farm: 0/0/41.91
6. Chic Hin D Hyrencourt, 2008 Belgian Warmblood gelding (Taran de la Pomme x Elanville)
Beezie Madden (USA), Abigail S Wexner: 0/4/43.12
7. Bonita VH Keizershof Z, 2011 Zangersheide mare (Bustique x For Pleasure)
Ali Ramsey (CAN), Ramsey Equestrian Inc.: 0/8/40.41
8. Hollerno, 2012 Dutch Warmblood gelding (Baltic VDL x Ahorn)
Peter Lutz (USA), LMW Sporthorses LLC and Lutz/Manfredi Show Jumping LLC: 1/79.07
9. Speedy Jump, 2010 Oldenburg gelding (Stakkato Gold x Quidam's Rubin)
Sarah Segal (USA), Horatio Street Ventures LLC: 2/80.03
10. Malissa De Muze, 2012 Belgian Warmblood mare (Vigo D Arsouilles STX x For Pleasure)
Hallie Grimes (USA), Can We Keep It? LLC: 2/80.47
11. Royce, 2004 Oldenburg stallion (Cafe au Lait x Grandilot)
Margie Engle (USA), Gladewinds Partners, LLC: 4/73.95
12. Ikigai, 2013 Dutch Warmblood stallion (Elvis Ter Putte x Iroko)
Alex Matz (USA), 5 Star Partners: 4/74.87
For full results from the $139,000 Horseware Ireland Grand Prix CSI 3*, click here.
Tryon Fall 5 continues through Sunday, October 23, 2022, featuring the $25,000 Tryon Resort Sunday Classic. For more information about the Tryon Fall Series and Tryon Fall Finale Series, visit www.Tryon.com/compete.
Photos ©Natalie Suto Photography for TIEC (Chelsea Lothrop, Lisa Thomas Dufresne, and Natalie Suto as noted). These photos may only be used once, in relation to this press release. Official show photos can be viewed and purchased at www.Tryon.com/photos. With questions, please contact media@tryon.com.
Marthaler Jewelers is a first-generation, family-owned, full-service jewelry repair and retail store in Fletcher, NC. The Marthaler Jewelers team comprises six jewelers with over 112 years of experience combined. The first location opened in 2010, with the recent Fletcher location expansion allowing for the addition of state-of-the-art manufacturing equipment to produce all types of jewelry from start to finish, like the beautiful Leading Lady pendant. Incredibly loyal customers, attention to providing an outstanding jewelry buying experience, unwavering commitment to never compromise integrity, and divine blessings have enabled Marthaler Jewelers to grow beyond wildest imaginations.
Clement Farm & Barn is a leader in the upstate area for providing the widest selection of premium horse hay as well as top-of-the-line custom barns and run-in sheds. Founded in 1936, they offer small and large bale varieties of timothy, orchard, alfalfa, mixed grass, and more. Bales are sourced from across the country to ensure the best nutrition and quality at the best prices. A dedication to superb customer service and product standards has made Clement a local favorite among both horses and owners!