For Immediate Release
Sarah Madden for TIEC
Mill Spring, NC – June 6, 2021 – Kent Farrington (Wellington, FL) and Orafina dominated the $25,000 Tryon Resort Sunday Classic at Tryon International Equestrian Center & Resort (TIEC) to close out Tryon Spring 5 competition, stopping the jump-off timers in 34.862 for the win. In reserve, Aaron Vale (Williston, FL) and Major, the 2007 Danish Warmblood (Carmargue x Pinot) owned by Don Stewart, sped through the short course to claim second place after their 36.131-second jump-off performance. Conor Swail (Wellington, FL) and Koss Van Heiste earned third place after stopping the timers in 36.323 on behalf of Eadaoin Aine Ni Choileain PC with the 2010 Belgian Warmblood gelding (Breemeersen Adorado x Hadise Van Heiste).
The Anthony D'Ambrosio (USA) track saw 27 entries take on the first round of competition, with nine pairs returning for the jump-off test. Kent Farrington and the 2012 Dutch Warmblood mare (For Fashion x Corofina) also topped the $37,000 Horseware Ireland Welcome Stake CSI 3* on Thursday, making them two-for-two on the week.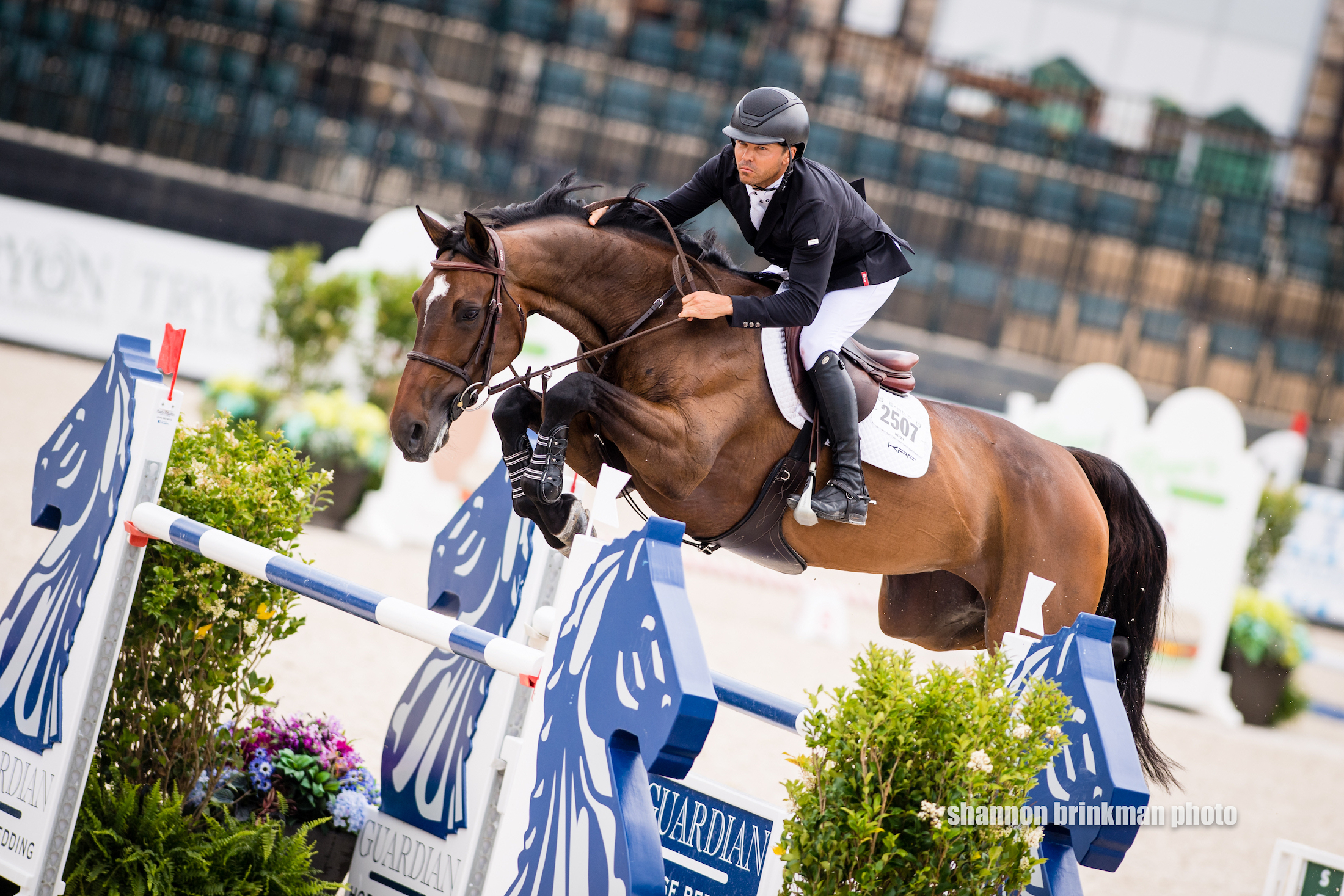 Kent Farrington and Orafina
©Shannon Brinkman
"The week went pretty well," Farrington recapped after producing a comfortably fast round to take the win and shut out any subsequent challengers. "I brought a bunch of young horses here, and this is one that's still developing, even though she's won some international classes already."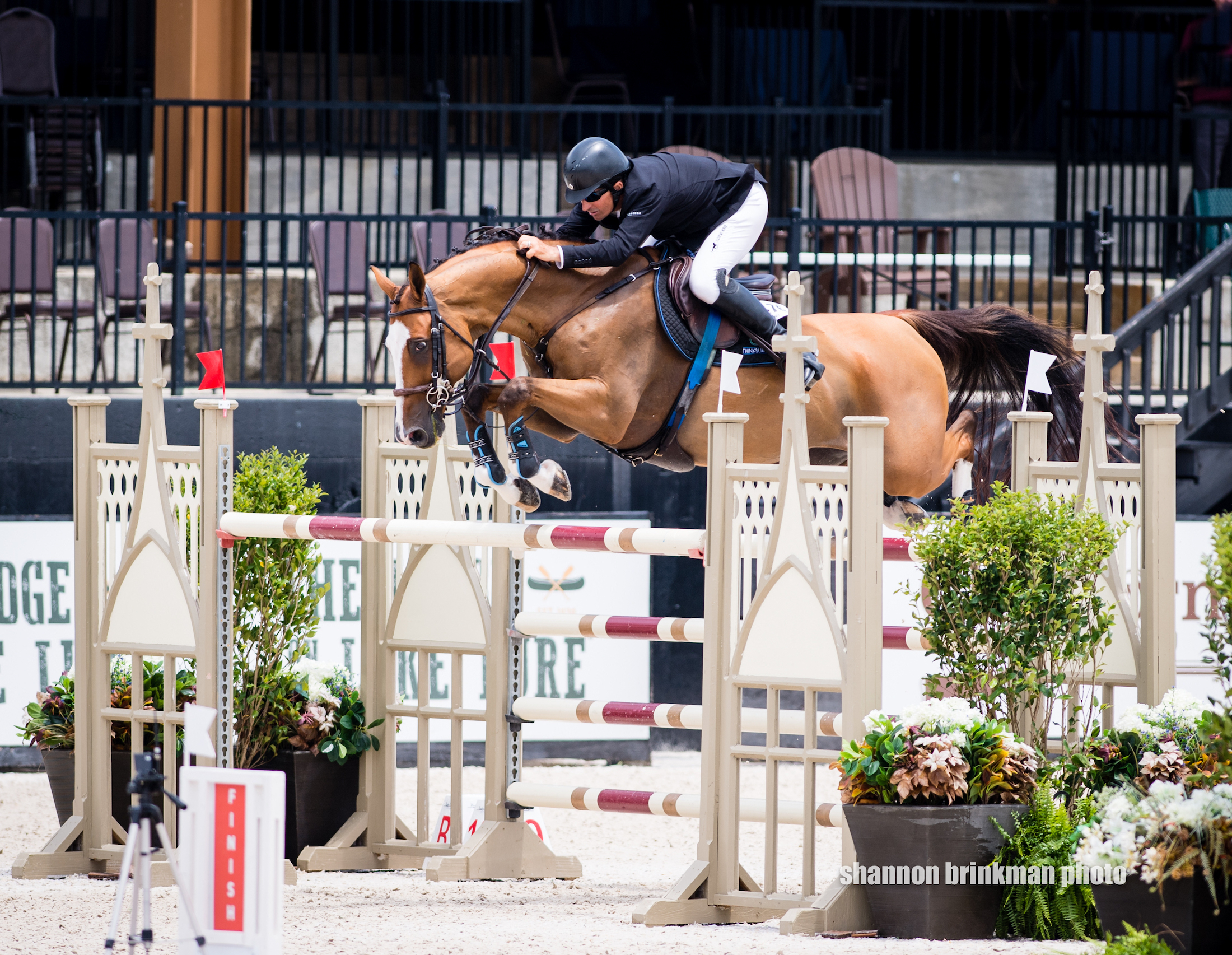 Aaron Vale and Major
©Shannon Brinkman
Farrington chose to travel from Europe to TIEC for one week of competition with his younger mounts, and will jet back to Europe and reunite with his top mounts next week. For horses like Orafina, Farrington chose to compete at Tryon Spring 5 to continue her education at a lower level. "She's only nine, and she wasn't saddle broken until she was six. She's unbelievably careful, and she just needs rounds and experiences to grow her confidence. I'm really happy with her for the week."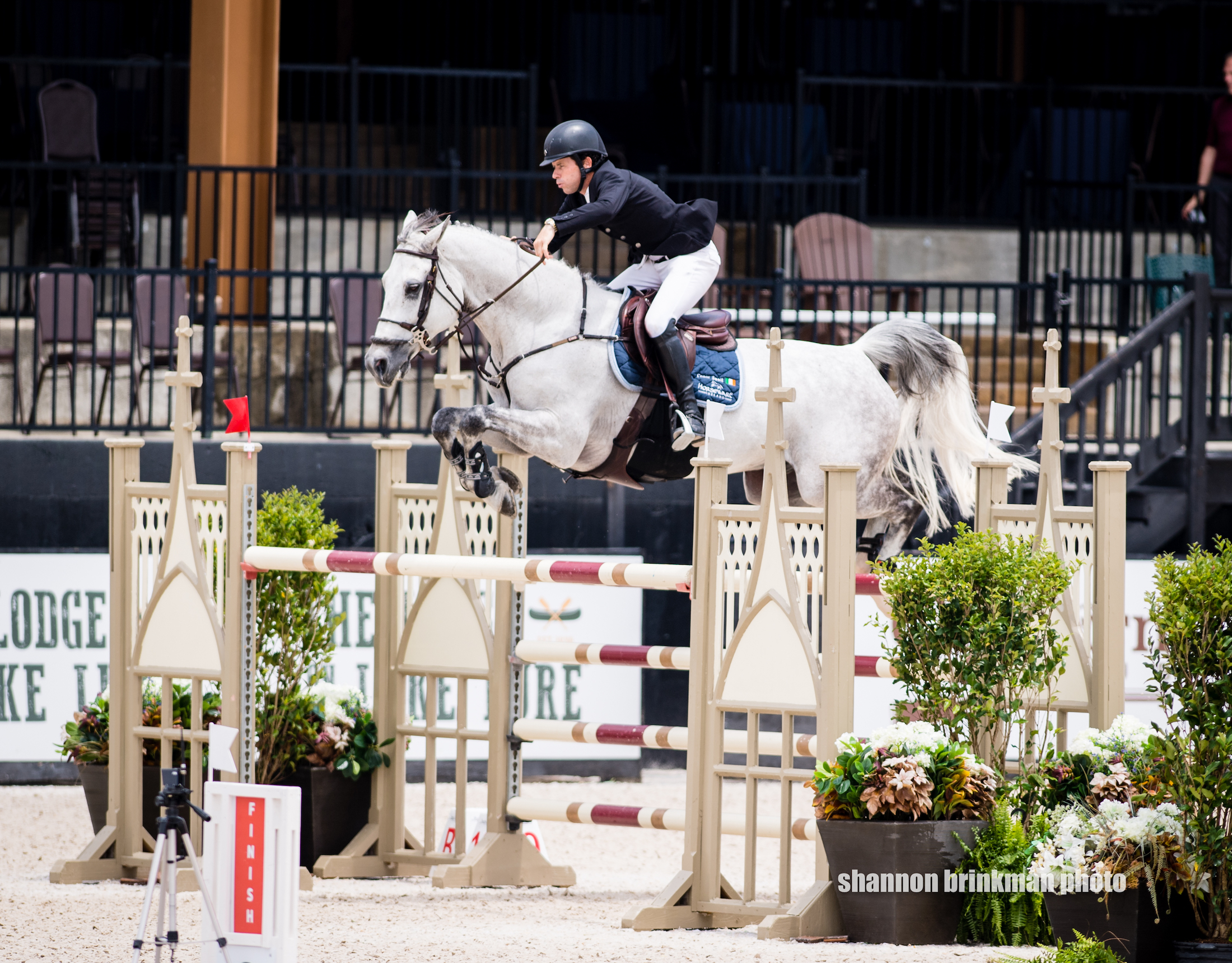 Conor Swail and Koss Van Heiste
©Shannon Brinkman
Orafina is already learning some of the tools she will need at the higher level, Farrington explained, which contributed to her success throughout the week in addition to her natural quickness: "Most of the horses that I pick are naturally fast, so that's a big advantage. Obviously, our sport has a lot to do with speed, so a naturally quick horse helps," he acknowledged. "I work, even when the classes aren't very big like today, to teach them to follow the lines so that as they grow in their career they have experience rolling back short to fences, angling jumps, and things like that, as part of the evolution of producing a top-level horse."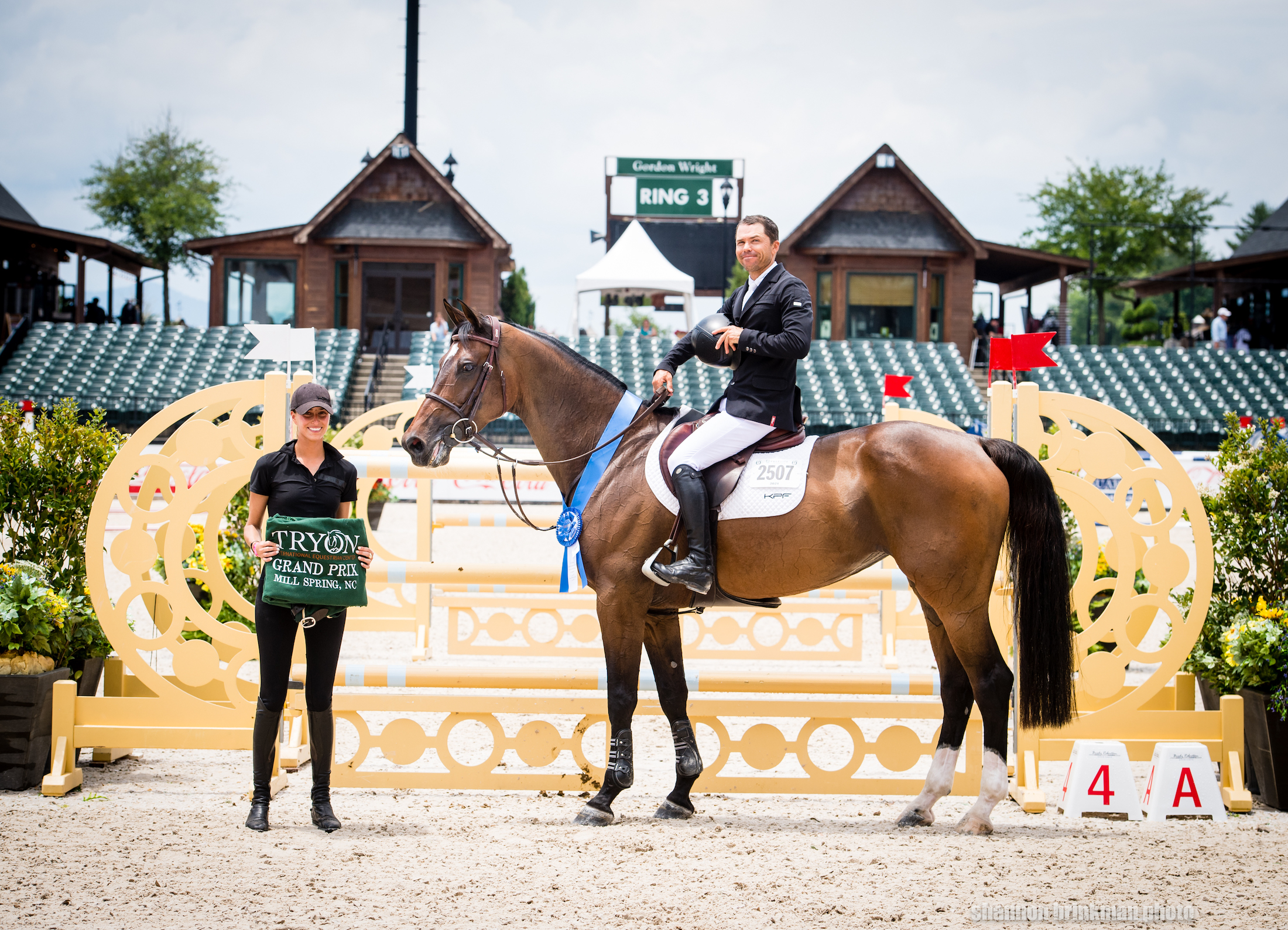 Kent Farrington and Orafina in their presentation ceremony.
©Shannon Brinkman
Otherwise, Farrington concluded, today's win was the result of everything falling into place throughout Oranfina's learning experience. "I think I probably did fewer strides than a few of the other riders around the turns, because she has a big step and a big range. Like I said, I'm training her how to do that now, so that when the jumps get bigger, she knows the ropes."
Lillie Keenan Wins Top Prize With Diadarco Van Evendael in $6,000 Speed Stake CSI 3*
Allie Hay for TIEC
June 4, 2021 – The competition was tight during this week's $6,000 Speed Stake CSI 3*, but it was ultimately Lillie Keenan who secured the win. Keenan (USA) collected podium placings throughout Tryon Spring 5 at TIEC, first claiming second place in the $37,000 Horseware Ireland Welcome Stake CSI 3* before securing the Friday win. Keenan and Diadarco Van Evendael Z, a 2009 Belgian Warmblood gelding (Diamant De Semilly x Darco) owned by Chansonette Farm LLC, topped the leaderboards with zero faults and a time of 56.66 seconds. Owner and rider Hilary McNerney (USA) piloted her horse Astilbe, a 2008 Swedish Warmblood mare (Empire x Stanford), to second place with no faults and a time of 59.9 seconds. Santa Rosa Yalta, a 2012 mare ridden and owned by Daniel Pedraza (MEX), claimed third place out of 16 riders with a clean round in 62.87 seconds.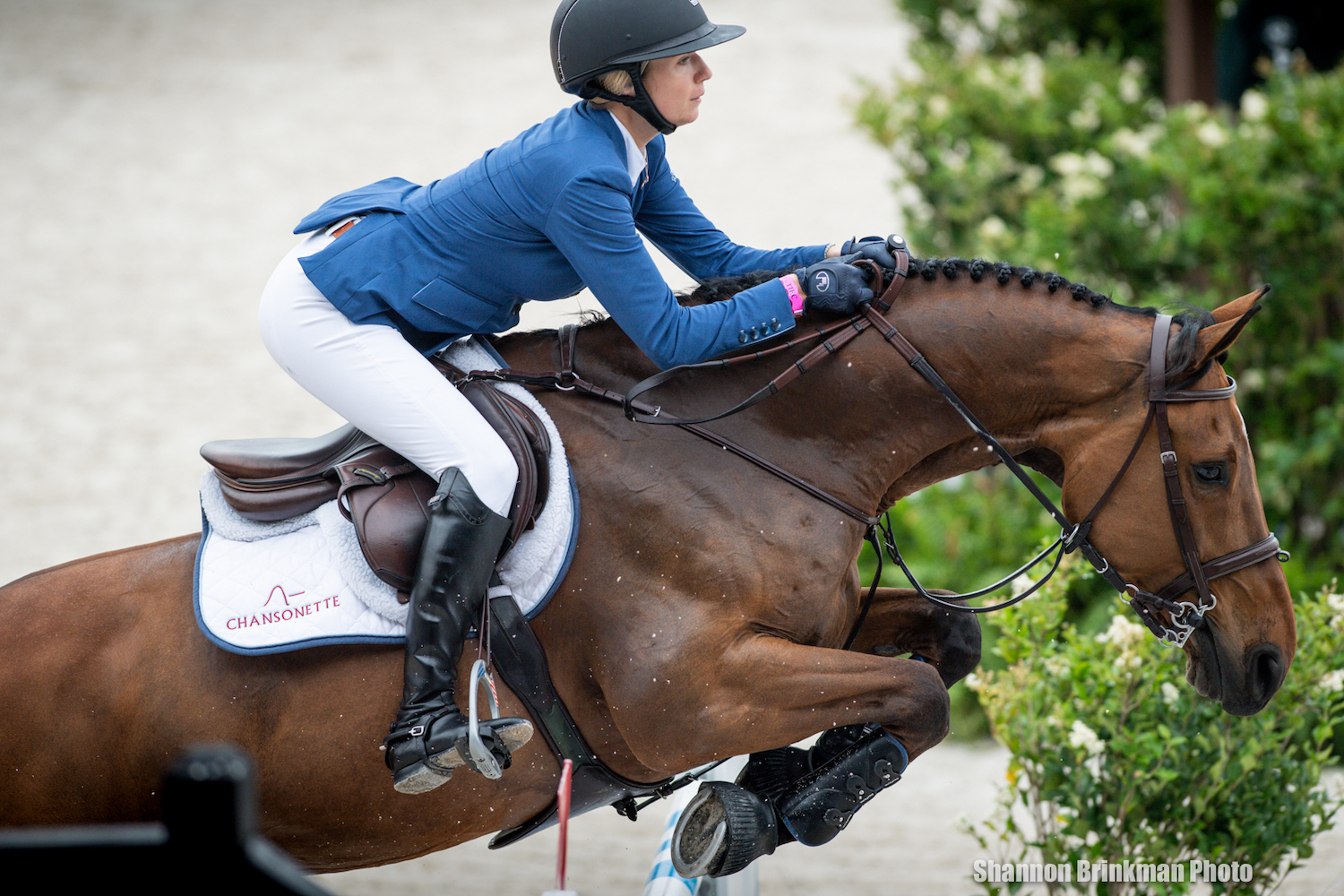 Lillie Keenan and Diadarco Van Evendael Z
©Shannon Brinkman
Victoria Colvin Claims Second Consecutive Hunter Derby Win at TIEC with $10,000 USHJA National Hunter Derby
Allie Hay for TIEC
June 4, 2021 – Victoria Colvin (Loxahatchee, FL) and Parker Peacock's Acclaim rode their way to the top spot in Friday's $10,000 USHJA National Hunter Derby, scoring a total of 185 after both rounds. Claiming the second-place ribbon by a narrow margin with a score of 184 was Hunter Holloway (Topeka, KS) atop Ruby Tuesday, a 2011 Oldenburg gelding (Icarus "Any Given Sunday" x Manna "S&L Sobeit") owned by Hays Investment Corp. Aaron Vale (Williston, FL) earned third-place ribbon and a total score of 181.25 aboard Jagerbomb, a 2013 Oldenburg gelding (Diarado x Chaccalou) owned by Infinity Equestrian LLC. Along with her win, Colvin added 90 to her first-round score of 87 to claim sixth place aboard Mastermind, a 2015 Oldenburg gelding (Vivant Van De Heffincvk x Cartablues) she owns in partnership with Karen Bruce.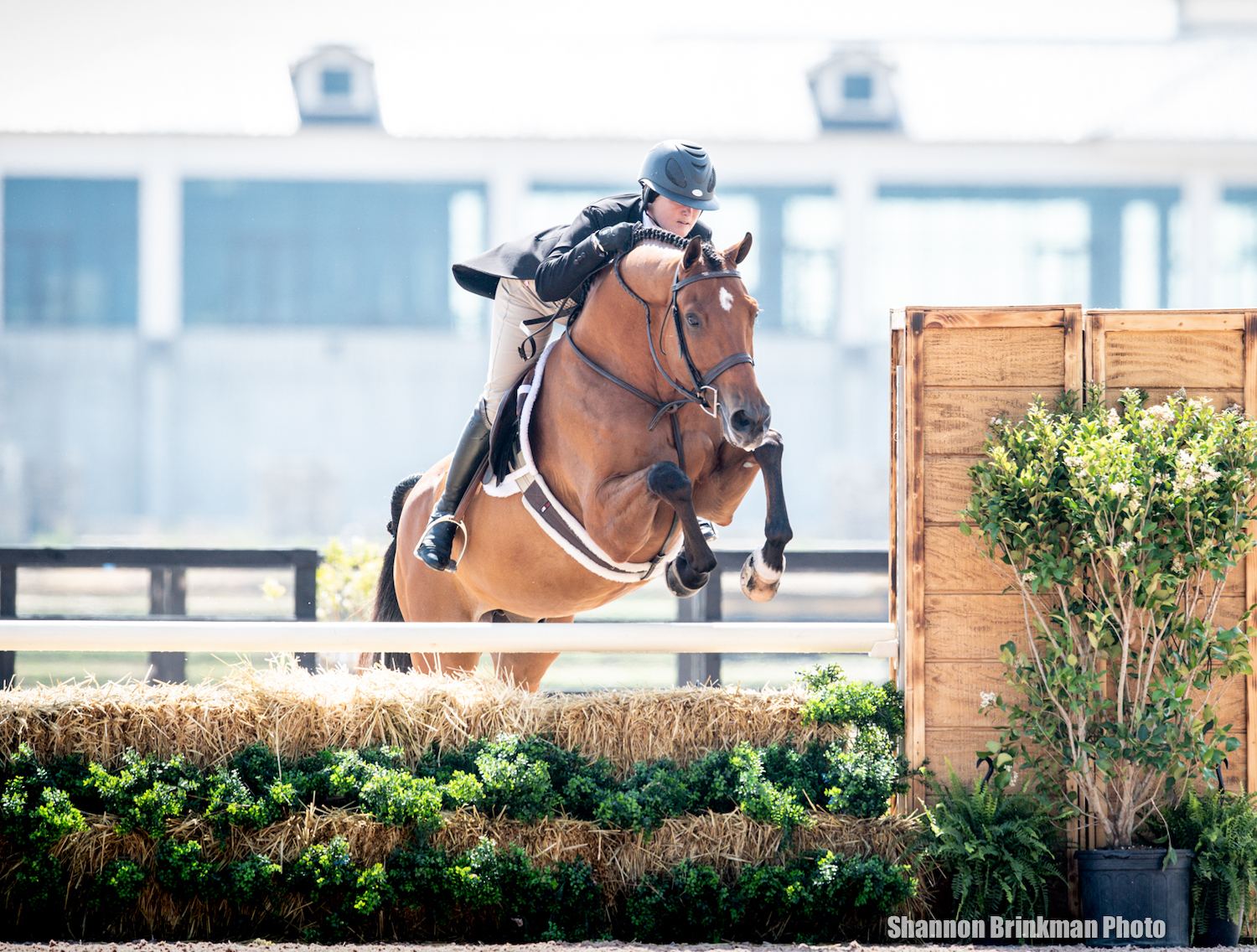 Tori Colvin and Acclaim
©Shannon Brinkman
The competition challenged 38 riders during the first-round course designed by Jason Shelley (Wellington, FL). As the top 12 riders were invited back with a cutoff score of 83, Colvin wanted to keep her first-place position. She added a score of 92 to her first-round score of 93 to claim the first-place prize. "Everybody had really good rounds," Colvin said, "so I just wanted to be as handy as possible!"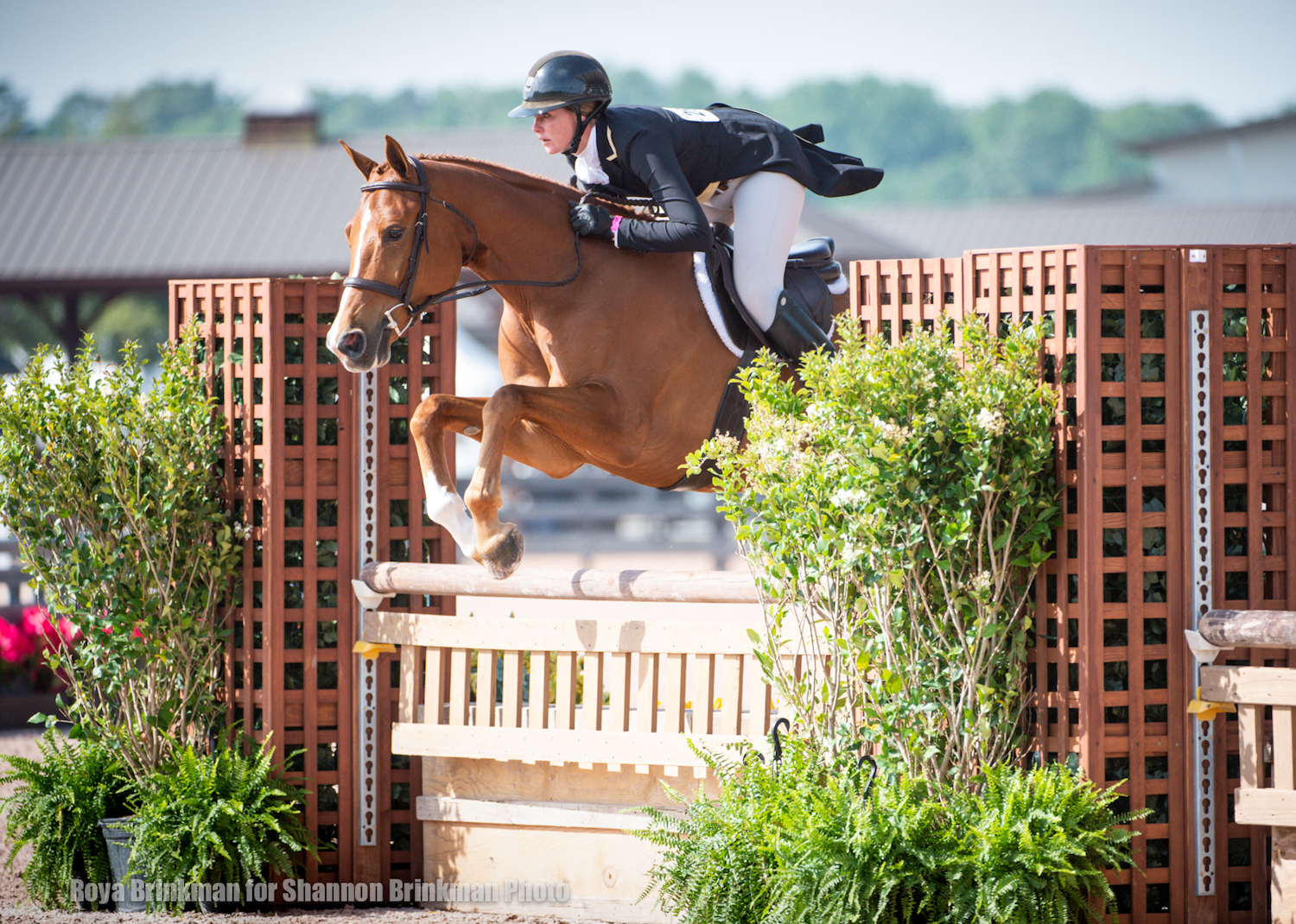 Hunter Holloway and Ruby Tuesday
©Shannon Brinkman
Acclaim, a 2012 Oldenburg gelding (Heartbreaker x Calanda Z) has already proven his worth in the hunter ring, but "he's recently a hunter as of this year," revealed Colvin. "Before this, he was doing 1.40m [jumper classes]. He [placed second] in our last National Derby in Aiken and he was very good." Acclaim, when not winning National Derbies with Colvin, is ridden by owner Parker Peacock (Winston Salem, NC) in the 3'6" Junior Hunter Division. The pair claimed eighth in the $5,000 USHJA National Derby during Tryon Welcome 4.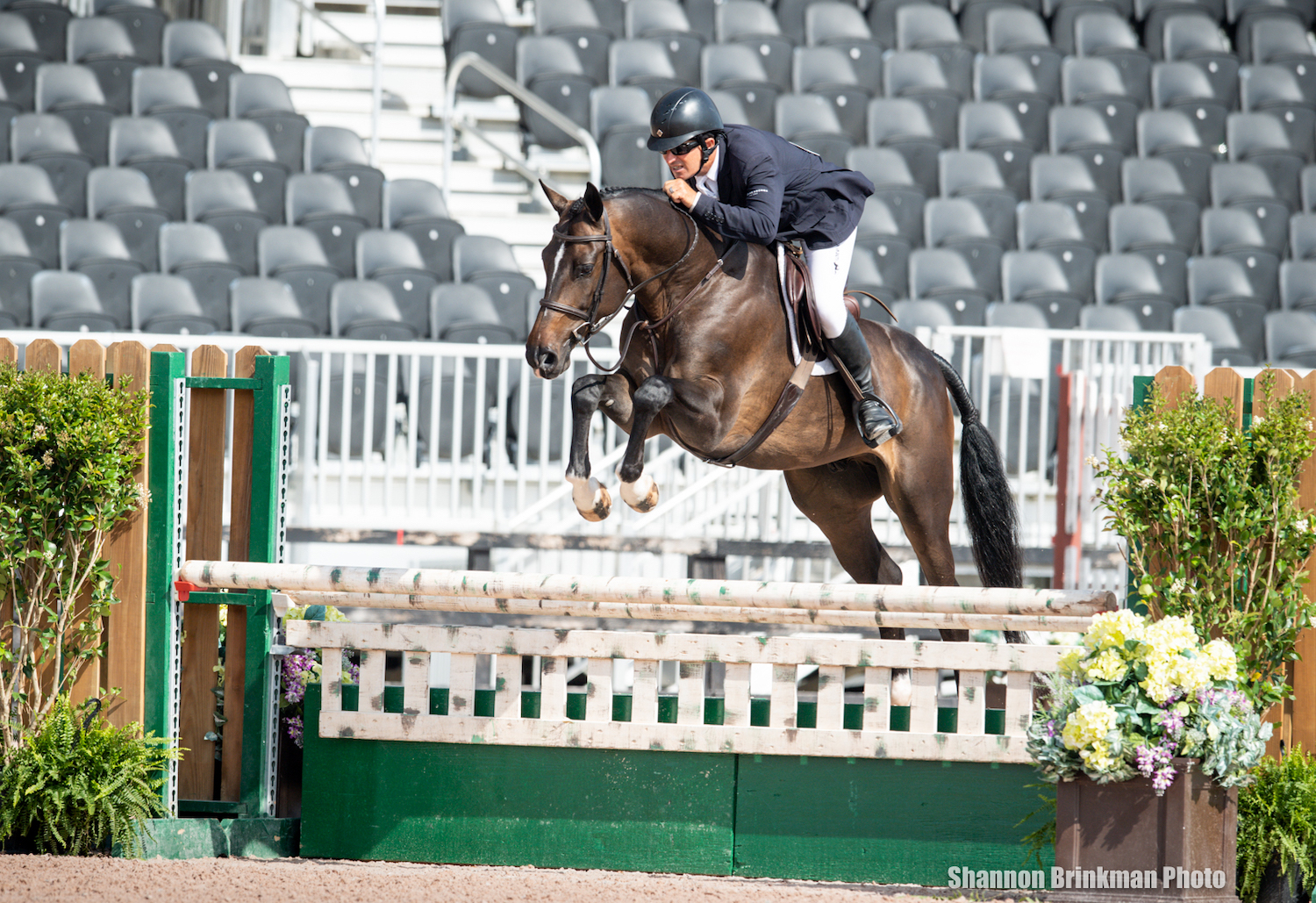 Aaron Vale and Jagerbomb
©Shannon Brinkman
Colvin is no stranger to collecting wins at TIEC, recently earning the top spot in Tryon Spring 4's $15,000 USHJA International Hunter Derby at TIEC on Glade Run Farm LLC's Ipso Facto (Douglas x Emmasinna-A). After much success at Tryon over the past few weeks, Colvin's horses will be returning to Florida at the end of the week for a vacation in the sunshine. "This is my last week here," Colvin said, "It's been really good so far. I love it here!"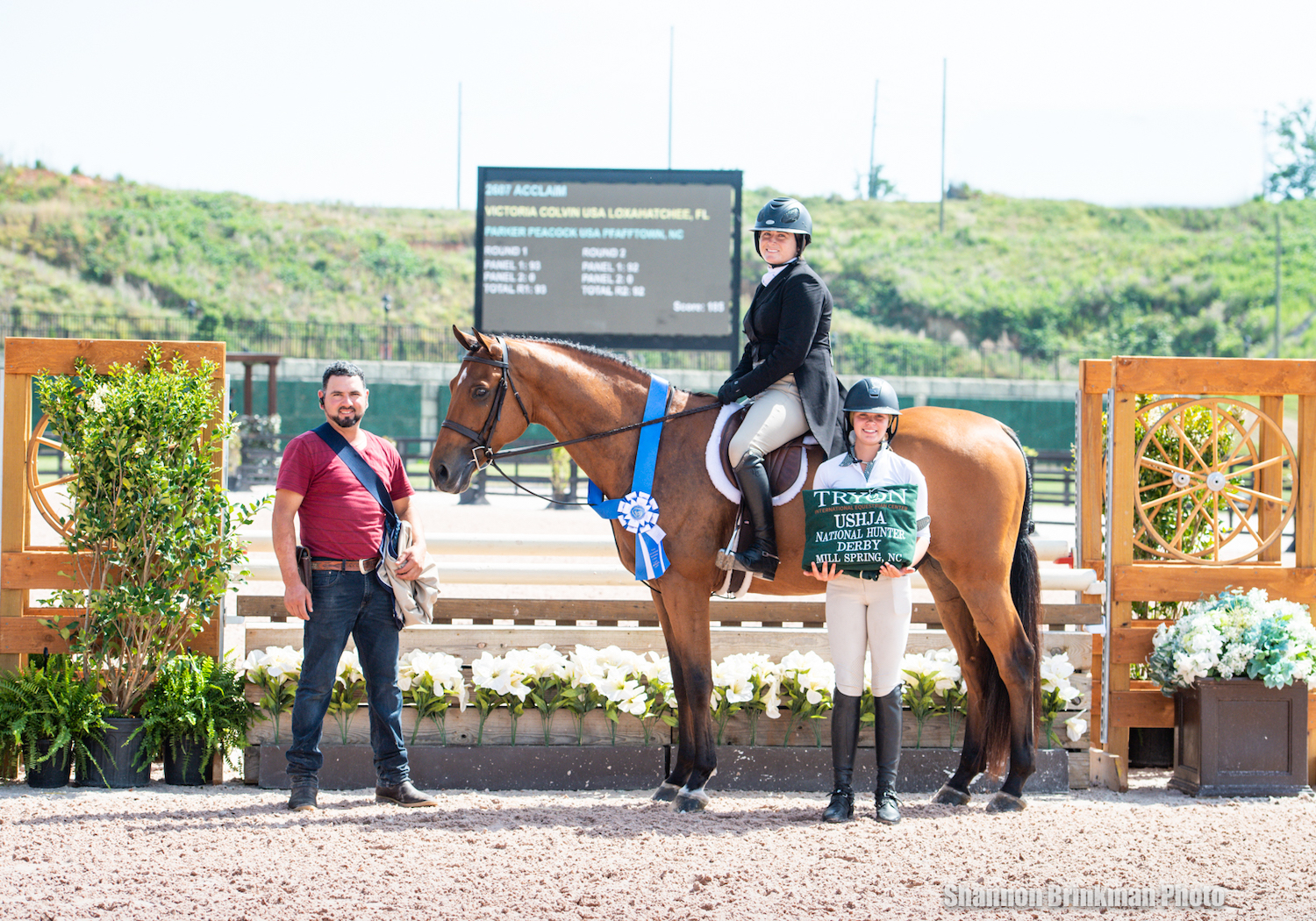 Tori Colvin and Acclaim in their presentation ceremony.
©Shannon Brinkman
Hunter Highlights:
Living up to his "blue" name, Jessica Leto's Cherrybrooks Better Than Blue, ridden by Lily Geitner (Aiken, SC)  received champion honors in the Large Green Pony Hunter Division. Linen Owens (Marion, NC) picked up the reserve champion riding her own Kingsman.
The champion ribbon of the Walk-Trot A Division was awarded to Cadyn Johnson (Hickory, NC) riding her own mount Baby I Was Born This Way. The reserve honors were presented to owner/rider Anna Miller (Lookout Mountain, TN) on Lazy J Bailef's Alibi.
Champion honors of the USHJA Hunter 2' Division were awarded to Pepperwood Enchanted, ridden by Eliza Hay (John's Island, SC) and owned by Stehle Wolfe. Abbeygale Hamilton's Starbound, ridden by Gabrielle Sousa (Matthews, NC), earned the reserve champion honors of both the USHJA Hunter 2' Division and the Small Green Pony Division.
Jumper Highlights:
In the 1.30m Medium Junior/Amateur Jumper Division, Carlie Fairty (Markham, ON) rode Chamonix De Ley, owned by Fairgreen Sod Farms, to champion. Anis De La Piece, owned and ridden by Sheer Levitin (Wellington, FL), earned reserve champion.
Dior DN, ridden by Suzette Tittle (Roswell, GA) and owned by Richard Kosa, received champion honors in the .90m Non-Pro Jumper Division. Lauren Ratliff (Greeneville, TN) rode her way to the reserve honors on All The Right Moves, owned by Kara Ragan.
With a clean sweep in the ProElite 1.10m Children's Jumpers Division, Riley Townsley (Carencro, LA) earned a champion ribbon aboard her own Chicobello. Samantha Meyer (Wentzville, MO) took home a reserve champion ribbon riding Double H Farm's HH Pamchenko.
To view full division results from Tryon Spring 5, click here.
To view full results from the $25,000 Tryon Resort Sunday Classic, click here.
To view full results from the $10,000 USHJA National Hunter Derby, click here
To view full results from the $6,000 Speed Stake CSI 3*, click here.
The Tryon Spring Series continues with Tryon Spring 6/Tryon Riding & Hunt Club competition hosted June 8-13, featuring CSI 3* and USEF Premier/Level 6 Jumper competition. Highlight classes include the $50,000 USHJA International Hunter Derby, $137,000 Cleghorn Golf & Sports Club Grand Prix CSI 3*, and a $25,000 American Standard Grand Prix. Competitions  are open to the public with more information available at www.Tryon.com/thisweek
Photos ©Shannon Brinkman. These photos may only be used once in relation to this press release. Competitors can view and purchase photos from Tryon Spring 5 as well as request photos for Tryon Spring 5 & 6 at Tryon.com/photos. With questions, email media@tryon.com