Mill Spring, NC – July 18, 2020 – In close finish, Kent Farrington (USA) and Kaprice secured victory in the $137,000 EquiSafe Global Grand Prix CSI 3* at Tryon International Equestrian Center (TIEC), stopping the jump-off timers at 39.477 seconds. Nicole Shahinian-Simpson (USA) and Akuna Mattata, a 2008 Holsteiner mare (Quinar x Landwind II) owned by Carol Rosenstein and Silver Raven Farms, claimed second place with a clear jump-off score of 40.345 seconds, while Karen Polle (JPN) and her own With Wings, a 2003 Dutch Warmblood gelding (Larino x L.Ronald), sailed to third-place just milliseconds behind with a time of 40.695 seconds.
Farrington and Kaprice, a 2010 Belgian Warmblood mare (Echo Van T Spieveld x Carthago) that Kent owns with Haity McNerney, bested a class of 37 entries and 10 jump-off contenders, sailing over jumps in the Ken Krome (USA)-designed course.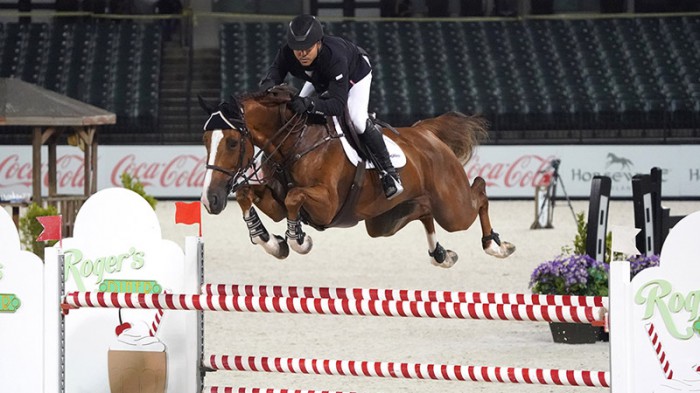 Kent Farrington and Kaprice
©Sportfot
Farrington praised the mare on her growth in the sport:
"Kaprice is an amazing horse. She's an amazing athlete. You never worry whether she's going to knock a rail down. As you can see in the ring, she's very careful. She's actually learned to jump a little bit lower because she used to jump so high over the fences. During these difficult times, I want to keep her getting as much experience as possible because she really needs it to become a Grand Prix horse. She's not a horse who can go a year without jumping. We have to keep her going enough to get her to the big levels," explained Farrington.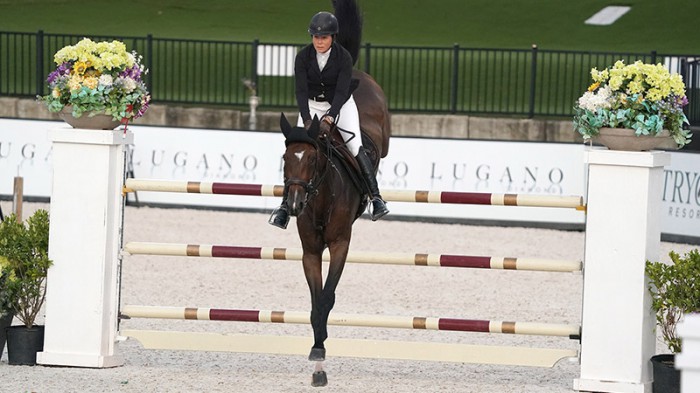 Nicole Shahinian-Simpson and Akuna Mattata
©Sportfot
Kaprice is "naturally fast" according to Farrington who said he had to stick to his plan and keep her on track.
"There were a bunch of rollbacks in there, and she actually got lost coming to the vertical. She didn't put her eye on it, so I had to sit back and hope that she cleared it from a very awkward distance. She's such an athlete, though, so she got away with it. I'm very proud. The owners, the McNerney family, have been longtime supporters of mine. They've been very patient in letting these horses grow up and helping get some good ones on the team. I really think we have a nice horse here with Kaprice!"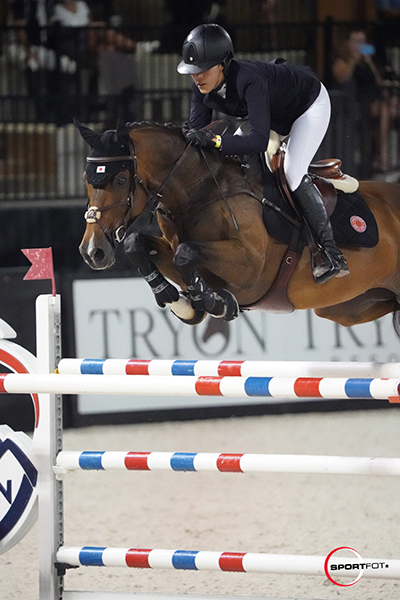 Karen Polle and With Wings
©Sportfot
Farrington is pleased to be back at TIEC and complimented the new, fully-engineered footing in the venue's Tryon Stadium.
"The footing feels great! It's much better. It's a little more loose and forgiving for the horses. I think that's best. The closer you are to a natural ground like grass, the better. It feels good to get off the property, [too]. We're lucky that we do a sport that's outdoors, and we can practice safe social distancing and still continue on somewhat of a path."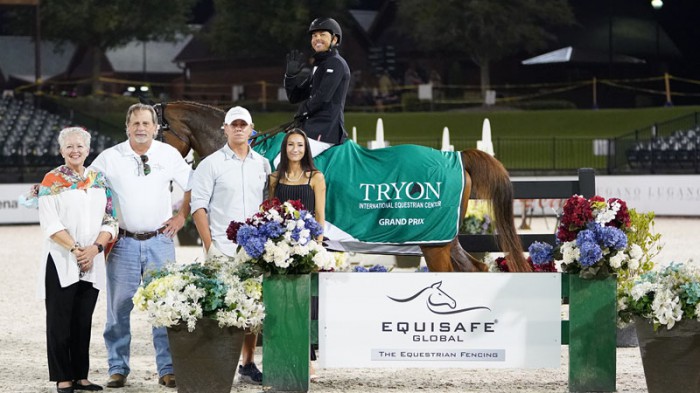 Kent Farrington and Kaprice in their presentation ceremony alongside TIEC President Sharon Decker, EquiSafe Global Territory Representative Eric Stokes, EquiSafe Global CEO James Roberts and wife Jessie Roberts. ©Sportfot
Results from the $137,000 EquiSafe Global Grand Prix CSI 3*:
Horse Name, Year Breed gender (Sire x Dam Sire)
Rider (COUNTRY), Owner: Faults/Faults/Time
1. Kaprice, 2010 Belgian Warmblood mare (Echo Van T Spieveld x Carthago)
Kent Farrington (USA), Kent Farrington and Haity McNerney: 0/0/39.477
2. Akuna Mattata, 2008 Holsteiner mare (Quinar x Landwind II)
Nicole Shahinian-Simpson (USA), Carol Rosenstein and Silver Raven Farms: 0/0/40.345
3. With Wings, 2003 Dutch Warmblood gelding (Larino x L.Ronald)
Karen Polle (JPN), Karen Polle: 0/0/40.695
4. Chaqui Z, 2006 Belgian Warmblood stallion (Chacco-Blue x Quinar Z)
Shane Sweetnam (IRL), Spy Coast Farm, LLC and Shane Sweetnam: 0/0/40.857
5. Skara Glen's Machu Picchu, 2007 Dutch Warmblood gelding (Silverstone x Matterhorn)
Paul O'Shea (IRL), Frank Cunniffe and Machu Picchu Partners LLC: 0/0/42.083
6. My Way, 2010 Oldenburger stallion (Mylord Carthago x Cassini II)
Luiz Francisco De Azevedo (BRA) Hest Investment Fund Limited: 0/0/42.109
7. Skyhorse, 2007 Belgium Warmblood gelding (Calvaro x Quidam de Revel)
Lillie Keenan (USA), Chansonette Farm LLC: 0/0/45.202
8. Chic Hin D Hyrencourt, 2008 Belgian Warmblood gelding (Taran de la Pomme x Elanville)
Beezie Madden (USA), Abigail S Wexner: 0/4/41.051
9. VDL Cartello, 2007 Holsteiner stallion (Cartani x Lord)
Lorcan Gallagher (IRL), Heathman Farm LLC: 0/8/43.058
10. Dez' Ooktoff, 2008 Dutch Warmblood stallion (Colandro x Lys Rouge)
Roberto Teran Tafur (COL), Roberto Teran Tafur: 0/17/60.132
11. Verlano, 2010 Mecklenburg Warmblood gelding (Verdi TN x Chellano)
Juan Ortiz (VEN), Stransky's Mission Farms, Inc.: 1/77.79
12. Quintessence, 2011 Holsteiner gelding (Unknown x Unknown)
Doug Payne (USA), Jane Dudinsky: 4/68.97
For full results from $137,000 EquiSafe Global Grand Prix CSI 3*, click here.
The Tryon Summer Series concludes Sunday, July 19 with the $25,000 Sunday Classic. The Tryon August Series begins 6 with three weeks of A-level national Hunter/Jumper competition. For more information, visit Tryon.com/compete. While equestrian competition is currently closed to spectators, highlight classes are available for free live streaming at www.Tryon.com/streaming.
Photo credit ©Sportfot. Competitors can sign up for weekly packages at www.Sportfot.com. These photos may only be used once in relation to this press release with proper credit. Contact media@tryon.com with questions.
About EquiSafe Global
EquiSafe Global is a one-of-a-kind company in both quality and mission. We strive to provide the highest quality fencing that is safe, environmentally friendly, secure, and affordable. With our durability, aesthetic value and unparalleled safety features, EquiSafe is the best fencing option for your equine partners, and at the best price. Join the leaders of the fencing evolution and visit our website www.equisafeglobal.com for more information.
Tags:
Akuna Mattata
,
Beezie Madden
,
Chaqui Z
,
Chic Hin D Hyrencourt
,
Dez' Ooktoff
,
Doug Payne
,
EquiSafe Global
,
Juan Ortiz
,
Kaprice
,
Karen Polle
,
Kent Farrington
,
Lillie Keenan
,
Lorcan Gallagher
,
Luiz Francisco de Azevedo
,
My Way
,
Nicole Shahinian-Simpson
,
Paul O'Shea
,
Quintessence
,
Roberto Teran Tafur
,
Shane Sweetnam
,
Skara Glen's Machu Picchu
,
Skyhorse
,
Tryon Summer 1
,
Tryon Summer 6
,
VDL Cartello
,
Verlano
,
With Wings