Trip of the Day Winners Honored Daily During Tryon Spring 6 TR&HC Charity Horse Show
For Immediate Release
Mill Spring, NC – June 9, 2019 – Kelli Cruciotti (USA) and Hadja van Orshof enjoyed a first-place finish in Sunday's $204,000 Coca-Cola® Grand Prix CSI 4* at Tryon International Equestrian Center (TIEC), concluding Tryon Spring 6 TR&HC Charity Horse Show Competition at the venue and taking her second FEI win of the week with a jump-off time of 49.127 seconds. Darragh Kerins (IRL) and Carlos JD Z, a 2009 Zangersheide gelding (Canturo x Baloubet) owned by NRG Farm LLC, claimed second on a jump-off time of 50.332 seconds, while Fernando Cardenas, Jr. (COL) received third for his efforts aboard Quincy Car, a 2004 Oldenburg stallion (Galiani Car x Amour Parfait) owned by Fernado Cardenas and Meredith Cardenas, after their jump-off time of 52.34 seconds.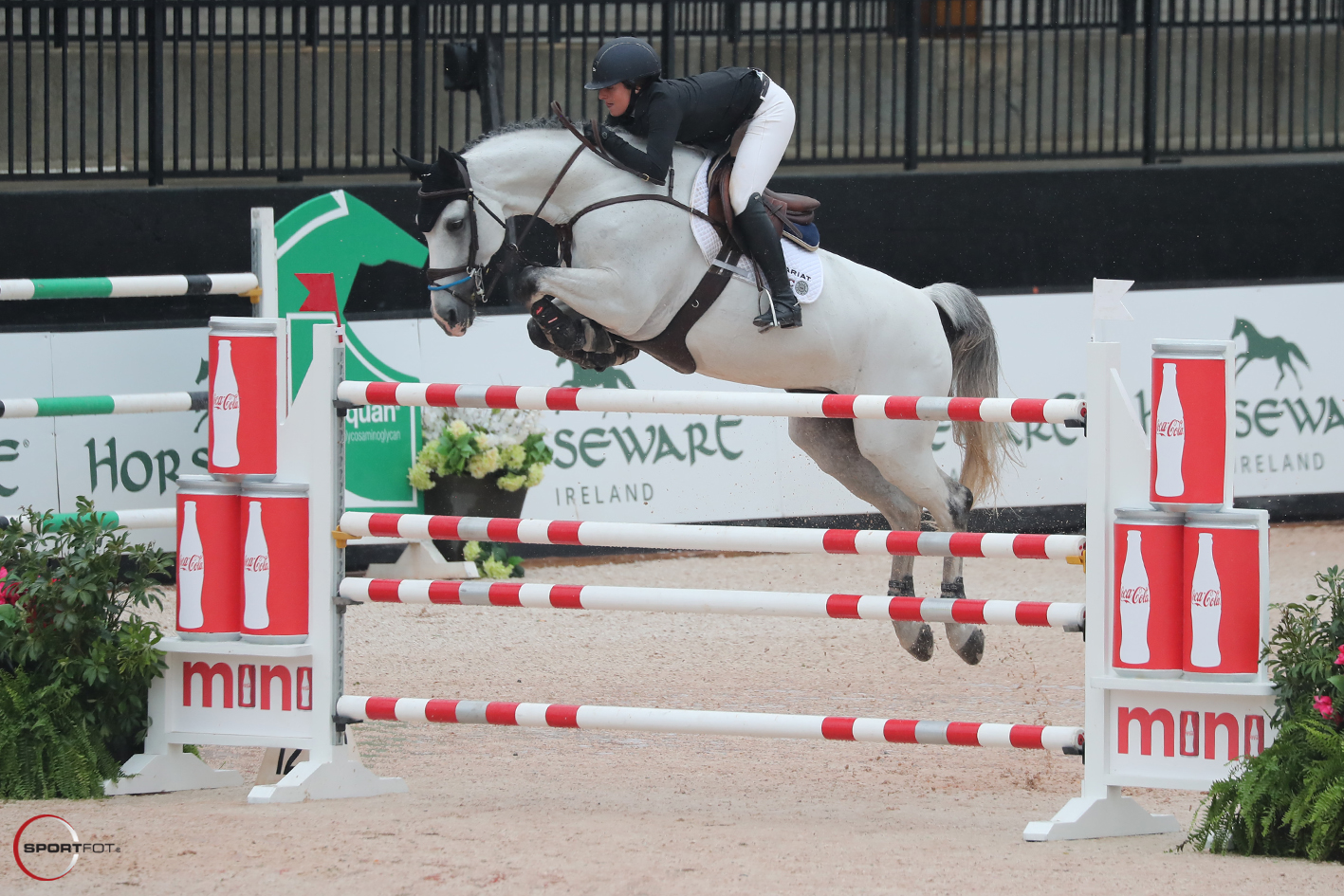 Kelli Cruciotti and Hadja van Orshof
©Sportfot 
Course designer Kelvin Bywater (GBR) saw 29 entries test the first-round track, with five pairs returning for the jump-off round. Despite heavy rainfall over the past two days and intermittent rain throughout the class, Cruciotti reported that Hadja van Orshof, her own 2007 Belgian Warmblood mare (Cabrio van de Heffinck x Darco), had "one of the best rounds she's ever jumped," and won despite adding a stride:
"I actually didn't know if I was going to show until I walked in the ring. I was going back and forth about it. I saw people going before me and I'm a chicken about any unusual circumstance, so I trusted my horse and tried to ride a smart round, but not do anything too risky," Cruciotti explained. "I was fortunate to go at the end of the jump-off, so I could watch a few, and it looked like they were being efficient, and not too risky. I thought if I could be a little bit [less conservative] here and there I could get it, and she jumped amazing. I'm so happy with her. It actually was one of her best rounds she's ever jumped – maybe she should jump more in the rain!"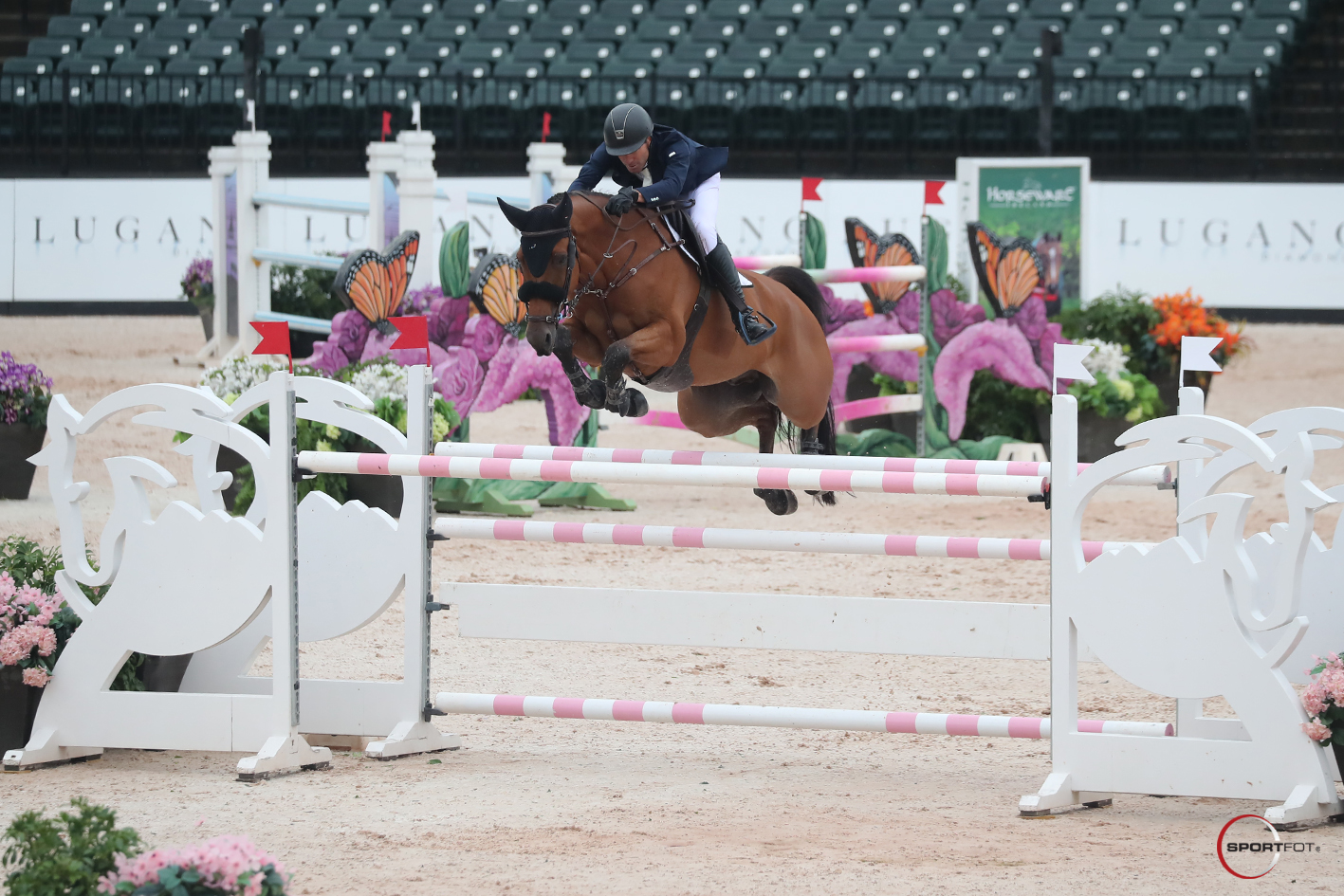 Darragh Kerins and Carlos JD Z
©Sportfot 
Despite her speedy performance, besting a competitive field, Cruciotti admitted to adding a stride on course and elaborated that nine is a tricky number for her: "It's a running joke since I was ten years old – for the life of me I cannot count nine [strides]. I can do eight, I can do ten or seven or 12, but not nine! And so I knew the line was nine, and my brain was like, 'no, no, no, ten!'" she continued. "And the whole time I'm trying to tell myself to stop pulling, but luckily I was able to clean up the round somewhere else."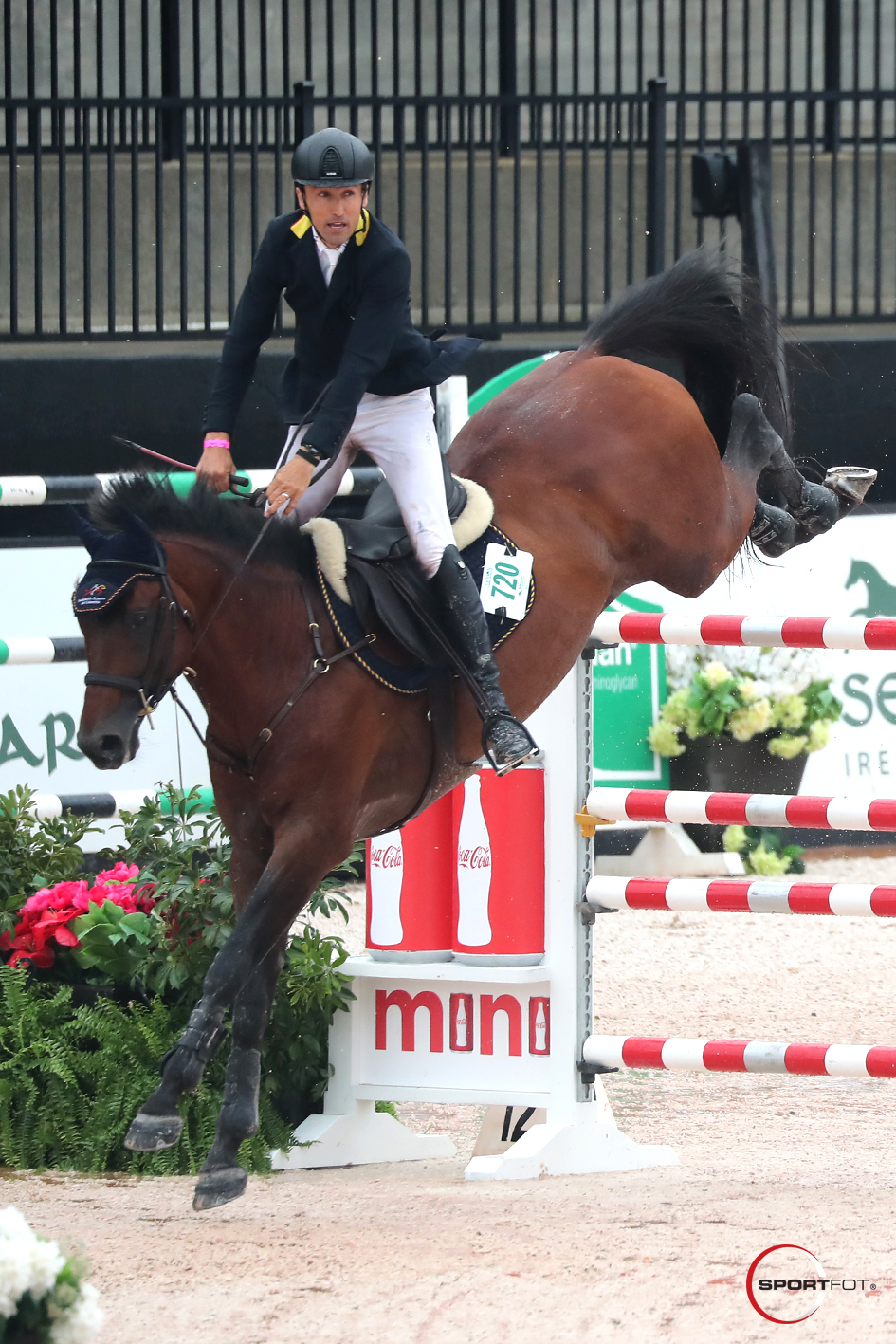 Fernando Cardenas Jr. and Quincy Car
©Sportfot
Hadja van Orshof has been a project of Cruciotti's for the past three years, and her "lionlike" braveness lends itself to the success they've achieved together, she emphasized. "When I got her she was very, very green jumping 1.45m, so we had to really take our time because she's so careful. At the same time, she's like a lion – she doesn't think there's anything she can't do," Cruciotti said. "Our partnership has grown through the years. I got to take her to the World Cup Finals this year in Gothenburg, and I feel like she and I both grew up a lot there. We were a little bit overfaced, but it made us a better horse-and-rider combination, and we learned to really dig down deep."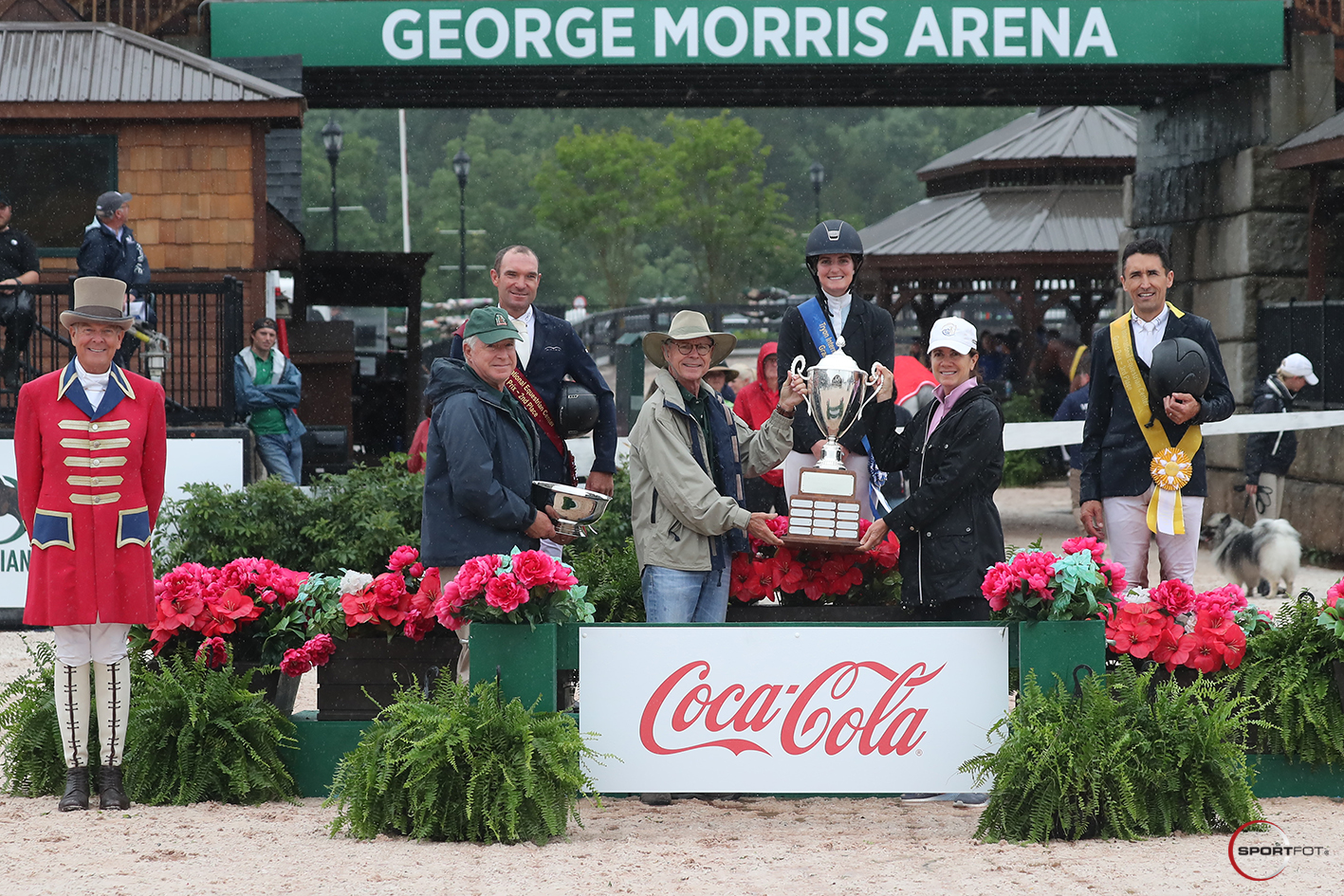 Kelli Cruciotti, Darragh Kerins, and Fernando Cardenas Jr. in their presentation ceremony alongside Ringmaster Steve Rector, Terry Lynch, TR&HC President, and Tryon Equestrian Partners Roger and Jennifer Smith, presenting Cruciotti with the TR&HC Charity 1 Grand Prix Trophy.
©Sportfot
Sunday's win was Cruciotti's second FEI victory on the week, following her winning performance aboard Zidante in the $6,000 1.40m Power & Speed Stake Wednesday, and she has found a new favorite venue after her first experience at TIEC, she relayed. "It was my very first time here this week, and we're definitely wanting to come back now!"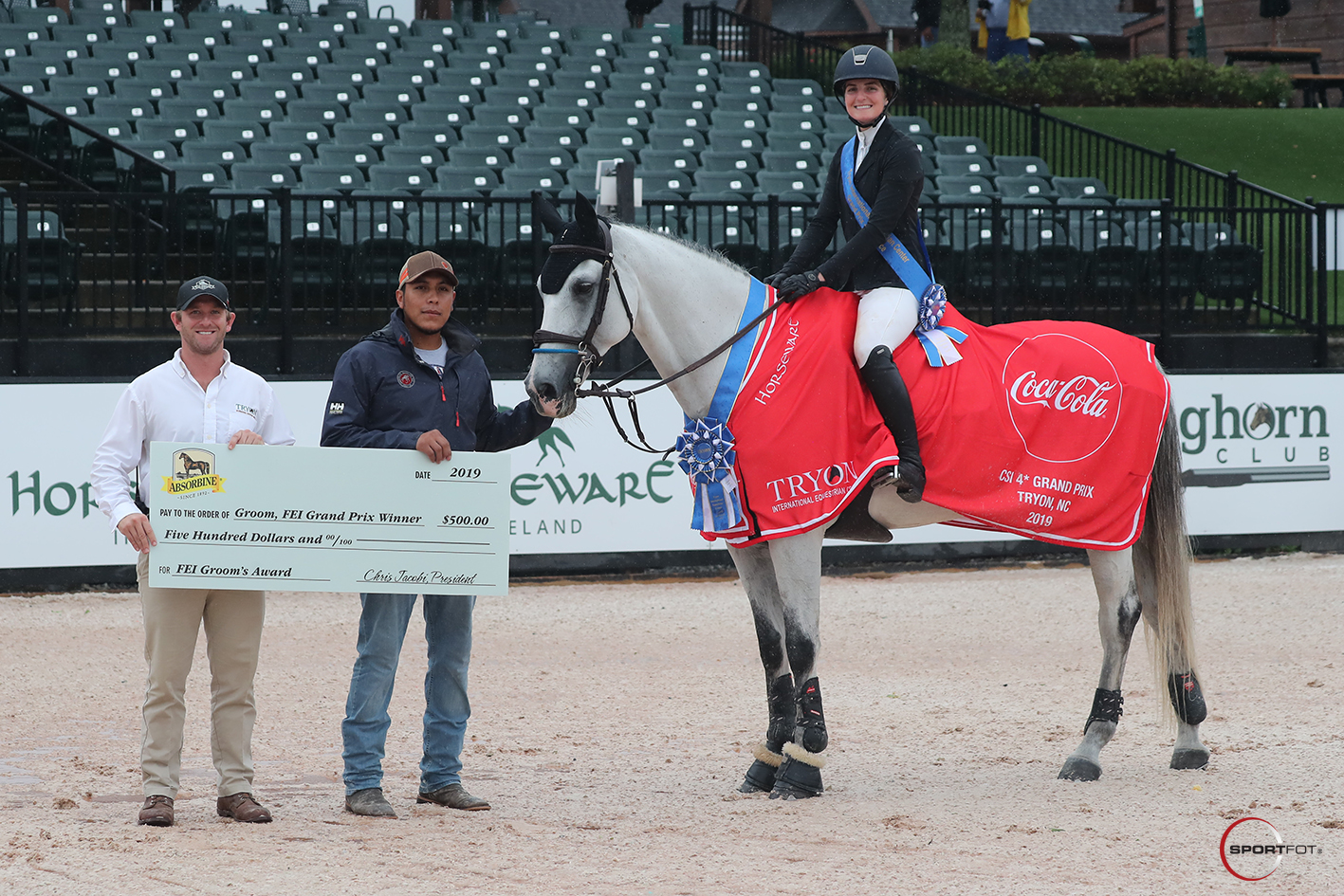 Daniel Gonzales was awarded the Absorbine® Groom's Award for his care and dedication to Hadja van Orshof.
©Sportfot 
For now, Cruciotti plans to give her horses a few weeks off at home in Colorado, and then she will kick off her season again in Traverse City. "We love this facility, and everybody has been super helpful – just anything we've needed TIEC has been willing to accommodate, so we're looking forward to coming back. We love showing here – it's great," she concluded.
Results from the $204,000 Coca-Cola® Grand Prix CSI 4*:
Horse Name, Year Breed gender (Sire x Sire of Dam)
Rider (Country), Owner: Faults/Faults/Time
Hadja van Orshof, 2007 Belgian Warmblood mare by Cabrio van de Heffinck x Darco
Kelli Cruciotti (USA), Kelli Cruciotti: 0/0/49.127
Carlos JD Z, 2009 Zangersheide gelding by Canturo x Baloubet
Darragh Kerins (IRL), NRG Farm LLC: 0/0/50.332
Quincy Car, 2004 Oldenburg stallion by Galiani Car x Amour Parfait
Fernando Cardenas, Jr (COL), Fernando Cardenas and Meredith Cardenas: 0/0/52.34
Kirschwasser SCF, 2010 Belgian Warmblood stallion by Amaretto D'arco x Nabab De Reve
Shane Sweetnam (IRL), Spy Coast Farm, LLC: 0/4/48.586
Dontez, 2008 Dutch Warmblood gelding by Verdi Tn x Wolfgang
Freddie Vazquez (PUR), Cheval Equestrian LLC & Molly Ben-Menachem: 0/4/49.106
Condor C, 2005 Holsteiner stallion by Cassini I x Caretino
Deborah Stephens (USA), Centennial Farm Inc: 1/79.55
Bull Run's Faustino De Tili, 2005 Belgian Warmblood stallion by Berlin x Darco
Kristen Vanderveen (USA), Bull Run Jumpers Five LLC: 4/72.87
Thriller P, 2004 Swedish Warmblood stallion by Cardento x Lucky Light
Samuel Parot (CHI), Samuel Parot: 4/74.5
Quitana 11, 2006 Holsteiner mare by Quick Star x Lucky Lionell
Savannah Jenkins (USA), Georgy Sarah Maskrey-Segesman: 4/75.72
Cetano Van Aspergem Z, 2009 Zangersheide gelding by Clinton x Ahorn Z
Santiago Lambre (MEX), Santiago Lambre: 4/76.65
Carnaval, 2005 Oldenburg gelding by Chacco-Blue x Landadel
Hector Florentino (DOM), Spruce Meadows: 4/77.83
Finou 4, 2006 Hanoverian gelding by Flashlight 16 x Concetto Famos
Aaron Vale (USA), Thinks Like A Horse & Donald E. Stewart: 4/78.17
For full results from the $204,000 Coca-Cola® Grand Prix CSI 4*, click here.
Trip of the Day
Each day throughout Tryon Spring 6 TR&HC Charity Horse Show competition, the rider with the highest-scoring Hunter round at TIEC will receive a $500 prize and special commemorative ribbon thanks to generous daily sponsors. Learn more about the Friday and Saturday Trip of the Day winners below.
Friday, June 7
Kristi Watson on Wilson owned by Joslin Davis and Sandra Savage on her own All 4 Play both earned an impressive score of 85 Friday to claim the Trip of the Day prize presented by Sara Ketcham of Still Creek Farm.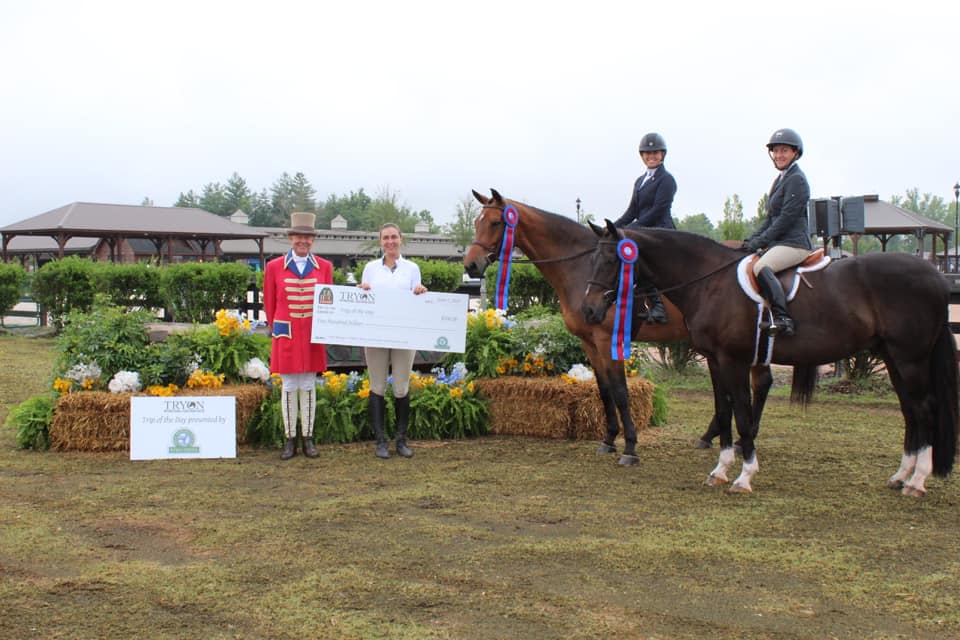 Kristi Watson aboard Wilson and Sandra Savage riding All 4 Play alongside Sara Ketcham of Still Creek Farm and Steve Rector, Ringmaster.
©TIEC
Saturday, June 8
Saturday's Trip of the Day also resulted in a tie, with Confidential and Happenstance both earning scores of 87 with Bergen Sanderford in the irons to claim the Trip of the Day prize presented by Spy Coast Farm.
Bergen Sanderford and Happenstance alongside Spy Coast Farm's David O'Brien and Ringmaster Steve Rector.
©TIEC
Wednesday, June 5 Correction: Holly Shepherd (Grand Bay, AL) and As You Wish, owned by Ashley Runnels, scored a pair of 87s in the Green Hunter 3'3 classes Wednesday to claim the Trip of the Day prize, presented by Tryon Equestrian Partners Roger and Jennifer Smith.
The conclusion of Tryon Spring 6 TR&HC Charity Horse Show marks the conclusion of the Tryon Spring Series, with the Tryon Summer Series beginning June 13 and continuing through July 21. To learn more, visit www.Tryon.com.
Photo credit ©Sportfot unless otherwise noted. These photos may only be used once in relation to this press release with proper credit.