For Immediate Release
Mill Spring, NC – October 20, 2019 – Kelley Farmer (USA) took first, third, and fourth place honors in Friday's $20,000 USHJA International Hunter Derby at TIEC, piloting As Quoted to a total score of 368.5 for the win after two rounds, while guiding Consent, a 2012 Westphalian gelding (Los Angeles x Fiones) owned by David Glefke and Kent Farrington LLC, to a two-round total of 360 to receive third. Holly Shepherd (USA) and Margaret Camp's Midas, a 2013 Holsteiner gelding, received a total score of 365 to earn second place. A field of 20 entries were showcased over the course set by Skip Bailey (West Palm Beach, FL) in the Grand Hunter Ring, but Farmer and the 2013 Dutch Warmblood gelding (Zambesi TN x Bybalia SMH) owned by David Glefke wowed the judges in the handy to end up on top.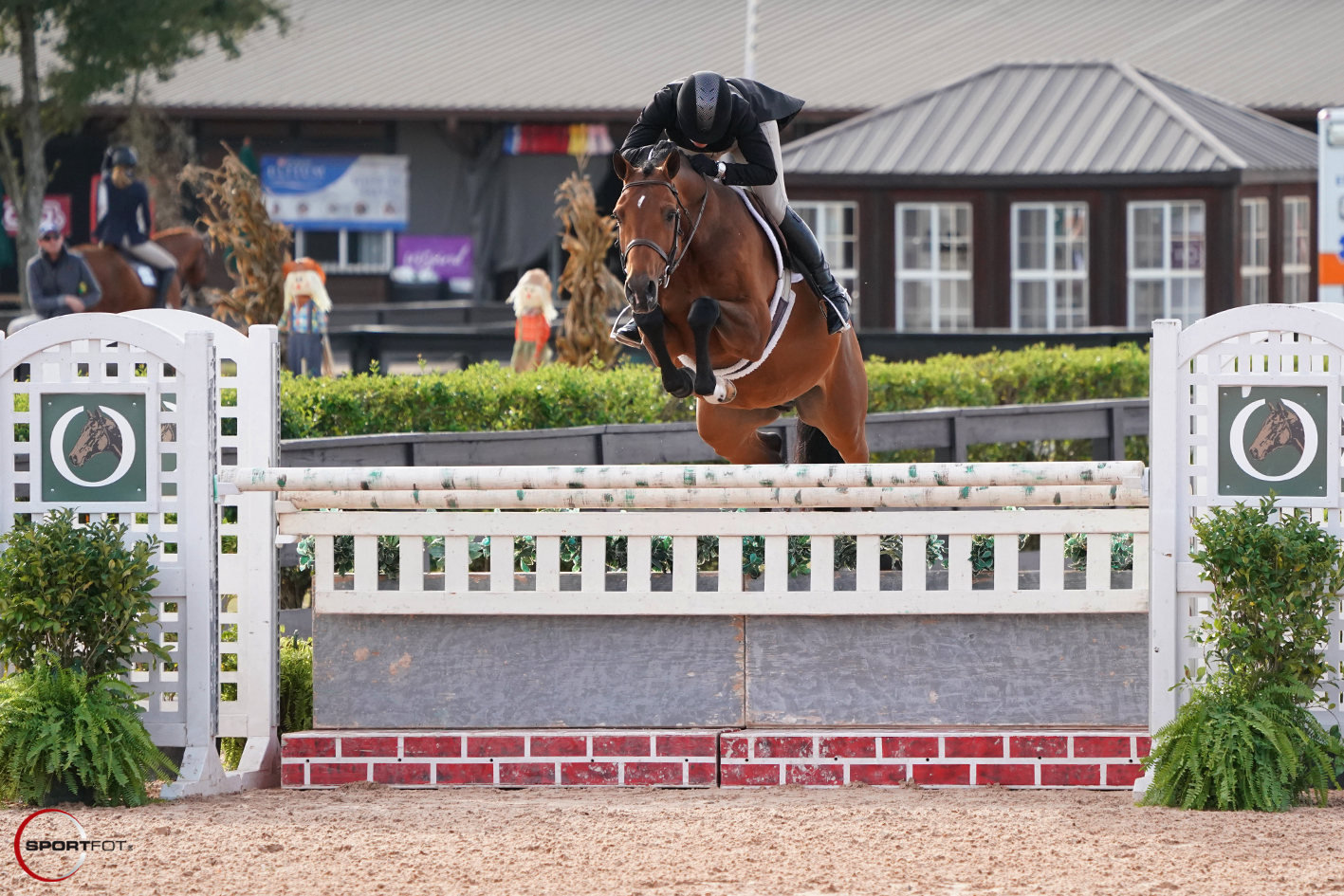 Kelley Farmer and As Quoted
©Sportfot
"As Quoted is my baby of the barn," Farmer admitted. "He's been second a couple times in the derbies and he's starting to do this quite well, but he's my youngest and greenest. He's going to be so good. He's super careful and super brave and he has the best mentality; he tries so hard and is always happy and sweet. I'm so glad he finally won one because he's just been knocking on the door."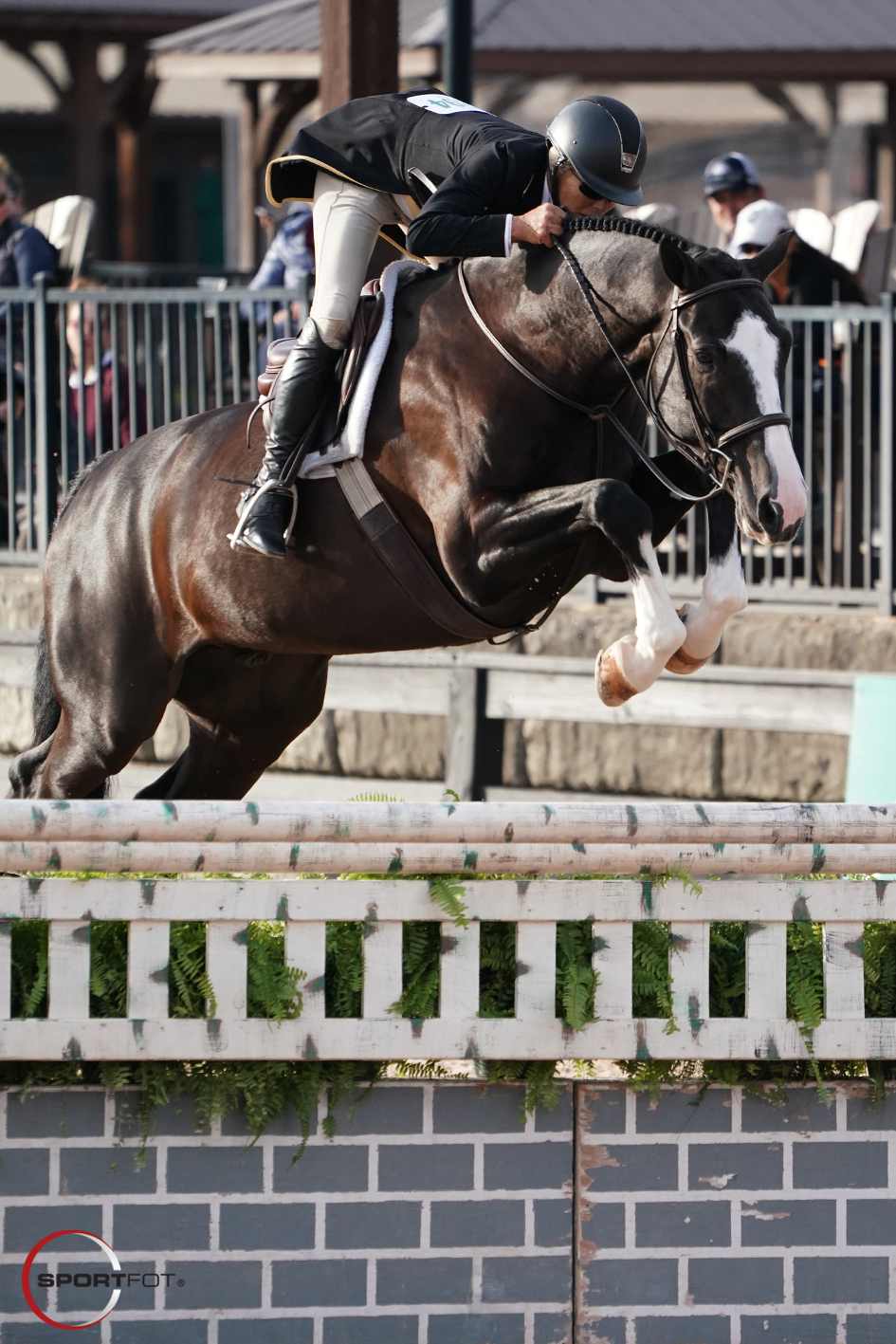 Holly Shepherd and Midas
©Sportfot
Farmer relayed how As Quoted has been moving up through the Green Hunter divisions over the past year and building his derby experience to culminate in his first USHJA International Derby win: "I started him in the 3'6" Green and Green Confirmation in Florida, and he has a ton of ability but just needed to learn how to go like a hunter. As soon as he did the 3'6" in Florida, he started competing in the derbies. He's been second like three times, so he's starting to figure it out. Next year he'll jump the 3'9" Green division and keep doing the derbies," Farmer continued. "I think in the long run he's going to be a fantastic performance and derby horse. He's beautifully rideable, and he's really starting to put it all together."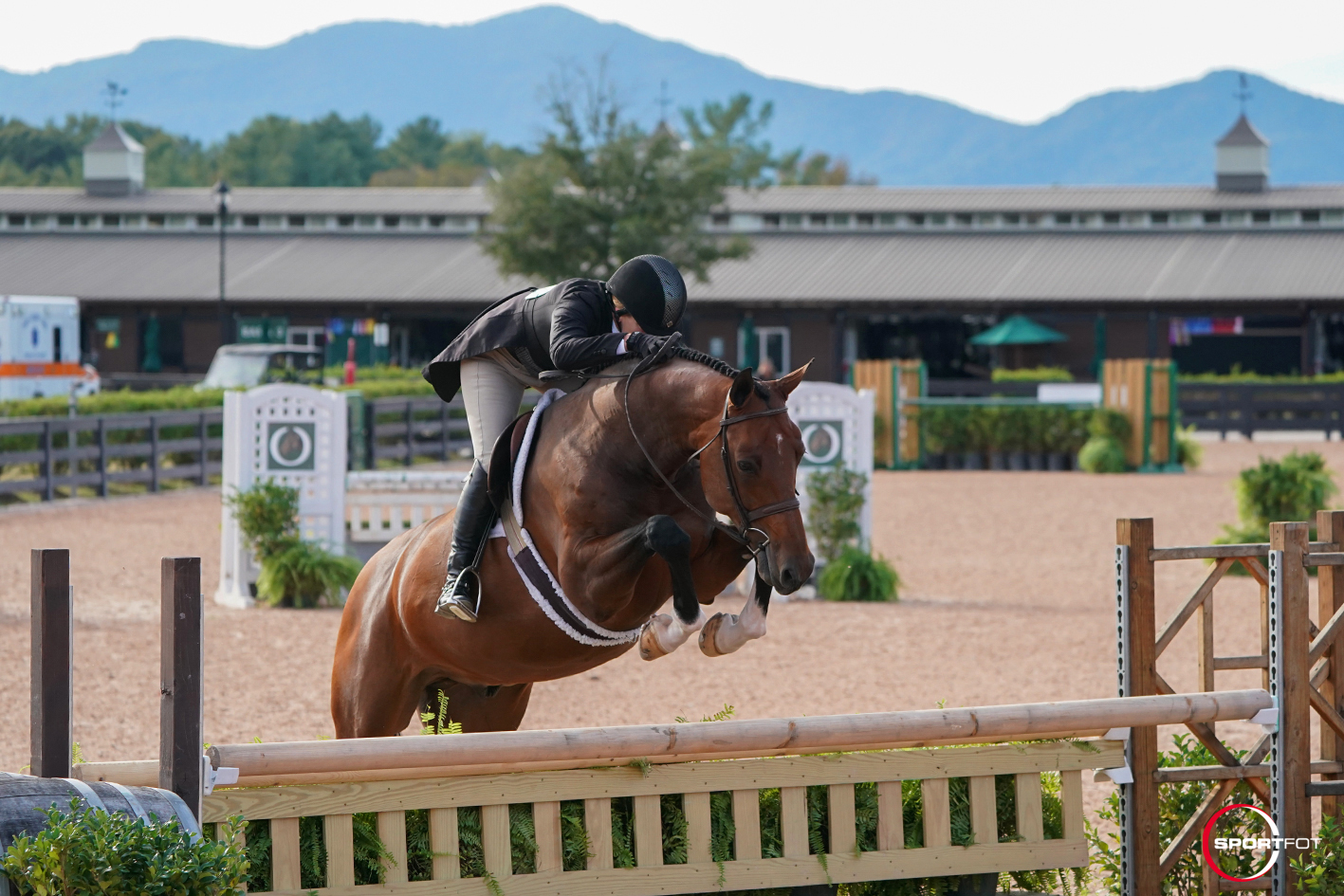 Kelley Farmer and Consent
©Sportfot
Famer has contested top Hunter competition at the venue before, and complimented the Grand Hunter Ring layout for the way it fostered a strong audience in the stands. "I've come here a couple of times for just a week at a time, and I love the place," she emphasized. "We've done derbies in the field, the [Tryon Stadium] and the International Stadium, but I thought Skip built a nice course here. I think the derbies are super helpful [to the sport]. People don't really watch the hunters all day [during the week], but tonight you had people sitting here watching it."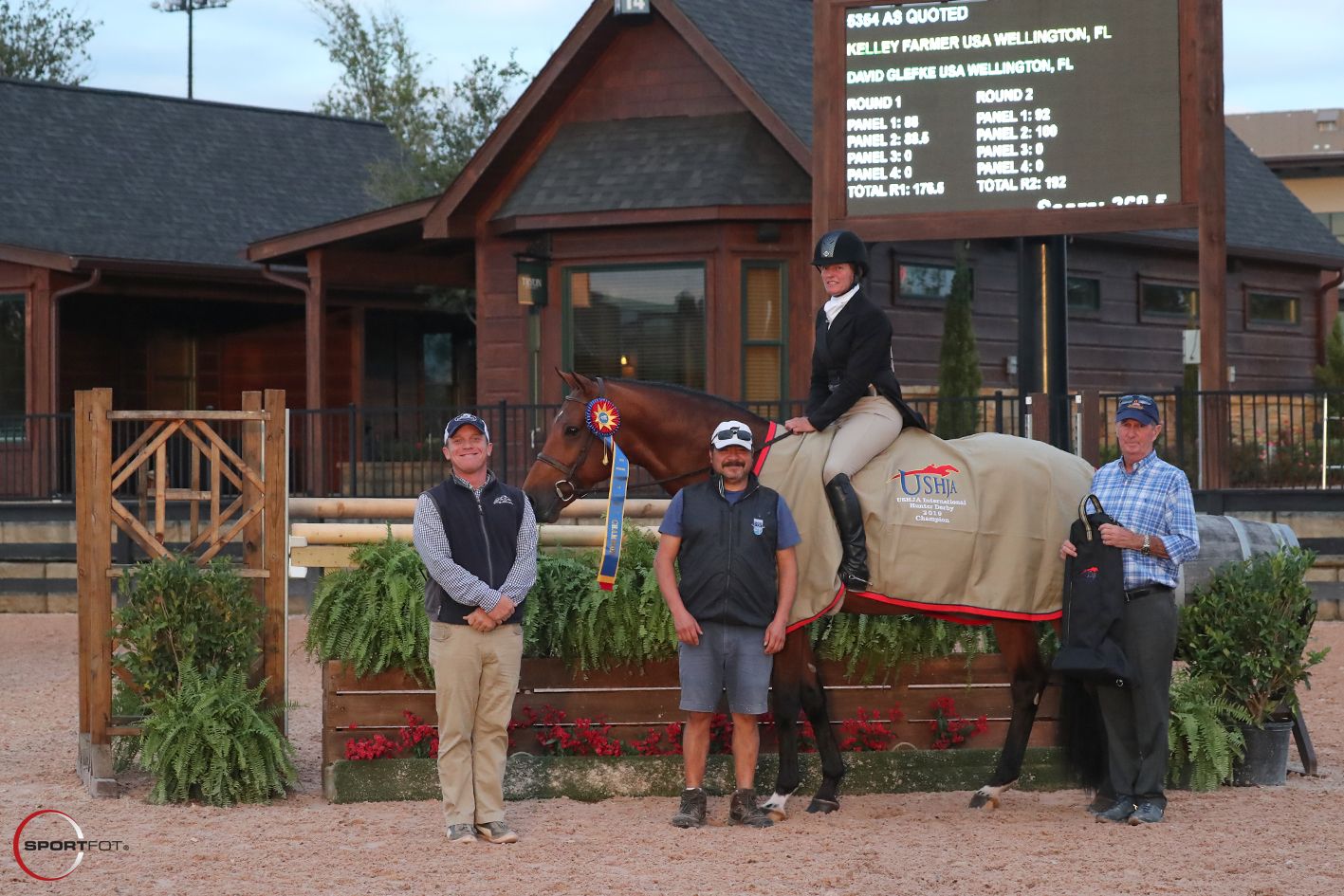 Kelley Farmer and As Quoted in their presentation ceremony alongside JP Godard, TIEC Competition Manager, and Larry Glefke.
©Sportfot
In Farmer's mind, exposing spectators to top-level Hunter competition like Friday's $20,000 USHJA International Hunter Derby is important for the sport. "For the Hunters, I think the derbies are great because we get some outside interaction and spectators. I think the more money [organizers] give, the more people will come to ride, and I think you'll have more spectators," she concluded. "You haven't had people watching the hunter rings this week, but tonight for the derby [there were a lot], and that's a great thing. I think the more money you have in the derbies, the more it'll become a spectator sport."
Hunter Highlights
The Pulse Equine Performance Hunter 3'3" Division was swept by Verona, VA resident Jason Berry, who piloted Central Park to champion for Lee Cesery and Alisa Berry's At Last to reserve.
The Absorbine® Green Hunter 3' Division congratulated Danielle Ford (Newnan, GA) for her efforts with her own Blondie DSF to earn champion, while Jacqueline McQueen (Asbury, NJ) claimed reserve aboard Unrivaled for Shelley Stettner.
The USHJA Hunter 2'9" Division named Ashley Conkle (Wellford, SC) and Sign On, owned by Daniel Geitner, as champions for the week, and awarded reserve to Jodi Vasquez (Mettawa, IL) and August, the Elodie Watrous entry.
To view all Division Results from Tryon Fall 5, click here.
For full results from the $20,000 USHJA International Hunter Derby, click here.
Photo credit ©Sportfot. These photos may only be used once in relation to this press release with proper credit. Contact media@tryon.com with questions.