For Immediate Release
Sarah Madden for TIEC
Mill Spring, NC – April 26, 2021 – The Katydid CDE CAI 2* at TIEC presented by Main Street Insurance concluded Sunday, April 25, with Cones competition at Tryon International Equestrian Center and Resort (TIEC) and the crowning of new USEF Advanced Pony and Intermediate Combined Driving National Champions. Read on to hear from winners across the divisions and view full results below. 
Jacob Arnold: USEF Advanced Pair Pony Combined Driving National Champion
Jacob Arnold (KY) competed unchallenged in the Advanced Pair Pony Division, claiming a USEF Advanced Pair Pony Combined Driving National Championship, while also driving to the top of the Advanced Pair Horse Division. Arnold completed the Cones phase double-clear, topping off a performance that he said he was "super pleased" with, for a total score of 143.96.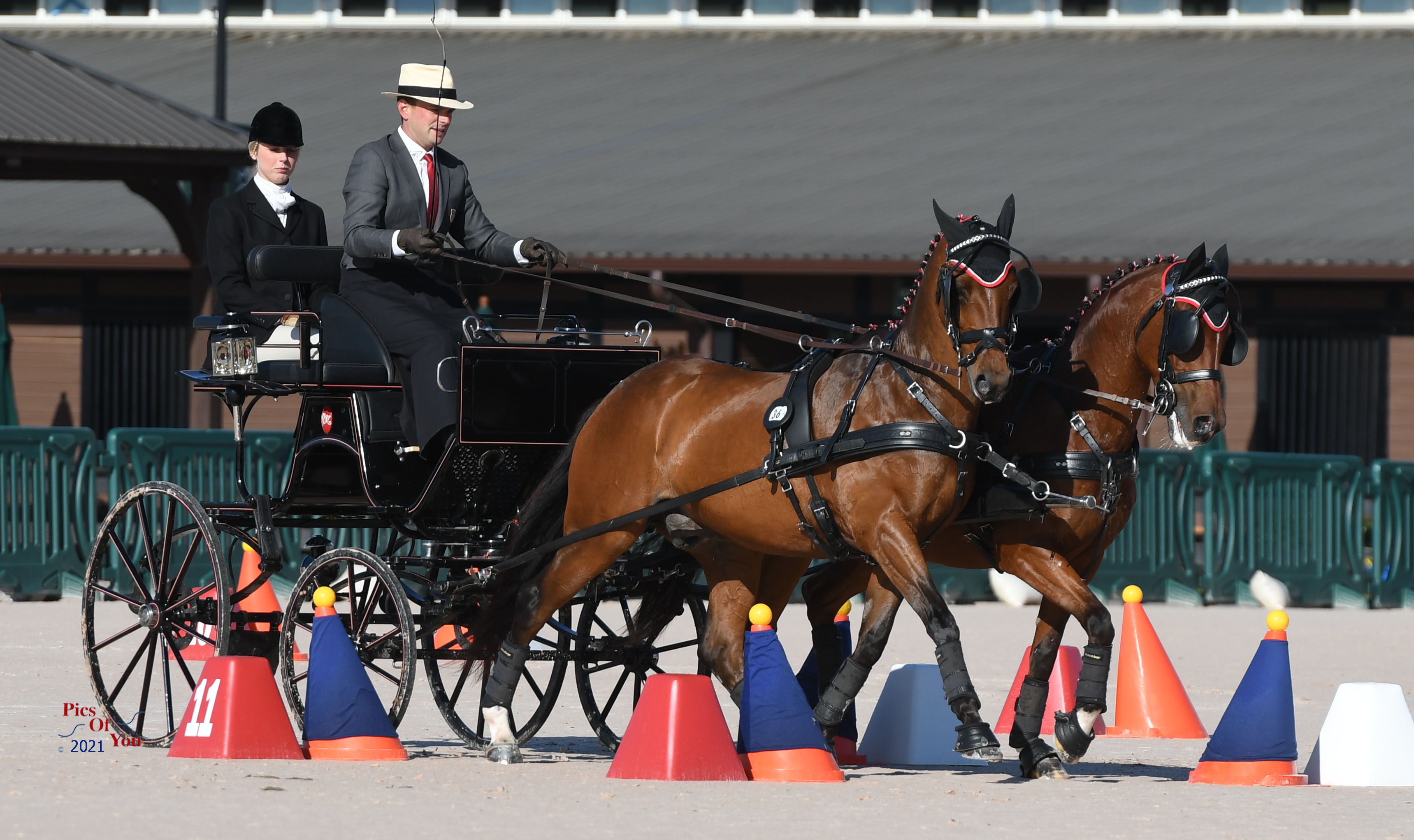 Jacob Arnold and team
©Pics Of You
"The ponies are owned by Eleanor Parkes, who is the one who will be competing them going forward. She had an operation on her shoulder, so this winter she gave me the opportunity to compete with them to keep them in competition shape while she was out," Arnold detailed. "I was super pleased. They performed to top results all weekend, and I'm thankful to her for letting me drive them. It's always cool to have a National Championship!
"They started off with their best Dressage test of the year, which is good to see as a trainer, that they've improved over the season," Arnold recapped. "In Cones, double-clear is double-clear, and you can't ask for much more than that. My driving can always improve, but they were super and I couldn't ask for more."
After topping two divisions in one weekend, also claiming the win in the Advanced Pair Horse Division on a score of 156.93, Arnold is three for three at TIEC and will be a competitor to watch going forward. 
Barbara Chapman Clinches USEF Advanced Single Pony Combined Driving National Championship
The Advanced Single Pony Division saw some trading of the leading score throughout the week, but Barbara Chapman (MI) and her pony Maduro claimed the USEF Advanced Single Pony Combined Driving National Championship after winning Cones and adding just .67 in time for a total score of 151.84. Jennifer Keeler (KY) and Zeppo claimed reserve on the weekend with a score of 155.13, while Dana Diemer (NC) drove to third on a three-phase score of 175.41 with Clarwood Mack the Knife.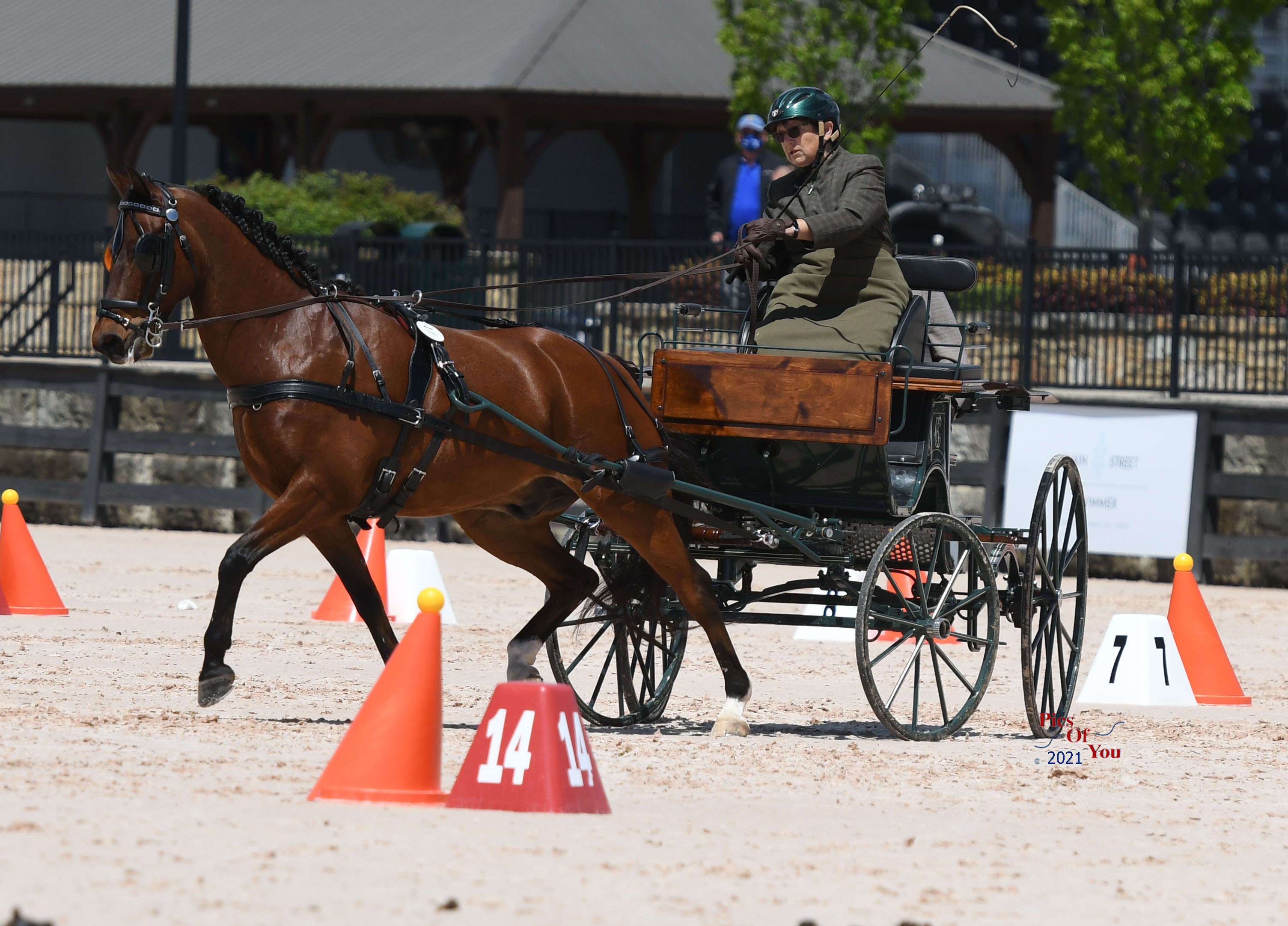 Barbara Chapman and Maduro
©Pics Of You
"We had a wonderful event, and today was a really sweet course," Chapman recapped of her experience. "We are happy and proud to have won it! We got the lowest score in Dressage – he was energetic and did a pretty nice test. In Marathon, we had a little problem at one of the hazards and came in second, but we had a lot of sweet hazards and it was really just fun. The hazards and all of the course was very well designed, which makes it a lot of fun. He came right back, settled into really good Cone driving."
Chapman shared that she was proud of her pony's effort, knowing that settling after Marathon competition can be difficult for him sometimes. "He's a very good all around pony. I've raised him from birth. He's strong, he's brave, he's supple, and he's obedient sometimes!"
Chapman has competed at the venue previously, and was thrilled with how the weekend unfolded despite weather challenges. "I want to applaud the management of the show. They did something very unusual moving the days around, and it was a brilliant decision. Everyone in the competition is grateful for that. We had a wonderful time down here. We went to a bunch of places on Saturday [on our day off], shopping at a lot of local towns. We had a good time.
"It's a very nice venue, and the footing in the rings is fabulous," Chapman concluded. "It's a nice place, and we will be back." 
Gabriel Grasso is Golden in CAI 2* Single Horse Division
Gabriel Grasso (FL) led the CAI 2* Single Horse Division all week with Hendrik, going double-clear to end on a three-phase score of 124.21 for the win. Nifty Hamilton (FL) earned reserve with Makari Design, scoring 137.42, while Donna Crookston (PA) and Viktor claimed third place honors on a score of 145.41.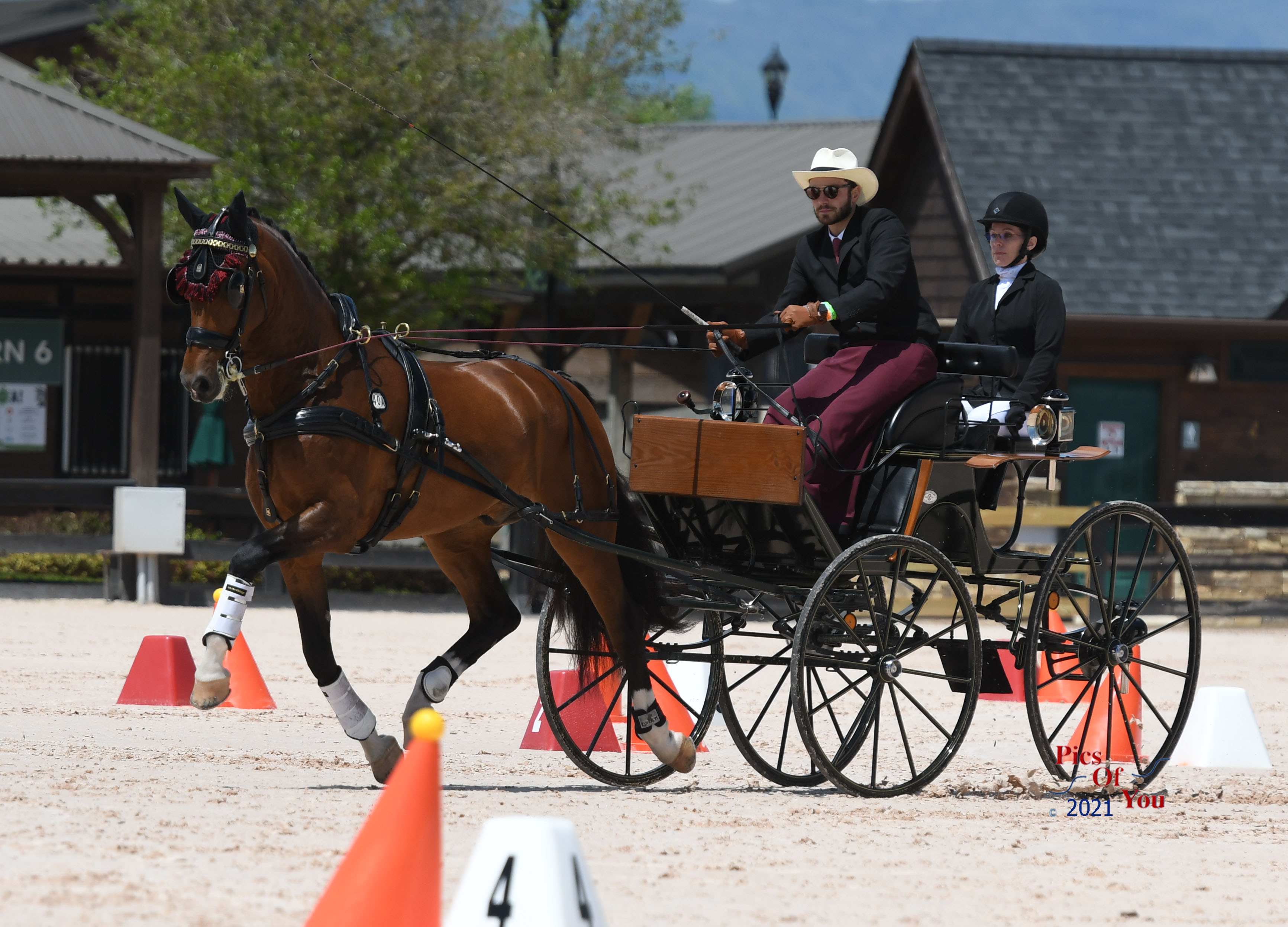 Gabriel Grasso and Hendrik
©Pics Of You
"I'm really happy with it all," Grasso shared. "I have no complaints, and I really enjoyed the course." Everything went to plan in Cones competition, he elaborated, since "after I walked the course I decided which way I was going to drive, and I was sure I was going to make the time. The horse was super and I didn't have to change anything with him. He was super."
Grasso, who rides with Chester Weber, isn't yet sure what his competition season looks like from here, but is taking away what he learned by competing at TIEC into his next endeavors. "I always learn something, from the horse [I'm driving] or the other competitors," he concluded. 
USEF Intermediate Single Pony Combined Driving National Championship to Riley Wiltinson
Riley Wiltison (MD) and Willow's Aslan produced a double-clear Cones performance to clinch the USEF Intermediate Single Pony Combined Driving National Championship, finishing on a total score of 137.91. Alice Baughman (SC) and Captain Jack Sparrow went double-clear to finish on a score of 141.47 for reserve, and Patti Rozensky (FL) combined with LLF Lucent to earn third with a score of 155.35.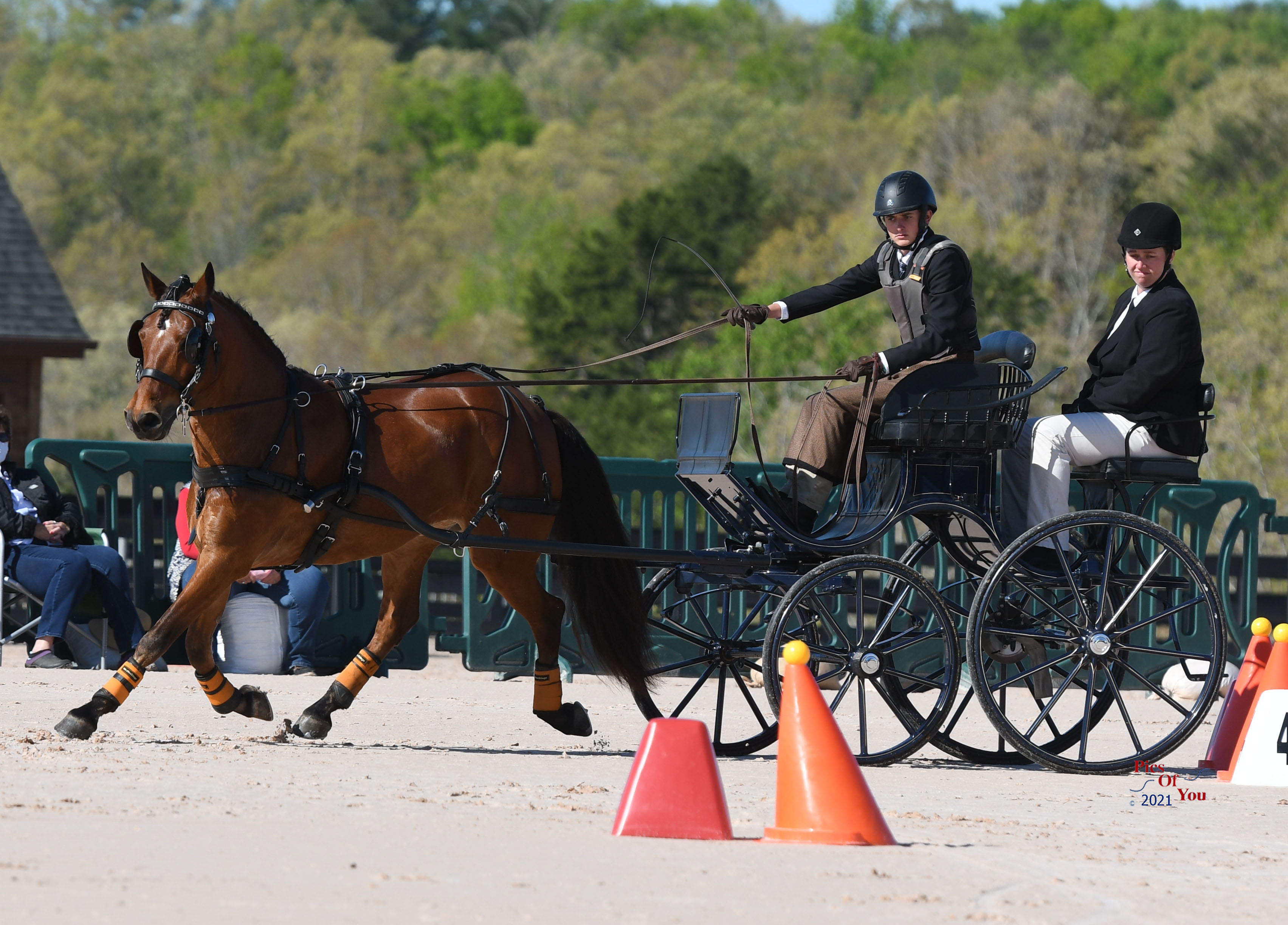 Riley Wiltinson and Willow's Aslan
©Pics Of You
"It feels pretty exciting, honestly [to be a national champion]," Wiltinson shared. "Aslan and I have a really strong bond, and he really listens to me well." The pair have been together for four years, and their partnership paid off across all phases of the weekend, he reported. "He did really well in Dressage, and I was very happy with him. He performed well and listened to me. [Marathon] was a lot of fun. He was able to really ride it. It was a really nice course!"
While the schedule change was an odd experience for most competitors, Wiltinson said he took the extra time to prepare for Cones competition. "We definitely had more time to walk the cones, and really look at the whole course and plan out our route. It was a very technical course, but it drove very well." 
Yvette Harris Drives to USEF Intermediate Pair Pony Combined Driving National Championship
Yvette Harris (MD) drove Suki and Morwell Amber to a second consecutive USEF Combined Driving National Championship title this weekend, after moving up this season to the Intermediate Pair Pony Division. Though unchallenged this weekend, Harris was thrilled with her ponies' performance to finish on a score of 155.81.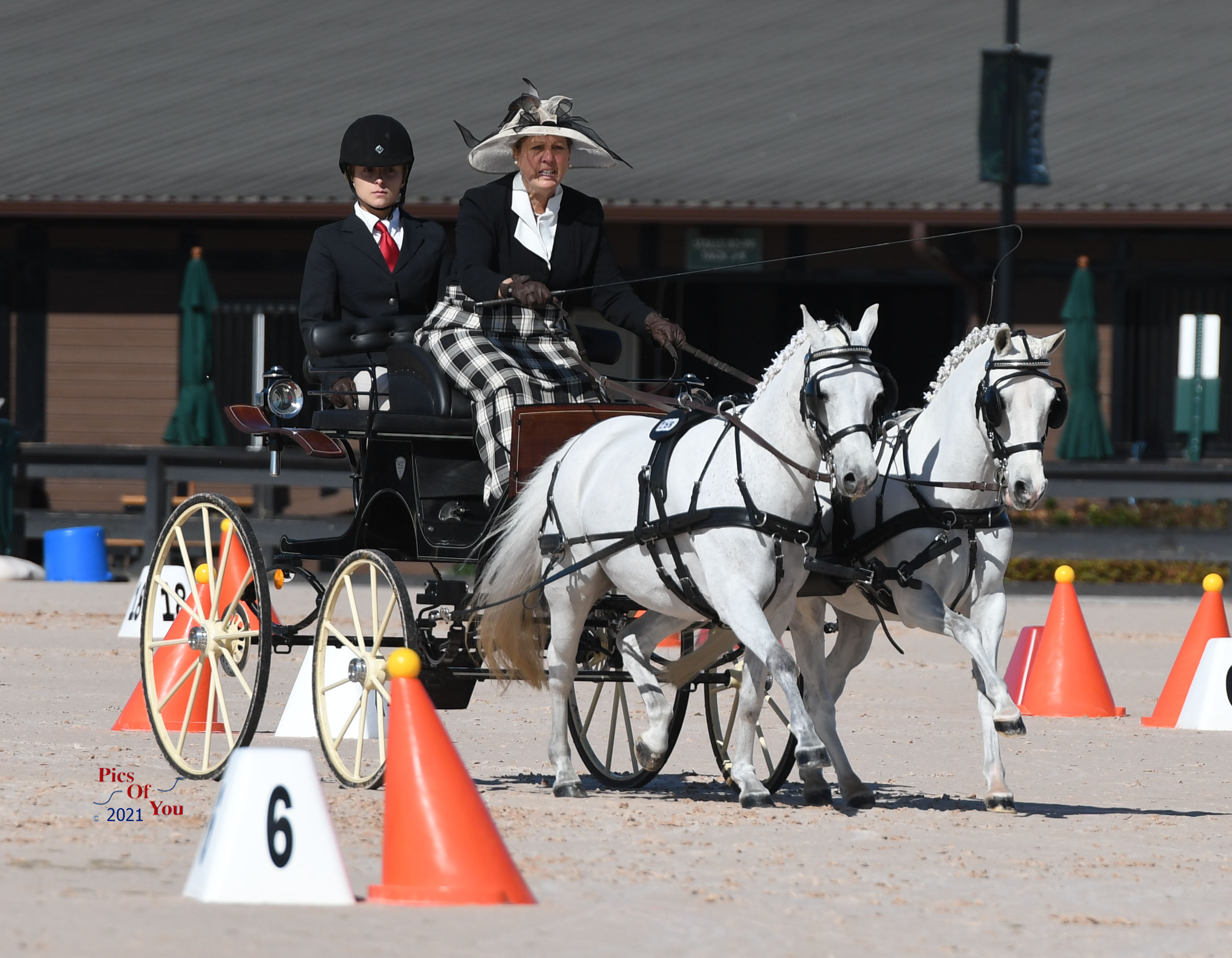 Yvette Harris and team
©Pics Of You
"I'm really excited about it. I'm really excited with my ponies. We have all worked hard and they went really well. We didn't have any major flaws or major problems this weekend, so that is always a good thing." She recapped of Dressage that "it was a pretty windy day, so I had to deal a little bit with one of my ponies and the beautiful flowers whispering to her in the wind. Sometimes you can't do the best that you can do at home, but you come and be as competitive as possible and try to get your best for that day.
"The Marathon was nice. It's a charming course – it's lovely. I love the cross-country course. I loved it last year and this year as well with all the obstacles." In the Cones phase, Harris reported that she pushed herself to be more competitive and was able to go double-clear. "Since I did bump up to Intermediate this year, I went a little bit faster and by the skin of my teeth, I didn't have time faults. That was really exciting, and then to go double clear was even more special." 
Marianna Padgett Masters USEF Intermediate Single Horse Combined Driving National Championship
Marianna Padgett (FL) won the Cones phase of competition to secure her USEF Intermediate Singe Horse Combined Driving National Championship with Bravo, scoring 146.68 in total. In reserve, Sarah Reitz (NY) wrapped up her weekend with Awesome George on a total score of 173.74 for reserve.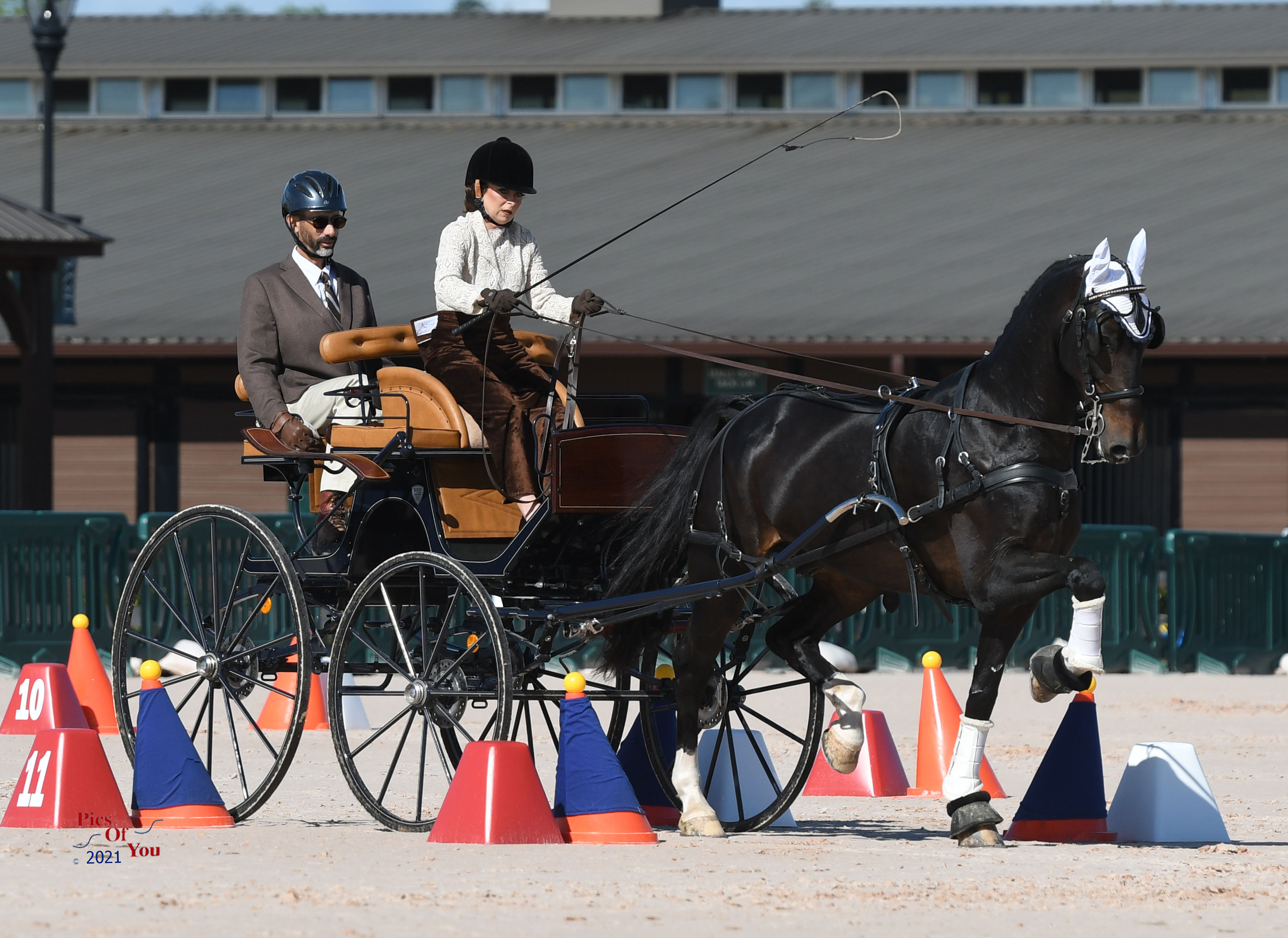 Marianna Padgett and Bravo
©Pics Of You
"It was a good weekend," Padgett recounted. "He went clear in Cones. We didn't have any balls down. We had a few time penalties, but I think he ended up coming out of it all with about a 30-point lead, so I'm really happy with him. He is a fantastic mover, and really a three-phase horse."
Padgett was especially thrilled with her results considering her horse has only been to a few competitions, and is still gaining experience at new venues. "We only have six shows underneath us," Padgett emphasized about her young horse. "He just needs to keep going to shows. Relaxation is definitely something he needs to continue to work on. It's just about getting him in the ring and being in the environment. My plan is to keep taking him out and keep doing what we're doing."
She shared that she's grateful that she had the chance to compete at TIEC and spoke to the value of "opening up venues like this" to Combined Driving competition. "This is a pretty intimidating venue for a young horse, as there's a lot going on, but it helps to keep bringing them to these types of venues, especially when you're talking about the FEI level." 
Cathy Thomas Notches First CAI 1* CT Completion
Cathy Thomas (NC) competed in her first CAI 1* Combined Training effort in pursuit of qualification to compete in the Advanced level, wrapping up a successful two phases of competition with JD's Fario in the CAI 1* Single Horse CT Division with a score of 81.23. Now halfway through the qualification process to compete in CAI 2* competition, Thomas reported that "since we had not been to TIEC before we wanted to come and see the venue and get a one-star done, which we did. We look forward to coming back in the future!"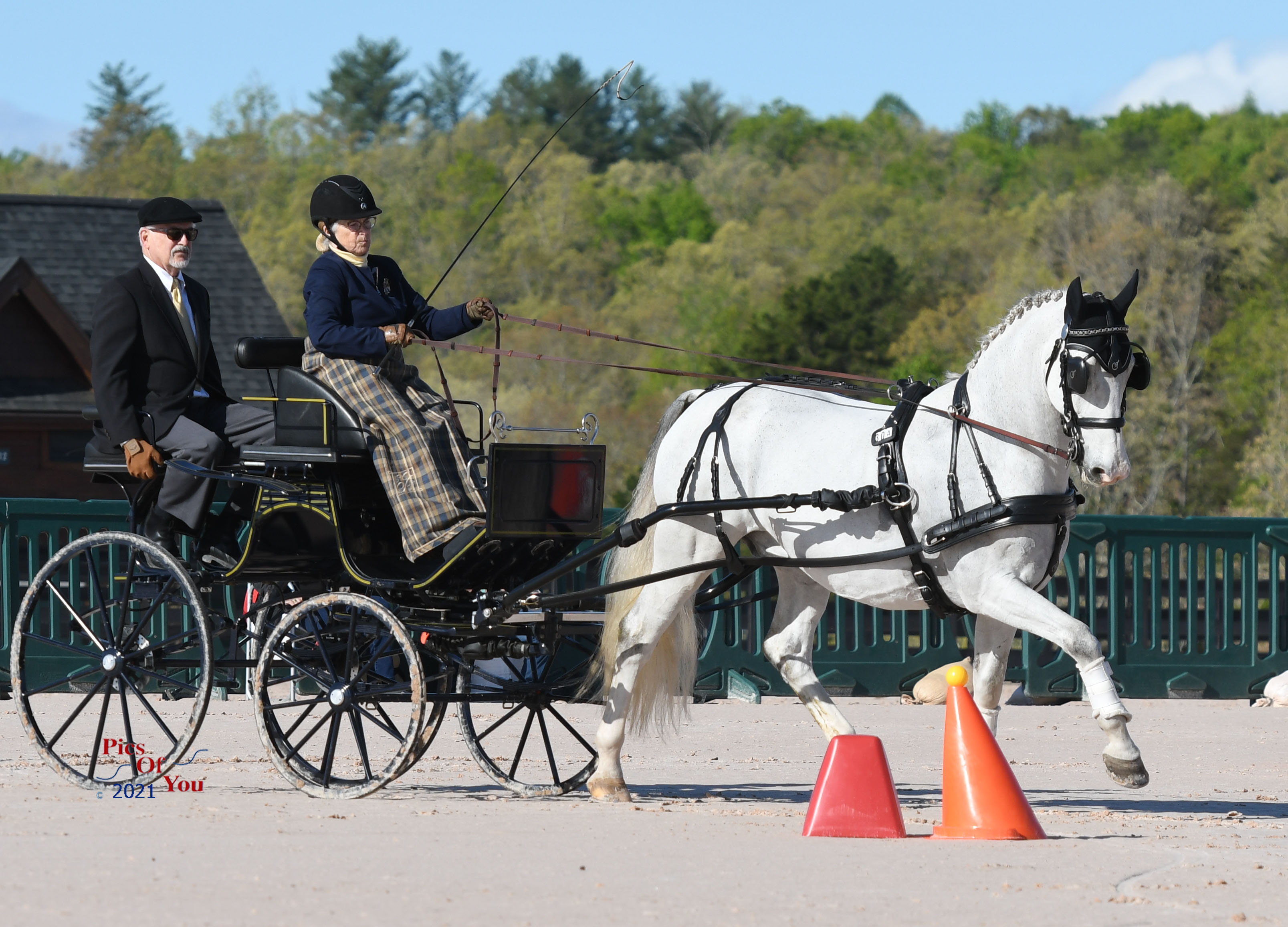 Cathy Thomas and JD's Fario
©Pics Of You
As a first-time competitor at the venue, Thomas was thrilled with her experience, she shared. The footing in the arenas was fantastic. Yesterday with the rain, the covered arena really came in handy. We did volunteer for the Marathon and I really liked the course. I thought the organizer changing the Marathon schedule was a fantastic call. Today was the perfect day for Cones. I've never done Cones in an arena like that, and it was awesome! I noticed even when walking the Cones course that it [the footing] was really easy on me, too."
Though it'll be a while before Thomas gets the chance to compete for her second qualifying score, she's pleased with her results and the insight she's gained for the work at home to come. "We have a lot of homework to do, so we can be patient. Jacob Arnold was able to give me a lot of help this weekend," she shared. "I have a lot of homework to do. Of course, it's never the horse… it's always the driver! I love the process. It's the at-home work that I enjoy the most. Going to shows is just the icing on the cake."
View Cones and full results from the Katydid CDE CAI 2* at TIEC presented by Main Street Insurance here.
Combined Driving competition will return to the venue in the fall for the Tryon CDE presented by Main Street Insurance, with more information to come at www.Tryon.com/Driving.  

Photos ©Pics Of You. These photos may only be used once in relation to this press release with proper credit. Contact media@tryon.com with questions.