David O'Brien and Kir Royal SCF Claim $5,000 Speed Stake CSI 3*
For Immediate Release
Mill Spring, NC – October 14, 2019 – Jordan Coyle (North Salem, NY) and Elan Farm's Essenar Crixus came out on top in Sunday's $30,000 American Standard Grand Prix to conclude Tryon Fall 4 competition at Tryon International Equestrian Center (TIEC) at Tryon Resort, stopping the jump-off timers at 36.89 seconds. Kristen VanderVeen (Wellington, FL) piloted Bull Run's Almighty, the Bull Run Jumpers Six LLC-owned 2008 Hanoverian gelding (Caspar x Quidam De Revel), to clear the short course in a time of 38.6 seconds to earn reserve, while Conor Swail (Wellington, FL) and Gamble, the 2011 Dutch Warmblood gelding (Vingino x Indoctro) owned by Asta Torokvei, received third on a score of 38.964 seconds.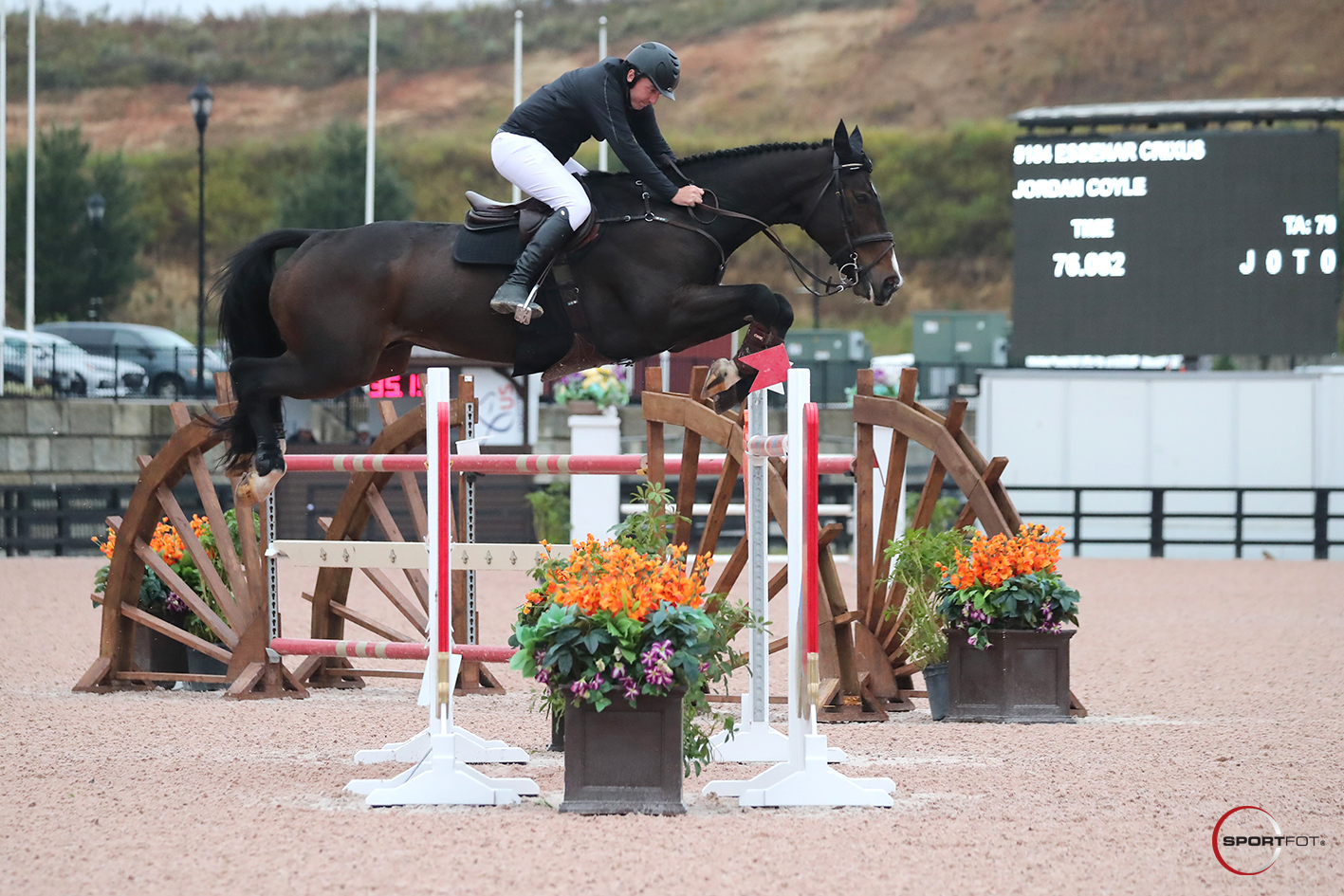 Jordan Coyle and Essenar Crixus
©Sportfot
"I had him as a young horse in Ireland, actually, then when I came to America he went back to his owner," Coyle shared before explaining that he just started working again with the 2010 Irish Sport Horse gelding (Luidam x Ard VDL Douglas) about a month ago: "This is my first real horse show with him. He jumped FEI this week, but he's still a bit green so this class was perfect for him. We have big plans for this one, so come Florida, hopefully he'll be ready to compete at the Grand Prix level."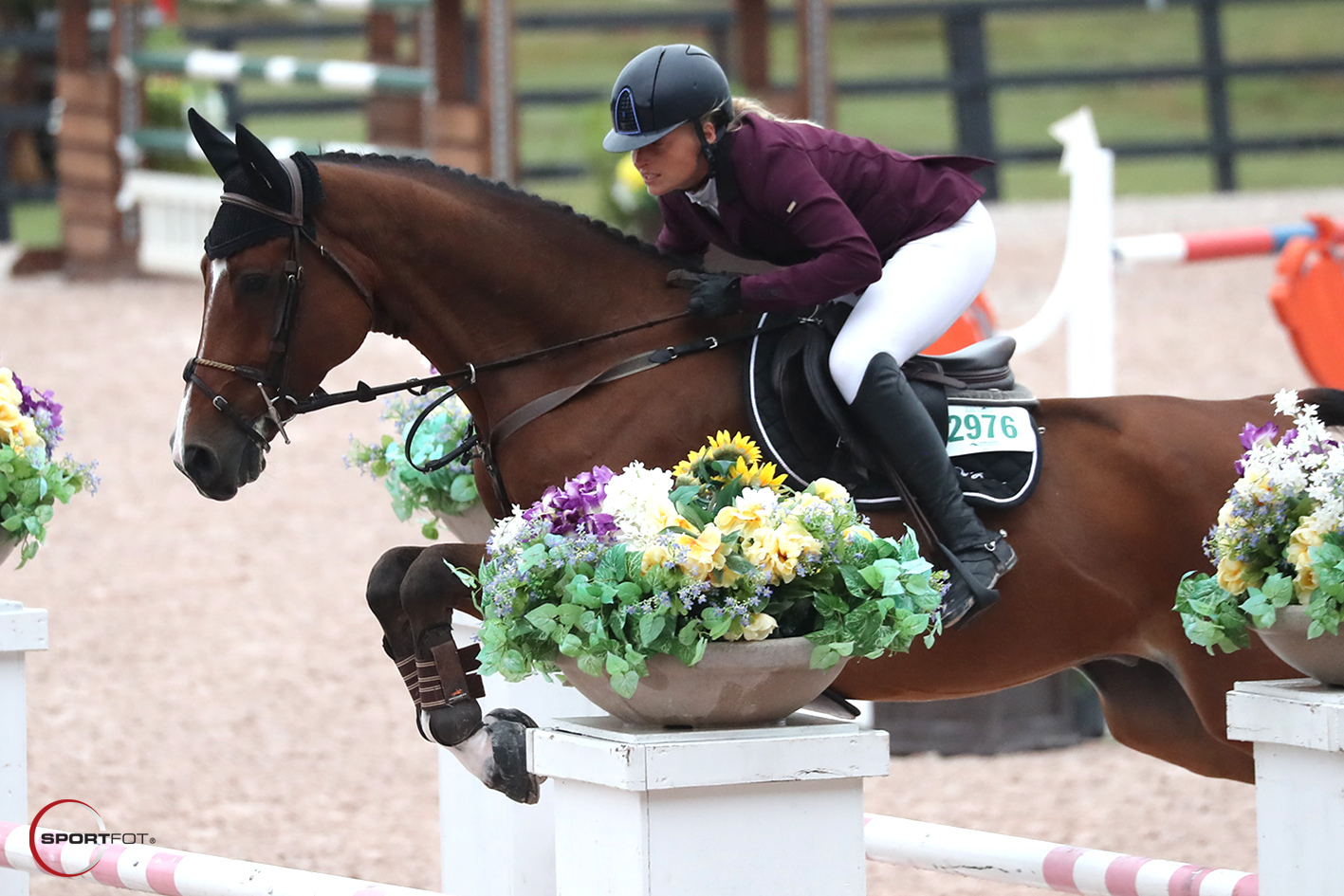 Kristen VanderVeen and Bull Run's Almighty
©Sportfot
Course designer Peter Grant (CAN) welcomed back 13 horse-and-rider pairs to the jump-off from an initial field of 47 contestants. "It was a nice course; big enough but not too big for him. The jump-off was pretty wide open and I could let him gallop." Coyle explained where he gained the lead during the jump-off: "Over to [jump] 12 it was a bit reckless, but I cantered and saw the straight [line] right away. He wasn't really sure where he was going, I think. He just got it at the last minute but he has to learn to do these things if he's going to be as good as I hope."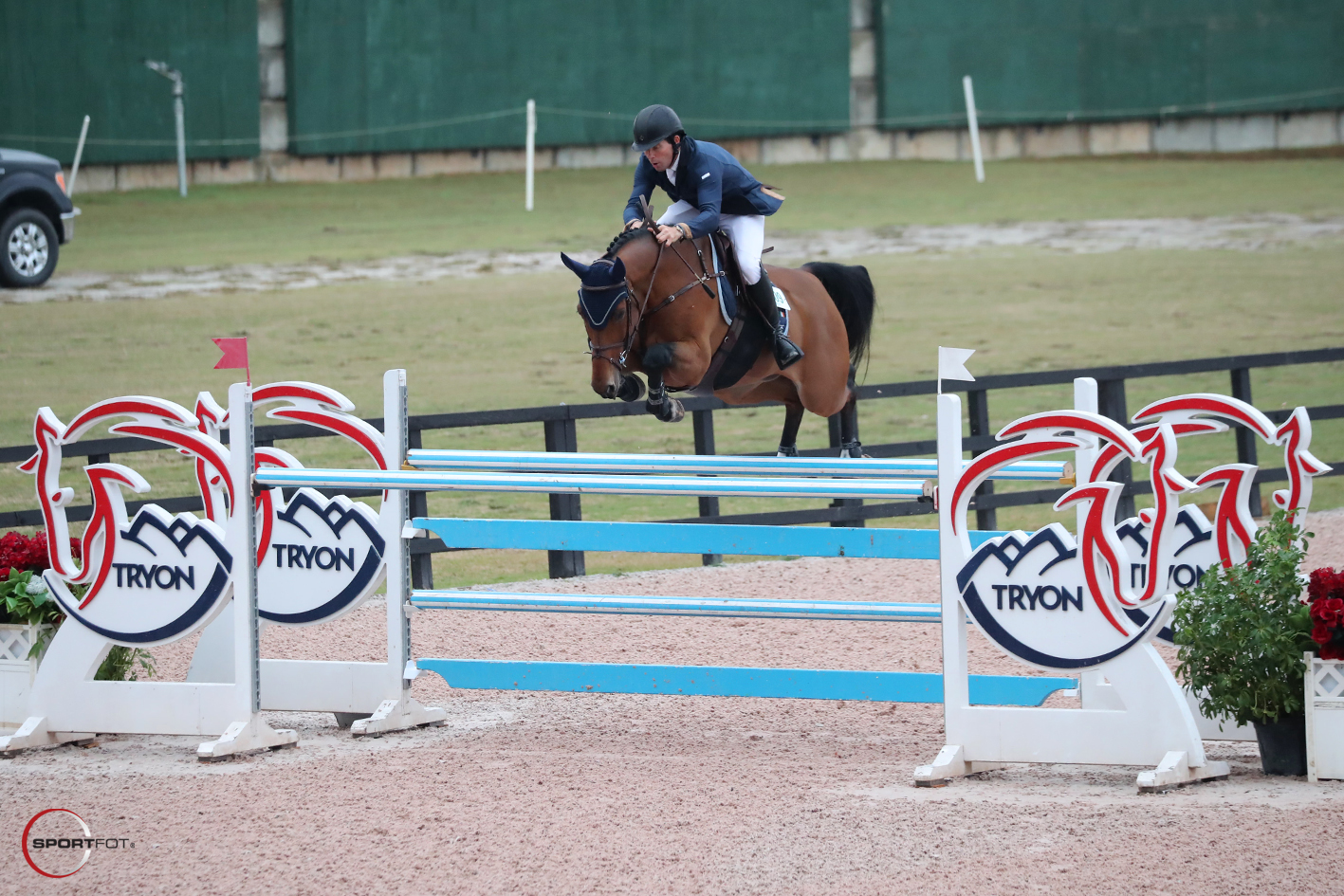 Conor Swail and Gamble
©Sportfot
Coyle revealed that it was his and his brother's first time competing at TIEC: "Everything is amazing. It's Daniel's first week here as well and both of us can't believe we haven't been here before," Coyle concluded, "I'm just coming back from an injury so I'm just going to do three weeks [of showing], then go home and recover properly for Florida."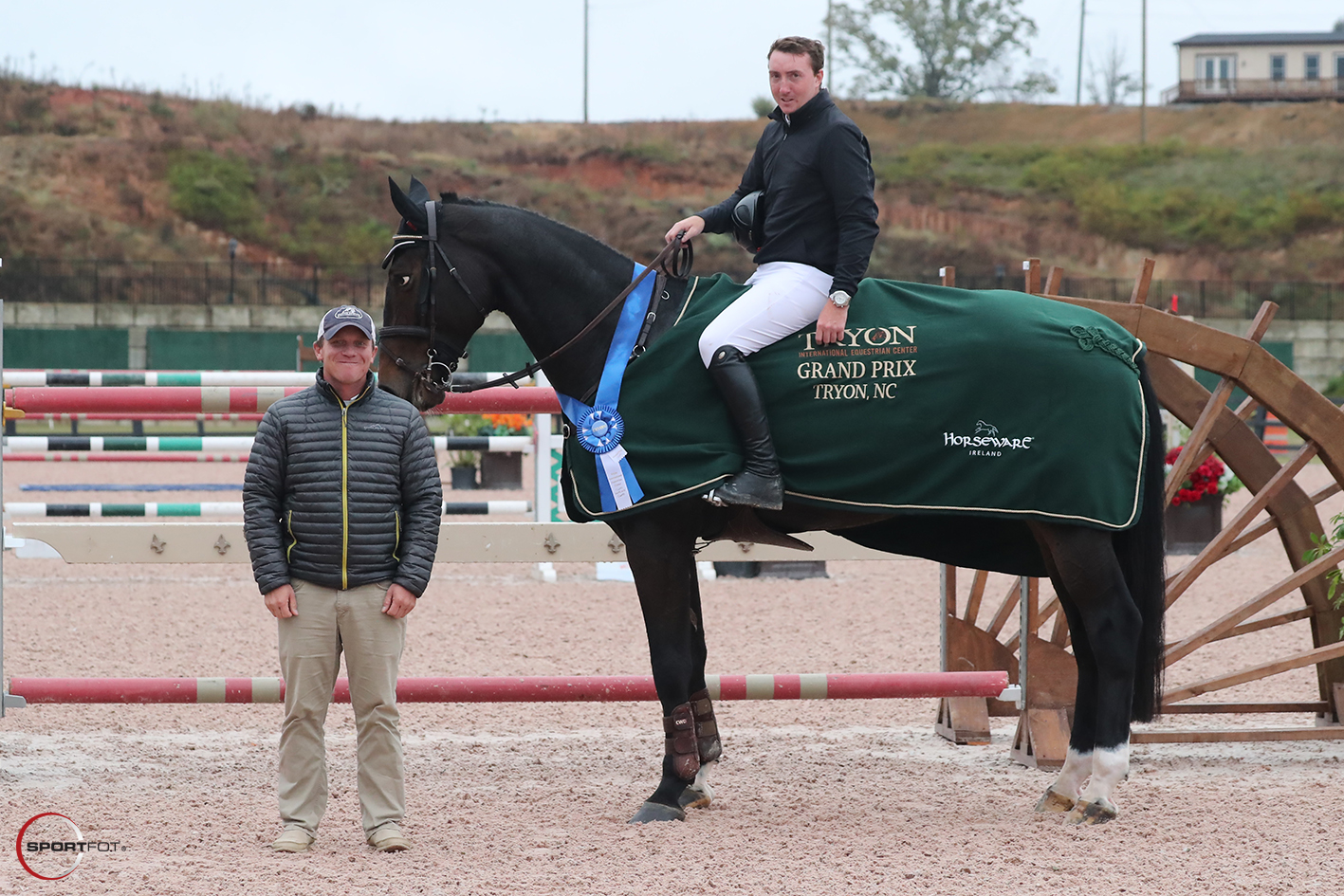 Jordan Coyle and Essenar Crixus in their presentation ceremony alongside JP Godard, TIEC Competition Manager.
©Sportfot
Jumper Highlights:
David O'Brien (IRL) and KIR Royal SCF sped to the $5,000 Speed Stake CSI 3* win on Friday, stopping the timers in 55.66 seconds to best a field of 18. Jack Hardin Towell (USA) and Carlo, a 2006 Holsteiner stallion (Casall x Landlord) owned by Ann Thompson, claimed second with a time of 56.64 seconds, while Tanimara Macari (MEX) and Feminka, a 2010 Dutch Warmblood mare (Verdi TN x Numero Uno) owned by Christian Glanemann, cleared the course in 59.94 seconds to earn third.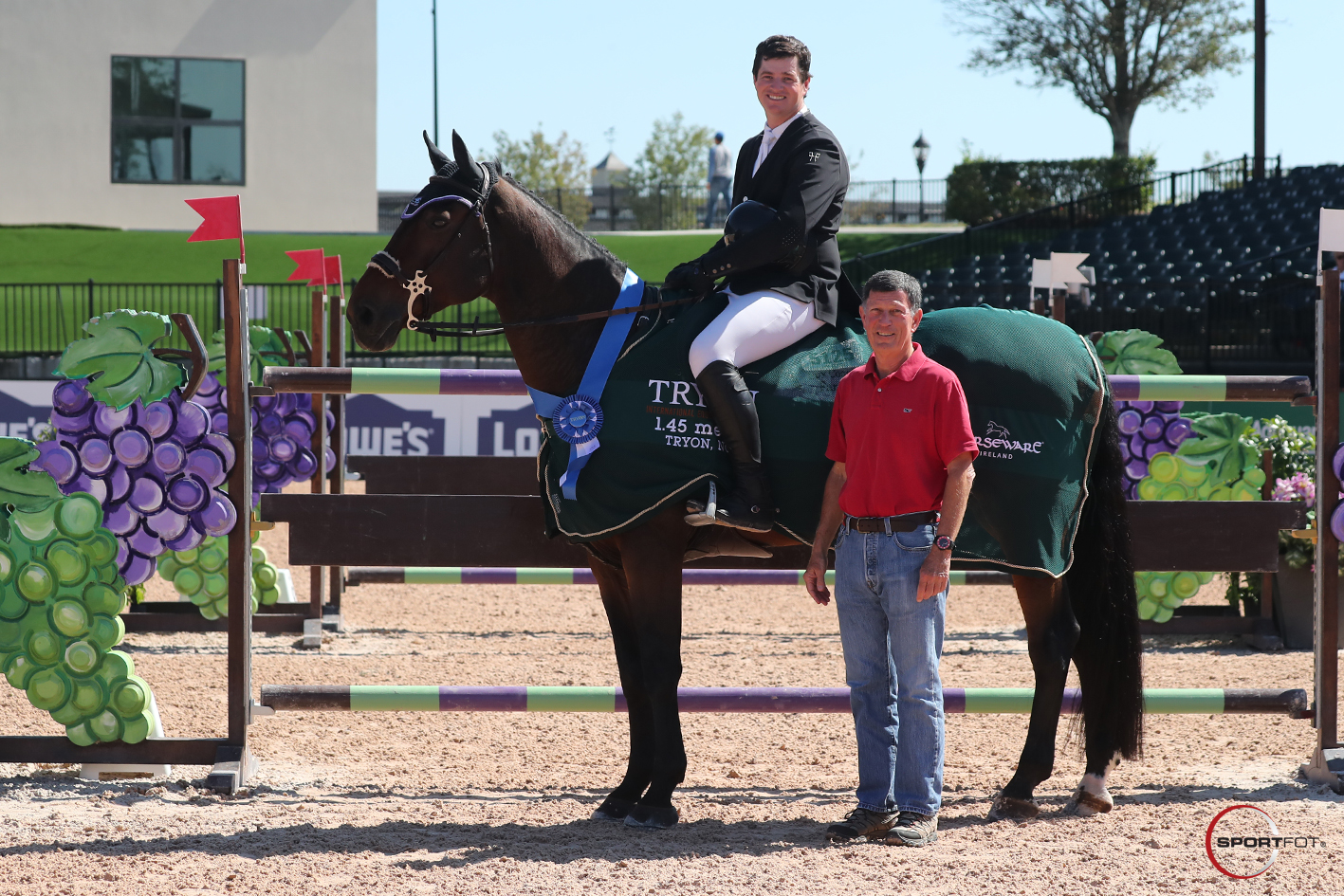 David O'Brien in his presentation ceremony alongside Eric Straus, TIEC General Manager of Equestrian Operations.
©Sportfot
O'Brien and the Spy Coast Farm LLC-owned 2010 Belgian Warmblood gelding (Amaretto D'Arco x Nabab de Reve) were "pretty much up on the pace from the start, and kept tight everywhere" to take the win, O'Brien detailed. "We were a bit lucky in a few spots where we tapped a rail, but he's always a fighter. Hopefully now he'll be ready for next week's stakes, and have a bit of luck there, too. All my horses jump really well here," he emphasized. "It's a great facility for me, and I get to really prep my horses here and train them up."
In the Developing Jumper Series 6 Yr Old Young Jumper 1.30m Division, Dorothy Douglas (West Bridgewater, MA) piloted the MTM Farm entry, MTM Kappa Kappa Gamma, to champion honors for the week. Reserve champion honors were awarded to Ibiza, owned by Ariel Grange and ridden by Daniel Coyle (Cheltenham, ON).  
Rowan Willis (Ocala, FL) showed his own Calisto 26 in the Nutrena® 1.40m Open Jumper Division to earn champion for the week. A tie for reserve champion honors was awarded to Andrew Kocher (Ocala, FL) aboard his own Abelone O.T. Lowlands Z and also to Stella Manship (Brewster, NY) on the Tegan Elizabeth Treacy-owned Colorado. 
Stella Manship (Brewster, NY) rode Elan Farm's Endgame to earn champion in the CaptiveOne Advisors 1.20m Open Jumper Division. Peter Leone (Wellington, FL) piloted Footloose HX, owned by Claudia Harrison-Guess, to reserve champion honors. 
The Tryon Estates Adult-Amateur Jumper Division saw Bonnie Orlowski (New York, NY) and her own Eyecatcher take champion of the division. Kym K Smith (Middleburg, VA) and her own Konnichiwa earned reserve champion in the division. 
Hunter Highlights: 
Devon Degen (Water Mill, NY) and Degenmoor Farm Inc's ZIPPO scored a two-round total of 164 to top the $5,000 Carolinas Challenge Cup Combined 3'-3'3"-3'6" Division at TIEC on Saturday. Bailey Lones (Lenoir City, TN) and her own Galileo earned second with a total score of 129, while the yellow rosette went to Extraordinaire, Stephen Borders-owned and ridden by Trilby Allen (Columbus, NC), with scores totaling 99. 
The Pulse Equine Performance Hunter 3'3" Division saw Sara Ketcham (Tryon, NC) show Still Creek Farm's entry, Uptown Funk, to earn champion for the week. Reserve champion honors were awarded to Daniel Geitner (Aiken, SC) and his own Banks Mill.
The Walk-Trot-Canter B Division congratulated Tanner Hedrick (Marietta, GA) and Jackie Sawyer's Blue Eyed Bandit on earning champion in the division. Riley Couchell (Greenville, SC) showed The Amazing Spiderman, owned by Taylor Blackwell, to earn the reserve champion honors.  
In the Gardner Webb University Children's Hunter 15-17 Division, Liza Hough (Winston Salem, NC) rode Charlotte Anguiano's entry, Simpatico, to champion honors. Laura Morehead (Charlotte, NC) rode the Coleman Holland-owned Eli to reserve champion honors. 
Julie Curtin (Woodstock, GA) showed Amy Squier Perez's Talkative in the Foothills Hunter 2'6" Division to earn champion for the week. Taylor Jordan (Marietta, GA) and Dawn Hersey (Marietta, GA) rode Jackie Sawyer's Quatro to earn reserve champion in the division. 
To view all Division results from Tryon Fall 4, click here.
For full results from the $30,000 American Standard Grand Prix, click here.
For full results from the $5,000 Speed Stake CSI 3*, click here. 
Photo credit ©Sportfot. These photos may only be used once in relation to this press release with proper credit. Contact media@tryon.com with questions.