For Immediate Release
Mill Spring, NC – August 12, 2019 – Friday's $2,500 USHJA National Hunter Derby awarded Gisele Beardsley O'Grady (Tryon, NC) the winner cooler and ribbons for her efforts aboard Ginny Barnette's Januar, earning a two-round score of 172 to take the win. In second, Allen Nabors Jr. (Odessa, FL) piloted Lookalike, the 2010 Dutch Warmblood gelding (Levistano x Paola), for Margot Hirsch on a score of 169, while Robert Stucky (Waxhaw, NC) and The Girl From Ipanema, a 2009 Hanoverian mare (Clinton I x Vorbuch) owned by Allie Rae Hayes, claimed third after earning a score of 166 after two rounds.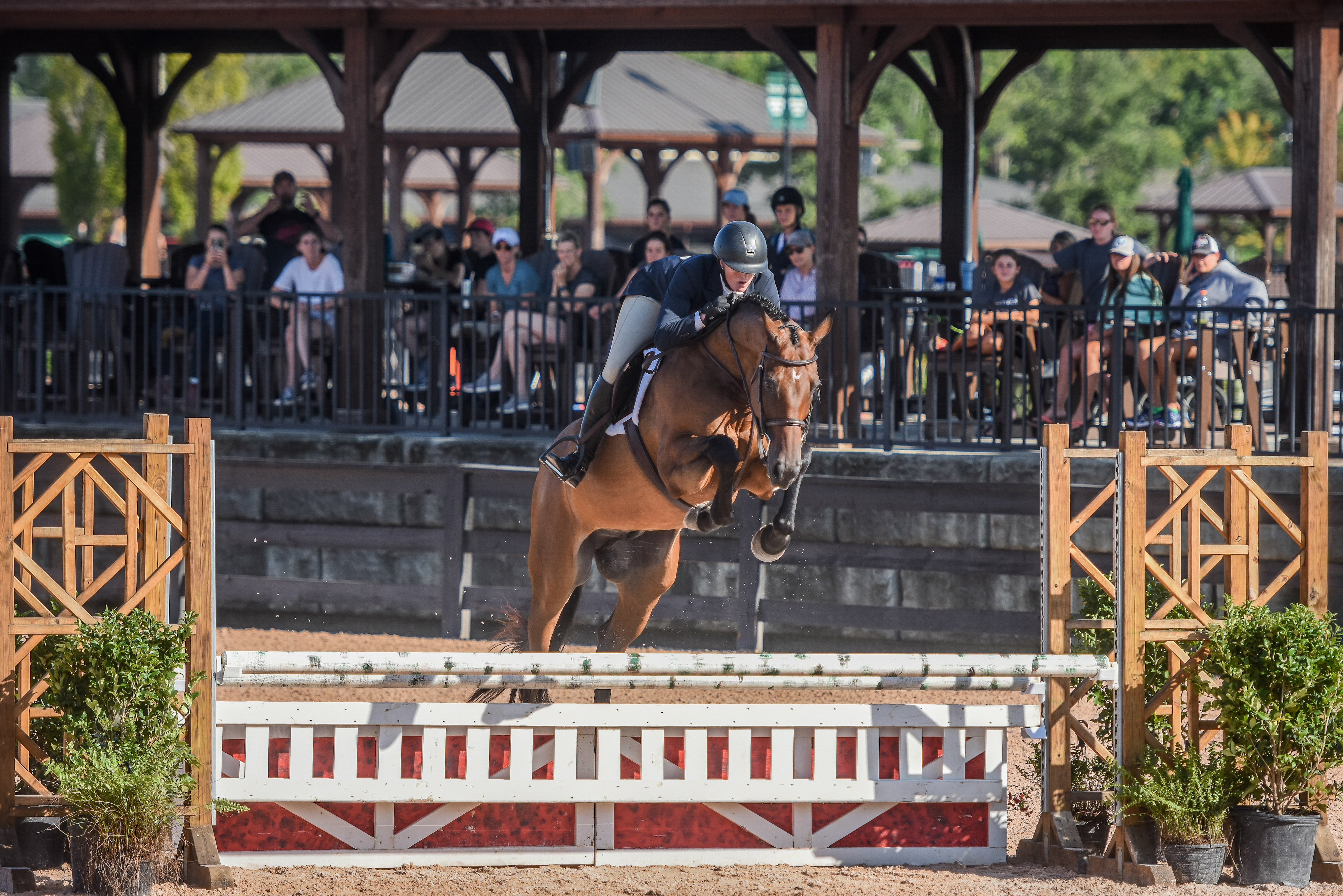 Gisele Beardsley O'Grady and Januar
©TIEC
Fifteen pairs challenged the first-round course set by JP Godard (Aiken, SC), and it was Januar all the way after his initial score of 87. Beardsley O'Grady, who called the 2006 Dutch Warmblood gelding (Junior Mariner x Poetri) "perfect" and "playful" on the way to victory.
"It went really well, so I couldn't be happier," said Beardsley O'Grady. "The course was nice. He's a blast to ride, and he's got a ton of experience, and I'm lucky to get to ride him. He's a showman; he goes in there and shows off! So, that works in our favor.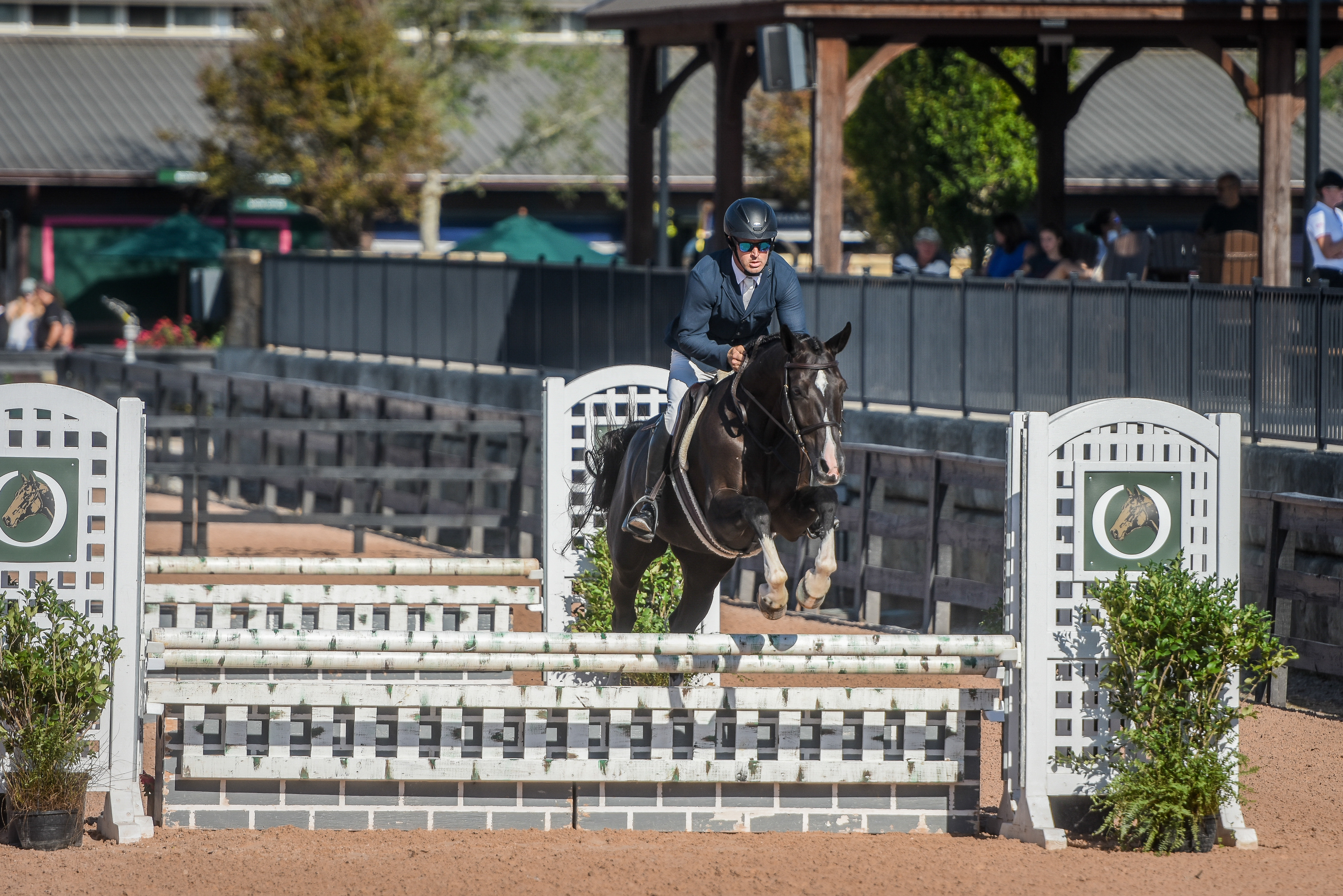 Allen Nabors Jr. and Lookalike
©TIEC
"Everything pretty much rode to plan today. I had a couple lucky moments in the handy round, where he got a little playful, but I think they liked the way he jumped and forgave us for it! I think I could have helped him out just a little better, but everything pretty much rode to plan today. I got the advantage by riding a good horse that jumps so well! He's perfect!"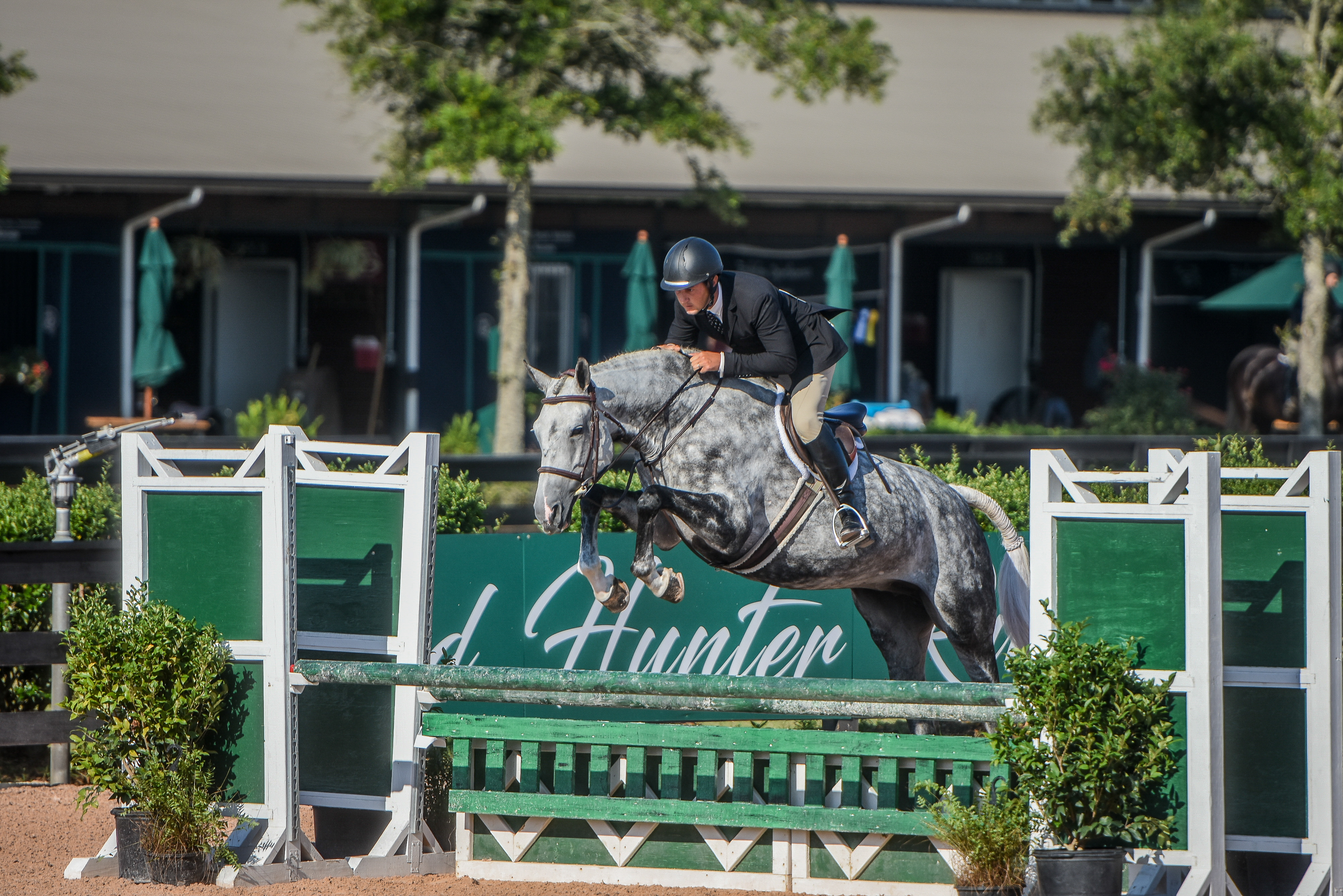 Robert Stucky and The Girl From Ipanema
©TIEC
Beardsley O'Grady emphasized that Januar is happiest in limited competition with National Derbies only, but he makes the most of every trip around the ring: "His story is a little long – he was imported a couple years ago, and has had a long recovery from a couple injuries," she explained. "We're lucky enough that he is back and fully recovered to be in the show ring. He has always loved showing, so I think that's honestly also helped his recovery. He's done really well here [at TIEC]. We do a limited amount of shows, and he just loves it every time.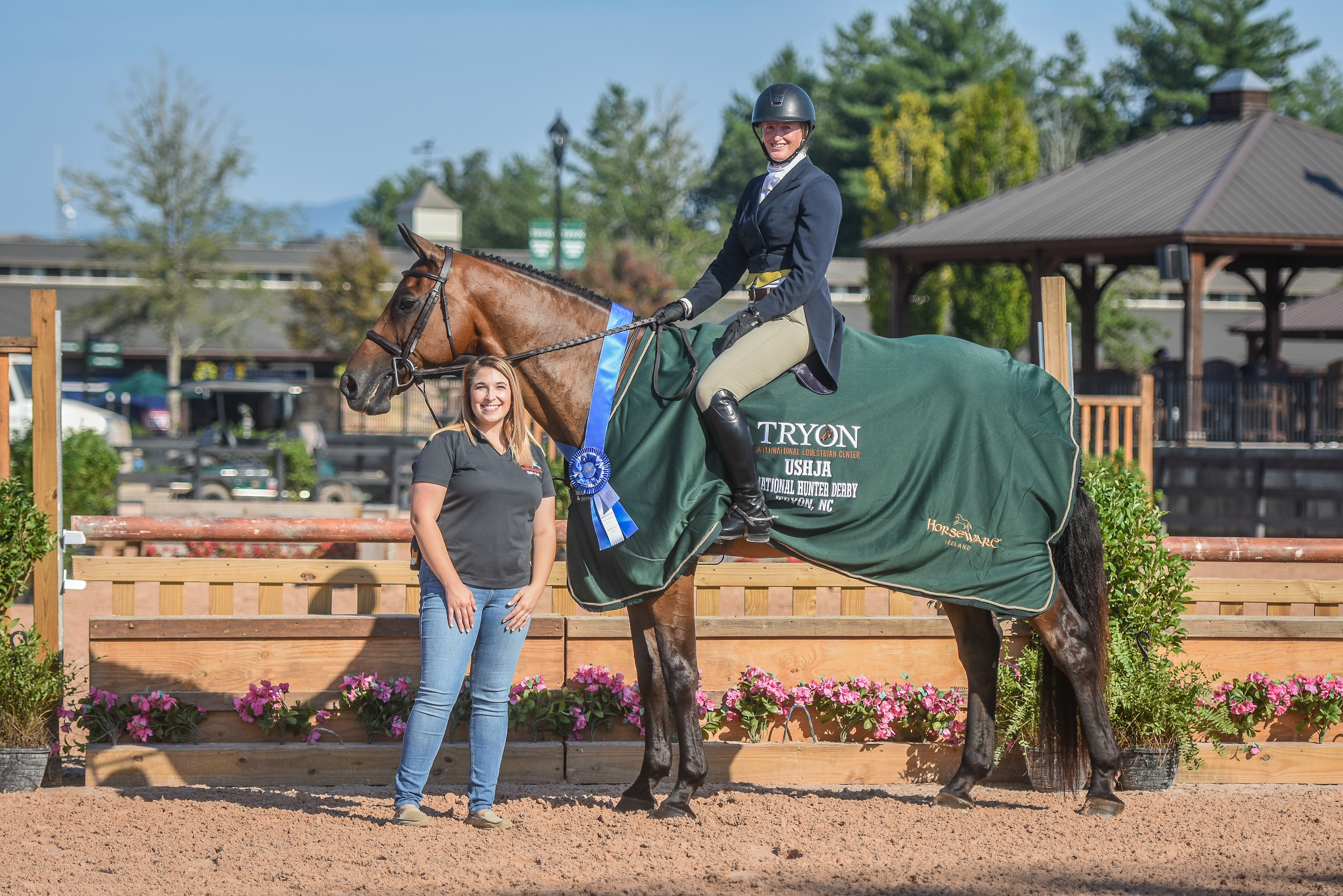 Gisele Beardsley O'Grady and Januar in their presentation ceremony alongside Jessica Edwards, of Rider Video Services at TIEC.
©TIEC
"Jeanne [Smith], our trainer, and his owner, Ginny, have both obviously played a huge part in him," Beardsley O'Grady continued. "He's just perfect, and we love him. He's awesome. Going forward, he will remain a National Derby horse. We want to protect him and keep him happy and sound. He's not old, but with his prior injuries we want to keep him protected. Ginny just loves her horse, and Jeanne is such a good horseperson that she's never going to push him," she concluded. "They're a really good team for him!"
For full results from the $2,500 USHJA National Hunter Derby, 
click here.
Hunter Highlights:
The Amateur-Owner Hunter 3'3" 36 & Older Division recognized Mary Barben (Avon Park, FL) and her own Brigadier as champion, while reserve honors were named to Christina Plichta (Wellington, FL) and Kingsford, owned by Purple Lane Farm, LLC.
In the Main Street Insurance Junior Hunter Combined 3'3"/3'6" Division, Molly Roberts (Raleigh, NC) earned champion on the week aboard her own Cleiner. Caroline Kelly of Lexington, KY, piloted the Hat Trick Sporthorses entry, Parzival, to reserve honors.
Finley Clement (Waxhaw, NC) and Caroline Gilmer's Farnley Crown Prince earned champion honors for their efforts in the Pony Hunter Combined Division, with Madison Hinde (New Bern, NC) rode her own Bazinga to reserve.
Hinde and Bazinga also collected champion honors in the USHJA Hunter 2'3" Division, with Karema Moheisen of Southport, FL, riding Blue Diamond to claim the reserve rosette for owner Zoubair Bennani.
The USHJA Hunter 2'6" Division saw Catherine Tucker (Huntersville, NC) and Kathy Davis' Top Bid come out on top for champion honors, and Victoria Waugh (Mooresville, NC) with Roosevelt, owned by Madison Hill, taking reserve.
USHJA Hunter 2' Division champion, Ava Smith of Trent Woods, NC, guided her own SF Periwinkle to top honors, while Matthew Montgomery (Campobello, SC) and C. Mark Feagan's Metropolitan claimed reserve in the division.
Jumper Highlights:
The 1.10m Jumper Division awarded champion honors to Ricardo Villa of Campobello, SC, aboard Casanova, the Horse Cents, LLC entry. There was a tie for reserve honors, claimed simultaneously by Paige DeMarco of Fort Mill, SC, and her own Cardent D.D.L., and Brittni Raflowitz (Palm City, FL) with the ESI Show Jumpers Inc. entry, Bayou de L'etincelle Z.
The Adequan® 1.30m Open Jumper Division resulted in a tie for both champion and reserve, with Taylor Land (Atlanta, GA) taking top honors with Catika Van de Helle for Alliah Kassem, alongside Rodney Harkey (Charlotte, NC) and his own Equador. Reserve honors were shared by Land, this time aboard Pinetree Farms Inc,'s Liroy 30, and Allen Nabors Jr. (Odessa, FL) riding Numero Dos for Nicole Fisher.
The Tryon Estates Children's/Adult-Amateur Jumper 1.10m Division congratulated Emily Kocher (Tryon, NC) for piloting Sarah Kerins' Liberation to champion honors, while reserve belonged to Sara Williamson (Wellington, FL) and the Ossian Ventures entry, Ugolin D' Authou.
Kyle Dewar of Ocala, FL, claimed champion aboard two mounts in the Developing Jumper Series 1.30m-1.35m 7-year-old Young Jumper Division: Habanera RHF owned by Joan Burke, and Kyle Dewar's own Chapeau M. Taylor Land claimed another reserve, this time piloting the Pinetree Farms Inc. entry, Get Go.
The 1.0m Low Children's/Adult-Amateur Jumper Division saw McKenna Newton (Cornelius, NC) and her own Mullaghdrin Rado jump to champion honors, with reserve being awarded to Ashley Wallace (Concord, NC) and Bra Federico's Kiss Kiss.
The Tryon August Series continues through August 28. To learn more, visit 
www.Tryon.com
.
Photo credit ©TIEC. These photos may only be used once in relation to this press release with proper credit. Contact
media@tryon.com
with questions.